Crouch End is like the sourdough of London neighbourhoods: organic, loved by independents, and urbanely well-to-do in a simultaneously unflashy and outstanding kind of way. 
Owing largely to the absence of a tube line, this leafy suburb has the hallowed aura of a self-contained urban village. Tucked up in the city's north-east corner, it has all the buzz and excitement of London, minus the stress – and the Crouch End restaurant scene is worth the trip alone.
The sheer cross-pollination of cultures and cuisines makes it a top spot for eating out. Take a trip to the gaslit alleyways of Paris, the dusty hill towns of Andalucía and the windswept shores of the Adriatic, all from the plush comfort of a banquette in Crouch End.
So what are you waiting for? Peruse our list of the best restaurants in Crouch End…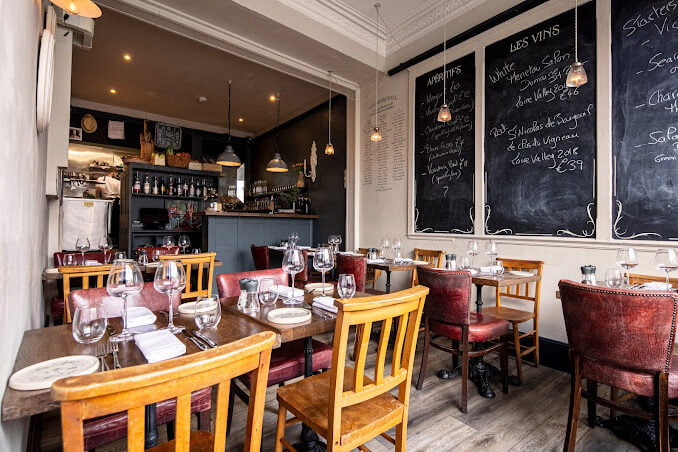 The bountiful history of French cooking has been condensed into the brilliant Les 2 Garcons restaurant in Crouch End. Head Chefs Robert Reid and Jean-Christophe Sowik mastered their craft in the most authentic of French kitchens in Paris, Strasbourg and, er, Ireland, where they met working at Marco Pierre White's triple Michelin-starred Oak Room. Now they pour all that experience into elegant dishes singing the praises of scallops, snails, hake, duck and mushrooms. And it should go without saying that the wine list is a little bit special.
Details: 143b Crouch Hill, London N8 9QH | Book here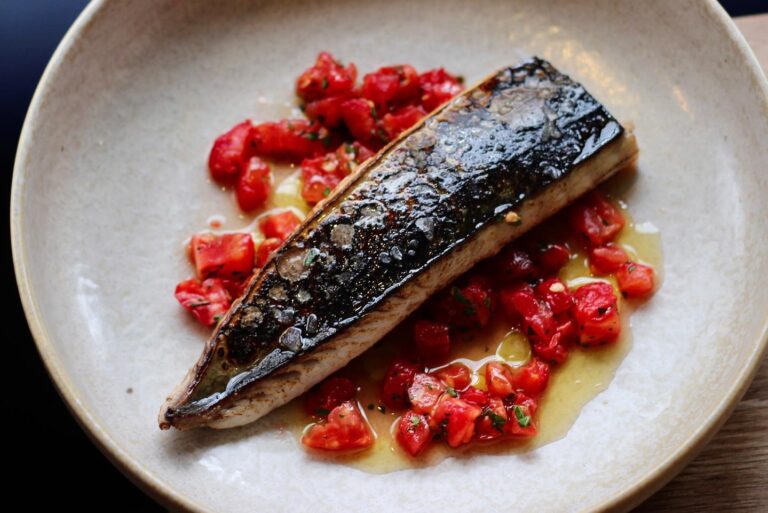 Little Mercies, a cocktail bar-cum-restaurant nestled on Crouch End's Broadway Parade, has its own little world. Potent cocktails, softly scene-setting music and candle-lit ambience make it a Friday night winner. Thanks to input from the Three Sheets team, the drinks are justly excellent (and a steal at under a tenner), but Little Mercies also lays a viable claim to being one of Crouch End's best restaurants, too. Seasonal small plates fill the menu, from goats curd dumplings to beer-glazed pork ribeye, giving you the flexibility to stay all night and keep ordering if that date's going well…
Details: 20 Broadway Parade, London N8 9DE | Book here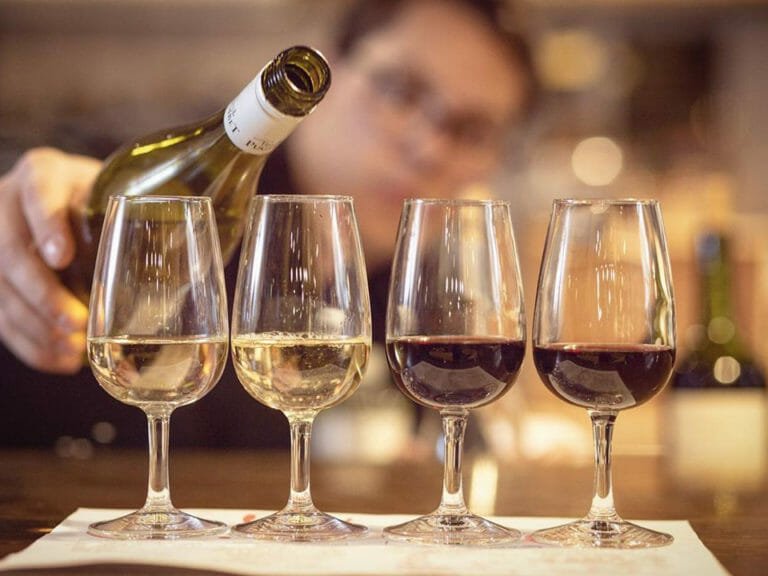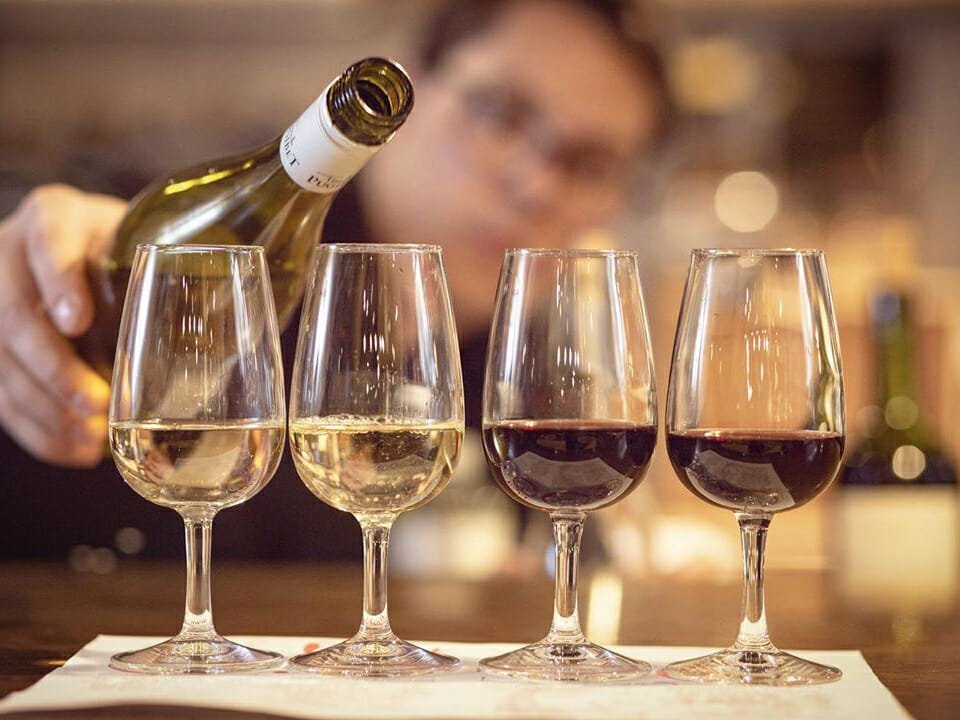 Humble Grape, a series of independent wine bars with a focus on importing sustainable wine, continue to (humbly) expand, now with Humble Grape Crouch End. It's their largest venue yet and there's 400 bottles to choose from – all picked from lesser-known vineyards – and if that sort of scope sounds a bit scary, the staff are happy to hold your hand and guide you towards something of fancy (and maybe teach you a thing or two about wine in the process, as they'll happily talk about the stuff at length at any given opportunity). What's more, Humble Grape Crouch End is also a restaurant, so you can pair the wine with food that goes from small dishes (baked camembert served with sourdough, chilli-fried chicken with kimchi and lime aioli) to big dishes (côte de boeuf with all the trimmings, confit duck leg with braised chicory), depending on your level of appetite. Plus, it's dog-friendly…
Details: 4 Topsfield Parade, Middle Ln, London N8 8PR | Book here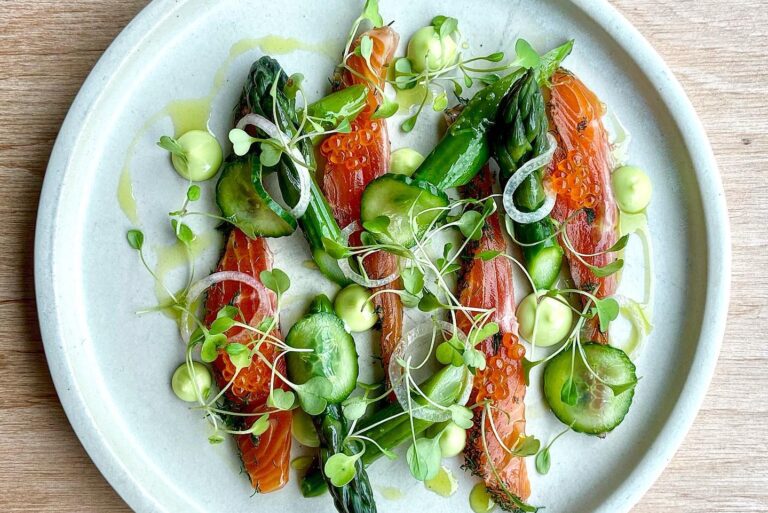 Lyon's is Crouch End's widely-admired seafood restaurant (and one of our's too, as it's made our list of the best seafood restaurants in London). The interior is bright and airy, hewn from an old butcher's shop whose original green and white tiles line the walls, while the bar fizzes with activity. Here, soft-shell crabs, resting on a bed of turnip and kimchi, are battered and deep-fried specimens of salt and crunch. Oysters are also very much in the spotlight here, either with a dollop of caviar or dill mayo. Forgot your dining companion hates seafood? Point them towards the duck breast with cherries and crispy shallots.
Details: 1 Park Rd, London N8 8TE | Book here
Floral Hall used to be an old antique dealer's, and the spirits of faded glamour are still very much alive in this buzzy reincarnation, which – though new – is quickly becoming one of the best-loved restaurants in Crouch End.  It's the perfect spot for a quick bite and an aperitivo, thanks to the short and sweet Italian-leaning cocktail list. There's a neat selection of European wines on offer, too. The food is equally as enticing: dishes are simple with well-sourced ingredients, like the comte with figs, honey & walnuts, and the duck rillettes served with springy foccacia & radishes.
Details: 132 Crouch Hill, London N8 9DX | Book here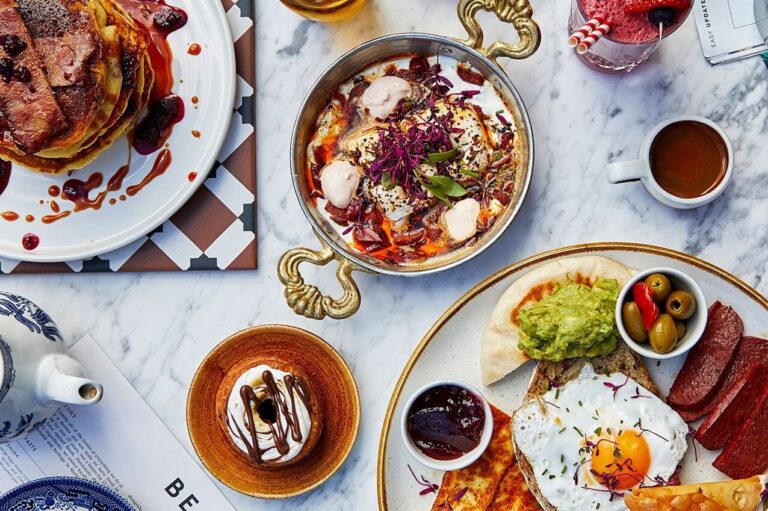 Beam is where to go if you want a hyperbolic breakfast, a breakfast to defeat all other breakfasts, a breakfast of champions. The queues outside this place have triggered the opening of Beams in Highbury and Notting Hill. Soon they will be everywhere, and we're delighted. There are Turkish eggs, French toast, full English breakfasts, Mediterranean breakfasts, buttermilk pancakes, breakfast burritos and a variety of vegan options, too. Practically every continent is covered in breakfast form in this corner of Crouch End, and it's spectacular. 
Details: 39-41 Topsfield Rd, London N8 8PT | No reservations – prepare to queue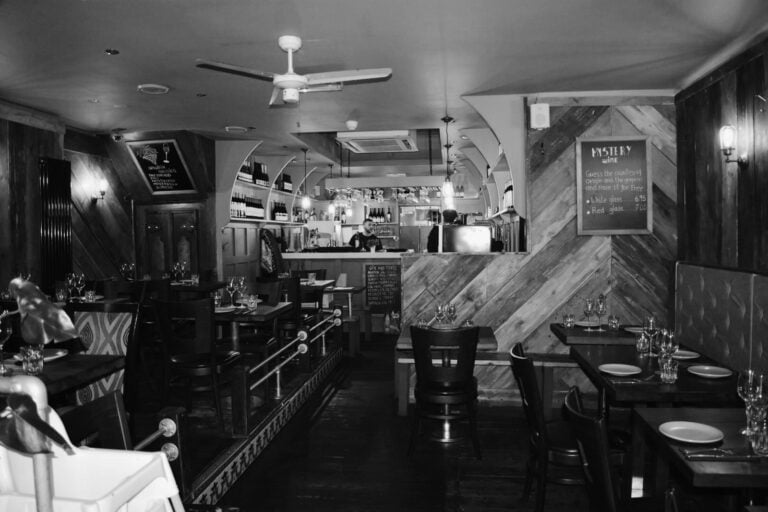 If you want to experience the remarkable cuisine of the Andalusian foothills, but also want to get the W3 bus home… then head to La Fabrica, undoubtedly the finest Spanish restaurant in Crouch End. Translated as 'The Factory', La Fabrica is a production line of remarkably good tapas dishes. The menu is a marriage of traditional southern-Spanish tapa alongside head chef Jose Padilla's own culinary inventions, and like all good tapas spots, the place fizzes along at a fun tempo.
Details: 31 Broadway Parade, London, N8 9DB | Book here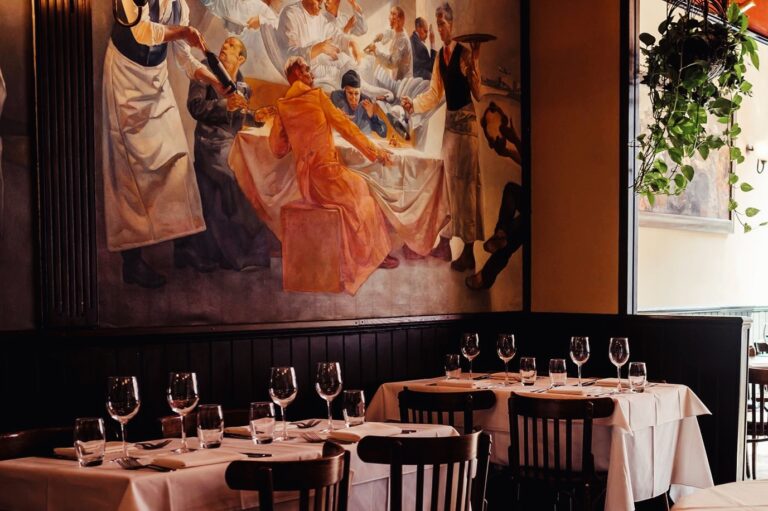 The restaurants in Crouch End seem to have a disproportionately high ratio of fantastic, authentic French eateries, because here comes another one, draped in velvet curtains, lush foliage and sprawling Renaissance-style murals. The ambience is thoroughly bohemian at Bistro Aix. Located across the road from the Picturehouse Cinema, this bistro makes for the perfect pre-film meal. The menu features dishes like wild mushroom tarte with St. Marcellin cheese, guinea fowl with black garlic sauce; and seared scallops with a glug of Pernod. There's also a venerable selection of aged, pasture-raised steak options, from ribeye to tartare.
Details: 54, Topsfield Parade, Tottenham Ln, London N8 8PT  | Book here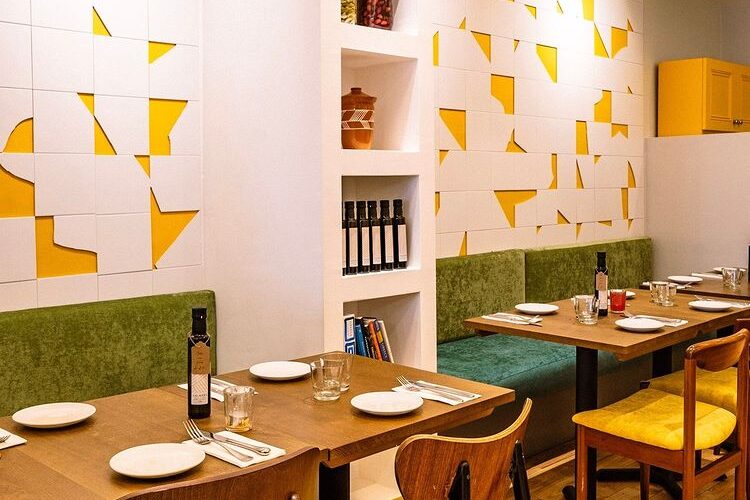 Now we leave Paris for the wind-swept shores of the Adriatic, with Crouch End's foremost Greek restaurant. Kalimera was originally a street food truck: self-taught chef-owner Télémaque Argyriou has hawked his wares from Elephant and Castle to Lille. Before long, its popularity and acclaim grew the business into a fully-fledged restaurant, with all the usual suspects present and correct: tzatziki, saganaki, souvlaki, moussaka. They're big, messy and creamy. Don't miss the chunk of orange sponge cake called portokalopita with mastic ice cream at the end – and we can't speak highly enough of their olive oil, which is available to take home by the bottle.
Details: 43 Topsfield Parade, Tottenham Ln, London N8 8PT  | Book here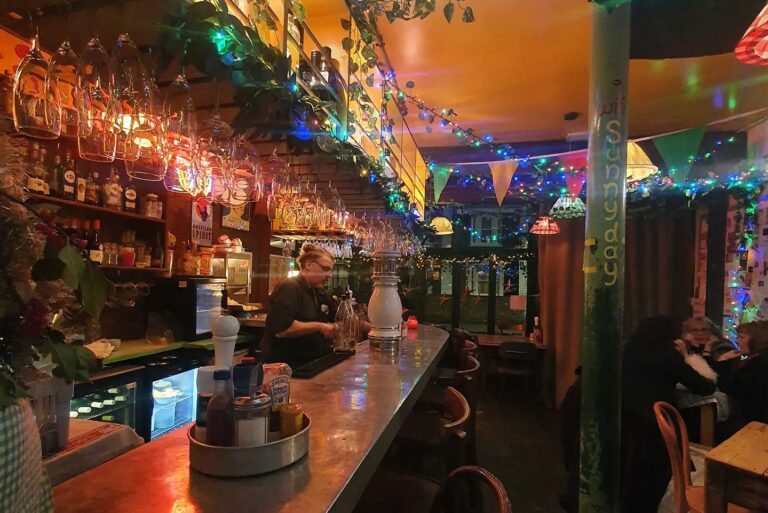 You wouldn't think a cultural pilgrimage in the steps of one of the greatest musicians of all time would take you to Banners, a small, lively restaurant in Crouch End, but Banners has a rather fabled history. In 1993, Bob Dylan visited Banners and his trip was so famed and unexpected that you can sit at the exact table as he did, beneath a gigantic framed picture of Dylan himself.
Banners' menu does a lot and does it well; from Jamaican jerk chicken to quesadilla, you can find some of the world's most popular comfort dishes here. Who knew what drew Dylan to Banners, but if we had to guess it was the intimacy of the rustic interior and the vibrant thrum of music. Thankfully here, the times haven't gone a-changing too fast.
Details: 21 Park Rd, London N8 8TE | Book here
---
Like discovering local eateries? Tick off the best restaurant in every London neighbourhood