If we took one thing away from our painstaking trawl of London's greatest street food villages, promenades and converted warehouses…
…it was a second box of raclette from Kappacasein.
But we also took home something in a more enriching, metaphorical sense; that is, a refined, tried-and-tested collection of the finest fresh produce and street food markets in London, which, today, we would like to share with you – because sharing is caring.
Except when it comes to raclette.
–
Maltby Street | Bermondsey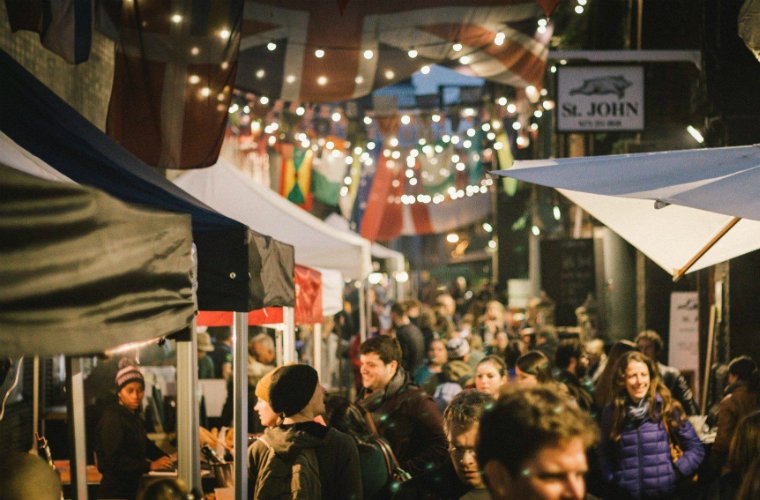 Without a doubt, the flag (and bunting) bearer for London food markets is the Maltby Street Market. Tucked down a secluded alley, lined by repurposed railway arches and festooned with strings of bulbs, it has the feel of an industrialised village fete. You'll find a constantly changing mix of traders here, from a 1940s drinking den run by small-batch distillers, Little Bird Gin; to indecent amounts of melted cheese, courtesy of The Cheese Truck (also behind Camden's The Cheese Bar) . Follow the tracks south, and you'll come to the quieter Spa Terminus market, an artisanal wholesaler open to the public on Saturday mornings with stalls from Neal's Yard Dairy, Monmouth Coffee, Cannon & Cannon and more.
Details: Open Saturdays 10-5pm, Sundays 11-4pm | Maltby Street, SE1 3PA
–

Berwick Street | Soho
One of the oldest street food markets in London, the independent Berwick St. Market has been flogging edible wares since 1778. After a huge petition signed by the likes of Joanna Lumley and Stephen Fry, the market narrowly avoided redevelopment under private owners, and now sports an eclectic mix of old-school traders (including London's longest-running flower stall) and newer street food vendors, touting everything from Balkan burgers to paella.
Details: Monday-Saturday, 8am-6pm | Berwick Street, W1F 0PH
–
Brockley Market | Brockley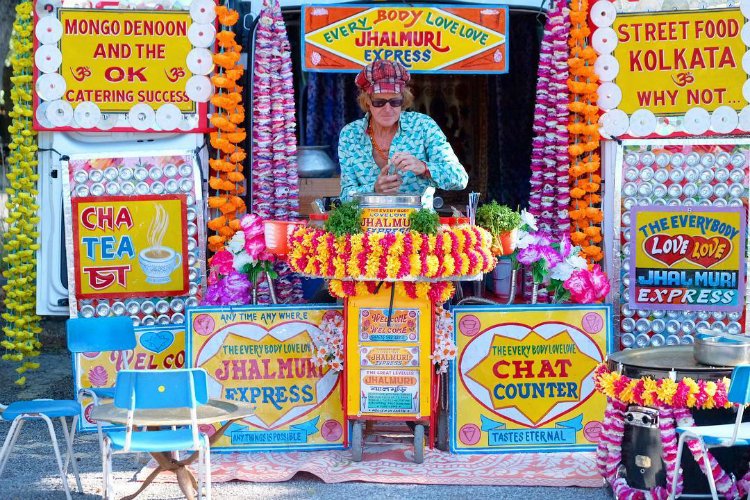 Not just somewhere to pick up your weekly essentials of fresh fruit, veg, and pre-bottled negronis aged in Bordeaux wine barrels, Brockley's cash-only marketplace boasts a cohort of street vendors at the top of their game. Expect appearances from the likes of Chubby Dumpling, serving, you guessed it…; Sub Cult, with their mighty, doorstop sandwiches; and Mike and Ollie, specialising in seasonal, handmade flatbreads, unlike any other you've tried before.
Details: Saturdays, 10am-2pm | Lewisham College Car Park, Lewisham Way, SE4 1UT
–

Whitecross Street | Barbican
Once denounced as a 'Squalors' Market' in the 19th century press, the formerly alcohol-riddled Whitecross Street has cleaned up its act, and today is one of the busiest street food markets in London, serving copious amounts of dishes to the working masses on weekday lunchtimes. Sporting an eclectic spread of up to 50 independent and longstanding vendors, expect to find anything from Korean-Japanese fusion to traditional pies on your jaunt down the street – and don't forget a caffeine injection from Fix to see you through.
Details: Monday–Friday, 10am–2pm | Whitecross Street, EC1
–
Canopy Market | King's Cross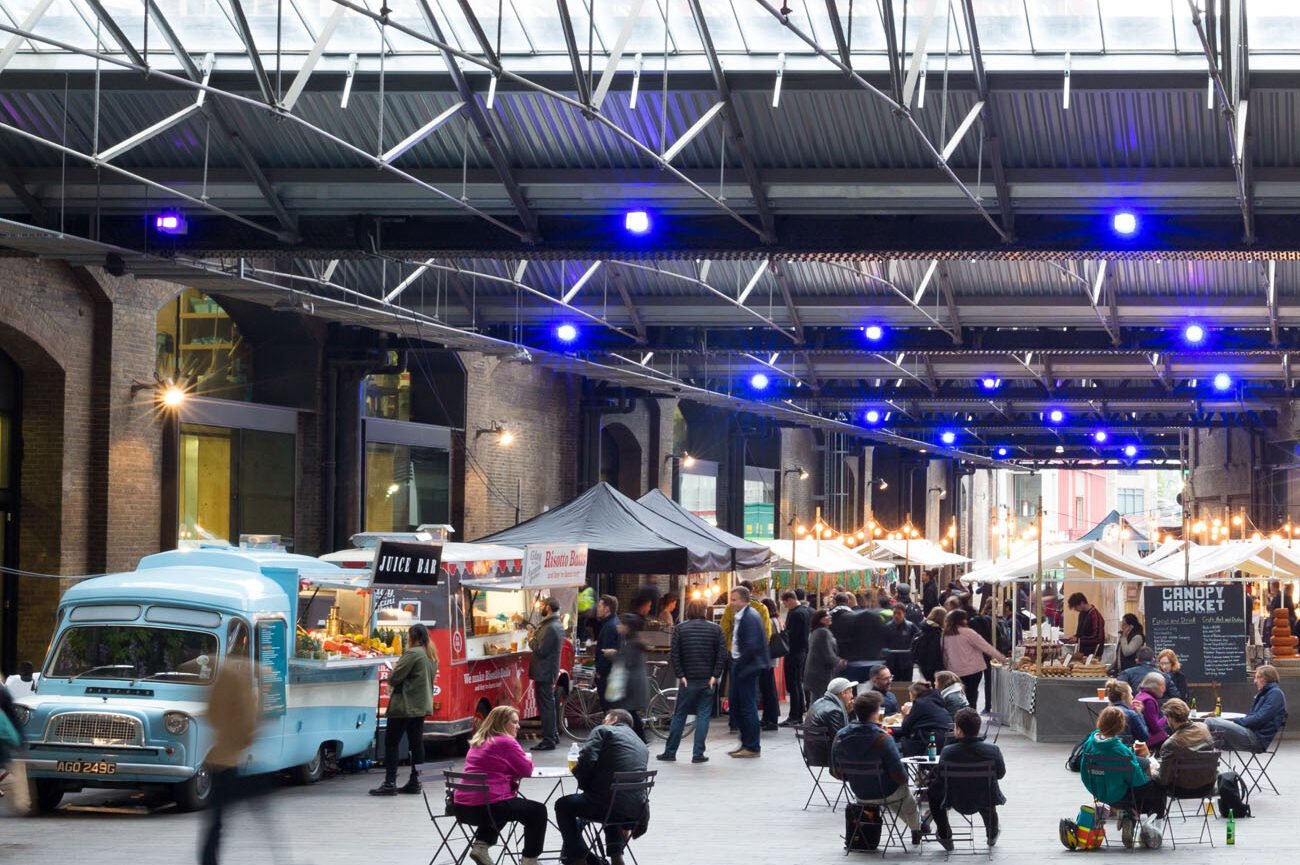 Canopy Market takes the best wine bars, designers and street food traders, and puts them all under one gorgeous, restored Victorian glass and steel roof. On Fridays they stay open as a night market with live musicians, DJs, and craft beer bars; and you can peruse jewellery and homeware stands as you chow down on freshly-made pasta or Korean BBQ. READ MORE
Details: Fridays 12-8pm, Sat & Sun 11am-6pm | West Handyside Canopy (just off Granary Square), N1C 4BZ
–
Southbank Centre | Waterloo
It can be tricky for riverside markets to expand sometimes.
But they usually cross that bridge when they come to it.
And the Southbank Centre's bustling street food market on Upper Ground is no exception; pitching up each weekend to swathes of ravenous visitors. The sprawling marketplace behind the Royal Festival Hall is a labyrinth of different cuisines; try East African vegan dishes at Ethiopiques, The Polish Deli's pierogi dumplings, and flaky Portuguese pasteis de nata at Galeta. READ MORE
Details: Fri 12-8pm, Sat 11am-8pm, Sun & bank holiday Mondays 12-6pm | Southbank Centre Square, SE1 8XX
–
Netil Market | London Fields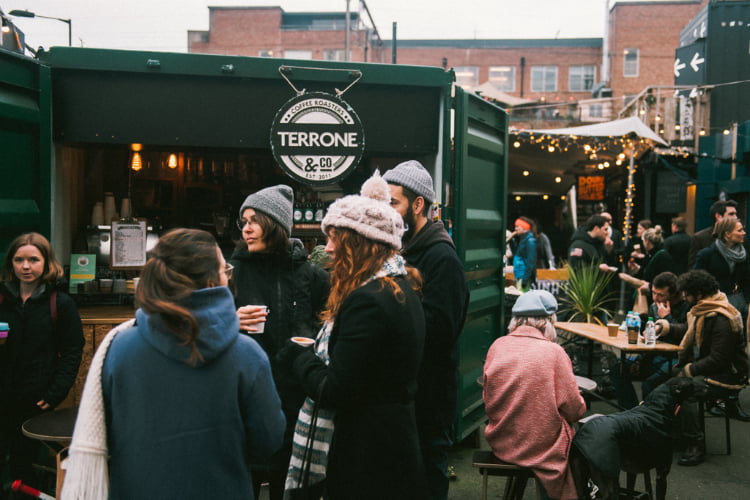 A quieter, more relaxed affair than Broadway Market round the corner; this creatives' hub plays host to a low-key market every Saturday, with stalls ranging from vintage homeware and handmade jewellery to a well-curated collection of street food. It's been the making of several now-stalwarts of the London scene, including BAO and Lucky Chip, and is now home to the likes of Club Mexicana's vegan burger bar and Lem Lem Kitchen – whose light and fluffy 'Afro-tacos' are best enjoyed on the sun-drenched mezzanine terrace overlooking the whole set-up. READ MORE
Details: Saturdays 11am-6pm | 13-23 Westgate Street, E8 3RL
–

Broadway Market | Hackney
A more bustling, vibrant affair than Netil Market round the corner, Broadway Market occupies a former sheep-droving route into London. And as one of the city's best known markets, it might still feel that way – but it's worth braving the crowds for a peek at the independent bookstores, cafés and restaurants lining the promenade; as well as occasionally diving into the throng to scoop a haggis toastie from Deeney's; salt beef from the Jewish Deli, or miniature multicoloured pavlovas from Meringue Girls – before retreating for an al fresco feast in London Fields or by Regent's Canal. READ MORE
Details: Saturdays, 9-5pm | Broadway Market, E8 4QJ
–
Borough Market | Borough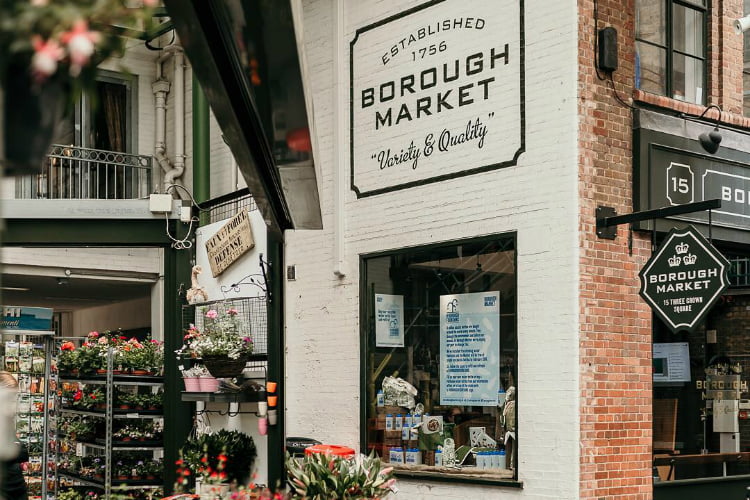 Disclaimer – we are not the first to say this, but Borough Market's pretty good. That means that you'll be rubbing shoulders not only with the finest artisanal and old-school produce traders when you visit, but probably ¾ of London's tourist population, too. But that's entirely by-the-by when you're on a mission to track down giant truffles, wine-soaked Italian cheese, and Kentish nut oils. Take a well-deserved break from the polite elbowing with a score of street food dishes, like slow-roasted meat baguettes from Hobbs, raclette made with Bermondsey cheese by Kappacasein, and er, upmarket goat from Gourmet Goat. READ MORE
Details: Monday 10am-4pm, Wed & Thurs 10am-5pm, Fri 10am-6pm, Sat 8am-5pm | Borough Market, 8 Southwark Street, SE1 1TL
–
KERB Granary Square | King's Cross
KERB.
They're anything but middle of the road.
And as one of London's first food market collectives, they've set the bar for most other markets in town, launching the careers of many a fresh-faced hawker turning up with only some form of converted vintage truck and an instagrammable fusion food to their name. Now home to five street food markets in London, KERB's King's Cross edition boasts an 8-strong roster of traders, from Kolkati's hot paratha wraps to the Smokin Lotus BBQ.
Details: 12-2pm, Wednesday – Friday | Granary Square, NC1
–

The Spread Primrose Hill | Regent's Park
Finish a bracing hike up the hill with a trip to The Spread's upmarket farmers' market. Stock up on organic veg, cured meats from the Varley and Crouch deli, and thick slabs of smoked salmon from Salmon Atelier, before swooping onto the street food stalls for crepes, kebabs and quiche.
Details: Saturdays 10am-3pm | St Paul's Schoolyard, Elsworthy Road, NW3 3DS
–
Model Market | Lewisham
Another member of the Street Feast family, Model Market lives up to its name by providing eight street food traders (enough choice without being overwhelming), a pleasant mix of al fresco and covered seating (to cope with the English summer), and a rooftop cocktail bar (a rooftop cocktail bar). READ MORE
Details: Open Friday & Saturday evenings, 5pm-1am | 196 Lewisham High Street, SE13 6LS
–
Brick Lane Markets | Spitalfields
Brick Lane has long been a hub for street food in London, with regular markets popping up throughout the week. Find stalls scattered along the street on Sundays, as well as street food vans parked in fairylit yards and hawker-style markets in the old brewery buildings. Once a month, the vast Old Truman Brewery plays host to Vegan Nights, a bustling night market with DJs and all vegan traders. READ MORE
Details: Something on daily, check here for details | 91 Brick Lane, E1 6QR
–
Hawker House | Canada Water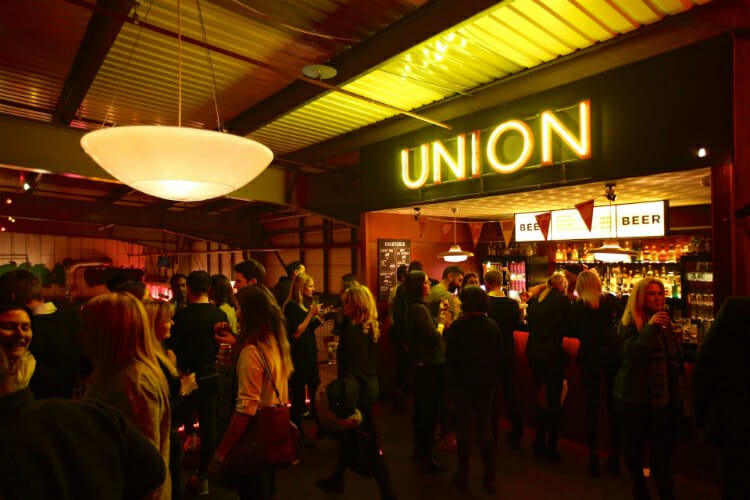 Another sibling in the Street Feast family, Hawker House combines 10 bars, 15 street food traders and a huge al fresco dining space wrapping around its warehouse core (complete with fire-pits for the winter). READ MORE
Details: Fridays and Saturdays, 5pm-midnight | Canada Street, SE16 7PJ | Free entry
–
River Walk Market | Battersea
Setting up beneath the iconic chimneys of the Battersea Power Station, the River Walk Market is a new addition to the London street food scene, home to 25+ producers and food vendors. Expect locals like the Battersea Brewery to make an appearance, alongside cheesemakers, bakers and charcuterie traders; po'boy sandwich slingers and cannoli trucks; and craft stands selling everything from handmade hats to Ghanaian-inspired jewellery. READ MORE
Details: Saturdays 11am-5pm | Circus West Village Battersea Power Station London SW1 8AH | Free Entry
–
Camden Market | Camden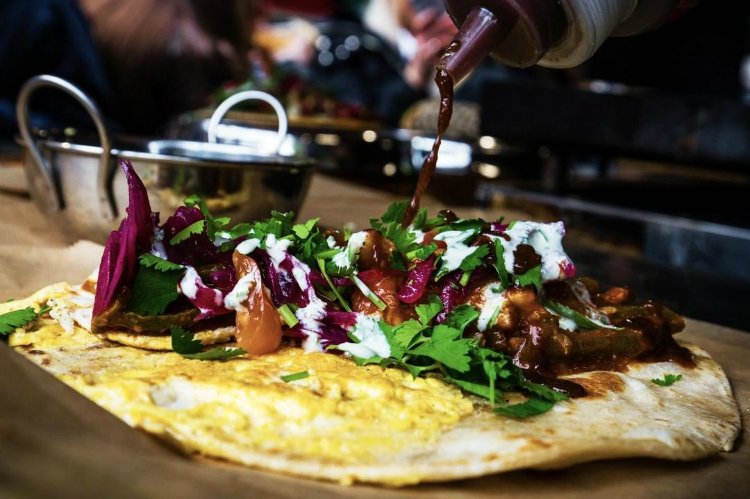 The first stalls set up shop here in 1974, and while many longstanding traders are being squeezed out with new developers, the food offering's still noteworthy – set up camp at the street food village overlooking the canal, or explore the cobbled passages to uncover classic fish 'n' chips; Yolk Breaker's egg buns; and pies from the Young Vegans. Plus, you can stock up on fresh produce at the Saturday farmers' market; gin from the Half Hitch microdistillery; posh pantry goods at The Camden Grocer; and rare-breed beef at Roadkill butchers – who don't actually scrape their stock off the roads, but do source it all from ethical farmers. READ MORE
Details: Open daily from 10am-late | Chalk Farm Road, NW1 8AH
–
KERB at St Katharine Docks | Wapping
Otis Redding wouldn't have wasted any time on this dock, because London's most picturesque marina plays host to an 18-strong street food market on Fridays, courtesy of the masters, KERB. Swing by, and you can tuck into everything from jerk chicken to Filipino BBQ while overlooking the Thames.
Details: Fridays 12-2pm | St Katharine Docks, E1W 1UH
–
Mercato Metropolitano | Elephant & Castle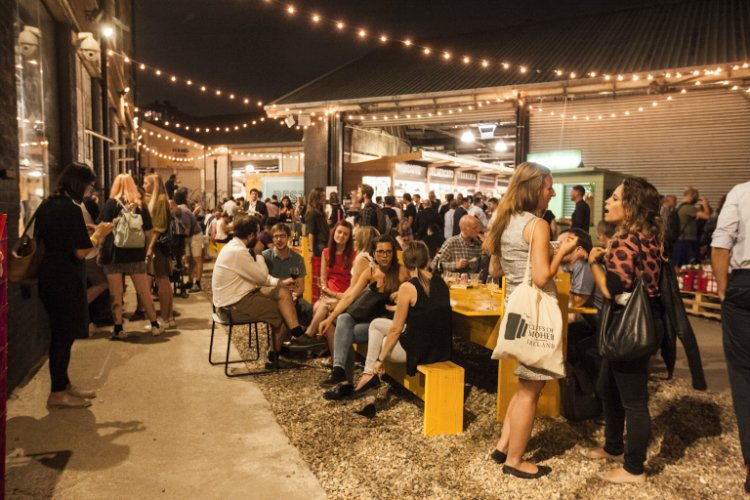 Mercato Metropolitano.
Our in-house Italian translator has told us that in English this means "(wild hand gestures) Metropolitan (wild hand gestures) Market". Though 'market' doesn't really do the place justice, considering that – besides a sprawling collection of Italian traders peddling everything from fresh pasta dishes to mozzarella and gelato – there's also an artisanal Italian supermarket, a brewery, a co-working space, a barbershop, a mushroom farm aaand a cinema. READ MORE.
Details: Open daily from 8am-late (11am on weekends) | 42 Newington Causeway, SE1 6DR
–
Old Spitalfields Market| Spitalfields
King Charles I gave Spitalfields its official market license in 1638.
But luckily, it didn't get the chop.
Now it's home to boutiques, restaurants, vintage stalls and street food, the latter of which you can score at trader vans parked outside the market (like the Duck Truck and Le Swine), or in the market's pop up kitchens, currently housing the likes of salt-beef kings, Monty's Deli, as well as veggie Ethiopian Merkamo.
Details: Open daily | 16 Horner Square, E1 6EW
Vinegar Yard | London Bridge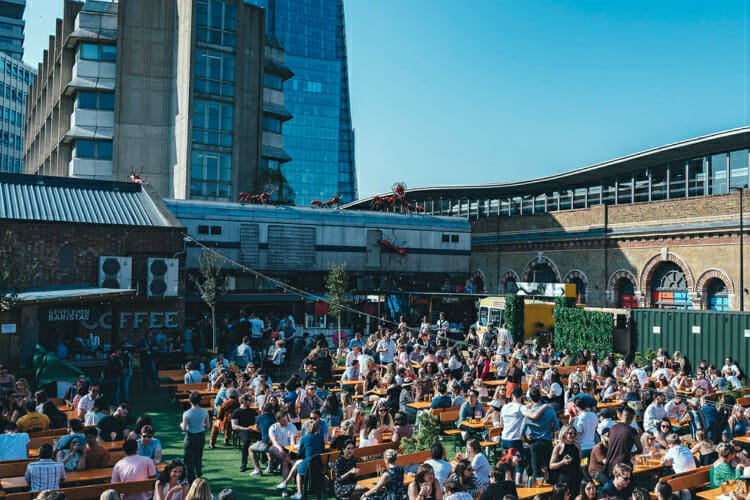 Brand new on the food market scene is London Bridge's Vinegar Yard. It comes to us courtesy of the same team behind nearby Flat Iron Square, except this time they've brought in a train carriage and a whole army of oversized ants. Seriously. You'll also find various leading food vendors such as My Million Pound Menu winners Baba G's; a huge open-air garden; numerous bars; andddd a weekend flea market. One visit and you'll be itching to get back…READ MORE.
Details: Open Mon-Fri 12-10pm; Sat-Sun, 11am-1pm | 72-82 St Thomas Street, London Bridge, SE1 3QU 
Victoria Park Market | Hackney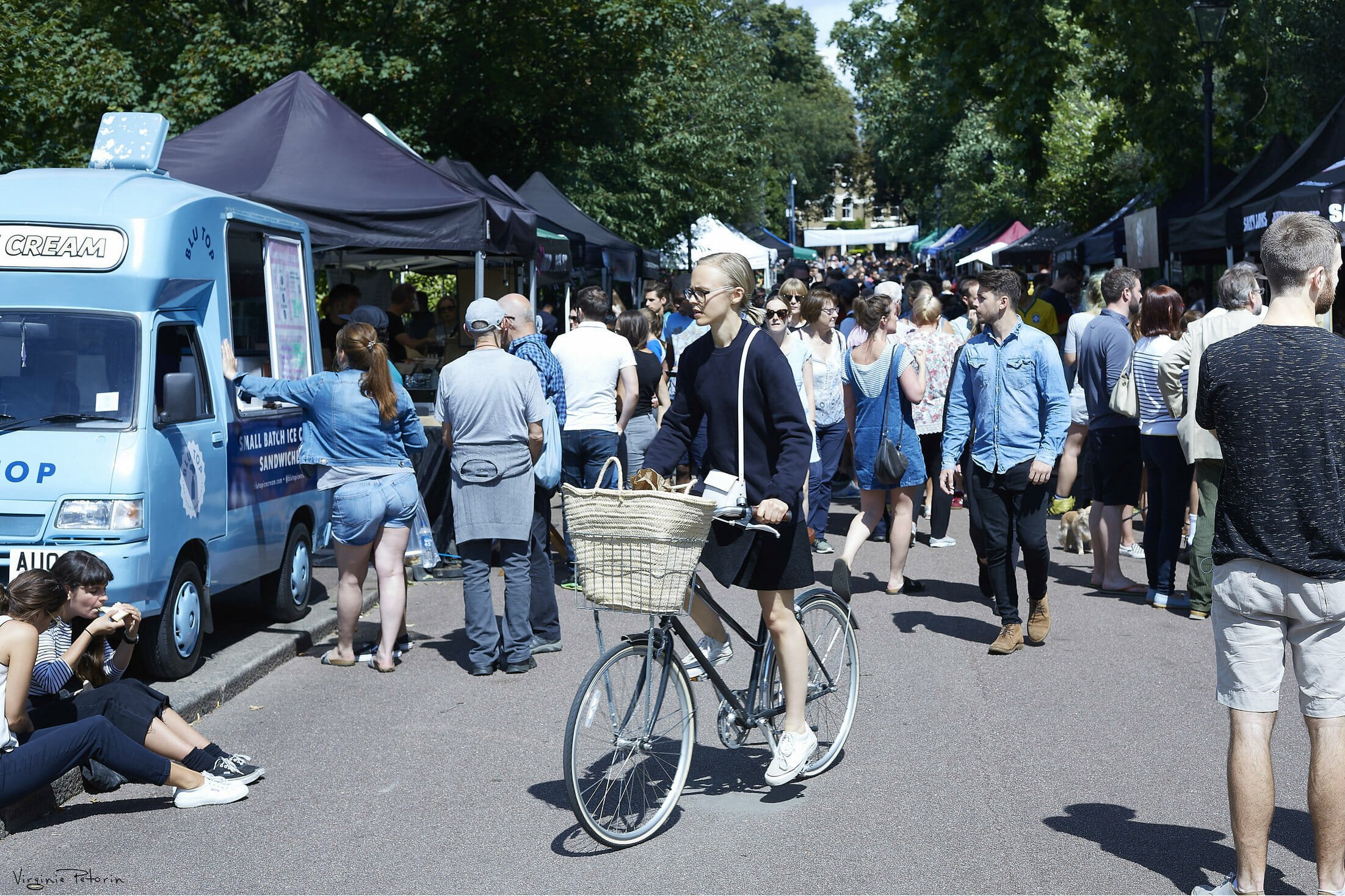 Credit: Virginie Petorin
Every Sunday the Nightwalk – a beautiful pedestrianised street in Victoria Park – comes alive with a fresh produce and street food market. Visitors can bag themselves loaves of freshly made bread, cheeses, olive oils, ice-cream, and more, before tucking into plates of hand-made dumplings from Goyoza Guys or cheesy savoury crepes from Crêpes à La Carte. You'll also often find live music, and there are stalls selling locally brewed craft beers and wine, round-ing it off into an ideal sunny afternoon.
Details: Open Sun 10-4pm |  Victoria Park Gore Gate, E2 9JW
North Cross Road Market | Dulwich
Dulwich's North Cross Road already has a supremely browsable collection of delightful independent shops peppered along its width, so you might be tempted to think that the market springing up every Saturday is merely the icing on this retail cake. Well, allow us to disabuse you of this falsehood right now. The market is the cake. You see here, you'll find dozens upon dozens of richly varied stalls, slinging goods ranging from pastries to Polaroids, from fish to furniture, jam to jewels, bread to bicycles, and everything in-between. There's also plenty of street food to get your mitts on – everything from tartiflette to a giant hog roast. You'll want to get there early though as it's known to sell out fast.
Details: Saturdays 9am-5pm | Northcross Road, East Dulwich, SE22 9ET
Main image: Broadway Market | Last updated: 22nd Jan 2021