Wondering which of London's winter light trails to go to?
Allow us to illuminate you.
These after-dark events typically involve taking some of London's most iconic parks and buildings and filling them with a spectrums-worth of LEDs, lasers, strobes, floodlights, holograms, interactive displays, and other such modern wizardry. They're a mainstay of Christmas in London for a reason – and the fact they often lead you directly to pop-up mulled wine huts or Christmas markets doesn't hurt either.
Here are all the best winter light trails for 2023, from enchanted woodlands to festive lantern shows:
---
Not happy with merely being the record holder for having the largest collection of living plants in a single botanic garden (it's official, just ask Guinness), Kew Gardens apparently also wants the prize for non-living showstoppers, too. Which is why they've once again transformed an entire 2.7km stretch of the grounds into an almost unfeasibly magical, after-hours, mulled-wine toting festive woodland light trail. Expect twinkling light tunnels, forests glowing in enchanting hues, and glittering LED-studded installations that sit on a reflective water pool…
Details: 15th November 2023 – 7th January 2024 | £22.50-29 | Royal Botanic Gardens, TW9 3AE
–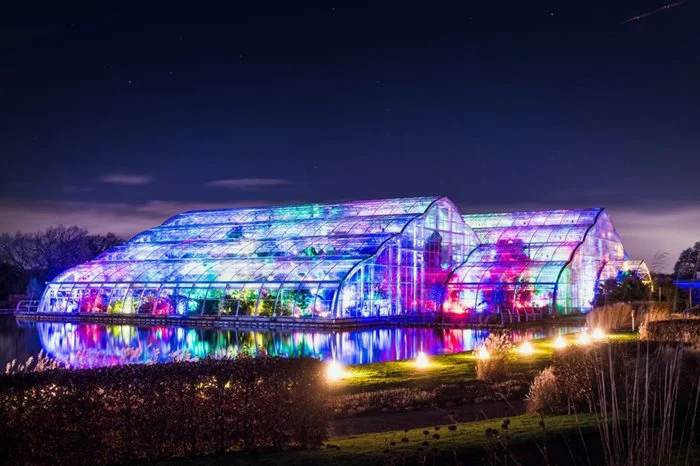 It's the battle of the South-West London botanic gardens – and Wisley's matching Kew's offering this year with fire gardens, fountain displays, colourful lights bathing their trees and shrubs, and a display that makes their conservatory look like a horticultural nightclub. And when your retinas have been sufficiently dazzled, you can stop off at the Christmas market for roasted chestnuts, toasted marshmallows and mulled wine served from festive chalets.
Details: 24th November 2023 – 2nd January 2024 | Wisley Lane, Wisley, Woking GU23 6QB | £19.95
–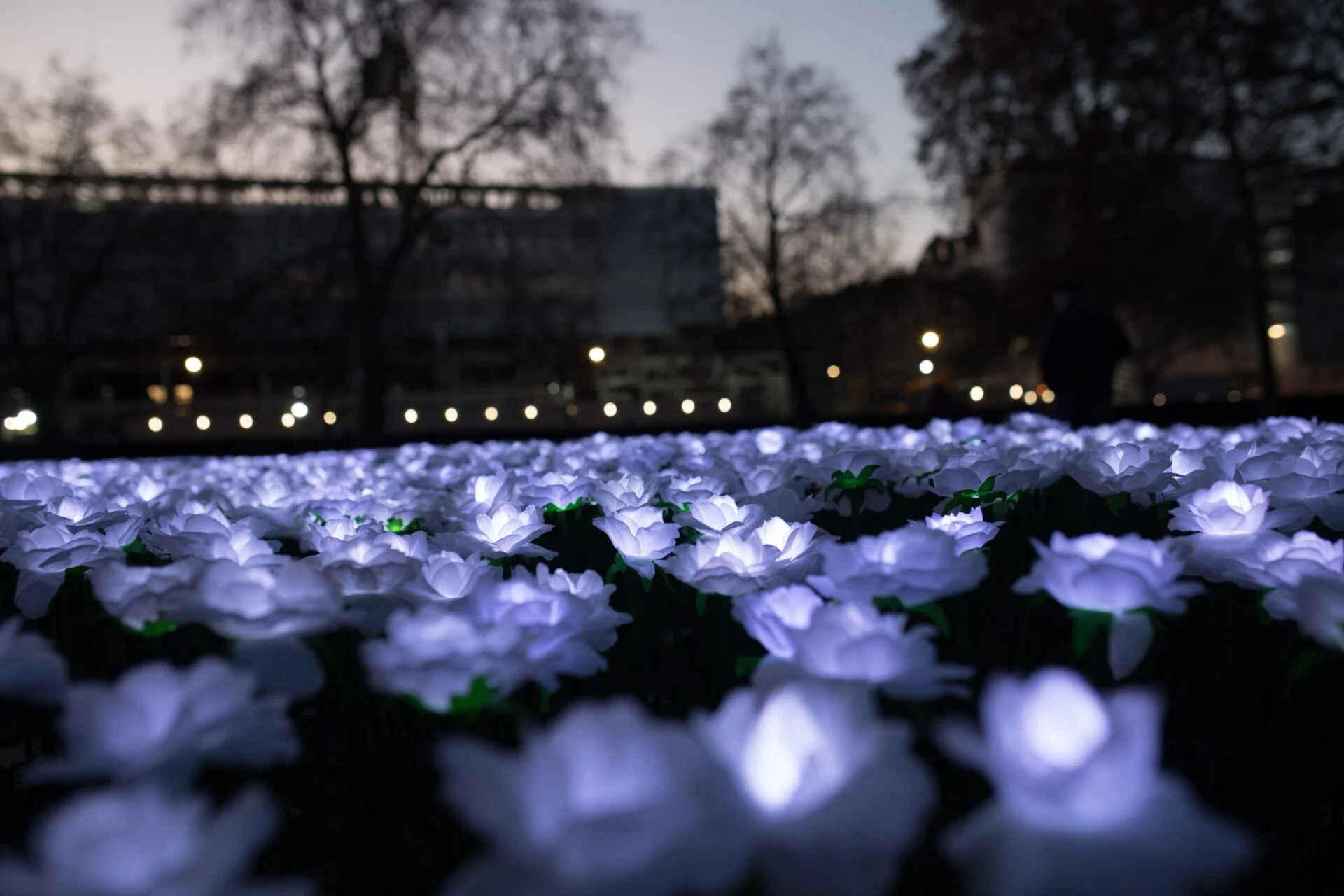 Striking a somewhat more solemn tone than other winter light trails, The Ever After Garden is a charity initiative by designer Anya Hindmarch and writer Camilla Morton. It's a sprawling display of over 20,000 illuminated white silk roses, representing loved ones who have passed away, making for a beautifully moving installation. It's even possible to dedicate one of the roses in someone's honour for a suggested £10 donation, which will go towards supporting The Royal Marsden Cancer Charity.
Details: 16th November – 19th December 2023 | Grosvenor Square, London W1K 6LD | Free entry, just turn up
–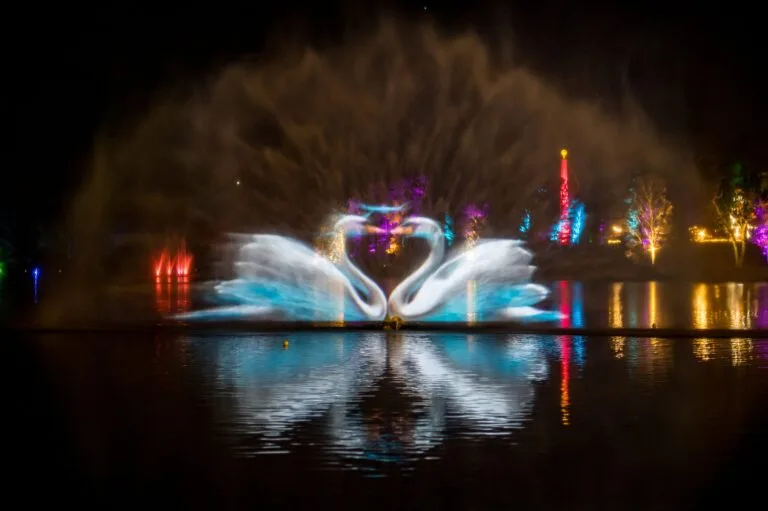 Windsor has a Great Park. But it becomes straight-up amazing when they set up their annual winter light trail, with illuminated fairies prancing through the woodland, cathedral tunnels of light, and spectacular fountain displays. Plus, there's a pitstop with mulled wine, hot chocolate, festive food and fire pits for toasting marshmallows.
Details: 16th November 2023 – 2nd January 2024 | £19.80+ | Windsor Great Park, TW20 OUJ
–
This is miles apart from your typical London light show. Partly because it will literally take you through a fair few miles of countryside on a festive, light-bedecked steam train, but also because it steps things up on that journey with a cheesy Christmas DJ set onboard (narrated by the X Factor voiceover guy), and your own glowing wristbands which pulse in time with the music.
Details: 17th November 2023 – 7th January 2024 | £20 | Ongar station, CM5 9AB
–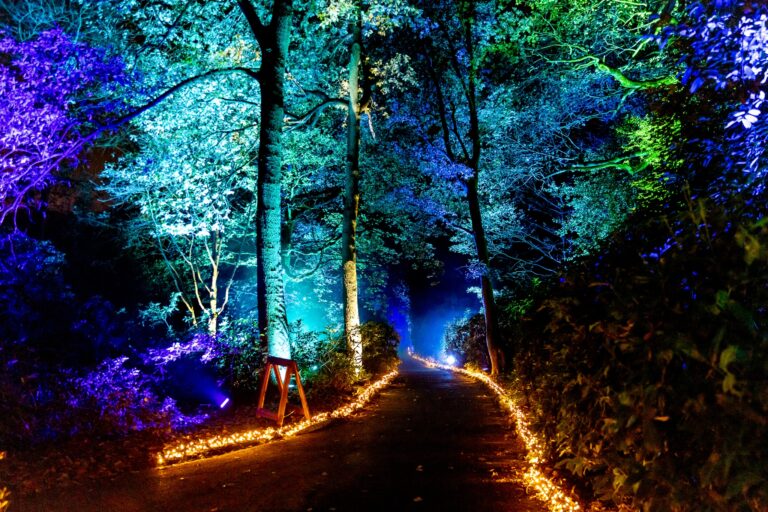 Planted in the middle of Hampstead Heath, Kenwood House has some seriously impressive grounds with views all the way down to Central London. But it wasn't until a few years ago that some bright spark realised they'd make the perfect setting for a magical 1.5km light trail starring millions of twinkling lights. There's an all-new trail promised for 2023, while previous installations have included twinkling animal sculptures, dazzling projections onto the house itself, light tunnels through the forest, and something called a 'laser garden' which is probably the closest thing you'll ever experience to being in a Jamiroquai video.
Details: 1st December 2023 – 1st January 2024 | £22-30 | Kenwood House, Hampstead Lane, Highgate, NW3 7JR
–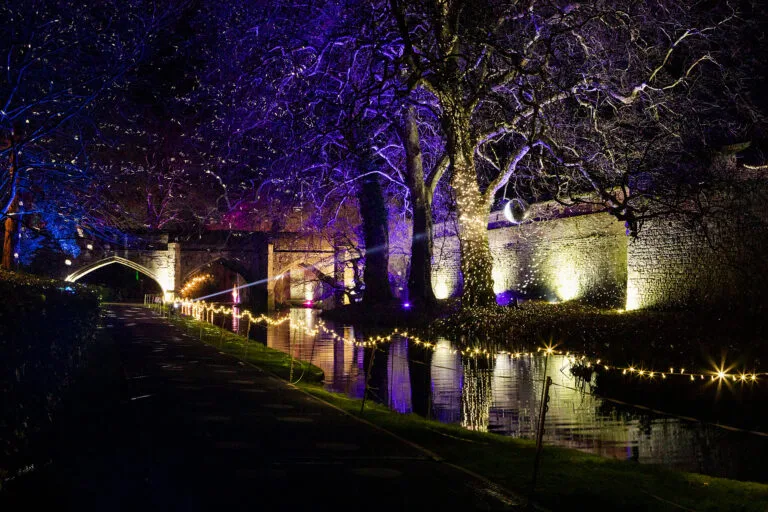 Enchanted Eltham has been cast in a new light: there's a new name, all-new illuminations, and crucially, a lot more entry slots available. The 2km light trail will take roughly an hour to walk around, and traditionally involves features like holographic talking birds in ornate cages, torchlit gardens, and projections over the walls of Eltham Palace, all wrapping up at an old-school fairground.
Details: 1st December 2023 – 1st January 2024 | £20.50 | Eltham Palace, Greenwich, SE9 5QE

---
Feeling cosy? Here's a load of winter date ideas…