Walk into any department store or big train station in Tokyo, and you'll probably find a café stocked with rows of éclairs, choux buns and pristine patisserie.
It might not be exactly what you'd expect.
But bakeries and French-styled cafés are something of an institution in Japan. They're the result of a cultural dialogue between traditional Japanese and Western influences that's been steadily growing since the 1860s, when bakers began to experiment with bringing sweet Japanese flavours into bread. And as more Japanese chefs went over to train in France in the late 20th century, they came back armed with new techniques, particularly in the realm of patisserie. As a culture that already had a deep appreciation for precision, care and the visual appeal of food, elegant cakes and desserts were an import that fitted right in. But in the decades since, Japanese patissiers have found ways to fuse French technique with traditional flavours, leading to new combinations like matcha rolls, soufflé cheesecakes and famous inventions like the mille crêpe cake.
It's everywhere in Japan, and if you know where to look, you can find those characteristic creations here in London too. So we've rounded up some of our favourite Japanese cafés and bakeries in London, where you can score beautiful cakes and pastries; stock up on soft, fluffy loaves; and wash it all down with unique drinks, from loose leaf tea to black sesame lattes…
KURO Bakery | Notting Hill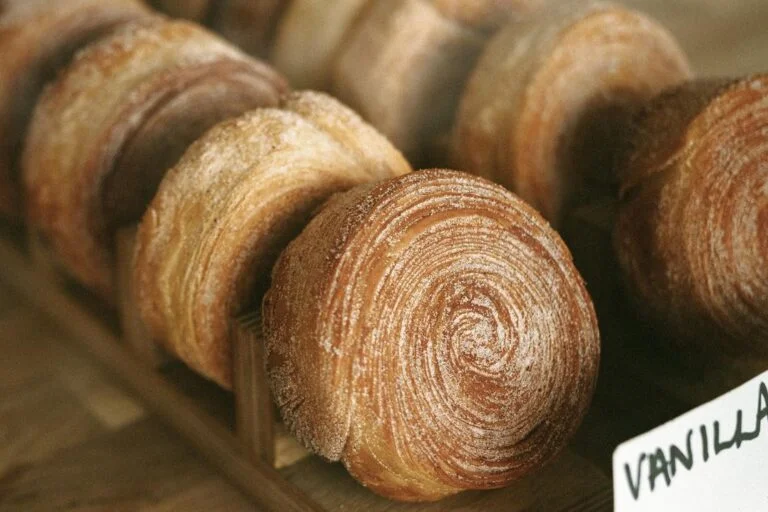 The team behind KURO Coffee and KURO Eatery are slowly creating an entire KURO village in this corner of West London. And we suspect their enormous popularity might have something to do with their signature sākuro – circular croissants stuffed with cream fillings, salted caramel popcorn, and more… Plus, you can stop by here for your fluffy shokupan loaf fix, baked fresh every morning.
Details: 95 Notting Hill Gate, London W11 3JZ | Open daily, 8am-4pm
–
Café Kitsune | Belgravia
The first thing that hits you when you walk into Pantechnicon, the five-storey Belgravia hub of all things Japanese & Nordic, is the heady waft of coffee and fresh pastry emanating from Café Kitsuné. This is the only UK outpost from the French-Japanese café and music label, serving what they call dishes with a 'Japanese accent'. That means breakfast items like matcha pain au chocolat and yuzu melon pan; pastries like lime, apple and shiso tart; and a cracking chicken katsu sando on the lunch menu. The drinks are just as elaborate – alongside tea & coffee you'll find seasonal specials like caramel miso hot chocolates, chestnut matcha lattes and iced yuzu & honey, the last of which is best enjoyed on the suntrap terrace outside. Drop by later in the day for signature cocktails like the Japanese Espresso Martini (infused with toasted sesame miso) and the wasabi-spiked ginger Margarita.
Details: 19 Motcomb Street, London, SW1X 8LB | Open daily 8am-6pm
–
Happy Sky Bakery | Chiswick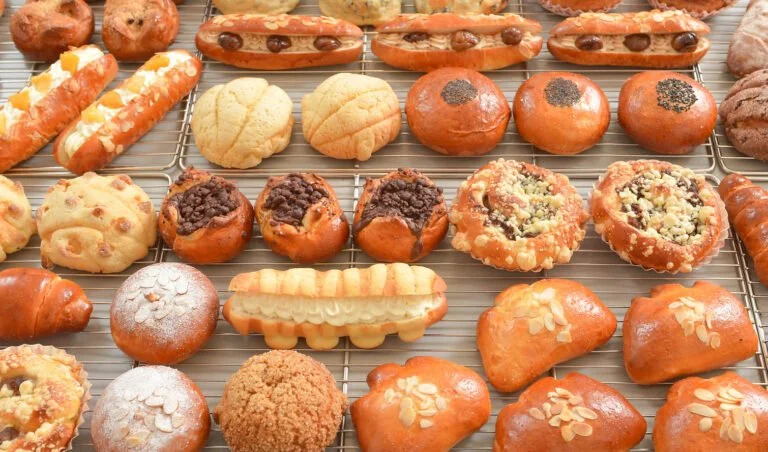 After a decade of delivering baked goods, Motoko Hida cut the ribbon on her first bricks-and-mortar place in West London. HSB is a beautiful, sun-drenched bakery that serves up a dazzling array of hyper-authentic sweet and savoury numbers. Their most famous product here is their shokupan or milk bread (yes, the one Jurgen made a baby out of in last year's Bake Off). Kneaded using the yudane method, near-boiling water is added to the bread flour, gelatinising it. The result is a gloriously sweet, pillowy soft loaf that makes killer sandwiches. Buy one to take home, but stay in for the yakisoba roll (literally yakisoba stuffed into a hot dog-style bap); chestnut and salted butter adzuki bean rolls; chicken katsu curry balls and yuzu custard cream doughnuts.
Details: 94 Askew Road, London, W12 9BL | Open Friday 9am-3pm, Saturday 7am-3pm
–
Lanka | Finchley Road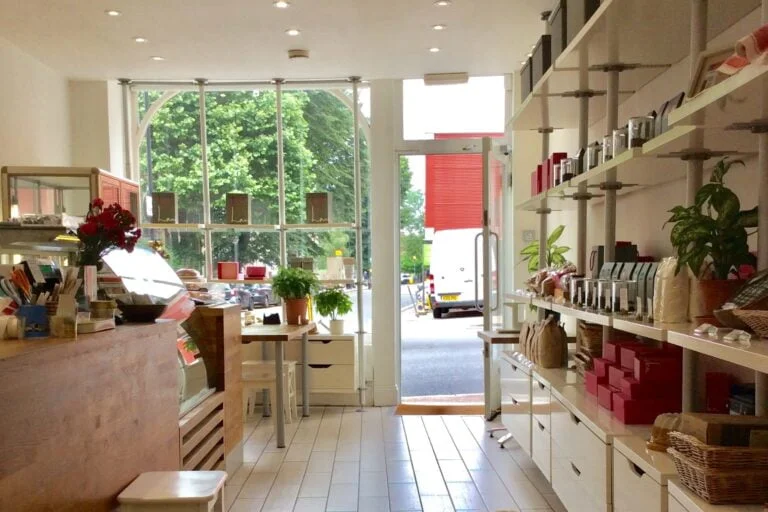 Lanka is the elegant brainchild of chef Masayuki Hara. He originally came over to London from Japan to work at (then triple Michelin-starred) Le Gavroche, but nowadays he turns his finely-honed French culinary skills to preparing exquisite patisserie (something he humbly refers to as 'homemade'). Each day he bakes fresh around half of their full line-up of 50 different cakes and pastries, whose flavours fall on a scale from classically Japanese (mont blanc, green tea & strawberry cake, green tea panna cotta with azuki beans) to quintessentially French (Paris Brest, Saint Honore, éclairs). Hara's other speciality is tea, and the shelves here are lined with Lanka's own loose leaf tea blends to sip or take home with you. And if you want a more permanent souvenir? Four of the cakes here have been immortalised in necklace form.
Details: 9 Goldhurst Terrace, London NW6 3HX | Open Thursday – Sunday 10.30am-5pm (4.30pm Sun) | Also find Lanka patisserie at Monocle Café, Marylebone
–
WA Café | Ealing & Covent Garden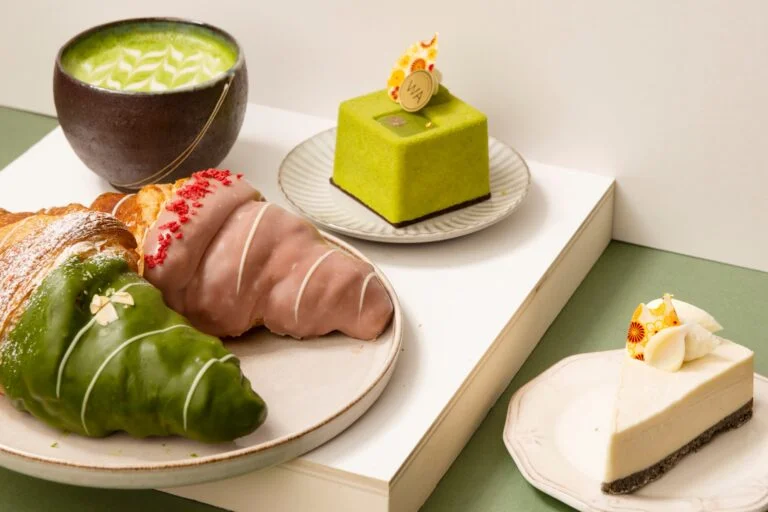 WA Café's proved so popular in the short space of a few years, it's already expanded from Ealing to Central London. With its high ceilings and huge windows looking over Haven Green, the Ealing branch is probably the nicer to pass the time in, but the cakes on offer are exquisite at both.
WA demonstrates a quintessentially Japanese sensitivity to the passing seasons, and you'll often find special, limited edition items here that make the most of the colours and flavours of each month – sakura panna cotta topped with gold leaf in Spring; sweet potato rolls in Autumn and matcha tiramisu yule logs for Winter. Other classics you can tick off your list include melon pan (sweet bread rolls with a crumbly exterior); an pan (buns filled with sticky red bean paste); and a strawberry shortcake with the consistency of clouds. And to go with it all, there's a drinks list filled with specialty options like pumpkin, black sesame or hōjicha (roasted green tea) latte, all served in elegant Japanese crockery.
Details: 32 Haven Green, Ealing, London, W5 2NX | Open weekdays 8am-6pm, Sat 8.30am-6pm, Sun 9.30am-6pm
5 New Row, Covent Garden, WC2N 4LH | Open daily 10.30am-7pm
–
Sakurado | Kensington & Chinatown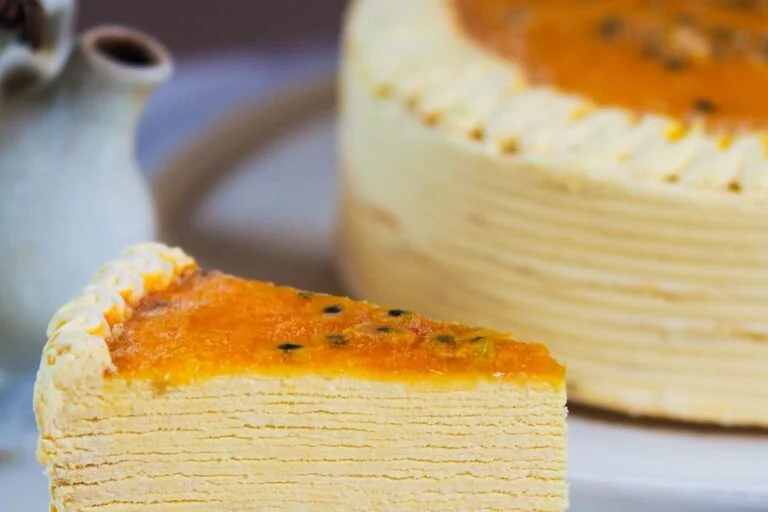 One of Japan's most famous desserts was invented by chef Emy Wada, who fell in love with crepes while travelling in France, and wanted to create a crepe dish that could be enjoyed long after it had left the pan. Enter the Mille Crêpe Cake: a dessert with (typically) 20 layers of incredibly thin crêpes, stacked and sandwiched together with cream laced with flavours like matcha, chocolate, or hōjicha. You can find them in a dozen flavours at Sakurado, ranging from Oreo to durian, alongside the equally famous 'jiggly' soufflé cheesecake.
Details: 14 Gloucester Road, London, SW7 4RB | 66 Shaftesbury Avenue, London, W1D 6LX | Open daily 11am-10pm
–
Fuwa Fuwa | Bloomsbury, Soho & Mayfair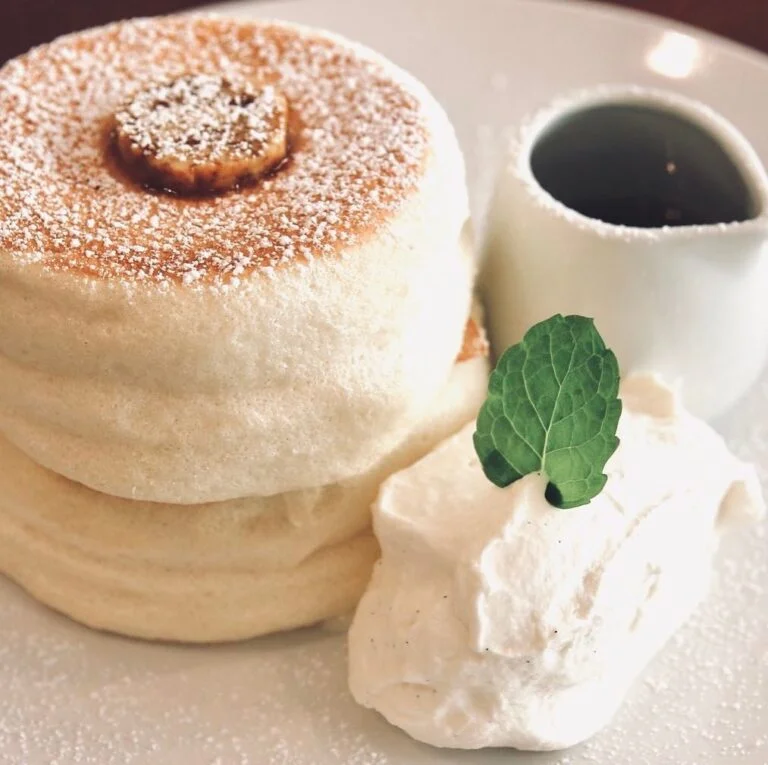 Fuwa fuwa is a Japanese word used to describe puffy, fluffy things (think clouds, cats, and marshmallows). Here, it's a signpost for crêpes driven to the other extreme of the scale: inch-thick, gloriously fluffy soufflé pancakes. Whipped up using a meringue-style batter, they're a feat of structural ingenuity and provide the perfect base for lavish toppings like pistachio & rose; biscoff; and matcha tiramisu. This place started out as a pop up, and five years on they've expanded to three airy locations across Central London…
Details: Unit 8, Brunswick Centre, London WC1N 1AE (open daily, 11am-8.30pm) | 57a Dean St, London W1D 6AJ (open daily, 12-10.30pm) | 23 Berkeley Street, W1J 8EG (open daily, 12-11pm)
–
Toconoco | Haggerston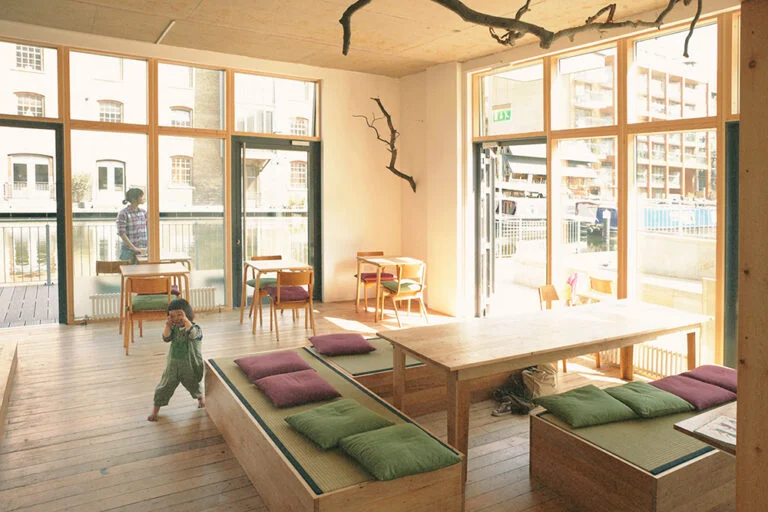 Toconoco – or 'kids on the floor' – is a made-up Japanese word the owners created when they opened their kid-friendly café in Haggerston. Overlooking Regent's Canal, and flooded with sunlight, it feels a bit like stepping into a Japanese family kitchen, where they're just as happy for you to sit and work as they are for families to hang out in the playroom. On the menu you'll find rice balls stuffed with authentic fillings like salted kombu, ume (sour plum), and bonito fish flakes; hot and cold noodle dishes; and for the real acolytes, natto (fermented soybeans). In summer, take an ujikin, a matcha ice slushy, for a stroll along the water's edge.
Details: Unit A, 28 Hertford Road, London N1 5QT | Open daily, 10am-5pm
–
Tetote Factory | Ealing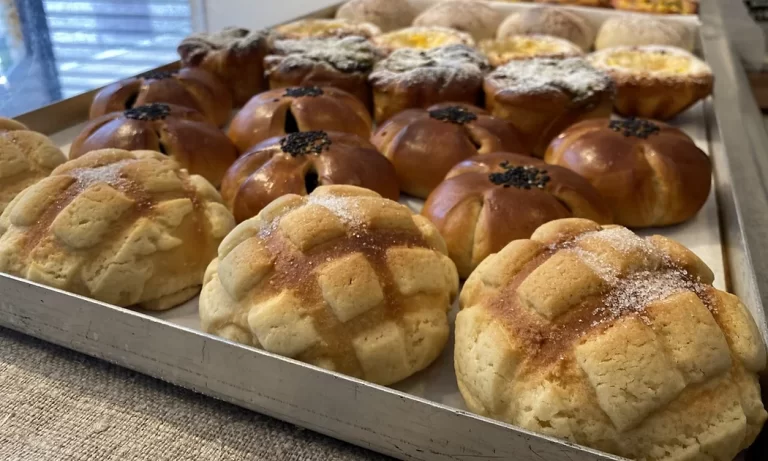 Ealing's industrious Japanese bakery is run by Eisuke and Tomoe Tomita and a friendly all-Japanese team who churn out a dazzling array of sweet and savoury baked treats and loaves to take home. As well as fluffy shokupan, they make some of the best French baguettes in London, too. There's no seating here, so go on a sunny day and take your tuna sweetcorn buns and melon pan out to enjoy in Lammas Park.
Details: 12 South Ealing Road, London, W5 4QA | Open Wed-Sat, 11am-3pm
–
Moko made | Haggerston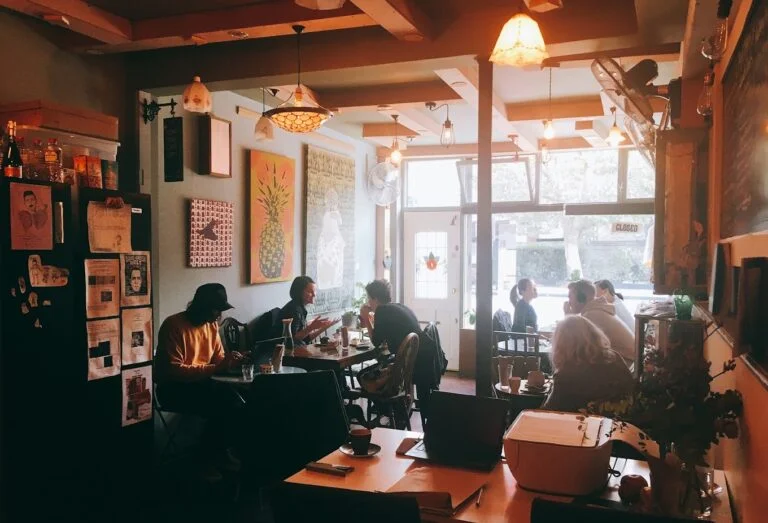 This charming café on Kingsland Road is a cosy, independent gem filled with mismatched, second-hand furniture; sketches and prints by local artists; and an easy-going, jazzy soundtrack to accompany the patter of orders going back to the kitchen in Japanese. Everything here is made in-house, including the coffee which is a collaboration with Vagabond N7. Treats like the banana & salted caramel cake and kinoko roll cake come in generous proportions, but it's an equally good spot for a traditional Japanese lunch, with curries, rice balls and piping hot noodle bowls available daily.
Details: 211 Kingsland Road, London E2 8AN | Open Tues, Wed, Fri 8.30am-5pm, Thurs & weekends 10am-5pm (closed Mon)
–
Katsute100 | Angel Islington & Brick Lane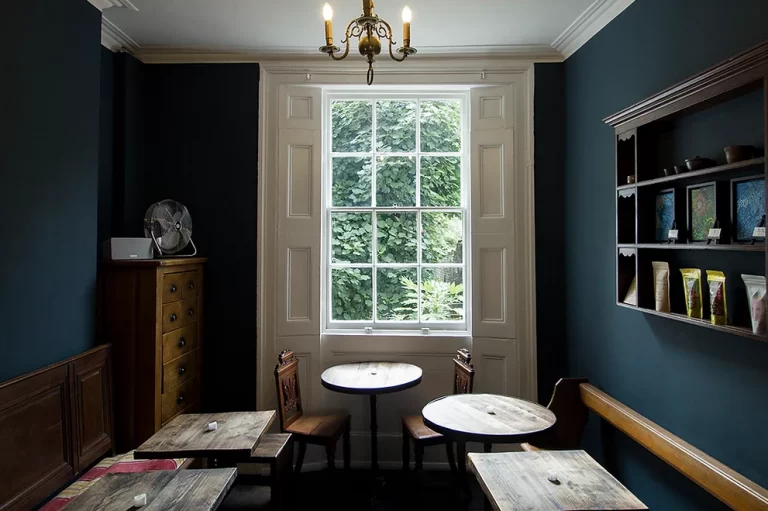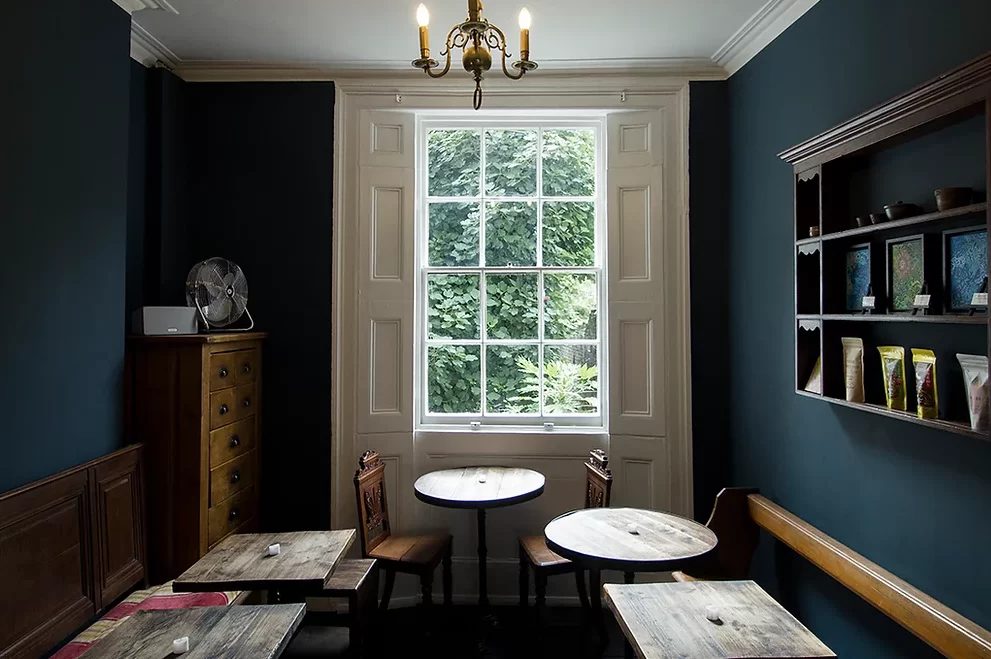 Hidden in a Georgian terraced building on the cobbled backstreets of Camden Passage is a teahouse that feels like it's been plucked right out of turn-of-the-century Japan. Tranquil, shadowy interiors filled with antique furnishings and the gentle clink of Japanese crockery provide an atmospheric place to sip loose leaf teas and small-brewery sakes; the hidden garden out the back is a great place to know about in summer.
Katsute100 stocks one of the widest ranges of Japanese tea in the city, served by a highly knowledgeable team who'll gladly chat to you about the many varieties of green tea, from gyokuro (grown in the shade, with an earthy, sweet taste) to the frankly mind-blowing kyoho sencha (infused with Japanese mountain grape to give it a bubblegum-like aroma). Alongside more familiar desserts like Mont Blanc tart and matcha cheesecake you'll find rare treats like wakaayu, a fish-shaped cake enjoyed as part of the Golden Week holiday. The newly-opened Katsute100 sophomore in Brick Lane is notable for its basement tatami room, where you can sip matcha in a traditional setting, and the team also run regular events like sake tastings and wagashi workshops, where you'll learn to make your own elegant traditional Japanese sweets.
Details: 100 Islington High Street, London, N1 8EG​ | Open weekdays 11am-8pm, weekends 10am-8pm
147 Brick Lane, London, E1 6SB | Open daily 12-9pm (Sundays 11am-8pm)

---
Like Japanese food? Take a look at these amazing sushi restaurants