London's Best Bakeries | A Laminated Guide
In 2020, London became a city of sourdough bakers.
And while that number's probably dropped as quickly as Duolingo users since, the capital still has a shed-load of ridiculously talented bakers, patissiers and dough fanatics.
So in the search for the best bakeries in London, we've popped into the upper crust of the city's bun houses to see which among them really take the cake. And to properly sort the wheat from the chaff, we had to take a look at the whole affair – from the range of goods available, to the bakery space, to the provenance of their flour, and more. So these are the winners…
…they're the best things since sliced bread.
–
---
JUMP TO: NORTH LONDON | EAST LONDON | SOUTH LONDON | WEST LONDON
---
CENTRAL LONDON BAKERIES
Fortitude | Bloomsbury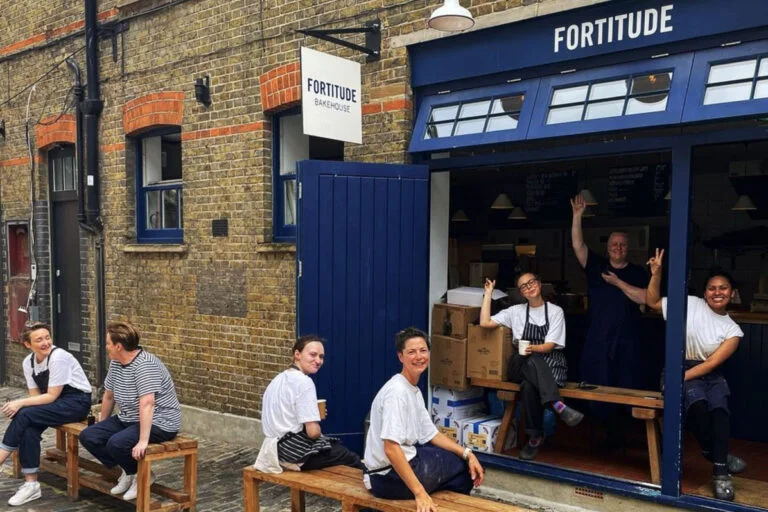 Fortitude is found down a cobbled street in a mews in Bloomsbury. We want to say hidden away down a cobbled street in a mews in Bloomsbury, but the permanent queue kind of ends any hope of that. Punters line up outside the blue shop front in large numbers to get their hands on the likes of flaky Danishes topped with ricotta, toffee and hazelnuts; sticky cinnamon buns and morning buns filled up to the brim in custard.
Co-founder and baker Dee Rettali is something of a legend in London's baking scene, having written a successful bakery cookbook (Fortitude in Baking, hence the name here) and opening Patisserie Organic back in 1988, with her Irish heritage and trips to the souks over in Morocco playing key roles in her influences.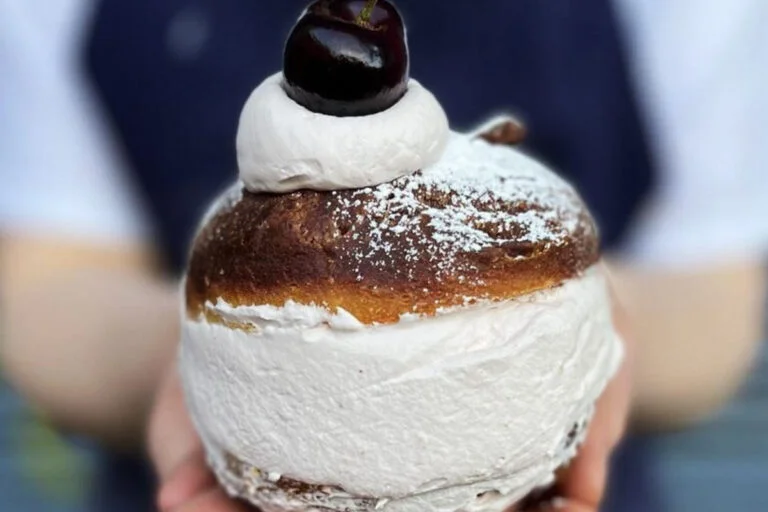 Fortitude's USP is using slow-fermented dough in their cakes, turning out loaf-like creations with flavours such as Japanese cherry & almond. They're the signature here, but you're going to want to get a bit of the sausage rolls too, and the pastries mentioned above, the glossy mini strawberry and cream trifle tarts… there are no mistakes to be made. Unless, that is, you've arrived later on in the afternoon, when the shelves are looking more than a little empty…
Best Pastry? No, we didn't forget them: the beignets. They just deserved their own section. Stuffed with flavoured creams like eton mess in the summer and spiced pumpkin in the autumn, bring a bag of these back to office and then graciously accept your employee of the year award.
Dietaries? Gluten-free and vegan bakes available.
Seating? There's two benches outside, but if we're realistic this is more of a takeaway spot.
Extras? Single-farm coffee and stone-rolled tea.
Delivery? No.
Details? 35 Colonnade, London WC1N 1JD
–
Chestnut Bakery | Belgravia & Covent Garden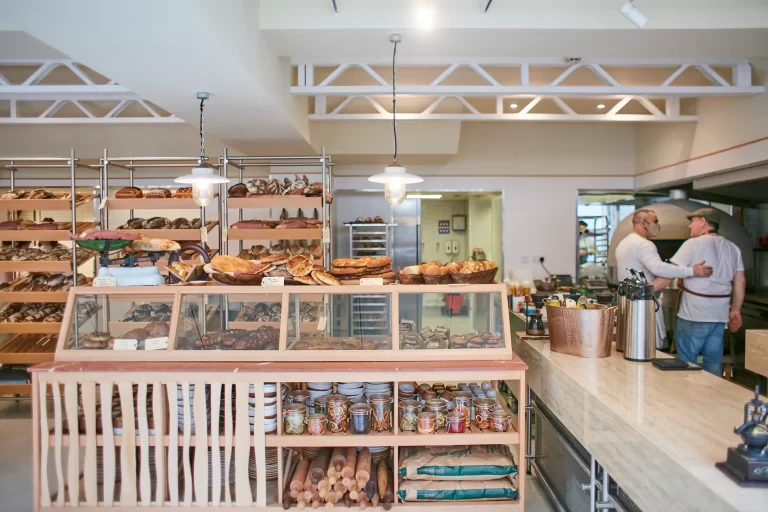 Chestnut Bakery has two locations (one in Belgravia down the road from Buckingham Palace, and another in Covent Garden), both bright spaces dominated by light pale colours and wood displays, and known for pastries that look so pretty they could easily be framed and displayed as art in a gallery somewhere. Thankfully, the art collectors haven't caught on yet, and from cinnamon buns to croccacia (a new croissant mutation, this time fused with the DNA of focaccia) to dark chocolate & salted caramel Danishes, they taste just as good as they look, and belong solely in our bellies.
Upon entering either venue, you'll notice a massive oval-shaped piece of machinery getting fussed over in the background – that's a claypot oven, which is the architect for their famed handmade flatbreads, coming in standout flavours like eggs on mornay sauce and burrata and burnt honey.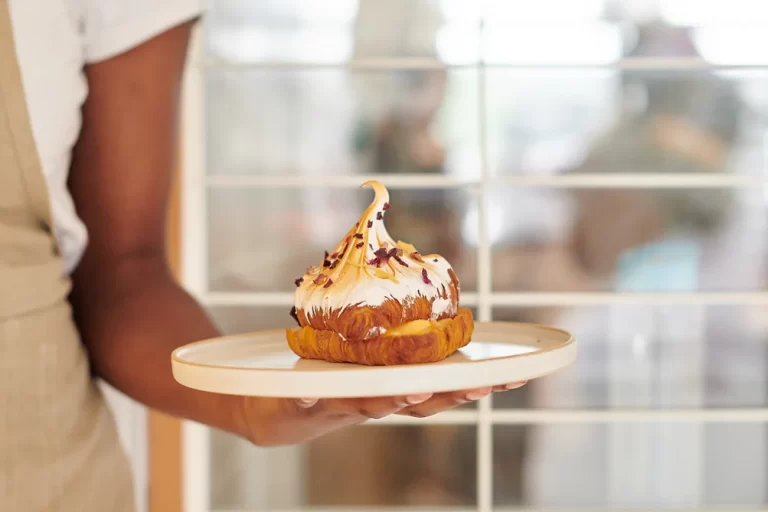 Best pastry? The flatbreads are in a category of their own, so let's leave them out for now. For the rest, It would be unfair to single out just the one pastry when they all deserve a mention, but in the rare event that someone has placed a curse on us saying that we wouldn't be able to eat another Chestnut pastry in our lives if we didn't pick, then we'll go for the double-baked almond croissants, because you simply can't beat a classic.
Seating? Indeed, both Chestnut's bakeries are spacious and have pleasant terrace areas equipped with a retractable roof, which makes 'come for a quick croissant and stay for an unplanned brunch' a common occurrence.
Dietaries? They're on it – find allergen info here
Extras? There's toasted sandwiches (melted cheese or bresaola and avocado) made with their own sourdough and bagels (with seared halloumi and cold cut roast beef among the fillings), plus teas, juices and coffee to provide with the food with some liquid company.
Delivery? Yes, you can order through their site for individual and office deliveries.
Details: Belgravia: 17-21 Elizabeth Street, SW1W 9RP | Covent Garden: 24 Floral Street, WC2E 9DS
–
NORTH LONDON BAKERIES
Jolene | Stoke Newington, Islington, Shoreditch, Holloway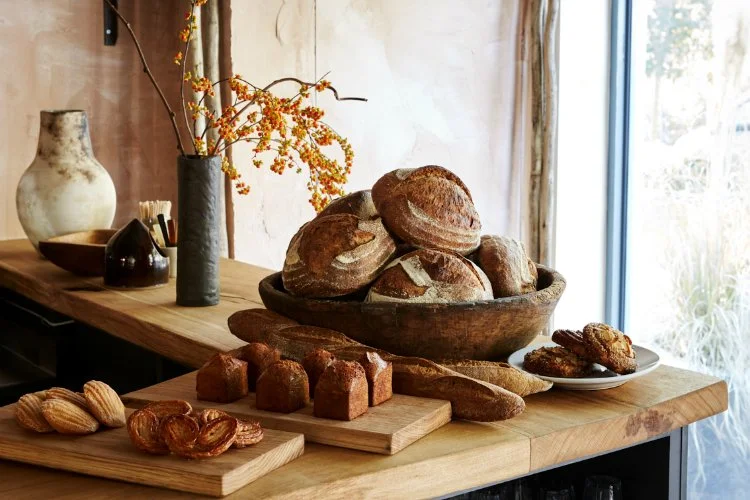 Coming to you from the team behind Primeur and Westerns Laundry, Jolene is part bakery, part restaurant, all packed into a beautiful Newington Green space.
But the really remarkable thing about what they do is the provenance of their flour, which is almost mind boggling. It's all milled from unaltered grains, grown in pasture cropping soil which uses no pesticides, no herbicides, no tilling, and no ploughing. In fact, they use horse drawn machinery only. Then they take those grains, and mill them onsite (which is also incredibly rare) before turning the flour into first-class breads and pastries.
Join the line for pastries (there's always a line, but it moves quickly) and you'll be treated to tiramisu cake, pear upside-down cake, cinnamon buns, blackberry oat bars, and double-chocolate rye cookies, all made with their monastically pure flour. And they are sensational. If you can't get to Stokey in a hurry, their neighbourhood bakeries on secluded corners of Islington (Jolene Colebrooke Row) and Shoreditch (on Redchurch Street) act as mini outposts with some of their best-sellers on daily, while Big Jo in Holloway is another bakery-restaurant hybrid.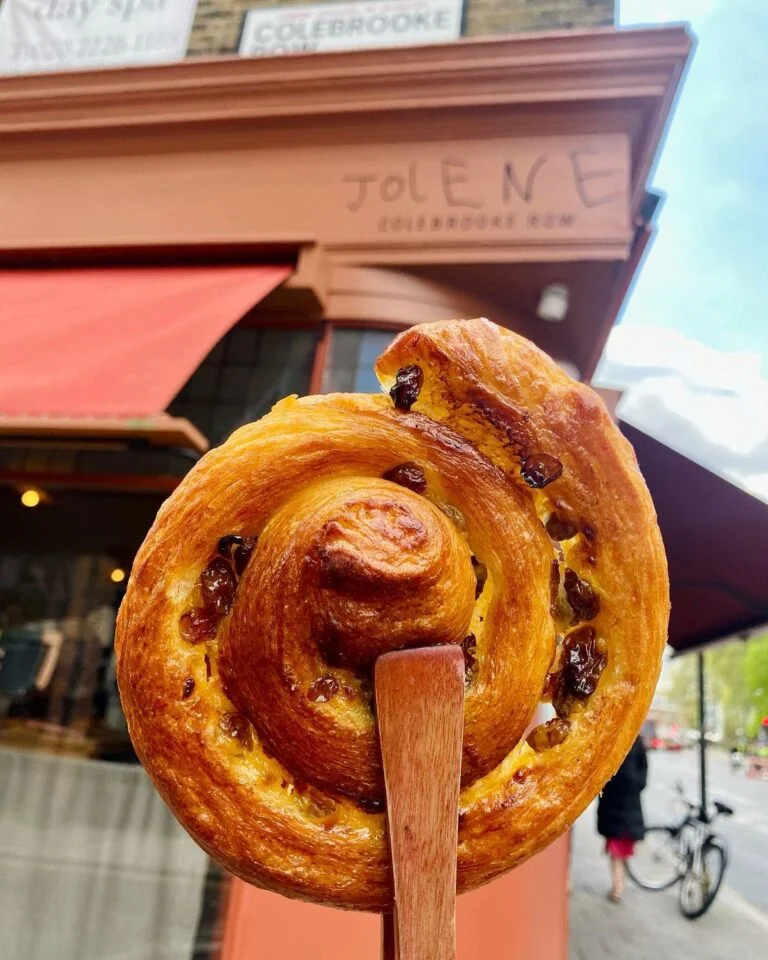 Best Pastry? The cinnamon bun. When it comes to pastry, the simplest thing is often the most difficult to get right. There's no room for error in a cinnamon bun, so when they come out as perfect fluffy scrolls, decorated with a delicately sweet glaze, you know there's a master at work.
Dietaries? It's a small selection, and they're very much married to gluten here, so not really.
Seating? Yes, and it's incredibly romantic… but that's for the restaurant. Islington has a few seats inside with a small counter, and Shoreditch has a couple of tiny benches outside – better to take your spoils to Arnold Circus or the grounds of St Leonard's church.
Extras? They will provide you with one of the best meals in North London.
Delivery? No, takeaway only.
Details: 21 Newington Green, Mayville Estate, N16 9PU
–
EAST LONDON BAKERIES
The Dusty Knuckle | Dalston & Harringay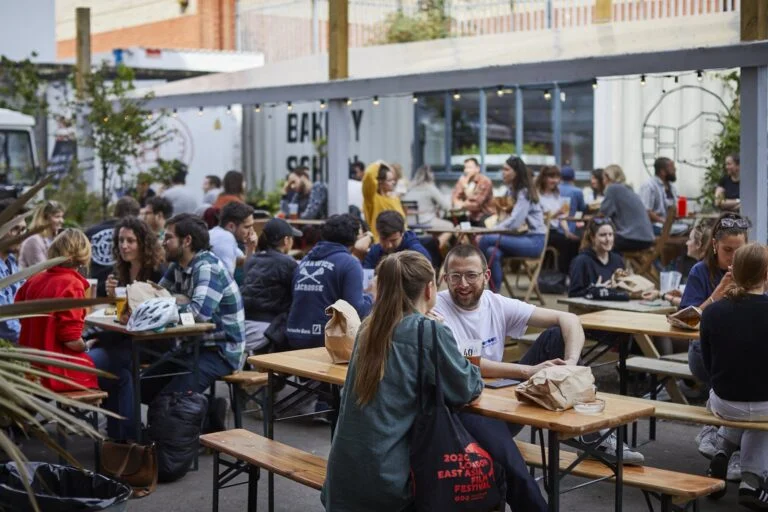 The Dusty Knuckle started life in a 40ft shipping container. Now, they've expanded to a pair of sites considerably larger than that. You'll find the Dalston original very much tucked away, on a little side street that you need to know about to get to. There is no passing trade here, this East London bakery is a destination.
That's because for a bakery like this, you need a lot of space. A lot more than 40ft. And walking in, it appears to be cavernously large, extending back like a warehouse. Everything has the sheen of functionality, from the concrete floor, to the simple chairs, to the cork-board bakery counter.
Behind it, you'll find all manner of goods, from pain au chocolat, to 'morning buns' (fat rolls of croissant dough tossed in cinnamon sugar), to date & fig buns dipped in coffee. They make a particularly good croissant dough here, and it makes the basis for a lot of their pastry. And we, the punters, are all the better off for it. And of course, we need to mention the bread too. Their potato sourdough is absolutely worth getting a loaf of.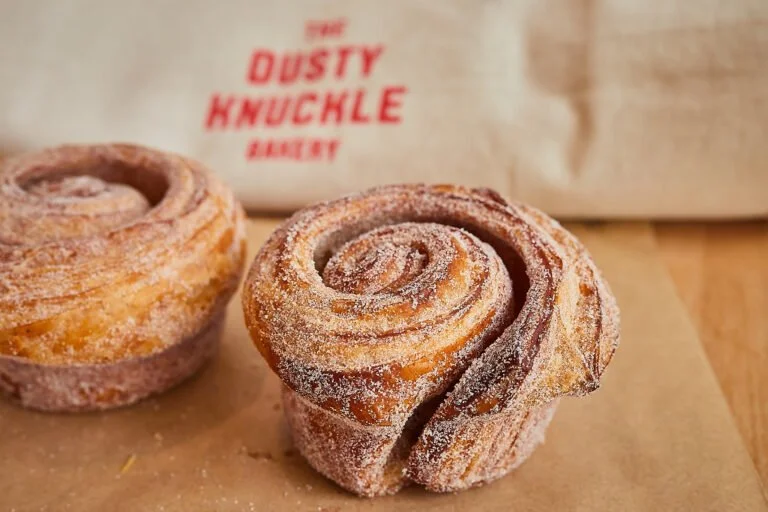 Best Pastry? The Orange & Poppyseed Swirl is something else. It's made with croissant dough and a sweet poppy seed mix, then formed into a double-swirl of interlocking dough. Each bite gives you crispiness, yielding dough, zestily bright orange, and sweet poppyseed. There are no lazy players, every part acts like the soloist. And it's gigantic.
Dietaries? There are plenty of vegan options, and gluten free. Very good in that regard.
Seating? Plentiful, both indoor and out.
Extras? They do an excellent line in lunches; they use their own bread to make some of the best sandwiches in London. A Paxton's Cheddar sarnie, a porchetta sandwich, a vegan roll stuffed with deep-fried dumplings – there's something for everyone. Oh, and there are pizzas, too.
Delivery? Yes, via the vintage Dusty Knuckle Milk Float. It's not quite as simple as a regular delivery, but it makes up for it in charm. Pre-order and meet it at select North & East London locations here.
Details: Dalston: Abbot St, London E8 3DP | Harringay: 429 Green Lanes, N4 1AH
–
Forno | London Fields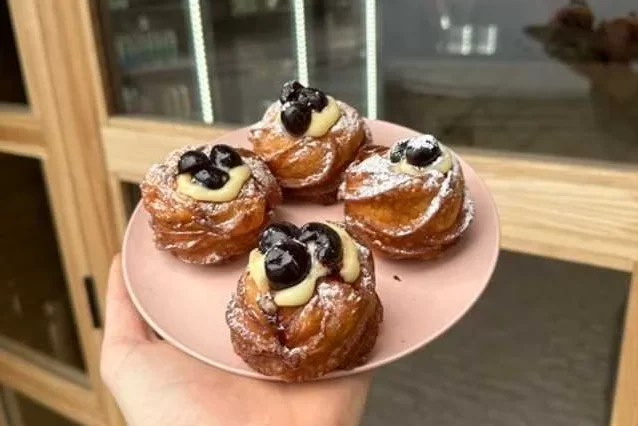 Forno – give it a little chef's kiss as you say it – is a brilliant bakery in Hackney from the head chef at Ombra, a loved-by-all-the-locals Venetian restaurant across the road. The head chef in question is Mitshel Ibrahim, who's letting it be known that can he bake as well, each morning marching out all sorts of barnstorming breaded Italian treats to be snapped up from the counter trays. Come for maritozzi (the soft, Italian cream bun); gianduja buns (like Nutella, but richer) laced with orange zest and stuffed with gianduja cream; lemon curd cruffins (using lemons from Amalfi); custard Venezianas and sfogliatelle (a shell-shaped Italian pastry) to name a few more than a few…
While Forno is a bakery, it's also a deli and a pastificio, meaning that you can grab loads of imported Italian goods for your pantry (cold cuts, cheeses, sauces and yes, wine) and that they also make their own pasta here, like freshly-made conchiglie, to take home. The site itself is under arches, is well spaced-out and has a casual dog-friendly atmosphere, both inside and out, primed for a quick lunch slice of rectangular Roman pizza that you can see being baked and prepared in the background, or a focaccia sandwich. And they do an exceptional espresso, which considering the whole Italian aspect, goes without saying really…
Best Pastry? You can't with the maritozzi. Partly because they don't speak, but also because they taste damn good.
Dietaries? Best to double-check on-site.
Seating? About ten inside and a further 20 outside.
Extras? Everything coming out of the deli – condiments, pasta and wine.
Delivery? Sadly no
Details? 22 Andrews Rd, London E8 4RP
–
The Snapery East | London Fields
The sister site to The Snapery Bermondsey (which, hey, is also one of the best bakeries in London), Snapery East supplies sourdough to some of the city's premier eating establishments, which you don't actually have to go to to enjoy. The bakes are all available right here in an industrial-chic setting under the brick arches near London Fields – focaccia, loaves of fruit & nut rye, French baguettes… all made with 100% wildfarmed flour and through a carefully managed baking process.
Considering the quality of bread they produce, the team came to the sensible conclusion that it might also be put to good use in brunch dishes – so huzzah, they offer seasonally-focused things like rhubarb and tahini toast with a speckle pistachios over the top; breakfast muffins tightly fitted with a fried egg, sausage, sriracha ketchup and an oozing of gouda melting over the sides; and then, of course, sandwiches – perhaps filled with hot smoked trout, smashed meatballs or a grilled cheese toastie with beer onions and mustard.
You don't even need to go to the trouble of finding a park bench to devour them, as there's ample (and heated) outside seating from the front terrace. And the coffee is from Caravan, too.
Best Pastry? It's a toughie – like one of those desert island questions – but if you're craving something with sugar, the cardamom buns (literally) hit the sweet spot, both fluffy and glazy.
Dietaries? Sorry gluten-free folks, gluten very much reigns supreme here.
Seating? Yes, but all outside and don't worry, it is heated post-summer. 
Extras? The display area sells their homemade maple syrup-roasted granola, packs of Caravan coffee and other bits and pieces that you can bless your fridge and pantry with.
Delivery? Yes, you can order on Deliveroo
Details? 373 Helmsley Pl, London E8 3SB
–
Pophams | Hackney & Islington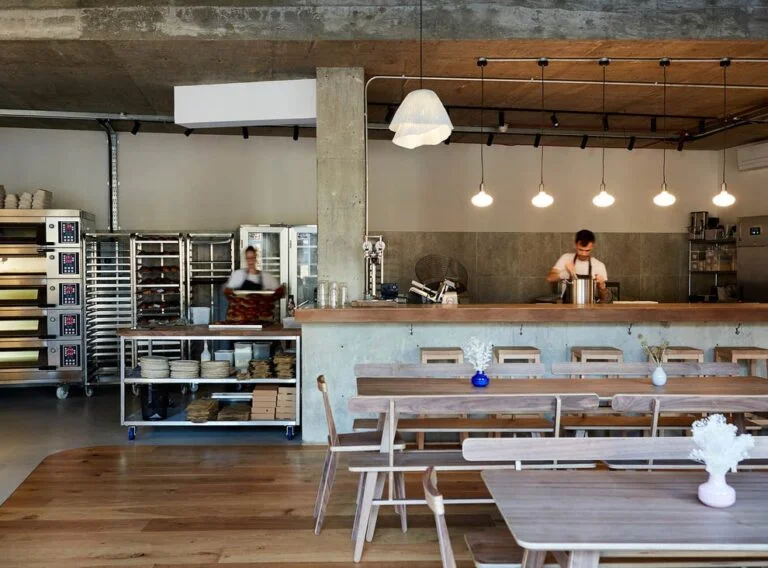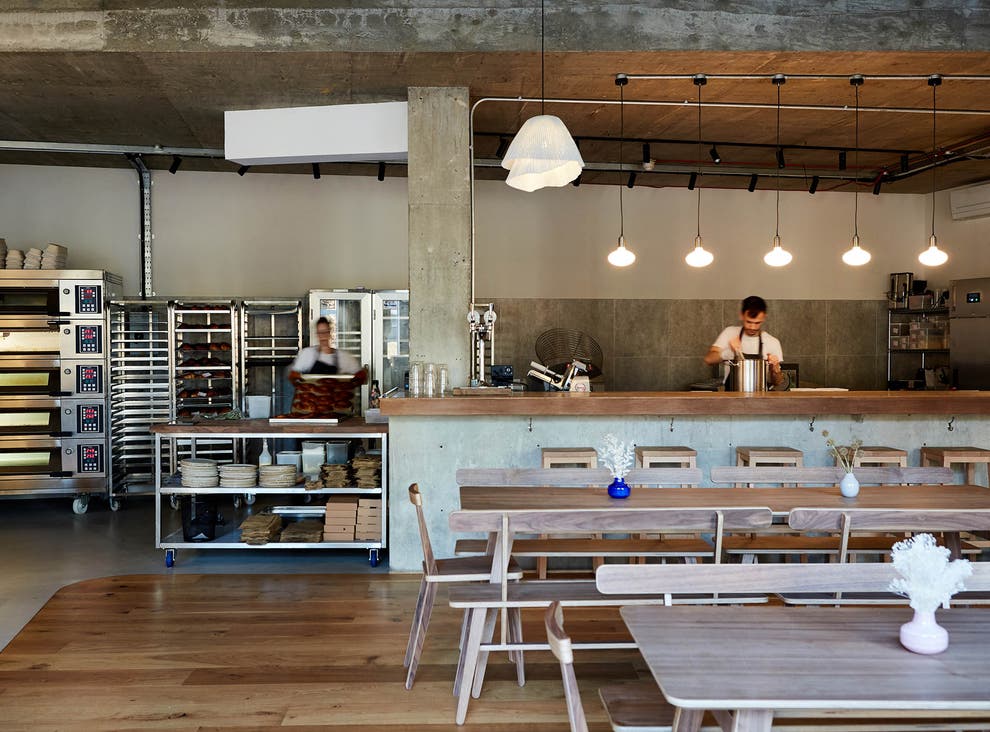 Popham's Hackney bakery space is stripped back and hyper-functional: the huge open kitchen dominates the space at the back where you'll be able to see the chefs busily mixing & rolling dough all day. That kitchen overlooks the wooden sharing tables in the main space, and it's all wrapped by concrete walls, bare except for a few minimalist artworks. Pophams Islington, meanwhile, is more of a conventional café set-up, with picnic benches out front and a couple of smaller tables inside.
The pastry selection on display is therefore restricted to a small platter of goods (around eight in total, plus a couple of specials at the weekend) that you can pick and choose from, before having your order rustled up from the huge bakery shelves in the back of the space. The pastries are absolutely delicious, and in Hackney, the bakers take the extra step of turning their carby black magic towards fresh pasta, too. Oh, and the bread is absolutely next-level.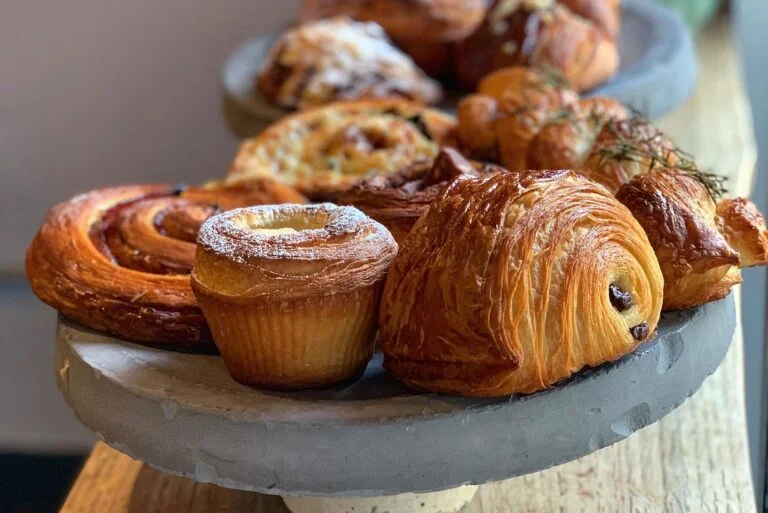 Best Pastry? The Bacon & Maple Swirl is a slightly odd Franco-American hybrid, but it works. It works very, very well indeed. The bacon is expertly swirled into the dough, and brushed with maple in just such a way that you get all of the tastes in every single bite. Ask for it to be warmed up when you get it (or just do it yourself when you get home); it'll only take a minute, but it'll unlock so many more flavours.
Dietaries? With such a tidy collection, they don't really have much in the way of vegan, or gluten/dairy free stuff.
Seating? Yes, lots, both indoor and outside underneath their giant awning.
Extras? Oh yes. The pasta is so good, there's an argument to say that they're a pasta restaurant that also makes pastries. The menus are short, but highly original, and totally delicious.
Delivery? No.
Details: 197 Richmond Road, E8 3NJ
–
E5 Bakehouse | London Fields & Poplar
Housed in a starkly white spruced-up railway arch beneath London Fields Station, E5 Bakehouse is an all-organic, all-independent, all-natural, all-environmentally conscious, all-everything operation started by then-amateur baker Ben Mackinnon in 2011. Back then he had to literally hand-build his own wood-fired oven from brick & clay, and the urge to do things from scratch clearly hasn't left.
The bread is all made from organic, UK-grown wheat, which the team will grind into flour themselves using their own stone mill at sunrise daily. It's all then leavened with entirely wild yeast (try their signature Hackney Wild bread, it's amazing) before being baked in an oven powered by renewable energy, and wrapped in biodegradable packaging. And sure, making a decent loaf of bread may not exactly be brain surgery, but it just so happens that head baker Eyal Schwartz literally has a PhD in neuroscience anyway. He expertly makes the bread and the pastries whipping up everything from chocolate babkas, to flourless brownies, to maple and date cake, and everything in-between.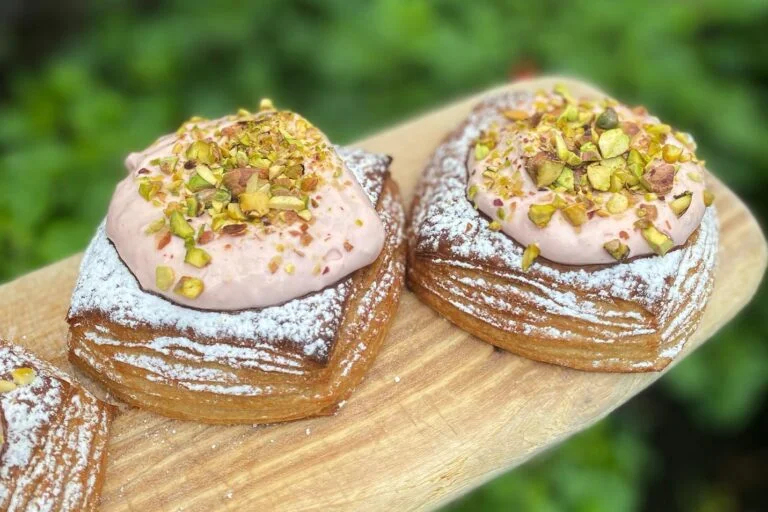 Best Pastry? This is a tough one because, frankly, everything's a contender. But for us, it's got to be the galette, made with spelt flour and cardamom. The sheer depth of flavour is immense, and the clear, clean taste of the pear just sings when it hits the palette. Beautiful.
Dietaries? Yes, they have vegan options, gluten free options, and dairy free options. Extremely good selection.
Seating? There's a fair amount inside.
Extras? Soooo much. They do jams, chutneys, cheeses, wine, vegetables, cookbooks, you name it.
Delivery? Yes, you can order almost everything they make right here. Check the delivery radius here.
Details: 396 Mentmore Terrace, E8 3PH | 8a Cotall St, London E14 6TL
–
The Proof | Dalston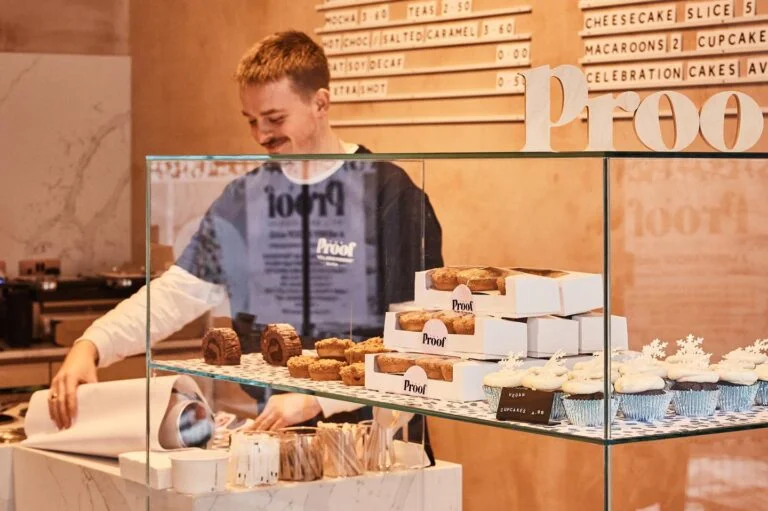 After becoming one of those classic lockdown delivery success stories, journalist-turned-baker Francesca Strange opened a proper permanent bakery in a minimalist space in Dalston Square. Strange had what sounds like a very enviable childhood, often spent watching her talented Italian nonna whip all manner of wondrous sweet treats (and then no doubt eating them all). And those studious times have clearly rubbed off on her, with the proof being well, in the pudding…
The goods at this bakery are all magic, but those that are extra magical are the shag cakes, which are guaranteed to leave you open-mouthed with awe (and with a strong desire to just demolish the whole thing in one go). The other main draw is the profiteroles (aka 'proof-iteroles'), with a build-your-own bar at the shop where you can pimp your p-role with filings, sauces and toppings like homemade honeycomb. If you really wanted to go all out, they combine their two loves, cakes and profiteroles, in a ridiculously-OTT dessert that'll make your teeth tremble; a three-layered chocolate cake adorned with a tower of profiteroles…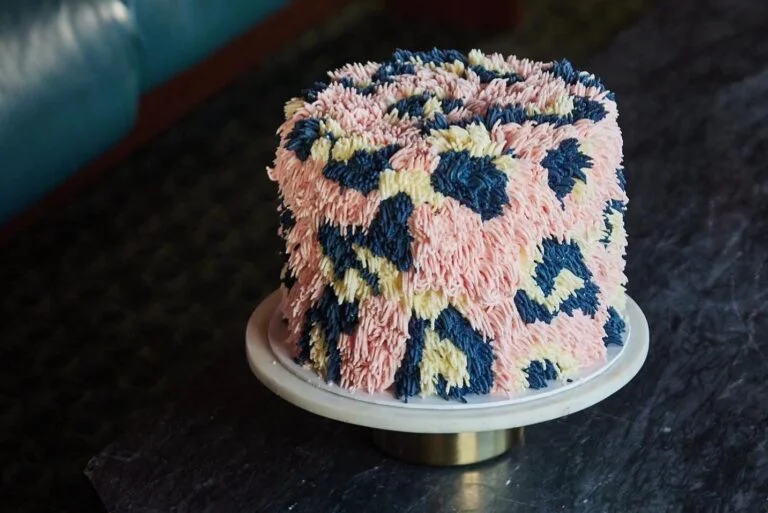 Best Pastry? There is no wrong answer, but considering the proof-iteroles – balls of choux filled crème chantilly and finished however you like, with dark chocolate sauce, salted caramel, strawberries, or all of those together – have their own special name, we'll go with them.
Dietaries? The pastries and puddings at The Proof are 100% nut-free, and for other allergens you can get in touch with them and they'll try to work around it for you when you make an order.
Seating? It's mainly a grab-and-go spot, but that's probably for the best unless you don't mind judgemental stares.
Extras? Coffee comes from Flying Horse Coffee and you can take home bits and bobs from the likes of Hackney Gelato (ice cream) and The Completist (stationary), who are stocked here in an effort to support the local community (and because they're also just generally great).
Delivery? Yes, London-wide. Good for birthdays, special occasions, romance and evenings on the sofa in your sweatpants. They even sport the tagline 'we'll bring the pudding'. Order here
Details: Dalston Square, London E8 3BQ
–
Morny Bakehouse | Leyton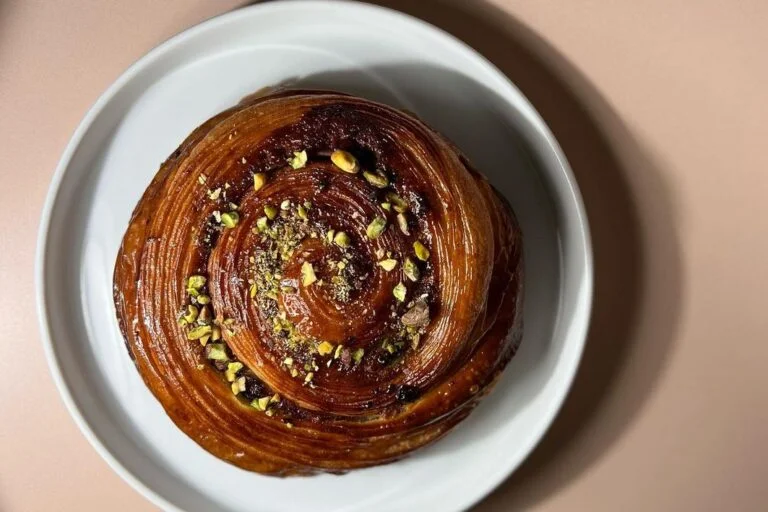 The first thing to do on any decent Leyton itinerary…
You'll spot Morny Bakehouse on Francis Road (the scary-looking queue is normally a giveaway). It's from nearby Marmelo Kitchen's Natalie (the sister venue down the road that should be stop #2 on your Leyton itinerary) and her baking pal Sophie. Together, they've found a tiny-hole-in-the-wall spot where you can see the artists at work – kneading, brushing and decorating – from behind the counter, while patiently awaiting your soon-to-be devoured truffle potato, cheesy leek & gruyère Danish.
Natalie and Sophie have been blessed with incredible pastry imaginations and they class themselves as a 'modern Viennoise', which means going beyond and creatively sprucing up the classics – like cruffins, stuffed generously with mascarpone custard and espresso cremeux, doughnuts filled with chocolate custard honeycomb, kitchen sink cookies (embellished with pretzels and toasted marshmallows) and cakes that span banoffee pie to Eton mess. Leaving with a single item is sacrilege, so grab a few to take home to 'share' with your friends…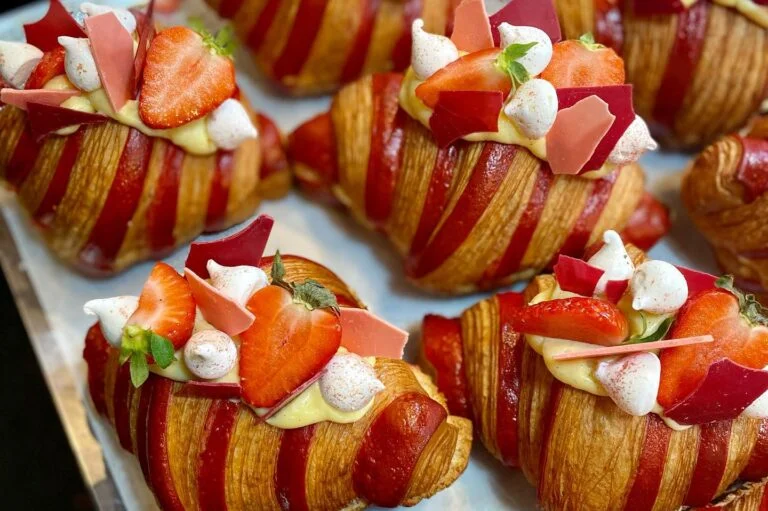 Best Pastry? The cruffin – a croissant and muffin rolled into one – is probably what to go for here (in the tortuous scenario where you're limited to just one choice). The dough-making process is a two-day affair where only top-notch ingredients are involved (milk from Estate Dairy and French butter from AOP Beurre Charentes-Poitou), and the fillings to date have included pina colada and Turkish delight with pistachio cream.
Dietaries? They do gluten-free brownies and some vegan pastries (rumour has it that a vegan snickers croissant was once seen here), but ask at the counter and the team will point you in the right direction.
Seating? No seats – the pastries are to be eaten outside, while walking down the street making everyone else extremely jealous.
Extras? The savoury stuff at Morny is something to get excited about too –  reuben croissants and weekend specials that feature the likes of homemade focaccia topped with beetroots and crumbles of baked goats cheese.
Delivery? Not unless it's a big cake for an occasion like Mother's Day or Halloween. For those, click here.
Details: 216B Francis Rd, London E10 6PR
–
SOUTH LONDON BAKERIES
Chatsworth Bakehouse | Crystal Palace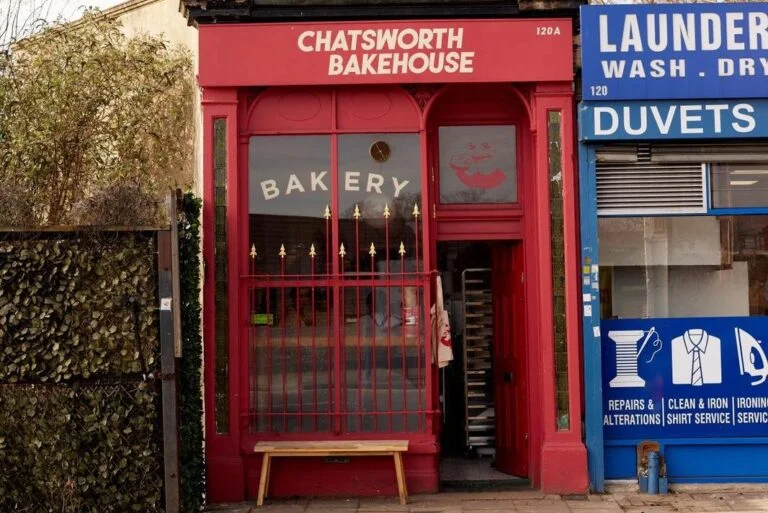 Another one from the lockdown era, Crystal Palace's Chatsworth Bakery was born in founder Tom and his partner Sian's kitchen where the sudden huge influx of spare time saw them bake loaves for their neighbours (at first 4 or so a week), then the wider community (getting close to 50 loaves a week), and then, well, you know how this story goes…
Now, they're based in a teeny-wee shop in South London – from the front it sort of looks like a large red telephone booth – where they've become another place of sandwich pilgrimage. They do one special every week, slapping together combinations like ham, potato and truffle aioli inside their freshly-baked focaccia and the end result is truly a sight to beyond. Word of warning: you'll need fast fingers and even faster internet as these babies are pre-ordered online every Monday at 12.30pm (and sell out in a matter of minutes) for pick up on Wednesday, Thursday and Friday. You'll find it's worth the stress when you do finally (and literally) get your hands on them…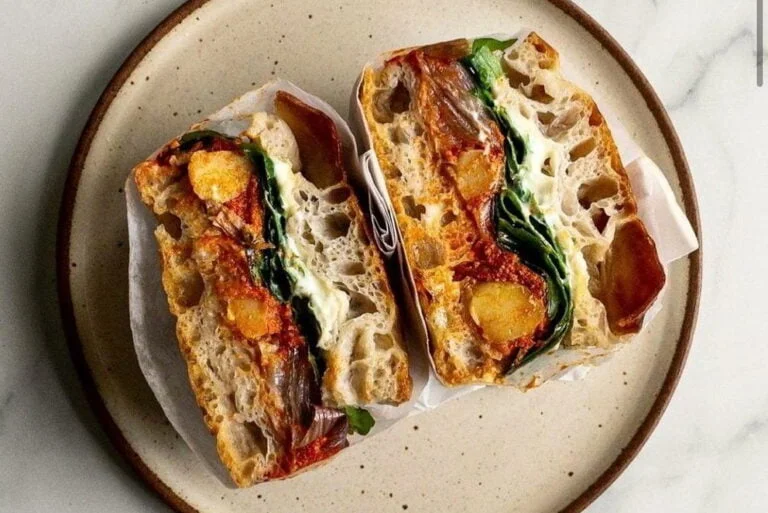 Upon coming to the shop to claim your prize there's also brownies and cookies that you'll want to grab too, and for the focaccia on its lonesome (still good), slices of pizza, sourdough and basque cheesecake, Chatsworth does full walk-in days on Saturday from 11am-4pm. Expect to queue, but also expect to be slipped the occasional sample to keep you sweet.
Best Pastry? The sandwiches get enough attention as it is, so we'll give a bit of shine to the cereal cookies (topped with chunks of crunchie bar or toasted marshmallows) and the vegan salted chocolate cherry brownies. You can't go wrong with either (or both).
Dietaries? Well, the brownies are vegan but for the rest, mostly not.
Seating? Nope, it's very much a small 'get your score and move on for the next person' space.
Extras? Pizza slices. From 11am on Saturdays.
Delivery? Yes, you can place pre-orders for the week's menu here.
Details: 120a Anerley Rd, London SE19 2AN
–
St John Bakery | Bermondsey, London Bridge, Neal's Yard
St John has been one of the most influential restaurants in London – and indeed across the world – in the last few years, thanks to their pioneering work in the nose-to-tail dining scene, winning Michelin Stars while serving literal offal. What might be unexpected, then, is that they pay as much attention to the bakery side of the operation. To the people at St John, "bread is as fundamental as a knife and fork", so they pour a lot of time and energy into making perfect dough.
The warehouse site in Bermondsey supplies all of the St John sites (and a lot of top London restaurants) with bread, doughnuts, and pastries. But if you're going to snag one, get it straight from the mothership. The shopfront is set up almost like a small market stall in front of the behemoth baking operation behind it, where the magic happens. The selection is short and sweet, and after this many years doing it, they've made sure that everything they're selling (doughnuts, almond croissants, cinnamon buns, Eccles cakes, pain au chocolat, and their famous madeleines) is point perfect.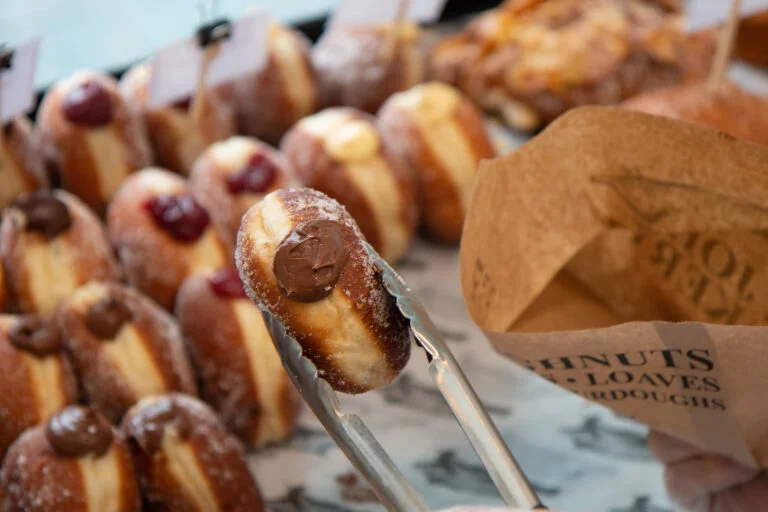 Best Pastry? The doughnuts are very hard to pass over for this one, but the Eccles Cake is something that the traditionalists at St John take particular pride in perfecting. It's a crisp, flaky, buttery shell of pastry wrapped around a yielding centre of currants, dark sugar, and rich spices. It's immensely moreish.
Dietaries? There's actually no lard in their Eccles cake, making it a rare vegetarian version. Aside from that, they tend to keep the gluten and the butter very much in everything they can.
Seating? There are a couple of benches outside. But there's plenty of seating in the other St John branches, too.
Extras? There's a fairly decent selection of wine available here, too.
Delivery? No, sadly.
Details: 72 Druid Street, SE1 2HQ
–
Toad Bakery | Camberwell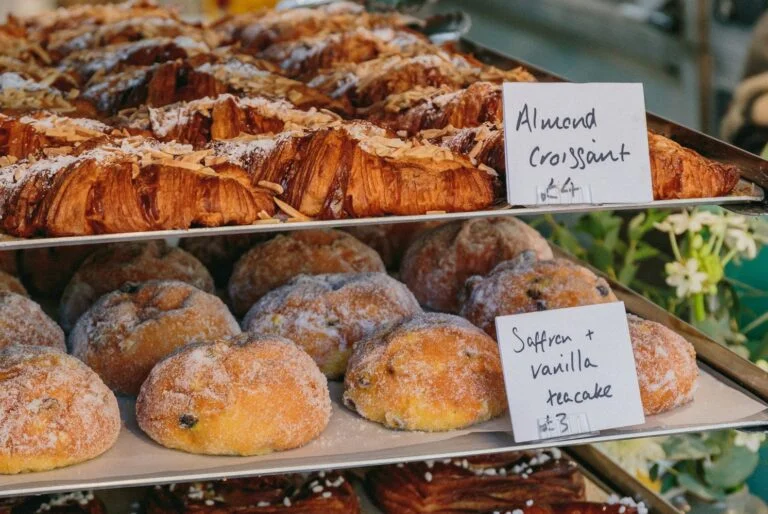 This green-fronted bakery on Peckham Road, run by Rebecca Spaven and Oliver Costello, was originally called Frog before it had to change that due to another restaurant bearing the same name. No harm done though, they switched to its old foe the toad, the short-legged amphibian that prefers to keep its skin dry, and continued with business as usual – producing on-point bread and seasonal pastries from their Camberwell store, made fresh each day with sustainable UK-grown grain, that gives them indisputable status as one of the best bakeries in London.
With produce in season given great thought, the bakes lining the trays are subject to regular change, but whether it's roast pork, red cabbage and cheddar croissant, a pumpkin chocolate cake coated in a coffee frosting, or a cornbread croissant (with polenta, fresh corn and cheddar oozing out from the ends) you're always guaranteed something wholly inventive, and most importantly: utterly delicious.
Best pastry? Another reason to look forward to Christmas – Toad's mince pies, which strike the ideal balance between a sturdy but also flaky outer pastry shell, with suitably-boozy mincemeat (with glacé cherries and fig) filling inside. The rest of the year, you can't go wrong with their savoury croissants.
Seating? None indoors, it's a two-in, two-out operation, but there are a handful of tables and chairs out the front that you can plonk yourself on.
Dietaries? Unfortunately you're out of luck if you're gluten intolerant.
Extras? Just bread and pastries, which is okay, as any more selection and your head might explode…
Delivery? No delivery, just pre-order on the online store and then pick up from the offline store.
Details: 44 Peckham Rd, London SE5 8PX
–
WEST LONDON BAKERIES
Hachi | Notting Hill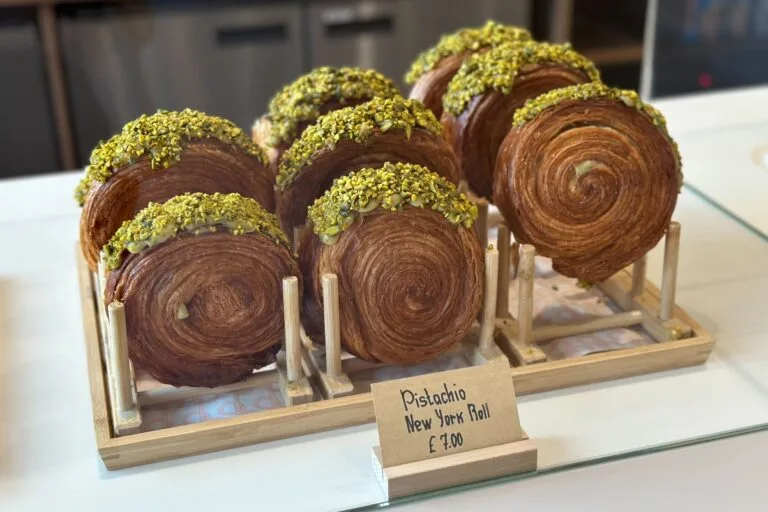 Hot and fresh out of the oven in Notting Hill, highly-anticipated Hachi – the word for the number eight in Japanese – is a recent addition to the neighbourhood. The sleekly-designed store comes to you from the founders behind one our favourite sushi spots in London, MARU Mayfair, with Nobu Park Lane's former pastry chef Sachie Worrall honouring traditional Japanese baking techniques in her approach that deals only in premium ingredients.
It's a quintessential Japanese bakery, so don't come with dreams of sourdough and focaccia (save those for the other venues above and below); rather pistachio-tagged and crusted sākuro (the swirly circular croissants), white & black shokupan (the sweet, pillowy milk bread) which takes the team two days to make, matcha choux, and curry pan (a type of fried bread filled with pulled pork and curry).
Best Pastry: The sākuro have opened to rave reviews and are pulling in big numbers at the bakery box office…
Seating? Nope
Extras? The shokupan can be neatly wrapped to make a special gift for the bread buff in your life.
Delivery? Not currently
Details? 11 Blenheim Crescent, London W11 2EE
–
Layla | Notting Hill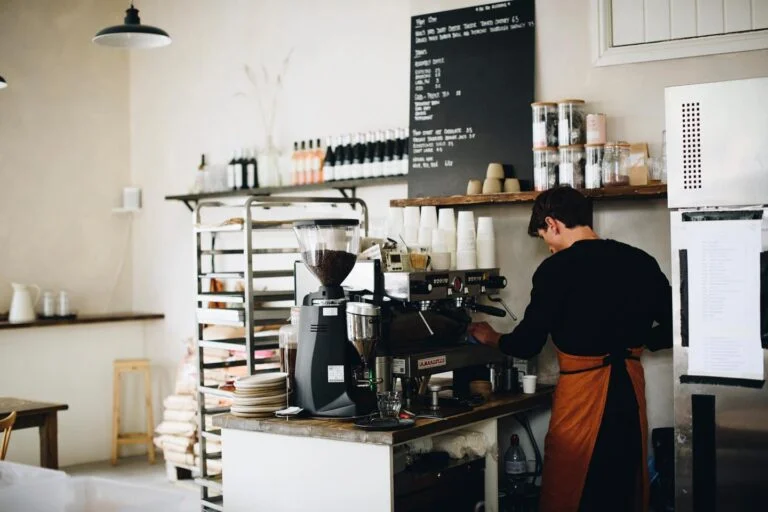 Surprised that West London hadn't jumped on the artisan bakery bandwagon in the way that East London had, Tessa Faulkner put her lockdown sourdough skills to good use by opening a bakery in her local area, right at the bottom of Golborne Road. Layla is a gorgeous, restfully neutral space where decor is provided as much by giant bags of milled flour as much as it is fresh flowers.
That flour comes from Shipton Mill, who work with biodiversity-focussed farms to get their grain (and are some of the earliest proponents of regenerative farming, having started back in 1979). At Layla, the bakers whip it into some truly mouthwatering pastries and bakes: sausage rolls made with croissant pastry; goopy rye, chocolate & orange cookies; pistachio pain suisses; seasonal fruit danishes and some exceptional croissants with approximately a thousand layers.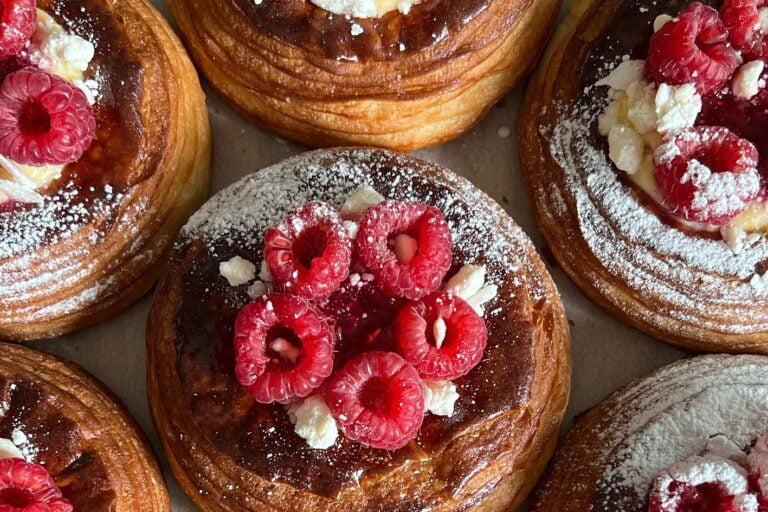 Best Pastry? So much changes on the counter daily that whatever choice we make will probably be trumped the following week… but the croissant dough babkas always go down well.
Dietaries? It's all pretty gluten-y and there's usually something on the counter with nuts, so anyone with very sensitive allergies should be careful.
Seating? A couple of communal tables inside and out.
Extras? There's a small selection of jams and ceramics on sale. Most excitingly, though, Layla runs monthly supperclubs – often collaborating with cult names like Poon's.
Delivery? Not currently.
Details: 332 Portobello Road, London, W10 5SA

---
Looking for something more unusual? Check out the best Japanese Cafes & Bakeries in town…