All too often, Christmas lights are just a long string of disappointments.
But all your festive anticipation is more than justified this year, because London is gradually transforming into a festive, wintry wonderland that would put the set of Elf to shame. There's the usual glittering displays running the length of the city's most famous streets, sure, but there's also pop-up installations, colourful lantern parades, a market full of giant bells and a pub that's literally entirely covered with Christmas trees.
What's more, we're keeping this list updated with all the dates for Christmas light switch-on events around the city, where you can see the dazzling illuminations for the first time alongside live music, mulled wine, and celebrities pressing big buttons.
So if you want to do something festive in London for free, taking a walking tour of the city's Christmas lights should be just the ticket. Here's what to look out for…
---
Psst… these are all the Christmas lights going up on London's main streets. If you're after the ticketed light installations that pop up around London's parks, gardens and stately homes, check out our Winter Light Trails guide.
---
REGENT STREET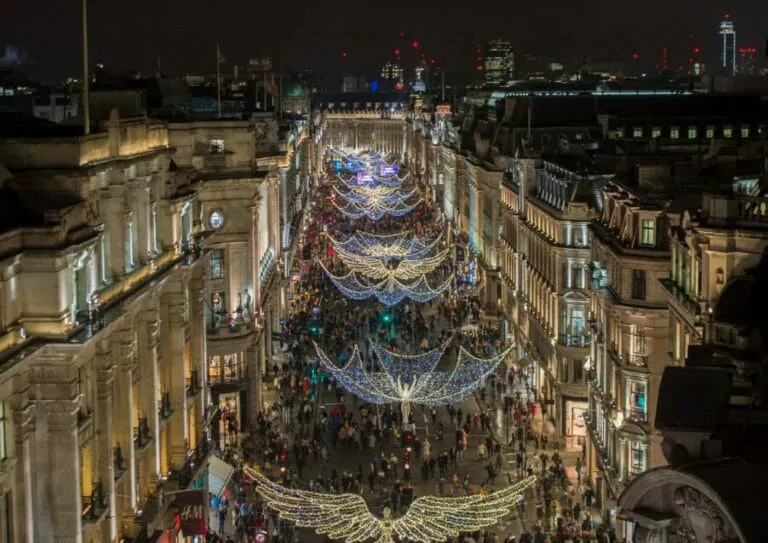 The oldest and the best: Regent Street was the first of London's main streets to put up Christmas lights back in 1954, and they're still some of the city's most iconic illuminations almost 70 years later. 50 oversized 'spirits' sweep majestically along the street followed by twinkling canopies, totalling an impressive 300,000 lights (all green-powered). This year, the installation's spilling into more streets than ever, with the new designs yet to be revealed…
Switch-on: Thursday 9th November
–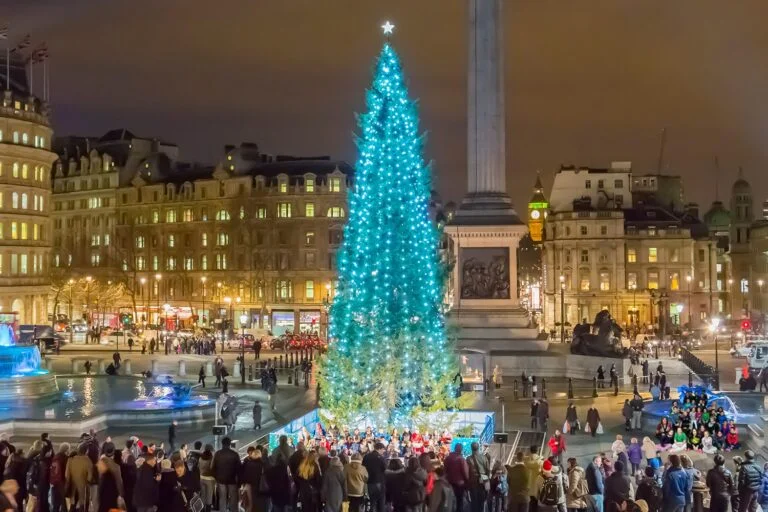 Every year since 1947, the people of Oslo have gifted London a Christmas tree as a thank you for Britain's support for Norway in WWII. And all 25m of the spruce gets draped in traditional vertically strung fairy lights, which are switched on on the first Thursday in December. There are rumours swirling that this might be the last year Norway sends the tree, citing 'environmental' reasons… but it's probably more down to the fact that London's savagely leaf-shamed it on social media in recent years.
Switch-on: 7th December, 5.30-6.30pm
–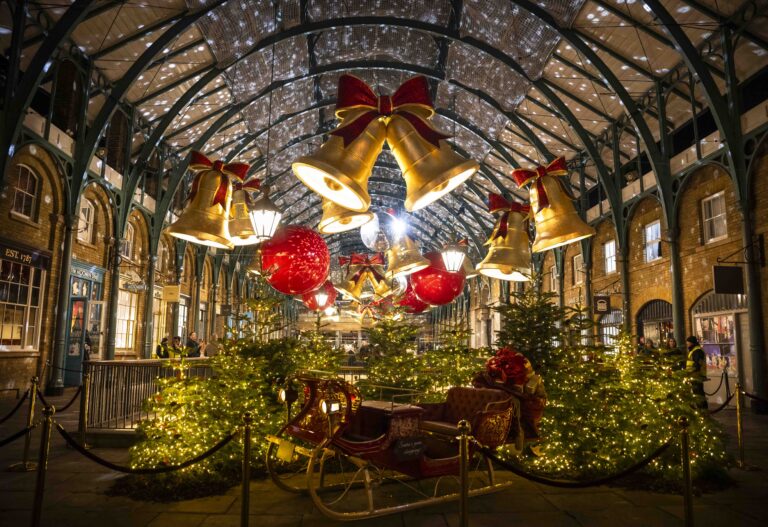 In recent years, Covent Garden piazza has filled the covered market with giant mistletoe, but they're doing something different for Christmas 2023. This year the halls will be decked with dozens of enormous bells, bows, baubles and disco balls, which have collectively involved 275kg of glitter, apparently. Apart from this, it's business as usual with daily flurries of fake snow cascading from the market itself; a giant 60ft tree; and a photo opp with Santa's sleigh – a genuine carriage from 1884 – at the front of the market. And you can enjoy it all with a cup of mulled wine or hot chocolate from one of the many pop-up bars dotted across the piazza.
Switch-on: Tuesday 7th November from 5.30pm (switch-on at 6pm)
–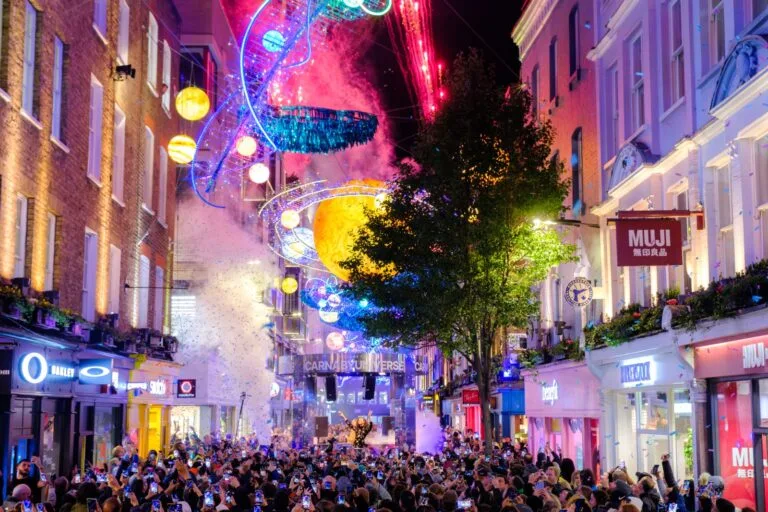 This year Carnaby Street's Christmas lights are themed around the 'Carnaby Universe', and the installations look out of this world. Adorning the main drag you'll find a whirling cosmic parade of illuminated planets, sequinned signs and neon ribbons. As always, it's in partnership with the charity Choose Love, which supports refugees around the world, and there's a pop-up store to complement it all where you can buy essentials to help displaced people get through the winter more comfortably.
Switch-on: 8th November, 4-8pm. Over 100 shops, bars & restos are taking part in the celebrations, with discounts and live entertainment all night.
–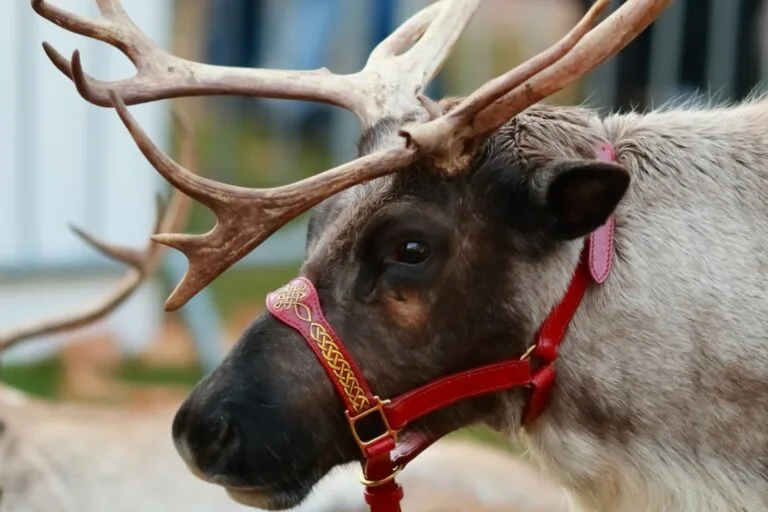 The streets of Chelsea will be festooned with glittering orbs of light again this year, with a giant Christmas tree popping up in Duke of York's Square. The big man himself will be there to switch them on, and there'll also be roaming performers, mulled wine, actual reindeer, a Christmas market, fireworks and even the promise of snow…
Switch-on: 18th November from 12pm, with switch-on at 5pm. See the full programme here
–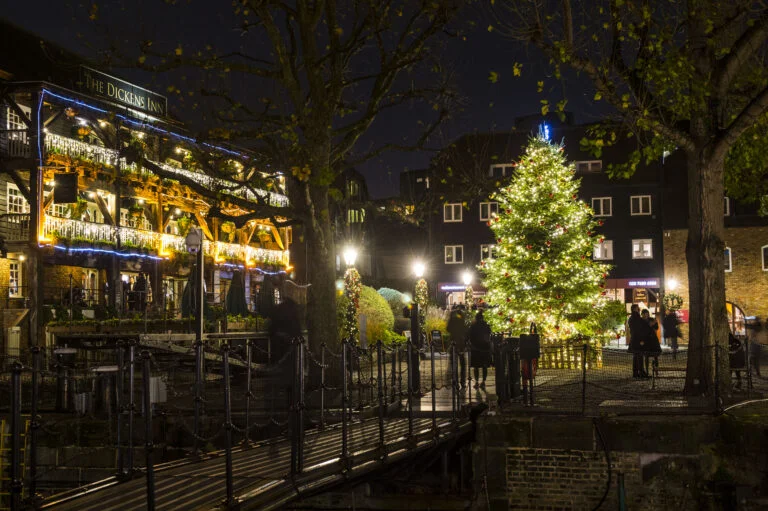 Like most places in London, the marina tucked next to the Tower of London will be getting a touch of festive cheer with a giant twinkling tree; Christmassy garlands decorating the old Victorian lamp posts; and fairy lights festooned across most of the buildings. Unlike most other places, though, Santa himself will be switching it all on, arriving via his preferred mode of transport: a reindeer-led river sleigh.
Switch on: 23rd November, 5.30-7pm (switch-on at 6pm), with live music, mulled wine & mince pies
–
BOND STREET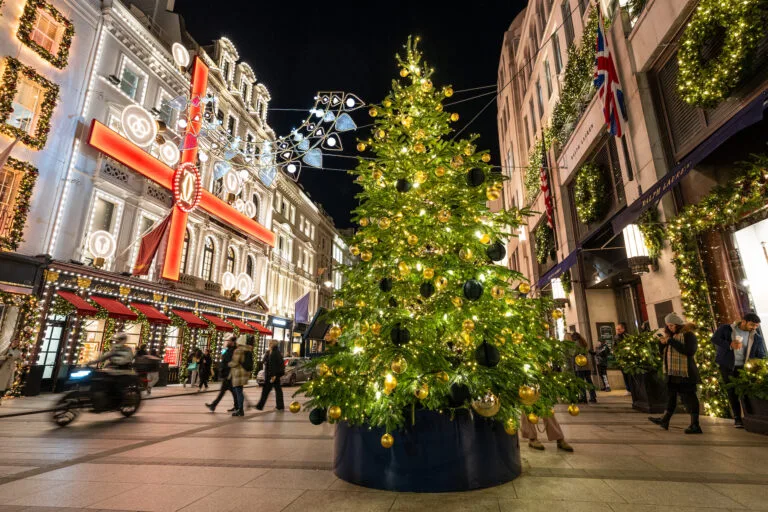 Bond Street's crown jewel-inspired Christmas lights are going up again this year, but as resplendent as they are, it's the shops themselves you'll want to watch out for. In recent years Bond Street's branches of Cartier, Chanel, Gucci and other glitzy designer flagships have become locked into some serious festive oneupmanship, with hundreds of fairground bulbs, evergreen garlands, wreaths and enormous bows adorning their elegant facades. Walk the whole length of the street to end up on Piccadilly and check out the windows at Fortnum & Mason's (and maybe pop in for some super-fancy stocking-fillers).
Switch on: 16th November
–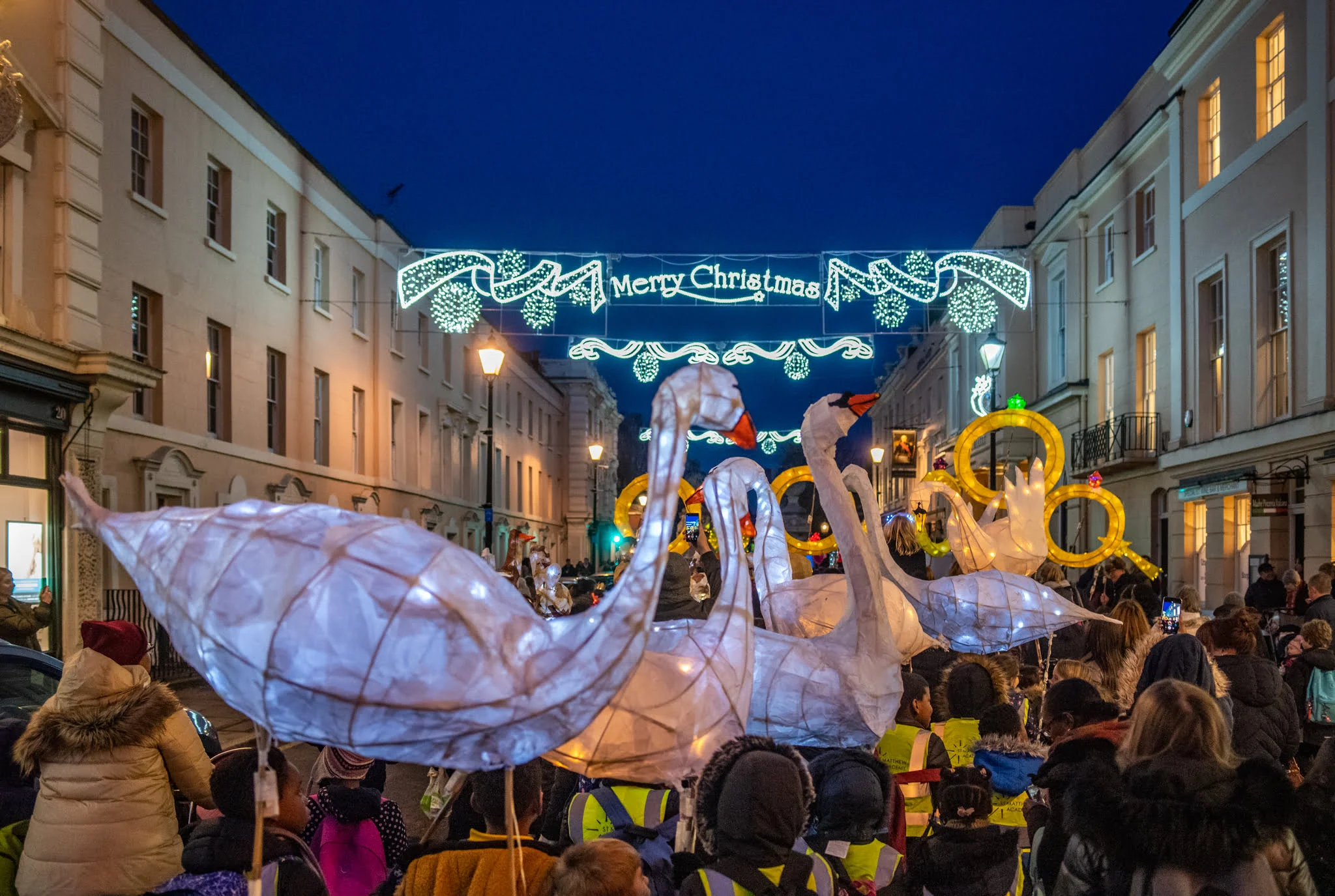 If the 120 antique, vintage and independently run craft stalls aren't enough to draw you in for a bit of Christmas shopping at Greenwich Market, then the twinkling lights, Christmas trees and mulled wine should be…
Switch-on: 15th November, 4-6pm – things kick off with a handmade festive lantern parade, followed by the switch-on at 6pm.
–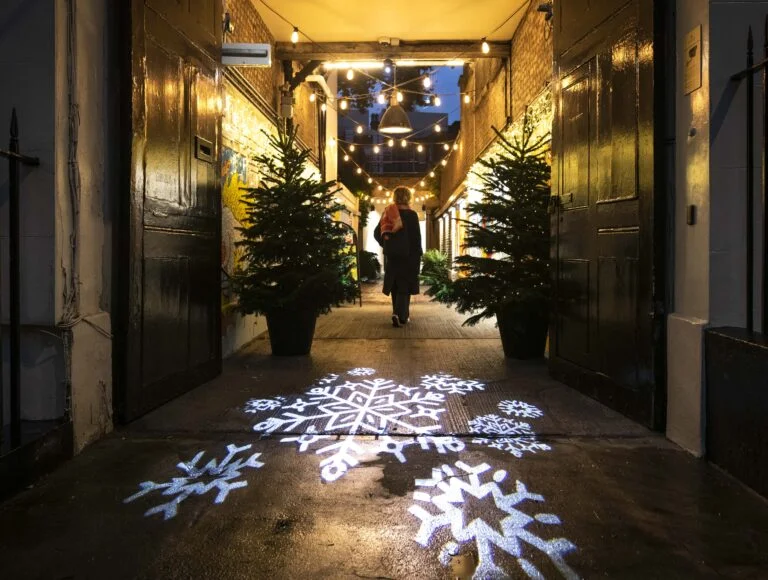 Belgravia's streets will be decked with dozens of dazzling lights this year – but the real artistry will come from local florists, who are creating their own outsized Christmas installations to jazz up the neighbourhood. There'll also be a Christmas market held at Eccleston Yards during the switch-on, and on weekends in the run-up to the big day.
Switch-on: 15th November, with mulled wine, carolling from the London Gay Men's Chorus, shop discounts, and what we understand to be two actual reindeer.
–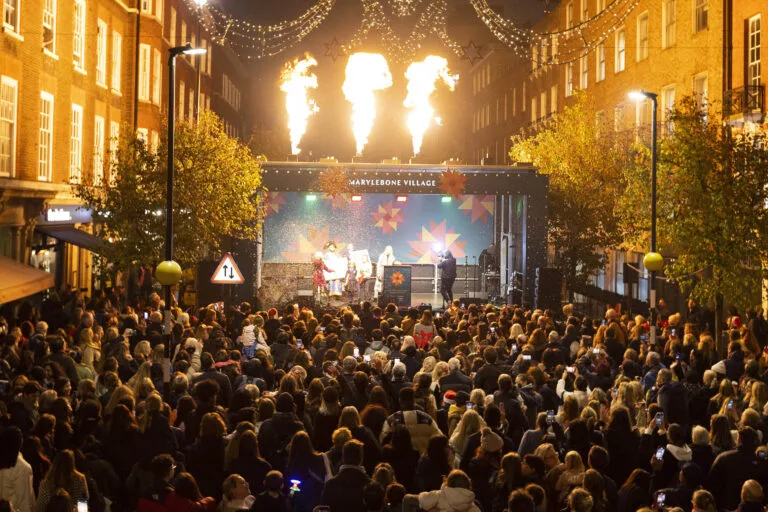 Marylebone's Christmas lights have been crafted from over 19,000 plastic bottles, which is refreshing. And their switch-on will feature Santa's Grotto, a good ol' charity tombola, some live music, a ferris wheel, wreath-making and candle-painting and a little festive shopping with discounts, free gifts and complimentary drinks at over 50 shops, bars & restaurants. And the streets themselves will be lined with market stalls, where you can pick up a few early gifts and stuff your face with Caldesi's Italian mince pies and ponche, a mulled Mexican fruit punch from Cavita.
Switch-on: 9th November, 3-8pm (switch-on at 6pm)
–
OXFORD STREET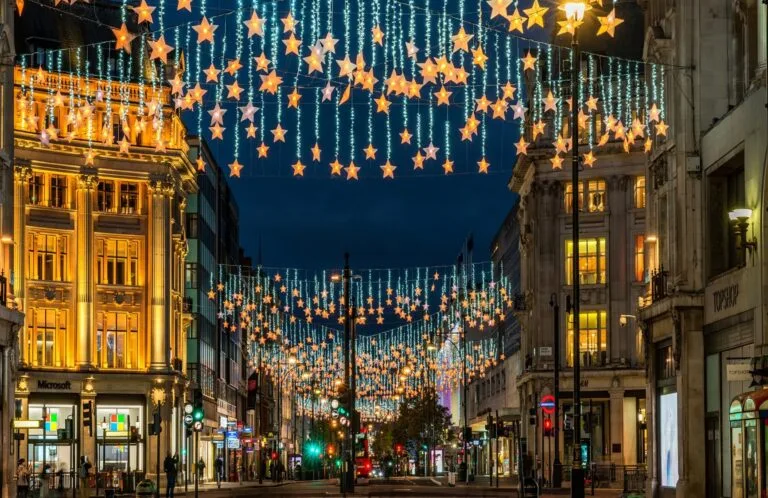 Europe's longest shopping street will be once more adorned with a canopy of sustainably-designed stars for Christmas this year. All together, they make for a pretty dazzling display, but they make an even bigger impact individually – by sponsoring a star, you can donate to Starlight and ensure that children spending Christmas in hospital will be brought some extra festive cheer with pantomimes and toy boxes.
Switch-on: 2nd November
–
For context, this West London pub managed to attach 97 Christmas trees to its exterior during a global pandemic. So you can bet they're going to be pulling all the stops out this year…
Switch-on: 16th November, 6pm
–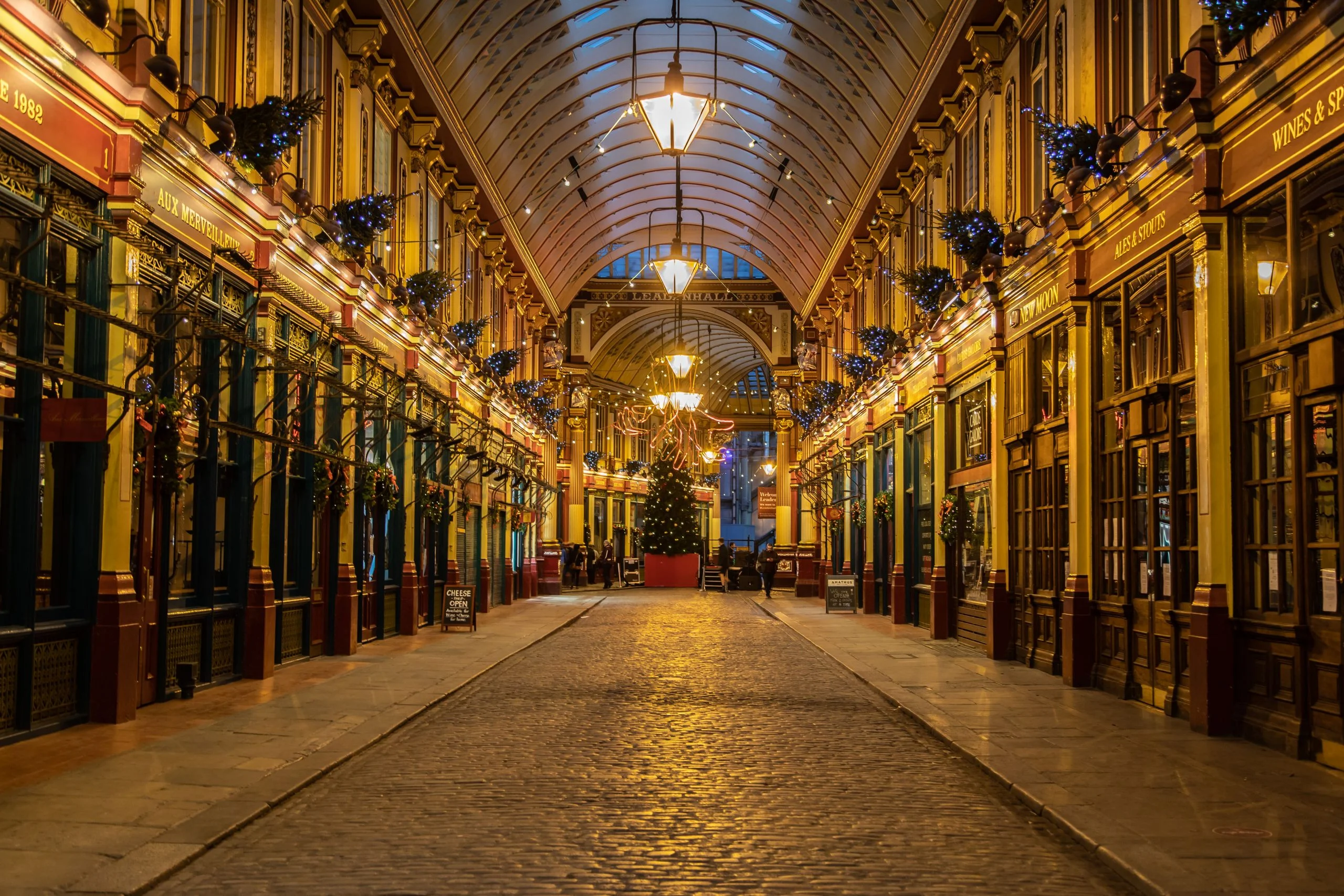 Plastered in red and gold, this Victorian shopping arcade looks fairly festive all year round. So you can imagine how ridiculously Christmassy it gets when they throw festoon lighting, pine garlands, mini Christmas trees, a big Christmas tree, and wreaths into the mix…
Switch-on: Thursday 16th November at 6pm, with carol singing from 5.15pm
–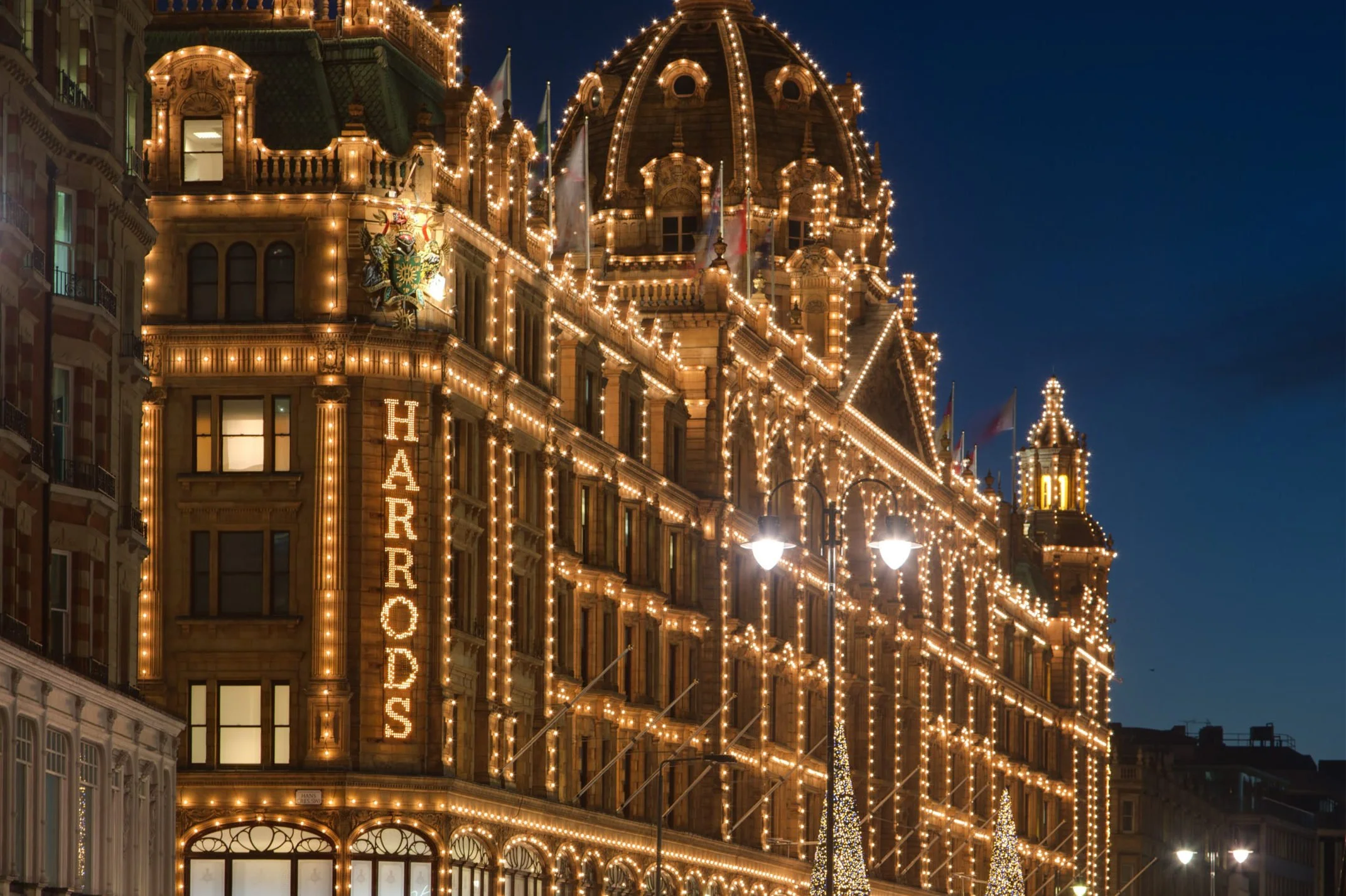 Fine, so it's not just strictly a Christmas display, given that they're up all year round – but the 12,000 bulbs adorning the Harrods facade are more than just a touch festive. Plus, it's an excuse to swing by their newly revamped food hall, featuring 150 chefs and a vegetable butcher.
Switch-on: On now
–
ST CHRISTOPHER'S PLACE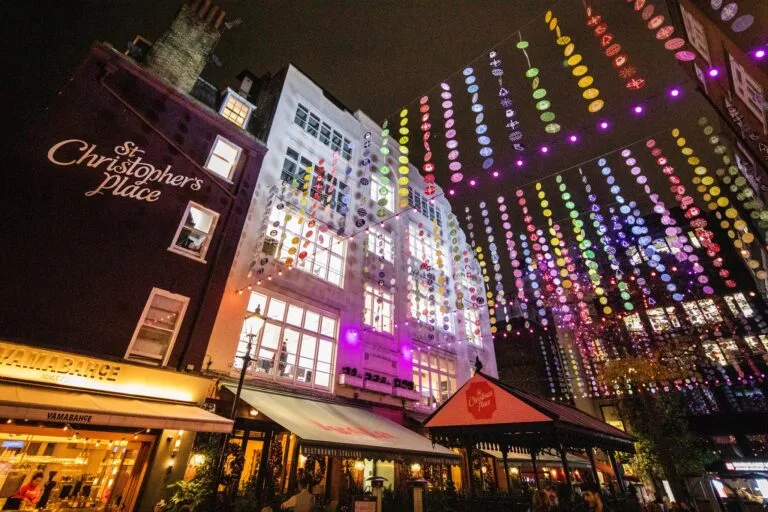 As of mid-November, the secluded micro-neighbourhood tucked behind Oxford Street will be transforming from St. Christopher's Place to St. Christmas Place (see what they did there). They'll be propping up a twinkling tree in the main piazza, with cascades of shimmering discs decorating the streets overhead – plus live festive music every Thursday from 5.30pm, and Saturday from 1.30pm, in the run-up to Christmas.
Switch-on: Tuesday 14th November
---
Looking for even more festivity? Check out our guide to Christmas in London 2023