We Googled "how to warm up a rooftop in winter."
Thousands of matches.
Luckily, the people behind these brilliantly toasty winter rooftops and terraces have all taken a slightly more forthright approach, cozying up their spots with the likes of open fire pits, heaters, blankets, greenhouses, and – most essentially – hot cocktails. So allow us to introduce…
…London's Best Winter Rooftops & Terraces for 2023.
---
WINTER ROOFTOPS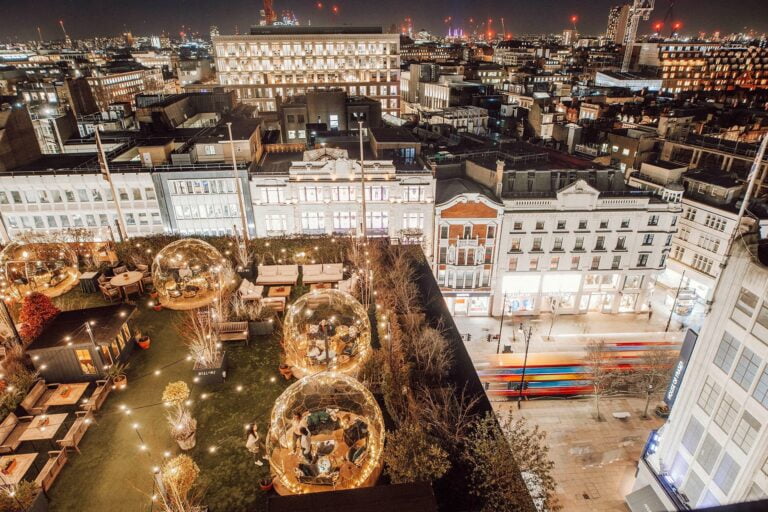 When you hit the peak of Christmas shopping insanity on Oxford Street, hit the peak of Oxford Street. See, crowning the John Lewis department store is a secluded, wintry rooftop idyll called Willows on the Roof. Here you can enjoy a restorative hot cocktail amidst twinkling lights and winter greenery, and there's even heated chalets and private igloos that you can hire out for groups of up to 10.
Details: Open daily, 12-10pm (9pm Sun) | 300 Oxford St, London W1C 1DX | Book here
–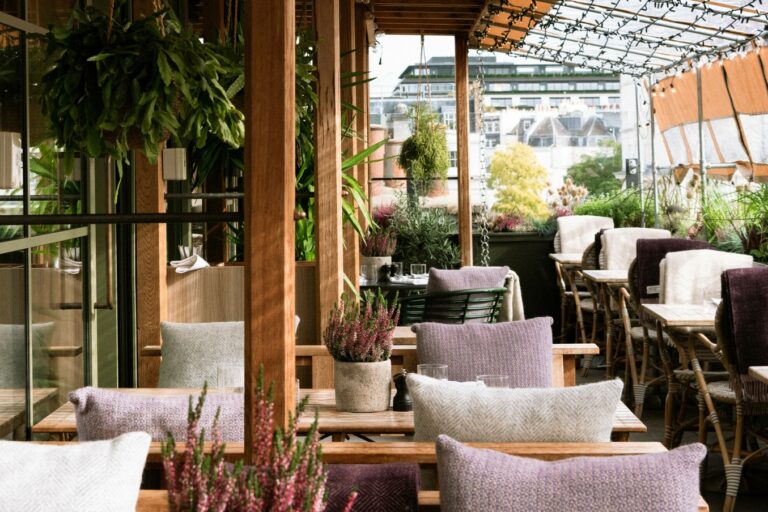 The Pantechnicon is a five-storey pantheon of Nordic & Japanese culture, and its crown is the roof garden sitting atop the whole thing. It's got the look of a glamorous greenhouse, with a glass roof to peek up at the stars and a heated, covered terrace outside. The seats are draped in warming furs, and the menu has been designed with comfort in mind. That means grilled Dover Sole and mash to share; some excellent Sunday roasts; seasonal pastas; and indulgent puds like chocolate fondant. And to drink? You can get an array of interesting cocktails, craft beers, and even a tasting flight of whisky…
Details: Open daily | 19 Motcomb Street, London, SW1X 8LB | Book here
–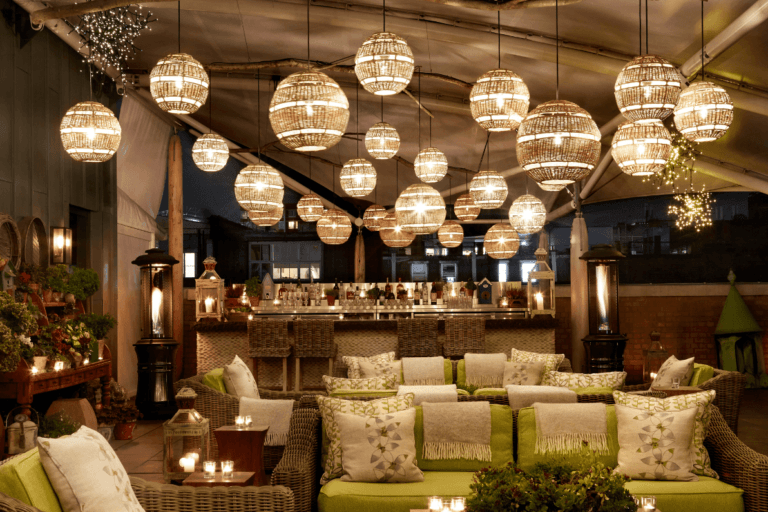 The Ham Yard Hotel's gorgeous, lantern-lit rooftop isn't usually open to the public… except in winter, when they open their pop-up bar serving hot cocktails. This year the focus is on toasty twists on martinis, from an orange-infused espresso martini to a 'Beekeeper's Martini' finished with a puff of smoke.
Details: 15th November – 31st December | 1 Ham Yard, London, W1D 7DT | Book here
–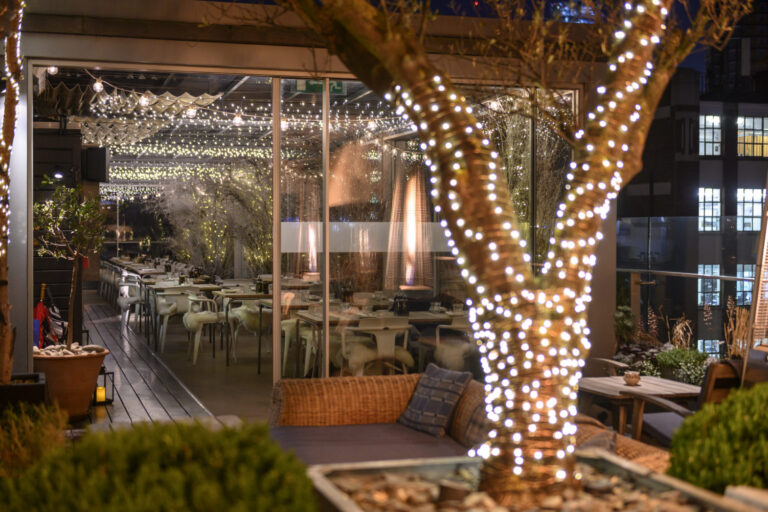 By day, Boundary's rooftop boasts a heated orangery filled with sparkly wintery trees, warming open-pit fireplaces and fur-lined seats, a menu with baked cheese and black forest gâteau, and some wintry cocktails to wash them all down. By night, it's the same, just darker.
Details: Open daily 12-11pm | 2-4 Boundary St, E2 7DD | Walk-in only for drinks, book an orangery table here
–
Skylight is taking things up a level once again. Not literally, of course, seeing as it's already on the top floor of a carpark in Wapping. But metaphorically, because over the winter they enhance their unobstructed views of the London skyline with a real rooftop ice rink, mulled wine, raclette, DJs, and bookable private igloos…
Details: Open Thursday – Sunday | Penning St. Car Park, Wapping Lane, E1W 2SF | Book here
–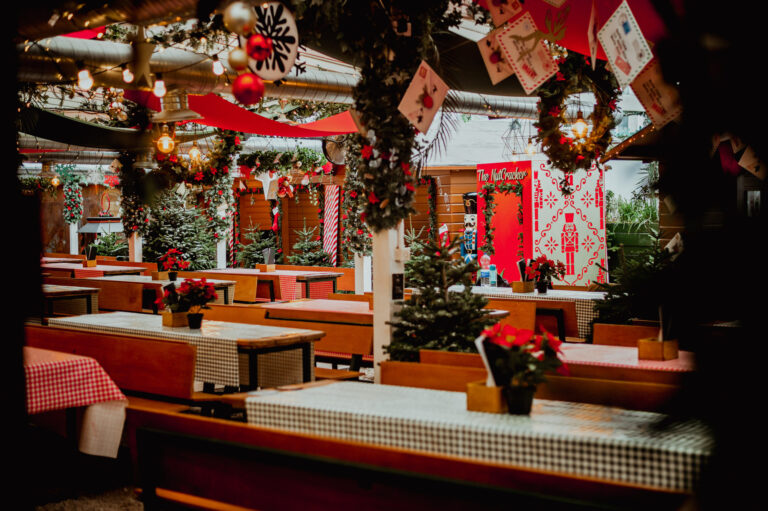 On a typical day, Pergola Paddington is like a cross between a Greek island taverna and a German beer hall. But come the winter, the team decks those halls with ludicrous amounts of Christmassy paraphernalia, from snow-dusted trees to evergreen garlands, streamers and Christmas cards festooned overhead. And naturally, they've got the food and drink to match, with hot toddies, boozy hot chocolates, and a Bavarian pop-up joining their street food line-up, serving melted cheese, bratwurst and more.
Details: Opens 10th November | 5 Kingdom Street, London W2 6PY | Book here
–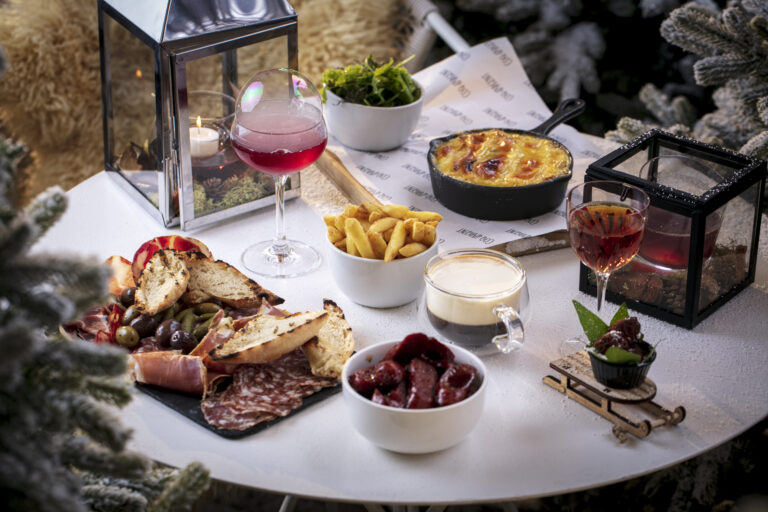 If you're looking for a winter rooftop in the city, this is one you can bank on. Coq d'Argent has kitted out its two rooftop chalets with faux fur throws, cognac cocktails and a menu of suitably wintry fare featuring comté & truffle tarts, roast turkey, and crème brûlée.
Details: From 15th November | No. 1 Poultry, EC2R 8EJ
–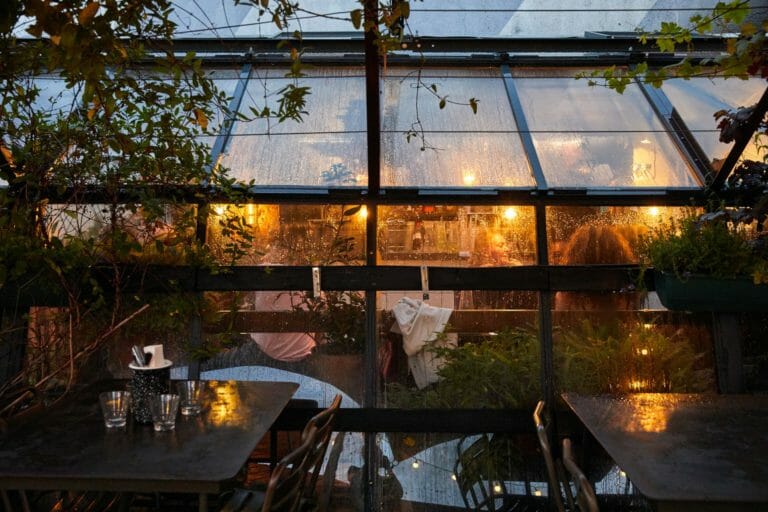 The Culpeper's dinky terrace is easily one of the cosiest winter rooftops in London, with signature cocktails, a garden supplying herbal tinctures for said cocktails, cosy blankets, and an impressive view of the City's towering skyline.
Details: Open daily from 4pm | 40 Commercial Street, E1 6LP | Walk-ins only
–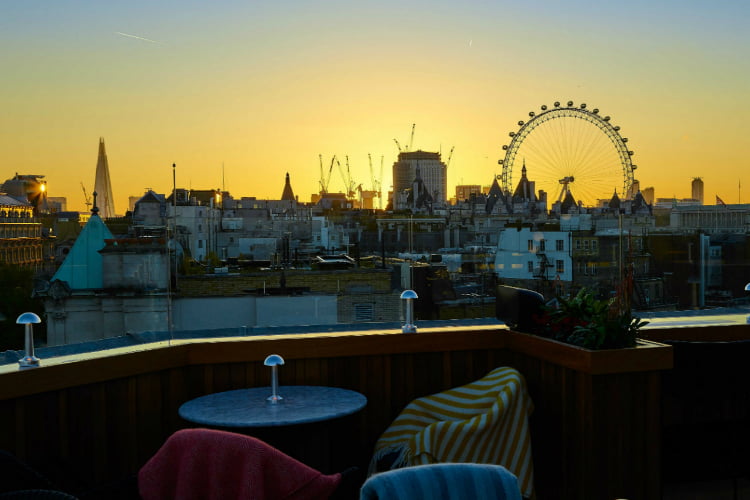 After a multi, multi-million pound facelift a few years back, The Trafalgar added blankets and outdoor heaters to its rooftop space, so you can enjoy their cocktails, nibbles, and eye-level views of Admiral Nelson in the winter, too.
Details: Open daily | 2 Spring Gardens, Trafalgar Square, SW1A 2TS | Minimum spend £35-50pp, book here
–
It is a truth universally acknowledged that a central London spot in possession of a good rooftop, must be in want of a festive cinema. So it makes sense that the Holmes Hotel's bringing back its sky-high Christmassy screenings for another year, seating just eight audience members a night in cosy loveseats for two…
Details: 22nd November – 23rd December | 108 Baker Street, London, W1U 6LJ | £70 for film, dinner & a cocktail
WINTER TERRACES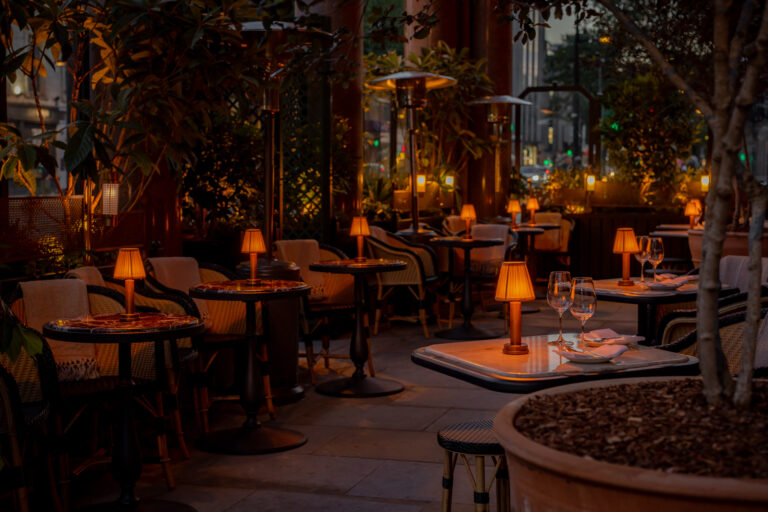 The Midland Grand's winter terrace has the holy trinity of warming ingredients: heaters, a cover, and a menu of cognac cocktails. And if you get a little peckish, you can enjoy some fantastic brasserie dishes and snacks courtesy of the brilliant Midland Grand Dining Room.
Details: Open from 5pm Mon, 12pm Tues-Sun | St. Pancras Renaissance Hotel, Euston Road, London NW1 2AR
–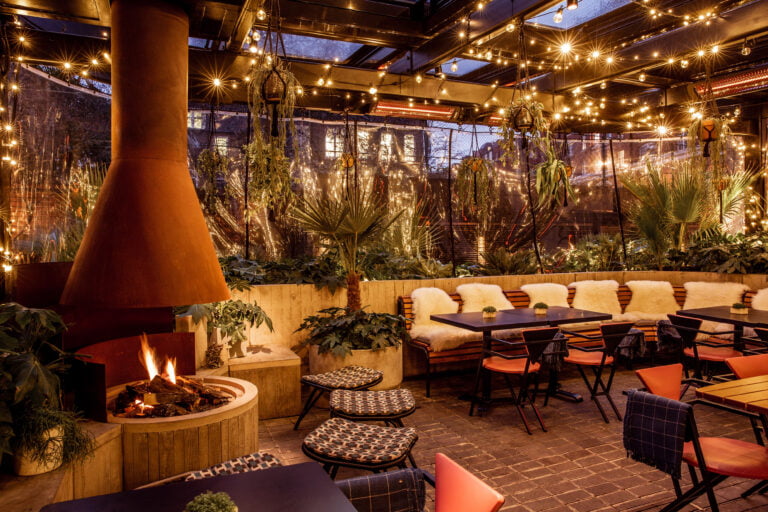 The Standard hotel's ground floor terrace restaurant is really anything but standard. The place looks like the cosy lair of a Bond villain who decided to throw it all in and enjoy the finer things in life, with a retro hanging-flue fireplace; sheepskin rugs; and a crowd-pleasing menu that will inevitably end the night with cinnamon-dusted doughnuts with espresso sorbet.
Details: Open daily 7am-11pm | The Standard, 10 Argyle Street, London, WC1H 8EG | Book here
–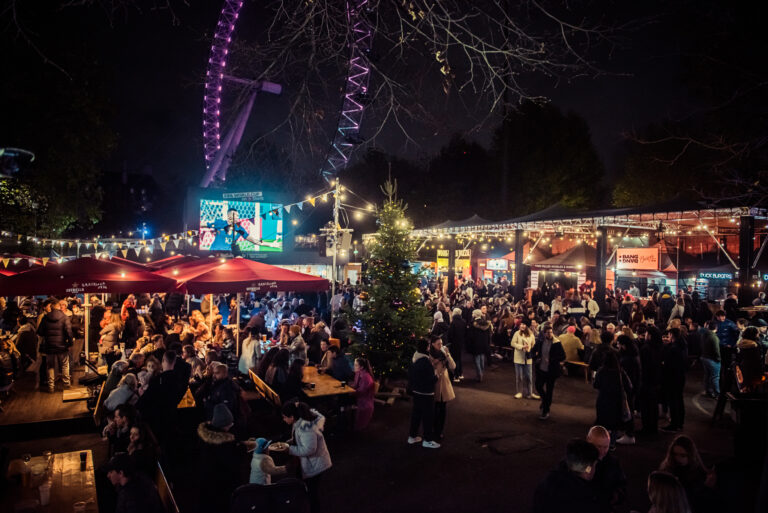 This one's pretty self-explanatory. The Bridges: Hungerford and Westminster, next to the Southbank Centre. The Between: a raucous, covered, 4,000sq ft terrace packed with street food vendors, bars, live music, DJs, karaoke, drag brunches, craft markets, and dancing to Christmas anthems with a big brass band.
Details: Open Tues – Sun until 31st December | Queen's Walk, South Bank, SE1 7PB | Free entry, book events here
–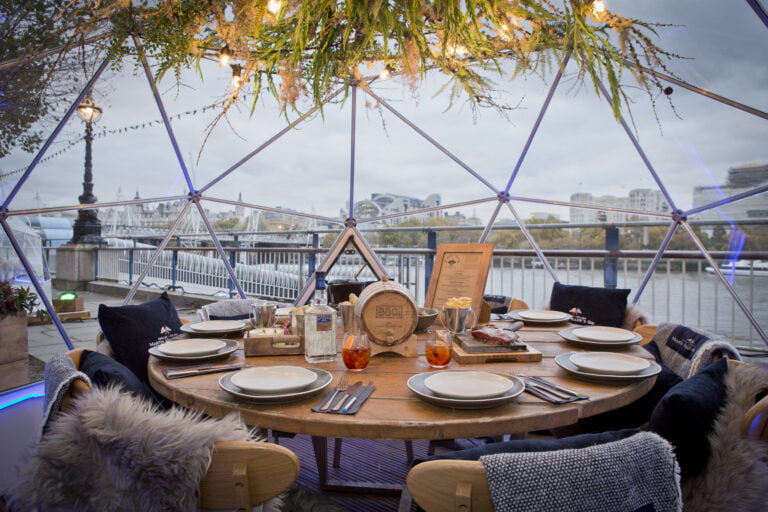 How much raclette is it humanly possible to consume? What happens when you add mulled wine to white chocolate ice cream? Is it wise to order a hot vodka and cider smash? Find out the answer to these and many other questions at this year's offering from pop-up king Jimmy Garcia, who's hosting private dining igloos and a bottomless raclette bar on the Southbank.
Details: Until 31st December | Southbank Centre, Belvedere Road, SE1 8XX | Book here

---
Looking for even more festivity? Check out our guide to Christmas in London 2023