London's Best Private Dining Rooms | No Washing Up
Dinner parties are great.
But they're even better when someone else is taking care of the cooking. And the décor. And the booze.
And at this hand-picked collection of private dining rooms, London's best restaurants are ready to take care of all that. It's your chance to close the doors, amp up your own soundtrack, and have the run of your own little party nook for the night – whether it's an opulent snug based on an imperial train carriage, or a 5am banquet 40 floors above London; a seafood cruise along London's canals or a secret garden where you can feast on dim sum beneath swaying lanterns…
Behold, our newly updated guide to London's best private dining rooms:
---
Jump to: OPULENT | BOHEMIAN | RAUCOUS | GOURMET | PICTURESQUE
---
OPULENT PRIVATE DINING ROOMS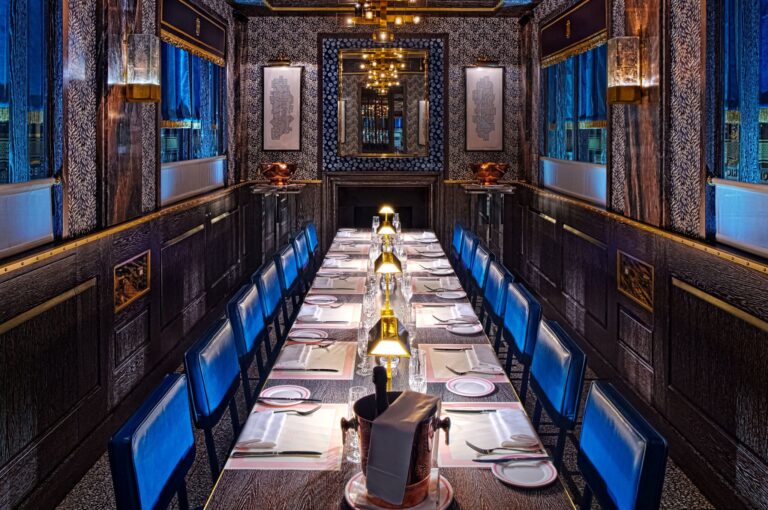 If the Great Jay Gatsby owned a restaurant and thrust into it all his elegance, panache and charm, it would pale in comparison to Bob Bob Ricard. Then go out of business. And be scorned for trying to compare. The private dining room here is styled around an imperial dining car on a train, which you'll immediately recognise from the velvet blinds on the train-style windows, the cosy, carriage-like dimensions of the room, and the buttons that allow you to summon Champagne.
Seats: Up to 16 | Set menu? No | Minimum spend? £1000 lunch, £1500 dinner | Find out more HERE
–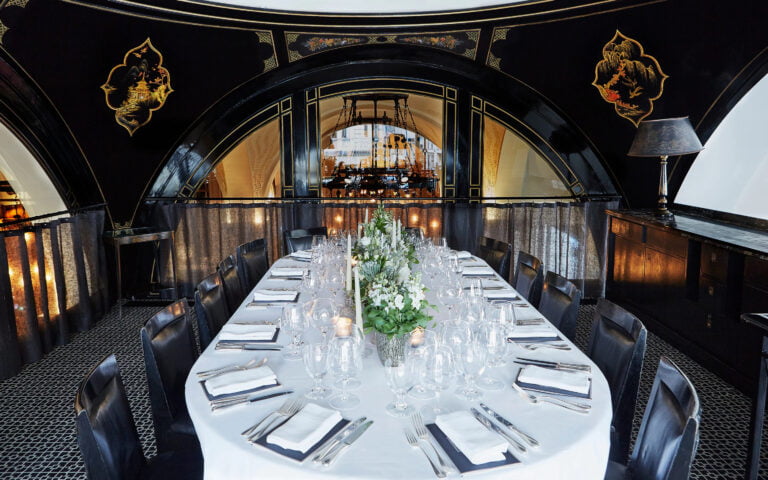 Lacquered black walls, gilded Chinoiserie motifs, and a menu of European grand café classics spanning from breakfast through to dinner – The Wolseley's elegant private dining room ticks a lot of boxes. Including the 'was once a car showroom in the 1920s' one.
Seats: Up to 15 | Set menu? Breakfast à la carte, dinner set menu from £65pp | Minimum spend? £350 | Find out more HERE
–
The Ivy

| Covent Garden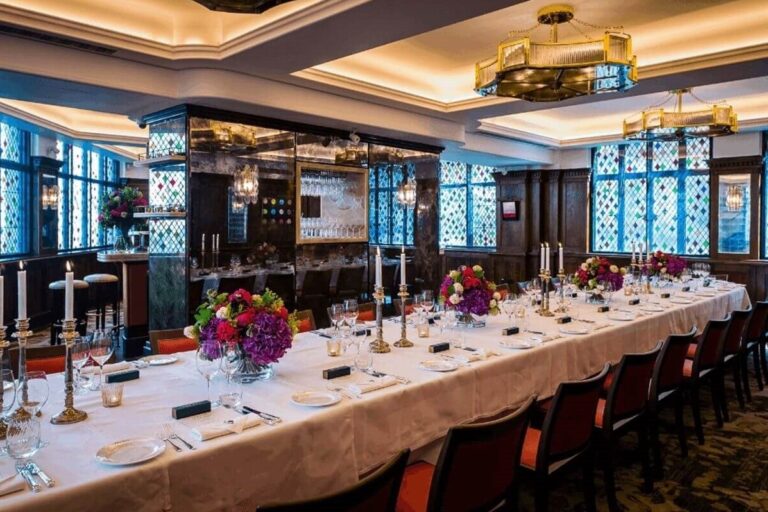 Ah, The Ivy.
It really grows on you.
And their private dining room is every bit as delectable as the rest of the restaurant, with its characteristic diamond windows, private bar and complimentary flowers and place cards for the tables (making it a pretty ideal wedding breakfast spot). Being in the heart of Theatreland, they can also provide you with a jazz trio or pianist for the evening – allowing you to bundle round the baby grand and get into what is essentially very classy karaoke by the end of the night.
Seats: Up to 32 at one table, 60 at 6 or 100 standing | Set menu? Yes, with the chance to create something bespoke | Menu price? From £60pp | Find out more HERE
–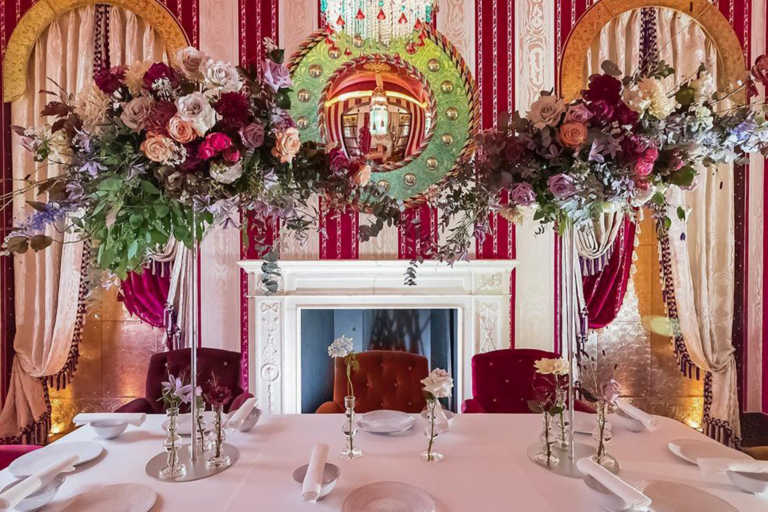 In 1869, Millicent Fawcett gave her first speech calling for women's enfranchisement in this very building. Fast forward a century and a half, and you can toast her legacy in the eponymous private dining room at Sketch, where you can also marvel at the triple Michelin-starred cuisine.
Seats: 8 | Set menu? Yes, POA | Find out more via [email protected]
–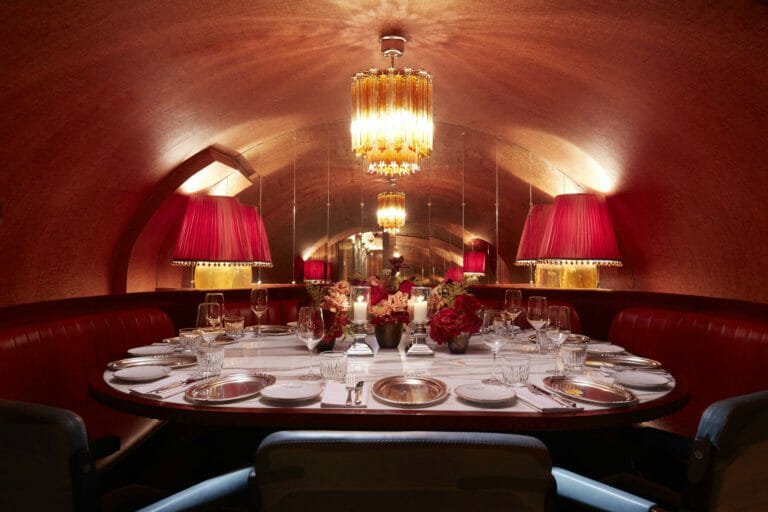 Gymkhana's intimate private dining vaults with arched copper ceilings, leather booths and art deco chandeliers provide an intimate setting for enjoying their Michelin-starred Indian fare. They also don't require any special booking or enquiry forms – you can make a reservation the usual way on their website, so you can easily make a Friday night dinner just a little bit more fancy.
Seats: Up to 10 | Set menu? Tasting menu, or feasting menu (served to share) | Menu price? £120pp tasting menu, £150 feasting | Find out more and book instantly here
–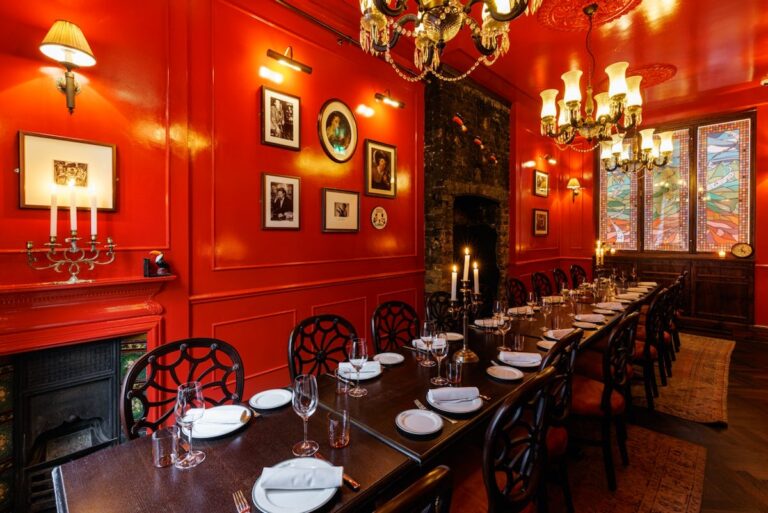 The George pub is a partnership between Dominic Jacobs of Chelsea's Cadogan Arms and restaurant group JKS (Trishna, Hoppers, Lyle's, Berenjak, Sabor), who between them have restored the stunning 18th Century, Grade II-listed space to its former glory. That glory apparently involved a gorgeous private dining room boasting chandelier lighting, an ancient brick fireplace, a long banqueting table, and what can only be described as a stained glass wall on one side. As for the food? Well, heading up the kitchen is Kitchen Table's James Knappet. So it's not terrible, put it that way. If you spring for the feasting menu, you'll get a table dressed with showstoppers like whole turbot, beef Wellington, whole lamb shoulders, or an entire suckling pig…
Seats? 8-80 | Set menu? Yes, £20-60pp | Minimum spend? None | Book HERE
–
Daphne's

| South Kensington
Daphne's is a year-round showstopper. In summer, the retractable roof is drawn back and sun floods into the airy, mirrored dining room; in winter, stars twinkle through the glass roof, candles twinkle on tables, and the fireplace does a bit more than twinkle at the head of the table, as you tuck into their sumptuous Italian fare.
Seats: Up to 24 at one table, 32 at 4, or 50 standing | Set menu? Yes, from £70-120pp | Minimum spend? From £2500, +15% service charge | Find out more HERE
–
104

| Notting Hill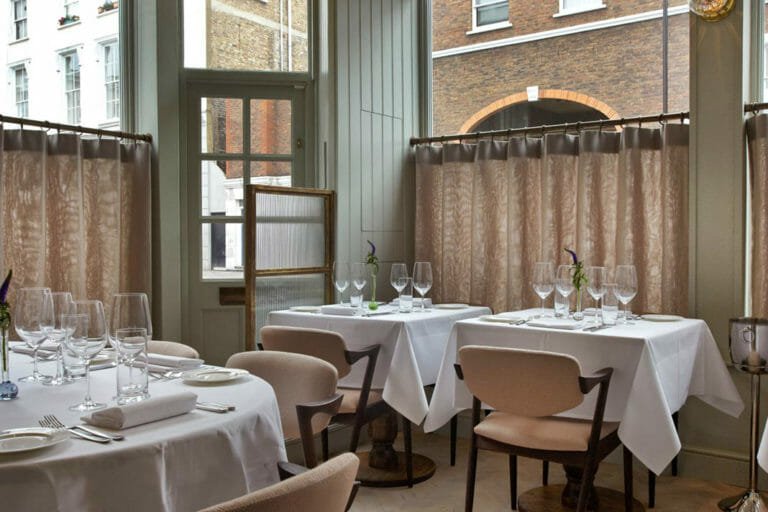 Fancy a really private spot? Notting Hill's 104 is so petite, it only seats 16 guests full stop. Meaning you can hire out the whole restaurant for your party – or stage an epic proposal that sees the other 14 diners reveal themselves as a full brass band halfway through your date.
Seats: Up to 16 | Set menu? Yes, from £100pp, bespoke options available | Find out more HERE
–
Being set in the former Midlands Bank building, the grandiose hotel and restaurant micro-metropolis that is The Ned has no shortage of elegant spaces for hire. There's private terraces overlooking the city, ballrooms that could be straight out of a period drama, and this: the ludicrously fancy Tapestry Room, with original crystal chandeliers and the largest tapestry of its kind ever made in Britain.
Seats: 10-200 | Set menu? Yes, bespoke | Minimum spend? POA | Find out more HERE
–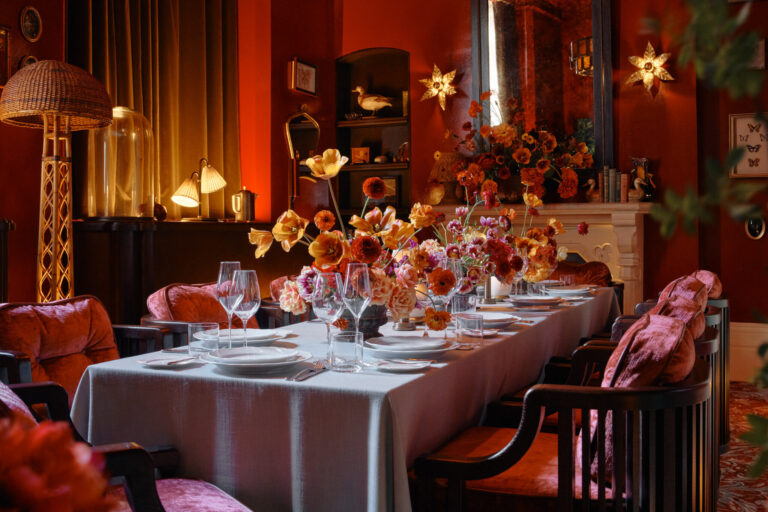 Sure, The Midland Grand Dining Room lives up to its name, all triple-height ceilings and huge chandeliers. But so does The Midland Grand's private dining room, which condenses all that luxury into an intimate, outrageously cosy area for up to 14 guests, serving the same fantastically indulgent menu of French fare from chef Patrick Powell.
Seats? Up to 14 | Set menu? Yes, £75/125 | Minimum spend? Yes, POA | Find out more HERE
–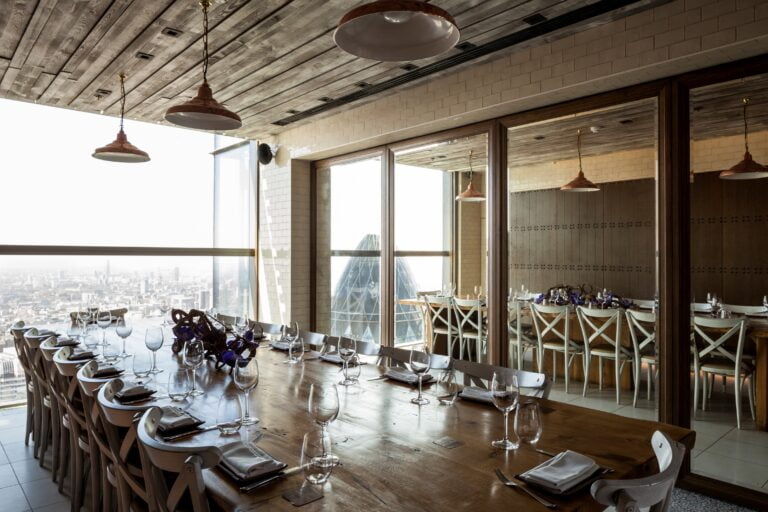 Not only London's highest private dining room (being, as it is, on the 40th floor of the Heron Tower), Duck & Waffle is also one of the most delicious, serving caramelised banana waffle, spicy ox cheek doughnuts and, of course, their signature duck and waffle, at any time of the day or night.
Seats: 16 | Set menu? Yes, from £45pp for breakfast, £85pp for dinner | Find out more and book instantly HERE
–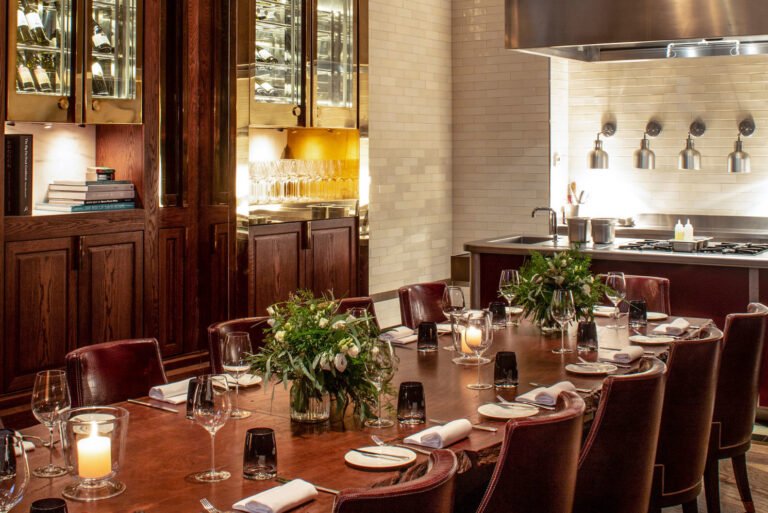 An intimate dining room with its own personal kitchen attached, where you'll watch head chef Nick Beardshaw and the team put together a hearty menu of British fare, from Cornish lobster scotch eggs to pig's cheek pie with clotted cream mash. And the sommelier's on hand to make sure it all goes down very well.
Seats: Up to 16 | Set menu? Yes, £125-350pp | Minimum spend? Yes, 50% payable as deposit | Find out more here
–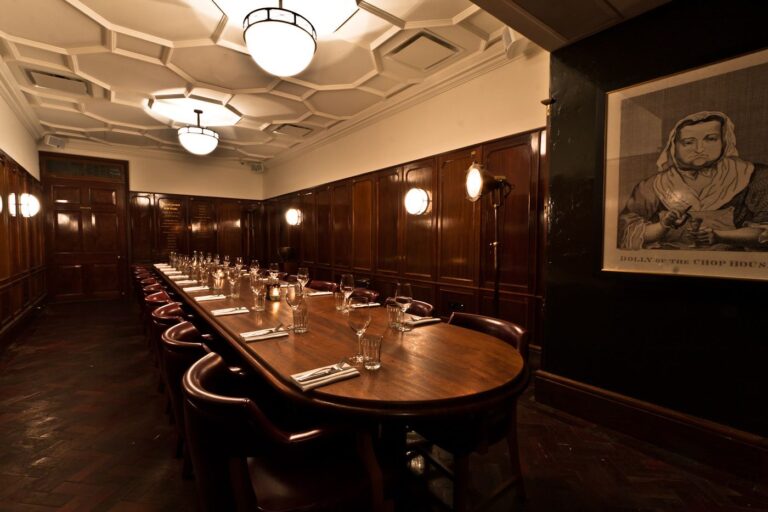 When it comes to big celebrations, Hawksmoor is definitely more. Because their Guildhall branch is home to a sleek, wood-panelled private dining room reminiscent of an old gentlemen's club. If old gentlemen's clubs offered Chateaubriand steaks served in sizzling cast iron skillets and passionfruit pavlova, that is.
NOTE: Hawksmoor Borough also has a lovely PDR – read all about it here.
Seats: 10-22 | Set menu? Yes, from £40-98pp | Find out more HERE
–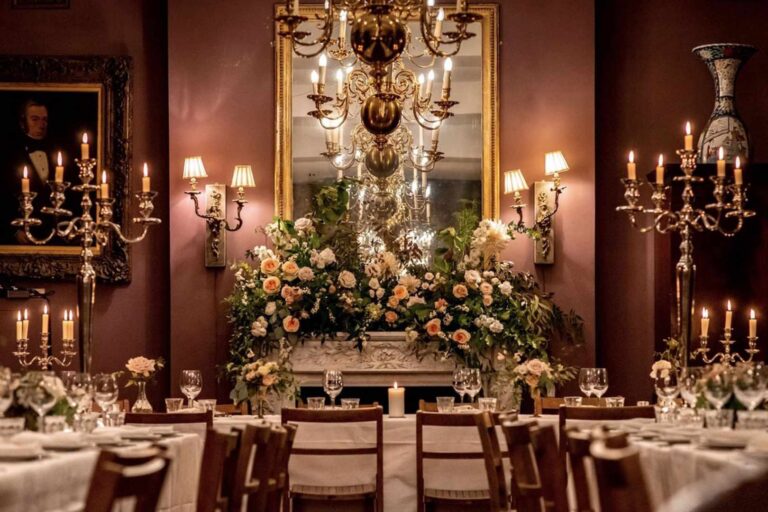 Brunswick House isn't just home to Jackson Boxer's critically acclaimed restaurant. The other floors of this former Georgian mansion are all privately hireable, too – from intimate studies crammed with antiques to the terraces, parlours and vaulted cellars. And yes, they come with Jackson Boxer's critically acclaimed food.
Seats: 6-110 | Set menu? Yes, from £65pp | Minimum spend? £250-£4250 hire fee, plus individual dining costs | Find out more HERE
–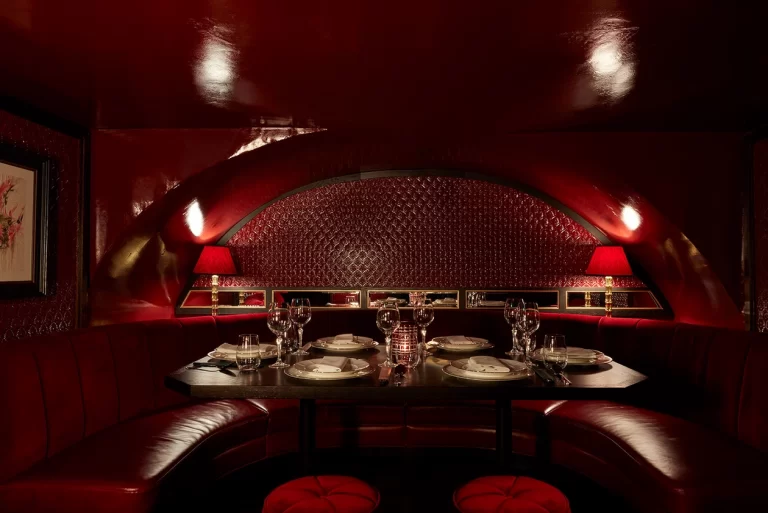 The Vaults at MiMi Mei Fair are the epitome of luxury. You'll find this pair of private dining rooms tucked underneath the two-storey townhouse restaurant, serving the same lavish Chinese menus and extravagant cocktails, only in a more intimate setting. Decked out in deep red burgundy, the shimmering ceiling reflects the warm glow of lamps placed around its leather banquettes.
Seats? Up to 6 | Set menu? No | Minimum spend? £600 | Find out more HERE
–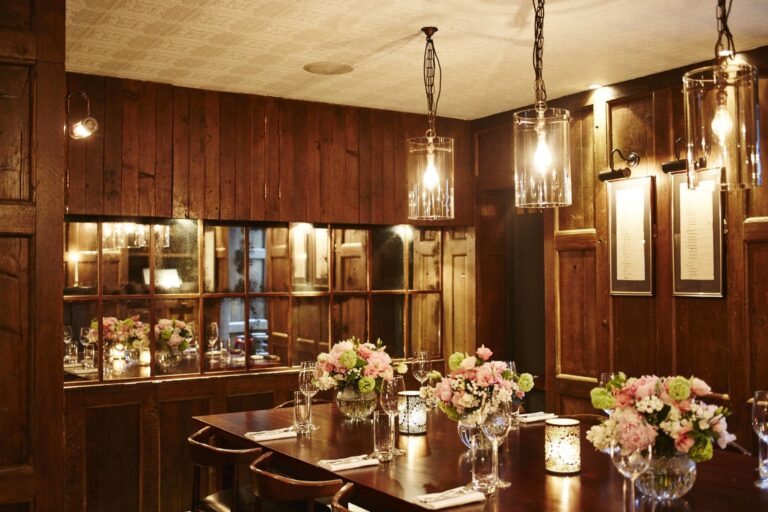 Trishna's private dining room is a smart yet cosy wood-panelled cocoon, in which waiters will ply you with Michelin-starred dishes inspired by coastal Indian cuisine, while you bop along to your own soundtrack and look out over the wine cellar beyond. It's basically a way, way better version of the sort of classy dinner party you could hold at home.
Seats: 12 | Set menu? Yes, £125pp | Find out more & book instantly HERE
–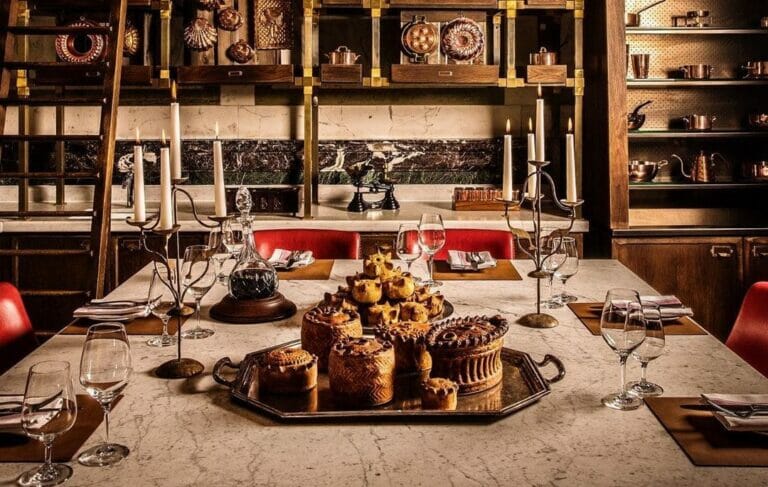 A private dining room within the Dining Room, where, by day, head chef and chief pastry whisperer Calum Franklin creates his magnificent, crusted creations… and by night, you eat them, surrounded by quirky Victorian pie-making ephemera, candlelight, and shimmering marble.
Seats? 10 | Set menu? Yes, £65-90pp | Find out more HERE
–
Decimo

| King's Cross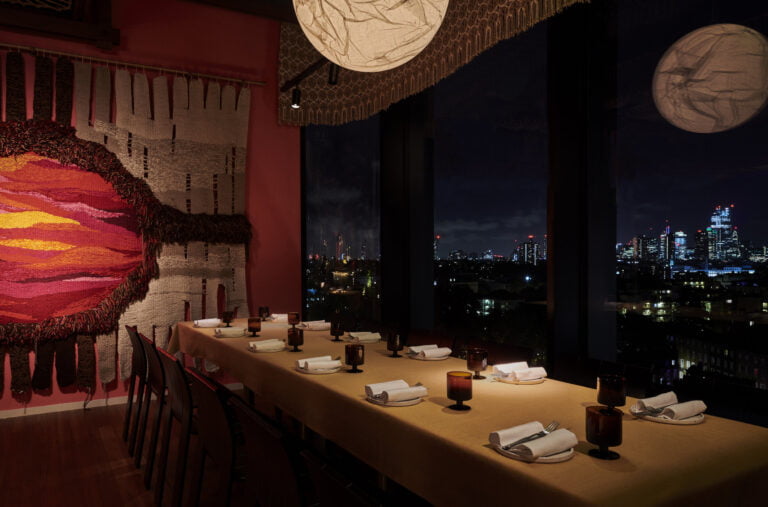 Decimo scores a 10 on private dining thanks to its ludicrous city views (through floor-to-ceiling windows), the private bar, and the excellent Spanish-meets-Mexican dishes rustled up by Peter Sanchez-Iglesias (who opened Decimo for a change of scene after running two Michelin-starred restaurants in Bristol).
Seats? 38 | Set menu? Yes, POA | Find out more HERE
–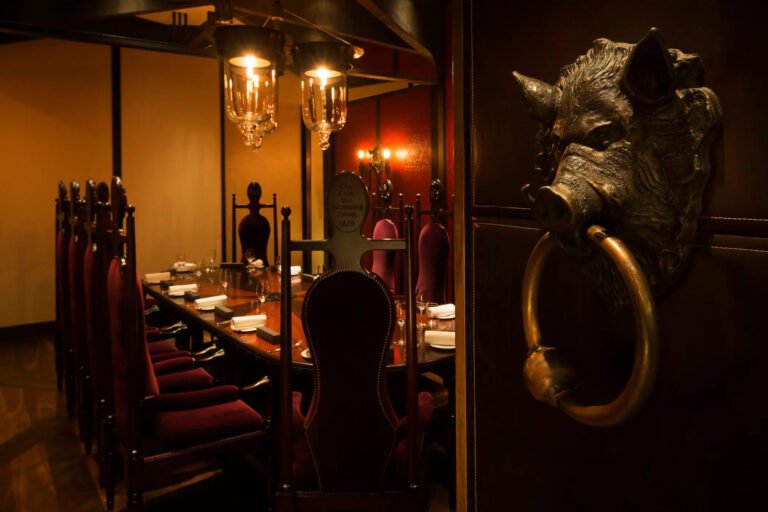 By far and away the most fantastical room ever conceived, the private room at Heston's time-travelling eatery takes inspiration from King Arthur's round table, boasting an, er, oblong table; grand velvet thrones for each diner; embossed LEATHER WALLS and a chandelier apparently made up of the largest piece of hand-blown glass in Britain. Plus, the set menus offer dishes like spiced pigeon, an 18th century chocolate bar, and everybody's favourite culinary practical joke, meat fruit.
Seats: 12 | Set menu? Yes, £130-170pp | Find out more and book instantly HERE
–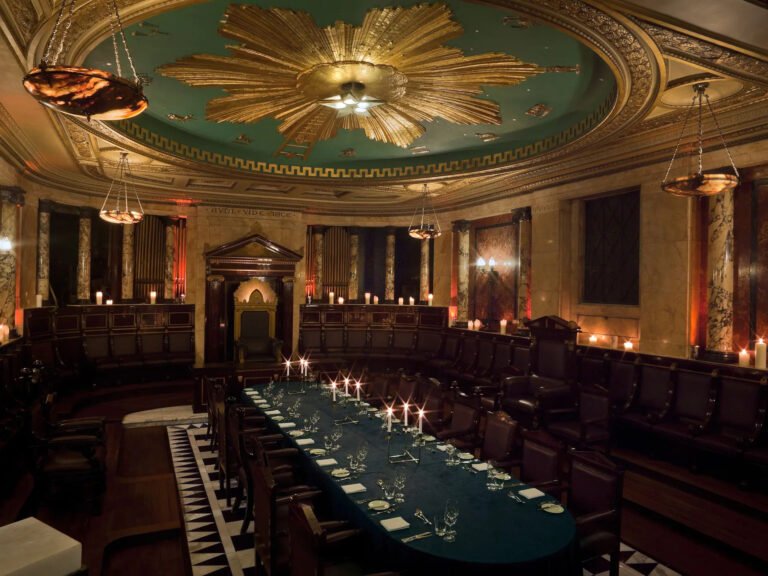 According to an urban legend, this former masonic temple lay blocked off behind a wall for decades before a construction worker noticed an extra room on the blueprint. Luckily for everyone, it turned out to be a marble-clad, domed-ceilinged, secret Edwardian temple fitted with thrones, candelabras and mysterious zodiac carvings. And luckily for you, it makes the perfect venue for a grand, atmospheric banquet (or séance).
Seats: 44 | Set menu? Yes | Minimum spend? £2,200 | Find out more HERE

---
BOHEMIAN NOOKS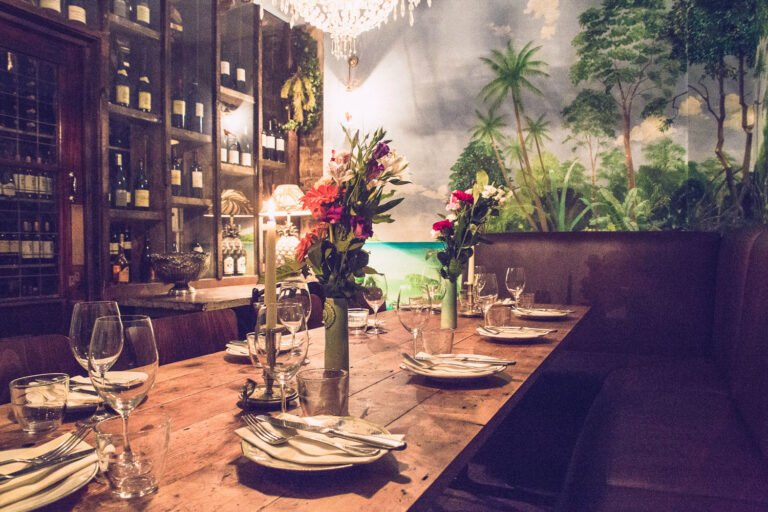 The Jungle Room at glorious French bistro Blanchette boasts a hand-painted tropical mural, a glass-fronted wine cellar, a cosy table set next to a cosy leather corner banquette, and flickering candlelight. The menu here comes in the form of their signature sharing plates, including dishes like crispy frogs' legs, steak tartare with pickled girolles, crab timbale and seared tuna with avocado… which you may or may not actually want to share.
Seats: 14 | Set menu? Yes, from £55pp | Find out more HERE
–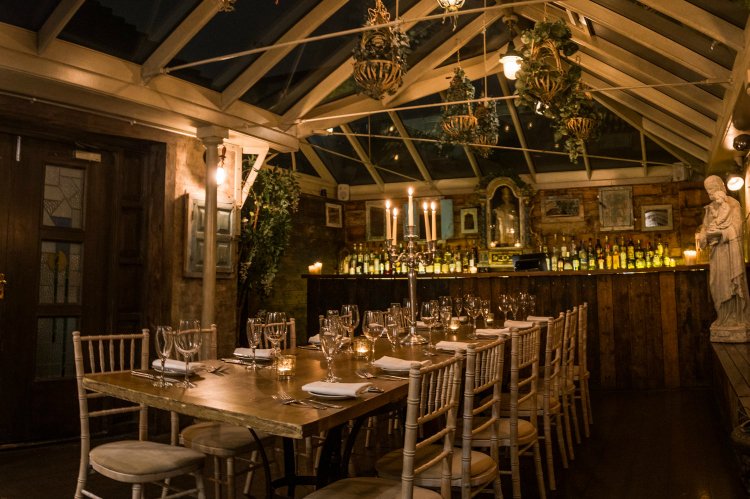 Paradise was practically built for private parties. Almost every room of the teetering Gothic hideaway can be hired out, from the glass-roofed conservatory with a private bar, and the peeling, candlelit bohemian dining room, to the snug Reading Room packed with Chesterfield sofas and a roaring fire, or the vast music room (which comes with its own stage).
Seats: 10-100 depending on room | Set menu? Yes, from £55pp | Minimum spend? From £500 – £2500, depending on room and day | Find out more HERE
–––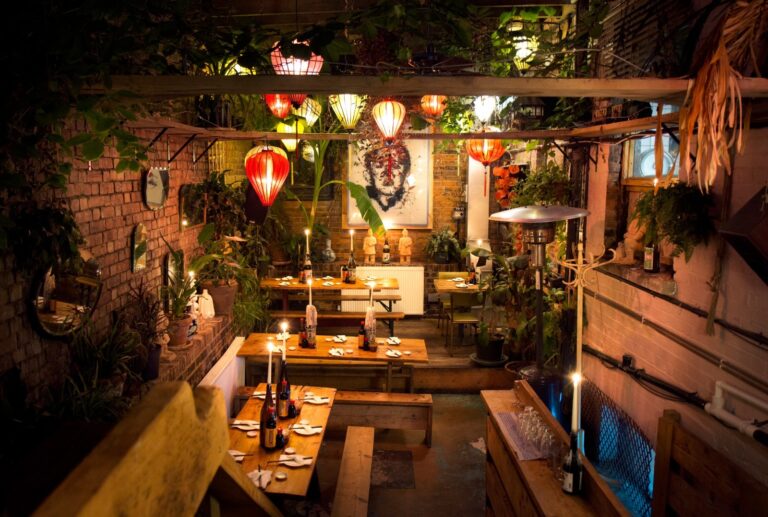 My Neighbours The Dumplings is a little family-run restaurant specialising in handmade dumplings (who knew?) that manages to be both quaint and cool. The space itself is Chinese marketplace meets industrial chic: paint-chipped walls, colourful Chinese lanterns overhead, and long communal picnic tables for seats. This is carried right out to their 'hanging garden' room, draped with lanterns and sporting the perfect intimate vibe for a dinner party.
Seats? From 8-42 | Set menu? Yes, £30pp | Find out more HERE
–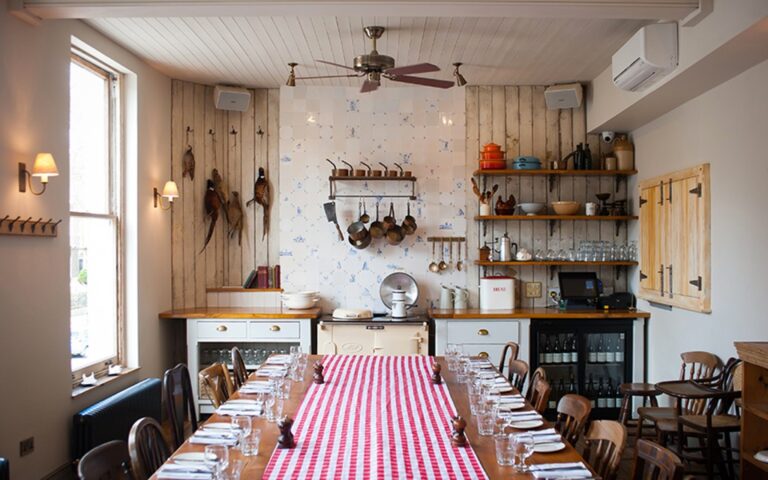 If this wasn't attached to a fully functioning pub and eatery downstairs, you could just about persuade your friends that this was your very own, homely farmhouse kitchen. You know, if you owned an Aga. And got your meat freshly butchered by a bunch of highly skilled chefs in the basement. And knew how to serve that meat in hefty roasts and sharing platters including treacle-cured salmon.
Seats? 16-24 | Set menu? Yes, but à la carte for non meat-eaters | Minimum spend? Yes, POA | Find out more HERE or via [email protected]
–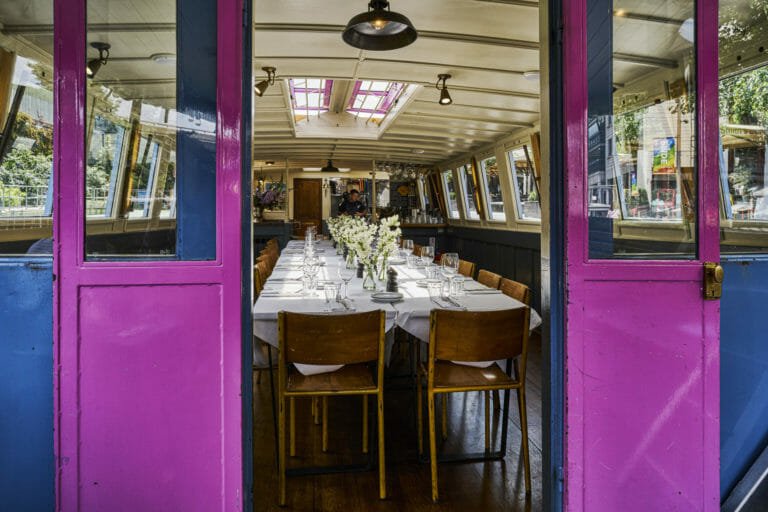 London's waterways are your oyster…and so's your dinner. Take a two and a half meandering candle-lit cruise along Regent's Canal as you tuck into seasonal seafood dishes and sip expertly-paired wines, safe in the knowledge that you're probably having the best time out of everyone in London right now.
Seats? 40 seated, 80 standing | Set menu? Yes, £65pp | Minimum spend? POA | Find out more HERE
---
RAUCOUS HIDEAWAYS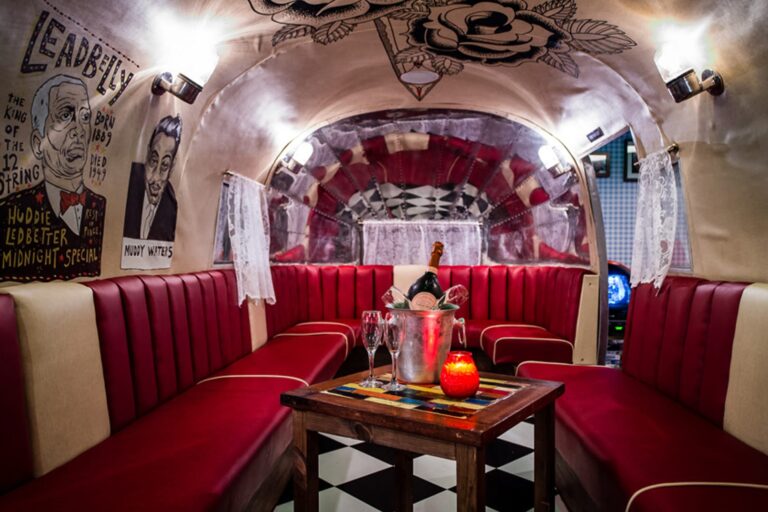 Partying in a caravan won't cramp your style if you do it at the Blues Kitchen Shoreditch, who have planted a 1950s silver airstream right in the middle of their live music club. Here you can kick back with your own personal drinks stash, sharing platters of Texan BBQ ribs and wings, a phone dock disguised as a vintage TV, and a private bathroom – all with the main dance-floor just a step outside, where they have live blues playing seven nights a week.
Seats? 15-25 | Set menu? Yes, POA | Find out more HERE
–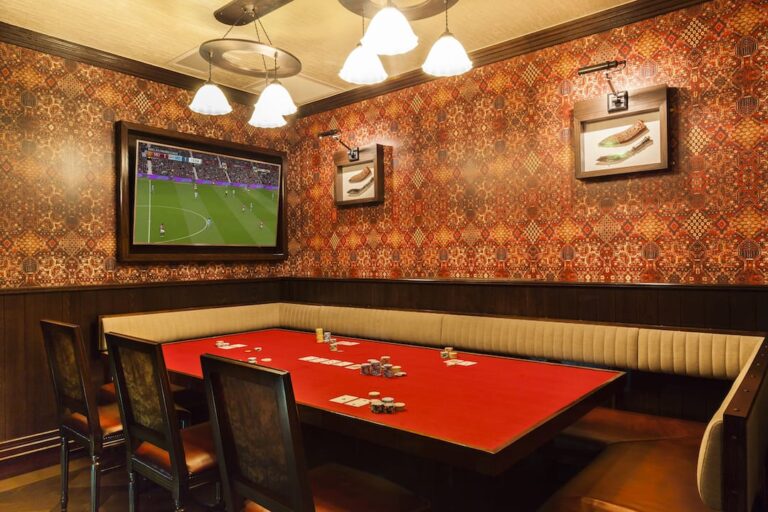 Brigadiers pulls out all the stops when it comes to private dining. Hireable spaces here run the gamut from intimate dining rooms to the whole venue, which means you'll have the run of their whisky vending machine, help-yourself bar, 8ft Texan pool table, sports screens, personal croupiers, and more. And they haven't forgot the food & drink amidst all this – expect feasting menus of whole suckling pig and Champagne fountains.
Seats? Up to 10 or 55 depending on room | Set menu? Yes, £32-95pp | Minimum spend? £400-1800, dependent on room | Find out more & book instantly HERE
–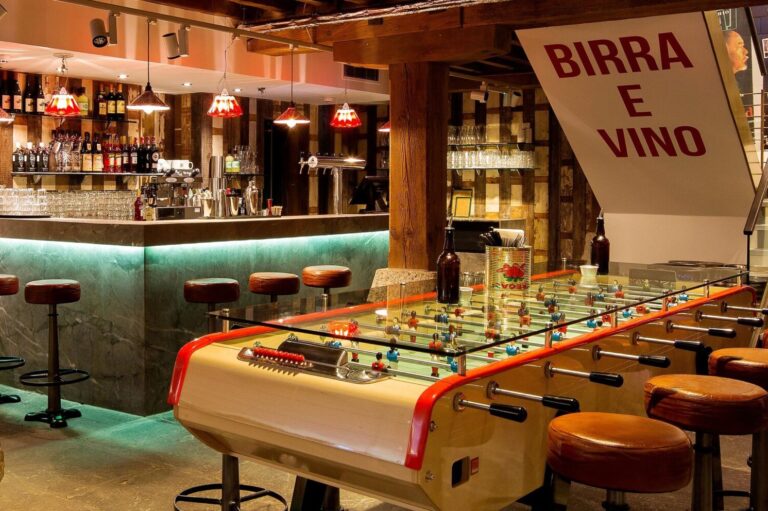 Planted in the basement of Pizza Pilgrims in Canary Wharf – alongside a bespoke 16 player foosball table and retro pinball machine – is a curtained-off party pad kitted out with plush Chesterfield sofas, a 65" TV hooked up to a Nintendo Switch loaded up with Mario Kart, plus exceptionally delicious pizza and drinks delivered in take-out boxes straight to your sofa.
Seats? 4-8 in the Nintendo area (but they try to be flexible), or up to 100 for full hire | Set menu? No | Find out more HERE
–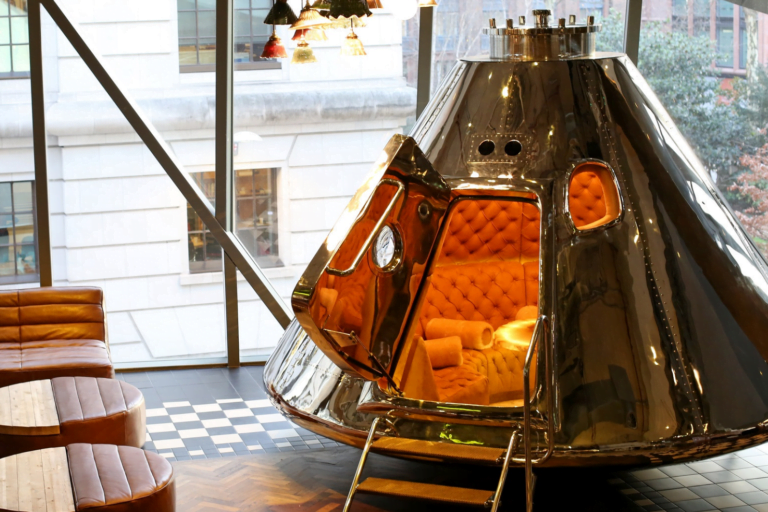 Gordon Ramsay has installed a retro-futuristic space pod inside his Bank restaurant. Naturally, he's calling it… er, Street Lounge. Thankfully, you'll find something a little more appetising than astronaut food inside – namely cocktails and sharing platters of spicy tuna tartare, tamarind chicken wings and more.
Seats? 2-6 | Set menu? Yes, £50pp | Minimum number of guests applies at certain times | Find out more HERE
–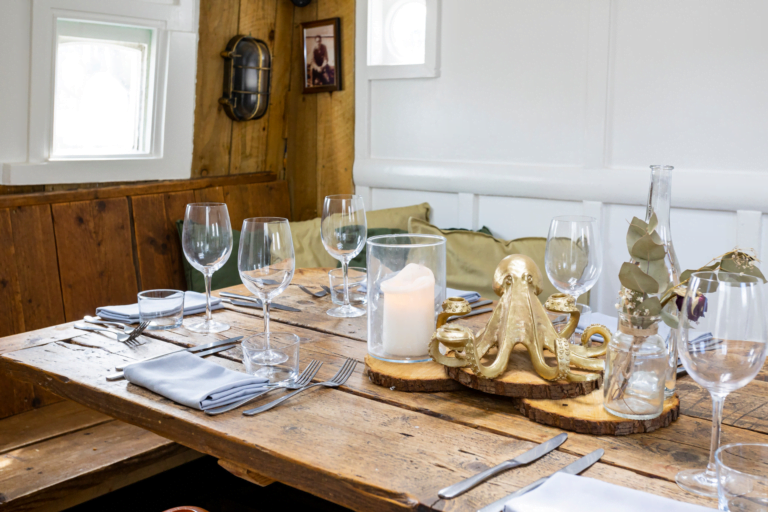 Boat parties are always good fun. Private boat parties are a whole different kettle of fish (especially when you're the captain). Such a scenario can happen at Barge East, the 118-year-old Dutch cargo barge, where there's the option for you and your crew to hire out their cosy Captain's Cabin, complete with bluetooth speakers.
Seats: 6-8 | Set Menu? Yes (£55pp), or à la carte | Minimum spend? £250+ | Find out more & book instantly HERE
–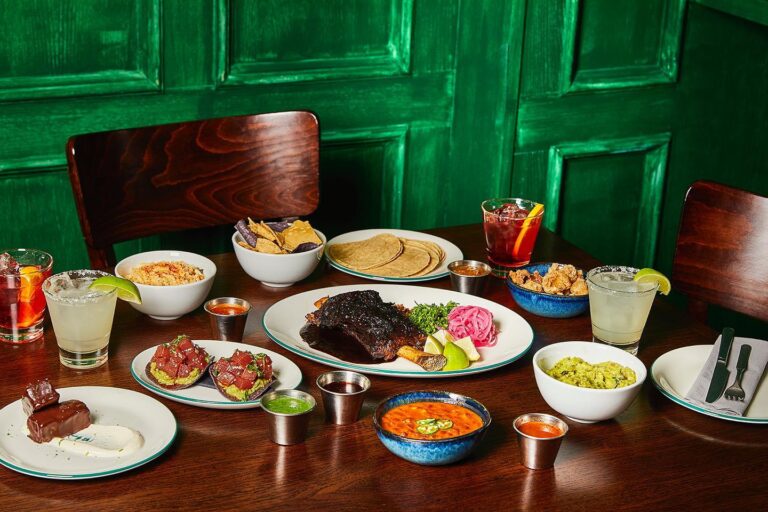 When you don't want the public to be privy to your group's sloppy conversations after consuming too much tequila and mezcal, you can hire out El Pastor's dark green private room. It's perfect for a birthday dinner (with loads of crispy duck taco sharing plates) that precedes a night out – especially considering you don't have to move far to get to the after-party as there's a club/agaveria, Mezcaleria Colmillo, in the basement. You just have to tackle the small matter of the stairs…
Seats: Up to 10 | Set menu? Yes, £35-50 | Minimum spend? None | Book instantly here
–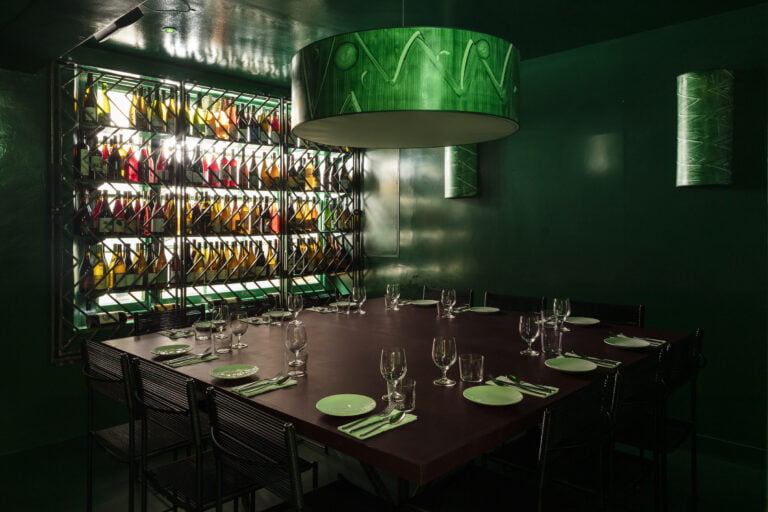 Ever dined at Bar Crispin and thought 'God I wish I could get this place all to myself'? Well, such a thought isn't entirely impossible. Hidden discreetly downstairs, there's the option of hiring out The Green Room where you and up to 15 of your closest pals can engage in a dinner party of natural wines and small plates thought up by Casa Fofò's Fabien Spagnolo. Surrounded by a back-lit wine rack, hand-painted lights and emerald walls, it's a real gem…
Seats: Up to 16 | Set menu? Yes | Find out more and book instantly HERE
---
GOURMET HAVENS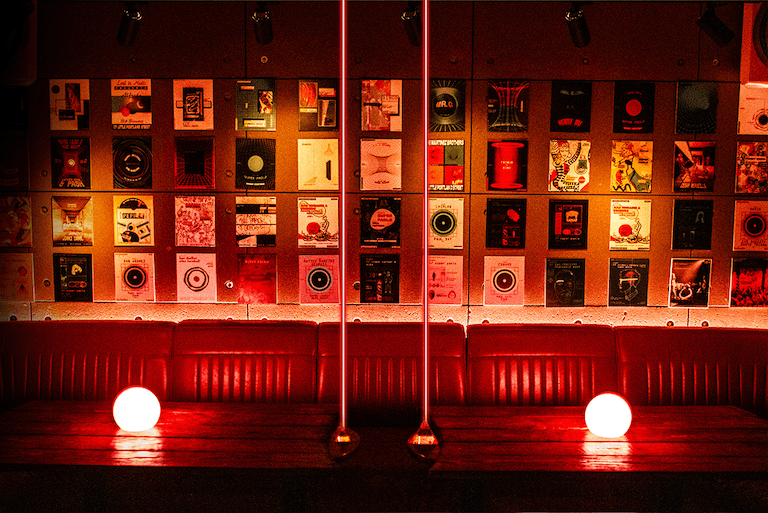 John Javier is one of the most exciting your chefs in the world right now, and his restaurant – The Tent At The End Of The Universe – is a testament to his talent. Now, he's opening up The Chef's Studio: a tiny, intimate, 12-seater chef's table experience, in which you'll be guided by him personally through a curated eight-course menu of his greatest hits. Dishes will include lobster noodles with superior sauce, Wagyu beef short rib with malt pickled onion & shio kombu, and his famed MASTER fried rice…
Seats? Up to 12 | Set menu? Yes | Minimum spend? £100pp | Find out more HERE
–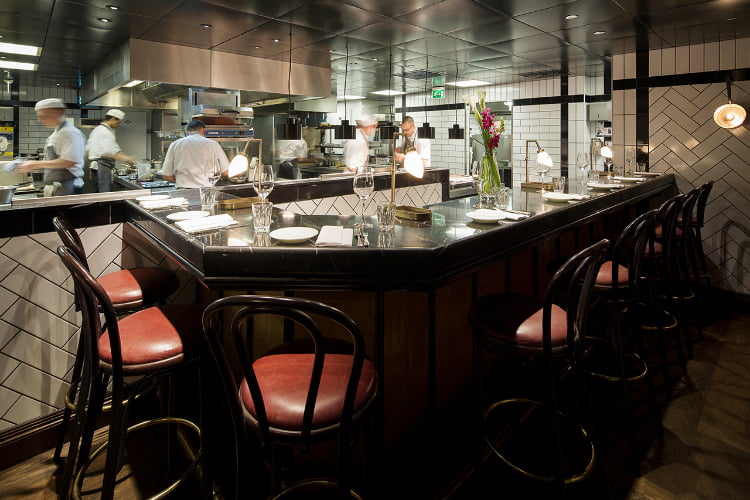 Book in here, and your evening will start with cocktails in the top floor speakeasy, The Blind Pig, before you make your way down to the basement for a 9 course taster menu (with dishes like five-spiced partridge, and scallop with smoked avocado) at a hidden 'Employees Only' dining counter overlooking the kitchen. As all the best evenings do.
Seats? Up to 8 | Set menu? Yes, POA | Minimum spend? No | Find out more HERE
–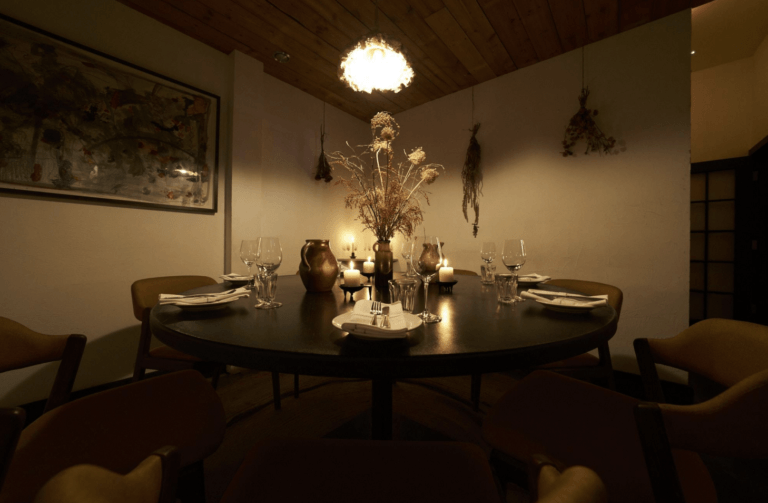 Usher your nearest and dearest into the candlelit dining room at Westerns Laundry and feast on a banquet of small plates plucked from the day's blackboard menu; share hearty mains of guinea fowl or slow roast pork shoulder; and finish with rum baba crowned with Chantilly cream. And you can also cap it off with a cake from their sibling bakery Jolene if it's a celebration, like a Tuesday night.
Seats? 7-10 | Set menu? Yes, £65 | Minimum spend? No | Find out more HERE
–
Kol 

| Marylebone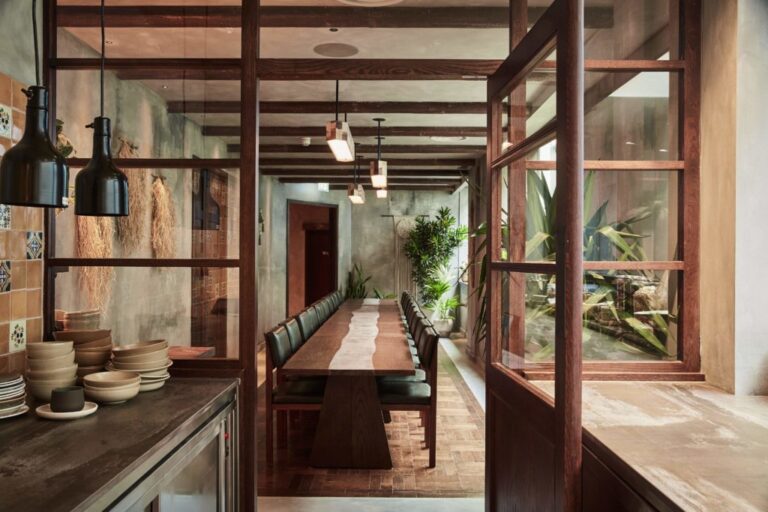 Five times, Noma has been voted No. 1 on the World's 50 Best Restaurants List – in 2010, 2011, 2012, 2014 and 2021. So it's fair to assume that any chef that's passed through its vaunted kitchens knows their onions – and when the restaurant launched a satellite pop up in Mexico in 2017, Santiago Lastra was entrusted with the task. Now he's opened his own insanely good place in London, and you can hire out the basement for your own exclusive party overlooking the Oaxacan home-styled open kitchen.
Seats? Up to 20 | Set menu? Yes, £120-180pp | Minimum spend? Yes, POA | Find out more HERE
–
Bubala

| Spitalfields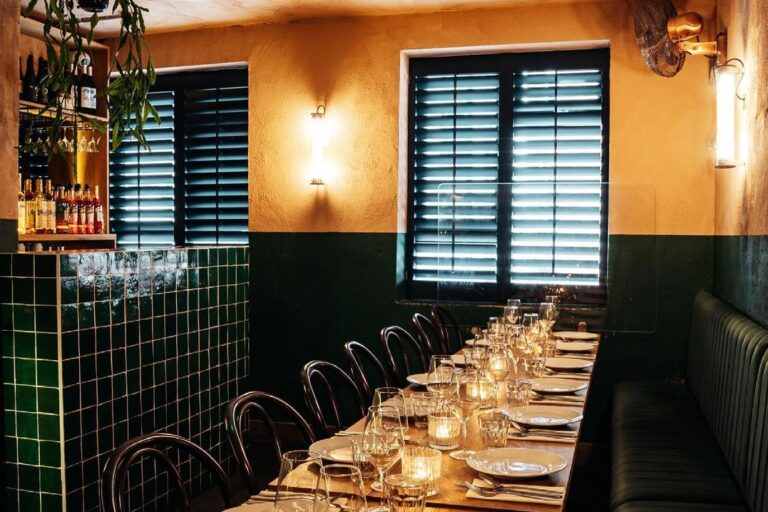 Simply one of our all-time favourite restaurants in London – and it just happens to be vegetarian. They've squeezed in a private dining room above their Spitalfields restaurant, where you can chatter away in the cosiest of surrounds with a feast of aromatic Middle Eastern dishes on the table and your own personal bartender shaking things up in the corner.
Seats? Up to 24 | Set menu? Yes, POA | Find out more HERE
–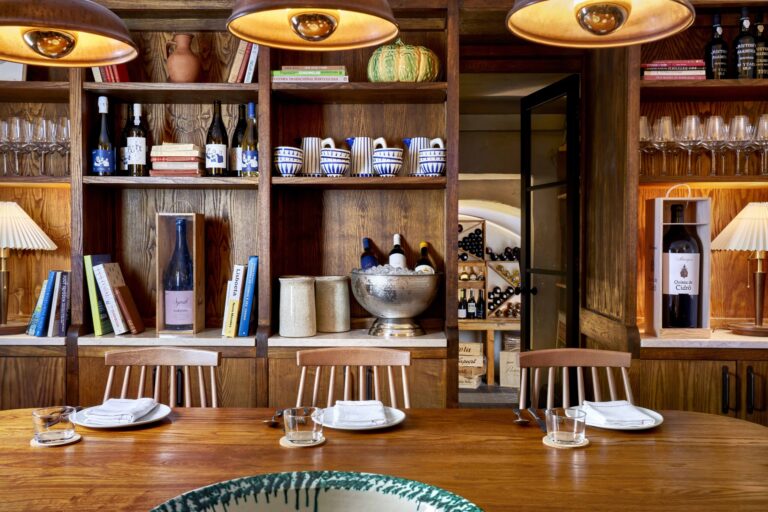 Nuno Mendes' Fitzrovia flagship, Lisboeta, is a love letter to Lisbon's food scene, and the private diner is no exception. It's called The Adega (it means 'wine cellar' in Portuguese) and it's down in the basement, right next to the wine cellar itself. And yes, the wine is exclusively Portuguese, and is all made from indigenous Portuguese grape varietals. The set menu spans a raft of Lisbon-style classics, from Plumas Gelhadas (grilled acorn-fed black pork from Alentejo with a tomato salad) right through to Pão de Ló, a freshly baked olive oil cake.
Seats: 8-12 | Set menu? Yes, £60-95pp | Minimum spend? Yes, POA | Find out more HERE
–
Barrafina

| Covent Garden & King's Cross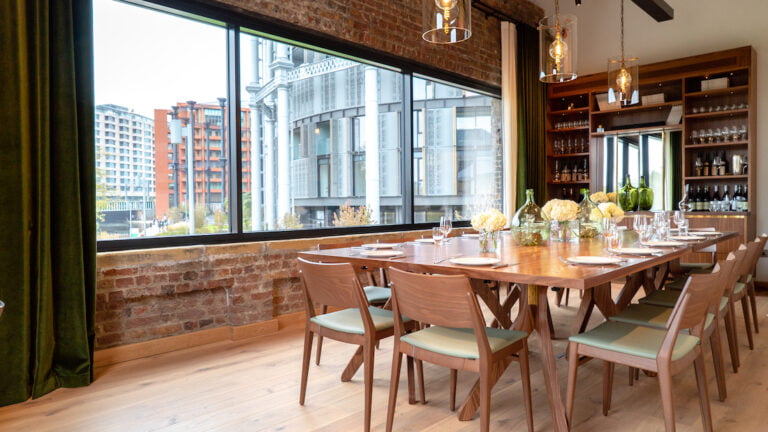 Yes, part of the charm of dining at Barrafina is to sit at the counter and watch the chefs at work. But it's just as charming to fill one of their private dining rooms with all your friends, who can join you in feasting on Michelin star-level tapas (from your own private open kitchen), perusing the sherry cellars with a traditional aperitif in hand, and popping magnums of Spanish wine in understated, suave surroundings.
Seats? Up to 12 or 24 depending on room/seating arrangement | Set menu? From £55 | Minimum spend? Yes, POA | Find out more HERE
–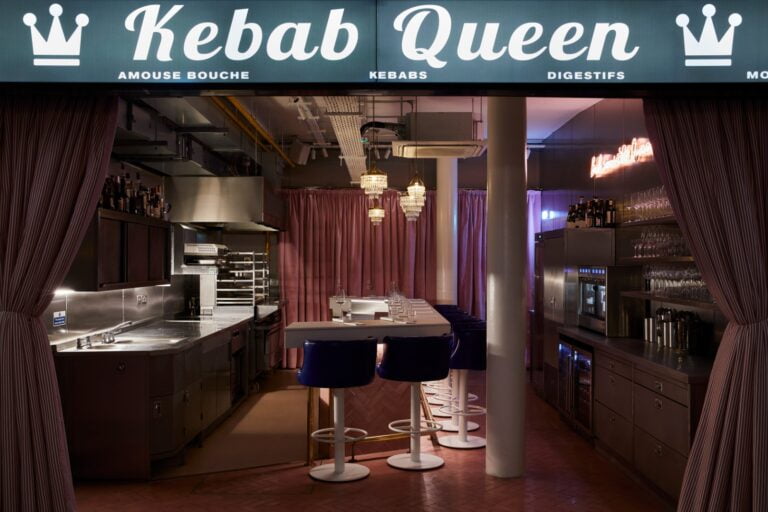 We know what you're thinking. Kebabs? Private dining? Huh? But rest assured, that's only because you've never had a seven-course gourmet kebab tasting menu served to you directly by a former Le Gavroche chef, at your very own private chef's table hidden behind an old kebab storefront underneath another kebab restaurant. Probably.
Seats? 10 | Set menu? Yes | Minimum spend POA | Find out more here
–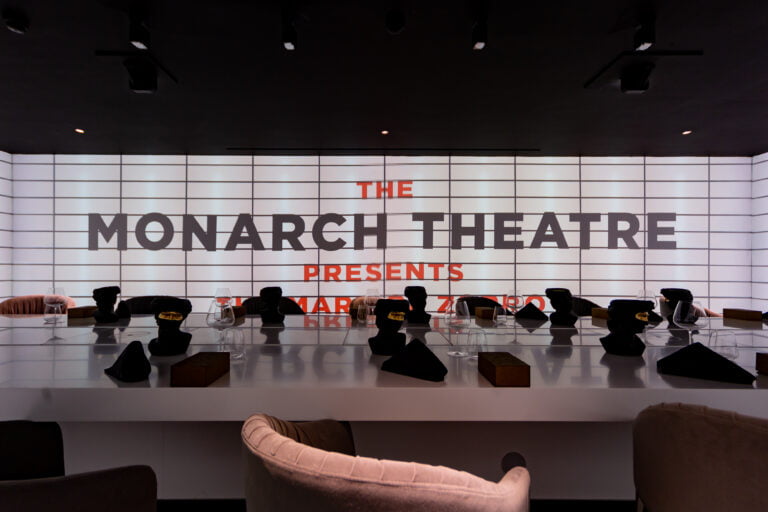 Step 1: amass a list of your most comic-loving friends. Step 2: conduct a bank heist together, or hope one of them is extremely rich and generous. Step 3: hire out the intimate 20-seater private dining room at Soho's Batman-themed restaurant Park Row, where you'll dine on 11 theatrical courses (including Bruce Wayne's mother's pearls, and a smoking fly agaric mushroom) while surrounded by 360º, floor-to-ceiling projections to fully immerse you in the world of Gotham.
Seats: Up to 20 | Set menu? Yes, £135 | Minimum spend: POA | Find out more HERE
–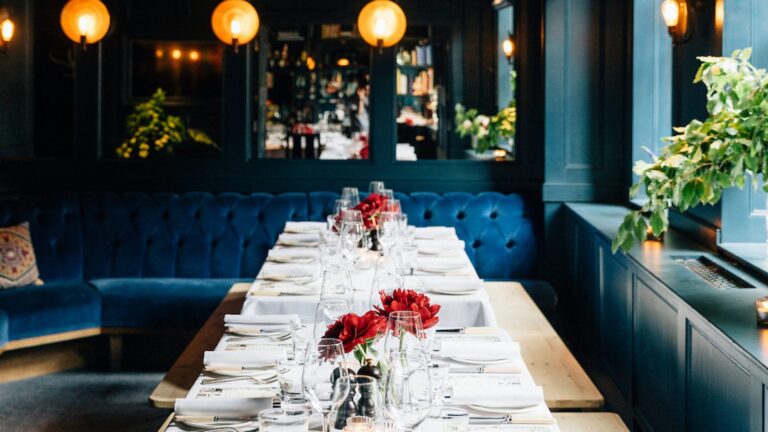 Soho's grande dame had a facelift recently to celebrate her 90 years – a not insignificant part of which involved the creation of the dramatic Blue Room. Unlike the two light and breezy rooms below, members get priority booking here – but if you can time it right, you'll be rewarded with plush, cobalt velvet banquettes, romantic candlelight, and your very own bar to boot.
Seats: 9-32 | Set menu? Yes, from £45 (bespoke options available) | Minimum spend POA | Find out more HERE
–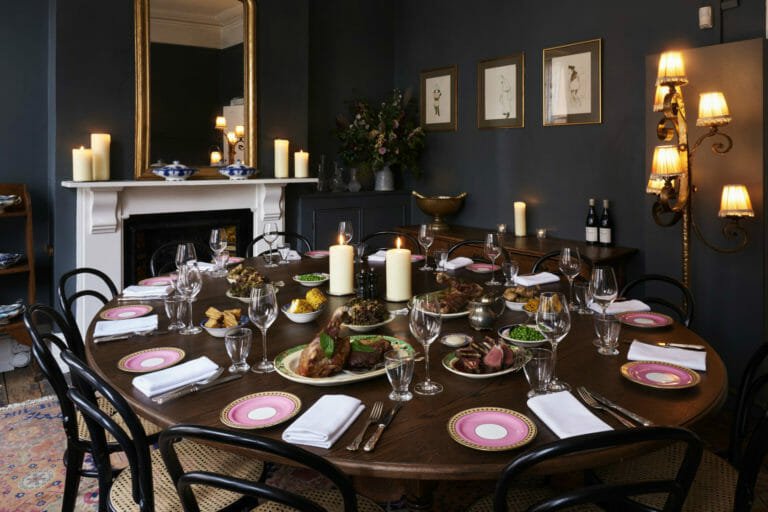 A thoroughly refined setting for an utterly debauched meal – allow the QCH to bundle you upstairs and lavish you with small starters of Mangalitza head croquettes and smoked cod's roe; an enormous cut of meat prepared by the in-house butchers; 'peak condition' cheeses and some of the finest wines available to humanity.
Seats: 7-14 | Set menu? Yes, £75/110pp | Find out more and book instantly HERE
---
PICTURESQUE PRIVATE DINING ROOMS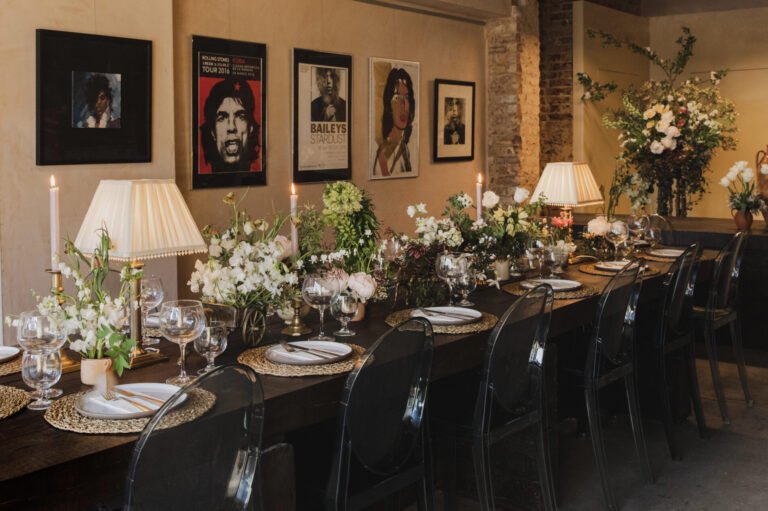 Technically, Curious Kudu isn't so much a private dining room as your own private restaurant. You'll find it next to the Michelin Bib Gourmand-toting Kudu, serving the same brilliant South African fare – bread served with a skillet of melted seafood butter; braai lamb shoulder with smoked labneh; Kalahari-spiced biltong, etc. – but with its own private entrance and an array of contemporary artwork dotted around the bare plaster walls.
Seats: 14, or 25 standing | Set menu? Yes, £72pp | Minimum spend? £400 (paid as deposit) | Find out more HERE
–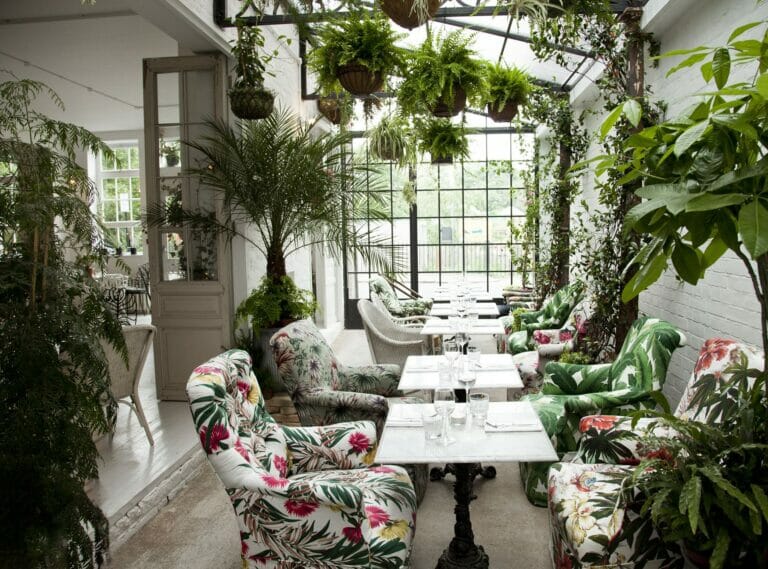 Bright, airy and positively verdant, the Greenhouse at Bourne & Hollingsworth Buildings is, for obvious reasons, a very popular brunch spot. But in the evenings, it makes an equally gorgeous dinner spot, as festoon bulbs peep through the leaves and award-winning cocktails appear on the tables.
Seats: Up to 22 | Set menu? Yes | Minimum spend? From £500-£2000 depending on room | Find out more HERE
–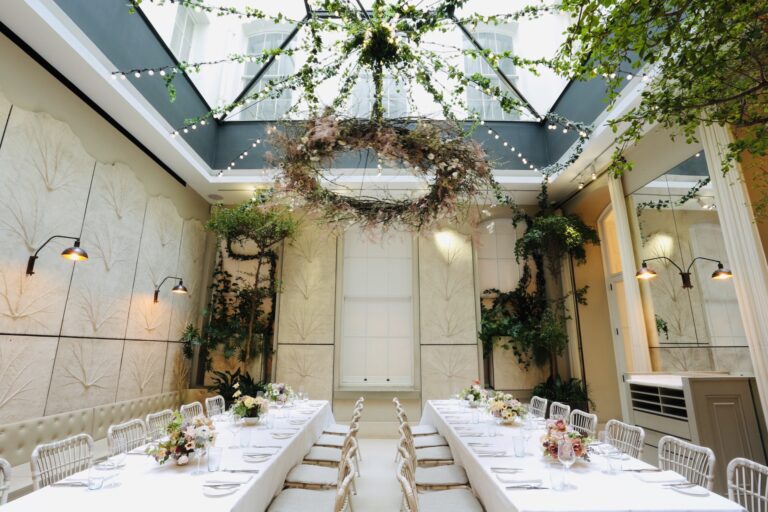 Nestled inside an old 19th Century drawing room at Somerset House which has been off limits to the public for over 150 years, Skye Gyngell's first restaurant (after an extraordinarily successful stint at Petersham Nurseries) is exactly the place for you if you want a secluded, fairy-lit conservatory filled with critically acclaimed, seasonally inspired dishes. Which, as of now, you do.
Seats? Up to 36 | Set menu? Yes, from £65 | Minimum spend? From £2000 for breakfast | Find out more HERE
–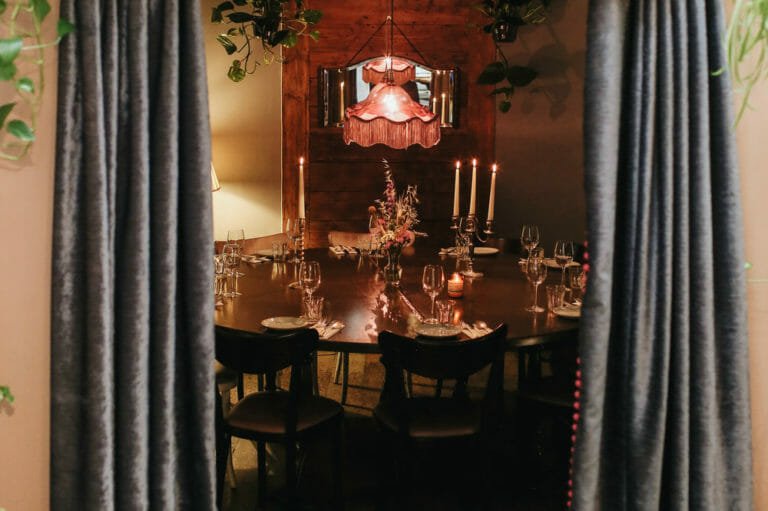 Beloved Peruvian restaurant Pachamama is variously adorned with vintage treasures, houseplants, three private dining rooms and a horse. And only some of those things are found tucked behind heavy velvet curtains and lit by candles…
Seats? Up to 15 | Set menu? Yes | Minimum spend? POA | Find out more HERE
–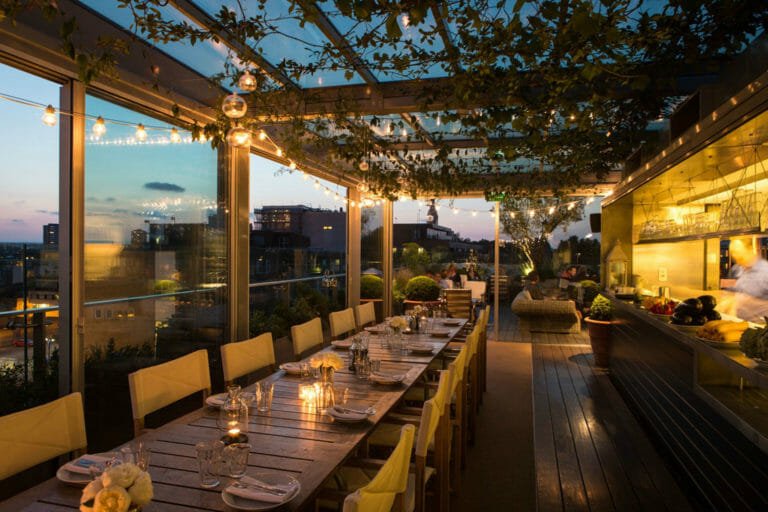 There are definitely uglier places for a dinner party than the rooftop of Conran's Boundary Hotel; a year-round orangery and terrace that's a suntrap in summer, and a twinkly, firepit-laden retreat in winter. Feasting here is a cut above, with miso aged duck breast, baked aubergine involtini and 300g rib-eye steaks on the menu, all washed down with top-tier cocktails.
Seats: Up to 45 | Set menu? Yes | Find out more HERE
–
The Greenhouses | Marylebone
The Greenhouses aren't so much a restaurant, as a small village of private dining rooms, all set in seasonally-decorated greenhouses in the grounds of a historic Grade I listed church. They range from intimate rooms for two to showstoppers for up to 24, and they're all sheltered by a canopy of flowers and fairy lights (and, you know, a roof).
Seats: 2-24 | Set menu? Yes | Minimum spend? £800-2500 | Find out more HERE
–
Luca

| Clerkenwell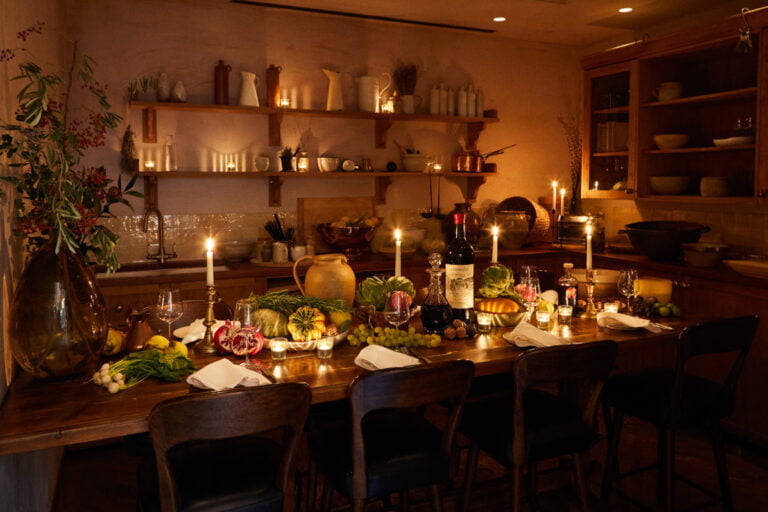 Behold, the four possible locations for your next dinner:
1) Luca's Pasta Room, styled after a rustic Italian cucina, where the chefs create fresh pasta daily;
2) Luca's Garden Room, a conservatory overlooking the open kitchen, filled with an abundance of greenery;
3) Luca's outdoor terrace, covered and warmed by a roaring open fire in winter & dozens of flickering candles; or
4) A less exotic room elsewhere, because you didn't scroll this far down.
Seats? 8-20 | Set menu? Yes | Minimum spend? Yes, POA | Find out more HERE
–
HIDE 

| Mayfair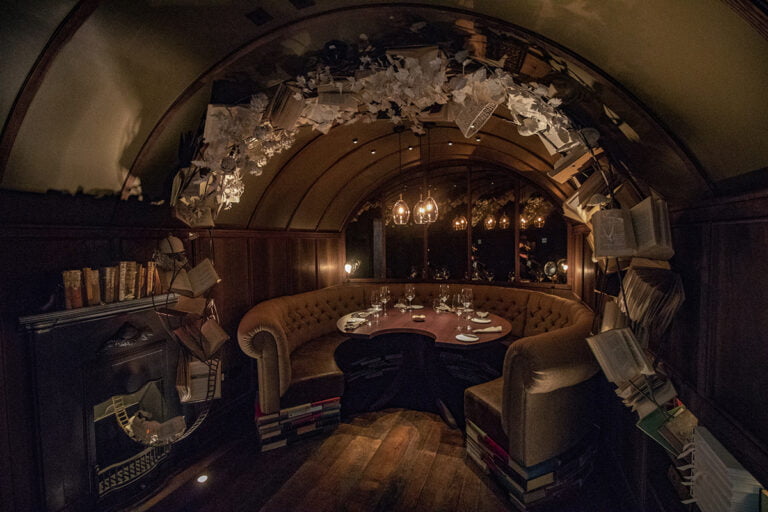 If you want to, er, hide away in Ollie Dabbous' critically acclaimed, Michelin starred restaurant, there are five private dining rooms in which to do so. The most atmospheric is the Reading Room, with a curving banquette resting on stacks of literature, and books and branches whimsically twisting around the entrance.
Seats? 2-8 | Set menu? Yes, POA, varies by room | Find out more HERE
–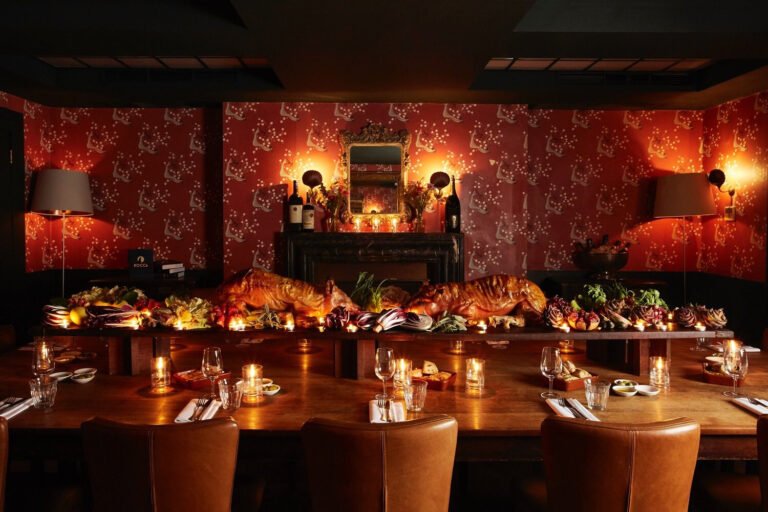 In bocca al lupo is the equivalent of break a leg in Italian. But you won't need any luck here, because the supremely cosy, intimate decor, perfectly chosen wine list and personal chef knocking up your sumptuous Italian fare is a sure-fire win.
Seats? 12-32, or 45 standing | Set menu? Yes, from £52pp | Find out more HERE
–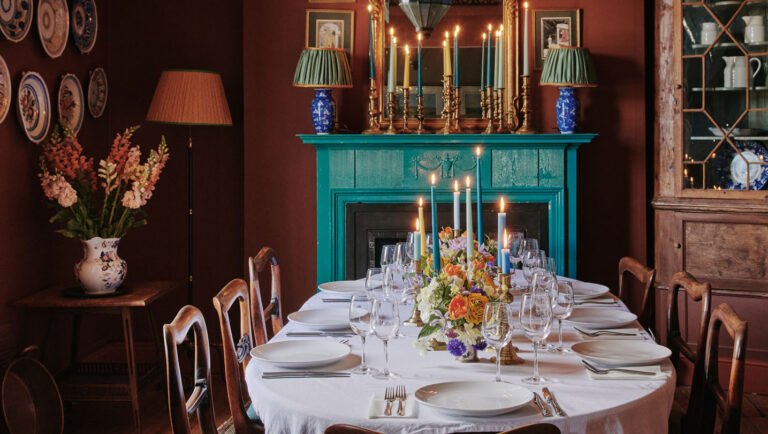 The Carpenters Arms' old-school private dining room has all the comforts of home… that is if your home had antique chairs, Persian rugs, a turquoise fireplace and its own mini bar. They'll arrange a bespoke lunch/dinner for you with tasting menus that champion top quality British produce (like roasted Cornish red chicken or roasted Loch Duart salmon with Fowey Mussels and braised fennel), but will leave the music in your hands as that can sometimes be contentious… instead, there's a 'bring your own vinyl' policy.
Seats: 16, or 20 standing | Set menu? Bespoke menus available | Minimum Spend? £750 | Find out more HERE
---
Ready to join the crowds again? Tick off the best restaurant in every London neighbourhood