The best bars in Canary Wharf | Perfect for maintaining that work/life balance…
Canary Wharf is named after the Canary Islands.
The Canary Islands are named after the Latin word for dog, canis.
The Latin word for dog, canis, is derived from the Greek word for dog, kūon.
The Greek word for dog, kūon, is also where we get the word 'cynic'.
And in a remarkable, multi-millennium-spanning coincidence, Canary Wharf is full of cynical people. People who all need a stiff drink after (and occasionally during) work. So to help them, and possibly you, we've rounded up the best bars in Canary Wharf…
–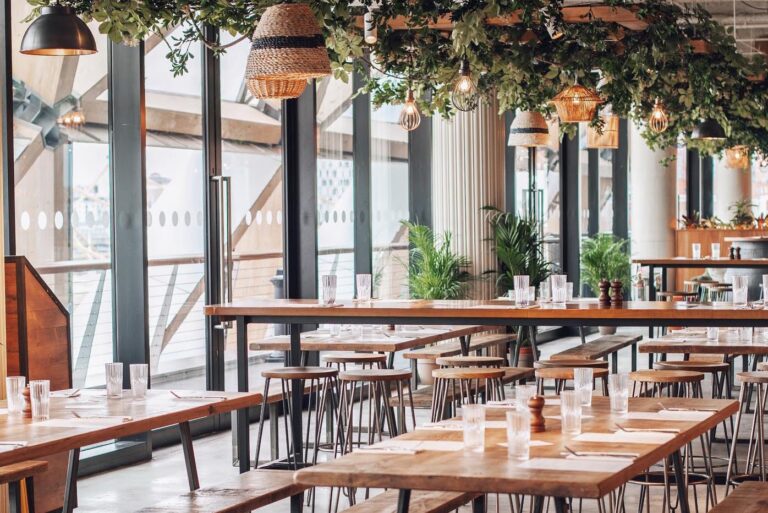 Pergola on the Wharf is part of the Pergola on the Roof clan, but instead of being built atop a derelict car park, the CW bar is housed in a massive, Star Wars-esque structure (where Giant Robot used to be). Inside is a vast, airy space decked with botanical fronds and littered with sharing tables on which to perch while you devour the small plates prepped by a former Mac & Wild chef. Booze-wise you've got options too – there's 10 draught taps putting out everything from Camden Hells, to a Wild Card Brewery special, and cocktails including a Breakfast Bourbon with bacon fat-washed whisky.
Details: Crossrail Place, E14 5AR
–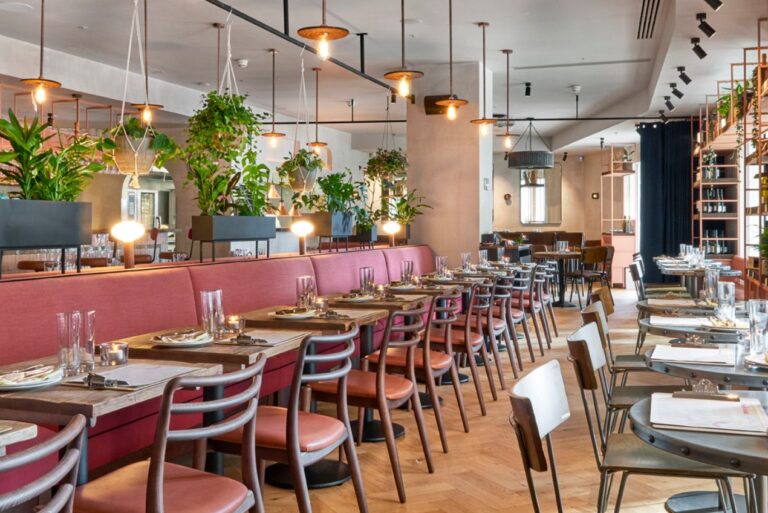 The family of Humble Grape wine bars has expanded into Canary Wharf, with a venue so spacious it's really more of a restaurant. Nevertheless, it's still perfectly possible to come in here just for a glass or two – of course, stopping there will be tricky given the calibre of what's on offer. There's 30 to try by the glass, plus more than 400 hand-picked, small-grower bottles to peruse. It's all set along the waterfront, making it an extremely pleasant spot to enjoy a sundowner.
Details: 18-20 Mackenzie Walk, Canary Wharf, E14 4PH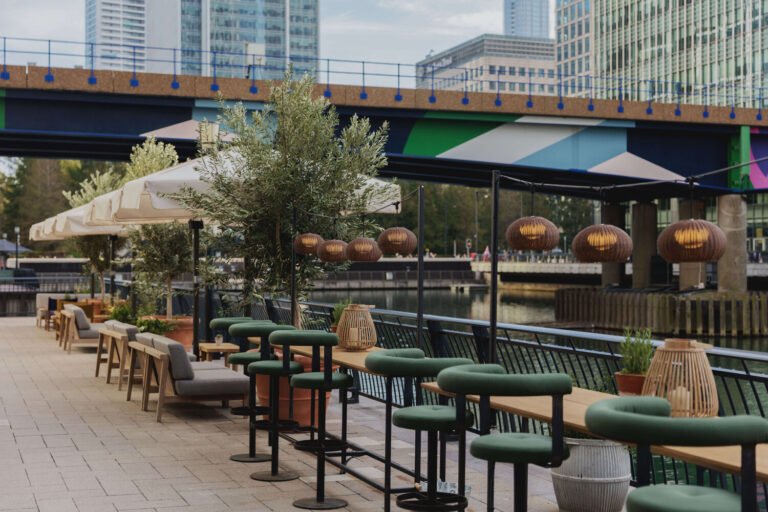 Another addition to the little black book of bars that includes 601 Queen's Road, No 197 Chiswick Fire Station and No 32 The Old Town, No 35 is just a couple of doors down from Humble Grape, and likewise makes the most of that waterside view with a sprawling terrace. Inside is an airy, stylishly turned-out space geared towards bigger groups, serving up classic cocktails like the Bramble Gin Sour (gin, Frangelico liqueur and fresh blackberries) alongside a decent line-up of beer, spirits & wine.
Details: 29 – 35 Mackenzie Walk, Canary Wharf, London E14 4PH
–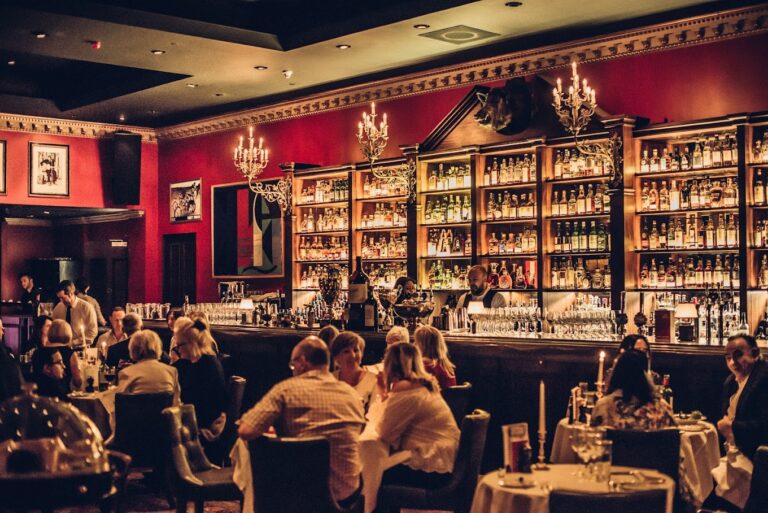 This Scottish-inspired spot has all the decadence you'd expect from a bar in Canary Wharf, including a cigar terrace, an oyster bar, and a 12-metre-long whisky bar on the second floor. There are over 1000 bottles of single malt on those solid oak shelves, but there's also a lengthy wine list (including some affordable by-the-glass options as well as 'absurdly rare' ports), house cocktails and a nice range of aperitifs. And the cherry? Boisdale hosts live jazz, blues and soul every night.
Details: Cabot Square, E14 4QT | £££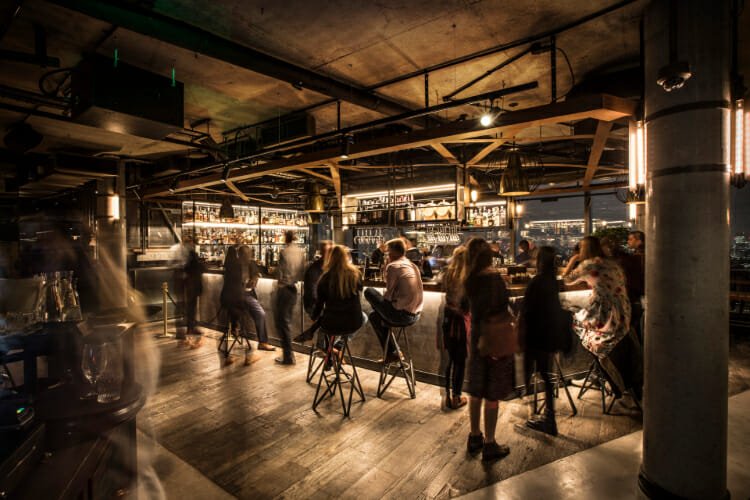 Perched on the 38th floor of the Docklands Novotel, this Scandi-chic bar in Canary Wharf seems to be made entirely of raw wood, with the exception of the metal trim & and the glass outer wall of the building itself, which boasts some amazing views of the city. And for even further, I-can-almost-see-my-house-from-here panoramic views and some fresh air, head to the roof terrace on the floor above. The menu is inspired by the historic docks in the area, and each cocktail description comes with a bit of history associated with its name. The sharing 'vessels' are also particularly popular…
Details: 40 Marsh Wall, E14 9TP
–
The Lowback at Hawksmoor Wood Wharf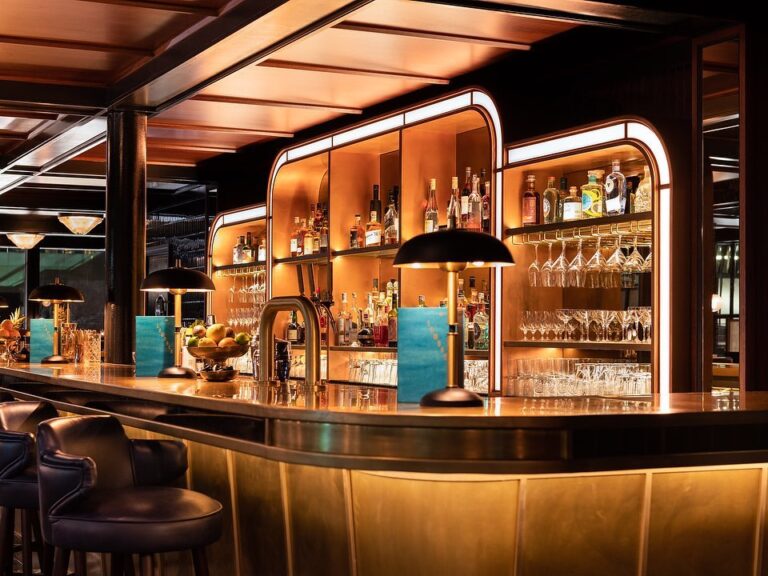 Hawksmoor's Canary Wharf branch has all the restaurant empire's usual charms, with one crucial difference. It's floating. And given the number of thirsty workers in the area, the entire lower level of this water-bound pavilion has been designed as The Lowback, a bar where you can sip Hawksmoor's classic cocktails and monthly changing Champagne specials in cosy, wood-wrapped booths.
Details: 1 Water Street, E14 5GX
–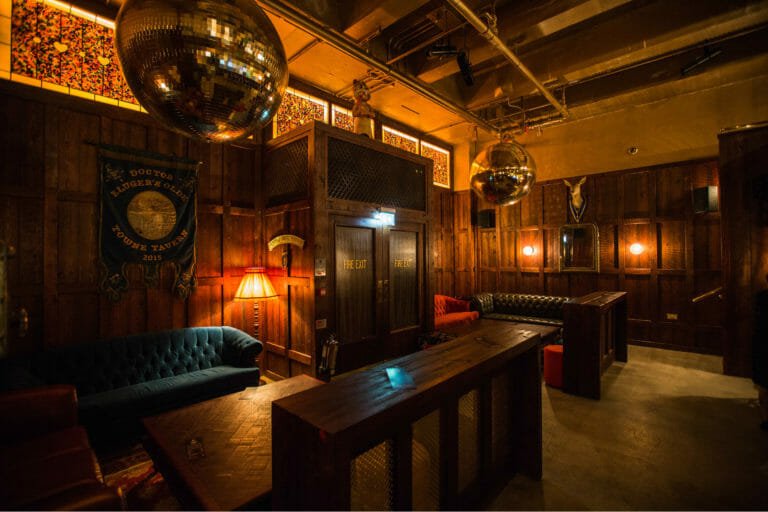 Until recently, invite someone to 'the breakfast pub' and they probably would have gone to meet you in Spoons. Or more likely, they wouldn't have gone at all. Now, however, they'll know you're talking about the ridiculously cosy wood-panelled saloon hidden within The Breakfast Club in Canary Wharf, where they serve a number of their legendary breakfast dishes all day long, alongside some excellent drinks (with the option to go bottomless on weekends).
Details: Unit CR30, Level 0, 1 Crossrail Place, Canary Wharf, E14 5AR
–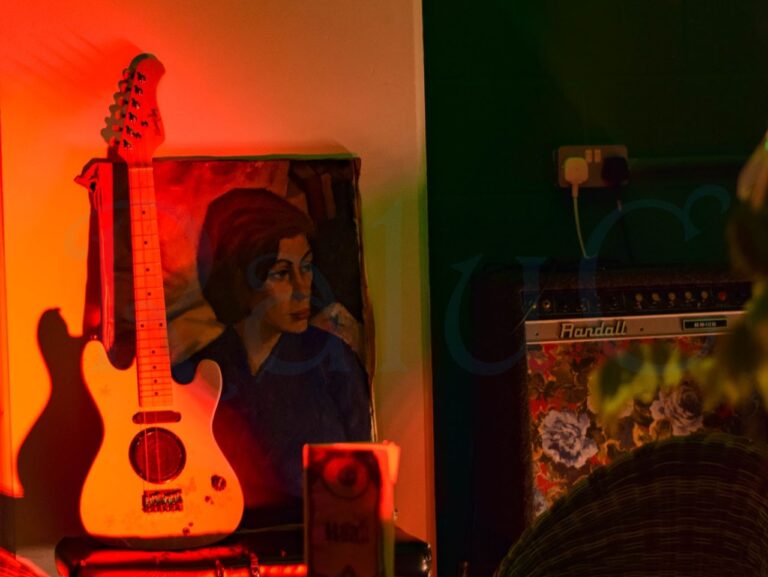 This place is a temple to art and music. Sorry, it's The Temple of Art and Music. It's a spin-off of the live music bar sitting in Mercato Metropolitano in Elephant & Castle, and you'll similarly find it tucked underneath the Mercato branch in Wood Wharf here. It also hosts live music for free, seven nights a week, and has a refreshingly bohemian, homespun feel to it in comparison to some of the slicker bars around Canary Wharf. Oh, and the first thing you'll notice when you get down there? It doubles as a vineyard.
Details: Inside Mercato Wood Wharf, 10 George Street, Canary Wharf, E14 9QG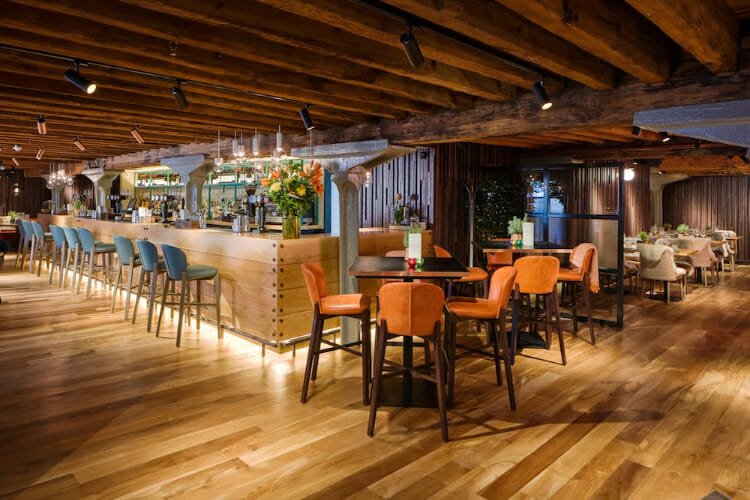 In the basement of one of the old wharf warehouses on West India Quay is where you'll find this reliable restaurant & bar. Original features like heavy wood beams and thick cast iron pillars are offset by mint green banquettes and sheep skin rugs draped over the backs of Art Deco chairs. The outdoor terrace is utilised year round: in the summer they turn the space into a botanical garden and in the winter, they erect waterproof domes over the tables so you can drink in the comfort of your own igloo.
Details: West India Quay, 16 Hertsmere Road, E14 4AX
–
Market Halls Cargo Canary Wharf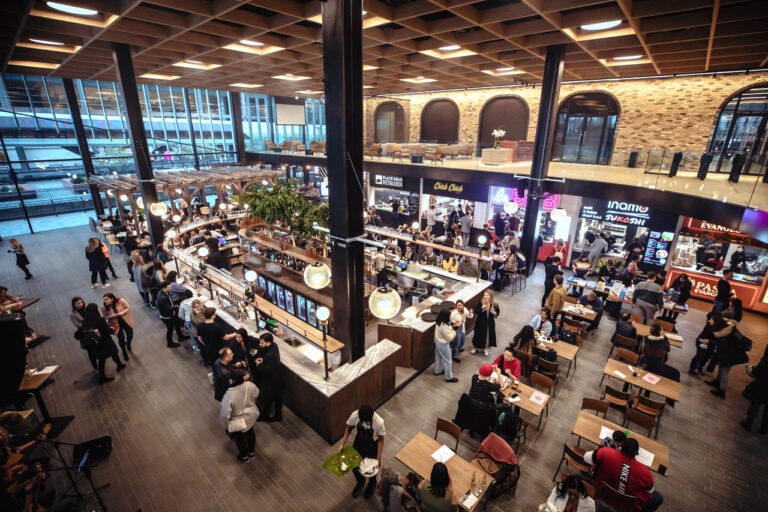 Yes, it's a bit of a mouthful – but nothing to compare to the mouthfuls you'll be enjoying from one of the seven street food kitchens lining this vast, industrial marketplace. Naturally, there's a couple of bars to help you wash it all down, and there's plenty of space – handy for when you invite your desk mate for a quick bev, and suddenly the whole floor's getting their coats.
Details: 25 North Colonnade, E14 5AB
–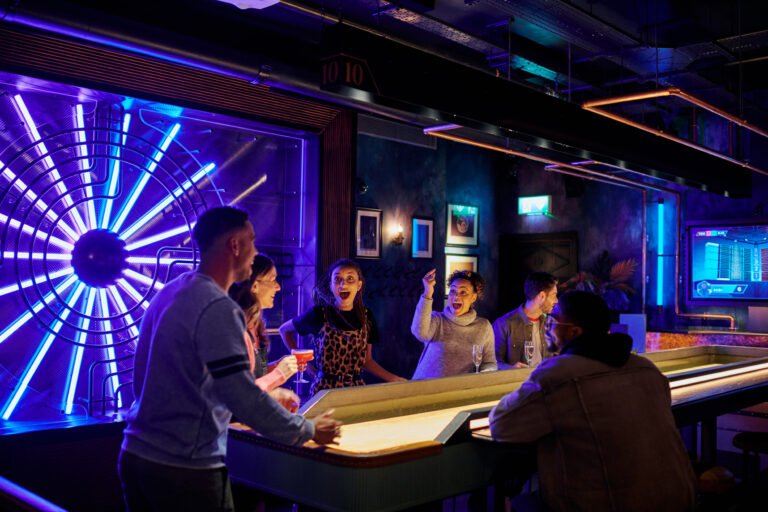 Providing strong competition in the, er, competitive socialising department, Electric Shuffle is the glorious brainchild of the people behind Flight Club, who have now applied their trademark combination of high-tech wizardry and booze to the humble game of tabletop shuffleboard. Lanes are bookable for an hour at a time, but you could just as easily pop in for the drinks alone – the menu includes giant sharing drinks served in trophies; frozen cocktails and house shots alongside the usual suspects.
Details: 10 Cabot Square, North Colonnade, Canary Wharf, E14 4EY
–
If it's been a long day, and you just want to sit down and unwind with a quiet pint somewhere, then this is not the place. Because Fairgame is a rambunctious, dazzling fairground-within-a-bar in Canary Wharf with a pumping soundtrack, prosecco-infused candy floss, its own bespoke beers on tap and nine high-octane takes on nostalgic carnival classics, from whack-a-mole to the grand national, all of which are conveniently playable using a contactless token system.
Details: 25 – 35 Fisherman's Walk, Canary Wharf, E14 4DH
–

–
---
Making a night of it? Have a browse of the best restaurants in Canary Wharf…