The best bars in Shoreditch | 20 to tick off your list…
If you're a ghost reading this, you're in the right place.
Because happily, all these bars serve spirits.
And if you're a regular human being looking for the best bars in Shoreditch, well, you're in the right place too – because we've crafted a bespoke, highly curated guide of the area's best drinking dens for you.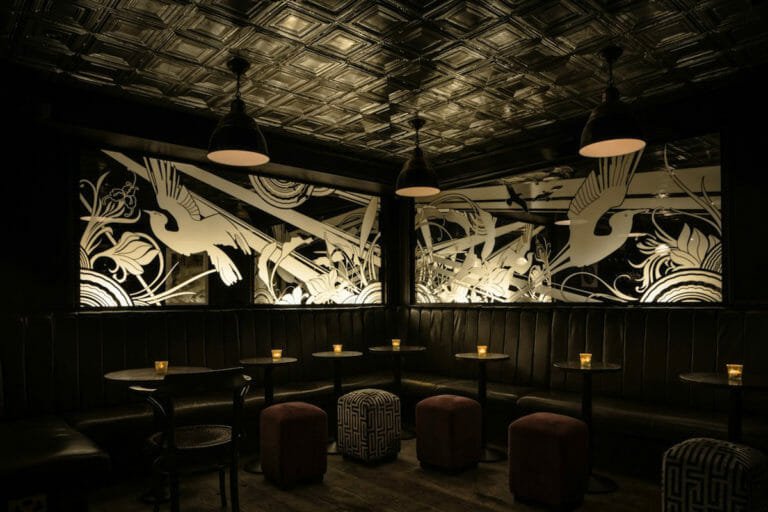 Hidden behind a small wooden door overlooking the Old Street roundabout, Nightjar is a date-worthy subterranean speakeasy with nightly jazz performances and award-winning cocktails. It's not just one of the best bars in Shoreditch, but very possibly in the whole of London.
Details: 129-131 City Road, EC1V 1JB | Open Weds-Sun, 6pm-late | Book here
–

CTC Brick Lane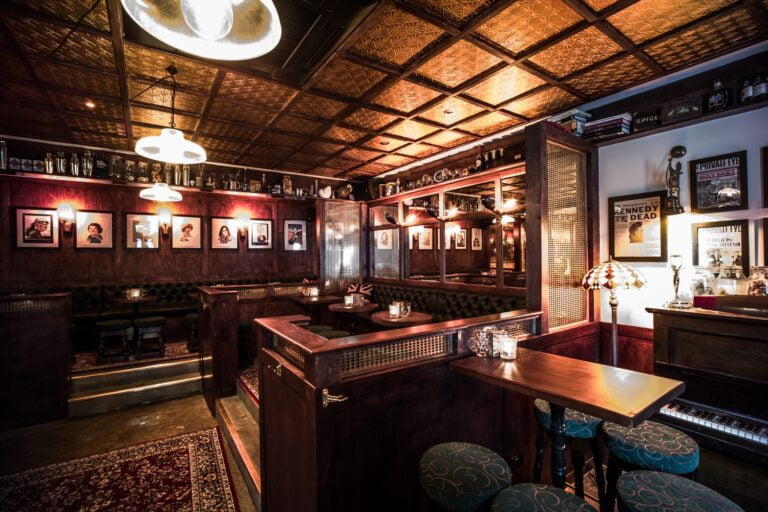 Cola liqueur. German whisky. 19th century buchi leaf gin. You know a bar's special when the fact that they serve a Bag O' Chips cocktail (mingling Irish poitín with roast potato seasoning syrup) isn't their most interesting feature. Here, wild, theatrical cocktails are served against the warm backdrop of an old Victorian parlour, with live music every Wednesday evening.
Details: 68 Bethnal Green Road, London, E1 6GQ | Book here (Fri & Sat walk-in only)
–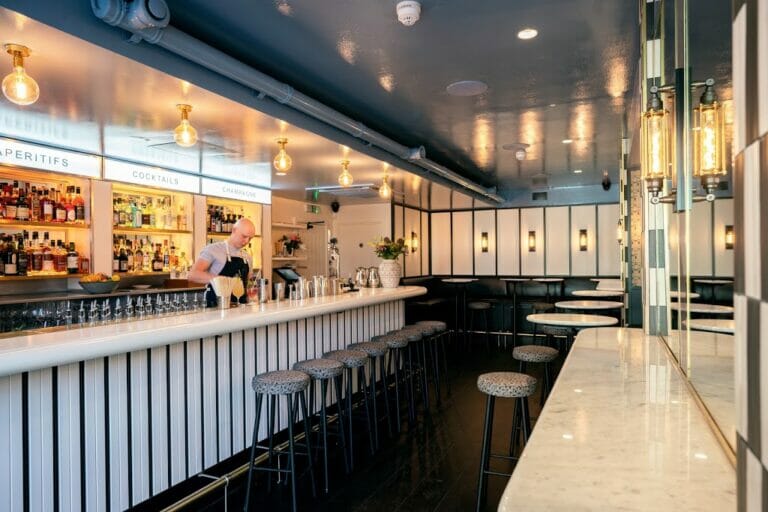 Brought to us by another power couple line-up – only this time, there's a couple of couples. Namely, Mia Johansson and Bobby Hiddleston (of Milk & Honey) and Edmund Weil & Rosie Stimpson (of Nightjar). Together, they opened a sleek cocktail bar in Soho, which proved so popular that they went on to open a sophomore bar in Shoreditch, serving vermouth-sloshed aperitivi; classic cocktails; and house signatures like the Cornetto with bourbon, cream sherry, noisette and cacao.
Details: 93 Great Eastern Street, EC2A 3HZ | Book here | Aperitivo hour: £7 aperitivi every day before 7pm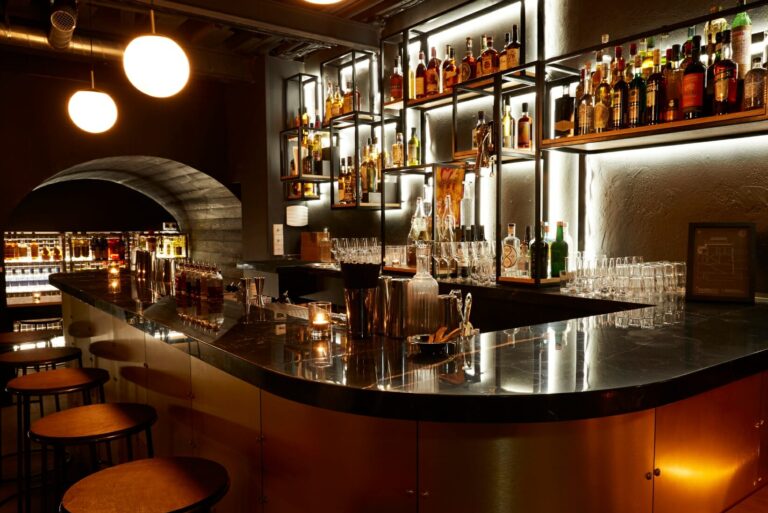 A suave, four-storeyed temple to whisky with a cocktail den in the cellar, a ground-floor bar stocked with over a thousand whiskies (and a fleet of barkeeps ready to mix up whatever you want), a members' lounge serving exclusive drams, a cigar terrace and a whisky tasting room for in-depth masterclasses.
Details: 76 Commercial Street, E1 6LY | Book here
–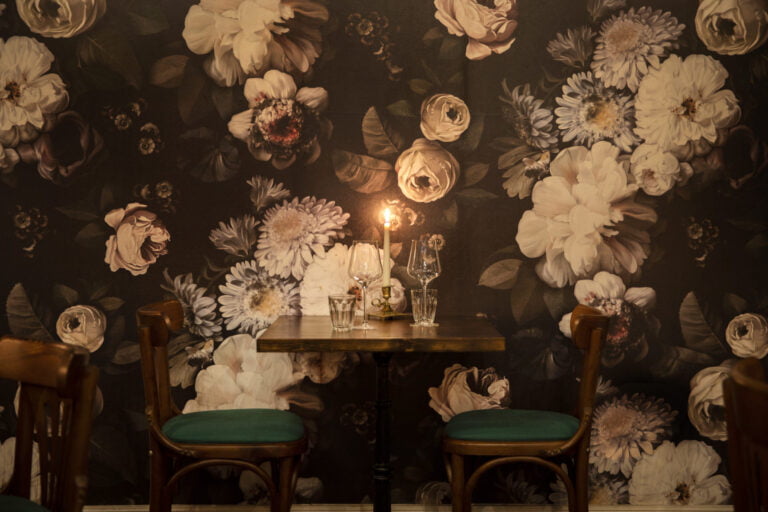 Passione Vino isn't exactly hidden — if anything, the sky-blue shopfront is one of the more attention-grabbing facades on Leonard Street. But all is not as it seems, for this is not merely a bottle shop stacked with low-intervention wines from Italian producers, hand-picked by grape fanatic Luca Dusi: it doubles as one of the best bars in Shoreditch (and one of the best wine bars in London for that matter). Take a seat at a candlelit table, and a member of the team will — like a grape-hooch GP — suss out the perfect wine to suit your tastes, your mood, and the Italian dishes that you'll inevitably end up ordering too.
Details: 85 Leonard St, London EC2A 4QS | Book here
–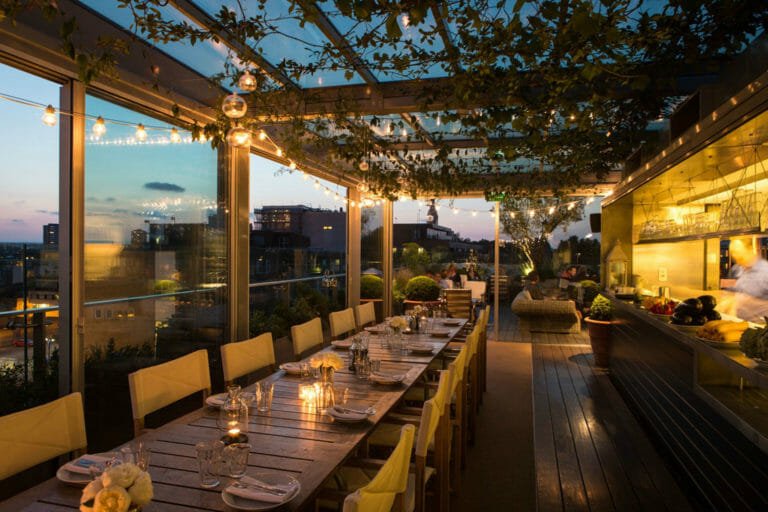 Winter, summer, rain or shine: Boundary has no boundaries. This year-long rooftop bar and grill restaurant atop the late Sir Terence Conran's hotel has got close to perfecting the mathematically foolproof formula for romance, with fire-pits, festoon lighting, Champagne and tables for two beneath shady trees.
Details: 2-4 Boundary Street, Shoreditch, E2 7DD | Walk-in only for drinks
–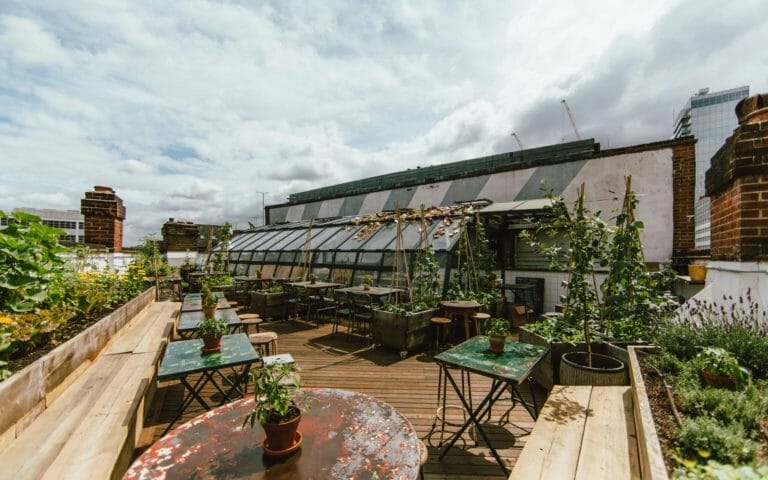 This Spitalfields pub is hard to top. So they've gone all out with one of the best rooftops in London including a privately hireable greenhouse with its own cocktail bar, a vegetable garden with a bespoke BBQ grill, and a series of rooftop events from yoga and drawing to astronomy nights.
Details: 40 Commercial Street, Spitalfields, E1 6LP | Drinks are walk-in only, or book a table for lunch here
–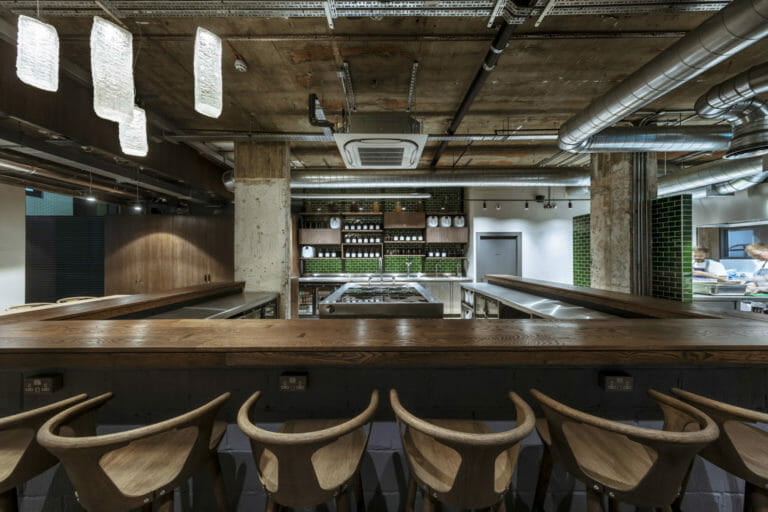 Tayēr + Elementary comes to us from the dual partnership of Monica Berg (whose last bar was Oslo's Himkok, No.19 on the World's 50 Best Bars list) and Alex Kratena, whose last bar was London's own Artesian, previous No.1 on the same list for four years running. The judges have done the maths, and their new Shoreditch bar now sits at No.2, thanks to creative concoctions like the Banana Whey Sour, Watermelon Negroni and Frozen Yuzu Margarita. Best of all? It's also a bottle shop, so you can take a couple for the road, too.
Details: 152 Old Street, Shoreditch, EC1V 9BW | Walk-in only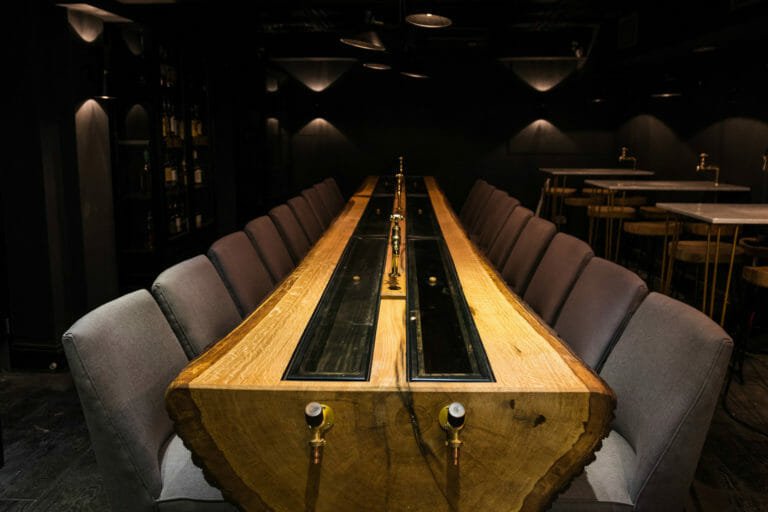 Black Rock is a love letter to whisky; a back-alley basement bar where you'll find cabinets stocked with dozens of intriguing and rare bottles arranged by flavour profile; supremely knowledgeable (and friendly) staff; and half a tree filled with whisky.
Details: 9 Christopher Street, EC2A 2BS | Book here
–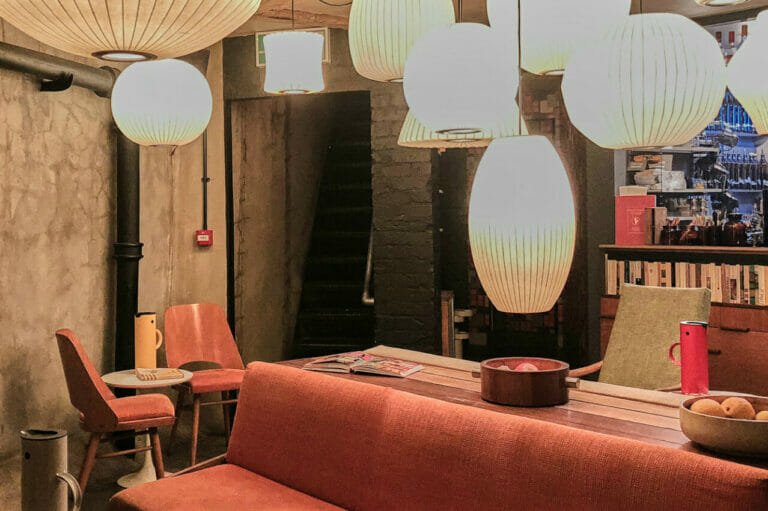 Despite its location underneath an innocuous-seeming kebab shop in Shoreditch, the fact that it sports a mid-century Czech Republic aesthetic and serves gin and tonic droplets in basil leaves, Lounge Bohemia remains – somehow – completely unpretentious. Experimental, innovative and beautifully presented, the cocktails here come courtesy of Paul Tvaroh, a self-trained mixologist. Proof, if ever it was needed, that if you want something doing right, you should do it yourself.
Details: 1e Great Eastern Street, EC2A 3EJ | Book on 0772 0707 000
–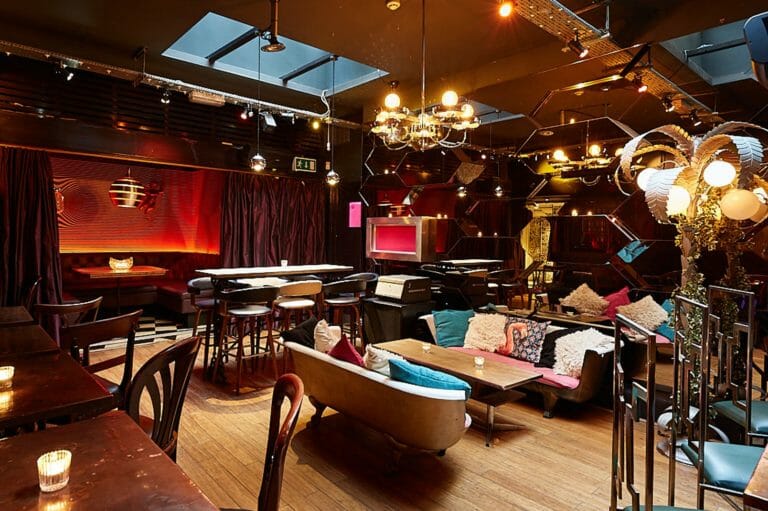 This multiple award-winning cocktail bar is inspired by Alice in Wonderland – though we're fairly confident that the drinks here won't have any unexpected side effects regarding your height. They are, however, extremely delicious – though if you get tired of the offering down here, you can always ask very nicely to make your way through the mysterious-looking wardrobe, and head up to the members' bar upstairs where bartenders take over on a monthly basis to try out new concoctions.
Details: 65 Rivington Street, EC2A 3AY | Book here
–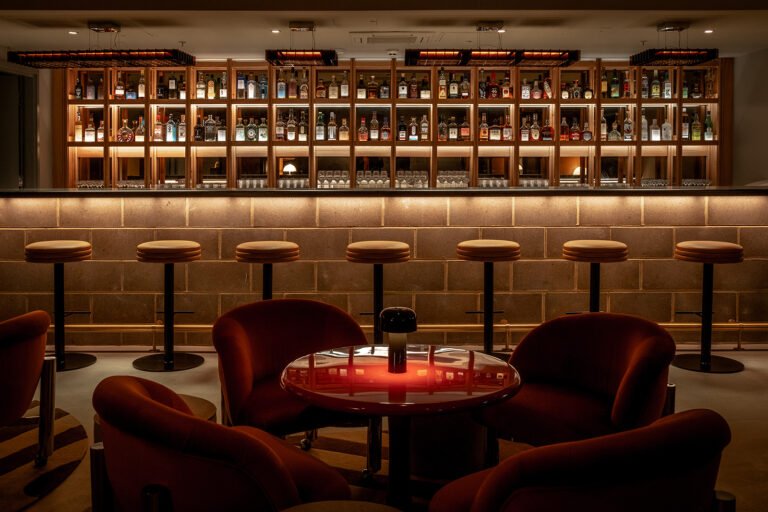 The newest subterranean bar in Shoreditch is the latest from cocktail wizard Ryan Chetiyawardana, a.k.a. Mr Lyan, a.k.a. the man behind the former #1 bar in the world (Dandelyan, before he closed it and reopened it as Lyaness). Serving classic cocktails with a twist on the ingredients, it's a louche subterranean den beneath the newly opened 100 Shoreditch hotel…
Details: 100 Shoreditch High Street, E1 6JQ | Book here
Psst… while you're there, you may as well get another for the road up at the hotel's rooftop bar.
–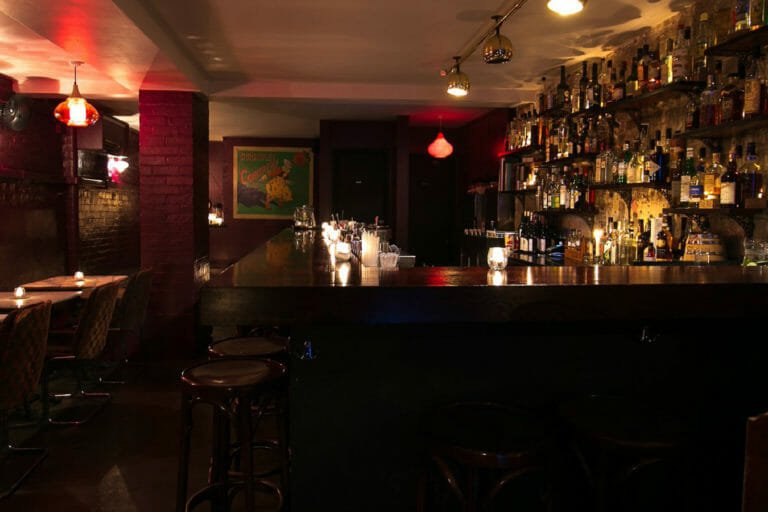 As Jacques Prévert wrote, "Even if happiness forgets you a little bit, never completely forget about it". Sage advice, given that HF is the ultimate in candlelit, subterranean cocktail bars, lying low beneath Hoxton Square. It comes to you from an ex-Pegu (in NYC) mixologist, who's put together a menu of purely excellent cocktails – even if you can't remember them the next morning.
Details: 8-9 Hoxton Square, N1 6NU | Book here
–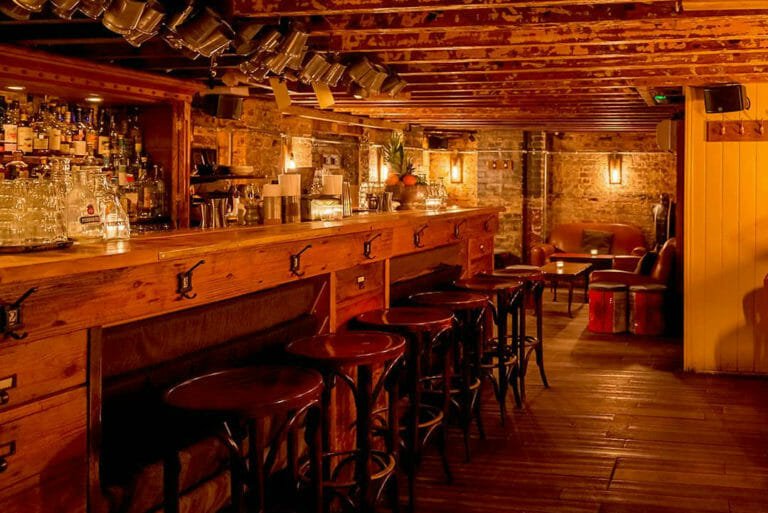 Behold, the ultimate Shoreditch speakeasy. Despite the name, Discount Suit Company is ready to kit you out with a very different set of 'tails. Tucked down an unmarked door on an otherwise deserted street at night, it's a genuinely illicit-feeling drinking den, with a roaring soul soundtrack, industrial bulbs glowing softly against exposed brick walls, and drinks that'll blow your mind.
Details: 29 Wentworth Street, E1 7TB | Book here
Note: Been there, done that? Head to the Umbrella Workshop nearby, a newly opened development bar from the same team, seating just a dozen punters and serving experimental, off-menu drinks.
–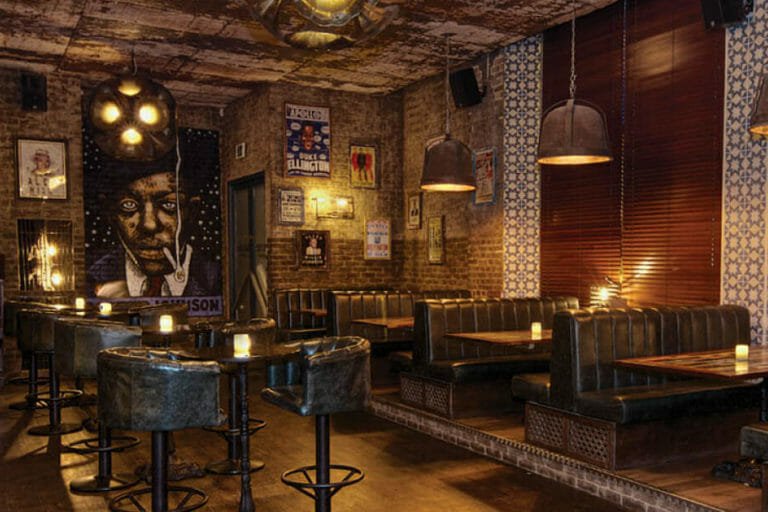 If you're looking for somewhere that combines nightly live music from a fleet of rambunctious funk, soul and blues bands with over 100 varieties of bourbon; dancing; BBQ ribs; chandeliers made from gramophones; a hireable airstream caravan and a small animatronic fishing boy… then this is really the only place.
Details: 134 Curtain Road, Shoreditch, EC2A 3AR | Book here |
Also: if you ever yourself in North London, there's a Blues Kitchen Camden too
–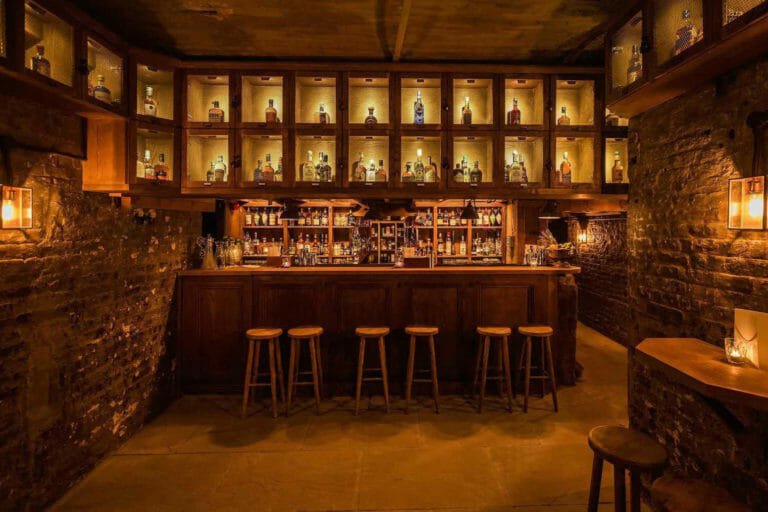 Shoreditch's former Victorian police station still puts people behind bars – only now, they use what they find there to whip together drinks from the great cocktailing eras (which they'll be more than happy to curate into a bespoke drinking journey for your group). It's a temple to booze, including an artisan bottle shop, a cinema, a mixology classroom, a sun-drenched rooftop and a subterranean cocktail den with intimate booths set in the former cells.
Details: 17b Kingsland Road, E2 8AA | Book here
–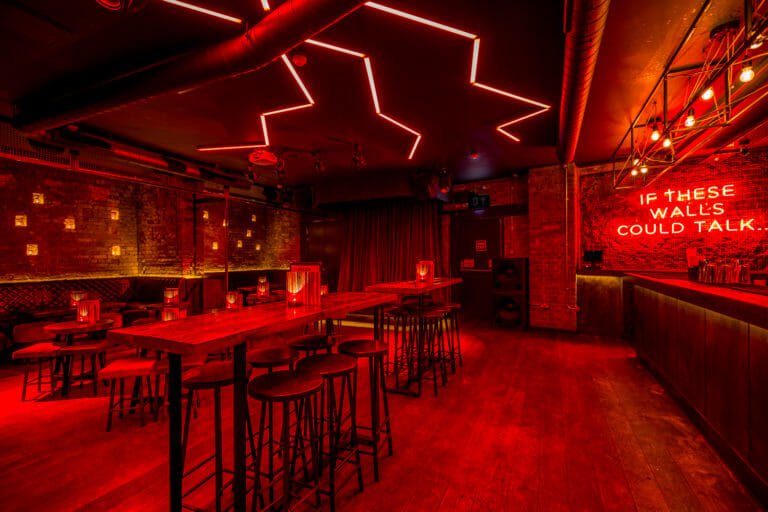 Old St. Records stays true to its name by spinning records nightly till 'late – but the real kicker's the nightly live music, crossing genres from funk and soul to jazz and hip hop. Things really liven up later, but get there early for the £6 cocktail happy hour from 5-8pm.
Details: 350-356 Old Street, London, EC1V 9NQ | Book a table here, or just turn up
–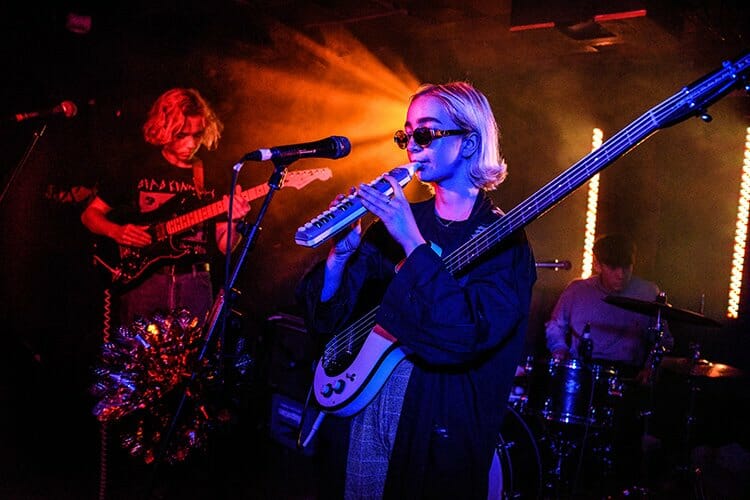 A pub run by Vice with live music from big names (Florence and the Machine, Diplo, Charlie XCX) and up-and-comers (your faves, Joe and the Shitboys), very often for free. Plus, they brew their own beer. Bring a disposable camera and shoes you don't care for.
Details: 38 Great Eastern Street, EC2A 3ES | No table bookings, book for gigs here
–
---
Making a night of it? Check out the Best Restaurants in Shoreditch