Breakfast In London.
Like breakfast in any other city, it's the most important meal of the morning. But in THIS particular city it's paid an almost religious reverence, with some of the finest day-breaking dishes available on planet Earth. Nailing down, however, precisely which is objectively speaking the best breakfast in London.. well that's an impossible task as it all depends on what mood you / your wallet is in, and the time / calories you have to burn. What we can do however, is narrow it down to the very best examples from each of the main breakfast food groups, from pancakes to pastries, and bacon to Eggs Benny.
Which is exactly what we've done…
Pancakes
There are a lot of contenders here. A LOT. After all, the lightness & fluffiness of a pancake isn't impossible to master – the average home cook can typically do it quite well, as long as they have buttermilk and patience – so the crucial difference between top-tier stacks can be as simple as the toppings. And at Darwin Brasserie at the Sky Garden, they top theirs with some lovingly caramelised bananas, chocolate sauce, toasted hazelnuts, and 36th floor views.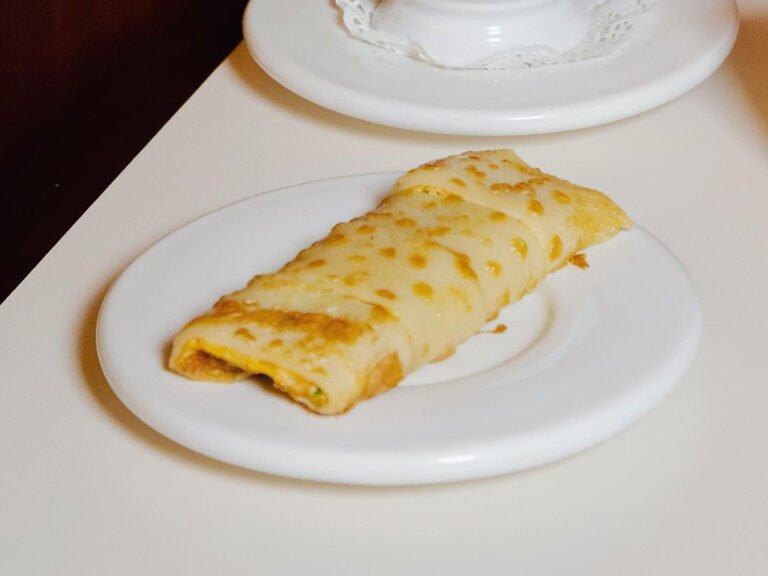 BAO have pulled off something rather incredible at their King's Cross branch, and found a first-rate dish that not only have most Londoners have never had, but that most never even heard of. Unless they've been to Taiwan. In which case they would have seen Dan Bing pancakes served up by street vendors all over the country. These ones have a savoury underpinning thanks to black garlic sauce, and optional cheese/bacon. And they're delicious.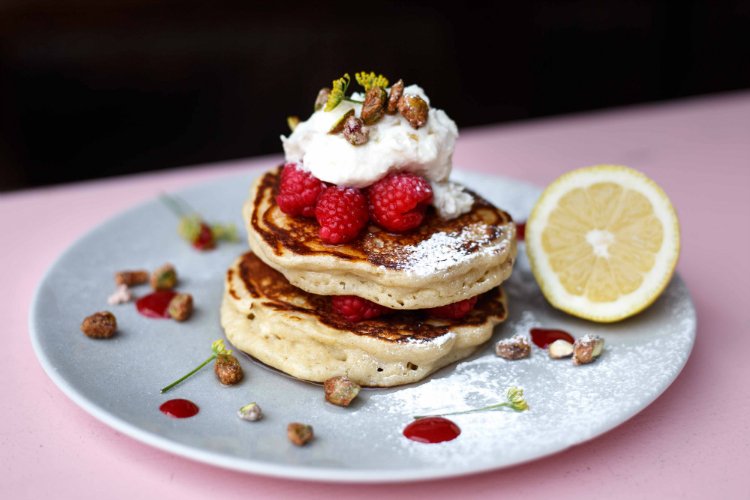 If you're more of a pancake purist, then you should make your way to the delightfully literal Where The Pancakes Are. It's run by a Dutch chef named Patricia Trijbits who has dedicated her restaurant/life to creating the most perfect pancakes conceivable, and boy does she deliver. (Note: she doesn't literally deliver, you'll have to go down there to get them).
Also worth a mention are the ricotta hotcakes at Granger & Co in Notting Hill. The ricotta adds an extraordinary creaminess to the pancake's texture, and there's a little honey butter melted on top to bring it all together. At weekend brunch they sell like, well, you know.
–
The Full English Breakfast 
The Full English has so many different parts it can come in dozens of different forms, each of which may please one palate more than the next – but one undisputed king of the scene is Dean Street Townhouse. They just do every element right, including the feta, mushrooms and bubble & squeak that make their way onto the veggie version. Even homesick Scots are looked after, with a dish of tattie scones, fried egg & lorne sausage (which is made in an unusual cuboid shape), and the setting is dripping in old-school glamour, right down to the solid silver salt & pepper grinders.
If you're more into the old-fashioned, no-frills vibe then you'll get a dictionary definition greasy spoon Full English from The Regency Cafe in Pimlico (which has been serving them since 1946), and E Pellicci in Bethnal Green, which first opened in 1900, and's been owned by the same family ever since.

If you want a Full English that tips the scales of refinement all the way to the other extreme, then you should head to Berners Tavern – its version is served up with all the Jason Atherton-esque attention to detail that you'd expect from a Jason Atherton restaurant, filling the plate with the likes of Dingley Dell pork sausage, Stornaway black pudding, and Borough Market sourdough toast. And one final curve-ball? Try the English Breakfast udon bowl at Koya Soho, where they slip egg, bacon and shiitake mushroom into the Japanese staple.
–
Breakfast Pastries
Bakeries are having something of a moment in London right now. Toklas, a new restaurant on the Strand from the founders of Frieze, has paired its retro Mediterranean restaurant with a fully fledged bakery, serving such breakfast delights as hazelnut frangipane brioche and spiced rice pudding quince croissants. If you're looking for something to eat on the go, Flor recently moved into Spa Terminus Market as a fully fledged bakery, hawking twice-baked almond croissants loaded with frangipane and brown butter cakes.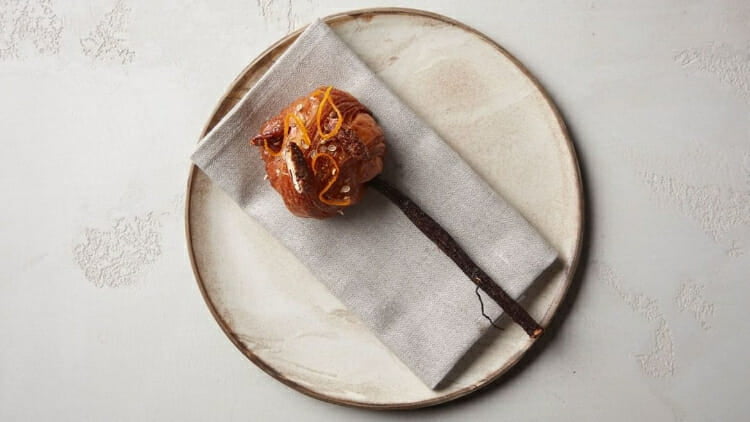 Other contenders in the class include Bread Ahead, who literally teach people how to make top-shelf pastry, Stoke Newington's excellent Jolene, perennial favourites St John, and the creative birch sap croissants from HIDE, which come with an actual tree branch sticking out of them. (Don't worry though, they aren't too sticky.)
–
French Toast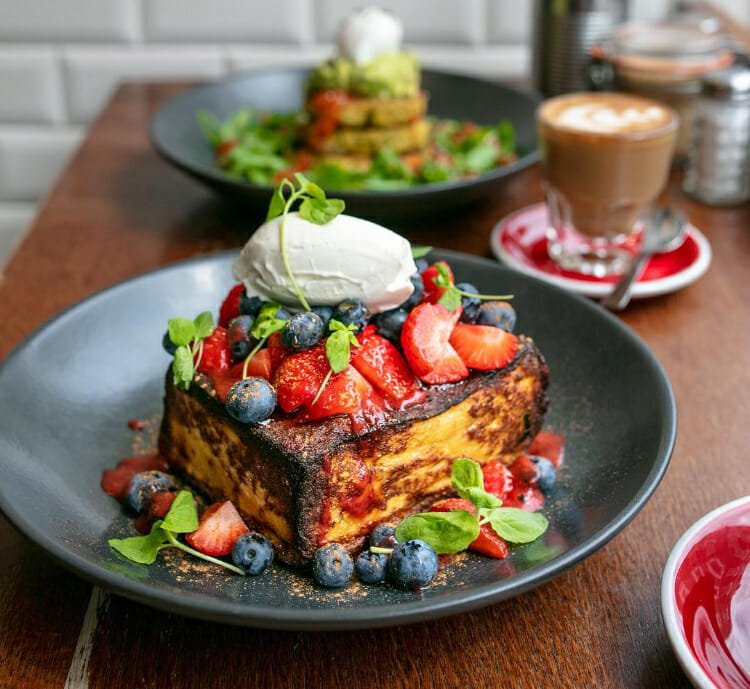 See this? This is the French toast at Local Hero in Fulham. It's made with a fat, fluffy brick of brioche that's been decorated with fruit, cinnamon and mascarpone, and it's every bit as delicious as it looks.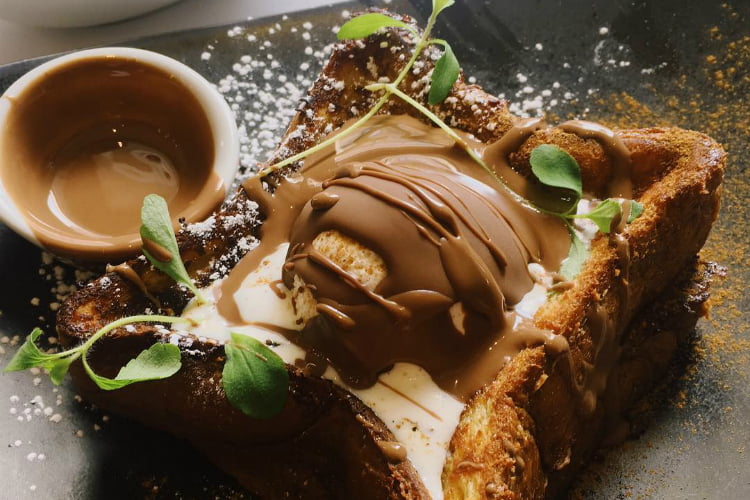 Slightly more centrally, Christopher's in Covent Garden take a very direct approach to their French toast by throwing a weighty dollop of vanilla ice cream into the centre of the bread, then filling up the concave 'bowl' it creates with melted chocolate. It's like having angels dance on your tastebuds.
The Wolseley, making its first appearance on this list, makes a more classic version – they even list it as pain perdu (forgotten bread) in the original French, and it comes with either bacon or berries.
–
Breakfast Waffles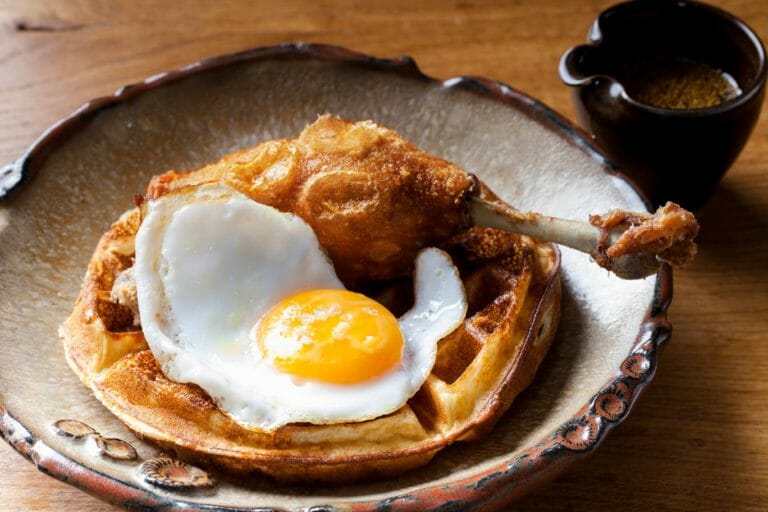 It comes as no surprise that the clue is in the name here: Duck & Waffle serve up a duck & waffle 24hrs a day, and it's superb – it comes with confit duck leg, fried duck egg, and mustard maple syrup. Of course, if you're in a sweeter mood, you can always get The Full Elvis topped with caramelised bananas; peanut butter & jelly; Chantilly cream; and a brief pep talk from your arteries.
Leaning in a slightly healthier direction, Pachamama quite innovatively serve their waffles with either quinoa, buckwheat, sweet potato, or charcoal bases. On top of those bases you'll find the likes of Peruvian chocolate, grilled plantains, berries & ginger, toasted quinoa ice cream, and something called yacón syrup (made from a sweet-tasting South American root).
–
Avocado Toast
There's way too much ground to cover here without listing half the restaurants in London and beating the dead horse that is the word 'millenial', so we'll simply stick with the place that executes the closest thing to a perfect version of this dish: Caravan. Their avo toast is simple, elegant, and delicious – it's just sourdough toast, smashed avo (not pulverised, it's still satifyingly chunky), a little kick of chilli, some vibrant lemon, olive oil, and a dusting of pepper. Throw on a poached egg if you're feeling frisky.
–
Porridge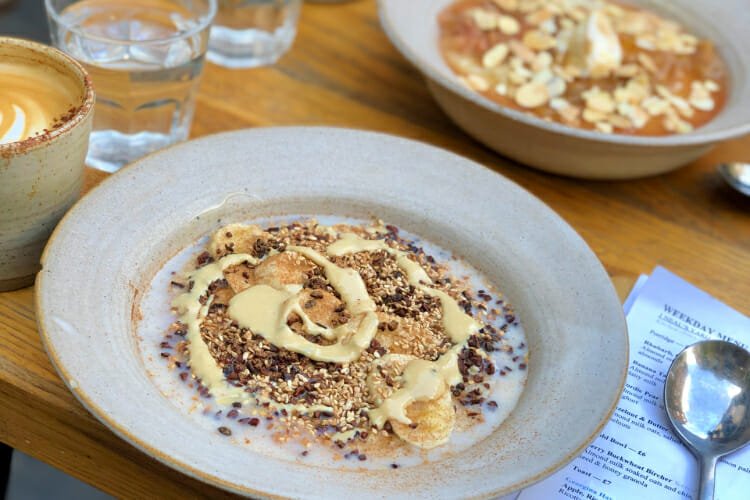 There's only one place in London that unequivocally serves the best porridge in the city: 26 Grains. With hot and cold bowls on offer you can top your almond milk oats with roasted peach, orange blossom cream and mint; banana, tahini, honey and cacao nibs; and gooseberry compote, rye granola, tarragon and yoghurt – from Neal's Yard Dairy just across the way. At this point, you may be thinking – sure, but isn't it just porridge? And you'd be right. But it's undoubtedly going to be the best porridge you've ever had.
–
Eggs Benedict
Again, this is a case of paralysis of choice. There are too many great places that do a killer Eggs Benny to properly narrow it down – but one standout is without doubt The Wolseley. They're available until midnight, and the restaurant serves around 2000 of them per month – and for good reason. The muffins are crisp yet fluffy, the hollandaise is sharp yet creamy, the ham is sweet yet salty, and the eggs are waiting to burst with their vibrant yellow yolks, always done to perfection.
If you want to push the boat out however, you need to get down to Sunday – they do almost every breakfast food we've listed pretty damn well, but their creatively delicious Benedict involves waffles, pulled pork, yuzu hollandaise, and avocado.
–
Cinnamon Rolls
The quintessential Nordic-style cinnamon bun comes unsurprisingly, from Scandi Bakeries like Fabrique (whose buns are made knot-style and dappled with sugar crystals); Bageriet (made spiral-style, yet fluffy); and Ole & Steen who serve two varieties of cinnamon treat – a simple roll, and a 'Cinnamon Social' carved off a single giant pastry and made with vanilla custard.
–
Bacon Sandwich
The undisputed heavyweight champion of London's bacon Sandwich game is St John. Why? Because the two components of a bacon sandwich (bacon & bread) happen to be what this Michelin Star winning, gigantically influential restaurant specialises in. Their heavy focus on meat means that the bacon is all thick-cut Gloucestershire Old Spot, while their on-site bakery produces some of the finest sourdough in the city. And by their powers combined, you get the best bacon sandwich you're likely to eat here.
Of course, as always, there's a pretender to the throne hoping to knock St John off its piggy pedestal with sheer inventiveness, and that's the bacon naan from Dishoom: it comes with smoked streaky, layers of naan, cream cheese, chilli tomato jam, and fresh herbs.
Breakfast Mezze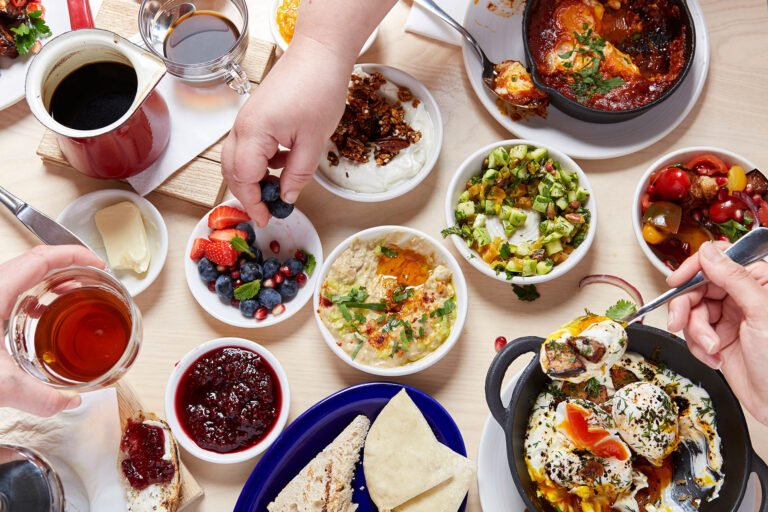 Fancy something a little different? The Middle Eastern-inspired mezze-style brunch is quietly catching on in London, and there are two stand-out places where you can get it. At Honey & Co, breakfast starts out with a selection of dishes for the table to share (a bread basket with creamy hummus, labneh and za'atar; fig loaf with homemade jams; etc), then goes onto the egg course (have them as part of shakshuka, boureka, sabich or a Merguese sausage roll), and finishes off with a roll call of sweet treats including sour cherry buns and feta & honey cheesecake. Over at Zahter in Soho, you can score Turkish classics like menemen, fried egg nestled in a wood-fired oven pide, and an exceptional ribeye pastrami – or for £35, go all-in and get a breakfast banquet fit for kings.
---
Want some java juice to go with that? Here are the best coffee shops in London.