Got a sturdy pair of shoes and a few hours to spare every day for the next eight years? You're going to need them if you want to visit all the parks in London – with 3,000 to its name, the capital ranks as the greenest major city in Europe.
You'll need slightly less commitment however to enjoy our pick of the bunch. Thanks to this discerning list, discovering a new favourite in every corner of London will be a literal walk in the park.
Richmond Park | Richmond upon Thames
Richmond Park is big. The biggest of all the parks in London, in fact. It's also a National Nature Reserve, home to ancient woodland and grassland. Parts of it can feel properly rural and wild – particularly when you stumble across some of its 630-strong deer herd. Criss-crossed with trails, the park is popular with cyclists and horse-riders – there are various spots where you can hire your own mount. However you travel, head to King Henry's Mound for top views towards St Paul's Cathedral.
Details: open 7am–8pm in summer | More info
Peckham Rye Park | Peckham Rye
A hunting ground; a source of visions for the poet and artist William Blake; a farm; a WWII prisoner of war camp; and a public park. Triangle-shaped Peckham Rye Park and Common has been many things over its long history. Come now to find a shady spot beneath the wisteria in the formal Sexby Gardens, to kick leaves in its woodlands, to volunteer in the Community Wildlife Gardens, or to have wood-fired pizza in the upmarket café.
Details: open 7.30am–9.30pm in summer | More info
Holland Park | Kensington
Visited all the parks in London and decided that what they're really missing is the staging of a four-act opera performed by world-class talent? Well, Holland Park will fill that gap. Every summer, the park hosts a festival of opera in a specially built open-air auditorium. There's plenty to pull you to West London besides that however.  Among them, a lovely orangery; beautiful Japanese gardens (Kyoto Garden; complete with koi carp); and the chance to spot the resident peacocks.
Details: open 7.30am to 30 minutes before dusk | more info
Hampstead Heath | North London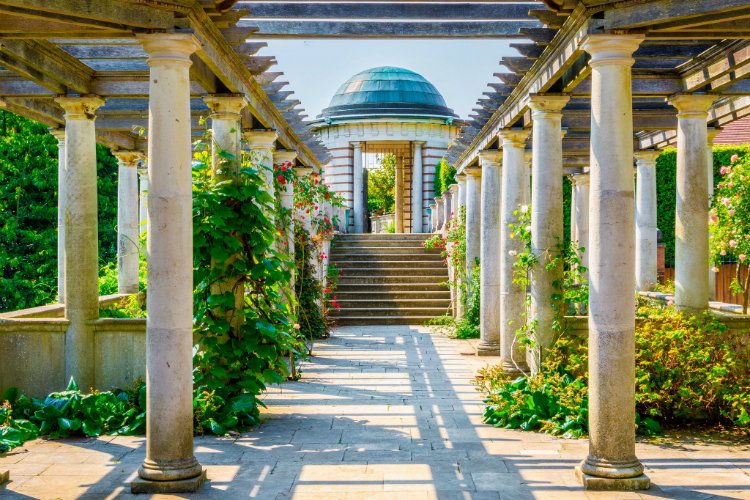 The Heath is to North London what Richmond Park is to South – a rambling expanse of wild-ish land that feels a million miles from the city. The ancient heath spreads over 320 acres between Highgate and Hampstead, and is very easy to get hopelessly lost in. Useful markers are the ponds that dot its eastern and western edges. Three are given over to swimming and there are few better ways to idle away a summer's day than bobbing in the men's, ladies or mixed ponds. Just be careful not to get a mouthful of coot feathers.
Details: open 24 hours | More info
Dulwich Park | Dulwich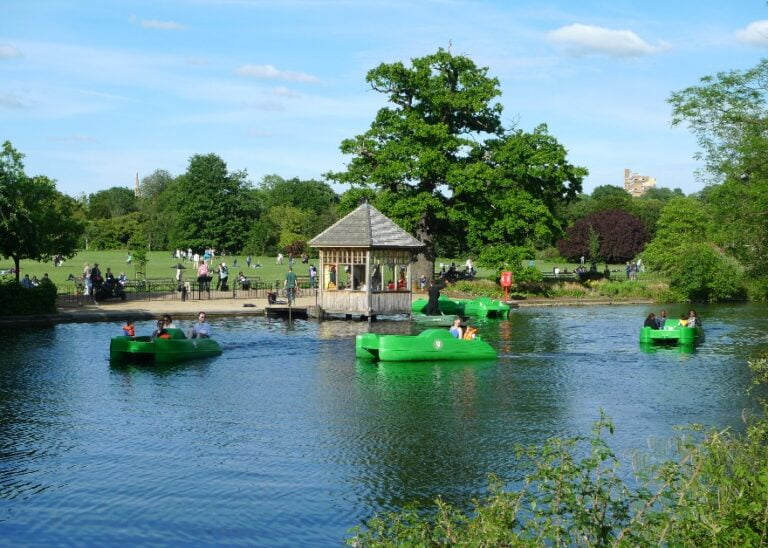 Forget a picnic of forlorn sandwiches and sausage rolls from the supermarket – eating in Dulwich Park means sourdough pizza and single-origin coffee at the pretty Clock Café. It's useful to fuel up before embarking on some leisurely park activities – hiring a bike to pedal around its wide paths; hopping in a rowing boat on the lake; or taking to the greens at the lawn bowls club. While you're here, drop into the Dulwich Picture Gallery, just outside the park on its western edge.
Details: open 7.30am to dusk | Beginners bowling £2.50, weekdays 1.30pm–5pm, Apr–Oct | More info
St James's Park | Westminster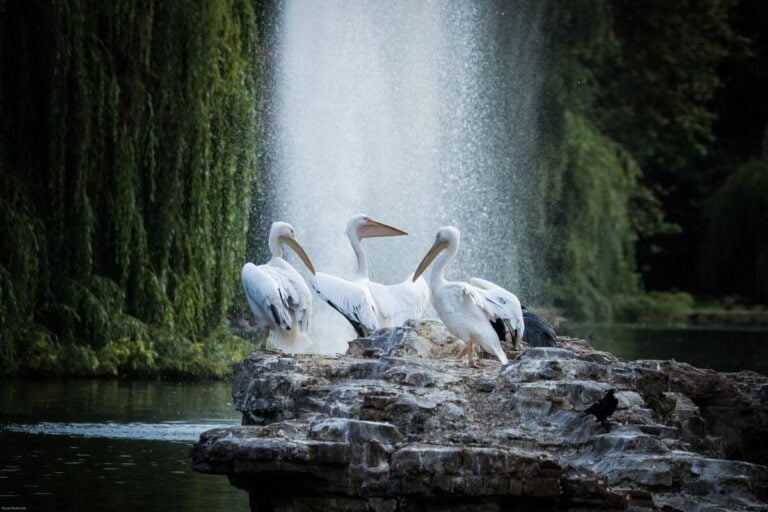 No need to rub your eyes ­– that was a pelican and not some monstrous pigeon that just padded across the path in front of you. Six of the birds call St James's Park home, the latest in a line of avian residents that were first introduced in 1664. (Visitors might be relieved that the tradition of keeping crocodiles here didn't make it out of the 17th century.) The park's lake, with lovely views at every turn, is another highlight, as is the outdoor terrace at St James's Café.
Details: open 5am to midnight | More info
Greenwich Park | Greenwich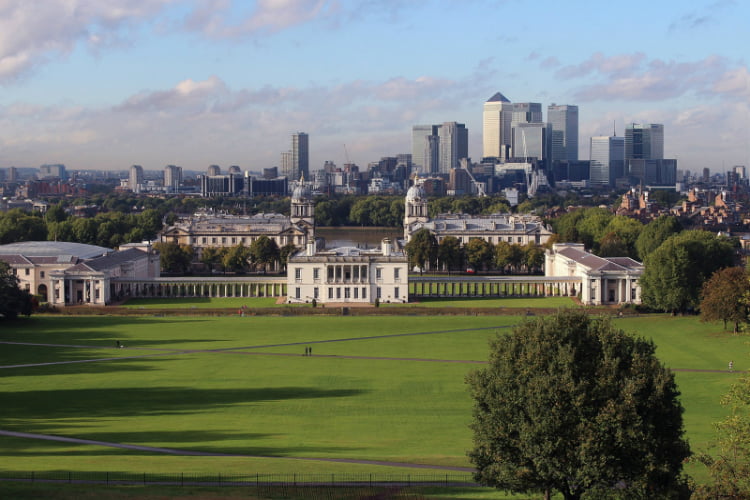 There aren't many parks that have the dividing line between the eastern and western hemispheres running through them. Step up, Greenwich. The prime meridian slices through the cobbles in front of the park's Royal Observatory. It's practically the law to get a photo of yourself straddling it. You don't need a giant telescope to make the most of the views ­– climb the hill behind the observatory to look out over the Thames, the architectural splendour of the Royal Naval College, and the towers of Canary Wharf beyond.
Details: open 6am to 9pm/9.30pm in summer | More info
London Fields | Hackney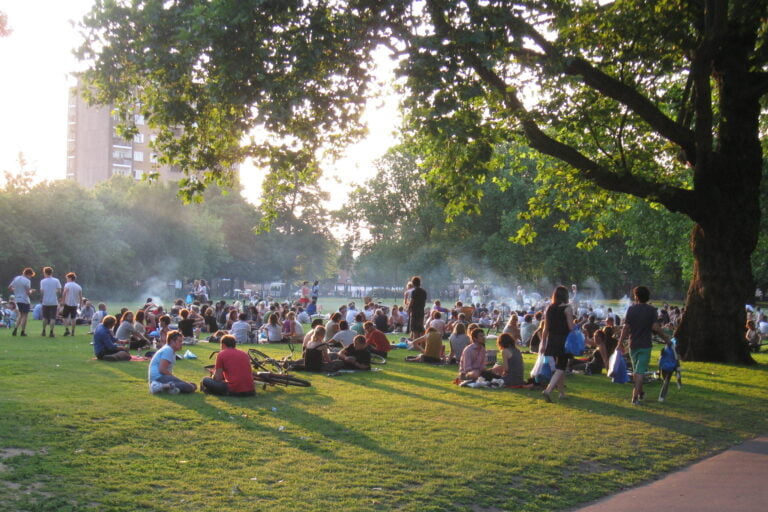 One of the most sociable parks in London, on sunny days it seems like the whole city decamps to London Fields carrying booze and snacks. They're likely bought from nearby Broadway Market, a pretty street lined with indie shops that's taken over by a food market on Saturdays. BBQs are currently suspended but you can get your fill of charred food in the beer garden of the Pub On The Park, a pub right on the, um, park. The 50m pool at London Fields Lido seals the deal.
Details: open 24 hours | More info
Alexandra Park | North London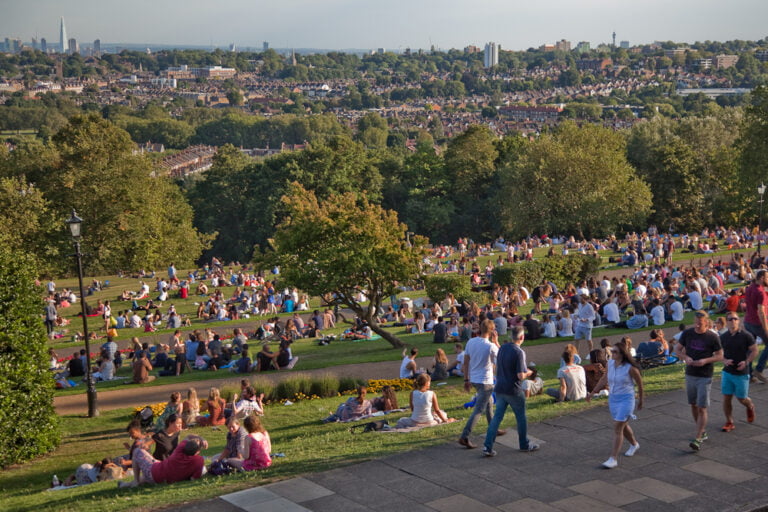 Alexandra Palace is something of a beacon in north London, its television mast visible from miles around. The former transmission centre is now one of the most famous live music venues in London – the park that surrounds it is rather less known, but there's plenty to fall in love with here. There's a boating lake (complete with the requisite swan pedalos), pitch and putt, a Go Ape course, year-round indoor ice rink and a popular Sunday farmer's market. End your visit at the Ally Pally beer garden outside the hilltop Phoenix bar, with stonking views across London.
Details: open 24 hours | More info
Victoria Park | Bow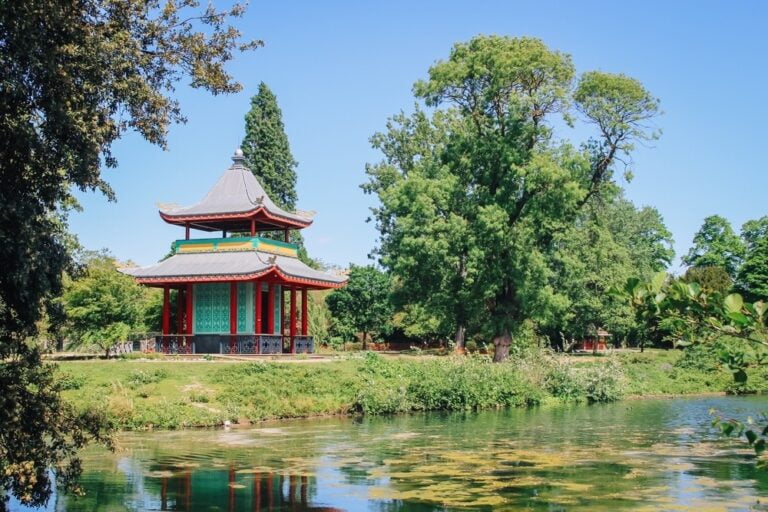 Established to provide green space to slum-dwelling East Enders in 1845, Vicky Park is pure pleasure ground these days. There's a 2.7-mile path looping around the perimeter, popular with joggers and in-line skaters. Drawing in the less active are two of the best cafés of all the parks in London: the Pavilion on the boating lake, and the Hub near the skatepark. The street food vendors and produce stalls of Victoria Park Market provide a festive atmosphere on Sundays.
Details: open 7am to dusk | More info
Regent's Park | Central London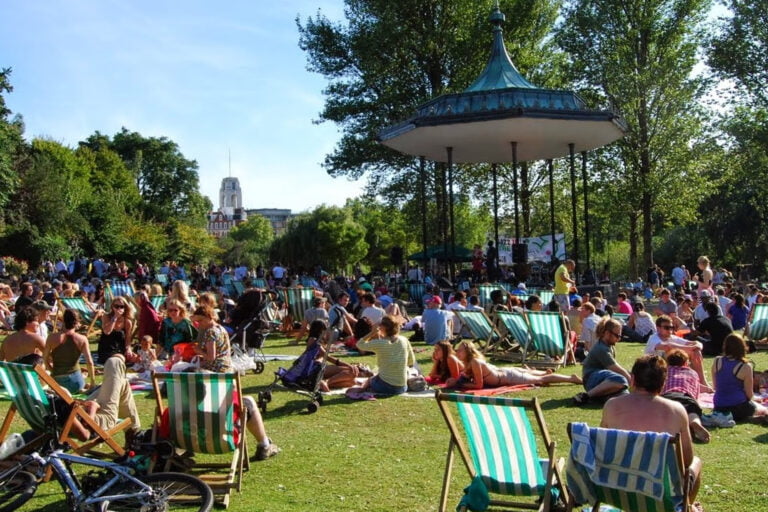 Of all the parks in London, this is one of the grandest (its actual name is The Regent's Park, if you don't mind). There are formal gardens, manicured flower beds, statues, monuments and fountains galore, and the whole place is surrounded by elegant villas. Over the summer, don't miss the chance to see a performance at the Regent's Park open-air theatre. And don't panic if you hear roaring, grunting and squawking – London Zoo is within the park's boundaries.
Details: open 5am to 9pm/9.30pm in summer | More info
Queen Elizabeth Olympic Park | Stratford
Relive the summer of 2020 at the park created by the London Olympic Games. Indoors, swoop around the velodrome, do laps of the 50m pool or put yourself into a bag and hurtle down the slide of the ArcelorMittal Orbit (not yet an Olympic sport). Outdoors, there's BMX and cycling tracks, multiple playgrounds and themed trails to wander. If you prefer to spend your time in a more prone position, there are numerous bars and restaurants in the park, at Here East, East Village and canal-side in Hackney Wick.
Details: open 24 hours | More info
Hyde Park | Central London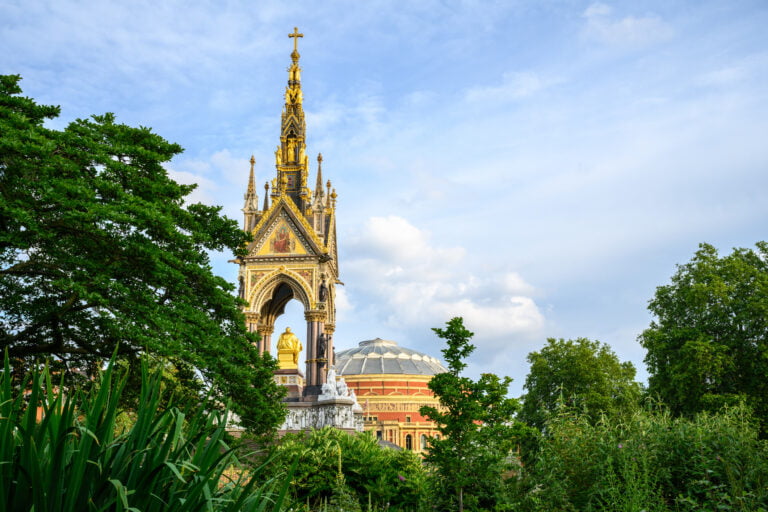 According to Blur's Damon Albarn, the world's most famous song about a park was inspired by this one. And there's way more to it than all the joggers going round and round and round. Colossal Hyde Park has the most trees (4,000) of all the parks in London. It also has Britain's oldest swimming club, at the Serpentine Lido, part of an artificial lake that wiggles through its centre. However you prefer your green space, there'll be a patch to suit: rose garden or wildflower meadow, bowling lawn or adventure playground. Parklife!
Details: open 5am–midnight in summer | More info
Clissold Park | Stoke Newington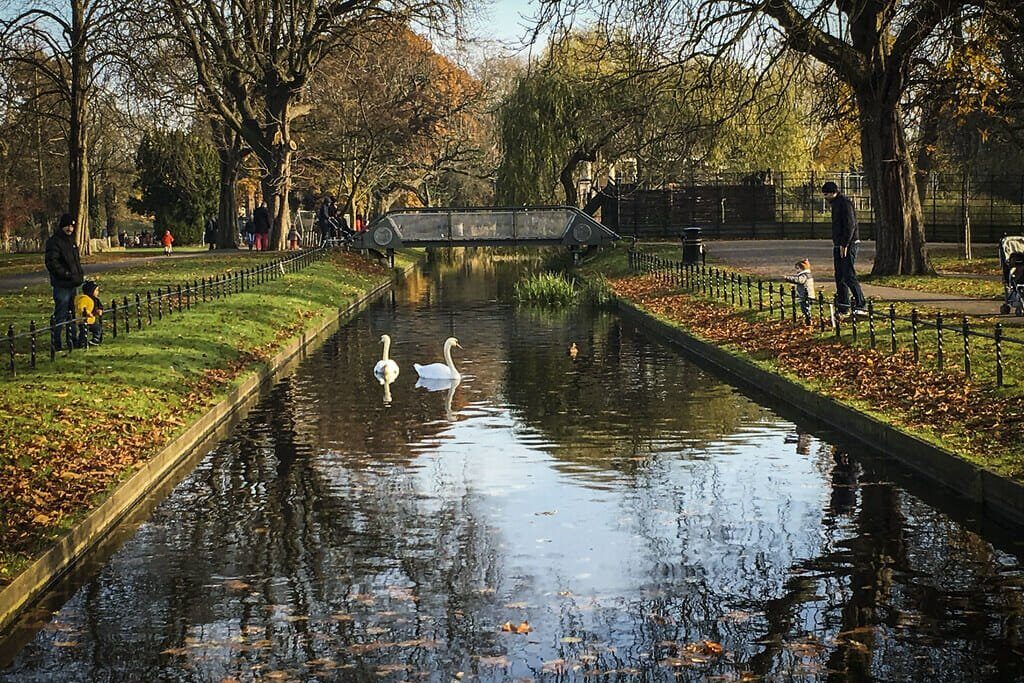 Once a private estate belonging to Paradise House, Clissold Park has been providing North East London with somewhere to stretch its legs since 1889. The building remains (now going by the less aspirational title of Clissold House), reinvented as a café serving a fine selection of pastries, sandwiches and ice-cream. Take them with you as you amble around the park's 55 acres, stopping at the two lakes and skatepark and to say hello to the deer and goats in the animal enclosure.
Details: open 7am to 9pm/9.30pm in summer | More info
Battersea Park | Battersea
Many people's first encounter with Battersea Park is spotting its pagoda from the Thames embankment. A gift from a Japanese Buddhist group, it's one of 80 'peace pagodas' around the world. Beyond the river, there are 200 acres at your disposal, with the chance to test your sporting prowess on a mini-golf course, Go Ape adventure and boating lake. The park also has a children's zoo, home to tamarin monkeys, meerkats and lemurs.
Details: open 8am to dusk | More info
---
Love the great outdoors? Check out these lovely London walks