As we tentatively dip our toes into the middle part of 2021 the water appears to be just fine, and life appears to be on its way to back to some vague semblance of normalcy.
Touch. Wood.
So what better way to mark that spiritual rebirth than by baptising ourselves in the waters of London's outdoor swimming venues – sometimes balmy, sometimes bracingly refreshing, sometimes teeming with fish, but always glorious. So here are the best spots for open-air bathing in the capital, broken down into heated, unheated, and wild categories…
HEATED LIDOS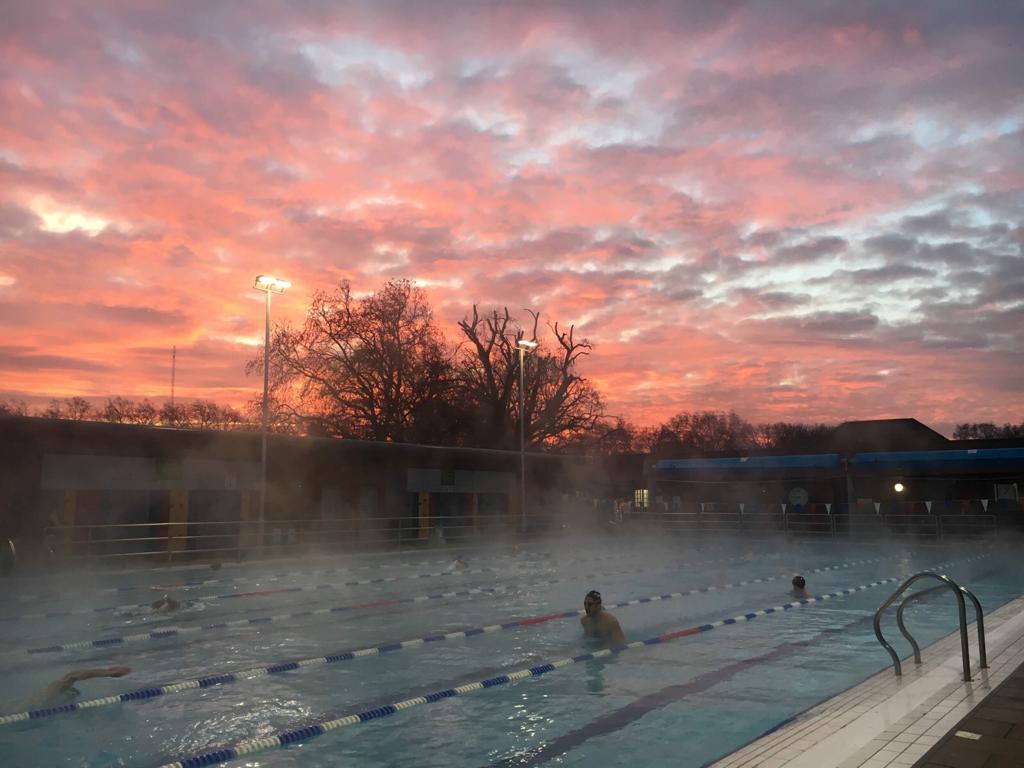 London Fields Lido is a 50m long, Olympic-size, outdoor pool heated to 25 degrees in – you guessed it – London Fields. It's relatively new too (well, relative to other lidos that is) having been completely refurbished in 2017. Now it has swanky floodlights, meaning you can take a dip all year, anytime, whatever the weather. In fact, they even have occasional midnight swims, too.
Address: London Fields West Side, E8 3EU | Cost? £5.10 | Prebooking necessary? Yes, best done via the Better UK app | Refreshments nearby? Pophams Bakery for a light lunch, or The Duke of Richmond for everything else.
–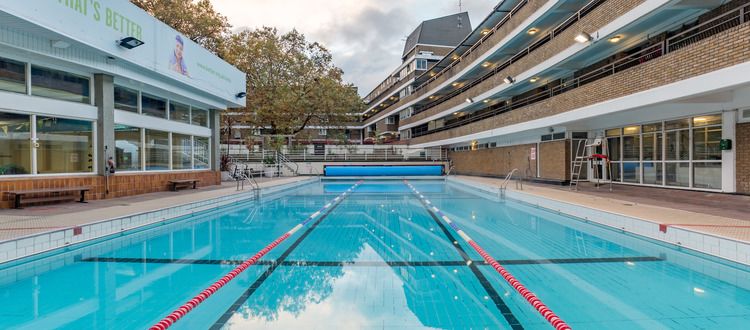 So, this one fills up fast. It's in Covent Garden, it's on a rooftop, and it's heated, so no surprise that its dance card is well-inked. Added to which, it's only 27m long, so it's not exactly gigantic either. But if you keep an eye on the app and book yourself a slot, you'll be rewarded with a very reasonably priced dip, a sun terrace, and a two minute walk to, well, everything.
Address: 32 Endell Street, WC2H 9AG | Cost? £6.05 | Prebooking necessary? You bet, best done on the Better UK app | Refreshments nearby? Are you kidding? There are almost too many options, but Barrafina and The Barbary are good places to start.
–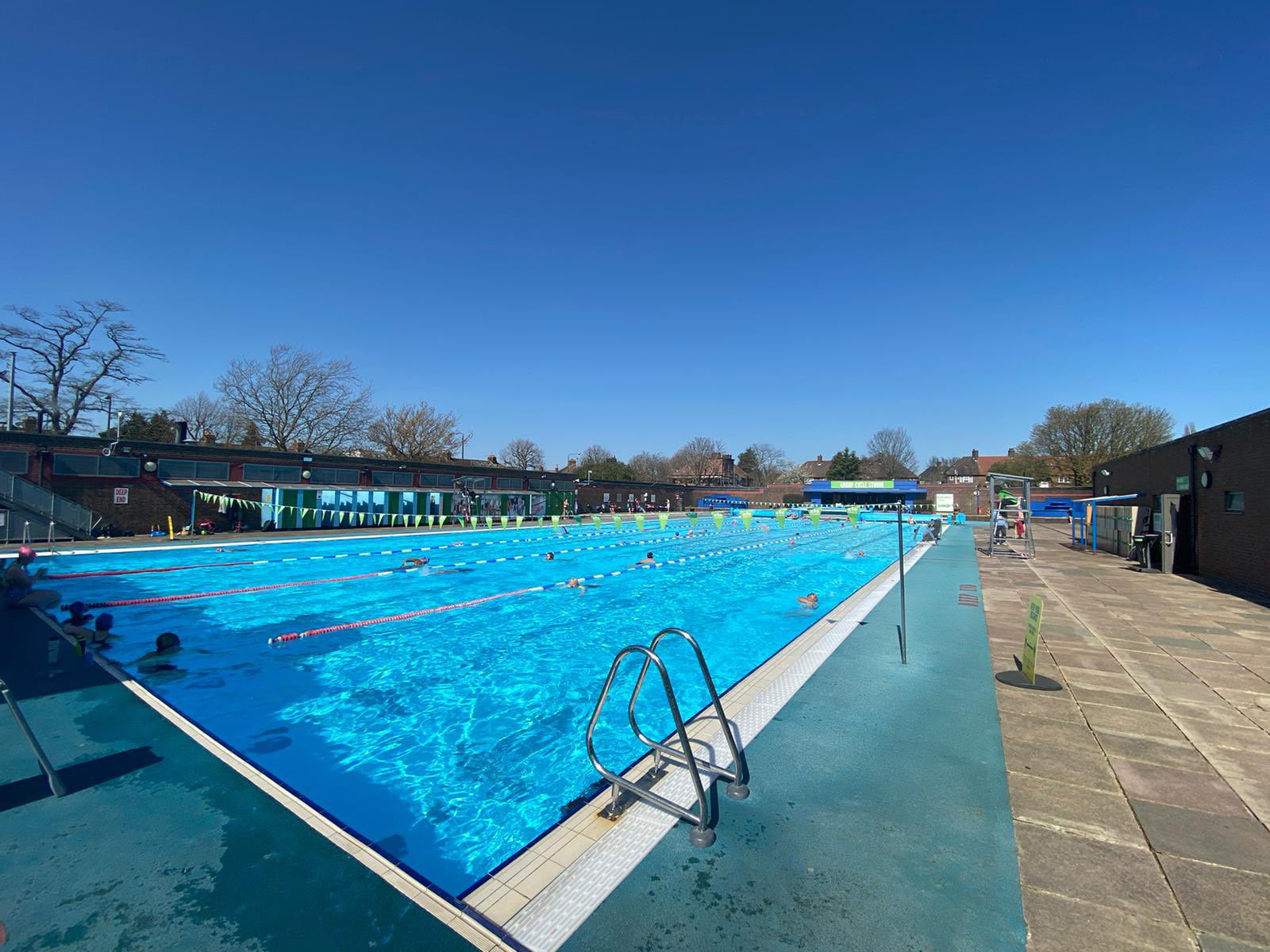 When Charlton Lido was refurbed back in 2013, it had both a lot of water & money poured into it. Enough to fill an Olympic sized pool, and £2 million, respectively. The upshot? It's a 50 meter, heated outdoor pool with two sun terraces, a café, gym, and fitness studio on the site. Now, the latter of those things are currently closed, but the important bit is very much open.
Address: Hornfair Park, Shooters Hill Road, SE18 4LX | Cost? £10 | Prebooking necessary? Yes, best done via the Better UK app | Refreshments nearby? Honestly, it's a bit dry out there. There's a coffeeshop on site, otherwise you're best off going into Greenwich.
–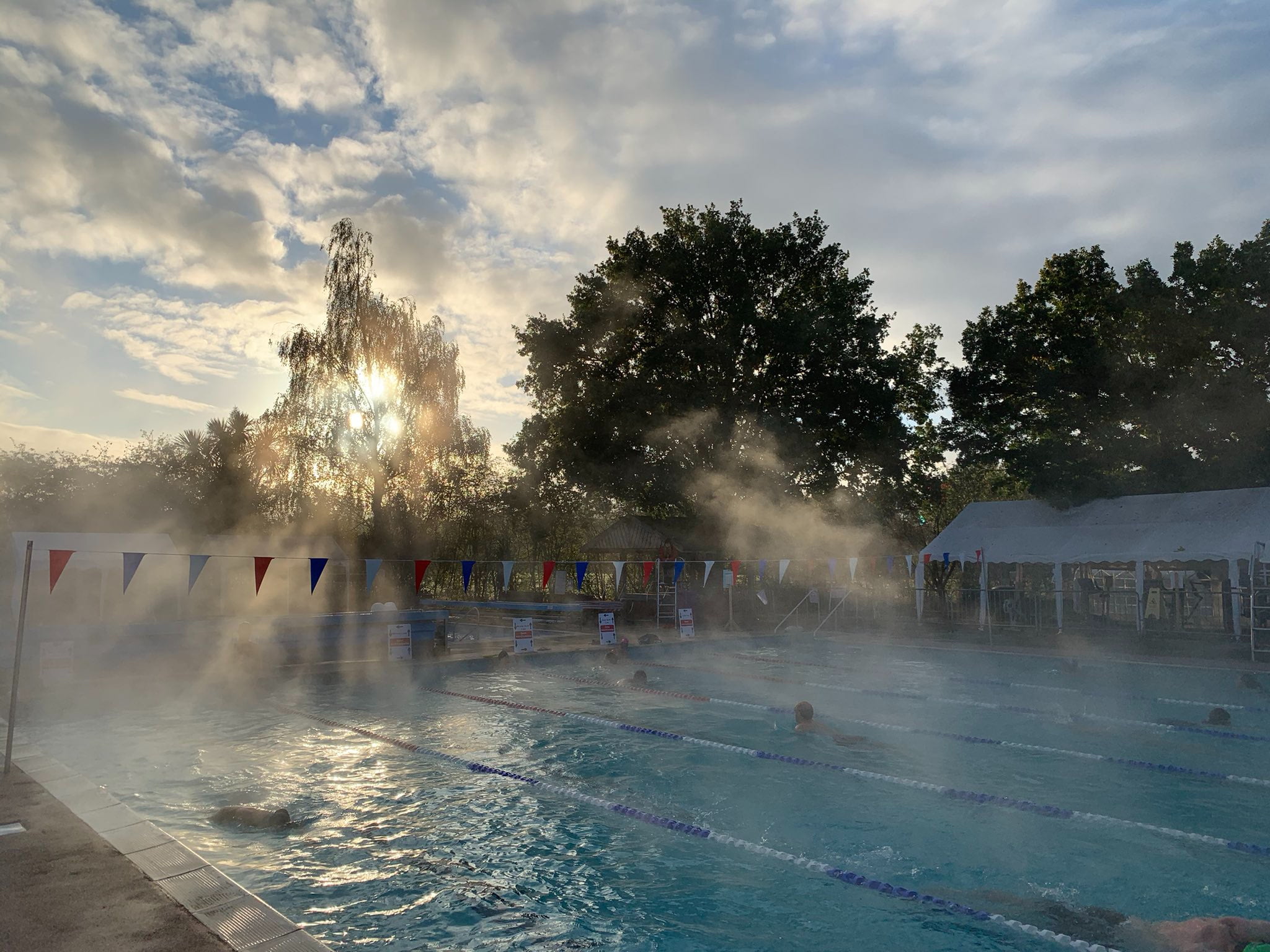 Nestled down in deepest, darkest South-West London, unless you're a Tudor-era marriage junkie, Hampton Pool can be a bit of a mission to get to – but you'll be amply rewarded when you slip into the steaming water on a crisp morning, and are reminded that yes, this lido is heated to a positively scorching 28 degrees every day of the year. Built as part of the lido boom in the '20s, the pool's surrounded by Art Deco buildings and a huge open lawn, on which you can sunbathe between swims or bring your own picnic. Definitely worth a day trip.
Address: High Street, Hampton, TW12 2ST | Cost? £5.60 (peak prices can go higher though) | Prebooking necessary? Yes, best done on their site | Refreshments nearby? The Pheasantry in Bushy Park is a solid option.
–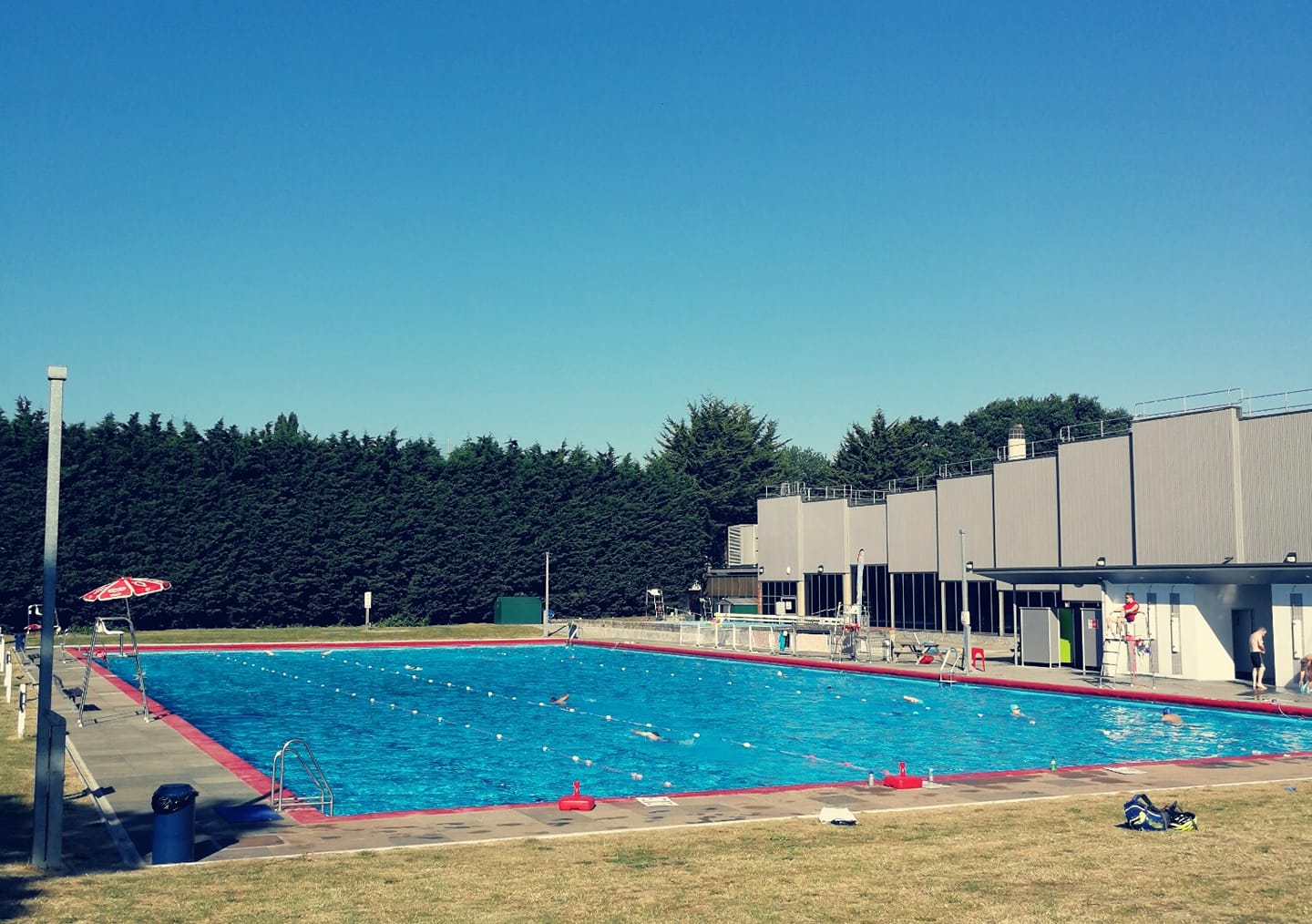 It might date back to 1926, but this 50m-long lido is heated. And to boot? It's got grassy, landscaped slopes surrounding it, which are perfect for a picnic. There are diving areas, a separate children's pool, and a whopping great leisure centre, too.
Address: Park Road, N8 8JN | Cost? £8 | Prebooking necessary? Yes, best done here | Refreshments nearby? Sourdough Sophia will sort you out with the likes of a cruffin, a sourdough pretzel, and a coffee.
–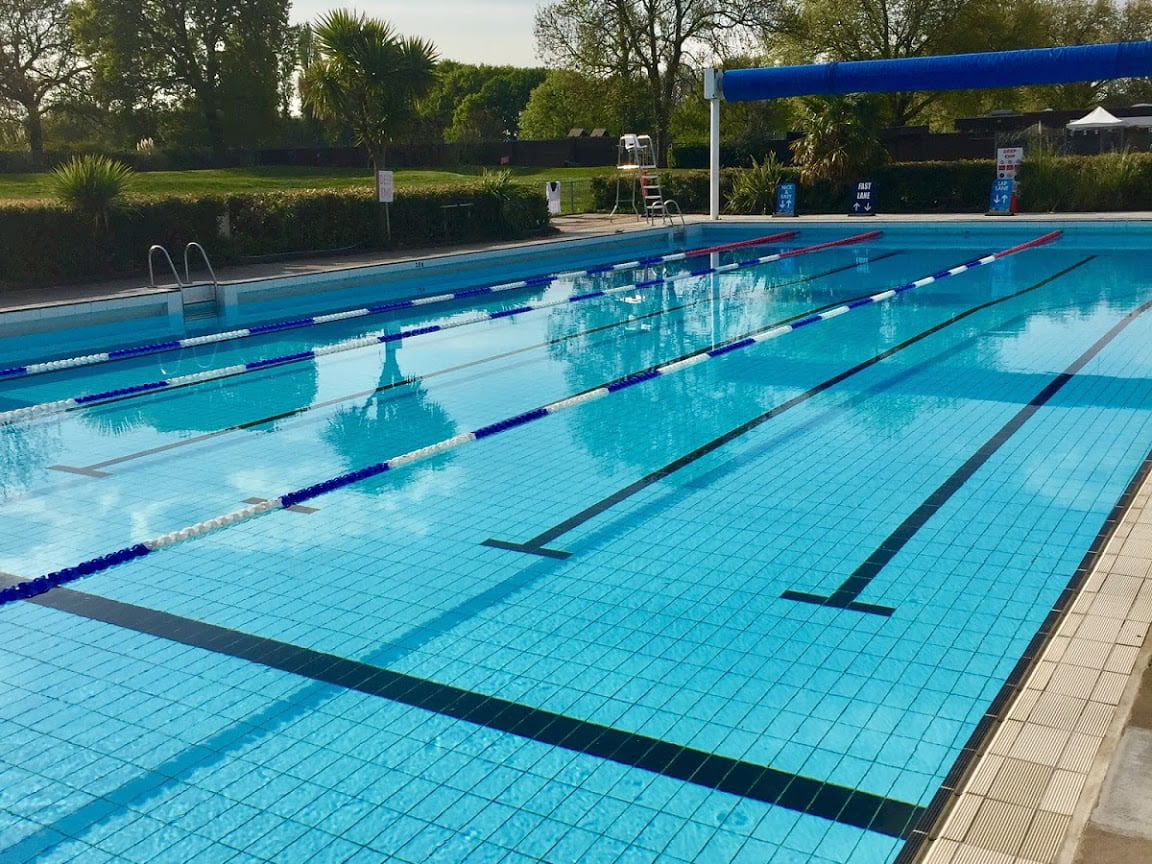 P-on-the-P is a Grade II listed, white tile beauty on the edge of a deer park. In fact, it's in the same green space as Kew Gardens, so you won't be too far off some gorgeous scenery. And the kicker? It's heated to a balmy 24 degrees.
Address: Old Deer Park, Twickenham Road, Richmond TW9 2SF | Cost? £5 | Prebooking necessary? Yes, best done on their site, app, or phone (020 3772 2999) | Refreshments nearby? Plenty, it's Richmond. Petersham Nurseries might be a bit much, so perhaps a wee jaunt to The Bingham Riverhouse.
–
UNHEATED LIDOS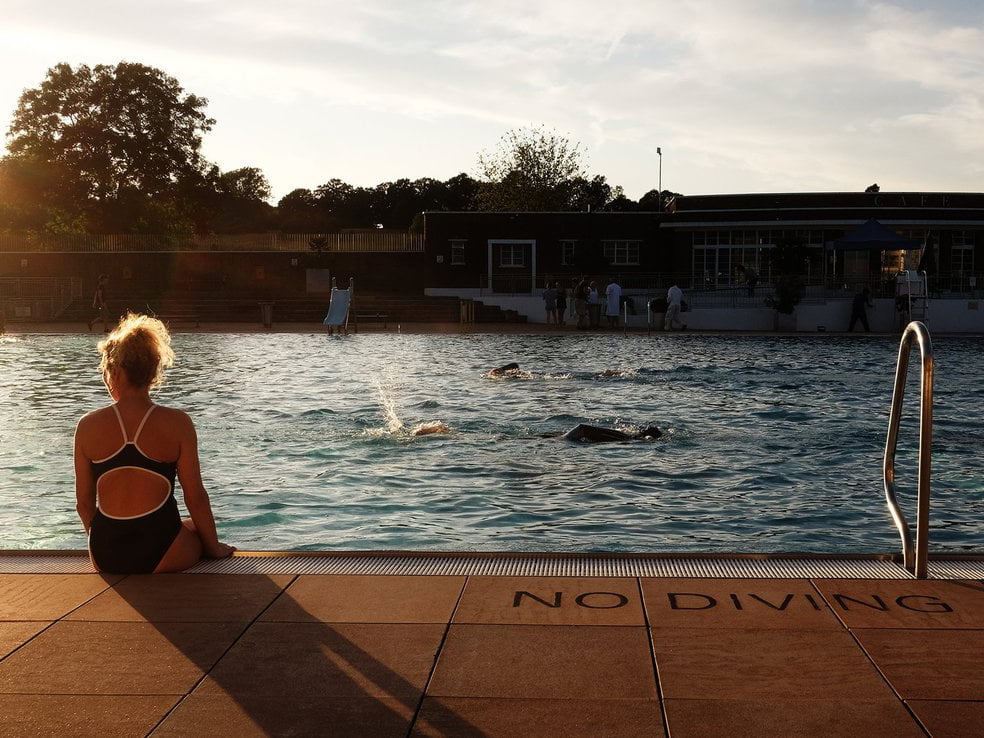 Aside from its many ponds, Hampstead also happens to have the Parliament Hill Lido, a 61-m long, grade-II listed Art Deco outdoor pool with stainless steel beneath the water and concrete sides for lounging in the sun. Although it is still unheated. But then, when such things are allowed, they do have a sauna to reopen. This is one of the few lidos that doesn't require bookings, so get there early. And if you're peckish, there's a great cafe onsite too.
Address: Heath Lodge, Highgate, NW5 1NA | Cost? £4.05 | Prebooking necessary? No, but when it's full there'll be a 1-in-1-out queuing system | Refreshments nearby? There's a cafe onsite ("100% vegan and about 80% Lebanese"), but you're better off going to The Dartmouth Arms.
–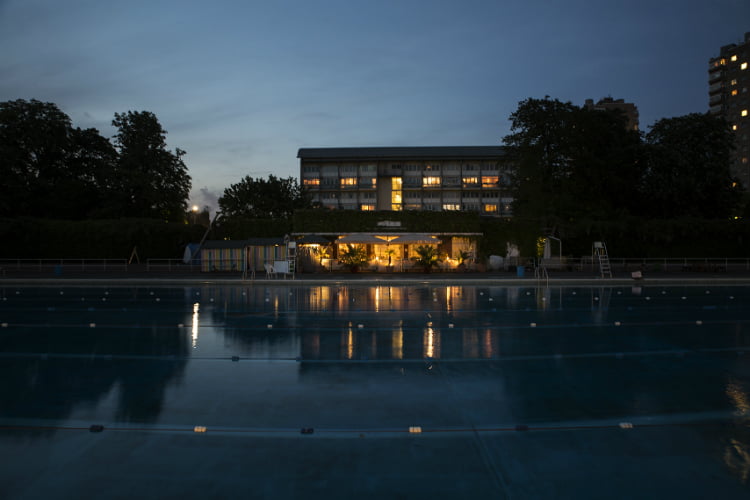 Brockwell Lido is an Olympic-sized unheated swimming pool, that after 80 years of business (it opened back in 1937) has become something of a South London institution. It's all extremely nice, and lovely for a quick dip, but it's the Grade II listed Art Deco building siting at the poolside which will really pique your interest because – aside from a sauna, jacuzzi, and spa area – it features 400 Rabbits, a sourdough pizza spot with a lovely terrace.
Address: Brockwell Park, Dulwich Road, Herne Hill, SE24 0PA | Cost? £8 | Prebooking necessary? Yes, best done via the Better UK app | Refreshments nearby? 400 Rabbits for sourdough pizza & beer, right by the poolside.
–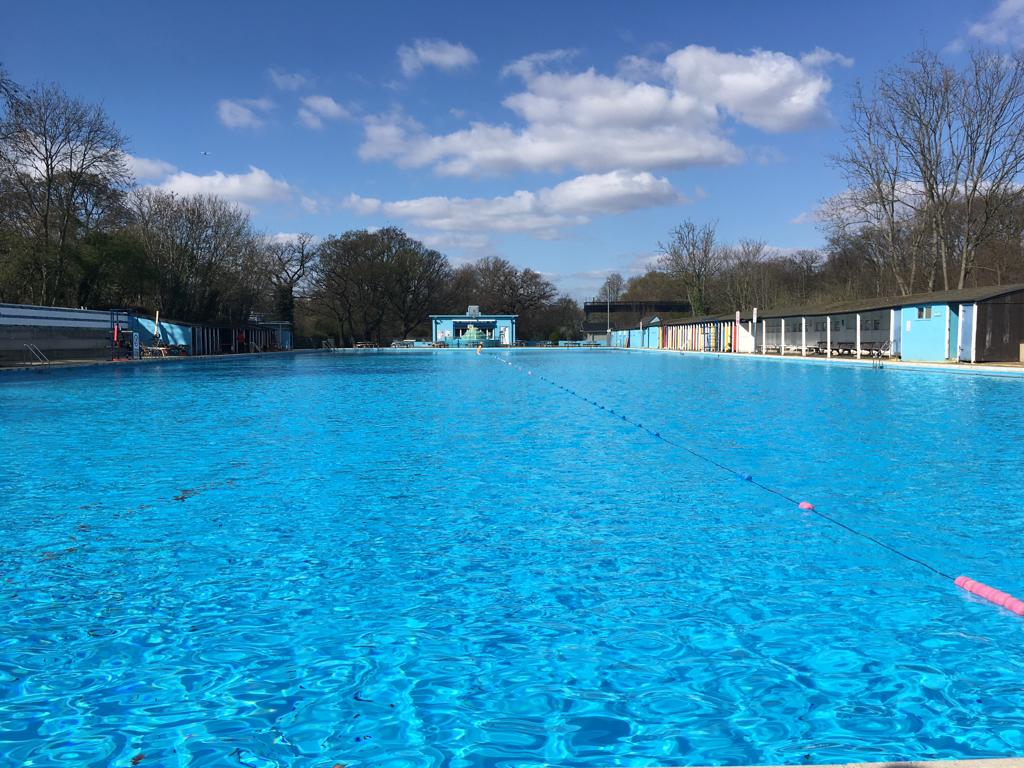 Tooting Bec Lido is the largest freshwater open-air swimming pool by surface area in the UK. Yes, there were a whoooole lot of qualifiers in that statement, but basically it's big. And therefore unsurprisingly, it's unheated, so prepare to be refreshed. It's lined by a colourful rainbow of changing huts, and there's a lovely little fountain at the end… but just to re-iterate, this place is huge. Clocking in at 91.5m, it's almost double the length of an Olympic sized swimming pool. So you won't need to worry about finding some space to yourself.
Address: Tooting Bec Road, Tooting, SW16 1RU | Cost? £8 | Prebooking necessary? Yes, best done on the Places Locker app | Refreshments nearby? Hideaway is a good bet for some jazz & a roast.
–

This 50m, Grade II-listed 1930s lido is made particularly pretty thanks to the pair of alabaster-white 'cascades' (fountains, to you and me) that bookend it at top and bottom. And sure, it's unheated, but there is a shallow children's splash pool that does have heating, just to remind you that you're a grown up and you can handle it.
Address: Getting Way, Middlesex UB8 1ES | Cost? £4.60 | Prebooking necessary? Yes, best done via the Better UK app | Refreshments nearby? It's thin on the ground, you're best off heading to Five Guys in Uxbridge.
–
WILD SWIMMING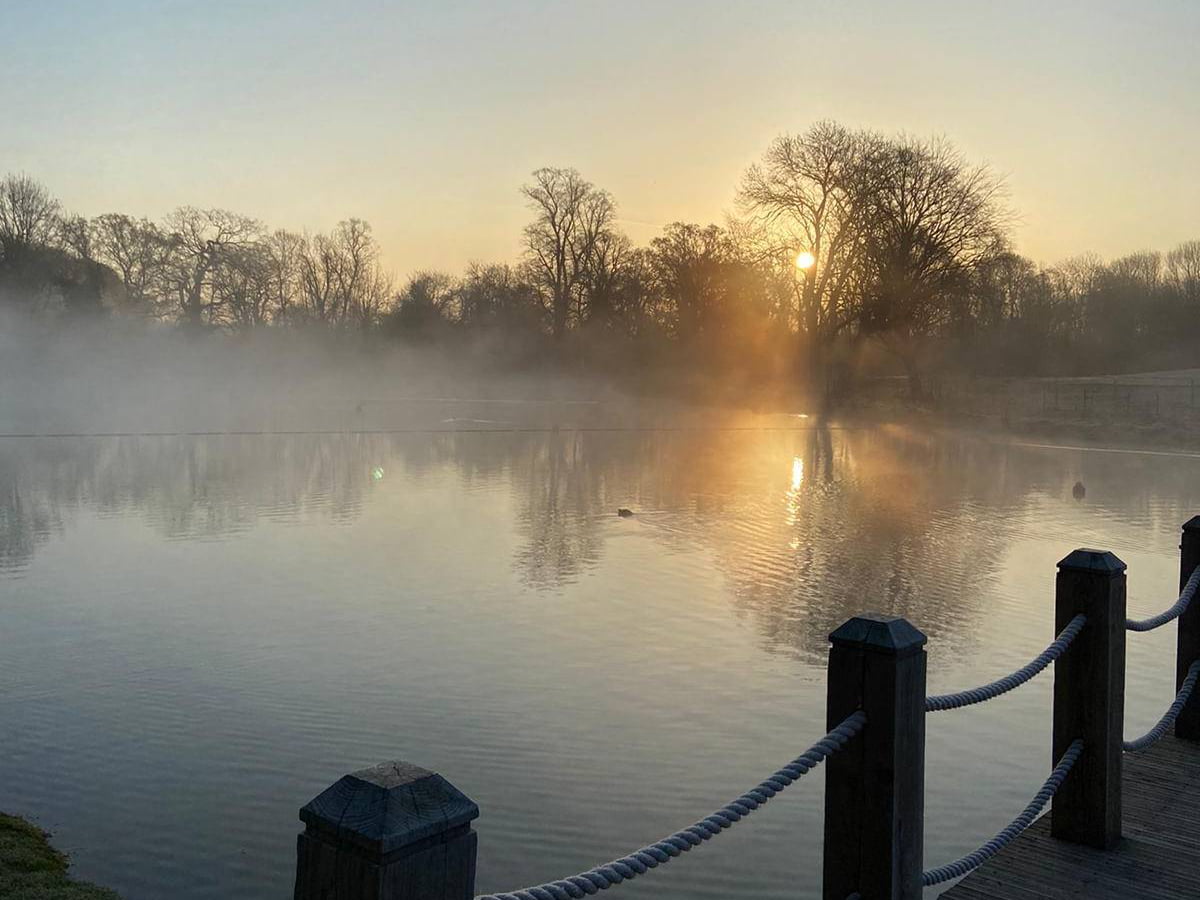 To clarify, Beckenham's wild swimming lake isn't 'theme park' wild, it's 'David Attenborough' wild. Fish, birds, insects, they're all there. Apparently there's even a small risk of developing a rash called "swimmers itch" after taking a dunk. Hooray! And it seems redundant to add that the water can be cold. So it should come as no surprise that this place requires beginners to complete a 30min induction course via Zoom before heading down. But if you can handle that, then the rewards are spectacular beauty, and a chance to quite literally immerse yourself in nature.
Address: Beckenham Place Park Lake, Beckenham Hill Road, BR3 5BS | Cost? £5.50 (though you'll need to pay £10 for an induction course if it's your first time) | Prebooking necessary? You bet, on their site  | Refreshments nearby? The lovely Homestead Cafe is in the park itself for stone-baked pizza & Square Mile coffee.
–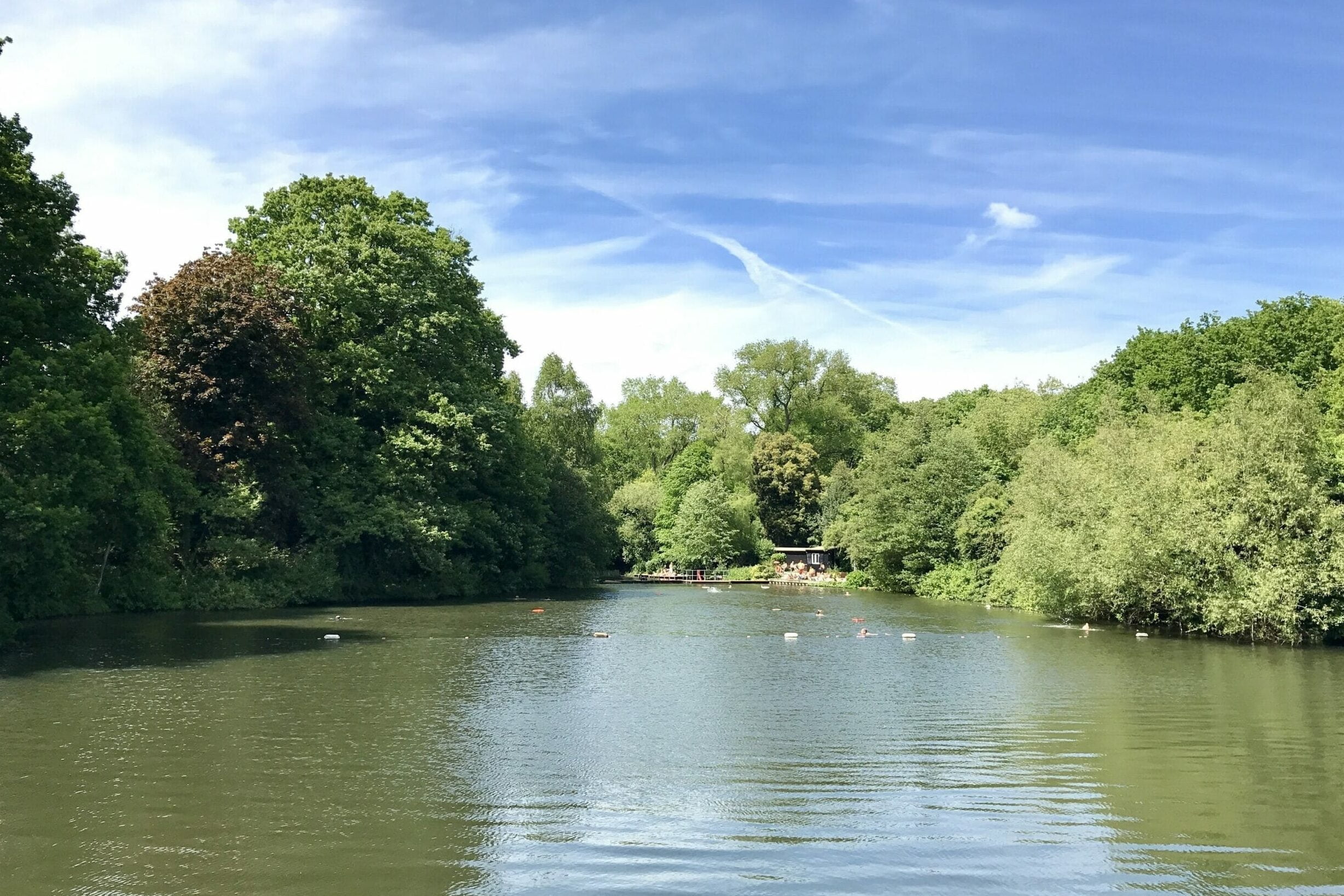 In all there are over 25 lakes & ponds dotted across Hampstead Heath, and three of them are for swimming in. In classic Victorian fashion, there's a men's pond (Highgate), a women's pond (Kenwood) and a mixed pond (Hampstead). Take a dip in any of them and you'll feel the billow of silt between your toes, and if you swim across to the banks you'll likely encounter some feathered friends as bathing companions. The mens & women's ponds are both free to pop into, but if you want to go mixed, you need to get a summer season ticket (or join the Winter Swimming Club, if you're foolhardy enough).
Cost? £4 (or £66.85 for a Summer Season ticket) | Prebooking necessary? Nope | Refreshments nearby? You cannot go wrong with The Dartmouth Arms.
–

West Reservoir Centre, Hackney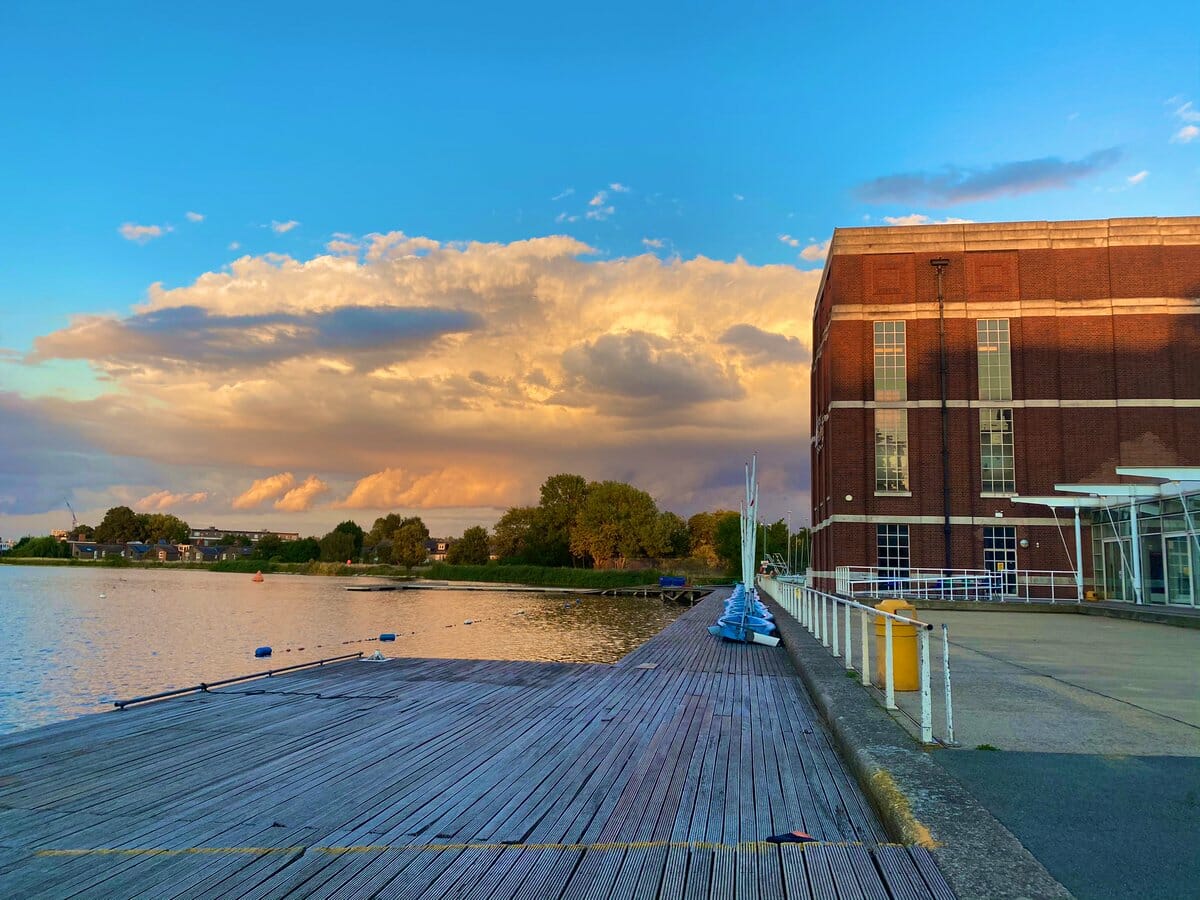 This is one of the few wild swimming options in the city that does not require an induction (just temporarily, due to Covid), so you can just book and show up with nothing but your cozzie and a smile. And a red swimming cap, so they can see you in the water. And a tow float. And a hot drink. And maybe a wetsuit, if it's particularly cold. But if you've nailed all that, then the reservoir's huge (23 acres) expanse of fresh water is your playground.
Address:Green Lanes, Hackney N4 2HA | Cost? £10 | Prebooking necessary? Yes, best done through the Better UK app | Refreshments nearby? There's a coffeeshop on site. You'll need it.
–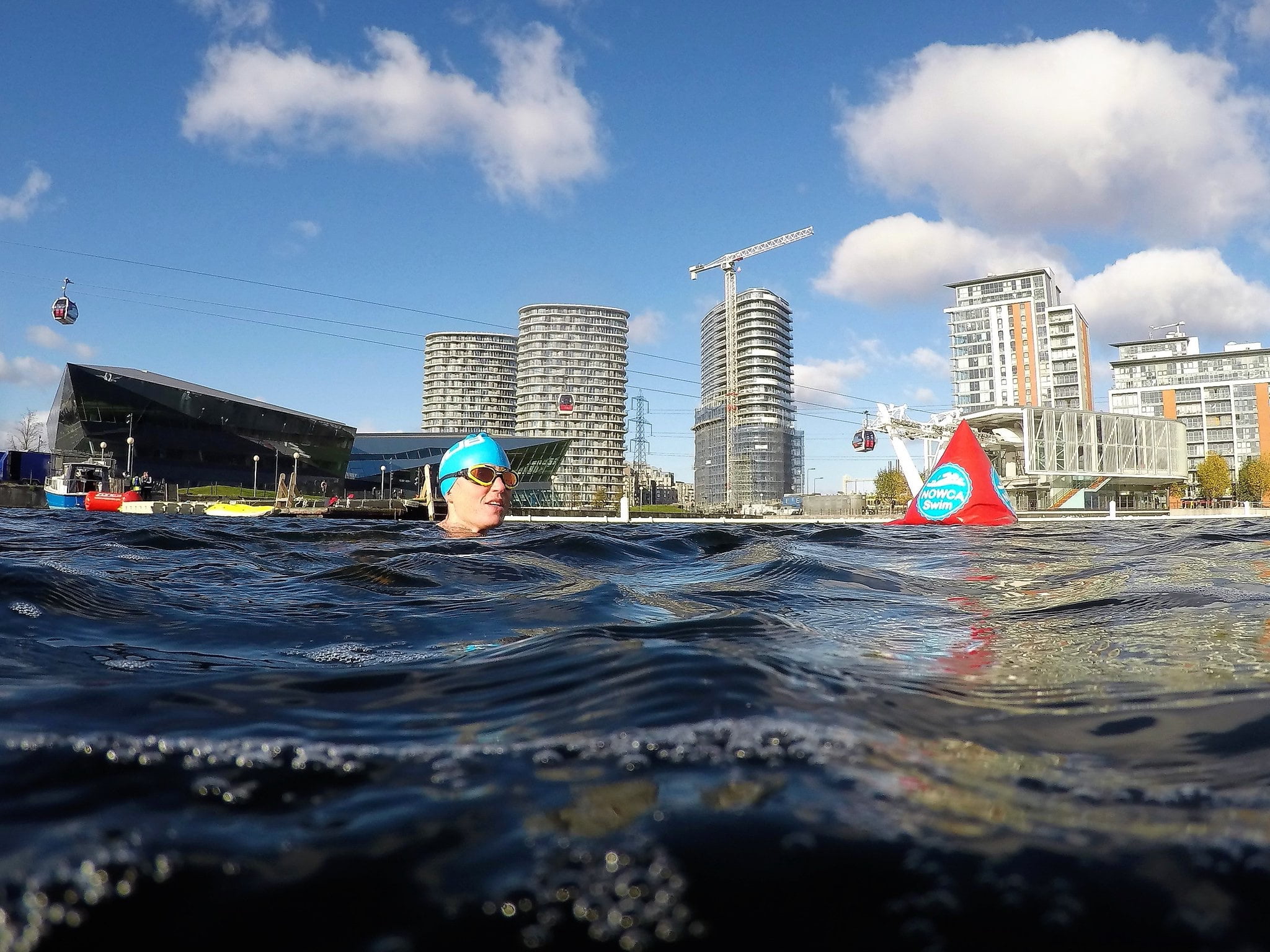 At the Royal Docks you're basically in the Thames, which makes it the final boss of London swimming. Just to be clear, technically you're in the largest enclosed dock in the world …but it's literally yards away from the river, and it shares the same water, so it might as well be. Only, there's no risk of rib boats, floating restaurants, or confused whales interfering with your swim. And thankfully the water is tested frequently, and consistently marked as 'excellent'. If you're an open water beginner, prepare for an indiction course (either online or in-person) and dive in.
Address: Dock Rd, Royal Docks, E16 1AH | Cost? £8 | Prebooking necessary? Yes, best done on the site | Refreshments nearby? It's a good excuse to take the Emirates Air Line out to Greenwich, and visit Craft. Or the Good Hotel is right on the waterfront. 
Main image: Hampton Pool Trust
---
Looking for some outdoor dining ideas? Behold our list of (really good) places to eat outside in London