Much like the area's patchwork of architecture, which flits from glass skyscraper to crumbling warehouse, the restaurants in Shoreditch are a real hodge-podge of styles.
You see, it's the only part of London where you can find a Thai restaurant inspired by late-night roadside BBQs neighbouring a Michelin-starred dining room dedicated to turbot. Or an extravagant, kitschy pizzeria plucked from 1970s Capri down the road from a glorious Modern British spot hidden away in an old school bike shed.
Here you'll find The Nudge's pick of the most delicious and unusual restaurants in Shoreditch. 
Bon appetit.
–
Manteca | Nose-to-tail dining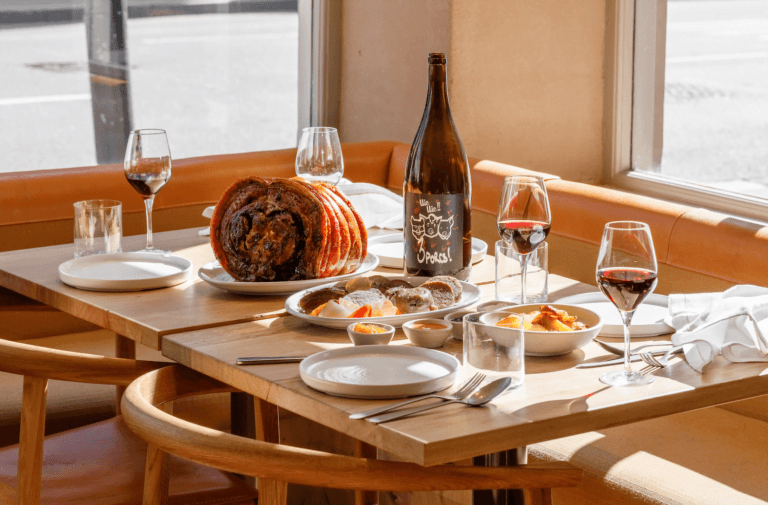 Manteca (the name literally means 'lard') is a restaurant from culinary super-weights David Carter (Smokestak) and Chris Leach (Kitty Fisher's), celebrating nose-to-tail dining with a boldly Italian slant. The space feels warm owing to the blonde wood and ember-fuelled pizza oven, and the metal-clad central bar is well stocked with natural wines and aperitivi. 
As for the food, the fresh pasta dishes are perfectly al dente and dangerously moreish. Meanwhile, whole-animal butchery comes served in the form of the restaurant's signature mortadella and pig head fritti.
Details: 49-51 Curtain Road, Shoreditch, EC2A 3PT | Book here
–
Brat | Relaxed Michelin Star Dining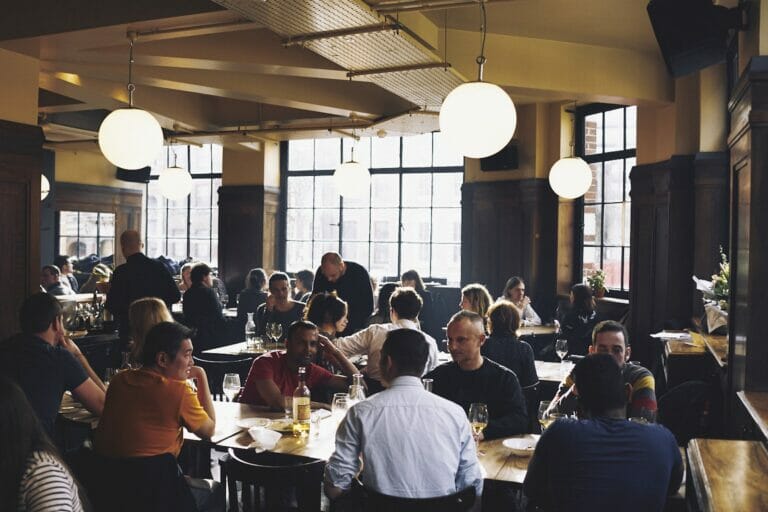 This is the kind of brat you do want to visit. Scoring a Michelin star just six months after opening, it's the first solo spot from another former Kitty Fisher's chef, Tomos Parry. Named as a tribute to what Parry considers "the king of the sea", turbot, he uses a surprising blend of his Welsh heritage with Basque cooking traditions to create a hyper-seasonal menu featuring char-flecked, texturally interesting, produce-focused dishes, served alongside a thoughtfully curated wine list. 
Details: First Floor, 4 Redchurch Street, E1 6JJ | Book here
–
When Fenn closed its doors in Fulham, we had a hunch that Joe Laker wasn't just going to hang up his apron and retire. Now the acclaimed chef has gone solo in Shoreditch to open this 16-seat counter-only spot where he's skipping normal restaurant conventions (no tables, no waitstaff, no menus) and serving everything straight to you from his and the team's own hands… That 'everything' being smoked egg and truffled topped English muffins, langoustine bisque with ginger & carrot, brown crab doughnuts and a parade of other show-stopping dishes that pay tribute to produce from the British Isles. Once the experience concludes, savour it in Lowcountry – the downstairs bar with cocktails themed around the US southern coast.
Details: 71 Nile Street, N1 7RD | Book here
–
Rochelle Canteen | Hidden Garden Restaurant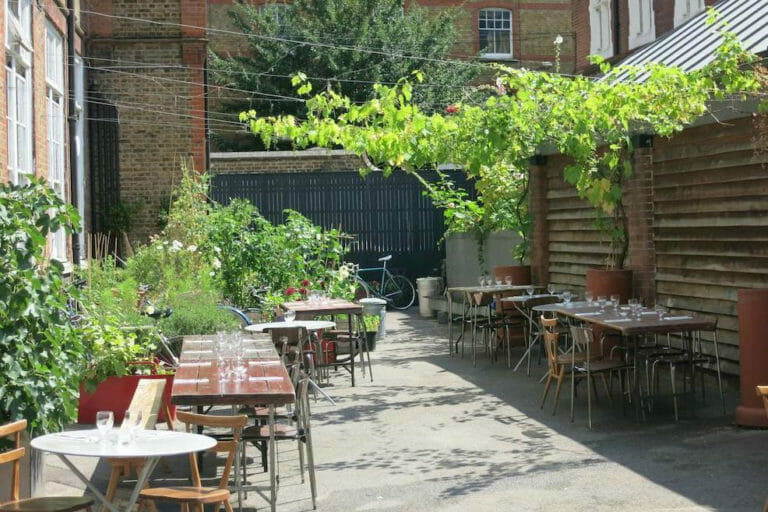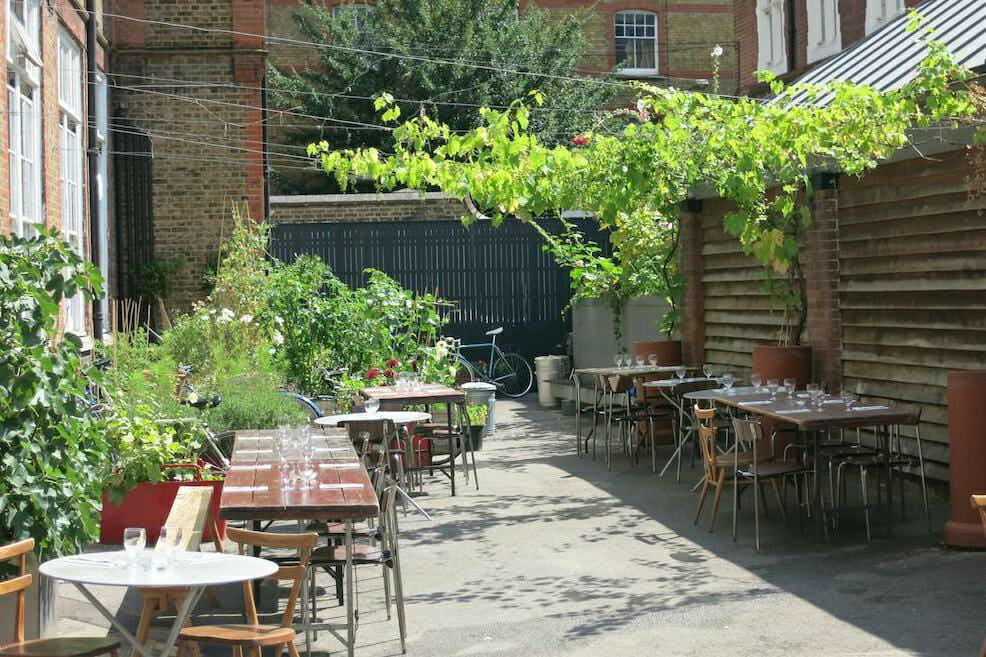 Getting a table at Rochelle Canteen first requires you to find a gate with a doorbell in an old primary school playground – but it's more than worth the mission to track it down. It's a joint venture from laurelled chefs Margot Henderson and Melanie Arnold, serving produce-led dishes like steamed mussels with chips; chard, chickpea and tomato stew; and rhubarb panna cotta – all of which can be enjoyed al fresco… or, as it's also known, behind the school bike shed.
Details: School House, Arnold Circus, E2 7ES | Book here
–
Brawn | The Quintessential East London Restaurant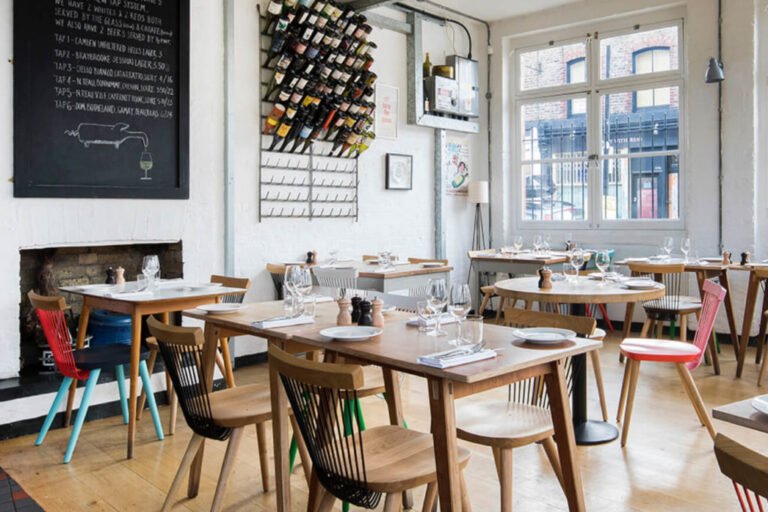 A thoroughly laid-back neighbourhood spot housed in a former workshop space on a corner of Columbia Road. Brawn is the perfect retreat from the business of the Columbia Road Flower Market on Sundays (go for the roast), or any time for that matter – the food is unfussy, unpretentious and show-stoppingly well executed. Changing regularly, the menu is produce and season-led, with a smattering of small plates to pick at as you choose, and a rather lovely wine list to accompany.
Details: 49 Columbia Road, E2 7RG | Book here
–
Maene | Rooftop Bistro
A modern bistro that can be a little tricky to find, hidden at the top of an old Victorian clothing factory-turned-yoga studio in Spitalfields. But we'd bend over backwards to get a table here. It's a Santorini-meets-industrial warehouse space where head chef Amber Francis (ex-Bermondsey Larder) works wonders with British ingredients for brunch and dinner, such as with Cornish mussels in a pool of cider butter sauce and the sourdough chai french toast served with English strawberries. The cocktails are incredible too, created from fairly random kitchen ingredients that would otherwise get chucked, and there's also a rooftop terrace. For summer that's sure to be the maene attraction.
Details: Top Floor, 7-9 Fashion Street, E1 6PX | Book here
–
Lahpet | Comforting Burmese Fare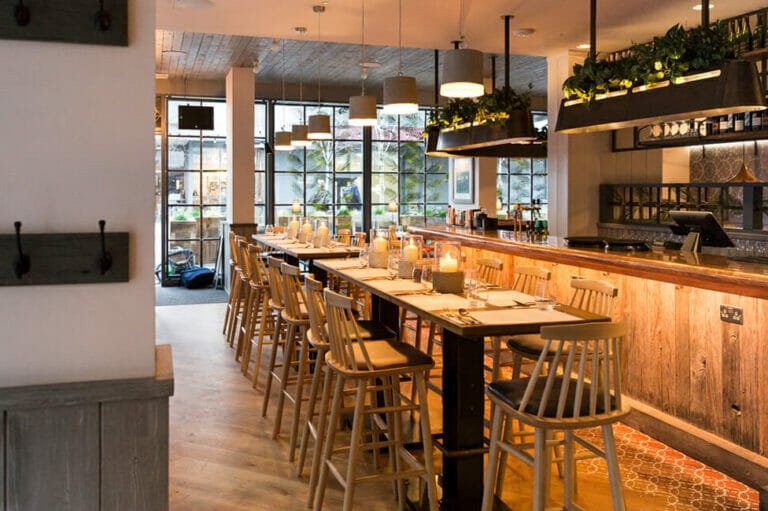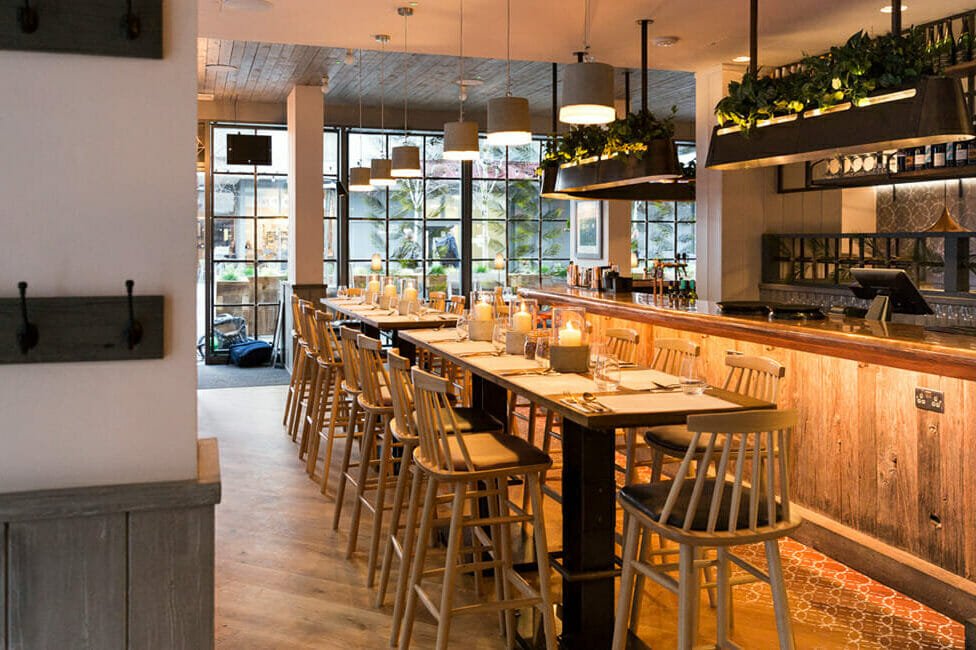 Lahpet is easily the best Burmese restaurant in Shoreditch. And sure, there may not be a lot of competition. But Lahpet is ready to make up for our heretofore lack by presenting gorgeous dishes like split pea tofu fritters; dried shrimp dumplings; and pork and mustard green curry. And yes, while you should be prepared for pangs of momentary angst at not having discovered it sooner, this will be replaced immediately by feelings of deep, deep joy.
Details: 58 Bethnal Green Road,  Shoreditch, E1 6JW | Book here
–
Blacklock Shoreditch | Cheap as Chops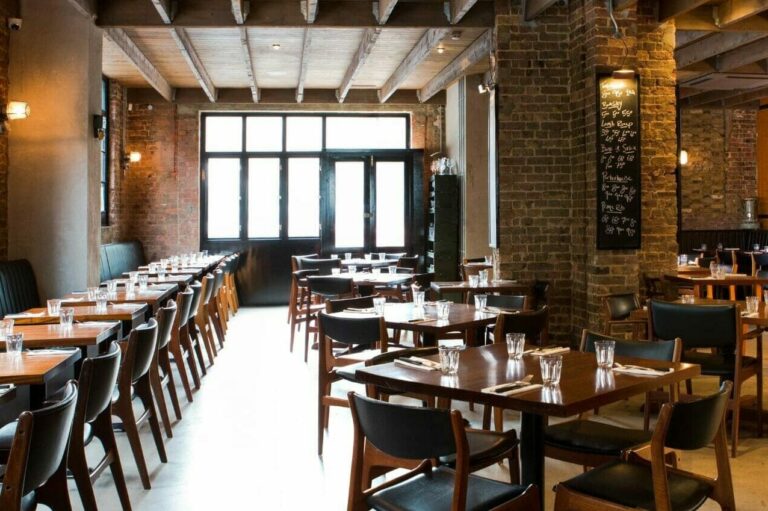 Home of the city's best (and, coincidentally, most affordable) chops – Blacklock serves up quality cuts by the 100g, or you can build your own adventure with starters (pig's head on toast), sides (10-hour ash roasted sweet potato) and mini cuts (£4 pork belly or lamb T-bone). All alongside cocktails, served table-side from a drinks trolley, for a fiver.
Details: 28-30 Rivington Street, EC2A 3DZ | Book here
–
Llama Inn | Rooftop Peruvian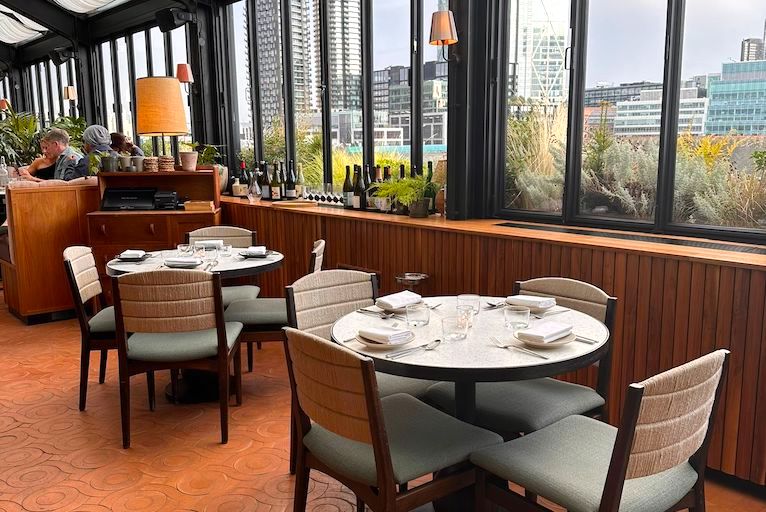 Finding Llama Inn isn't all that easy – you'll need to find your way to the quiet, secluded Willow Street around the back and look for a yellow doorway surrounded by street art. Inside, you'll then need to take the hotel's dark service elevator to the seventh floor, where you'll finally be introduced to the venue itself: a beautiful, sweeping, glass-covered rooftop looking out over half of East London. And you'll be glad you did, because the lineup of Peruvian dishes is absolutely wonderful…
Details: The Hoxton Shoreditch, 1 Willow St, EC2A 4BH | Book here
–
BAO Noodle Shop | Retro Taiwanese Café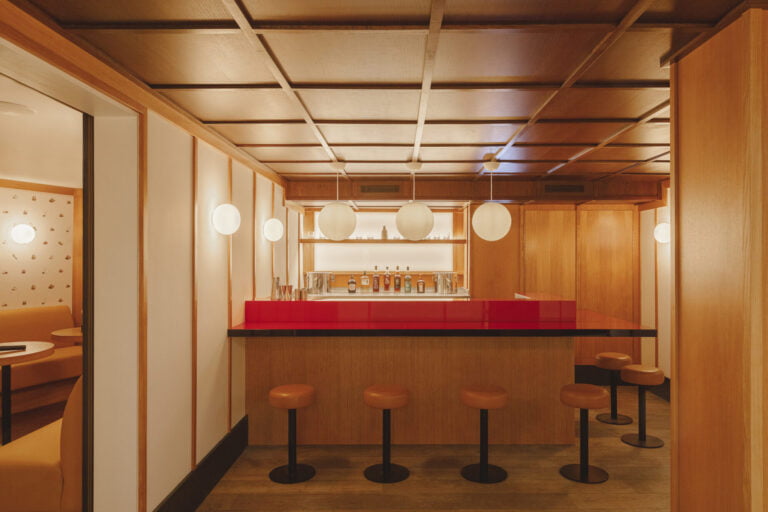 For BAO's Shoreditch restaurant, the team decided to let their fluffy, steamed buns step out of the spotlight, making way for this – a Taiwanese noodle shop with a karaoke bar underneath it. It's exactly as good as it sounds. The space looks just as pretty as BAO's other venues, and the main dish – beef noodle soup – is rich, hearty and nourishing. Just leave room for cocktails. You'll be glad you did.
Details: 1 Redchurch Street, Shoreditch, E2 7DJ | Book here
–
Lyle's | Michelin Star Tasting Menus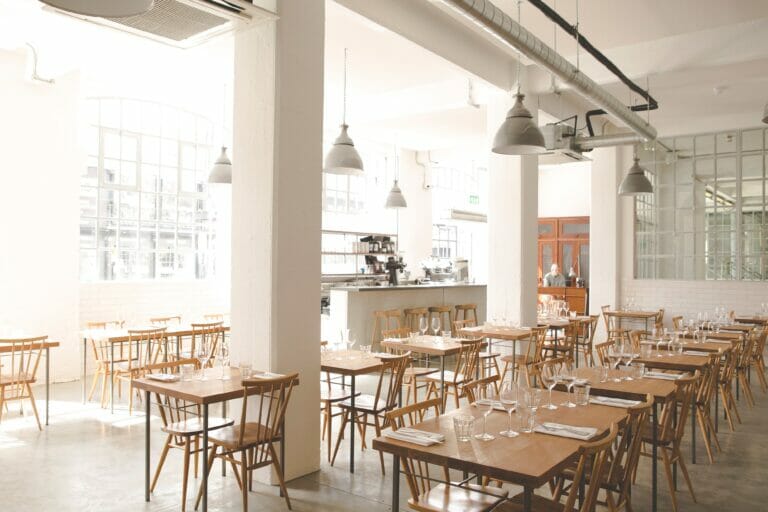 Lyle's was met with near mass-hysteria when it opened back in 2014; partly because it was headed up by Young Turks founder James Lowe, and partly because a small part of the population were expecting a restaurant devoted to Golden Syrup. While the latter turned out to be misinformed, the wünderchef and his team are still plating up some of the most delicate and elegant modern European dishes in the city…
Details: The Tea Building, 56 Shoreditch High Street, E1 6JJ | Book here
–
The Clove Club | World-Renowned Cooking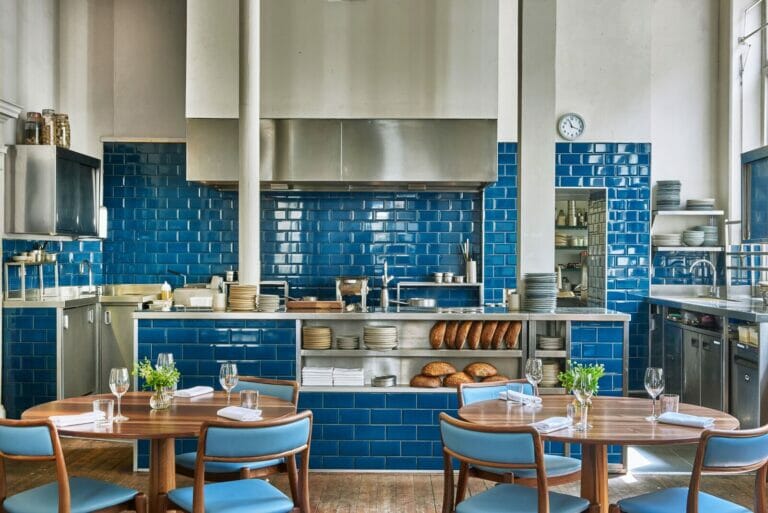 The Clove Club hasn't got much going for it. If you discount the fact that it consistently ranks as one of the World's 50 Best Restaurants, has held its Michelin star for years, and reached no. 2 in the list of the UK's best restaurants, that is. Oh, and the fact that it also boasts a former Young Turks founder as its head chef. But apart from that, it's just your run-of-the-mill, regularly evolving tasting menu restaurant housed in a striking, historic building.
Details: Shoreditch Town Hall, 380 Old Street, EC1V 9LT | Book here
–
Padella Shoreditch | God-Tier Fresh Pasta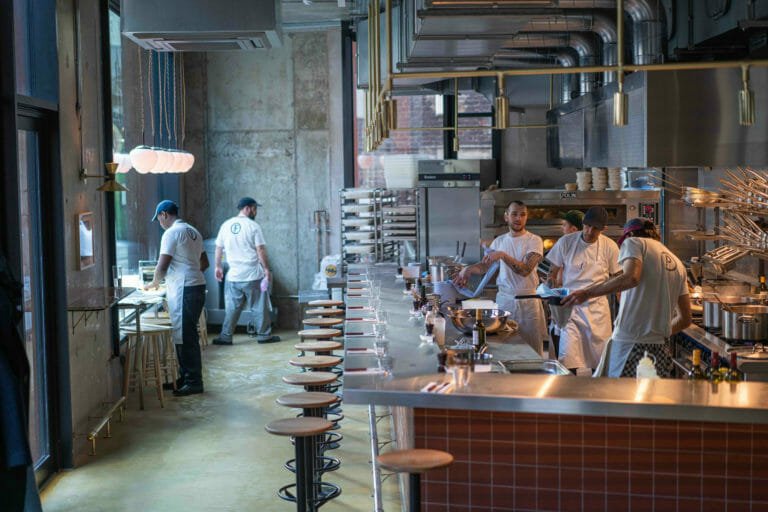 Thanks to Padella, London Bridge was home to the reigning champion of London's fresh pasta restaurants. Until founders Jordan Frieda and chef Tim Siadatan opened a second restaurant in Shoreditch, that is. Unlike the original, there are a small number of bookings available each day, and walk-ins are easier to come by since this one is a whole lot bigger – thanks in part to the breezy street-side dining terrace round the back.
Details: 1 Phipp Street, Shoreditch, EC2A 4PS | Book here
–
Leroy | Small Plates & Vinyl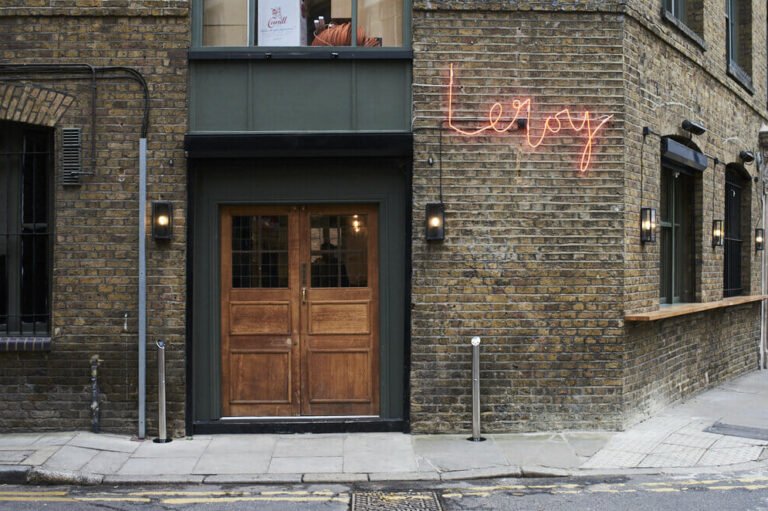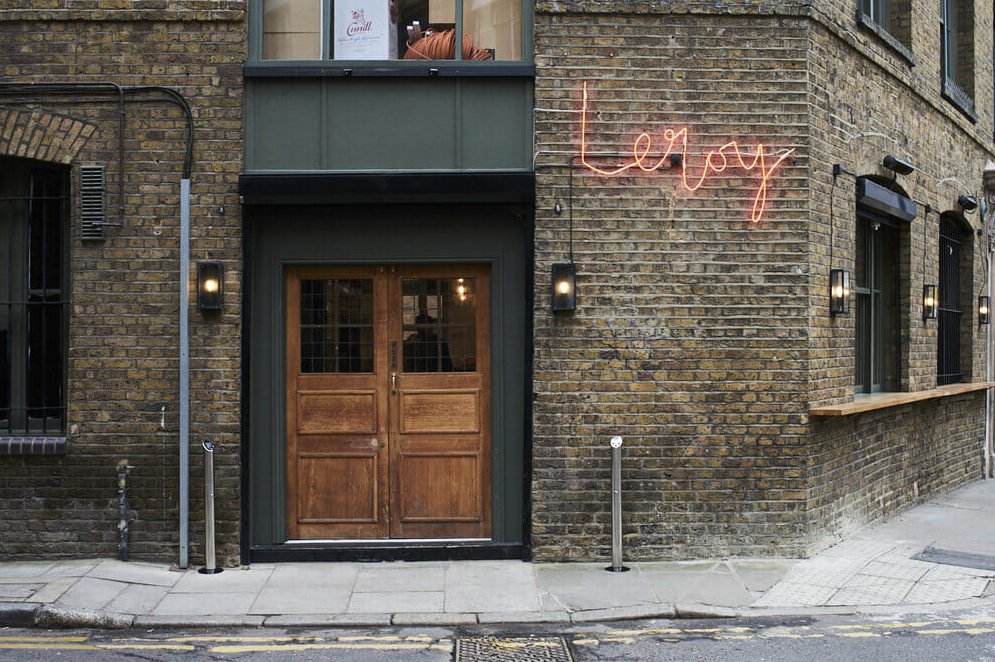 First, there was Ellory. Now, there's Leroy; its remixed, Michelin-starred, second incarnation after upping sticks from London Fields to down sticks in Shoreditch instead. The menu's been given a distinctly stronger Parisian slant here, like cheese and wine-drenched scallops and confit chicken skewers; all designed to share alongside a bottle of good wine.
Which ultimately means that you'll Roley out of there.
Details: 18 Phipp Street, EC2A 4NU | Book here
–
Dishoom Shoreditch | Cult Indian Spot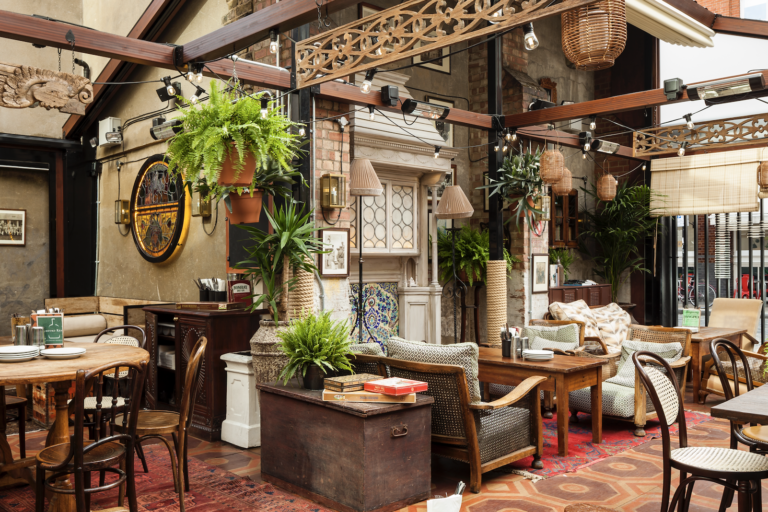 You'll no doubt be familiar with Dishoom's signature mouthwatering array of traditional Parsi dishes, Indian-inspired cocktails and retro Bombay Café-style surroundings. But their Shoreditch branch wins bonus points for its leafy verandah, providing a cosy weeknight date spot when covered and a bacon-naan filled sun-trap on lazy weekend mornings.
Details: 7 Boundary Street, Shoreditch E2 7JE | Book here
–
Mien Tay | Vietnamese BYOB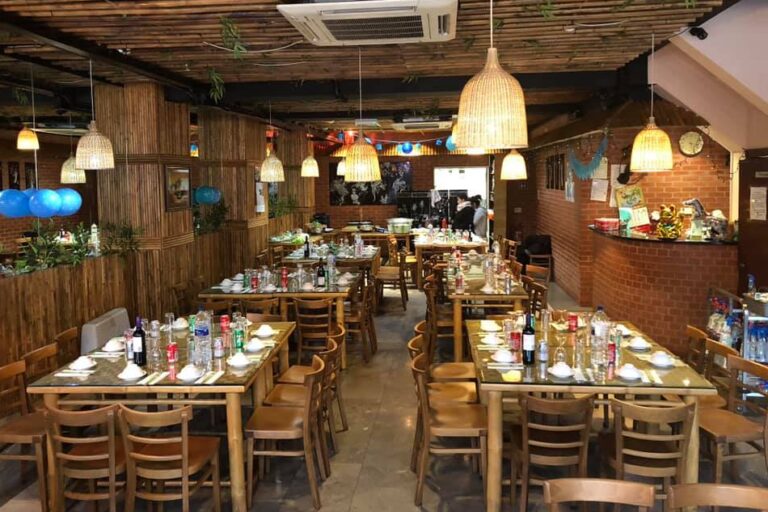 The Pho Mile is a lesser-known stretch of East London. Sitting shoulder to shoulder with other Vietnamese restaurants is Mien Tay, a family-run spot serving generous portions of spice-laced curries (served in clay pots) as well as more adventurous dishes including stir-fried frogs legs. It's BYOB, with a small corkage fee, and is so popular you'll also find it in Battersea, Fulham and Wood Green. 
Details: 122 Kingsland Road, E2 8DP | Book here
–
Smoking Goat | Close-Quartered Thai BBQ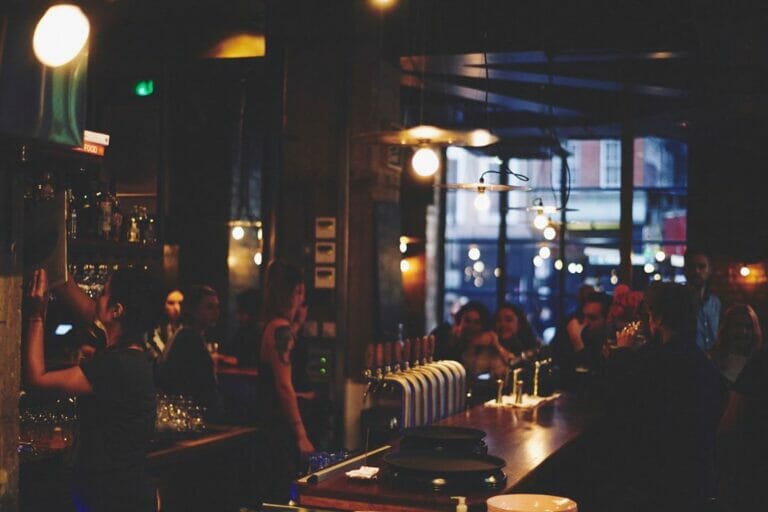 Smoking Goat's Shoreditch restaurant has a decidedly grittier feel than the Soho original, styled after late-night Thai canteens. As such, the grub here riffs off aharn glam lao ('drinking food'), and features dishes like smoked brisket with drunken noodles; barbecued pork and pork-fat skewers; and of course, a little smoked goat.
Details: 64 Shoreditch High Street, E1 6JJ | Book here
–
Gloria | Bombastic Italian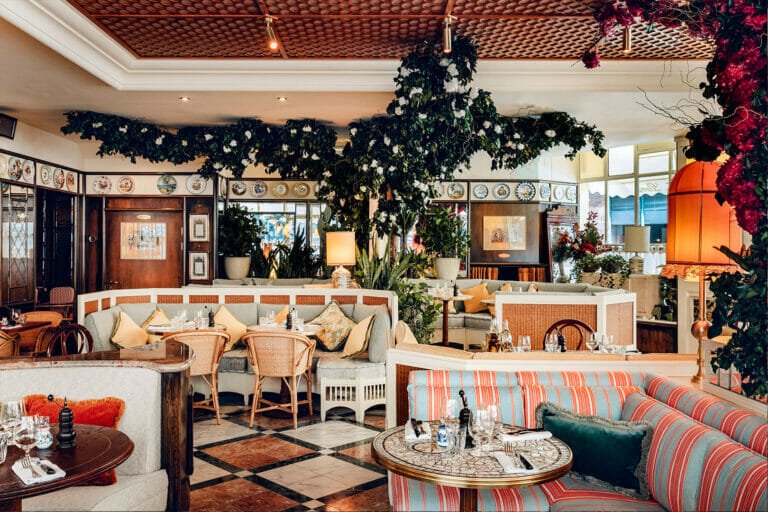 A temple to decadence: Gloria was the debut UK restaurant from the Parisian Big Mamma team, who have since repeated their unrivalled levels of extravagance with Circolo Popolare, Ave Mario, Jacuzzi and Carlotta. Packed to the rafters with old-school frills and kitschy decor, the restaurant is famed for its ten-layer lasagne, outrageous cocktails and giant lemon meringue pie. It's one of the most entertaining restaurants you'll have the pleasure of eating at in East London.
Details: 54-56 Great Eastern Street, EC2A 3QR | Book here
–
Santo Remedio Café | Convivial Mexican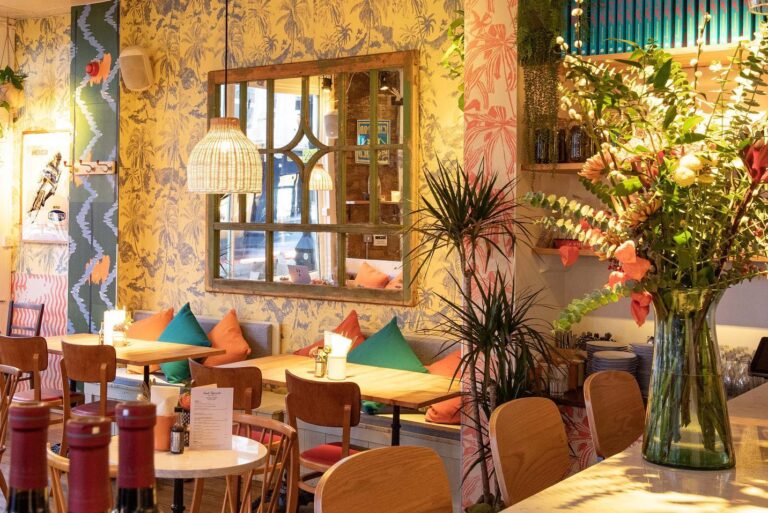 Edson and Natalie Diaz-Fuentes' original Shoreditch restaurant was a smash hit before it was forced to close prematurely due to landlord issues. Thankfully for us all they bounced back with a huge flagship down in London Bridge, and now they're finally back on home turf with a sophomore eatery where the vibe is colourful and eclectic, with an open kitchen firing out rounds of flavour-dense tacos, tostadas and quesadillas.
Details: 55 Great Eastern Street, EC2A 3HP | Book here
---
Making a night of it? Then you'll need our list of the best bars in Shoreditch, too