When it comes to swimming pools in London…

…you've got a big pool to choose from.
Outdoor pools and lidos are great… until about the middle of September, when they're not so great. That's when London's indoor pools step in to save the day, providing much-needed shelter to protect you from the rain and temperature-controlled waters so you don't freeze to death. They also allow you to hone your backstroke technique without getting blinded by the sun (a highly underrated aspect of indoor swimming, might we add).
So if you are looking to hit the water under the comfort of a roof, you'll be happy to hear London is dripping in covered swimming spaces – we've done a deep dive and rounded them all up…
–

Balham Leisure Centre | Balham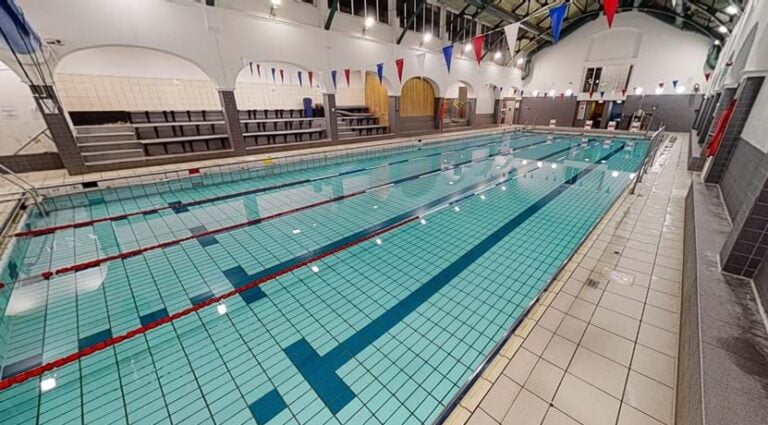 Balham Leisure Centre is arguably the best swimming pool in London for working on your backstroke technique – because you get to admire its impressive vaulted metal arch ceilings while doing so. It's 25-metres long and separates the serious play from the horseplay with two zones; four marked lanes and then a free area for those that just fancy an unstructured splash about. 
Details: Elmfield Rd, SW17 8AN | Opening hours: Mon-Fri 6.30am-9.30pm, Sat 8am-6pm, Sun 7.45-9.30pm | £6.10 for a single swim | Find out more and book here
–
Camberwell Leisure Centre | Camberwell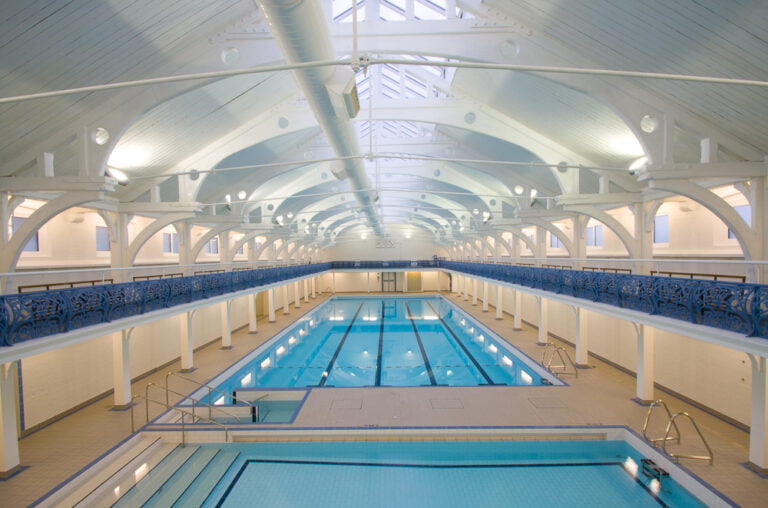 Camberwell's pool of choice is another big on the old ceiling eye candy. It's one of the older swimming pools in London having been built in 1892, when it was first known as the Camberwell Public Baths. For a while it wrestled with closure, before a crowd-funding campaign and the Southwark Council went to erm, great lengths, to save it. The building reopened in 2011 after renovations, with many of the initial Victorian features kept intact (the water's been refilled though, don't worry).
Details: Artichoke Pl, Camberwell Church St, SE5 8TS | Opening hours Mon-Fri 6.30am-10pm, Sat 7am-6pm, Sun 7am-10pm | £23pm membership, free on certain days if you live in Southwark | Find out more and book here
–
Finchley Lido Leisure Centre | Finchley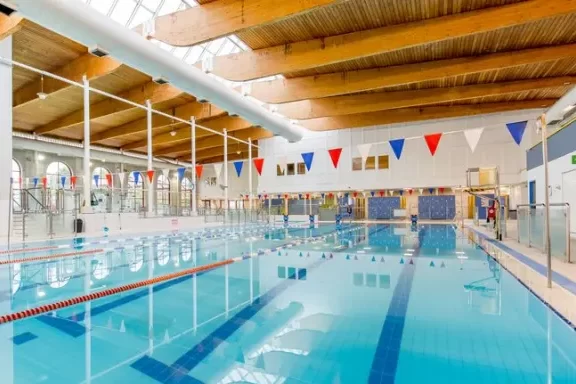 Finchley Lido Leisure Centre comes fitted out with one of the great thrills of the swimming pool world: a wave machine. They may have been scary stuff when your six-year-old self was battling valiantly trying to not drown in them, but as a fully-grown adult they're actually pretty fun. The centre is home to two indoor swimming spaces, so if you'd rather glide through the water uninterrupted there's the option of doing laps with the adults in the regular 25-metre pool instead. 
Details: Great North Leisure Park, Chaplin Square, N12 0GL | Opening hours Mon-Fri 6.45am-10pm, Sat-Sun 8am-5pm | £7.10 for a single swim | Find out more and book here
–
Golden Lane Leisure Centre | Barbican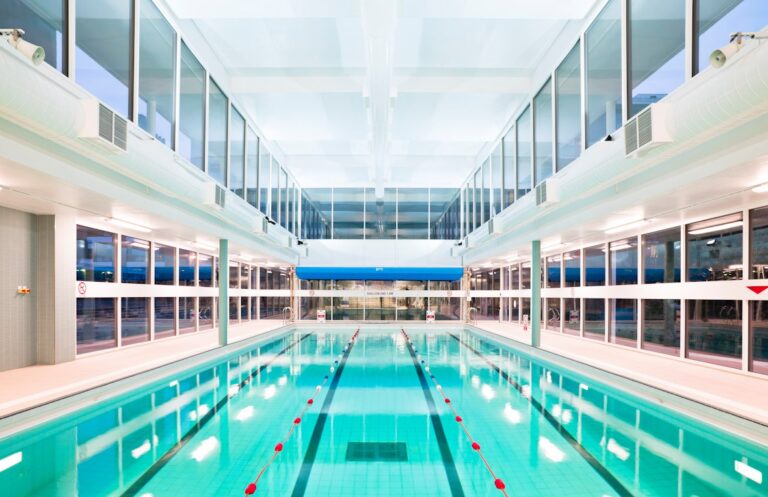 The short length of this swimming pool in the City of London (20 metres) is a shrewd way of making you appear faster than you actually are. 30 laps in 30 minutes? Easy-peasy (so long as it's done here). Aside from that there's no funny business going on and it's a dependable place to get your weekly/daily lengths in. There's a max of 20 people in the pool at one time, so you don't have to do too much ducking and dodging (and it also keeps things reasonably sanitary). The high window tally also makes it quite an atmospheric evening swim. 
Details: Fann St, Fane Lane, Golden Lane Estate, EC1Y 0SH | Opening hours Mon-Fri 8am-8pm, Sat 8am-4pm, Sun 9am-5pm | £6 for a one-time dip | Find out more here
–
Ironmonger Row Baths | Islington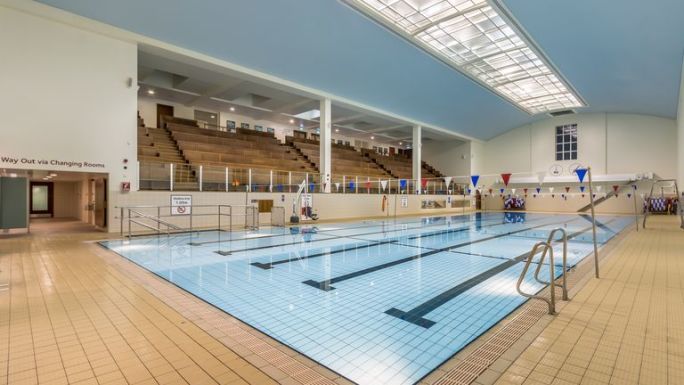 Ironmonger Row was once a public wash house in 1931, where most of the local patrons came because they didn't have their own tubs. So it was probably long overdue for a wash itself then, when it was refurbished in 2012 to the tune of £16 million. Since the refurbishment, the place has scrubbed up rather well with the bath facilities (spa, saunas, hot rooms and a plunge pool) kept in good nick and the 30-metre main swimming pool both roomy and thoroughly maintained. If you've ever had the pleasure of watching the great (but also absolutely brutal) steam room fight scene in David Cronenberg's Eastern Promises, the ones here apparently served as the inspiration.

Details: 1 Norman St, EC1V 3AA| £5.80 for a single swim | Mon-Fri 6.30am-9.30pm, Sat-Sun 9am-6pm | Find out more here
–
Marshall Street Leisure Centre | Soho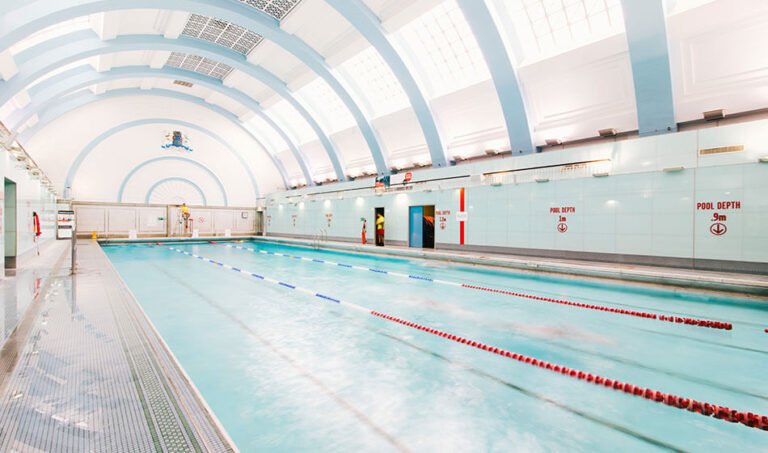 Marshall Street Leisure Centre, a whisker away from Carnaby Street, has the kind of cinematic pool that would be right up Wes Anderson's alley. You'd imagine the director probably swims here when he visits London, doing a few lengths to unwind after his media duties. It's an art-deco beauty restored back to full health in 2010 with the same pale blue and white colour scheme, Sicilian marble tiled-floors and barrel-vaulted ceiling it had when it first opened in 1931. Plus, since this is a pool in London's most vibrant neighbourhood, it's also nicely positioned for a pre or post-dip dinner at one of the best restaurants in Soho.
Details: Marshall St, London W1F 7EL | Opening hours Mon-Fri 6.30-10pm, Sat-Sun 8am-8pm | £6.35 for a single swim | Find out more here
–
Porchester Spa | Bayswater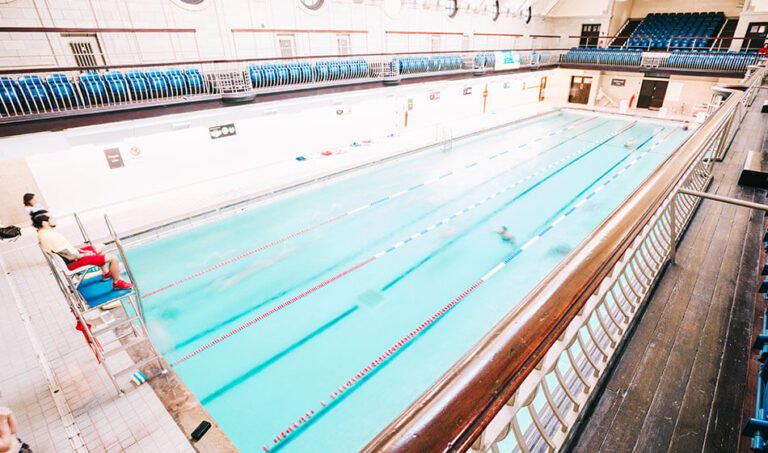 The Porchester is the capital's oldest spa having been knocking around since 1929. While that's a handy little fact to file away in your brain in case it comes up in a pub quiz sometime, it also means it's a historical place for a dip. There are two swimming pools within its Grade-II listed confines; a proper 30-metre one for your no-nonsense up and downs and a shallower teaching pool for those not yet ready for the big time. As for the spa part of the deal: hop between the three Turkish bath rooms (warm, hot and hottest) and then give your system the shock of its life in the plunge pool. Also: it's got one of the best saunas in London.
Details: Queensway, Bayswater, W2 5HS | Opening hours Mon-Fri 6.30am-10pm, Sat-Sun 8am-8pm | £23pm for membership | Find out more here
–
Kentish Town Sports Centre | Kentish Town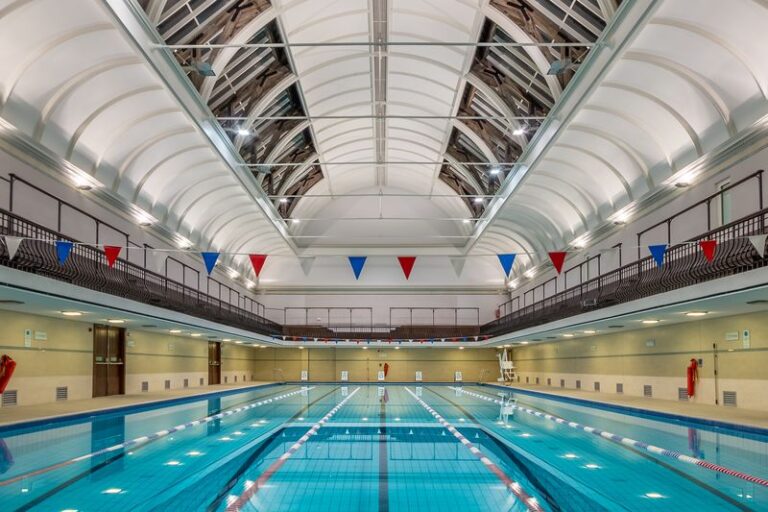 Some London pools can feel a bit like navigating a minefield where it's a continuous battle to avoid small children, shallow-end lingerers and people criss-crossing directly into your path. Not Kentish Town Sports Centre. The water spaces are divided between three level-specific pools to avoid any lane rage: a 30.5-metre one for confident swimmers (with designated slow, medium and fast lanes), a 25-metre family one for lessons and activities, and an extra shallow one for those not big enough for the deep end yet. The centre itself is a restored Grade II-listed Victoria building so it very much deserves a moment of appreciation whenever you can take a breather from the swimming. 
Details: Grafton Rd, London NW5 3DU | Opening hours Mon-Fri 6.30am-10pm, Sat-Sun 8am-6pm | £6.85 for a single swim | Find out more here
–
Virgin Active Repton Park | Woodford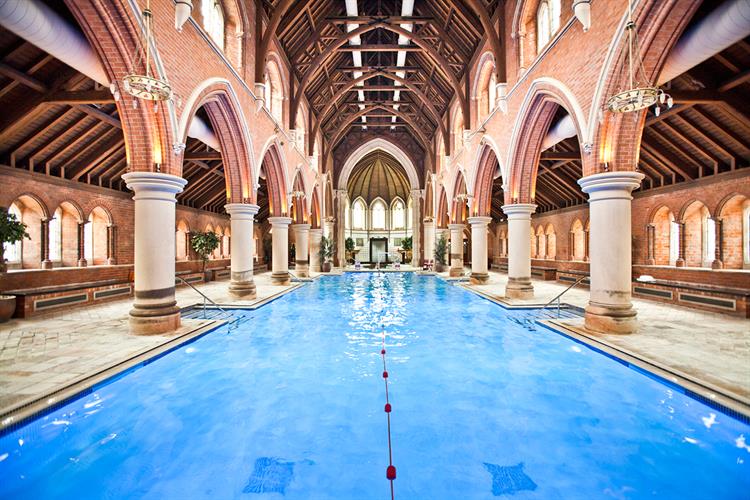 Unless you've been baptised, the 24-metre pool in Repton Park might be the closest thing in London you'll get to swimming in holy water. Perfecting your freestyle form here is certainly a spectacle, as it's housed in an old chapel where many of the furnishings have been converted to suit the space's new pool-based needs. You swim rather than walk down the aisle (with the carved stone columns, gothic arches and stained glass windows in constant view) and you can get all the bad things you've done off your chest in a sauna instead of the confessional box. It's a blessing for those that like swimming in unexpected places…
Details: Repton Park, Manor Road, Woodford Green, IG8 8GN | Opening hours Mon-Thu 6am-10pm, Fri 6am-9pm, Sat-Sun 7am-7pm | Membership from £70pm | Find out more here
–
The London Aquatics Centre | Stratford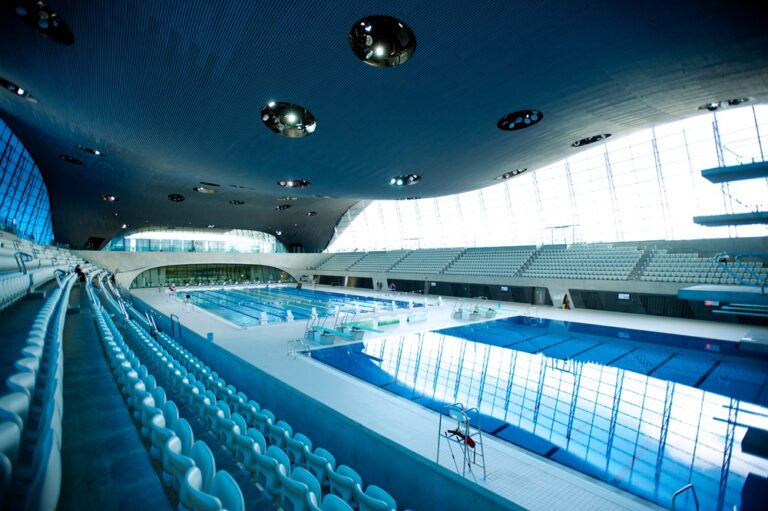 Being the site of the 2012 Olympics, you're probably not going to break any pool records here – but if it's any consolation, it's a chance to relive the games and say you've shared the same water (sort of) as some of the all-time greats. It's one for the speedo-wearers and as you'd expect from a place that hosted one of the biggest spectacles on the planet, the facilities are as high-tech as can be with an Olympic-sized (50 metre) competition pool, training pool and gym. It also wins a gold medal for futuristic design – the work of the late Pritzker Prize-winning architect Zaha Hadid, the London Aquatic Centre is possibly (depending on your taste, of course) the sleekest swimming pool in London, if not in the world. Seen Tom Daley on the telly and think you can do it better? Go and take on the diving pool with its various platforms and springboards. 
Details: Queen Elizabeth Olympic Park, E20 2AQ | Opening Hours Mon-Fri 6am-10pm, Sat-Sun 6am-5pm | £6 for a single swim | Find out more here
---
Prefer to keep your exercise on land? These lush parks in London are good for that…