Made a royal borough when local gal Queen Victoria died in 1901, Kensington has retained a certain regal quality ever since.
Home to London's most expensive properties, whose occupants wouldn't think twice of popping to Harrods for the weekly shop, the neighbourhood also has more superlative museums than seems fair on the rest of the capital. Plus it's not all high culture – there's plenty of other things to do in Kensington, from eating and drinking in character-packed venues to taking a dip in one of the capital's most iconic parks. A romp round a museum followed by a couple of pints? We're sure even Queen Vic would be amused…
–
1. ENTER AN ARABIAN-STYLE PALACE
Leighton House lies on a fairly typical residential street near Holland Park – but you'll wonder if you stepped through some sort of wormhole and popped out in the Middle East once you're through the door. The one-time home and studio of the Victorian artist Frederic, Lord Leighton is packed with artwork and treasures collected from his travels, its interiors inspired by his love of Turkey, Egypt and Syria. The centrepiece is the Arab Hall, a riot of patterned tiles, marble columns and delicate latticework. After an £8m renovation, the museum now has a new wing, with extra exhibition space, a café and more of the house's historic features restored.
Details: Leighton House, 12 Holland Park Road, W14 8LZ | Open Wednesdays to Mondays | £11
–
2. THEN NOSE AROUND A VICTORIAN FAMILY RESIDENCE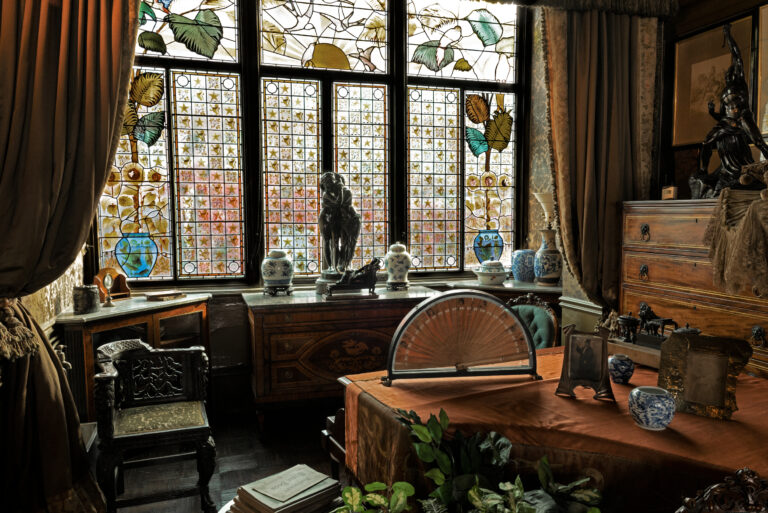 Just an eight minute stroll away, Sambourne House was once the home of Edward Linley Sambourne, Punch Magazine's old chief cartoonist. The place has been preserved as it was in 1875 when he and his family lived here, and it's excellent chance to get a close-up, unaffected view of Arts and Crafts Era interior design (rare Morris & Co wallpaper, antique clocks, fully furnished rooms) and a gist of how the people of the period lived. And if this example is anything to go by, you'll understand that minimalism did not feature in their vocabulary.
Details: 18 Stafford Terrace, London W8 7BH | Open Weds-Sun | £11, or £20 in combination with Leighton House
–
3. HUNT DINOSAURS AT THE NATURAL HISTORY MUSEUM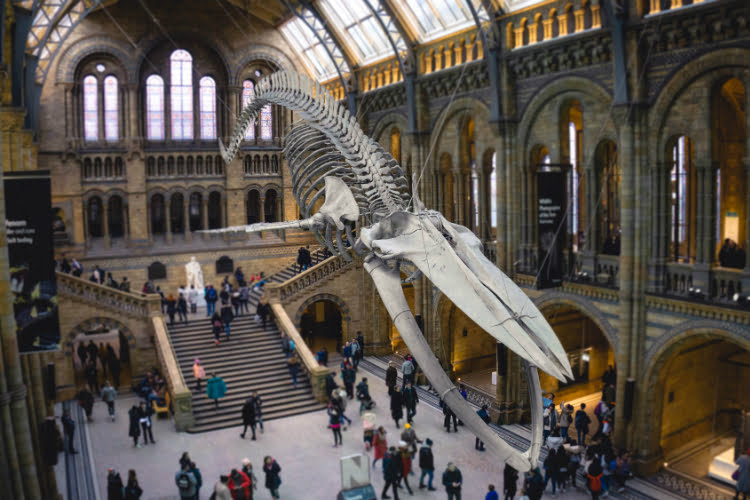 It's worth going to the Natural History Museum simply to ogle the building – you'll likely spend so much time staring at its extraordinary main space, Hintze Hall, it'll be closing time before you get round to seeing any actual exhibits. Not that you'll ever see everything anyway. There are 80 million objects held in the collection, with highlights including animatronic dinosaurs, a meteorite as old as the solar system, the first Neanderthal skull ever found and its most famous resident, Hope the blue whale skeleton. Look out, too, for behind-the-scenes tours and monthly Museum Lates, which allow you to complete your ogling with a drink in hand.
Details: Natural History Museum, Cromwell Road, SW7 5BD | Open daily | Free entry, exhibitions up to £15.50
–
4. CELEBRATE THE LAND OF THE RISING SUN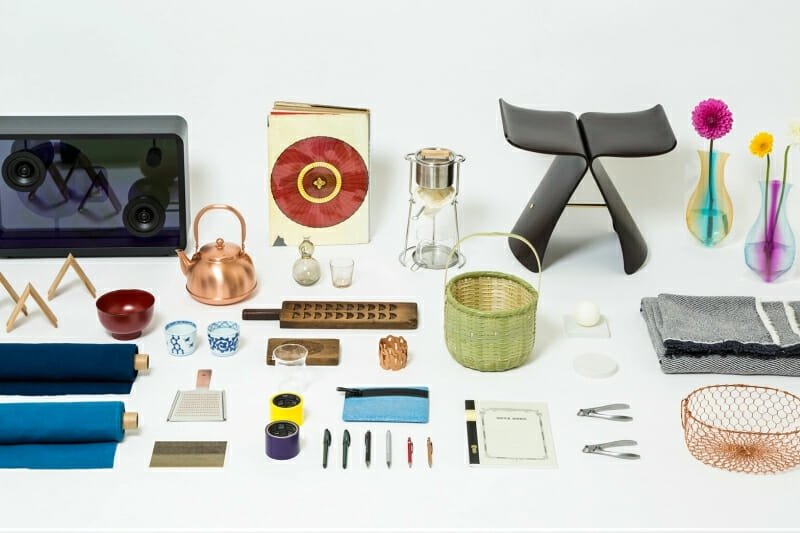 Of all the things to do in Kensington, slipping to Japan for a while may not be the first thing that springs to mind. But that's exactly what's on offer at Japan House, a cultural centre devoted to all things Nippon. There are three floors given over to the pleasures of food, design, technology and art, with a changing rota of exhibitions, screenings and workshops. It's almost impossible to walk through the shop without buying something you didn't know you needed, perhaps a toothbrush stand or a teeny tiny tea cup. Complete the journey at in-house restaurant AKIRA, with dishes prepared and presented with as much precision as everything else in the building.
Details: Japan House London, 101-111 Kensington High Street, W8 5SA | Open daily | Free entry
–
5. UNCOVER WEIRD AND WONDERFUL TREASURES AT THE V&A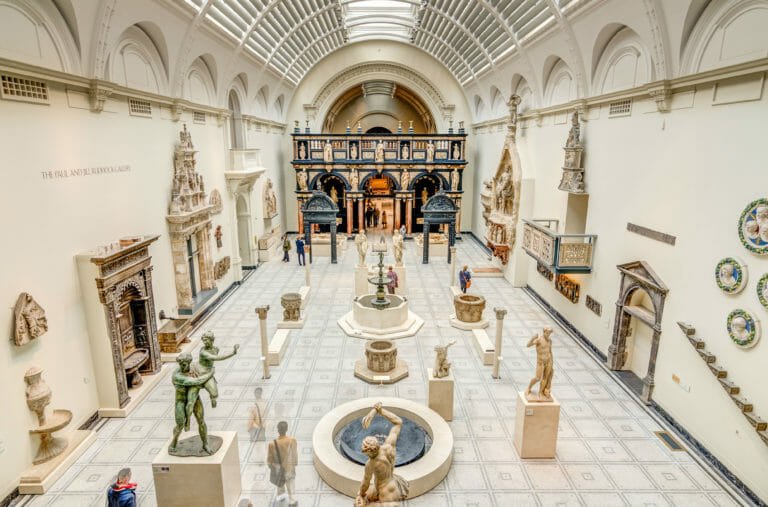 How to describe a museum that seems to contain, well, just about everything? Officially, The V&A is devoted to 'art and design', but that hardly seems to do it justice. A visit here feels like a fascinating trawl through the nation's attic, making it one of the very best things to do in Kensington. With 2.8 million objects covering '5000 years of human creativity' in the collection, if you can imagine it, you can probably find it in a glass cabinet here. A badger's paw amulet? Check. A wax sculpture of a damned soul? Yep. A life-size model of a tiger mauling a British soldier? Of course. Keep a look-out for innovative temporary exhibitions and late-night shenanigans, too.
Details: V&A Museum, Cromwell Road, SW7 2RL | Open daily | Free entry, exhibitions from £14
–
6. TIME TRAVEL THROUGH BOOZE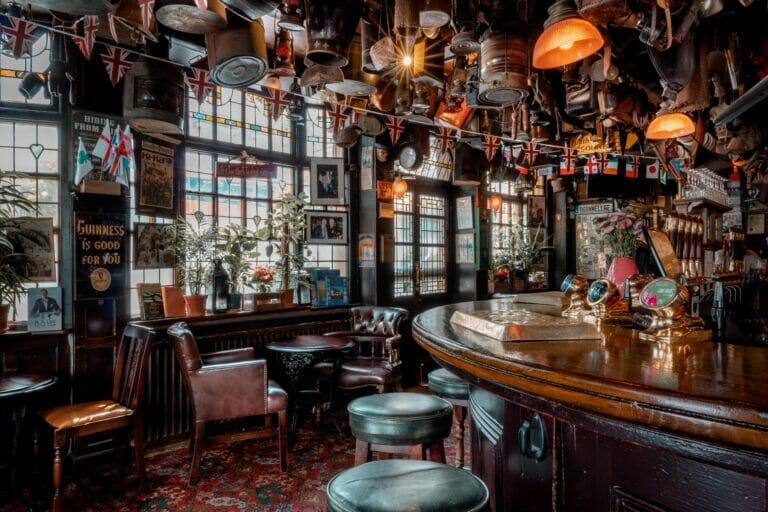 Churchill famously started each day with a whisky and soda in bed, as a mere warm-up to the rest of the day's drinking. You can attempt to keep up at his namesake pub. You won't have any trouble spotting the The Churchill Arms – the exterior is entirely covered in flowers. The eccentricity continues inside, with every inch swathed in oddments, from tin buckets dangling on the ceiling to framed prints of the wartime PM on the walls.
Details: 119 Kensington Church Street, W8 7LN | Open daily | Book a table
–
7. DISCOVER CUTTING-EDGE ART IN THE PARK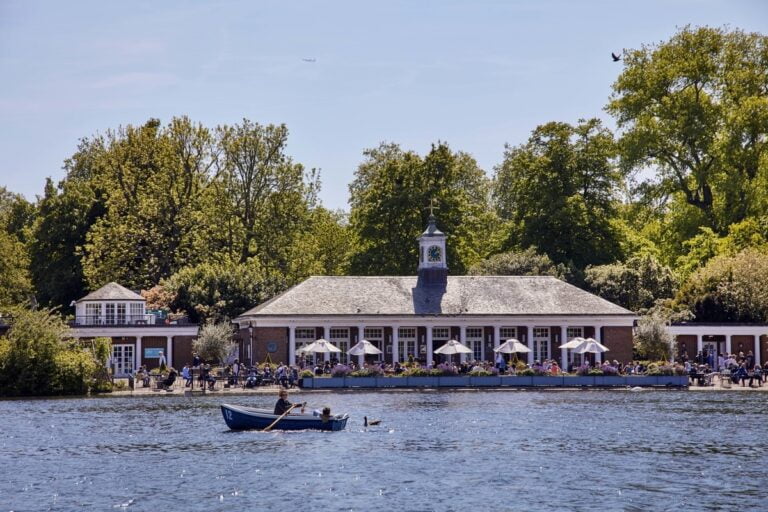 Hyde Park lays claim to several of the best things to do in Kensington: take a stroll through the rose gardens, catch live music from the bandstand on summer weekends or brave the chaos of Winter Wonderland at Christmas time. The Serpentine – a huge artificial lake at the centre of the park – has rowboats and pedalos to hire, or you can take a dip in the Serpentine Lido. Then there's the other Serpentine, a.k.a the Serpentine Galleries: two exhibition halls sitting either side of the lake, each showcasing some of the world's most boundary-pushing contemporary art. A bonus attraction: their exhibitions are entirely free. And each summer, Serpentine hosts a new Pavilion – a commissioned, temporary architecture (and guaranteed talking point) – within its grounds.
How to spend the perfect day in Hyde Park
Details: Serpentine North Gallery, West Carriage Drive, London W2 2AR | Serpentine South Gallery, Kensington Gardens, London W2 3XA | Open Tuesday – Sunday | Free entry
–
8. MAKE A DESIGN FOR LIFE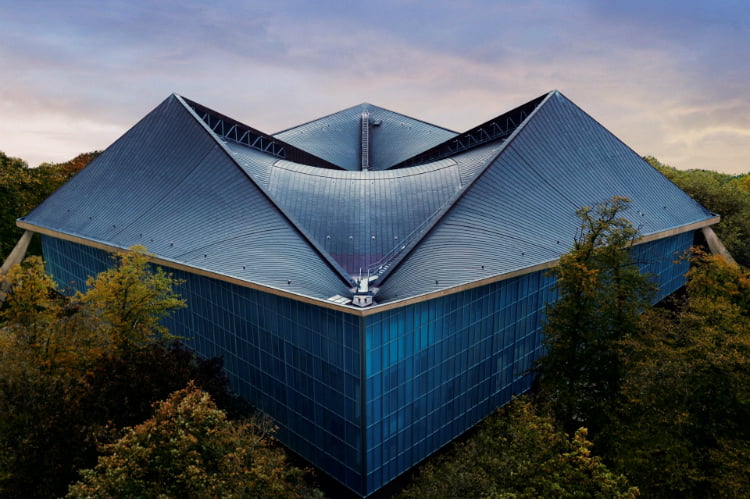 In a futurist building that squats like a grounded alien spaceship just off High Street Kensington, The Design Museum will have you mulling over the role of design in everyday life before you're even through the entrance. The museum showcases 20th- and 21st-century design over three floors. There are plenty of workshops and temporary exhibitions, with subjects ranging from football to surrealism, while the 1,000 objects in its permanent exhibition 'Designer Maker User' provide a fascinating introduction. You'll never look at motorway road signs, the tube map and Xbox controllers in the same way again.
Details: The Design Museum, 224–238 Kensington High Street, W8 6AG | Open daily | Free entry, exhibitions from £9.50
–
9. GET A GLIMPSE INTO THE FUTURE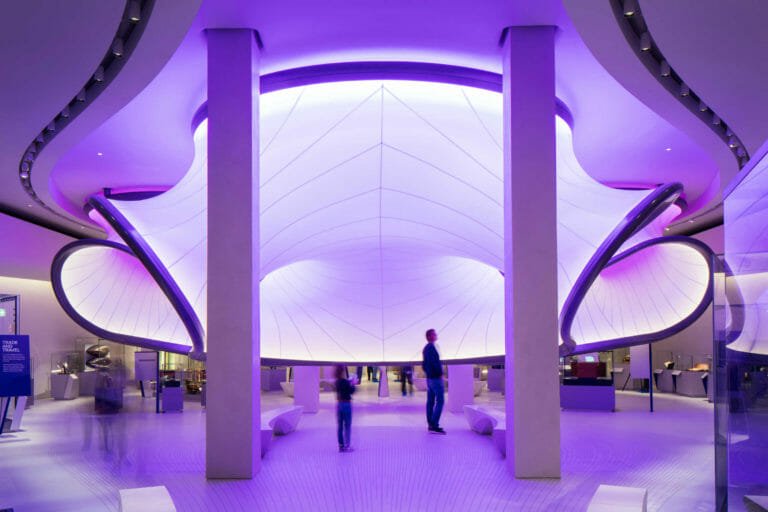 Forming part of Albertopolis, a cluster of some of London's best museums near South Kensington tube, the Science Museum has been informing and entertaining the nation for over 160 years. As you might expect given the subject matter, there's plenty of chances to get interactive over its seven floors, including live chemistry experiments, light shows, VR experiences and an IMAX theatre. Families should make a beeline to the Wonderlab for fun, kid-friendly exhibits. Grown-ups might prefer the adults-only after hours Lates, with cocktails, silent discos and a pub quiz making all that learning even more palatable.
Details: Science Museum, Exhibition Road, SW7 2DD | Open daily | Free entry, exhibitions up to £20 | Book tickets
–
10. BELT OUT SOME TUNES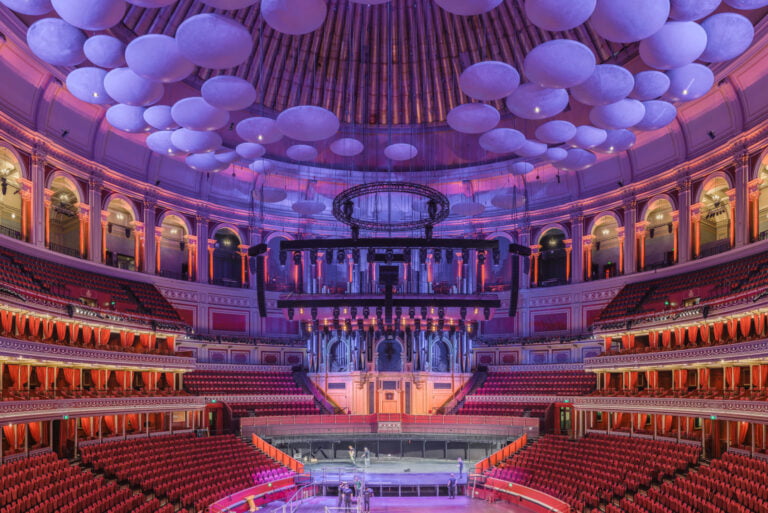 Whether your tastes run to 1950s easy-listening, eighty-piece symphony orchestras, brass bands or the latest electronica, there'll be something on the schedule to draw you into the Royal Albert Hall. The circular, dome-topped venue opposite Hyde Park opened in 1871, and has been surprising audiences with its eclectic offering ever since. It also hosts a number of regular celebratory events, including the BBC Proms, Letters Live and the Brit Awards – but if you're after something a little less grand, check out the intimate, candlelit gigs with solo artists and smaller groups in the Elgar Rooms. Outside of performances, go on a behind-the-scenes guided tour of the Victorian building, have afternoon tea, join a workshop or sign up for a talk.
Details: The Royal Albert Hall, Kensington Gore, London SW7 2AP | Book tickets
–
11. FIND THE PEACOCKS OF KENSINGTON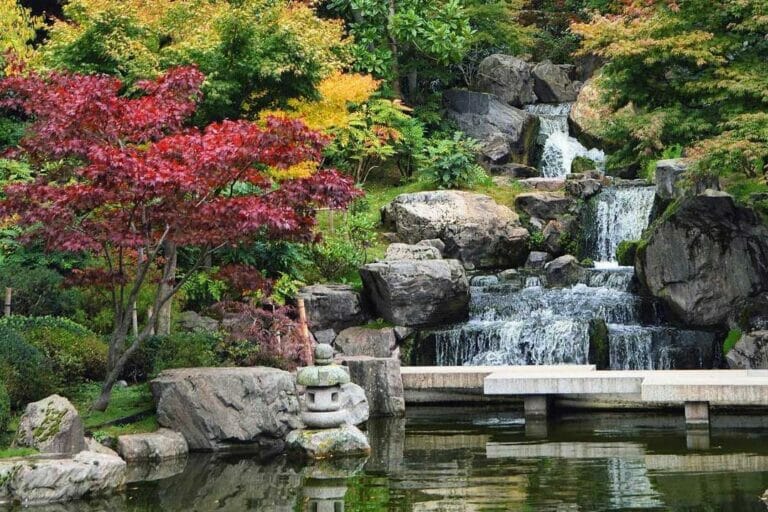 It's a bit of a mystery where the peacocks of Holland Park came from. What's in no doubt is how very much at home they are within the grounds. The resplendent fowl can be found strutting about the park, bobbing in and out of the shrubbery and occasionally shrieking at surprised passersby. They roam freely, but a good place to spot them is in Kyoto Gardens, in the northern section. A gift to the borough from the Japanese city in 1992, this is a lovely place to hang out, with an ornamental pond (complete with koi carp), native Japanese flora and a pagoda likely to induce feelings of Zen.
Details: Kyoto Garden, Holland Park, Holland Park Avenue, W11 4UA | Open daily | Free entry
–
11. FEAST IN ONE OF KENSINGTON'S FINEST RESTAURANTS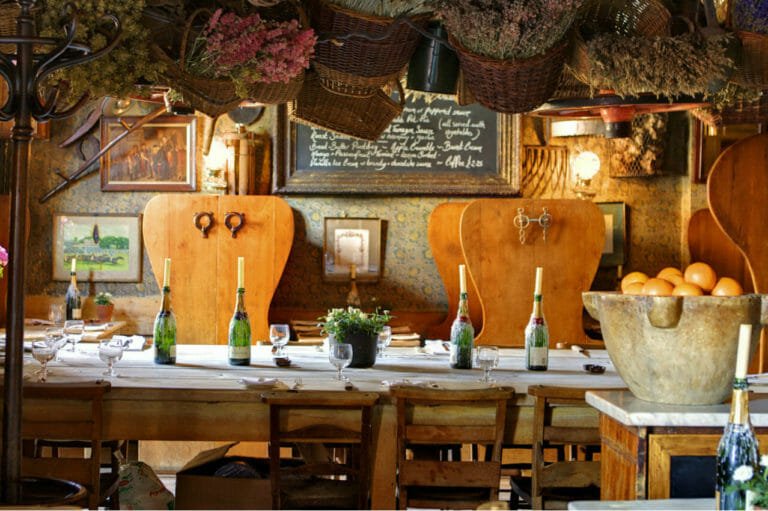 Stuffing your face is one of the best things to do in Kensington. Every Londoner should have a meal at Maggie Jones's at least once in their lifetime – stuffed to the gills with rustic bric-a-brac, the restaurant seems to have been whisked from the British countryside circa 1920 and serves a menu of old-school classics including fish pie and calf's liver and bacon. At the other end of
the spectrum, Caractère is the first restaurant from Emily Roux, of the famed culinary dynasty. Expect romantic interiors; impeccable service; and French/Italian inspiration in seasonal dishes such as slow-cooked cuttlefish and veal sweetbread.
See all of the best restaurants in Kensington
–
---
Looking for more inspiration? Check out the best things to do in London this month