It's never been easier to be vegan. Not only that, it's never been easier to be vegan and – not to put too fine a point on it – realllly stuff your face. So, whether you're being guided by ethics, gluttony, or, if you're being honest with yourself, a bit of both – here's exactly where you can find London's vegan breakfasts that'll have you eating like an animal, without any being harmed in the process.
Café Van Gogh | Brixton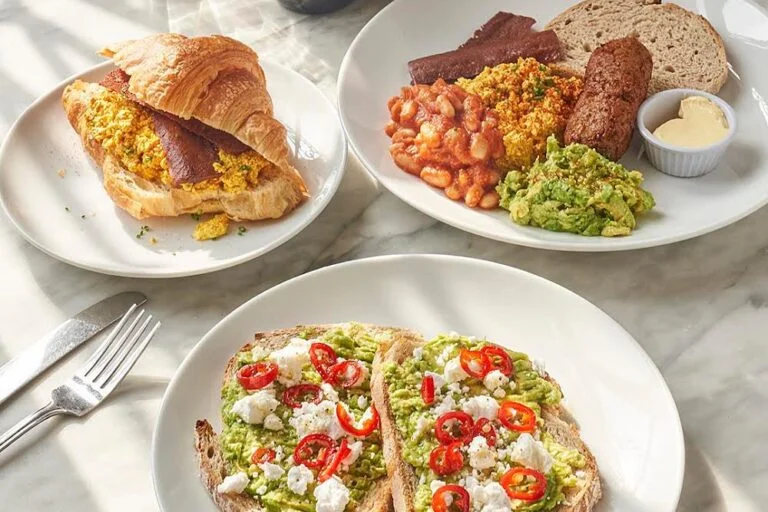 Come for the delicious vegan Full English, stay for the social mission. Yep, as well as being an essential Saturday destination for those in search of a mouth-watering vegan breakfast menu (there's the aforementioned Full English, plus stunning buttermilk pancakes and dangerously addictive pastries), Brixton's beloved Café Van Gogh operates a wonderful pay it forward scheme. One can order a 'suspended coffee', or other non-alcoholic drink, and it will be added to an account which someone else can claim later, completely free, no questions asked. Food that's good for the soul as well as the stomach.
Details: 88 Brixton Road, SW9 6BE | Book here
–
Wulf & Lamb | Chelsea and Marylebone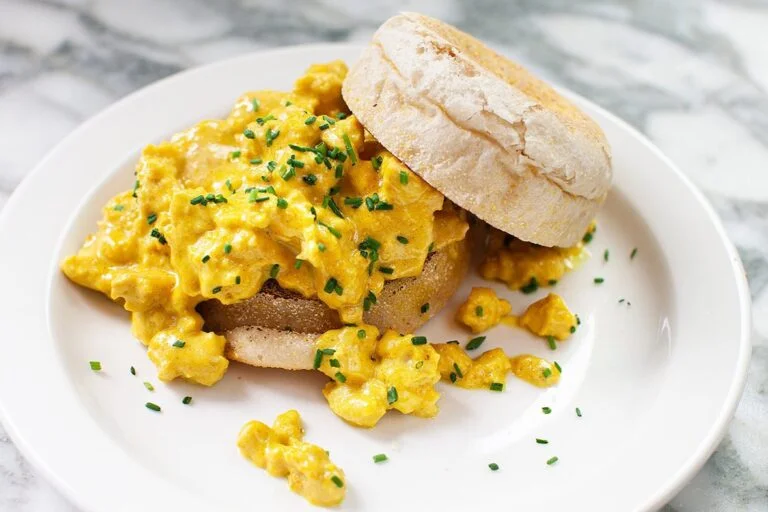 All day, all vegan. Wulf & Lamb offers two (bougie) outposts – Marylebone and Chelsea – slickly serving up plant-based goodness morning noon and night. But if it's an indulgent vegan breakfast you're after, then in Chelsea you'll be on the hunt for the Tex Mex wrap (the black beans and salsa are set off beautifully by the coriander cashew cream dressing), or the open burrito with ackee, rice, and rich datterini plum tomatoes, whilst over in Marylebone you should treat yourself to the jackfruit wrap with spinach and vegan cheese, or take a punt on the 'scrambled muffin' made with smoked tofu (no, honestly – it's superb). You'll wulf it down.
Details: 243 Pavilion Road, SW1X 0BP | 66 Chiltern Street, W1U 4EJ | Book here
–
Miranda | Crouch End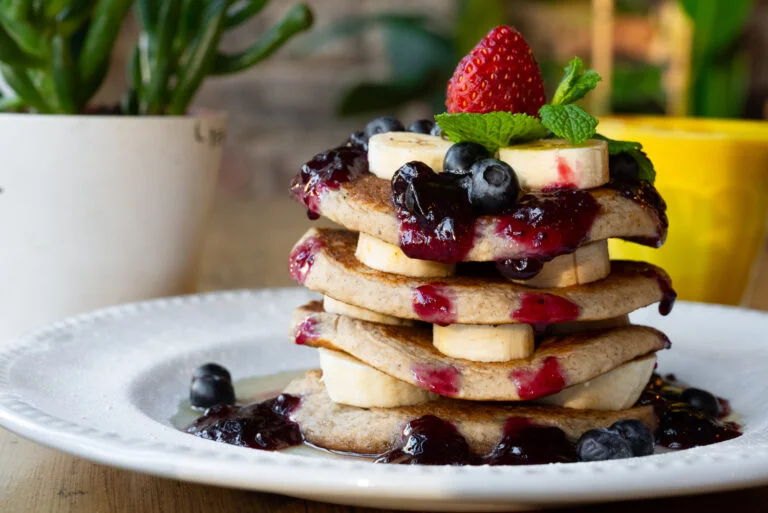 It's more-or-less impossible to leave Miranda unsatisfied. Though the Crouch End café is wonderfully casual and down-to-earth, there's a hint of indulgence to all of its dishes – the American breakfast comes topped with generous quantities of maple syrup, and the ultimate English breakfast lives up to its name, its 'bacon' coming with a portion of cheddar cheeze for good measure. The El Pastor burrito is a reliable highlight, as are the Okonomiyaki pancakes (a must if you've never tried them) – but, if you're dining with a hungry pal, throw caution to the wind and tackle the Gran Desayuno Criollo, an heroic Caribbean Feast offering arepas, pico de gallo salad, hummus, guac, vegan bacon, and much much more. 
Details: 28 Broadway Parade, N8 9DB | Book here
–
Kin | Fitzrovia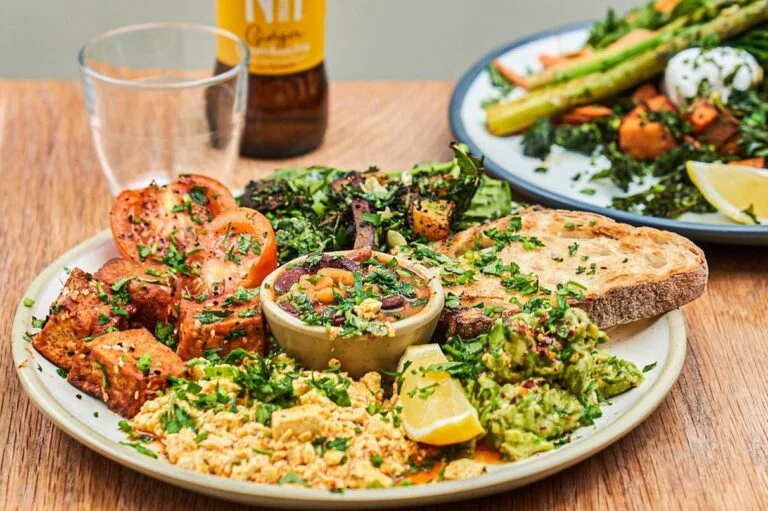 Fitzrovia mainstay Kin focuses on flavoursome, seasonal fare that won't make you feel like you're depriving yourself of anything fun – and indeed, with breakfast dishes including vegan waffles with caramelised banana, mixed berries, peanut butter, agave nectar, and berry compote, you're not. If you're strapping in for a Saturday brunch then you've got the choice of either the Kin Benedict on sourdough (sesame cube tofu and vegan hollandaise are available, as are – whisper it – poached eggs for your non-vegan friends) or the Kin Weekend Deluxe – which includes grilled pepper, wild mushroom, crushed avo, and tenderstem broccoli – all washed down with some pleasingly punchy cocktails.
Details: Foley St, W1W 6DT | Book here
–
WAVE | Hackney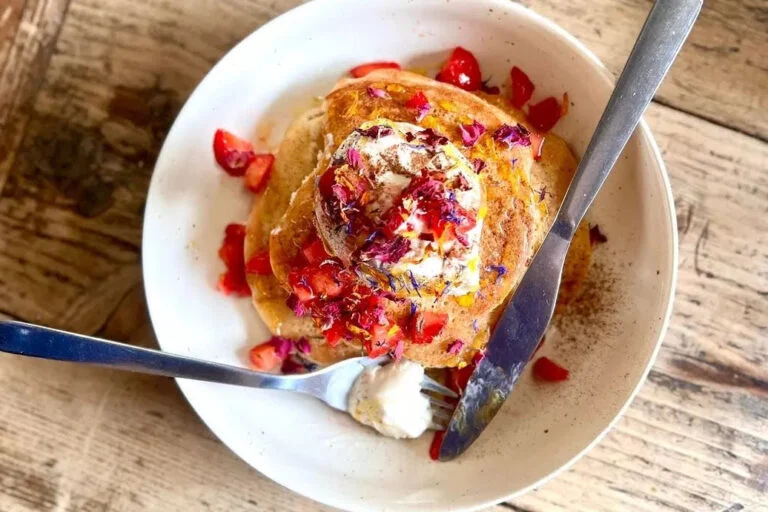 Give a big hand for WAVE (it's an acronym – We Are Vegan Everything) who are serving up stellar vegan breakfasts to the digital strategists and fashion PRs of Hackney. Founded by two friends, Cait and Soph, with a passion for – in their words – "vegan cuisine, minimalist homeware and a sunshine lifestyle", WAVE reflects their passions admirably. In their ever-so-trendy Dispensary Lane café, you can get stuck into brilliant vegan sausage rolls, superb 'Stokey Poké', and the inevitable smoothie bowl. They've got a pleasingly eclectic drinks selection too – try an indulgent peanut butter hot chocolate, or explore the mysteries of 'salted coffee', a latte-style number flavoured with Himalayan salt and agave. 
Details:  11 Dispensary Lane, E8 1FT | No bookings – find out more here
–
Mildreds | Soho, Covent Garden, King's Cross, Camden, and Dalston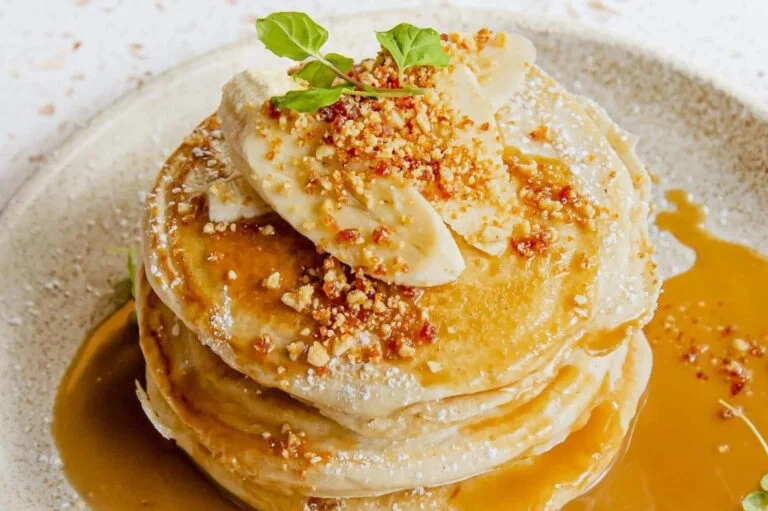 A genuine London institution, Soho stalwart Mildreds (which has now branched out to a number of outposts across the city) has been serving totally plant-based food since the late-80s, when it was still considered a dangerous niche fad and not "probably what we should all be doing for the good of our health and the planet, actually". When it comes to their vegan breakfasts, the kimchi toastie is a triumph, the whipped avo on toast is a masterclass in how the dish should be done, and the sweetcorn fritters with tomato shaata are so good they'll make you learn what tomato shaata is (it's a cross between tomato sauce and chimichurri, which is exactly as delicious as it sounds). In deference to its Soho surroundings, Mildreds also politely offers a heady cocktail list (you won't regret the blood orange and rosemary margarita, at least not at the time) and a particularly joyful wine list. Here's to another 30-odd years.
Details: Various Locations | Book here
– 
Black Cat Café | Hackney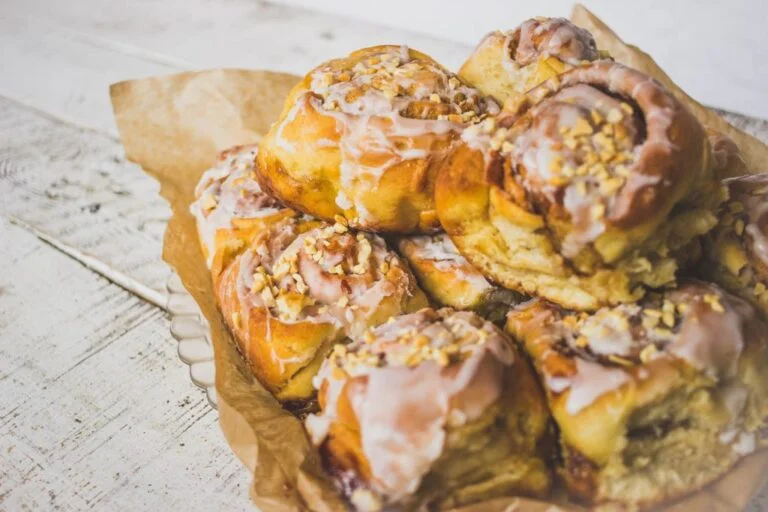 It's good luck when you cross the path of Black Cat in Hackney – particularly if you're in the market for an excellent meat-free meal, served from an expansive and ever-changing menu. They describe it as "scratch-made comfort food", which really does sum up the vibe, if not the style of cuisine (which is delightfully varied). So, depending on the day, you might find yourself tucking into one of their classics (like the cream cheese and salmon-style NY bagel or the seitan burger), one of their hearty soups (the rustic minestrone soup is dependably soul-nourishing), or one of their many specials (anything from moussaka with red lentil mince to Viet-style rice noodle salad). They're also open from 10am on weekends, which in our eyes is a perfectly reasonable time to swing by for a typically healthy vegan breakfast of… cakes and pastries.
Details: 76A Clarence Rd, E5 8HB | For more information, visit their website here.
---
Breakfast…sorted. Dinner? You'll want to have a look at our collection of the best vegan-friendly restaurants in London…