Nothing beats a great glass of wine.
Trust us, vino.
Especially when that glass of wine comes to you from the team behind Michelin-star winner Barrafina, in an impeccably designed converted railway arch in King's Cross; or a Clapton-based wine-shop and bar, alongside food from a rotating list of some of London's best chefs.
Whether you find yourself stuck in the crowds of Soho or wandering along the river parched and in need of a drink, there's not just a good, but a great wine bar near by. We know because we went ahead and tried them all on your behalf, before listing what we believe to be the crème de la crème – the best wine bars in London – below.
–
Hector's | De Beauvoir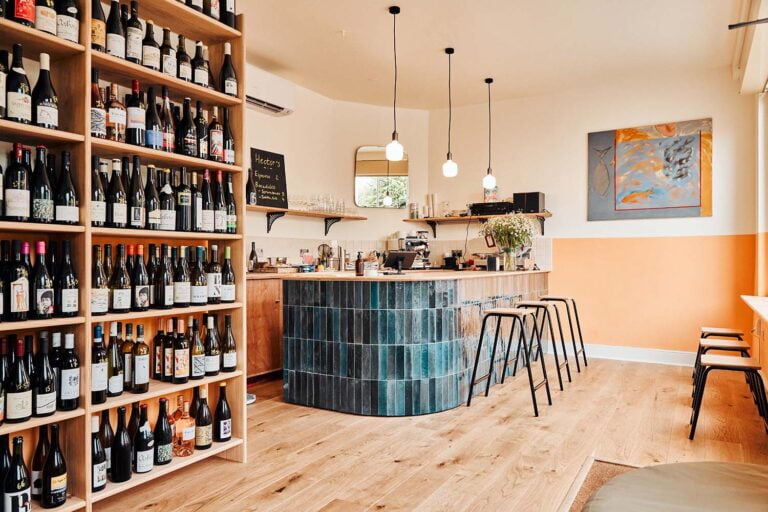 A proper exciting new addition to the London wine scene is Hector's, a bottle-shop, bar and cafe from Jimmy Stephenson (Hill and Szrok) and Anna Shaffer (of Harry Potter and Witcher fame). They've opened up in De Beauvoir – a small, peachy space, serving Climpson coffee, pastries, and crispy Spanish Bocadillos by day, and wine and European small plates by night. Think Cantabrian anchovies soaked in olive oil and sprinkled with rose petals, or pig's head terrine with cornichons, washed down by everything from old world classics to more funky natural stuff. It's the type of place you could spend a whole evening, where the lights are low and the windows steam and you keep finding a reason not to go home.
Details: 49a Ardleigh Road, London, N1 4HS
–
Cave Cuvée | Bethnal Green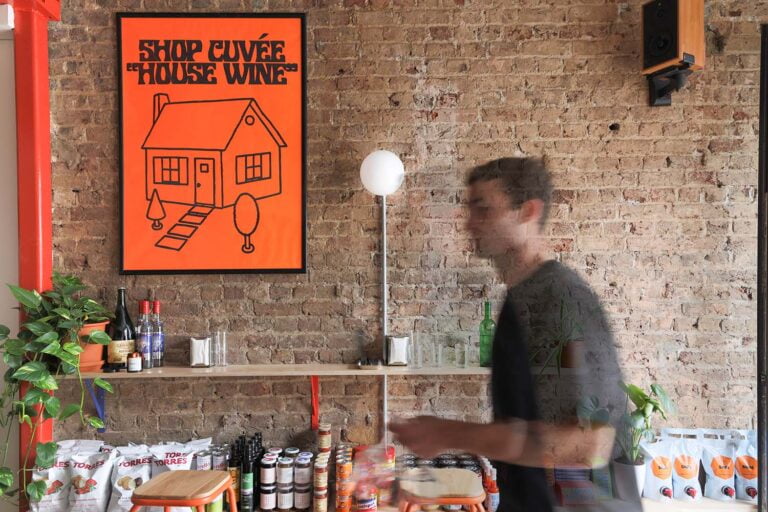 Top Cuvée – the beloved natural wine bar and restaurant in Highbury – just got a younger sister. Which, like a lot of younger sisters, is smaller, yes, but also arguably cooler. Upstairs is a bottle shop (Shop Cuvée), selling hands down one of the best selections of natural wine in the city. Downstairs is a stripped back (verging on scruffy) subterranean bar and restaurant, also serving up some serious natty wines, as well as cocktails designed by the fellas over at award-winning cocktail bar Three Sheets. For eats you'll find a number of simple, ingredient-led small plates: dry aged beef tartare or terrines du jour, as well as some really delicious, locally-sourced cured meats and cheeses to compliment the wine.
Details: 250A Bethnal Green Road, E2 0AA
–
The Red Room | Mayfair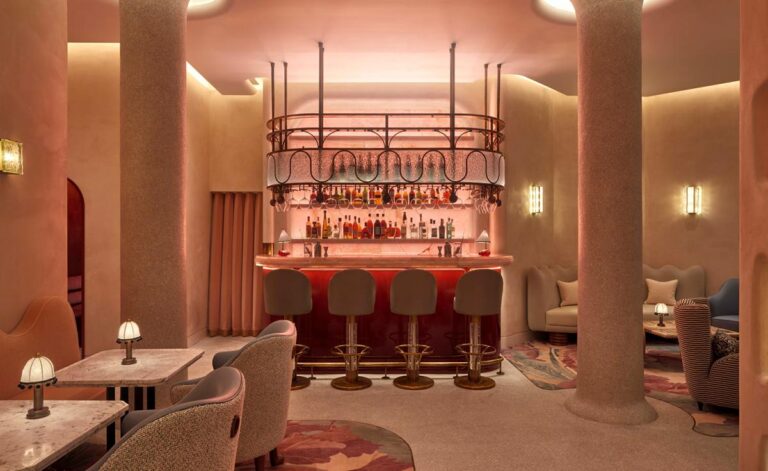 The Connaught has an amazing Champagne bar, with a nice list of vintage bottles and Champagne cocktails. But it's what you'll discover behind the velvet curtain that's of most importance to us today, because this is The Red Room: a beautiful, marble-clad wine bar with a mere thirty thousand bottles in the cellar…
Details: The Connaught Hotel, Carlos Place, W1K 2AL 
–
The Mulwray | Chinatown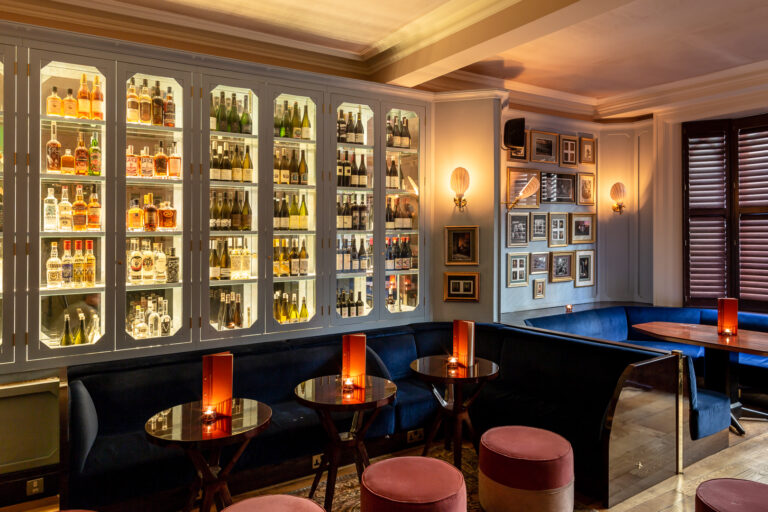 Hidden away above The Blue Posts pub in Chinatown, The Mulwray is named for Faye Dunaway's character in the iconic movie, and it's every bit as alluring. The space is a richly decorated lounge of dark velvets, marble and satin brass details contrasting with furnishings in soft pink. There's an entire backlit wall of wine dominating one side of the room, but the centrepiece is the golden brass bar, where you can order from their extensive list of highly interesting wines. Each of the staff seems to have a seemingly encyclopaedic knowledge of grape hooch, and can navigate the menu for you with gleeful aplomb. Everything on there's from a sustainable & bio-dynamic vineyard, and what comes out is always interesting. They've even gotten themselves a Coravin system, should you want to explore by the glass. And trust us, you will.
Address: Upstairs, 28 Rupert Street, W1D 6DJ
–
The Sourcing Table | Peckham & Crystal Palace
Have a friend from South London who's now a natural wine convert? This is the likely source… and you can't blame them really; step foot inside and you too will fall prey to The Sourcing Table's vast collection of 400-odd bottles of organic, artisanal and natural goodness, which you can drink inside (for a corkage fee) or outside (we know, as long as it's sunny) when they set up little tables on their front patio. Naturally, you can bring bread, cheese and charcuterie into the fold as well, plus your dogs as both their bars are pet friendly…
Details: 184 Bellenden Rd, London SE15 4BW | 67 Westow Hill, Crystal Palace, SE19 1TS
–
Veraison Wines | Camberwell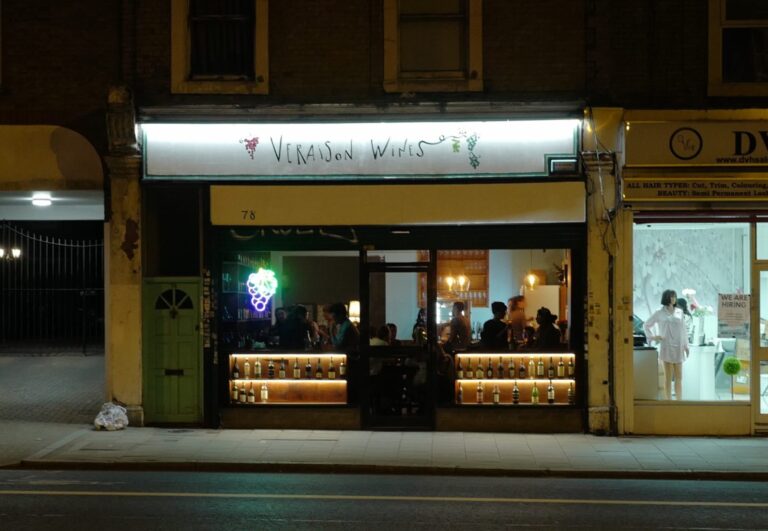 Another in this stretch of Camberwell's low-key growth as a budding food and drink force (joining the likes of Theo's Pizzeria and the Camberwell Arms), Veraison is the sort of wine hideout that wouldn't look out of place in a town in the Loire Valley, thanks to its wood-accented interior and library-like shelves stacked with artfully-designed bottles of mostly small-scale wines. Turn up on Thursday evenings for weekly tastings (at £30 a pop) and leave a scholar on subjects like orange wine (or as you'll soon find out, skin contact whites), while there's moreish raclette toasties to nibble on if you get hungry. 
Details: 78 Camberwell Church Street, SE5 8QZ
–
The Winemakers Club | Farringdon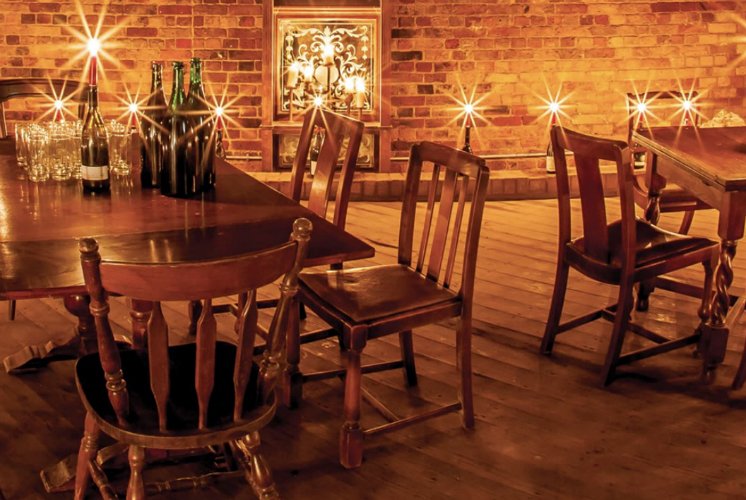 This one's a big cellar… Seriously. It served as a wine cellar for merchants like Oddbin's for over 150 years. More recently however it's been taken over by a very friendly John Baum, who uses the space as his office, warehouse, and tasting room by day; before lighting a few candles and offering it up as a moody, subterranean drinking den come night. You'll find it in the rather musty Victorian archways below Holborn Viaduct, where, for just £12 corkage, John will happily help you pick out a suitable bottle of wine, whether that's something cheap and cheerful, or something a little older and rarer from his own private collection. Plus there's food – locally-sourced cheeses and charcuterie, both of which make for pretty big sellers too.
Address: 41a Farringdon Street, EC4A 4AN
–
Bottle & Rye | Brixton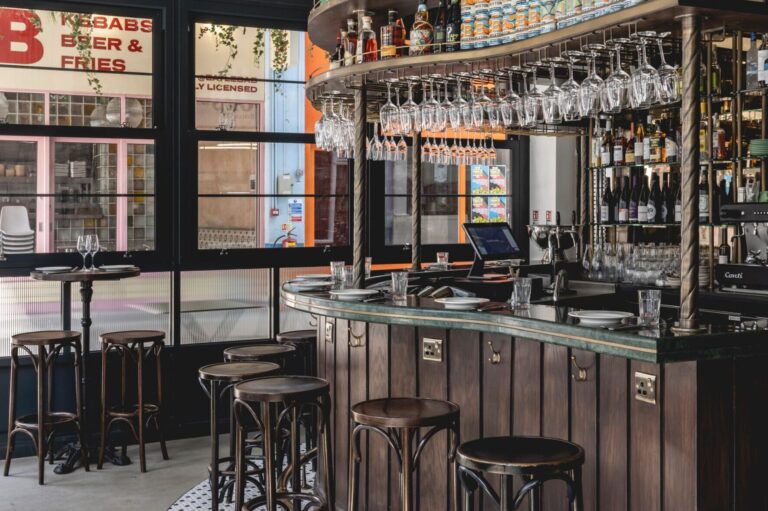 Addressing this first: five quid for a glass of white wine. A Catarrato bianco from Sicily. In terms of cost-effective classy wine drinking, you can't do much better in London. Found at the entrance of Brixton Market, Bottle & Rye is the work of Robin Gill and his wife Sarah, who never miss when opening up restaurants and bars (just look at Maria G's recently for proof). Here they've gone to France for inspiration, styling the place out like a Parisian wine bar, and trusting old pal Lewis Wright (who's been in charge of the wine at multiple Gill restaurants) to compile the largely low-intervention-leaning list. Besides a desire to drink loads of wine, come with an empty stomach too – small plates like the Cantabrian anchovies on the toast and trout pastrami house pickles are attractions in their own right…
Details: 404-406 Market Row, SW9 8LD
–
Lady Of The Grapes | Covent Garden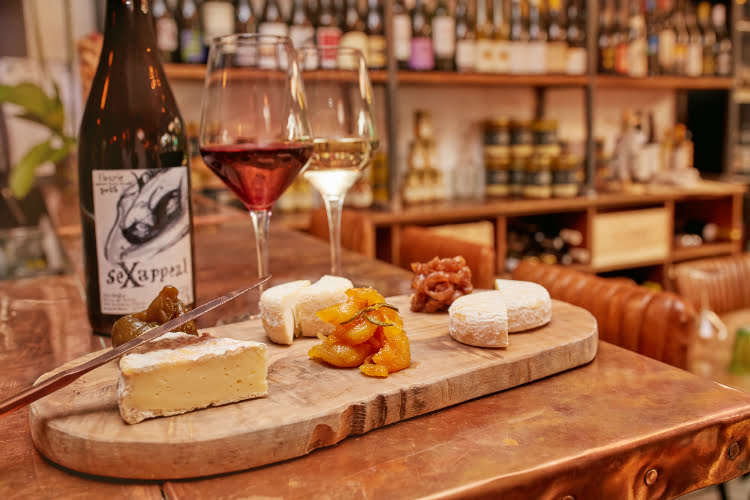 According to the patriarchy women are known to wine…*rolls eyes at the patriarchy.* Although there is one type of wine they should quite rightly be known for: the grape kind, which is exactly what petite, candle-lit, Covent Garden-based wine bar Lady Of The Grapes hopes to make happen. Their aim is to shine a light on female wine-makers in what is currently a very male dominated environment. They have a range of around 15 wines by the glass and 100 by the bottle – but don't let that intimidate you because they also have plenty of know-their-stuff staff on hand to guide you through them. They also offer a few nibbles: charcuterie, cheese, and/or…melted cheese. There's melted camembert with caramelised onion, hazelnuts, and rosemary; potatoes, pancetta and cornichons, with melted truffle raclette; and cheese fondue – 250g of melted cheeses with an abundance of crusty bread.
Address: 16 Maiden Lane, WC2E 7NJ
–
Humble Grape | Across the city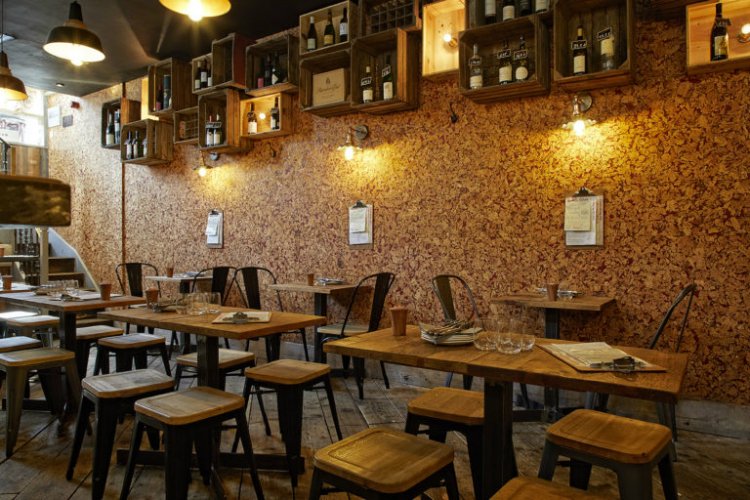 A visit to a wine bar can often leave you feeling a little merlot… As if picking a colour isn't hard enough, you then have to pick a country, and a grape, and all in about twenty-three seconds before the waiter starts rolling their eyes. Not at Humble Grape, however. Instead their aim is to make wine more approachable and enjoyable for everyone. No question is a stupid question, something you'll quickly learn from their knowledgeable yet utterly forgiving staff. Instead you're encouraged to ask who, what, and why as you see fit, all of which they'll do their best to answer in a friendly, digestible way. Alternatively, if you're already sure about the kind of thing you're after, they'll happily just point you towards a glass or bottle amongst their 400-odd on sale, most of which are from relatively unknown vineyards around the world. Should you get peckish they have a variety of snacks, small plates, and big plates, as well as charcuterie and cheese on offer. And on top of all that, they offer a number of fun, laid-back wine-tastings, as well as weekly offers. There's Retail Monday where you can pick any glass of wine and pay take-away prices whilst enjoying it in; live music Wednesdays; and Icon Wine Thursday and Fridays, where you can drink all of the best wines usually sold in bottles, by the glass, and lots of it. What can we say: one of the best wine bars in London.
Address: 2 Battersea Rise, SW11 1ED
–
The Drop | King's Cross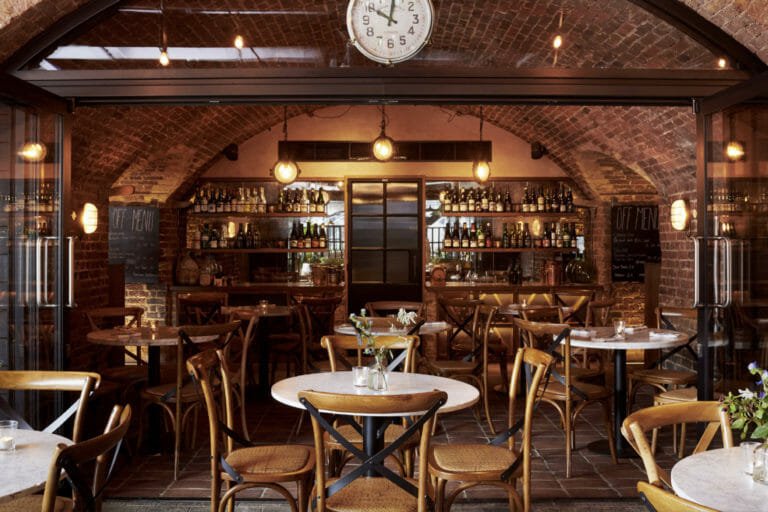 If one drop is worth naming your bar after, just imagine what a full bottle is like. This one's brought to you by the minds behind queues-out-the-door, Michelin starred tapas joint Barrafina, as well as what's now become three buzzing mezcal and taco spots: El Pastor and Casa Pastor. This time around, however, they've decided to switch their focus over to wine, which they've hand-picked from around the world and serve here both by the bottle and the glass, alongside a concise menu of British fare. And all from a beautifully converted railway arch in King's Cross – glass-fronted, exposed brick walls, low hanging pendant lighting, and jet black counter tops – it's been known to cause a few jaws to drop.
Address: Coal Drops Yard, N1C 4AB
–
Clarette | Marylebone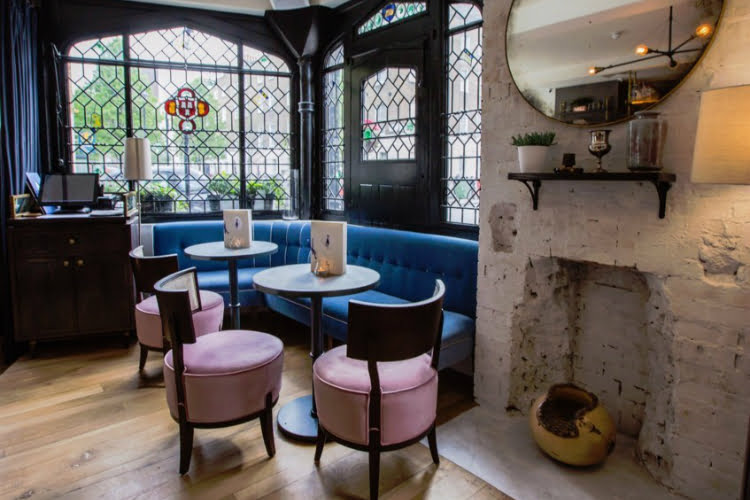 It's a French wine bar and restaurant brought to you, in part, by wine royalty Alexandra Petit (a member of the family behind the renowned French wine estate, Château Margaux). Once a Scottish pub, it still bears a mock Tudor frontage and Scottish coats of arms in its stained glass windows. However, most of everything else has been beautifully modernised including bright blue banquette seating, and pink velvet chairs. It's three floors in total, but wherever you end up, you'll have access to the same highly curated, worldwide wine list boasting a number of fine wines both by the bottle and the glass. They also offer an all-day menu of French food: snacks, smaller plates, larger plates, and dessert. Which means can either just grab a few nibbles to tide you over, or treat yourself to a four-course feast of olives; roasted scallops with squash, mushrooms and pancetta; lamb cutlets with parsley gremolata, yoghurt and pomegranate; and caramelised apple tart with vanilla ice cream for dessert.
Address: 44 Blandford Street, W1U 7HS
–
Sager + Wilde | Bethnal Green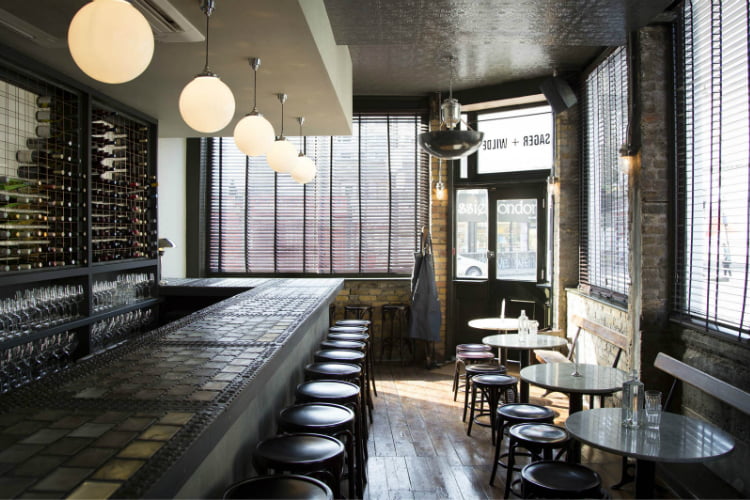 Michael Sager and Charlotte Wilde are who you have to thank for this low-lit, exposed-brick, uber cool-in-a-not-trying-to-be-cool-trying-to-be-laid-back-making-it-cooler kind of way. You'll find it perched on the corner of Hackney Road where – returning home from a stint in California, and no longer able to get their hands on their favourite wines – they decided to set up shop, bringing their favourite grapes from the golden state to London. Alongside a selection of simple small plates, they offer a daily-changing wine menu with options both by the bottle and the glass. They also do a number of pretty cool Meet The Maker nights, where you can go along and drink wine in a relaxed setting, with the winemakers on hand to answer any questions you might have. (Yes, that includes 'please can I have more wine'.)
Address: 193 Hackney Road, E2 8JL
–
Peckham Cellars | Peckham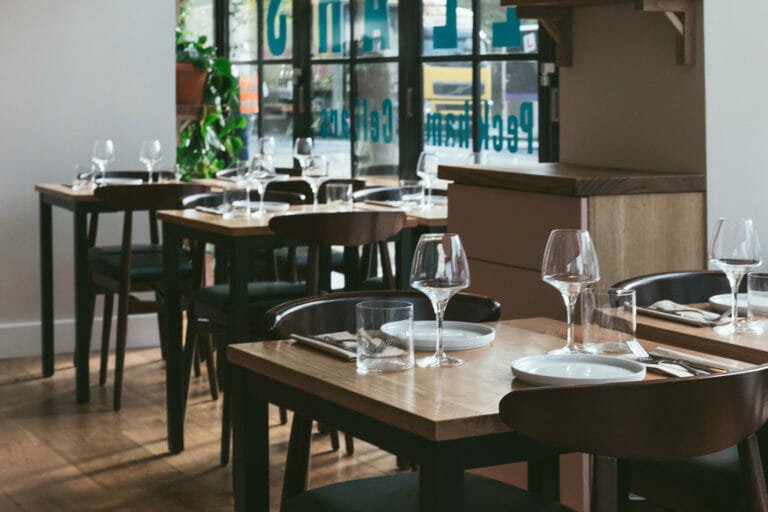 This new addition to SE15 is a relaxed neighbourhood eatery and wine bar from three Peckham locals who, incidentally, have the likes of Spring, Rovi, Morito and Marcella on their CVs. The food – Mediterranean-inspired small plates – is worth the trip alone, but they have a staggering collection of wine, too (you'd never guess from the name). Happily, the list is separated into flavour profiles ('aromatic', 'mineral', etc.) so you can easily find something you like the sound of, and their friendly staff will be more than happy to help you out if you can't.
Address: 125 Queen's Road, SE15 2ND
–
Passione Vino | Shoreditch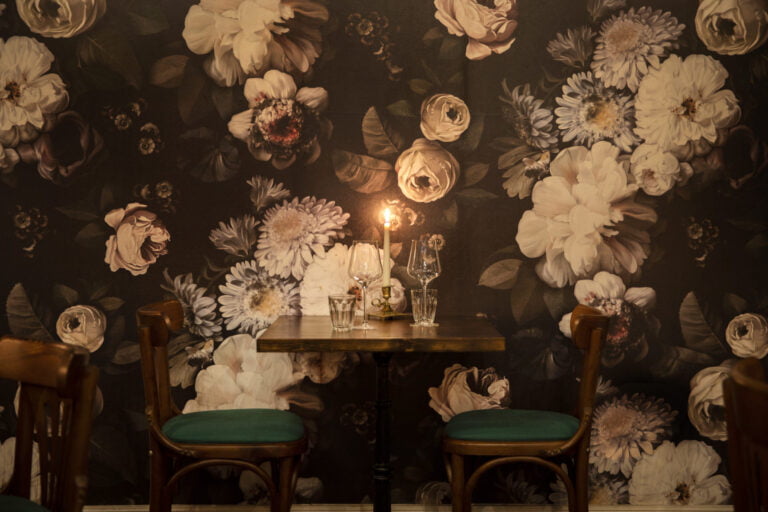 Passione Vino is a bottle shop-cum-wine bar stacked with hundreds of low-intervention wines from Italian producers, all hand-picked by grape fanatic Luca Dusi. It is not a place for control freaks. For here, you must surrender to the deep, boundless knowledge of the team who, in place of a menu, will bring you a glass of whatever feels right for you. It could be poured from a double magnum, it could be something you'd never pick out off the shelf – but it will be delicious.
Address: 85 Leonard St, London EC2A 4QS
–
Must | Hampstead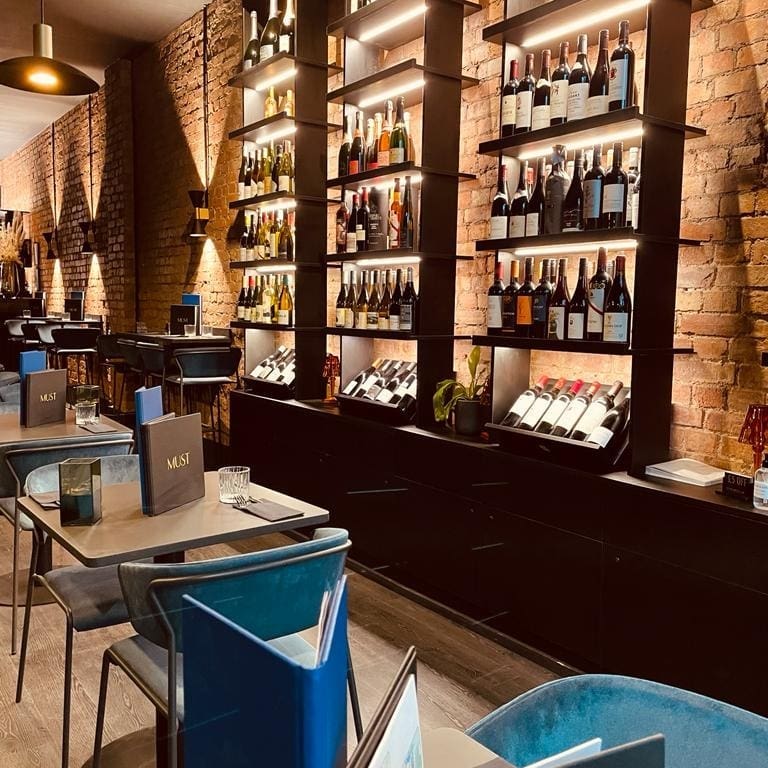 Surprisingly for one of the city's poshest neighbourhoods, Hampstead's not exactly riddled with wine bars. Which makes it all the more welcome that Must, originally from St Albans, has brought its sophomore to South End Green. Here you can try over 70 wines by the glass, another 100 by the bottle, or swing by on the 4th Wednesday of every month for a guided tasting round a particular wine-producing region. With cheese.
Details: 63 South End Rd, NW3 2QB
–
Gordon's Wine Bar | Embankment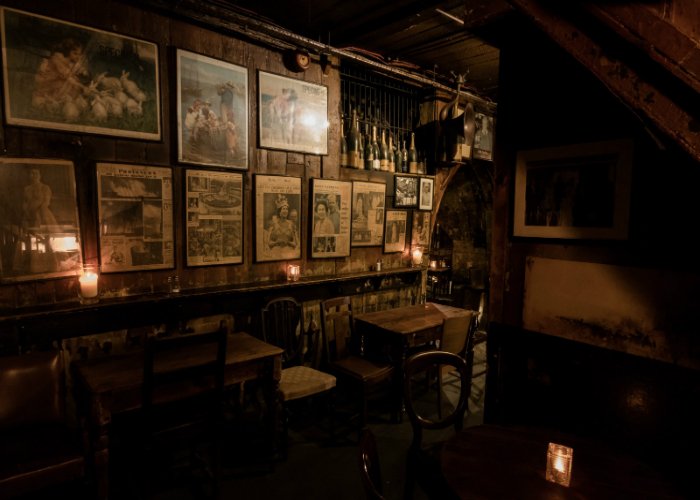 Both one of the best wine bars in London and the oldest, a place where the real-life Rudyard Kipling would kick back and swill Sancerre. You'll find it off a side street near Embankment where, on arrival, you'll descend into a small network of musty, candle-lit tunnels filled with dark wood tables and chairs. And plenty of wine. Cheese, of course, is a given (if it ain't broke don't fix it). In fact, there are over twenty cheeses to choose from, all of which are served with fresh bread, butter, and pickles; as well as a number of other pick-y dishes; tapas in the evening; and an outstanding Sunday roast.
Address: 47 Villiers St, WC2N 6NE
–
Renegade London Wine | Bethnal Green
It's an East London-based urban winery with an aim to create great, small-batch wines and sell them all over the city. And also to get a dog. It's housed in a white tin railway arch in Bethnal Green, which they've strung with multi-coloured bunting, before opening it up to the public Wednesday-Sunday. Of course their own wine's on offer, as well as a handful of others, and if you get peckish they have cheese platters, or they'll let you order your own delivery should you prefer. They also allow mutts, which if you have one, you should definitely bring – not just for the free hugs and companion for the way home, but because if you do they'll give you a discount. Fur real.
Address: Arch 12, Gales Gardens, E2 0EJ
–
Noble Rot | Bloomsbury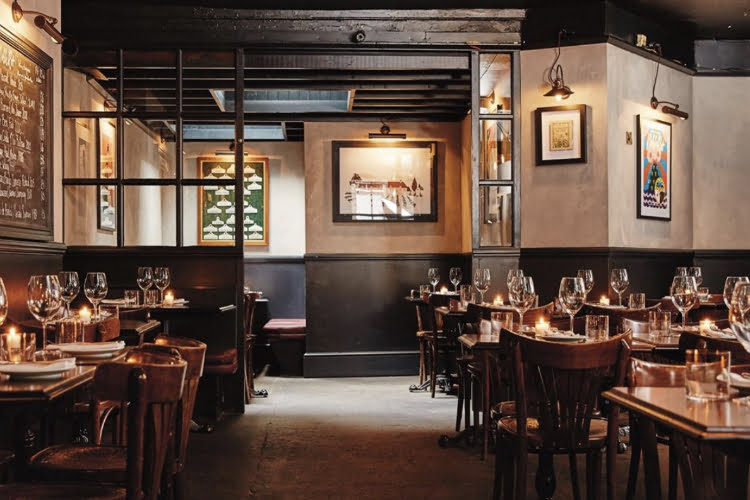 Now, we know what you're thinking – Noble Rot's a magazine, and of course you're right. However, what was once only a beautifully designed thumb-through, set up by friends Mark Andrew and Dan Keeling to quench their long-term love of wine, is now also a real-life London wine bar. It's in Bloomsbury – Lamb's Conduit Street, to be exact – where you'll recognise it by its grape-coloured exterior. Inside is a low-lit, industrial grey, dark wood situation where you can either walk in or book yourself a table to drink wine, eat, and chat; or just drink and chat; or eat and chat; or any other possible combination. The wine list is looooong, including both 'The World's Greatest White Wine' and 'The Heartbreak Grape', whilst the food is an expertly curated menu of 'Franglais' small plates cooked for you by award-winning chefs Stephen Harris (The Sportsman) and Paul Weaver (St. John). Inevitably it's di-vine…
Address: 51 Lamb's Conduit Street, WC1N 3NB
–
10 Cases | Covent Garden
Looking for a great, laid back, Central London wine bar? These guys are on the case. It's a small, bistro-esque space in Covent Garden – think dark wood ceiling fans, a black and white checked floor, and blackboards with the menu scribbled in chalk along the walls –  which (as the name suggests) only serves ten reds and ten whites at a time. They buy them by the case and serve them until they're gone before going out and buying new ones. Which means, not only do you get to avoid a ten page wine list (as well as the anxiety that comes with trying to pretend you understand it all), you can also keep coming back without getting bored. Every bottle is also available by the glass, and they're not too spenny either. Plus there are nibbles, although second to the wine… just in case.
Address: 16 Endell Street, WC2H 9BD
–
Bottles | Spitalfields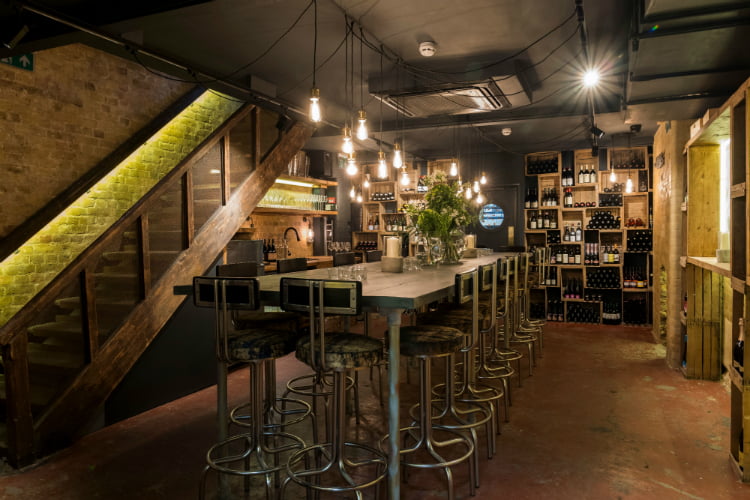 Next on the list is Bottles, a relatively new contender, although worthy of a spot nonetheless. You'll find it along the edge of Old Spitalfields Market, where you'll first notice it for its white-washed courtyard which – fitted with pillow-lined benches, rustic wooden tables and overhead heaters  – evokes the feeling of holidaying somewhere warm. Inside is a little more industrial-feeling. It's set over two floors, both of which have a big central communal table with distressed leather stools and filament lights hanging overhead. Wine-wise, the focus is on independent producers and small growers, although they still have over 180 labels on offer. The food comes courtesy of Sood Kitchen, who are not only lovely but also incredibly talented chefs, cooking up a regularly-changing menu of delicious Italian fare.
Address: 67 Brushfield Street, E1 6AA
–
Diogenes the Dog | Elephant & Castle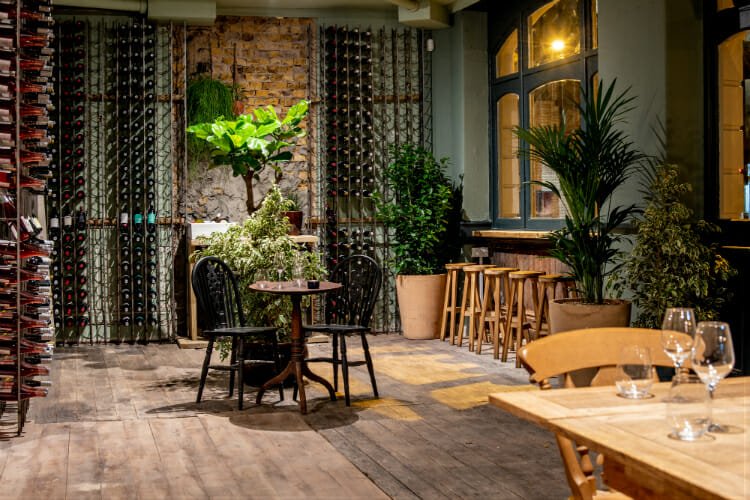 Diogenes was an ancient Greek philosopher who lived in a barrel. He had a go at Alexander the Great to his face, brought food into Plato's lectures and was eventually captured by pirates. And Sunny Hodge's South London wine bar has some pretty interesting things in barrels, too; focussing on bringing lesser known wines to the fore. 40% of the bottles are imported directly from producers, and cover a good range of red, white, orange, fortified and dessert wines. Plus, there's terrines, toasties, and a 'boozy cheeseboard' to snack on, to the dulcet tones of live jazz or performing poets.
PS: Turns out, Sunny's philosophy works. His follow-up bar, Aspen & Meursault, is a sunny Battersea edition offering a brilliant selection of natural wines.
Address: 96 Rodney Road, SE17 1BG
–
Provisions Wine & Cheese | Highbury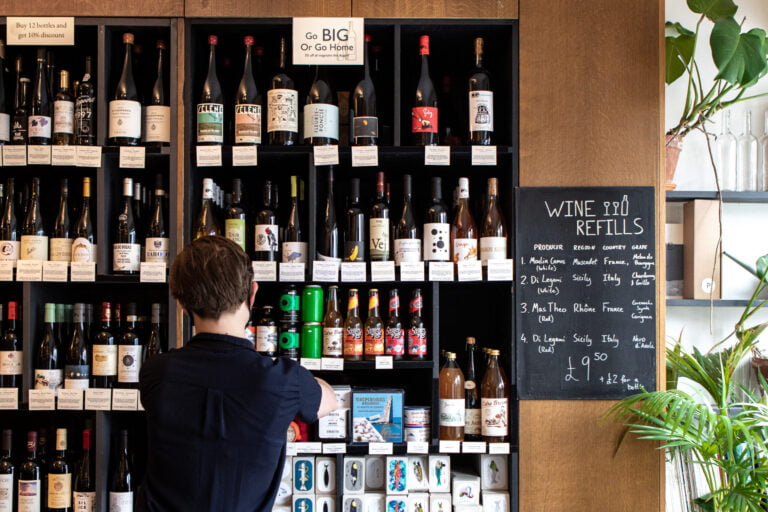 By day, it's an excellent booze shop where the shelves are stacked with hand-picked bottles from small, low-intervention growers. But as the end of the week beckons, it stays open after hours as a cosy, intimate wine bar where you can sample some of the team's favourites by the glass, or pick whatever you fancy off the shelves for a corkage fee. Providing a little ballast to the booze are sharing boards laden with the shop's produce, from French cheese to Italian charcuterie.
Address: 167 Holloway Road, Islington, N7 8LX
–
WC Clapham | Clapham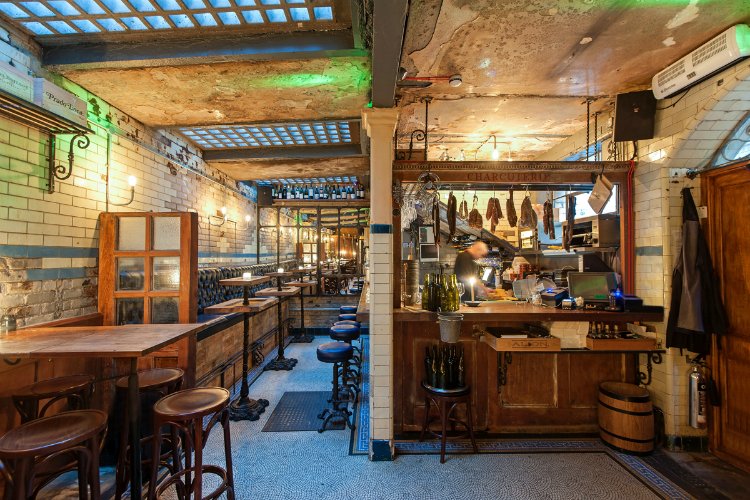 In anyone tells you this place isn't good, Clap'em. See, it's not just good, it's really good, and here follow the reasons why: 1) It's housed in a converted Edwardian public toilet; 2) The owners are partial to some word play: WC = Wine And Charcuterie; 3) It's underground; 4) It's beautifully designed, including individual drinking booths draped with velvet curtains; 5) They offer a simple but delicious food menu, including baked Camembert with garlic, rosemary & toasted sourdough; 6) Their wine menu is small, which definitely feels less intimidating. It's also constantly changing in case you fancy this being your new lifetime haunt; 7) They have live gigs with up-and-coming acts every Sunday and Monday; during which 8) You can politely self-induce a cheese and wine coma if any of them are are bad.
Address: Clapham Common South Side, SW4 7AA
––
Forza Wine | Peckham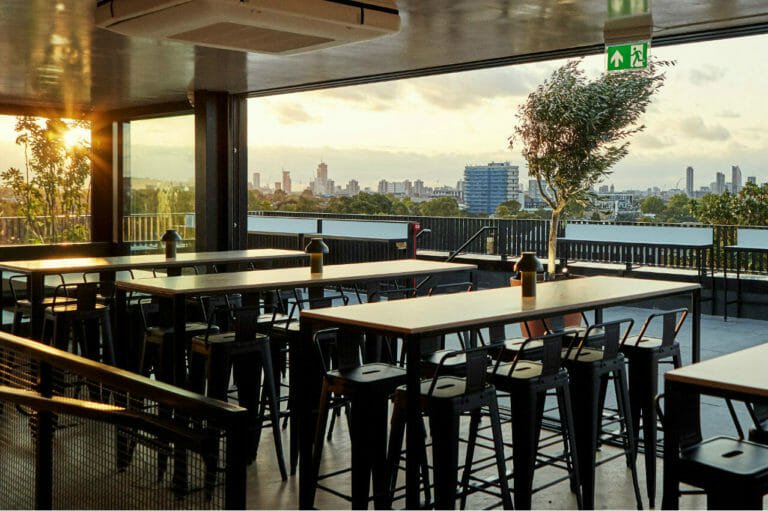 Bucking the trend for candlelit, subterranean caverns, Forza Wine is probably the highest altitude wine bar in London. Perched atop the Bussey Building with beautiful views over the city, it's the sophomore spot for the team behind nearby Forza Win. Head up here, and you'll be able to nibble on excellent Italian small plates from an ex-River Café chef while knocking back a decently priced bottle of Italian vino.
Address: 5th Floor, The Market, 133 Rye Lane, SE15 4ST
–
10 Greek Street | Soho
When you're looking for a wine bar with a little more to nibble on than just charcuterie, head to number 10. This Soho eatery's known for its rotating, seasonal food menu, but just as much attention is given to the wine. The best day to visit is Sunday, when you can take a peek at their Little Black Book, inside which you'll find a hand-scrawled list of discounted wines personally selected from private auctions and fine wine bin-ends.
Address: 10 Greek Street, W1D 4DH
–
Vinoteca | Borough Yards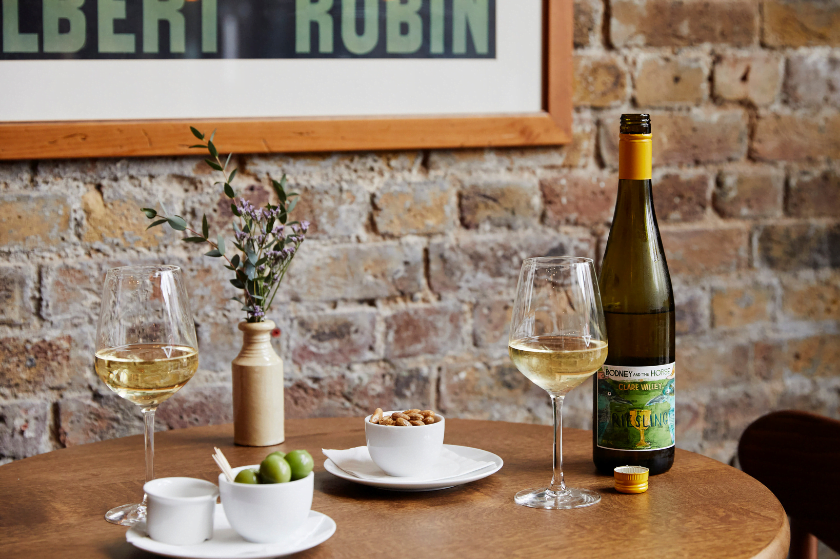 Housed in a railway arch spilling directly onto Borough Market, Vinoteca makes the most of its location by putting together elegant platters of Neal's Yard cheeses and charcuterie, bar snacks and main dishes featuring ingredients from the nearby traders. Oh, and the wine selection's not too shabby either, with a staggering 200+ hand-picked bottles celebrating small-scale producers – most of which are available to take home, too.
Address: Unit 207, Stoney Street, London, SE1 9DG
Last Updated: 14th February 2022 | Main image: Diogenes The Dog
---
This list was growing so long… we've plonked the natural wine bars over here.