A little bird tells us that Canary Wharf's become quite the date spot these days.
And now that it's a hop, skip, and a smooth 12-minute ride on the Elizabeth Line from Central London, it's the perfect place to slip off to when you fancy treating someone to a little al fresco pétanque with a summer spritz; putting your feet up in a plush subterranean cinema; dining out on a floating pavilion; strolling through a pop-up technicolour wonderland; listening to jazz greats on a grassy outdoor stage; or sailing along Canary Wharf's waterways… in your own, self-driven boat.
So behold, 15 irresistible Canary Wharf date ideas…
–
1. OH! THOSE SUMMER LIGHTS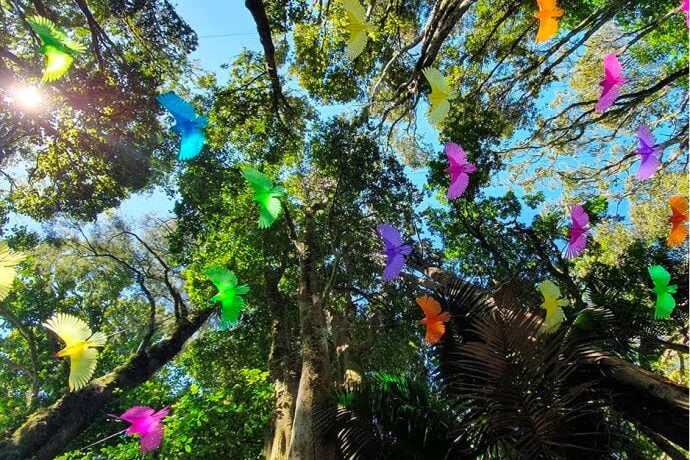 Winter light shows: indisputably romantic. Something about those twinkling fairy-lights, projections and installations just warms the cockles. And proving that summer doesn't have to miss out, Canary Wharf's Summer Lights programme brings together a dozen breathtaking art installations that make creative use of the longer daylight hours to create some striking effects with colour, shadow and shimmering reflections all illuminated by natural light.
Details: Daily, 21st June – 20th August | Throughout Canary Wharf, E14 | Free, just turn up
–
2. TAKE A PRIVATE BOAT OUT FOR A CRUISE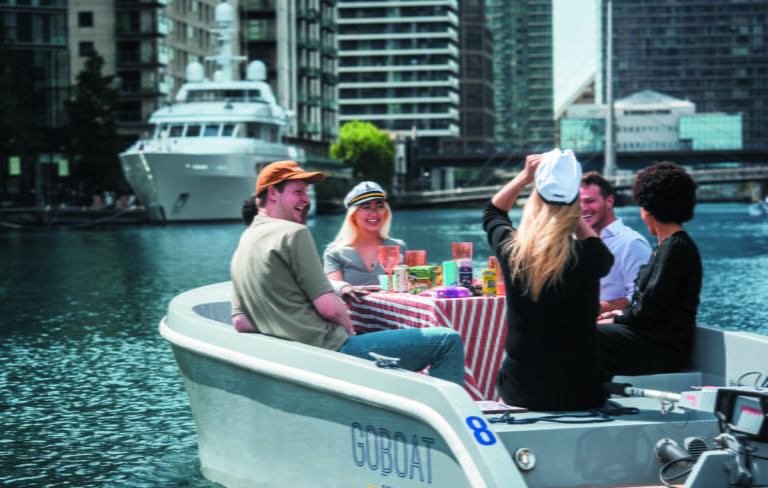 Be the captain of your own destiny — and, specifically, your own private motor-powered boat — when you take a GoBoat out for a spin. You're free to explore the waterways of Canary Wharf at your own pace, which is just as well since you'll need regular breaks to enjoy that picnic you've brought on board with you…
Details: Available daily | 22 Churchill Place, Canary Wharf, E14 5RE | £95+ p/h
–
3. WHISK YOUR DATE AWAY TO SPAIN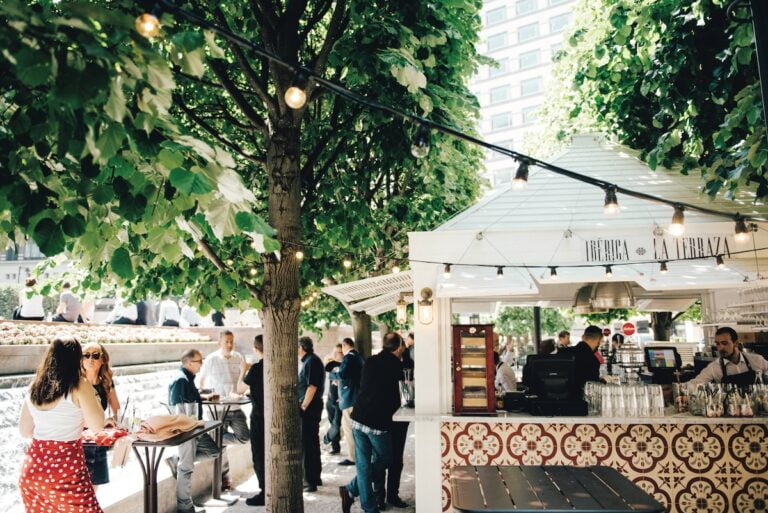 Not via London City Airport, but via the terraza outside Ibérica. One of the most picturesque pop-up terraces in East London, it features sun-dappled trees, festoon lighting, the gentle soundtrack of rippling water fountains and a tiled & shuttered beach-hut style bar, where tenders are busy putting together cocktails and jugs of sangria. Stand around one of the tall drinks tables, Barcelona-style, or take a table for two and feast on 42 month cured jamón; platters of artisan cheese & chorizo; grilled octopus; and crema catalana.
Details: Open daily from noon | Cabot Square, Canary Wharf, E14 4QQ | Book a table
–
4. WATCH A FILM AL FRESCO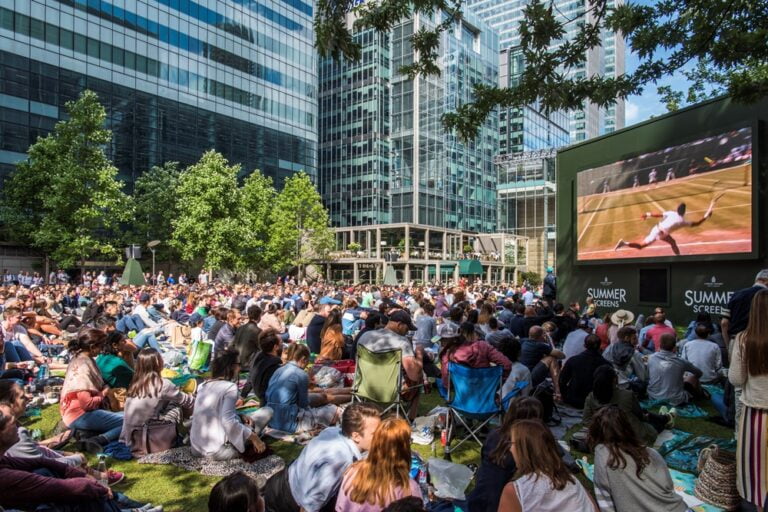 Canary Wharf's Summer Screens programme will be showing all the major sports events on a big outdoor screen this summer, as well as a couple of full-length features like The Incredibles and Encanto. And since they're all completely free, you can splash the cash you would have spent on cinema tickets at Plateau's Champagne & oyster bar – an outdoor pop up in Canada Square Park with a great view of the screen, but also, deckchairs.
Details: Screenings throughout summer, check programme here | Pop-up bar open Mon-Sat, 1-10pm | Canada Square Park, 25 Canada Square, Canary Wharf, E14 5AH| Book a table here
–
5. BOWL YOUR DATE OVER WITH A GAME OF PÉTANQUE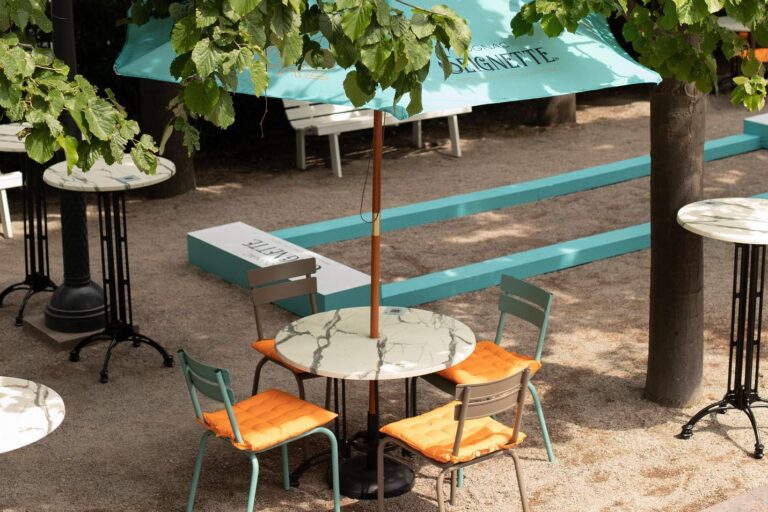 This beautiful, tree-shaded terrace on Cabot Square is run by the Pergola on the Wharf team, who have joined forces with modern French cognac Seignette to create 'Spritz On The Square'. Head down there with your date and, after a free game of pétanque, you can work your way through a continental menu of seasonal spritzes. All summer.
Details: Open Wed-Fri 4-11pm, Sat 2-11pm | Cabot Square, Canary Wharf, E14 | Book a table
–
6. GO TO AN ARTS FESTIVAL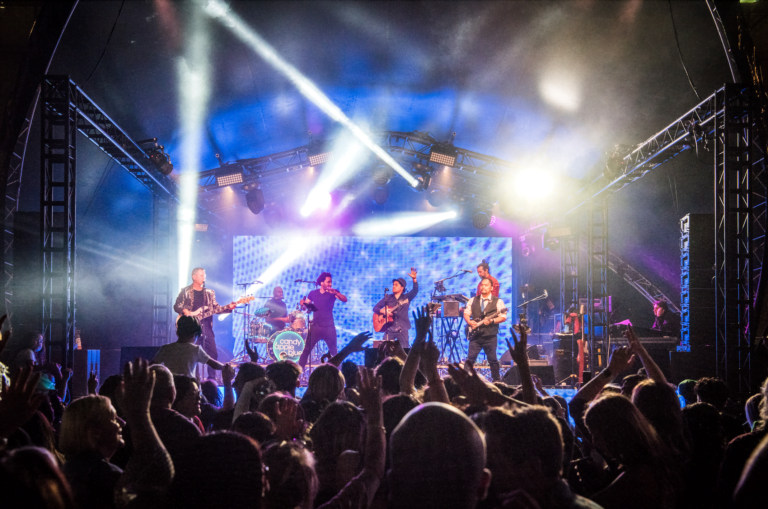 Camping is the ultimate relationship test. So best just to avoid it, and take your date to part (or all) of the four day-long festival taking place at Canary Wharf this summer. The first ever Festival14 is putting on a pretty amazing show for free – the main stage will host sets by heavyweights like Grandmaster Flash, Jocelyn Brown, and the Ronnie Scott's Jazz Orchestra; accompanied by workshops; comedy; theatre; dance and cabaret staged in the atmospheric Crossrail Garden.
Details: 21st – 24th July | Canary Wharf, E14 | Free, some events ticketed
–
7. GO FOR DINNER & DRINKS AT A DATE NIGHT CLASSIC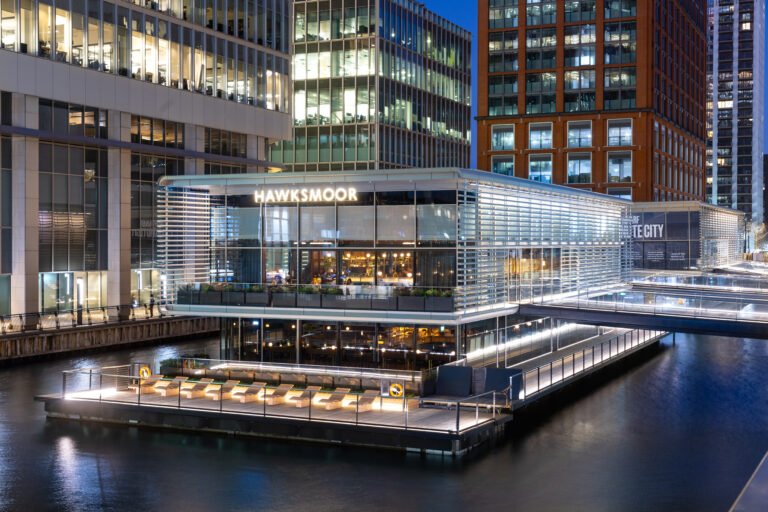 With its irresistible combination of cocktails, suave interiors and exceptional steak, Hawksmoor's always a safe bet for a date spot. But when they add an outdoor terrace surrounded entirely by water into the mix, it becomes flawless. Hawksmoor's latest opening is set within a sustainably-built, two storey floating pavilion on Wood Wharf, and it's the definition of breath-taking. Start off downstairs at The Lowback, with a classic Double Melon Daiquiri looking out over the water or martinis at the 9m long bar, then head upstairs to the glamorous restaurant where it genuinely feels like you could be on a cruise. Only one which conveniently ends up somewhere on the tube line.
Details: Bar open Tues-Sat, restaurant open daily | 1 Water Street, Canary Wharf, E14 5GX | Book a restaurant table | Book a bar table
–
8. GET COMPETITIVE ON A MULTICOLOURED MINIGOLF COURSE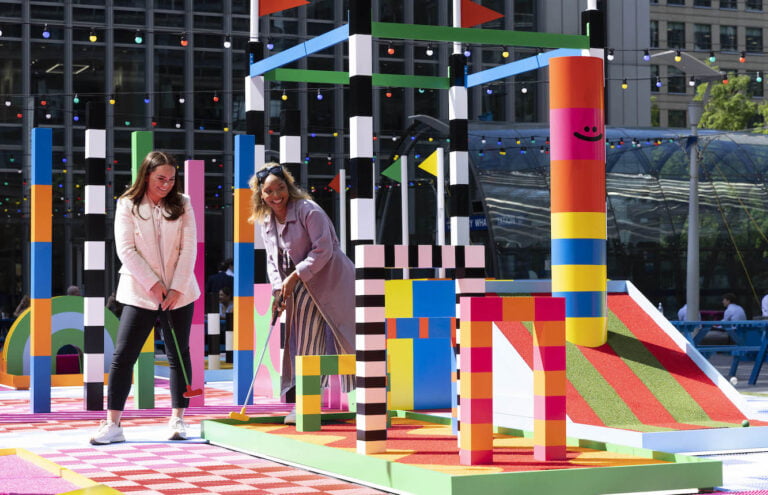 Artistic duo Craig & Karl are known for their eye-poppingly colourful designs. So when Canary Wharf invited them to design a pop-up mini-golf course for the summer, they were never just going to make a putting green. Instead, it's a hyper-saturated, chequerboard-lavished, kaleidoscopic nine-hole extravaganza with just enough ramps, slopes and obstacles to make it interesting. Plus, it's completely free to play – just turn up and the stewards will provide you with balls and a club.
Details: Daily 12-6pm | Montgomery Square, Canary Wharf, E14 | Free
–
9. SLIP INTO A SUBTERRANEAN JAZZ BAR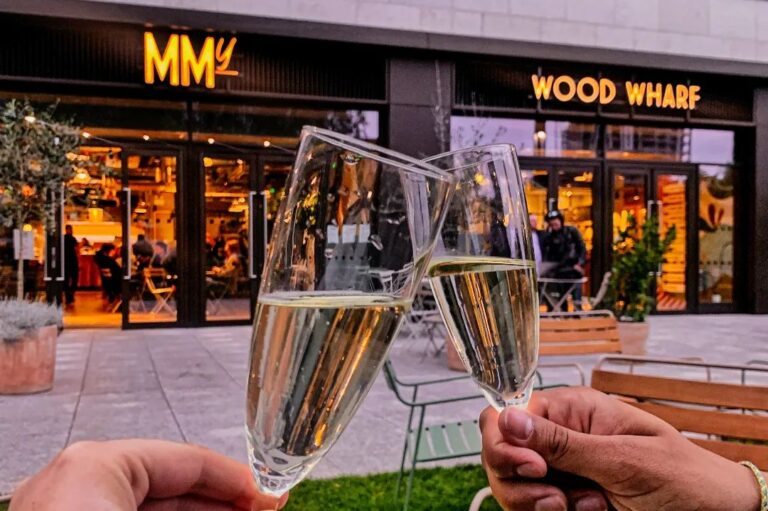 Mercato Metropolitano's latest incarnation is a typically all-encompassing blend of artisan shop, food market, music venue and riverside garden. Build a street food banquet from the likes of Dim Sum Lab and Pasta Lovers to enjoy al fresco; pick up a couple of Italian craft beers or sustainable cocktails from Ethika; and head downstairs to the basement bar to enjoy an evening of live jazz courtesy of The Temple of Art and Music. And that fancy grocery? Particularly handy if you want to pick up a bottle to take the party on elsewhere…
Details: Open Mon-Wed (11am-10pm), Thurs-Sat (11am-12am), Sun (11am-10pm) | 6 George Street, Wood Wharf, Canary Wharf, E14 9QG
–
10. GET YOUR PULSES RACING… BY RACING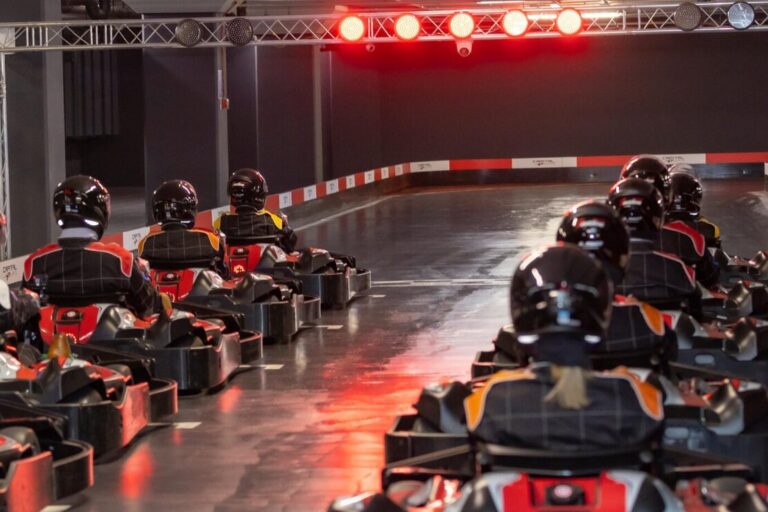 Turbo charge your date with a couple of high-octane circuits round the newly opened Capital Karts, which lays claim to being the fastest indoor track in the UK. Take on a sprint race – loser gets the drinks in after.
Details: Open daily | Level -4, Cabot Place, Canary Wharf, E14 4QS | From £28.50pp
–
11. RECREATE LADY & THE TRAMP AT EMILIA'S CRAFTED PASTA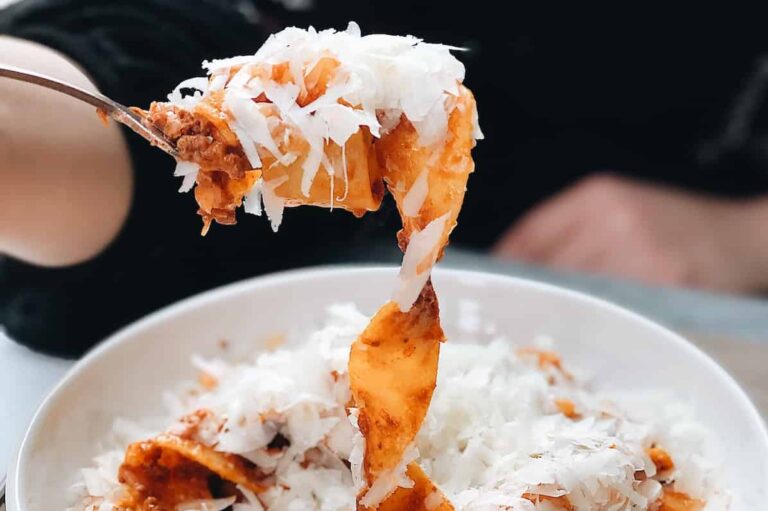 Hand-made pasta cooked to perfection, just like in the movies – except instead of the back alley, you'll be eating overlooking the waterside at one of their al fresco tables. And if you're not ready to go after the meal? Order a couple of chinotto spritzes and hit the Bocce tables indoors.
Details: Open daily | 12 George Street, Wood Wharf, E14 9QG | Book here
–
12. TAKE THE BISCUIT AT ELECTRIC SHUFFLE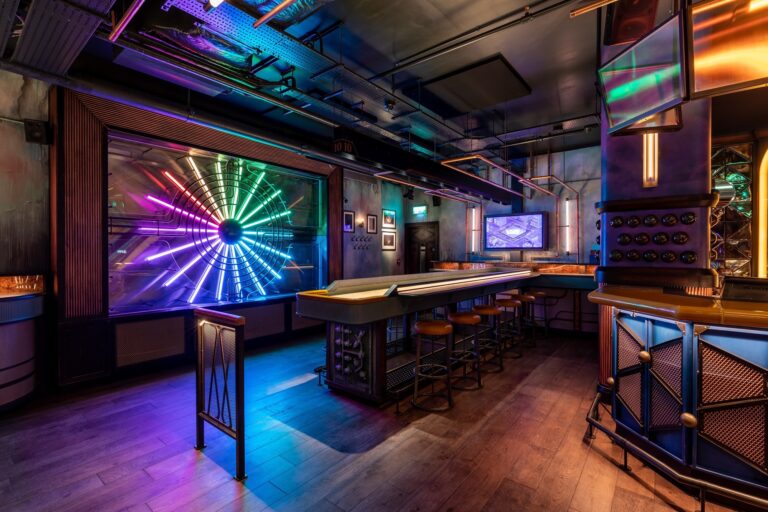 Activity bars: the ideal date spot, combining drinks and snacks with a little healthy competition, good music, and the total absence of any awkward silences. In fact, the only potential pitfall is making your date feel utterly inadequate when faced with your unmatched skill and physical prowess. Not a problem at Electric Shuffle, where it is literally anybody's game. Sliding metal pucks ('biscuits') down a sand-dusted tabletop lane in the hopes of not going careering off the sides? Sounds like the fever dream of an aristocrat with too much time on his hands (which it pretty much was). Order a couple of frozen coconut coladas or a sharing cocktail served in a winner's trophy, and feel confident knowing that you've done the greatest thing you can on a date — gallantly letting your companion win.
Details: Open daily | 10 Cabot Square, North Colonnade, Canary Wharf, E14 4EY | Book here
–
13. TEST YOUR COMPATIBILITY OVER BRUNCH AT CARAVAN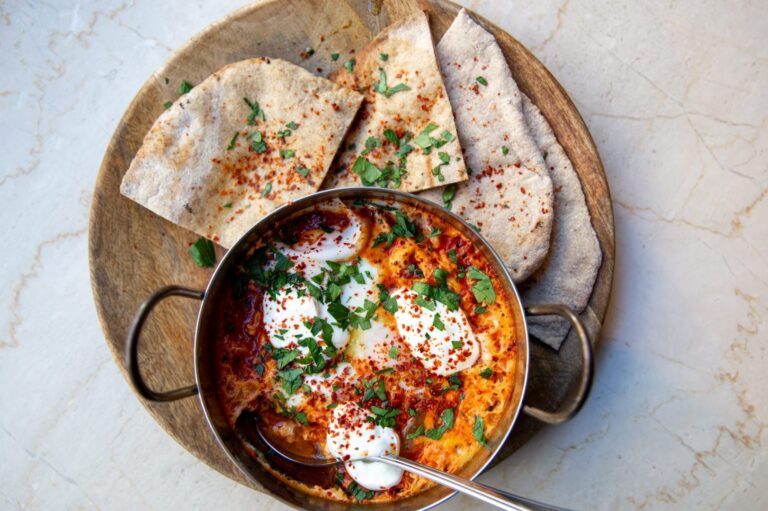 Because honestly, if your date doesn't want to share the chorizo & potato hash; fried jalapeno cornbread and vanilla pancakes with poached rhubarb (for the table), then this probably isn't going to work out.
Details: Brunch served weekends until 5pm | Caravan, Unit 2, Reuters Plaza, Canary Wharf, E14 5AJ | Book a table
–
14. GO FOR SUSHI & FREE-FLOWING WINE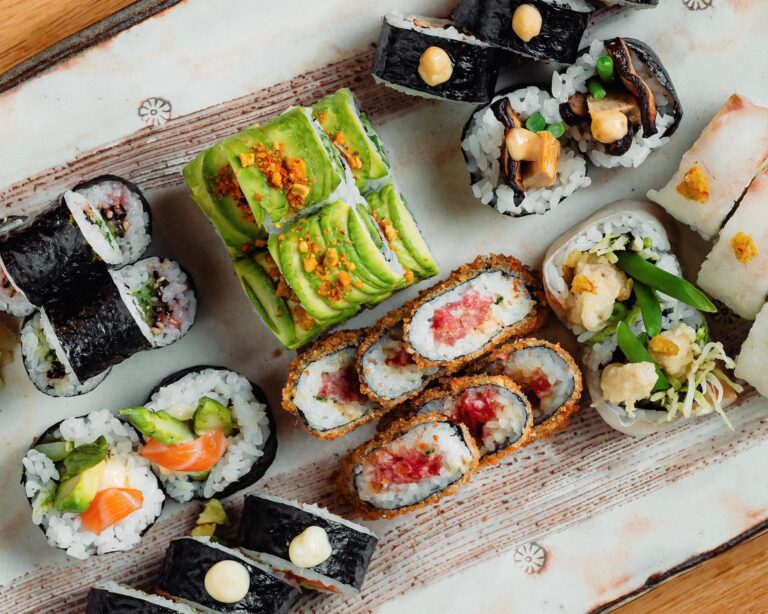 Roka's bottomless brunch makes all others pale in comparison – because while yes, they'll welcome you with a complimentary cocktail and yes, they'll keep your glass topped up with wine throughout, it's also a chance to devour platters of sushi, sashimi and gyoza; mains like robata-grilled skewers and glazed baby back ribs; and desserts… to share.
Details: Weekends | Roka, 4 Park Pavilion, 40 Canada Square, Canary Wharf, E14 5FW | Book a table
–
15. BOOK A SOFA AT THE EVERYMAN CINEMA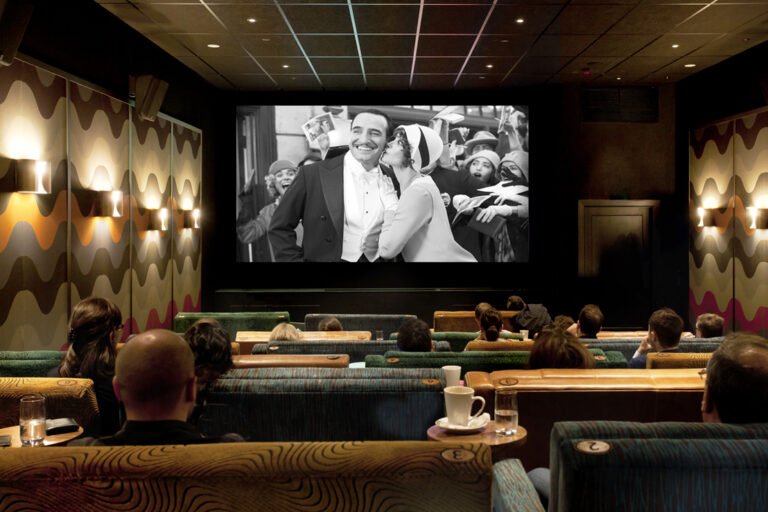 Plush, velvet seating with footrests. Intimate, 50-100 seater screening rooms. Table service from a menu of gourmet hot dogs, cocktails and build-your-own sundaes. Everyman takes the typical cinema experience, and dials things up a notch, screening a varied programme of the latest blockbusters, obscure arthouse and live streams direct from the National Theatre stage.
Details: Screenings daily | Crossrail Place Level -2, Canary Wharf, E14 5AR | £19.10+

---
Want to find out more about the area? Check out the Canary Wharf website HERE.