A Mile In My Shoes | The Empathy Museum
Walking a mile in someone else's shoes can be tricky…
…though it's generally easier if they're not wearing them at the same time.
Hoping to facilitate this – and possibly make us all better people in the process – is the giant shoebox that's just appeared outside an old fire engine depot in Lambeth.
Inside, you'll be fitted for a pair of shoes belonging to a total stranger – someone you're about to get to know very well. A sole mate, if you will. Because you'll also be handed a pair of headphones, through which you'll hear an intimate recording of their own life story, laced with evocative sounds and music to create a kind of immersive, personal documentary. Setting off for a stroll around the nearby park, you'll be able to walk – literally and metaphorically – a mile in someone else's shoes.
First brought to London in 2015, the project comes to you from the Empathy Museum – an itinerant, experiential archive of people's thoughts, experiences and memories founded by philosopher Roman Krznaric and artist/curator Clare Patey, who directs the project.
"We surround ourselves with similar people online, socially, at work," she explains, reflecting on the origins of A Mile In My Shoes. The well-reported 'echo chamber' effect of social media algorithms means that we can remain blissfully unaware of opposing views – and, she notes, when we do clash, it can quickly descend into vitriolic argument. "We wanted to create a space to talk about issues that might be difficult to discuss otherwise."
Their mysterious travelling shoebox has appeared everywhere from a Siberian book fair to the Houses of Parliament, with the growing collection curated each time to fit the surroundings (for example, presenting MPs with first-hand accounts from NHS workers). The current installation focusses on the experiences of London migrants, in conjunction with the Migration Museum currently housed inside the aforementioned fire station – a true London gem which, in a sad twist of irony, is yet to find a permanent home.
The experience itself is emotional, intimate and – surprisingly – genuinely enhanced by the deceptively simple act of swapping shoes. It's jarring, as someone else's story replaces your own inner monologue, to look down and see someone else's feet, too. As you walk, you can feel tiny points of pressure and release, where the original owner has made their mark after hundreds of unknown journeys. This basic, human connection is something that both museums are hoping to emphasise, bringing the personal element back into a subject that is so often reduced to statistics and alarmist language, and giving a voice to those whose stories are rarely told.
And here, those stories belong to around thirty different London immigrants, ranging from a Syrian healthcare professional who arrived in a suitcase, to people who have made the move for their career, education, or other personal reasons. Some stories are fraught with hardship, others are full of life's personal troughs and peaks. All are moving in their own way.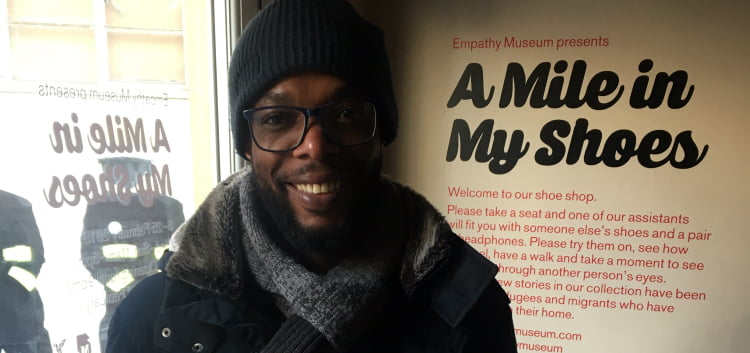 For Nigerian-born Peter Atakpo, it's not the first time his experiences have been recorded – his barbershop provided some of the material for Inua Ellam's critically acclaimed play, Barber Shop Chronicles. For months, Ellam listened in on the conversations there – "it's just a place where people talk about everything – mostly politics, sports, banter," Peter laughs. It was the same back in South Africa, he says, before he left eight years ago amidst rising xenophobic tensions. "It just became unbearable," he adds. "I had to leave".
One recording used for the play stuck with Peter in particular – a story about his sister taking her daughter, who is on the autistic spectrum, to the local hairdresser. "She was having plaits and all that, and she had a tantrum, like children do," he recalls. When his sister explained to the hairdresser that she was autistic, the woman blew up. "'You just give labels to people, she looks alright to me! All she needs is a real good beating! Just slap the autism out of her!' It sounds funny now, but my sister just broke down", he says. He was concerned his sister wouldn't want the story included, but she agreed, hopeful that it would educate people. "I saw the play a few times", he says, "and that scene actually created a lot of laughter and a lot of thought-provoking moments – you could tell people were sharing it."
This is why, for Peter, taking part in A Mile in My Shoes was so important. "What got me really intrigued was the word empathy – because that's just something I've learnt", he explains. "The story about my niece, that's empathy. Because that's happened, any time someone comes to my shop – any client that's a bit timid, a bit shy – I don't just jump to conclusions. You don't know what's going on."
How did he find the process of recording his story? "It was a good experience for me," he nods, "it was very interesting and I liked it." As, he adds, did the producer recording him – "she'd never really been in a black barber shop, so she had a lot of fun, I think!" But it was listening to others that he found the most significant part of the process. "You know, you look at your classmates and think, am I really doing well? Would my parents be proud of me? Am I happy? But then you hear the next person's story, like this doctor from Syria – here he is as a refugee. And I'm thinking to myself, what am I complaining about?"
Peter, like the project's creators, hopes that listening to these stories will help visitors to appreciate "the meaning of empathy."
"There are 1001 reasons that people leave their country to go to another person's country," he says. "So just listen, just hear their story, and at least give them a chance, give them a break. Give us a break."
NOTE: A Mile in My Shoes runs in the pop up shoebox outside Lambeth's Migration Museum until 25th February, Wed-Sun, 11am-5pm (9pm on Thurs 22nd). Entry is free, and there's no need to pre-book – find out more HERE.
A Mile in My Shoes | Migration Museum, 26 Lambeth High Street, SE1 7AG
---
Get your empathy muscles flexing with the best of London's theatre