You know what makes London so attractive?
Its attractions.
There's a near infinite list of incredible things to see and do in this city – from the Tate Modern (where you'll find the world's largest collections of modern art), to Kew Gardens (housing virtually every plant on the planet). But in the interests of time, we've narrowed it down to the best London attractions that are genuinely worth your time and money, from the experiences that are kind of touristy (but totally worth it) to a few off the beaten track.
---
Note: a lot of London's most famous sights are easy to take in on foot. Check out our guide to great London walks.
---

1. Turn the world into ants at Sky Garden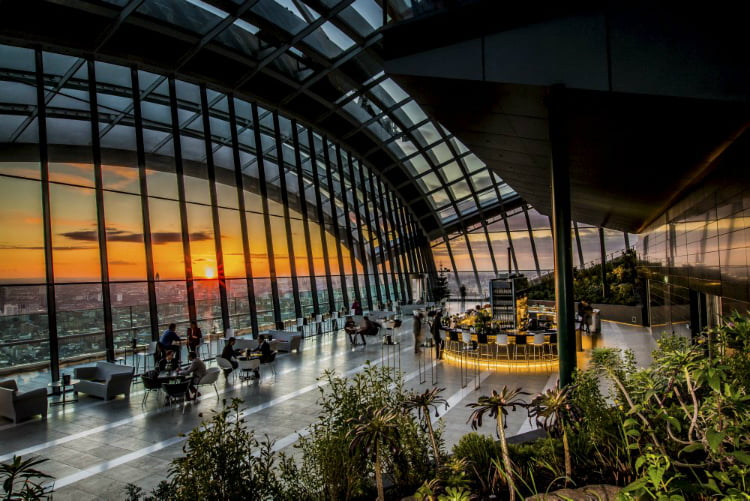 Remember London is your oyster, and neck one whilst doing it, at the adjacent Fenchurch Restaurant & Bar.
Details: 20 Fenchurch Street, EC3M 3BY | Free entry | Book ahead here | See more London viewpoints
–
​​2. Pretend to be a king or queen at Hampton Court Palace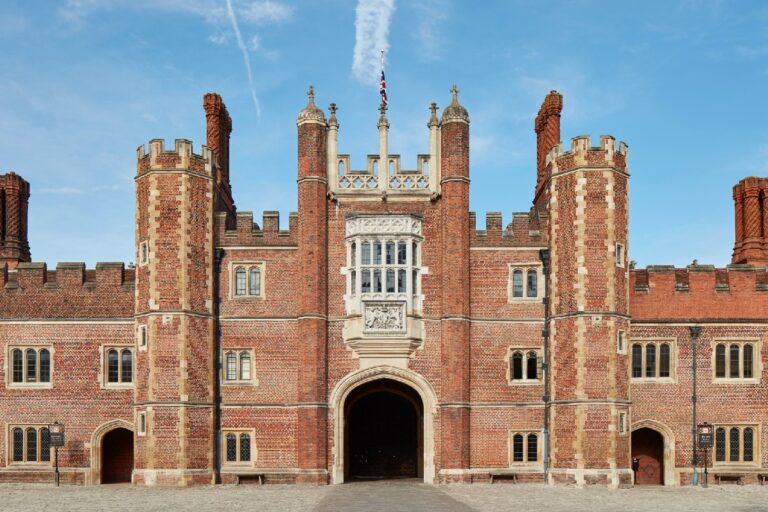 It's like an episode of MTV Cribs but in the Tudor times. And you're P. Diddy.
Details: Hampton Court Road, Town Centre, East Molesey KT8 9AU | £26.30 | Book tickets here
–
3. Stand under one of the world's biggest domes at St Paul's Cathedral
Then let everyone know what you think in tiny whispers at The Whispering Gallery.
Details: St Paul's Churchyard, EC4M 8AD | £20.50
–
4. Clink glasses at a Champagne afternoon tea at The Ritz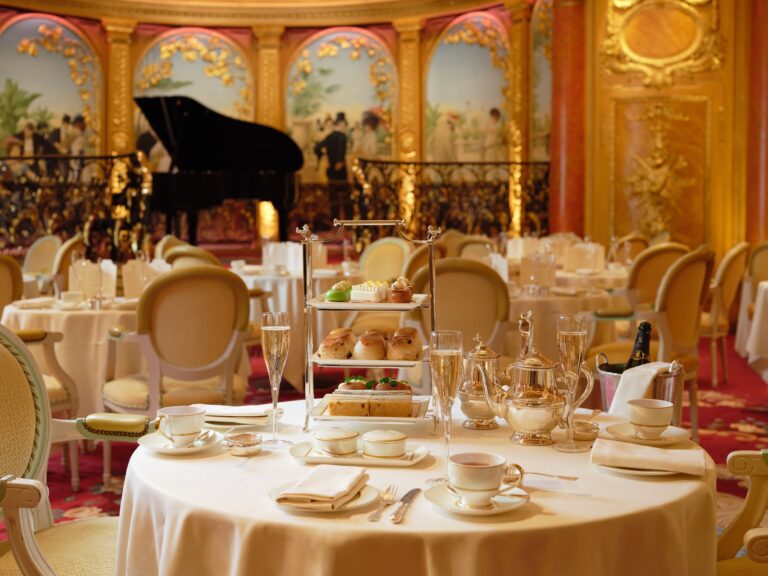 It's in the former ballroom of one of London's grandest hotels, with resident harpists and pianists doing their thing in the background.
Details: 150 Piccadilly, W1J 9BR | £70pp | Book here | See more great afternoon teas in London
–
5. Picnic with pelicans at St James Park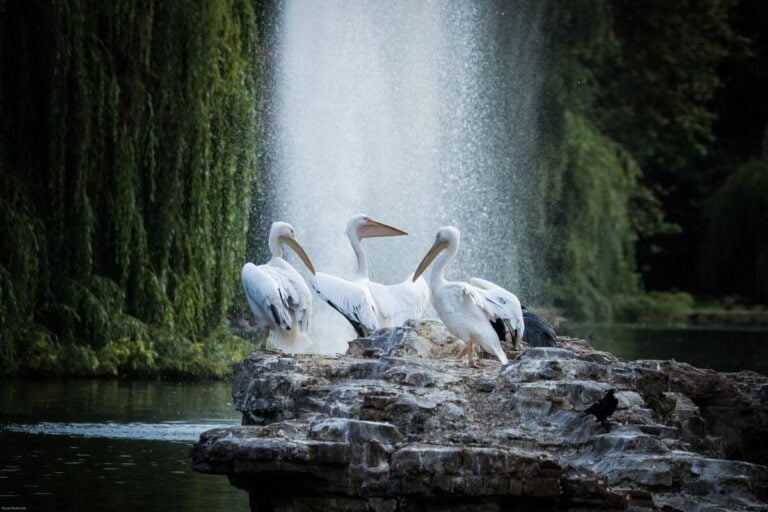 Given to King Charles II in the 17th Century and there ever since, they take a late lunch 2-2.30pm. And you should too.
Details: Horse Guards Road, SW1A 2BJ | Free | Find out more HERE
–
6.Remember why you're terrified of the ocean at Sealife London Aquarium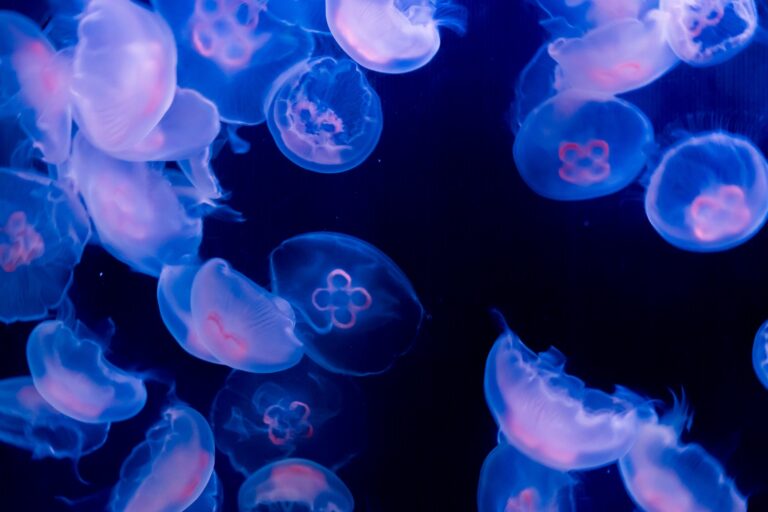 With over 500 different species of underwater creatures – from tropical fish to venomous jellyfish, penguins, crocs and sharks – this aquatic London attraction really has every-fin.
Details: County Hall, Westminster Bridge Road, SE1 7PB | £29.50 | Book HERE
–
7. Be a culture vulture along the Southbank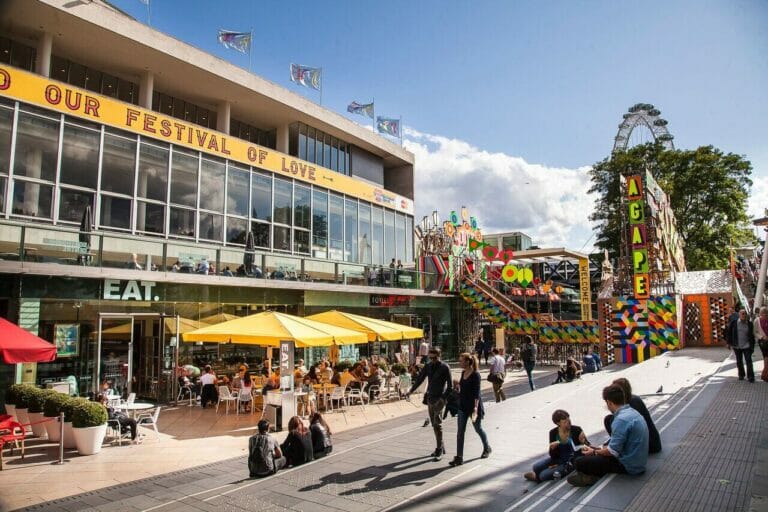 Some of the city's most treasured arts spaces sit along this stretch of the river, including the Hayward Gallery, the National Theatre, and the Southbank Centre. Then when you're all out of cultural juice, toast to your exploits with a drink at the Queen Elizabeth Hall Roof Garden Bar & Café.
Details: The easiest way to reach the South Bank is to get the tube (Bakerloo, Jubilee, City and Northern lines) to Waterloo Station, head towards the river, turn right and walk.
–
8. Go wild swimming in Hampstead Heath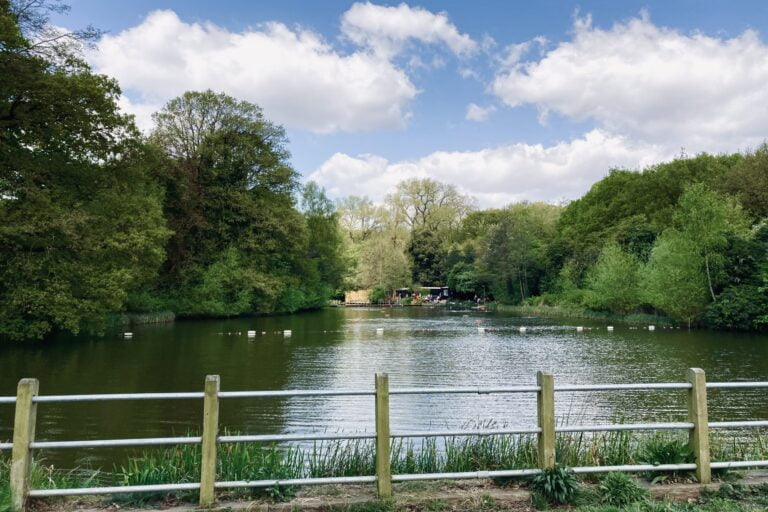 The men's, women's and mixed ponds will cost you just a few quid for a dip, and are open all-year-round.
Details: Hampstead Heath, NW5 1QR | £4.50 | Find out more here
–
9. Chow down on a slice of sporting history at the Wimbledon Lawn Tennis Museum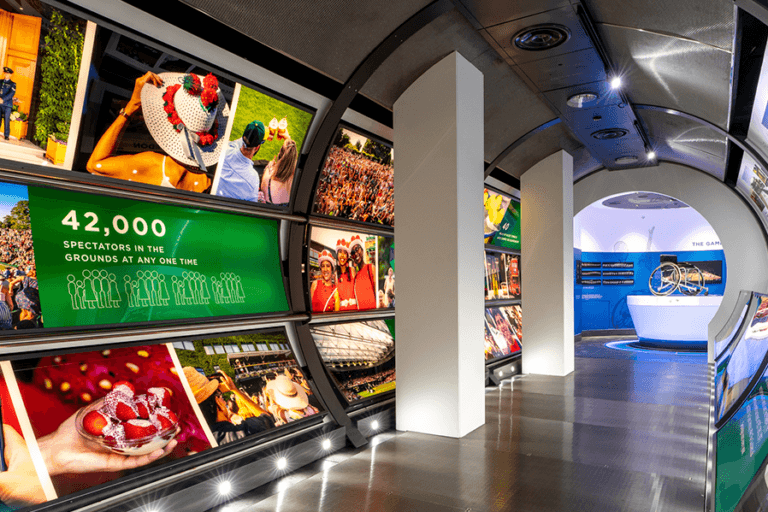 The championships only take place once a year, but you can go to the grounds and appreciate the hallowed grass courts/meet a hologram of John McEnroe whenever you want.
Details: Church Road, SW19 5AE | £15 | Book here
–
10.  Watch the sun go down from the top of Primrose Hill
It's hella romantic and the twinkling view of the London skyline is hard to beat.
Details: 49 Regents Park Road Primrose Hill, NW1 8XD | Free
–
11. Test the limits of your stomach at Borough Market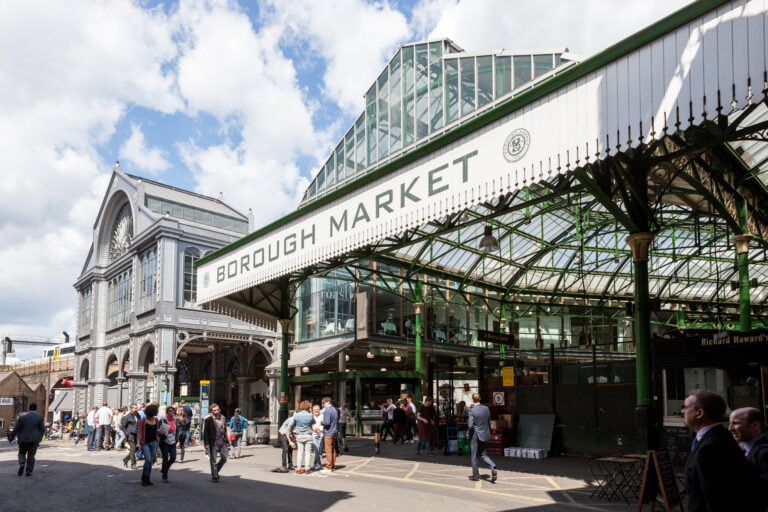 Acmanley
The market, the myth, the legend. London has a whole load of great street food markets, sure, but with stalls upon stalls of A-grade artisanal produce and critically-acclaimed restaurants hidden within, Borough is the granddaddy of them all.
Details: 8 Southwark Street, SE1 1TL | Free entry | Find out more here
–
12. Crawl your way along The Bermondsey Beer Mile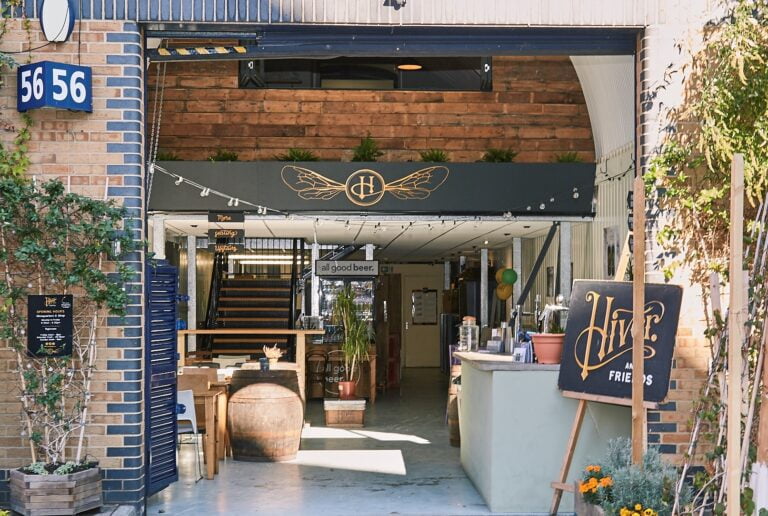 15 breweries and bottle-shops along one stretch of railway arches, known to bring even the hardiest of men and women to their knees.
Details: Across Bermondsey | Check out an unofficial list of all the venues right HERE
–
13. Sneak into the A Box at the Royal Albert Hall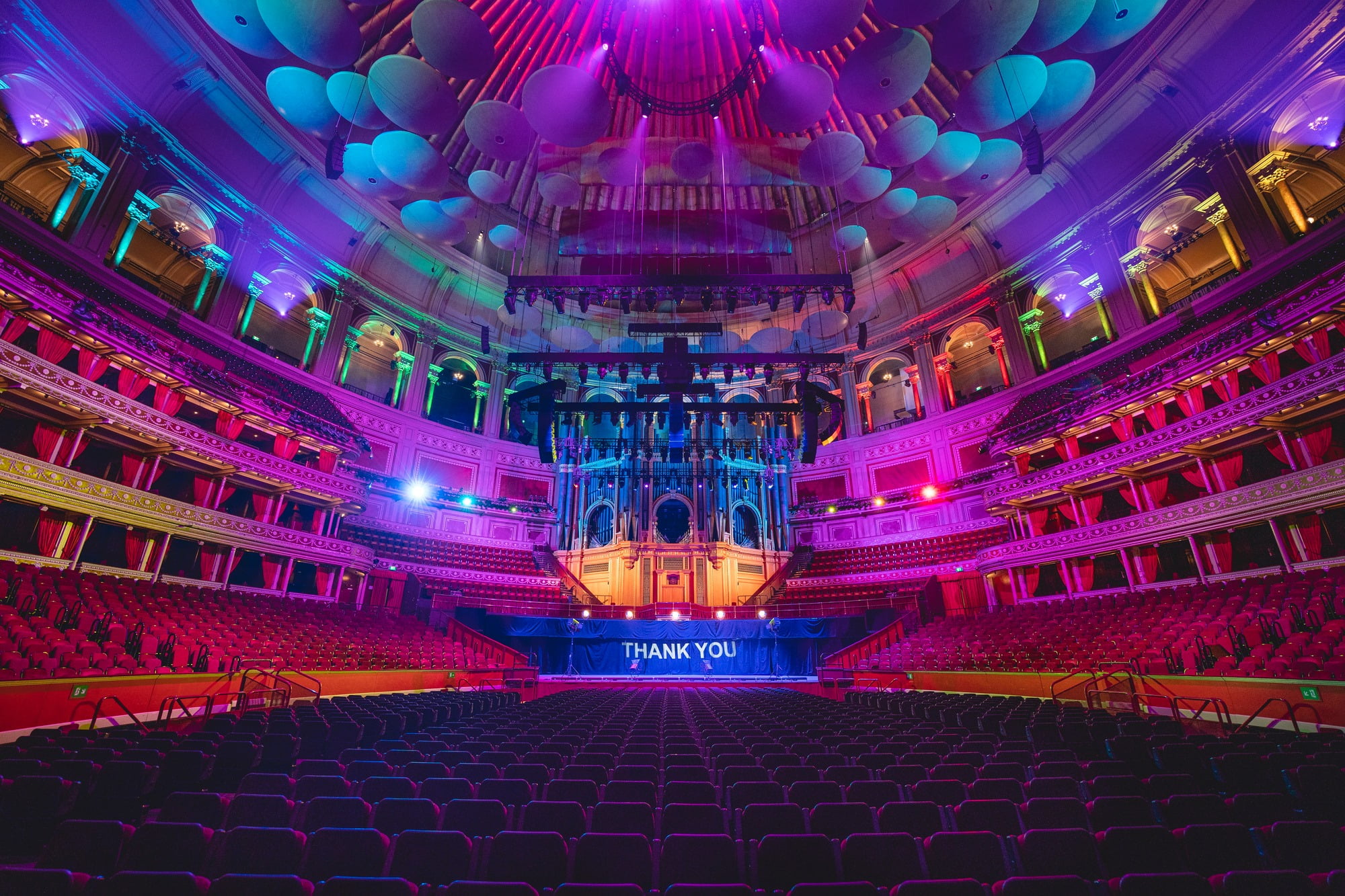 Okay, maybe slightly ambitious, but absorbing the sights and sounds of arguably London's most famous music hall is a must for any self-professed lover of acoustics.
Details: Kensington Gore, SW7 2AP | See the schedule HERE
–
14. Traverse through a million years in a single day at London's Natural History Museum
This free London attraction counts more than 80 million animal, fossil, plant and mineral specimens among its ranks, plus a skeleton of a blue whale on display in the central hall.
Details: Cromwell Road, SW7 5BD | Free | See more info here
–
15. Take a dip in the Serpentine Lake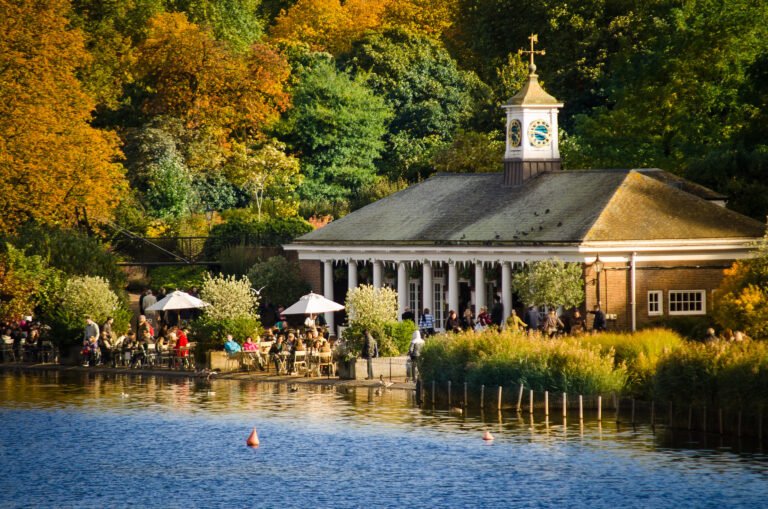 Or row, if you want to stay dry.
Details: Hyde Park, W2 2UH | See all the best places to go boating in London
–
16. Make friends with the fallow deer in Richmond Park
The park's famous tenants weren't exactly the most popular lot with the locals when they were first brought in by Charles I, back in the 17th century. But as it often goes in life, time healed the relationship, and now in the present visitors flock to the wild 2500-acre landscape to see the animals and their antlers in action.
Details: Kings Road, TW10 5HS | Free | Find out more here
–
17. Show your feet no mercy at Shakespeare's Globe
For the bargain price of five pounds,  you can snare a spot in the yard as a groundling (think of it like moshing at a music gig in the late 1500s), standing metres away from the stage, and get a great snap of an iconic London attraction to boot.
Details: 21 New Globe Walk, SE1 9DT | From £5 | Book here
–
18. Play restaurant roulette in Chinatown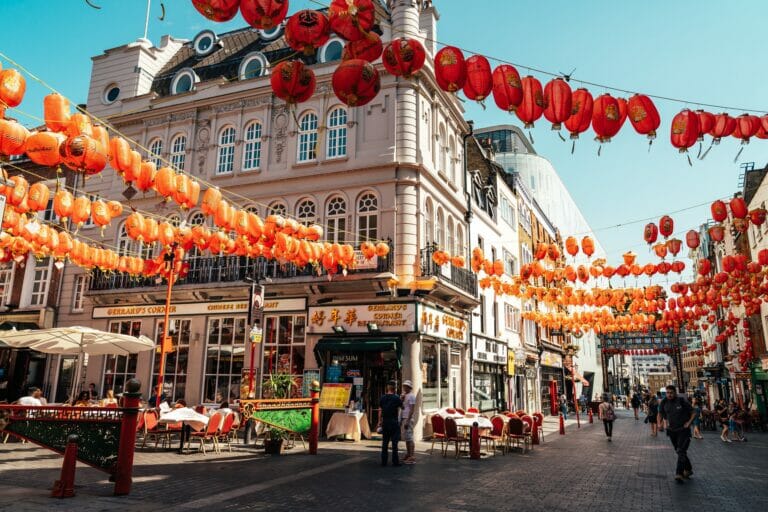 You win some, you dim sum? Or something like that.
Details: Gerrard Street, London W1D 6JE | See our guide to the best restaurants in Chinatown
–
19. Geek out to a cult classic at the Prince Charles Cinema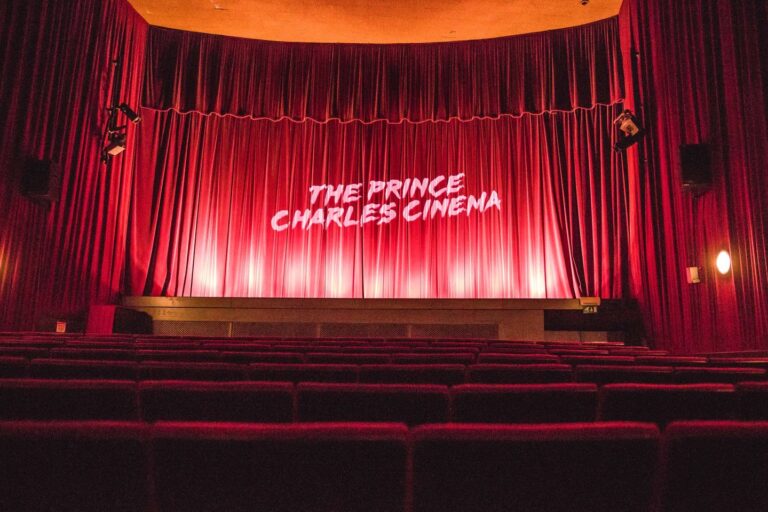 This indie darling in Leicester Square is where the proper film purists go. And those who want to watch all three Lord of The Rings films in their pyjamas, overnight.
Details: 7 Leicester Place, WC2H 7BY | Take a look the best cinemas in London
–
20. Think deeply about the Tate Modern's art collection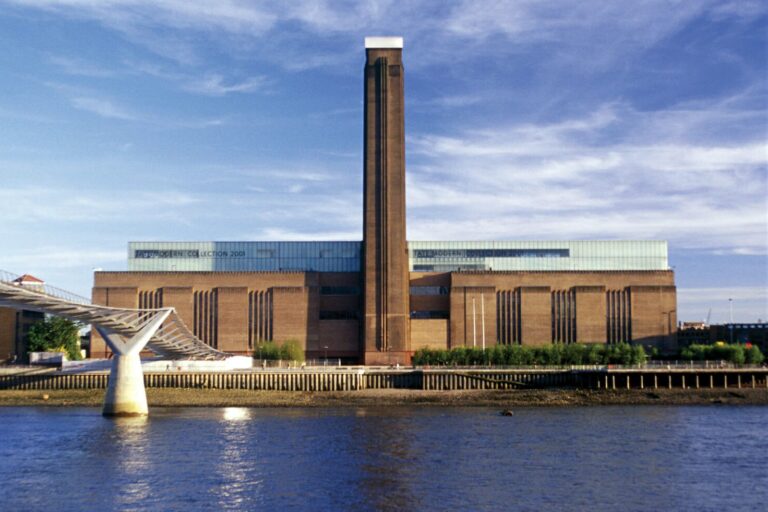 The gift of great art doesn't cost a cent here. It's also one of the world's largest collections of contemporary works.
Note: you can also jump on a boat down the Thames directly to its older sibling, the Tate Britain – an ode to the work of British artists over the past 500 years.
Details: Bankside, SE1 9TG | Free, temporary exhibitions ticketed | Find out more here
–
21. Mingle With Movie Stars At The BFI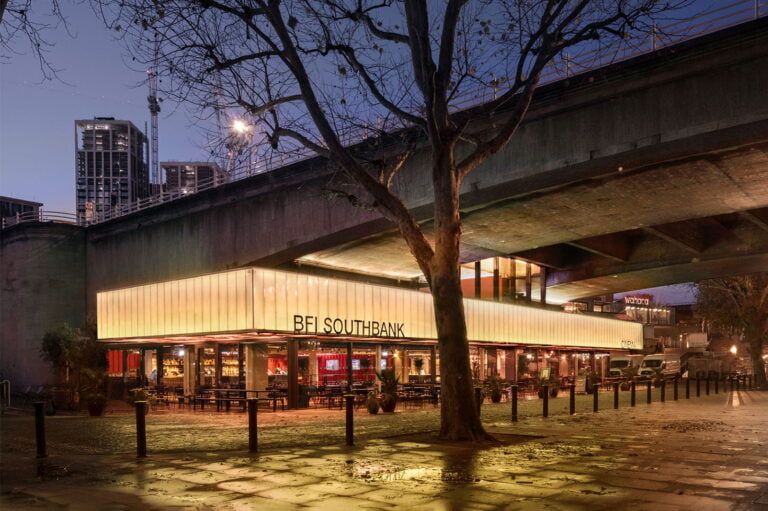 The home of British cinema, known for its eclectic programming, including a glitzy premiere or two.
Details: 159 Brick Lane, London E1 6SB | See what's on
–
22. Test your bargaining skills at Portobello Market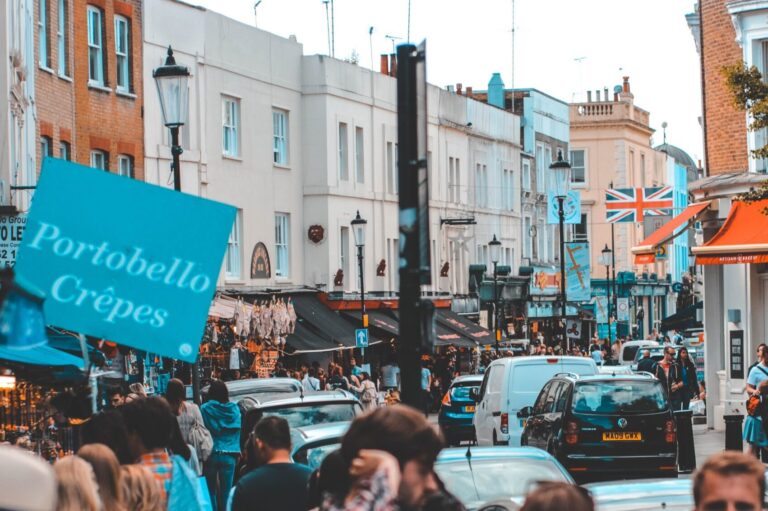 Jack Gisel
With over 1,000 stalls, it's one of the biggest antique markets in the world. And once you're laden with trinkets, you can explore the rest of pastel-covered Notting Hill.
Details: Sundays on Portobello Road, W11 3DJ | Free
–
23. Wish you were wealthier at Harrods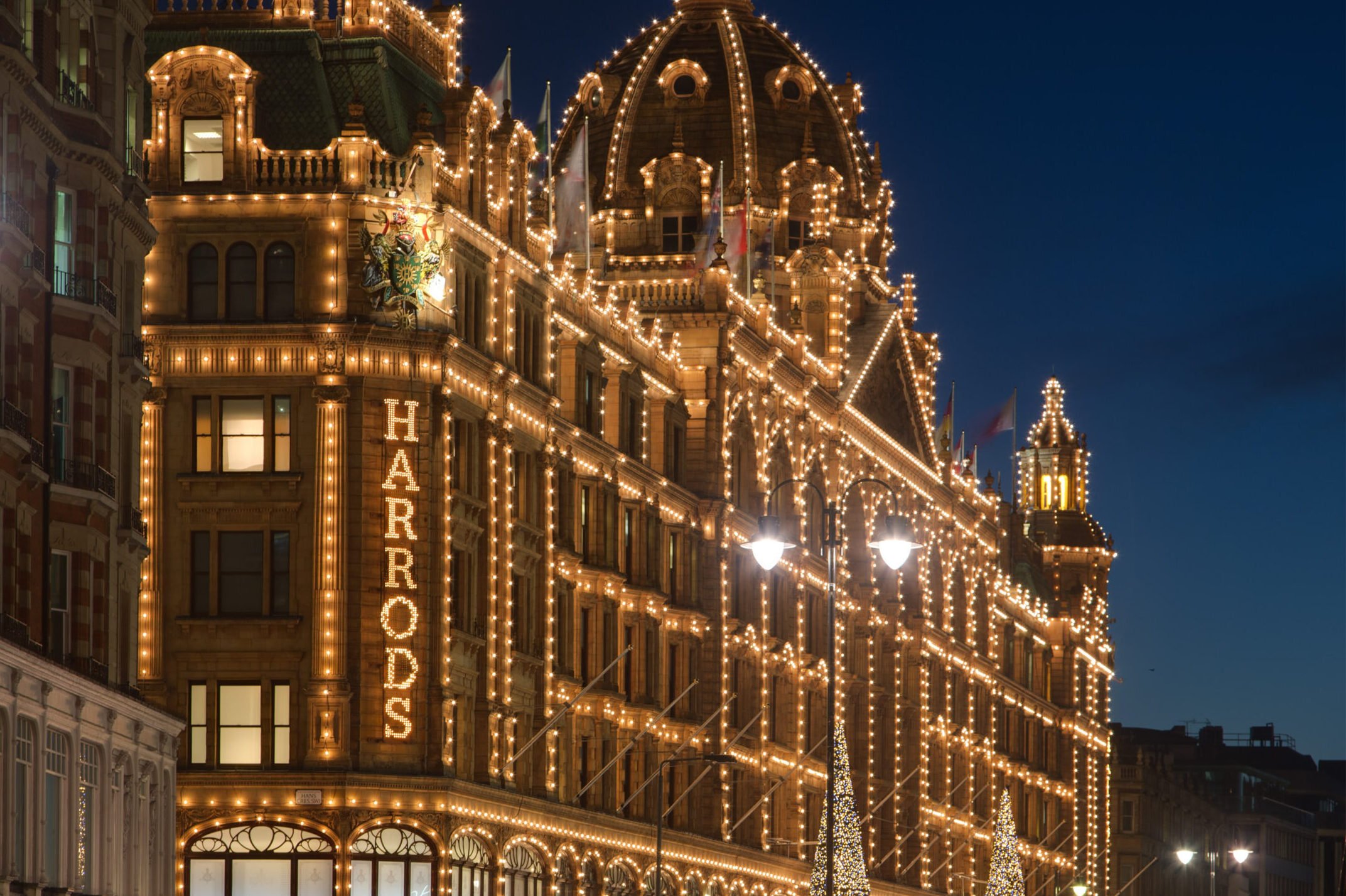 Marvel around the floors and stroke things. Then nip into the Harrods dining hall where you can perch at a counter and enjoy some top-quality snacks.
Details: 87–135 Brompton Road, SW1X 7XL
–
24. Hold up traffic on Abbey Road
Don't let a couple honking cars get in the way of nailing that perfect Beatles' album cover photo…
Address: Abbey Road, NW8
–
25. Savour every last drop of a martini at the Connaught Bar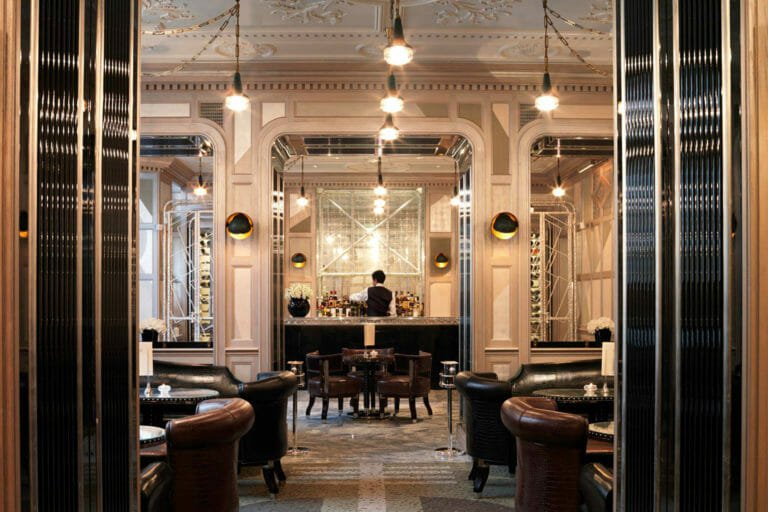 We're not going to lie, they're eye-wateringly expensive. However The Connaught Bar isn't just one of London's best cocktail bars, it's previously been ranked as the world's best bar. The dry martini is its weapon of choice, made table-side from a special, bespoke trolley.
Details: Connaught Hotel, Carlos Place, W1K 2AL | No bookings | Find out more here
–
26. Neck a butterbeer on the Harry Potter Warner Bros. Studio Tour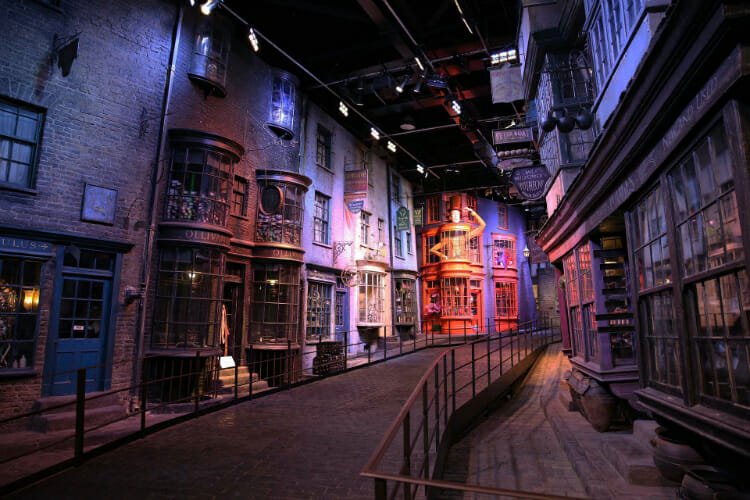 See where all the magic happened from inside Hogwarts itself to the original sets of Diagon Alley and the Forbidden Forest (which here you're permitted to enter).
Details: Studio Tour Drive, Watford, WD25 7LR | £51.50 | Find our full Harry Potter in London guide here
–
27. Go for dinner and a show in the West End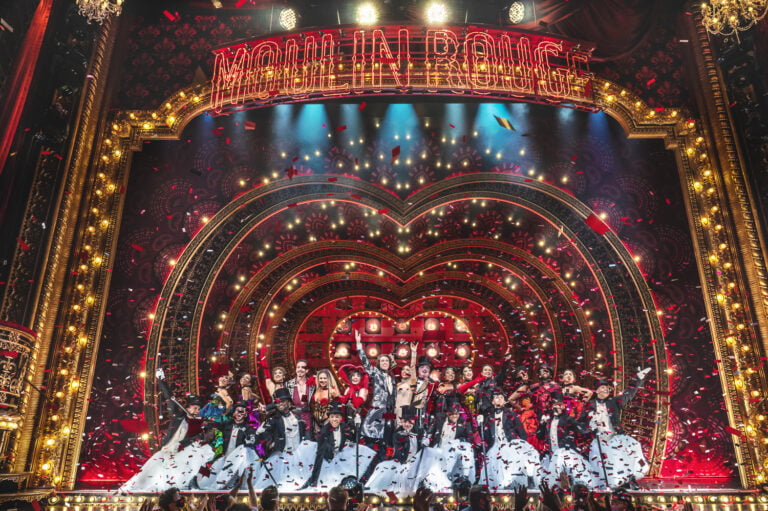 See all of London's best musicals right here.
–
28. Spend an hour at Trafalgar Square
Approximately 1 minute snapping a quick pic of Nelson's Column and the lions, and then the other 59 darting around the National Gallery and National Portrait Gallery exchanging looks with London's largest collection of European art.
Address: 65 Trafalgar Square, WC2N 5DN | Free | Find out more here
–
29. Stop and smell the roses at Kew Gardens
There's 170 types of them in the rose garden here, plus treetop walkways, Victorian conservatories, a 10 storey pagoda… and virtually every other kind of plant known to man.
Details: Royal Botanical Gardens, W9 3AE | £24 | Book here
–
30. Spot your yard from the top of The Shard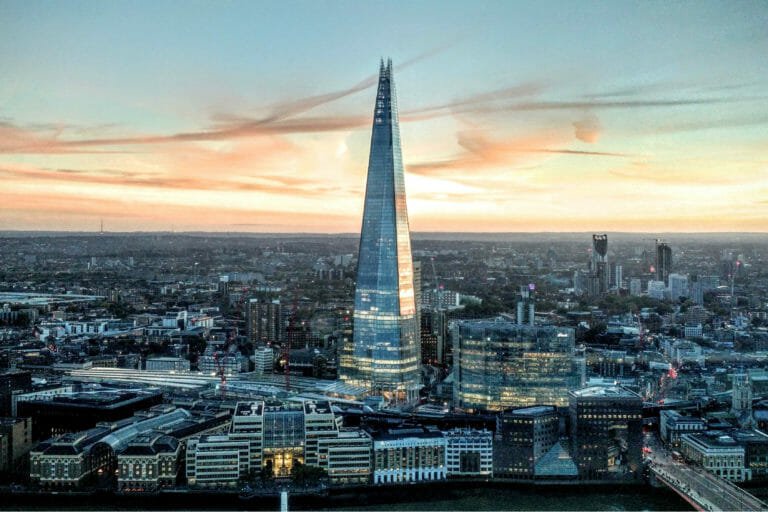 You can get an eyeful of every one of these London attractions from the Shard, which stands Sauron-like over the city at 306 metres. Don't fork out for the View From The Shard, though – you can enjoy those panoramic views of the city with a cocktail in the skyscraper's glitzy restaurants and bars.
Details: 2 London Bridge Street, SE1 9SG | Find out more here
–
31. Practice your cockney rhyming slang at Columbia Flower Market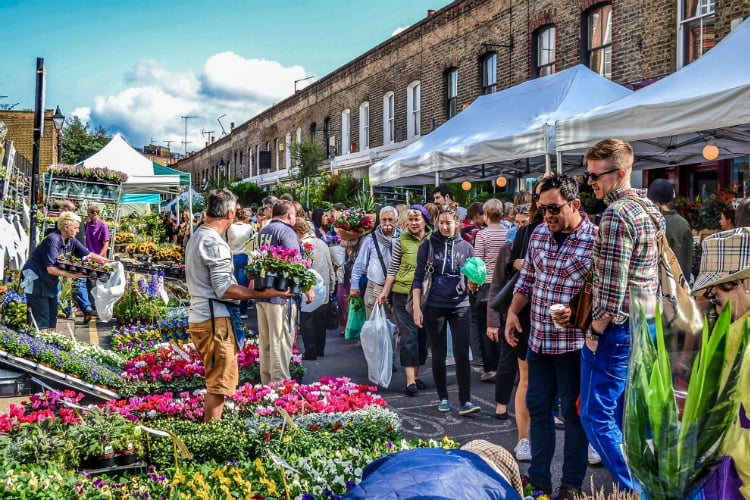 If your windowsill is looking a bit sad or you've had a fight that needs to be nipped in the bud… Columbia Road is where you want to be. The East London flower market is open every Sunday and, while the early birds may have their pick of the bunch, it's also a shrewd move arriving after 2pm when the traders start slashing their prices.
Details: Columbia Road, E2 7RG | Free entry | Find out more here
–
32. Catwalk down Carnaby Street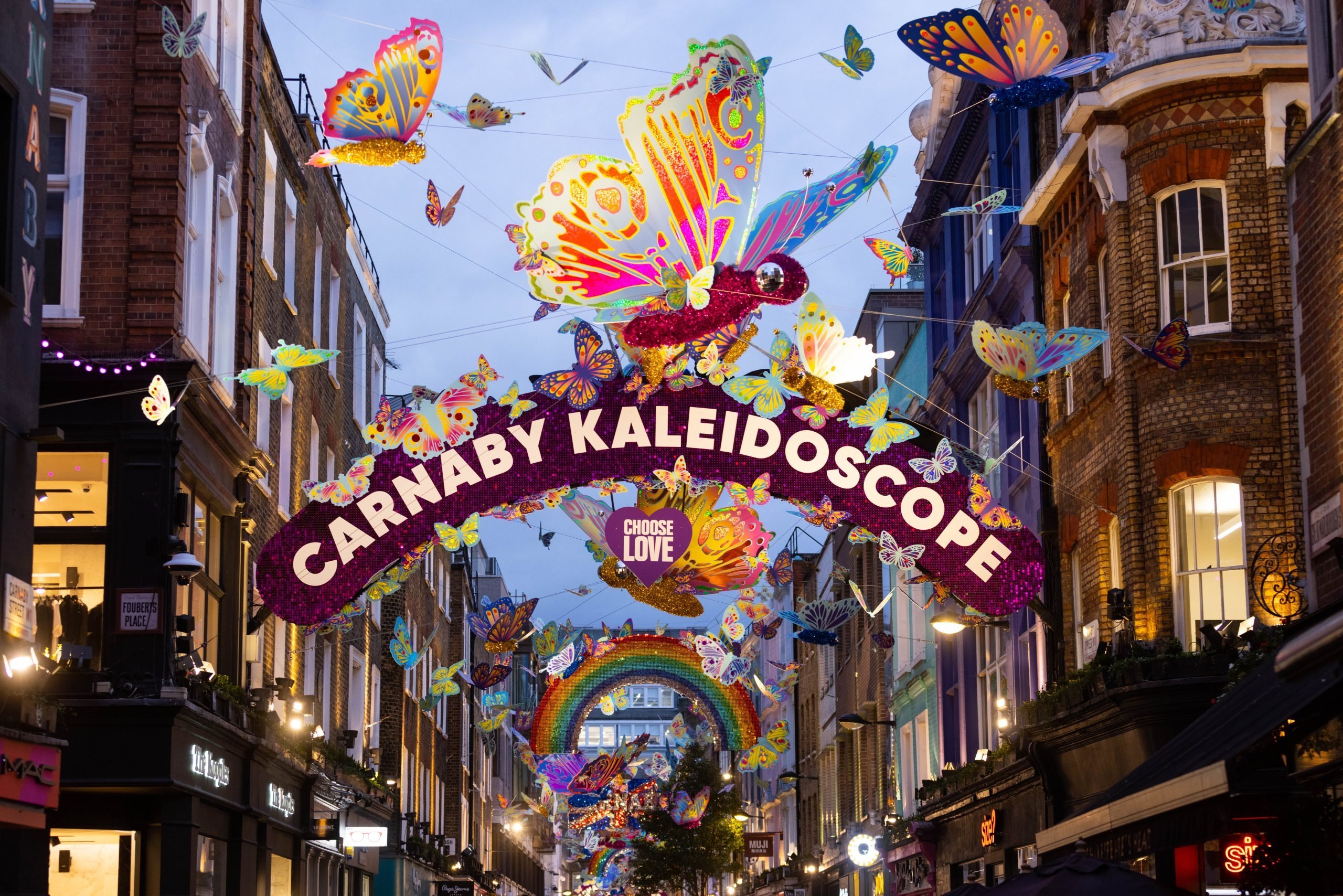 The iconic home of London's mod movement in the 60s: now home to Kingly Court, dozens of shops (including the equally iconic Liberty's department store), and flamboyant street displays all year-round.
Details: Carnaby Street, W1F 7DL
–
33. Make up for any childhood disappointment at Hamleys
It's five floors of mass-manufactured heaven for kids (and not-kids) of all ages.
Details: 188-196 Regent Street, W1B 5BT
–
34. Roam the Barbican Centre
Looks-wise, this brutalist block of architecture isn't everyone's cup of tea, but thanks to its concert hall, cinemas, theatre, library, art gallery, and of course the Barbican Conservatory… it's got culture in spades.
Details: Silk Street, EC2Y 8DS | See what's on
–
35. Try pulling an Albert Gunter at Tower Bridge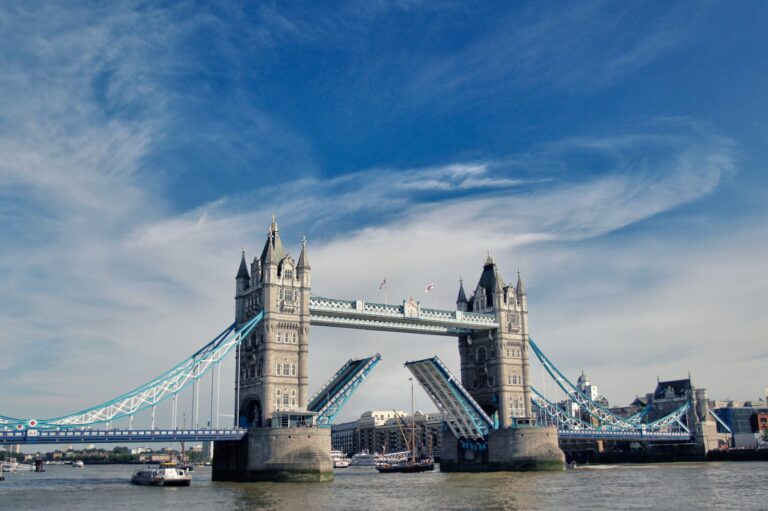 He safely drove a double decker over the gap when the bridge started opening unexpectedly. Of course, you could always stroll along the glass walkways above if you want to keep a safe distance from the Thames.
Details: Tower Bridge Road, London, SE1 2UP
–
36. Go on a street art tour of Brick Lane
Rifle through the vintage markets, then follow your nose for dinner – this street has some of the capital's best curry houses.
Details: Brick Lane, E1 6SA
–
37. See the Crown Jewels at the Tower of London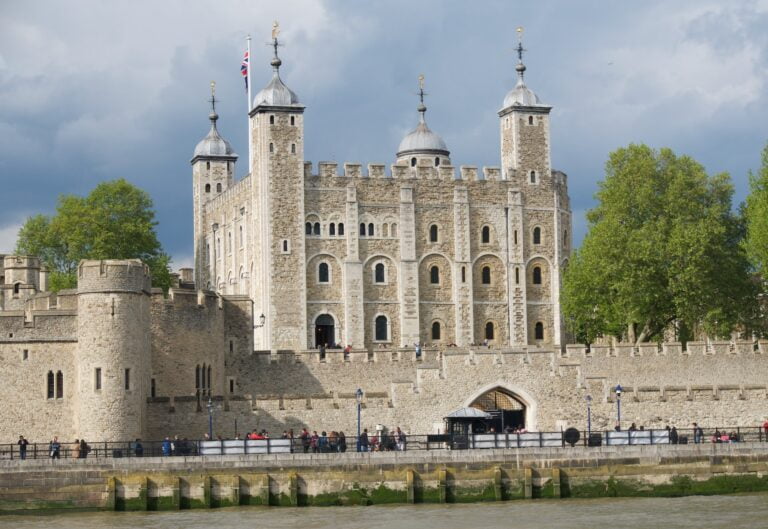 Beefeaters, crows, and a 1000 year old castle filled with precious gems. It's a priceless experience…
Details: London EC3N 4AB | £33.60 | Book here
–
38. Take a stroll around one of the best parks in London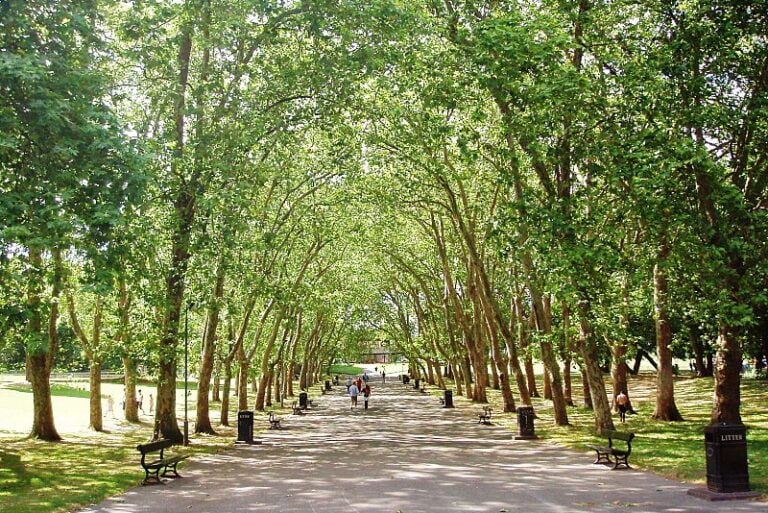 With eight royal parks and a mere 3000 other parks dotted around the city, there's no denying green is London's second favourite colour (after grey of course).
–
39. Go to the British Museum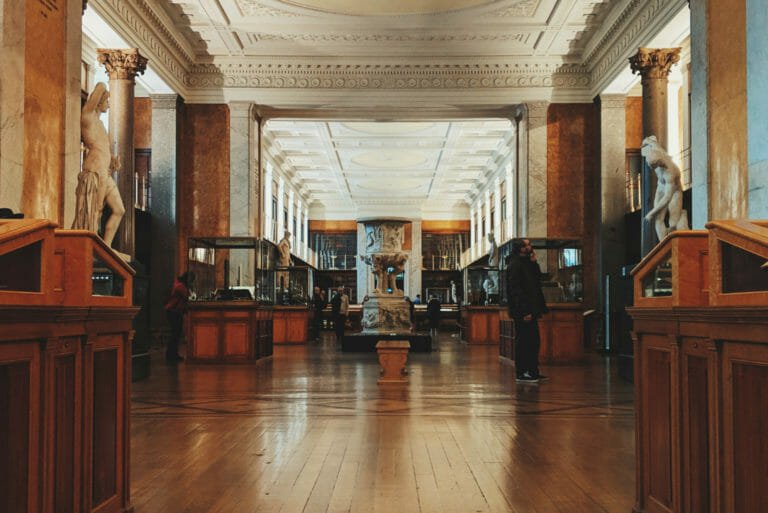 And casually take in over two million years of human history, art and spirituality over the course of an afternoon…
Details: Great Russell Street, WC1B 3DG | See the best museums in London
–
40. Ride the London Eye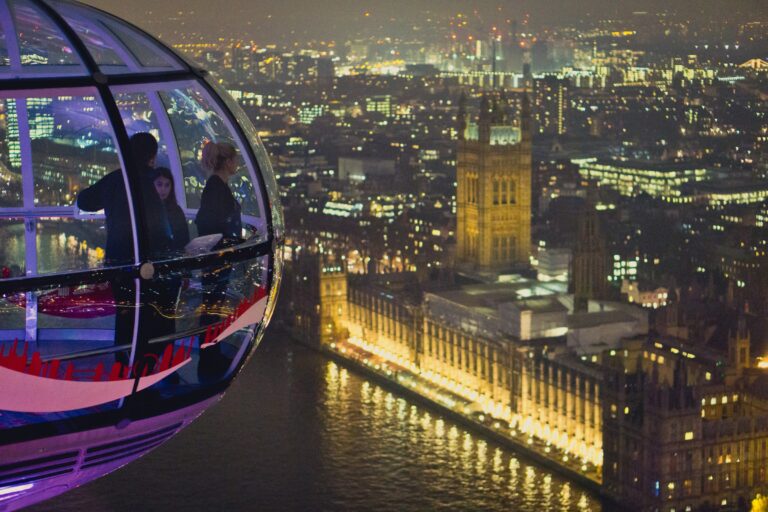 Then cast your own eye over the city below.
Details: Riverside Building, County Hall, London SE1 7PB | £30.50 | Book here
---
Feeling peckish after touring London's attractions? That's where our guide to the best restaurant in every neighbourhood comes in.