The City: one of the most high-powered, cortisol-charged and fast-paced parts of London.
And that's just on the tube before you get to work.
So chances are you'll need somewhere to wind down afterwards. Here are the best liquor-laced hideouts to do that, from Fleet Street to Liverpool Street…
–
Silverleaf | Liverpool Street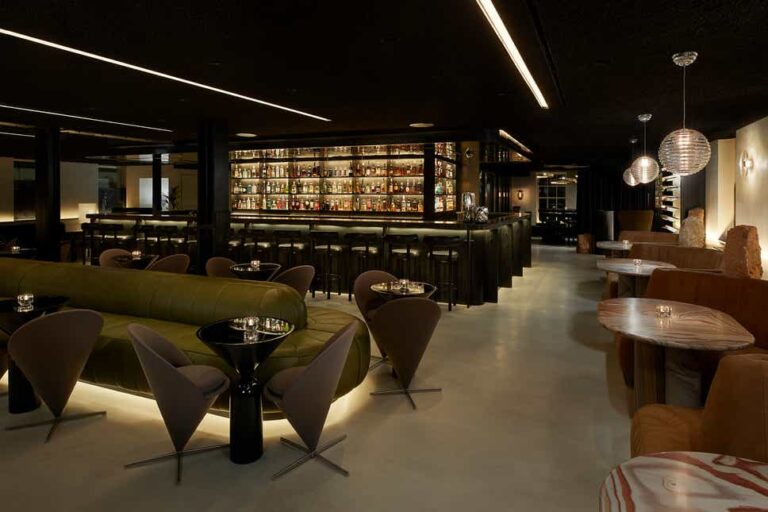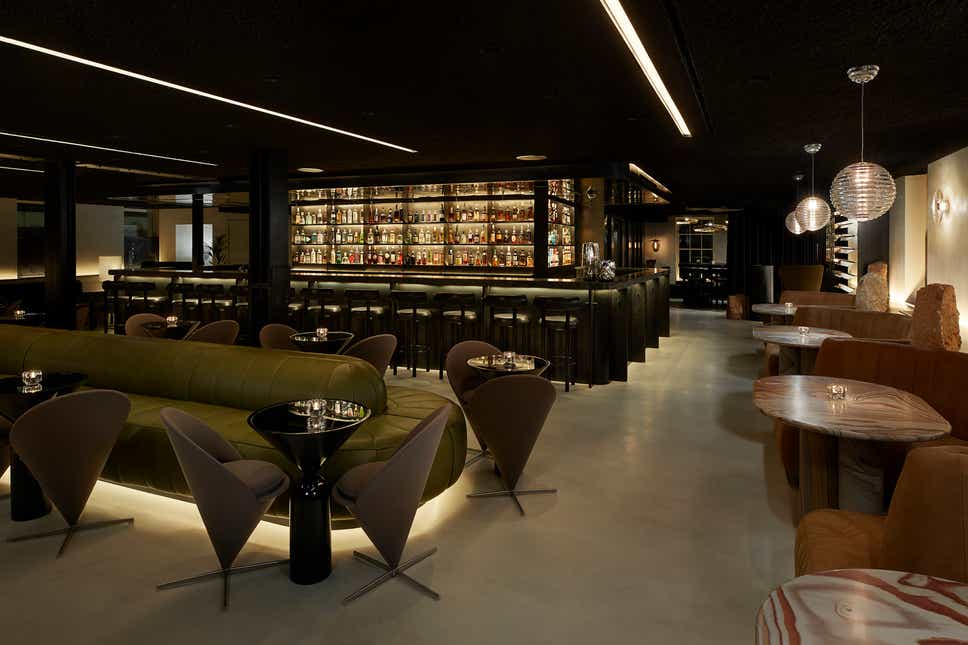 Silverleaf's an excellent place to take a big group from the office, because it nails everything. Cocktails? Take a look at the unusual menu, with flavour profiles denoted by strange, rune-like symbols. Post-dinner nightcap? There's a golden whisky vault recessed into one of the walls. Big booze-up with the whole team? Hire out Alba – it's basically a private dining room, but for drinking – and you can even store your own spirits there.
Details: Open daily, 5pm-2am | 80 Houndsditch, EC3A 7AB
–
Black Rock | Moorgate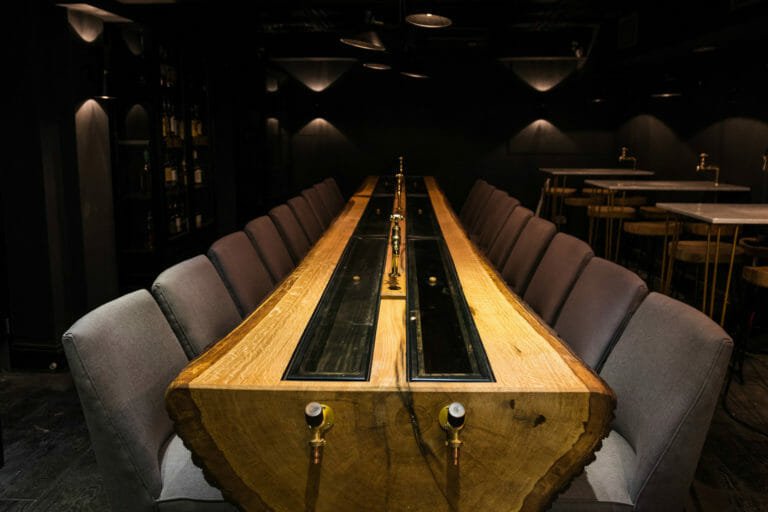 To call Black Rock a bar would be slightly misleading. Because there is no bar – instead, they've split a 185 year old tree in half, filled it with two home-blend whiskies, and attached two convenient taps at the end. And while placing your mouth directly under those taps is generally frowned upon, they're more than happy to mix the contents into cocktails or serve you a dram from their 250-strong whiskey library.
Details: Open Mon-Sat from 5pm (until 2am Fri & Sat) | 9 Christopher Street, London EC2A 2BS
–
5cc Singer Tavern | Moorgate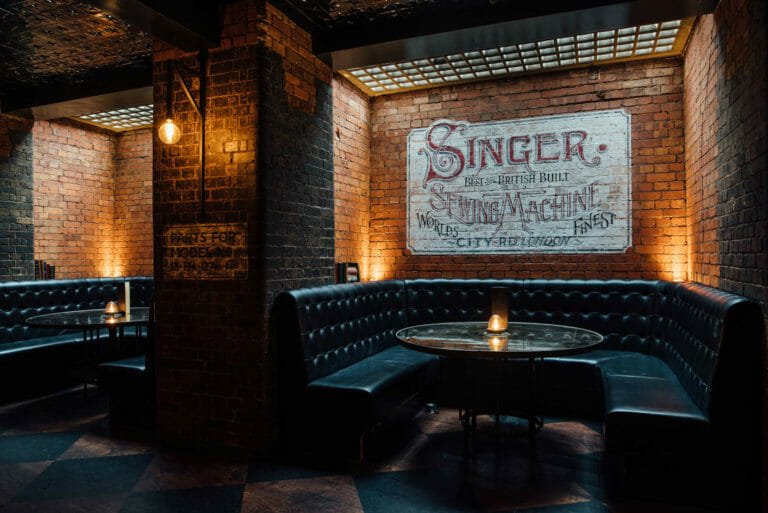 Sure, the Singer Tavern is a good place for a pint. But slip downstairs and you'll find the grungy 5cc cocktail den, nestled in the basement of an old Singer sewing machine factory, where the menu's packed with small-batch spirits from independent London distillers; fine & rare bottles of amaro and bitters; vintage bottles of plonk and a generous late-night menu of sliders from the gastropub above. Which is also a good place for a pint.
Details: Open Tues-Sat from 5pm (6pm Sat) | 1 City Road, EC1Y 1AG
–
Milroy's Spitalfields | Spitalfields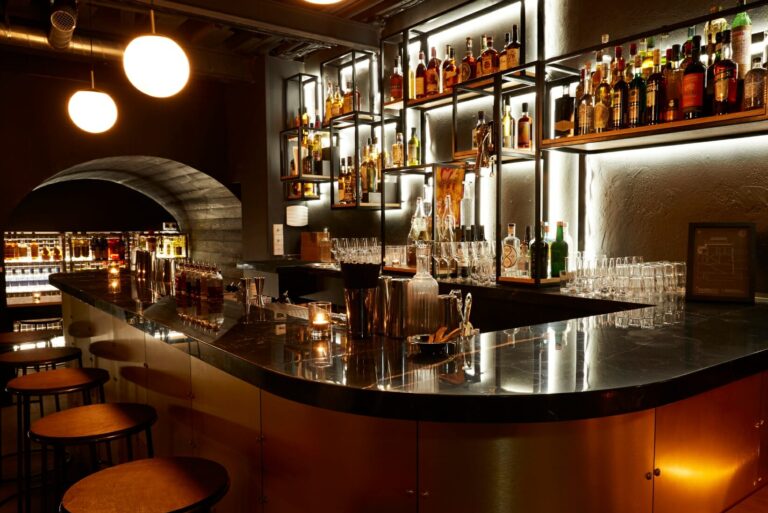 A four-storey temple to whisky from the team behind the iconic Soho bottleshop, with cocktail bars on the first two floors, a stylish members' room, a cigar terrace and a dedicated tasting workshop. Best of all, the ground floor bar has no menu – the bartenders are that confident they can make you something you'll like.
Details: Open Mon-Sat from 6pm | 76 Commercial Street, E1 6LY
–
Merchant House | St. Paul's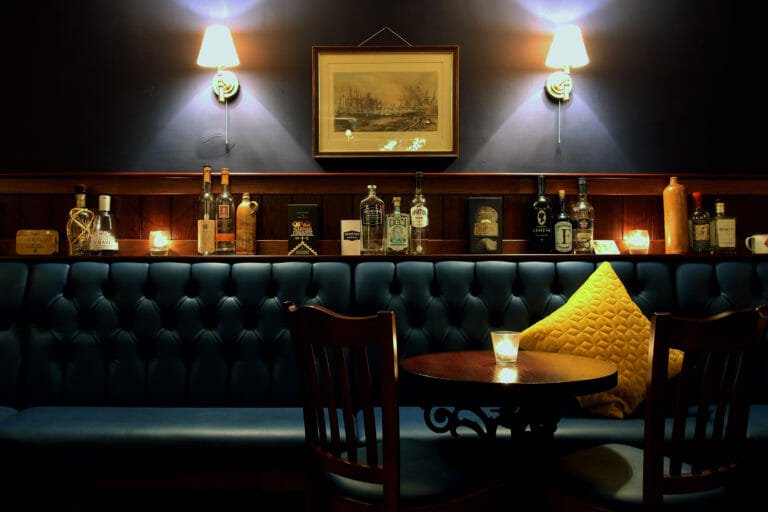 A soothingly low-lit den with a staggering collection of 600 whiskies, 400 rums and 400 gins. Helping you to navigate them is a knowledgeable fleet of bar staff and an antique-looking menu taking inspiration from the Victorian age of exploration, with a story behind every cocktail. Hire out the brig, and you'll find yourself in the city's smallest bar – a private drinking den for two with your own bartender in tow.
Details: Open Mon-Fri 3pm-1am, Sat 4pm-1am | Merchant House of Bow Lane, 13 Well Court, London, EC4M 9DN


Do Not Disturb | Bank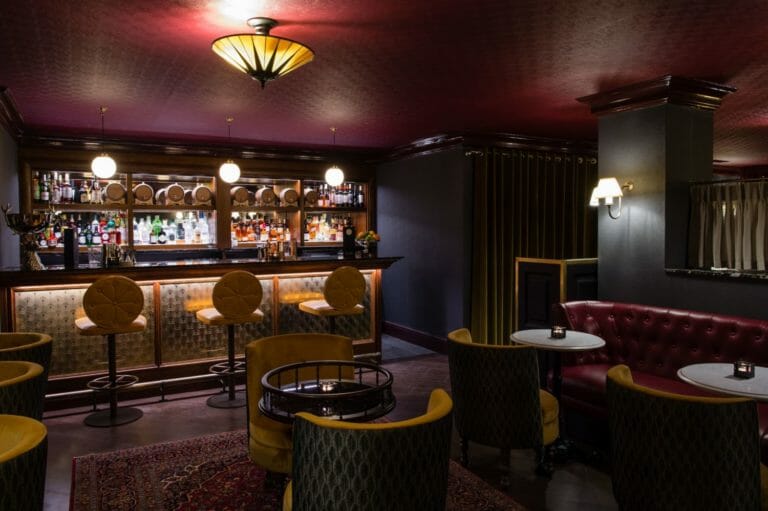 This subterranean bar lives up to its name – tucked out of sight on Garlick Hill, it never gets overly crowded, making it the perfect date spot in the City. Cocktails are a cut above your average, from signatures like the 'Martina' (with rum, fresh grapes, sugar syrup and soya sauce) to their barrel-aged negronis and sazeracs.
Details: Open Tues-Sat, 5.30pm-1am | 20 Garlick Hill, London EC4V 2AU
–
Demon, Wise + Partners | Bank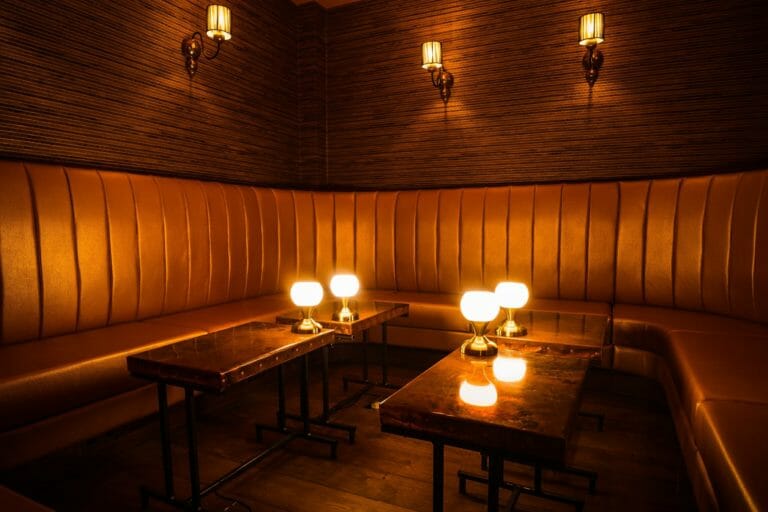 Bypass the sticky floors of The Arbitrager and head downstairs, where you'll find a moody, no-standing bar serving up slick cocktails in low-lit leather booths. Their two house concoctions, the Demon and the Wise, change recipes when the drink has been made 100 times, just to keep the mystery alive.
Details: Open Mon-Fri evenings | 27A Throgmorton Street, London, EC2N 2AN
–
Discount Suit Company | Aldgate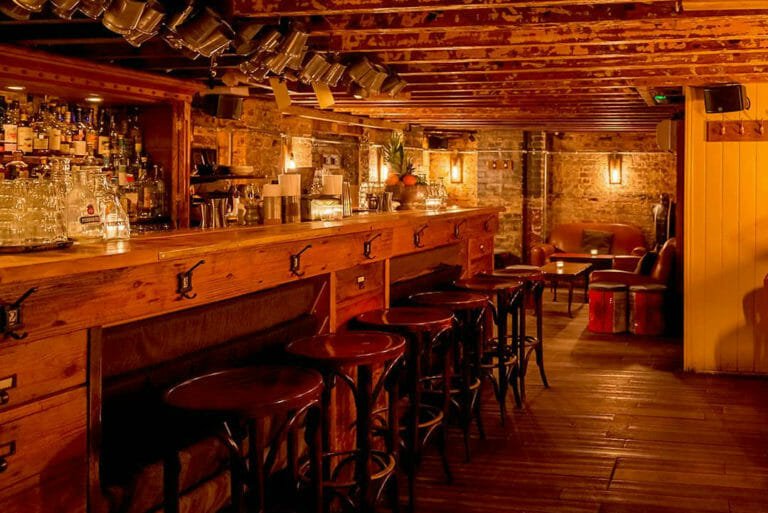 The ultimate in basement bars: DSC is a raucous den of cocktails, candlelight and loud records. Making its home in an old tailors' stock room off Brick Lane, you'll have to first spot the dilapidated sign hanging off the side of the building; bat your eyes at the doorman; draw back a heavy curtain at the bottom of the stairs and hope that you've got the right address…
Details: Open daily 5pm-12am (1am Fri/Sat, 11pm Sun) | 29 Wentworth Street, E1 7TB
–
City of London Distillery (C.O.L.D.) | Fleet Street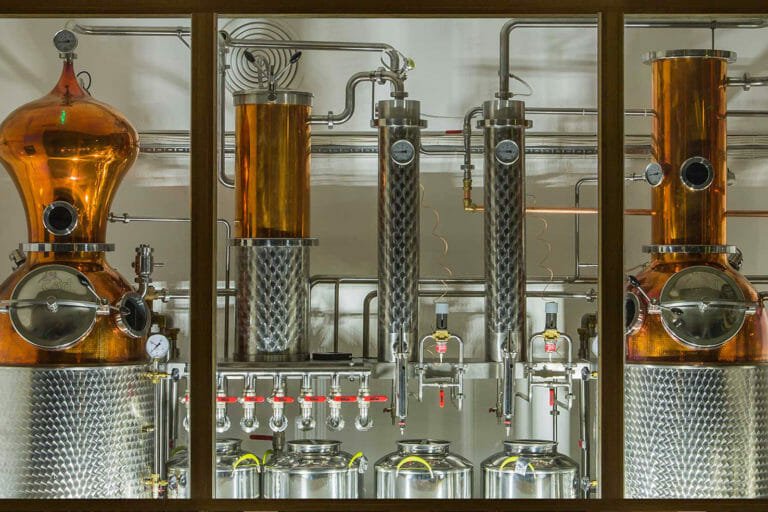 Be sure to pay your respects to Jennifer and Clarissa in the City of London Distillery bar. You'll recognise them as being silent, rotund and made entirely from metal: they're the two huge copper distillery tanks responsible for what the bar describes as a "faint aroma of gin vapour that hangs in the air." But if you're after something a little more tangible than vapour, the bar here serves up flawless G&Ts, signature martinis, tasting flights and 'forgotten' gin cocktails – or you can join one of the many tours, masterclasses, and even workshops to distil your own gin. Either way, you'll be taking some of that aroma with you when you leave. 
Details: Open Mon-Sat 2-11pm | 22-24 Bride Lane, EC4Y 8DT
–
Humble Grape | Fleet Street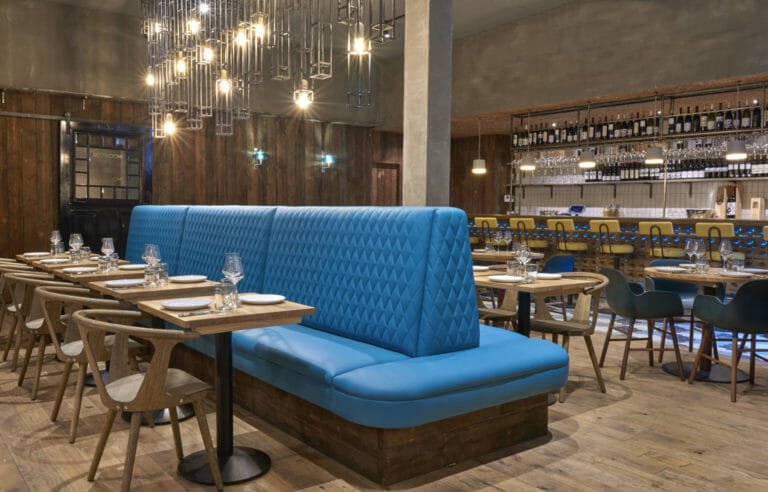 Nobody does wine like Humble Grape. Which might sound like a bold claim to make, until you realise that their Fleet Street wine bar is housed in the 300+ year-old vaults of a church designed by Sir Christopher Wren, and that their cellars hold a not-so-humble collection of around 200 different wines. Happily, you don't have to work your way through all of them to find what you like best – their crack team of sommelier waiting staff will be able to find something right up your street.
Details: Open all day on weekdays, closed weekends | 1 St Bride's Passage, EC4Y 8EJ

---
Venturing further east? Check out our guide to Shoreditch Bars