You know, there are times – often many times, in fact – when even the finest selection of wines and the world's greatest sommeliers can't compete with a bottle of wine that you bought for a tenner and brought along to the restaurant with you.
Somehow it just tastes, well… nicer.
So in celebration of those occasions we'd like to raise a glass in honour of London's finest BYOB establishments.
Sláinte.
---
Little Georgia | Hackney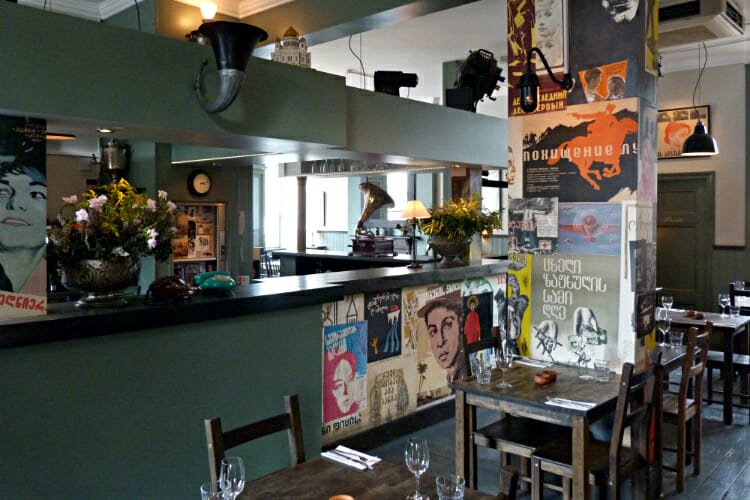 Open for breakfast, lunch and dinner, Little Georgia Cafe serves homely yet ambitious Georgian food amid a simple, tasteful decor of vintage portraits and fairy lights. They'll probably give you the wrong meal. But it'll be awesome. READ MORE
Details: 87 Goldsmith's Row, Bethnal Green, E2 8QR | No corkage if you spend £15+
–
The Bonnington Café | Vauxhall
A co-operatively run vegetarian and vegan restaurant maintained by an active collection of member cooks; so you never really know what's going to be on the menu, except vegetables.
Details: 11 Vauxhall Grove, Vauxhall, London SW8 1TD | No corkage, 50p donation encouraged
–
Hix Oyster and Chop House | Farringdon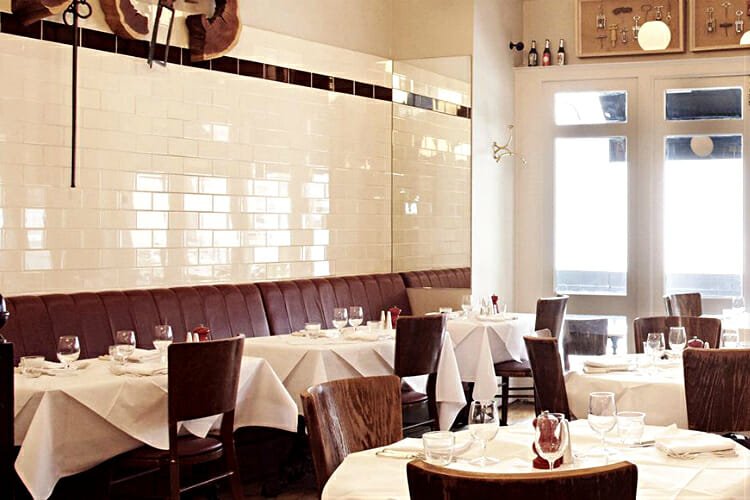 They do oysters, chops, and BYOB on Mondays. But that didn't fit quite as elegantly into the name.
Details: 36-37 Greenhill Rents, Cowcross St, EC1M 6BN | No charge, Sunday night and all day Monday (max table of six and 1 bottle/person)
–
The Golden Hind | Marylebone 
Don't take anything in the newspaper too seriously. Unless of course it's fish and chips from The Golden Hind, undoubtedly one of the finest BYOB restaurants in London. READ MORE
Details: 71-73 Marylebone Lane, Marylebone, W1U 2PN | Corkage £5 per person
–
Soif | Battersea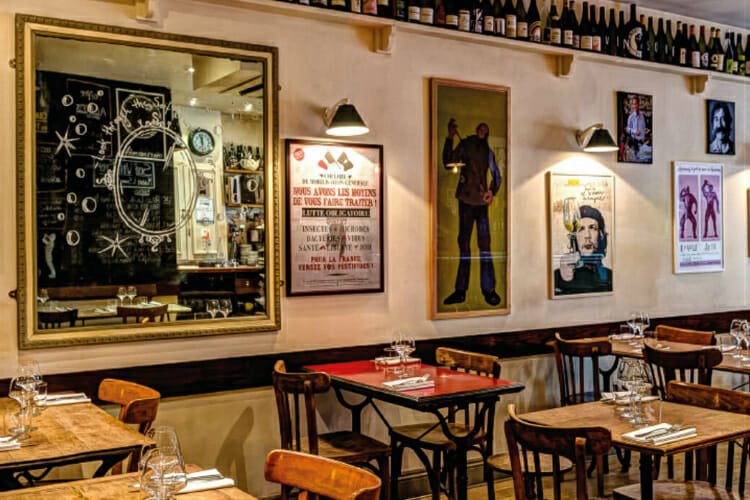 As a wine bar, selling bottles is pretty much Soif's raison d'être. But they're nice, so they'll also let you bring your own on any day of the week to enjoy alongside their acclaimed French fare. READ MORE.
Details: 27 Battersea Rise, Battersea, SW11 1HG | £10 corkage
Persepolis | Peckham
It's a slightly bonkers Persian grocery and restaurant serving 100% vegetarian fare. Dishes are to be shared – a mix of vibrant salads, dips, pickles and more – best enjoyed over a couple of BYOB beers, or a bottle or two of wine, thanks to zero corkage. READ MORE.
Details: 28-30 Peckham High Street, Peckham, SE15 5DT | Mon-Sun 10.45am – 10.30pm

–
Xi'an Impression | Highbury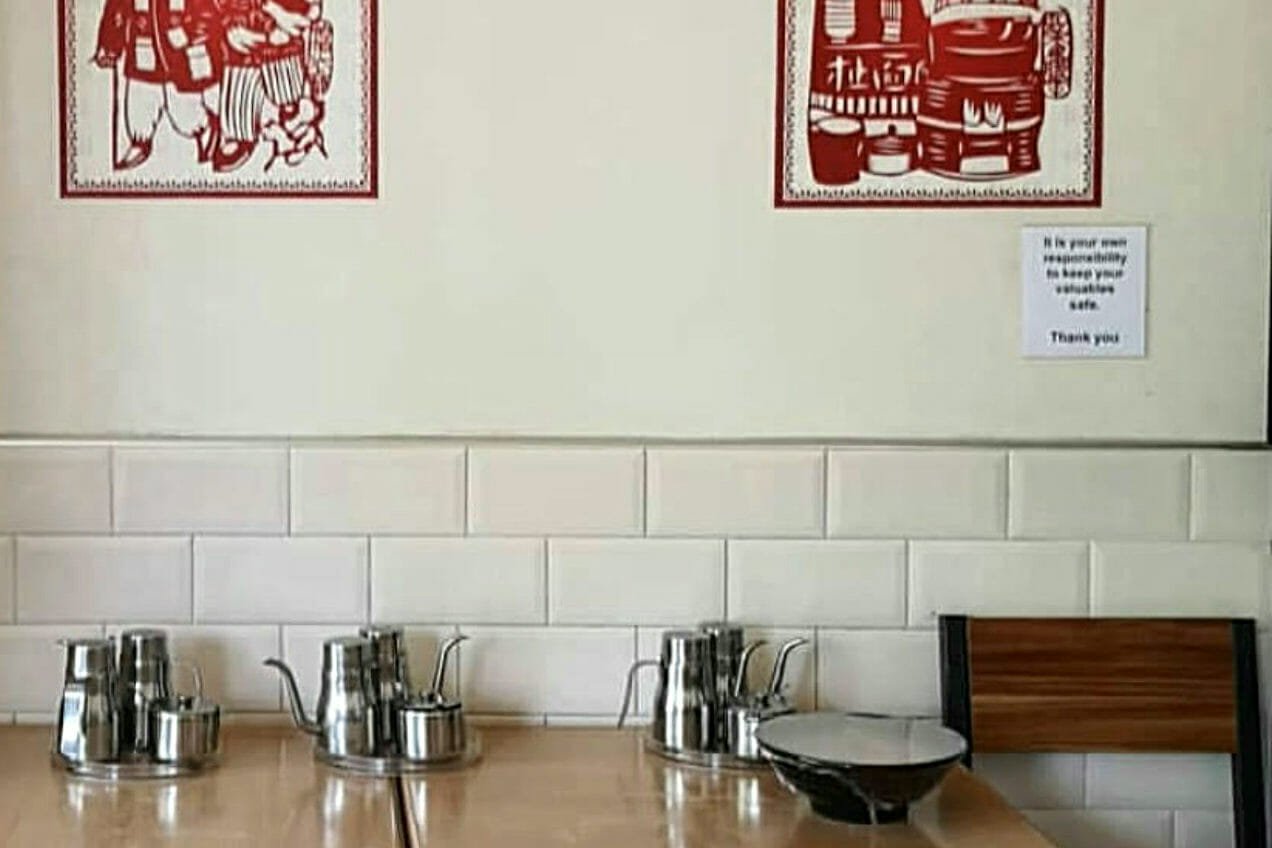 Authenitic Xi'an street food in a stripped back setting. Must-try dishes include their Liangpi (a popular cold noodle dish); their bianbiang noodles (this time warm); and their Chinese burgers. READ MORE.
Details: 117 Benwell Road, London, N7 7BW | £5.50 corkage for wine, £1.70 for a can of beer
–
1251 | Angel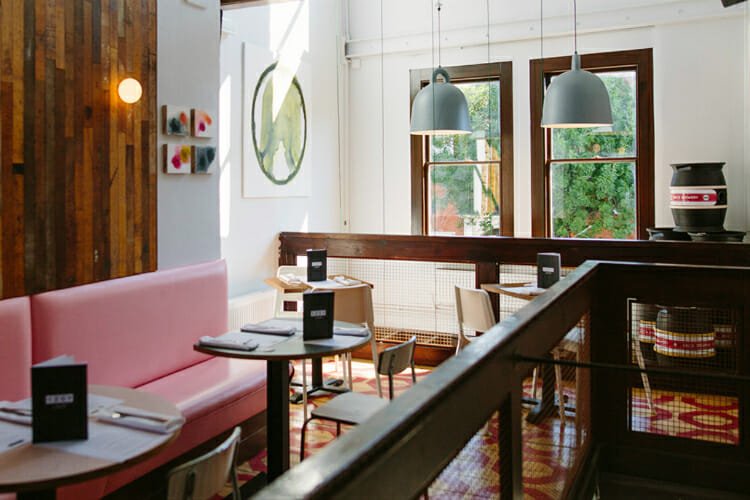 1251 comes to you from Great British Menu winner James Cochran – who, as it turns out, has saved his greatest British menu for Mondays and Tuesdays, when you can score five courses of high-quality grub for £35, with free BYOB. READ MORE
Details: 107 Upper Street, N1 1QN | No corkage
–
Singburi | Leytonstone
A family-run Thai cafe in Leytonstone with regular queues out the door, thanks to deep fried pork belly and your favourite bottle. READ MORE
Details: 593 Leytonstone High Road, London, E11 4PA | No Corkage
–
Breakfast Club in Soho | Soho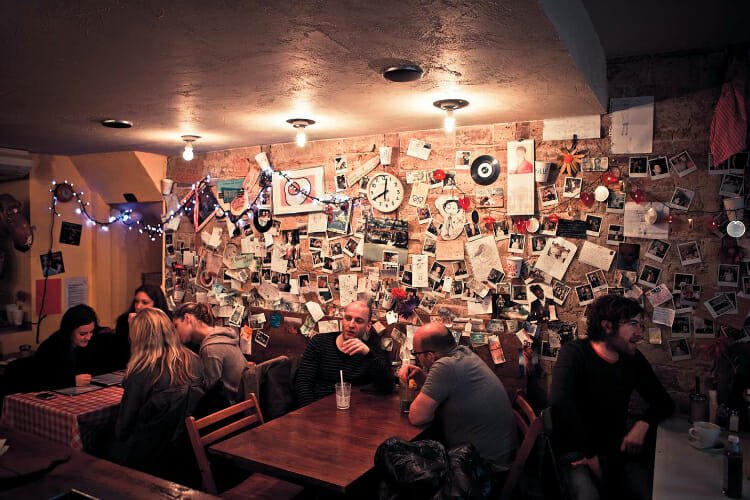 Where The Breakfast Club all began; where two 80s children searching for an elusive alternative to sub-par sandwiches and mediocre mushroom burgers hatched a plan; where TBC is still BYOB and acronyms reign supreme. READ MORE
Details: 33 D'Arblay Street, Soho, W1F 8EU | BYOB from 5pm-close every night. £5 corkage charge
–
Alounak | Notting Hill 
An Iranian-style feast of garlicky yoghurts, smoked aubergine, grilled kebabs, basmati rice and warm bread from the proudly displayed tandoori oven.
Details: 10 Russell Gardens, Notting Hill, W14 8EZ | No corkage
–
Hawksmoor | Various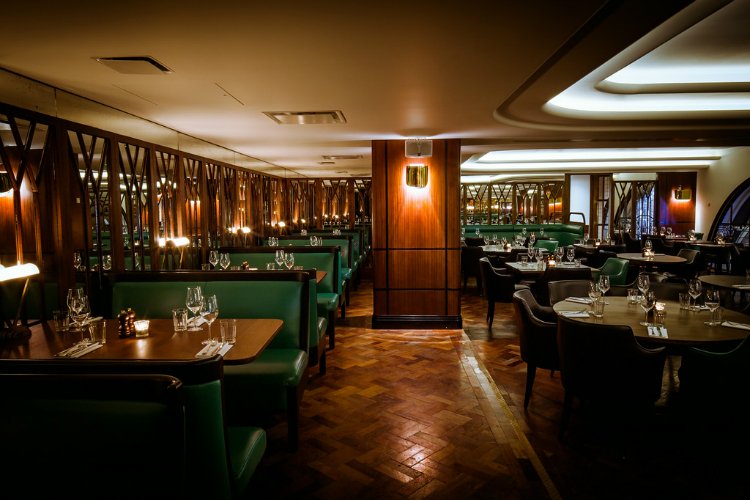 Some of the best steak, triple cooked chips, service and cocktails South of the North Pole. READ MORE
Details: All Hawksmoor locations | BYOB Mondays, corkage £5 per bottle, £25 Tues-Sun
–
Tayyabs | Whitechapel
Whitechapel's famed North Indian restaurant serves starters from £4, mains from £10, charges nothing for corkage and is still vying as one of East London's best Indian cafe style restaurants. Which is good news, because Whitechapel can't get enough New Delhis. READ MORE
Details: 83-89 Fieldgate Street, Whitechapel, E1 1JU | No corkage
–
Caboose | Shoreditch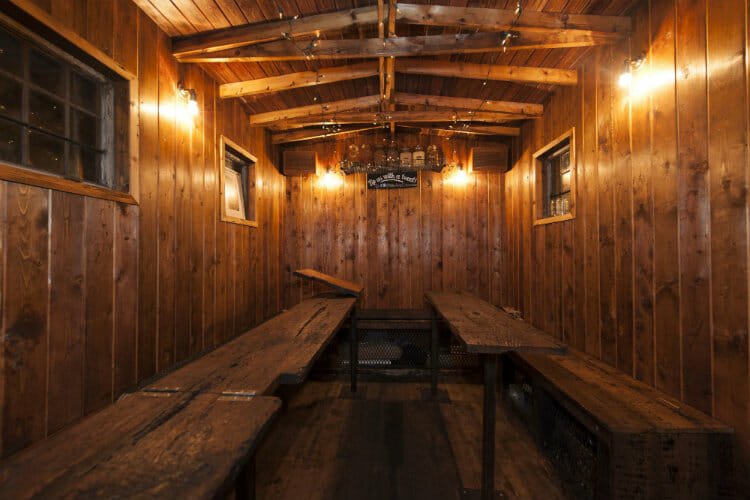 It's first and foremost a street food stall in Brick Lane, but they also have a 13-seater wooden cabin which can be hired out for private parties at £35 a head. The focus is slow-cooked meats, namely pulled pork belly or beef brisket, served up with the likes of sweet maple slaw, BBQ pit beans, roast garlic mash… and whatever booze you like.
Details: Ely's Yard Car Park, Dray Walk (off Hanbury Street) Shoreditch, London, E1 6QR | £5 corkage
–
Thai Corner Cafe | East Dulwich
Another laid-back, family-run Thai restaurant, this time in East Dulwich.
Details: 44 Northcross Road, East Dulwich, London, SE22 9EU | £3 corkage per person
–
Andu Cafe | Dalston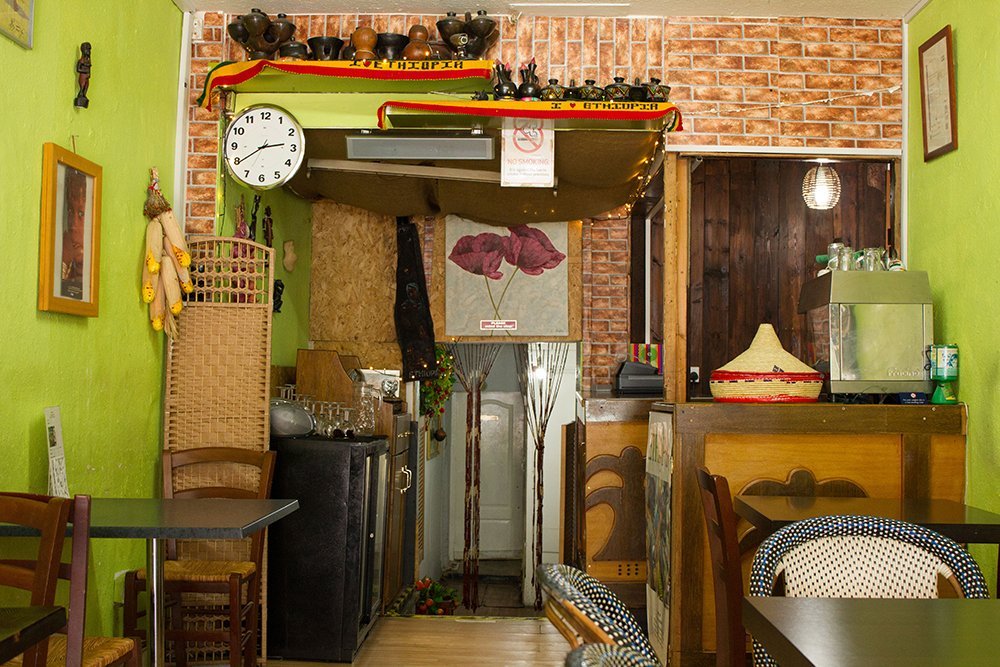 It's a low-key, vegan Ethiopian joint on Dalston's Kingsland Road. There's only one dish on the menu costing just £6, andddd it's BYOB, making it a cheap and cheerful dinner option pretty impossible to resist. READ MORE.
Details: 528 Kingsland Road, Dalston, London, E8 4AH | Mon-Sun, 12-10pm 
Last Updated: 25th January 2021 | Main image: 1251
---
Like great restaurants? Check out our excellent guide to the best restaurants in every London neighbourhood