The Espresso Martini.
Helping tired, drunk people stay awake since 1987.
Wait, what? You don't know exactly what the Espresso Martini is; where it came from; or where in London they're currently serving up the very best ones? Well you can rest easy soldier, because we've spent all of the time that you don't have available to you selflessly pulling together this unbelievably Espresso Martini-focused "everything-you-need-to-know" guide. But we know what you're thinking… and that is "Has The Nudge gone the extra mile and convinced the masterful Matt Green (senior bartender at East London cocktail haven TT Liquor) to let them in on exactly how to make the perfect Espresso Martini?"
And the answer to that is Hells.
Yes.
We'll start with our favourite Espresso Martinis in London, and beneath that give you a little info on what it is; where it came from; and how to make one…..
---

WHERE TO DRINK THE BEST ESPRESSO MARTINI IN LONDON
TT Liquor | Shoreditch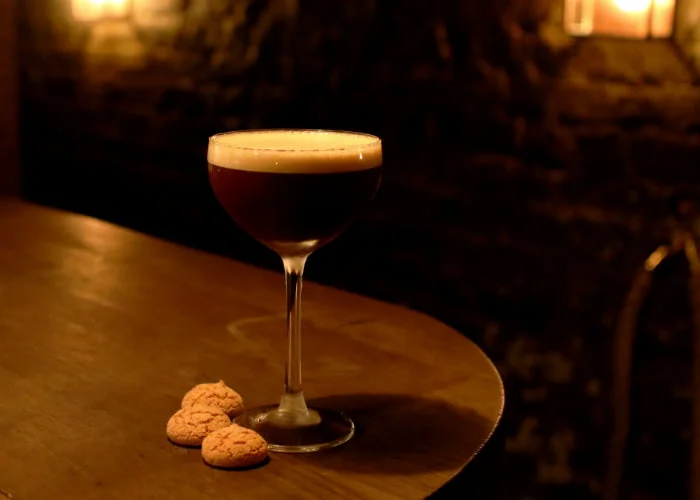 A hidden gem in Shoreditch, TT Liquor opened a little while ago, but quietly – which is great, because they're not overrun with people (yet). They ooze cool. It's set up in an old converted police station – now a liquor shop/cocktail making school/subterranean cocktail bar, where you can get quietly boozed in old jail cells. Espresso martini-wise they can knock you up a classic, or as you'll find in the recipe below, they've got their Article 50. Be careful how many you drink though; before you know it you'll have a hard bar-exit.
Address: 17B Kingsland Road, E2 8AA | Opening times: Mon-Sun, 5-11pm | Price: £10 | Happy hour? No | Find out more or book via their website here.
–
Dishoom | Covent Garden, Shoreditch, King's Cross, Carnaby Street, Kensington
There are currently five Dishooms in London, which is good for a plethora of reasons, including the fact that they all serve their take on an Espresso Martini – the " Monsoon Martini" –  at all hours of the day. The difference here is that as well as Black Cow vodka, they also mix in chilli liquor, black walnut bitters, and a nice thick crema. Or, should you fancy a night off the hard stuff they've got an alcohol-free version, too… We hear they're causing quite the storm.
Address: various | Opening times: Mon-Thurs 8am-11pm, Fri 8am-12pm, Sat 9am-12pm, Sun 9am-11pm | Price: £8.50 | Happy hour? No | Find out more or book via their website here.
–
B & H Buildings | Clerkenwell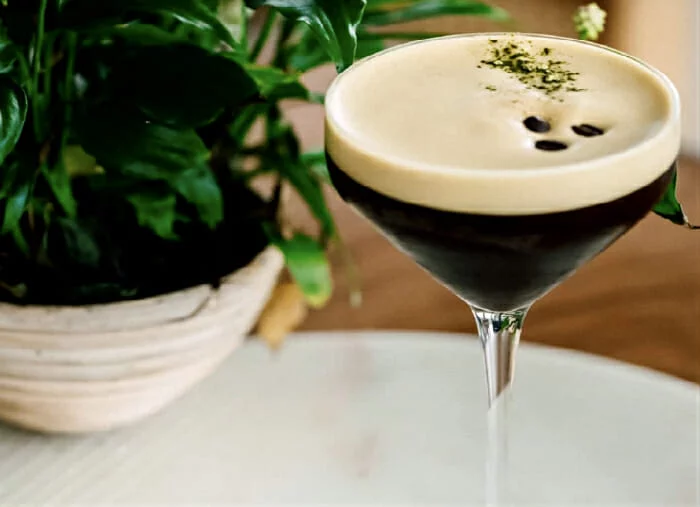 This is the bigger of the two buildings from the Bourne and Hollingsworth folk, the one you've probably seen plastered all over Instagram thanks to its beautiful country-house-inspired dining rooms full of sprawling greenery; palm trees wrapped with festoon lighting; hanging baskets; palm print arm chairs; and wrought iron garden benches, softened with floral cushions of course. They claim to be able to make the Rolls Royce of Espresso Martinis, which they say is thanks to the incredible complexity of Guyana's El Dorado 5 year old rum; the three different coffees used in Mr Black's cold brew coffee liqueur; Taylor's Late Bottled Vintage Port; fresh 100% Arabica espresso; and muscovado sugar, all shaken hard until chilled and fluffy. We believe them, because they taste good.
Address: 42 Northampton Road, Clerkenwell, EC1R 0HU | Opening times: Mon-Thurs 11am-12am, Fri 11am-1am, Sat 10am-1am, Sun 10am-6pm | Price: £10 | Happy hour? no | Find out more or book via their website here.
–
Grind | Ten locations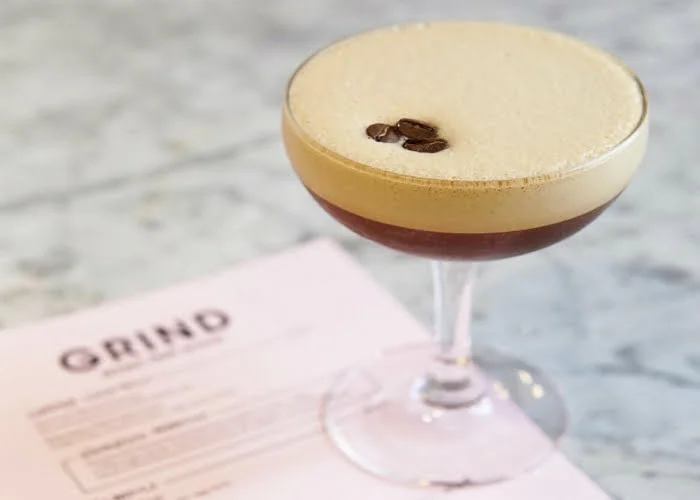 The first good thing about Grind is that there are ten of them, from Soho to Whitechapel – all of which serve coffee and cocktails, up to 18 hours a day. Close second is their Espresso Martini…and their Espresso Old Fashioned (espresso-infused Bourbon, sugar, and bitters);  Chai Your Luck (grind filter, rum, chai, lemon, apple and agave); and Hot Flat White Russian (Grind house blend, vodka, coffee liqueur, and milk). A mighty five whole reasons to joe.
Address: various | Opening times: It ranges from site to site, but they are approximately 7am-12am | Price: £8.50 | Happy hour? no | Find out more or book via their website here.
–
Caravan | City, King's Cross, Bankside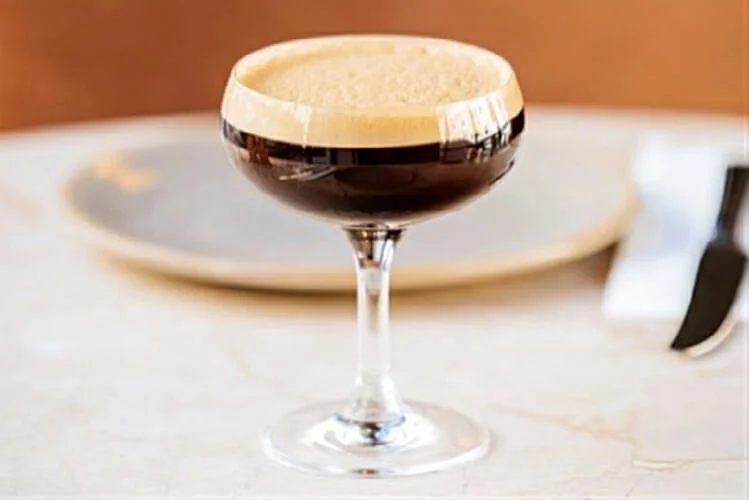 Definitely deserving of a spot on our Espresso Martini London tour is Caravan, the ever-expanding coffee roasters and all-day eatery. Not only do they offer a eclectic menu of fusion dishes – moving form your more traditional breakfast-y stuff in the morning to small plates post lunch – their coffee is also roasted fresh on-site daily, making the Espresso Martini an obvious choice.
Address: City: Bloomberg Arcade, 3 Queen Victoria Street, Mansion House, The City, EC2R; King's Cross: The Granary Building, 1 Granary Square, King's Cross, North London, N1C 4AA; Bankside: Caravan, 30 Great Guildford Street, Bankside, South London, SE1 0HS | Opening times: various | Price: £9 | Happy hour? no | Find out more or book via their website here.
Batch | Peckham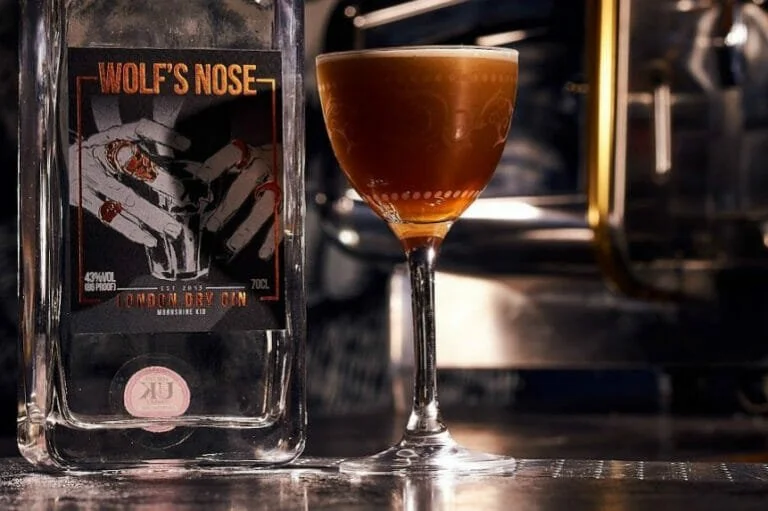 Up the fancy end of Peckham Rye – you know, where Mr Bao sits – is Batch, a slightly grubby, gothic-looking cocktail bar, although serving some pretty decent drinks. Their USP is always using small batch or handmade spirits (geddit?), including St George's coffee liqueur in both their vodka or gin-based espresso martinis.
Address: 56 Peckham Rye, Peckham, SE15 4JR | Opening times: Wed-Fri, 6-1opm, Sat 4-10pm | Price: £7.50 | Happy hour? 5-8pm | Find out more or book via their website here.
---
OK…
BUT WHAT ACTUALLY IS AN ESPRESSO MARTINI?
In short it's a cold, coffee-flavoured cocktail served in a satisfyingly fancy glass. The main ingredients are vodka, espresso, coffee liquor, and sugar syrup. Plus approximately three buoyant coffee beans for decoration.
WHERE DID IT COME FROM?
'Wake me up, then fuck me up' said a young woman (now a famous model apparently) to a bartender – Dick Bradsell – at Fred's Club in the late 1980s. According to Bradsell himself the coffee machine was right next to where he was serving drinks, and vodka was hot at the time. Throw in a few extra splashes of this and that, and the Espresso Martini was born.
HOW DO YOU MAKE A DECENT ESPRESSO MARTINI?
Obviously anyone can Google how to make an Espresso Martini – but what takes it from espresso to impresso? We had a chat to TT Liquor's Matt Green to ask all the questions our Google search didn't answer, like: What vodka should you use? Do you need to chill the glass? And how do you make that frothy bit on the top so…frothy?
Ingredients for TT Liquor's 'Article 50' (their own fancy version of the Espresso Martini):
– 30ml Union 55 Rum
– 30ml Coffee @33 Espresso
– 15ml Hazelnut Syrup
– 10ml Amaretto
– 10ml FAIR Cacao
– 10ml FAIR Café
What's the first step to making a good Espresso Martini? Are you meant to chill the glass?
Yeah, definitely chill the glass. A cold glass means the drink stays cool for longer. A well-extracted espresso also makes a huge difference, as well as the quality of products in general.
Is there a secret to the coffee?
So we get our coffee from a small independent coffee company in Brighton called Coffee @ 33. They're great roasters and they do a mean espresso.
What chocolate do you use?
The chocolate element in our drink is achieved using FAIR Cacao Liqueur. FAIR are a great independent spirits company from France, who make Vodka, Rum, and a series of Liqueurs. The big plus with them is that everything they put in their liquid is FairTrade, so everyone's a winner.
Does it matter what order you add the ingredients in?
Not particularly. Essentially they're all going to be shaken up together, so as long as they're all in the tin at the same time it should result in a banging cocktail.
Is there a technique to shaking it?
You want to shake it hard – put some welly into it. You also want to shake it for a good period of time, say 12-15 seconds, just to give it that lovely frothy head that's characteristic of a good Espresso Martini. You basically just want to move the ice around as much as possible.
Any other words of wisdom?
There's no threat of shaking it too hard. Don't be shy with the shake. The more you move the ice around, the more the air moves around with it, the more froth you get, the more satisfying the finished product is to drink. That would be my pearl of wisdom.
Last updated: 4th August 2020
---
Not into coffee? Maybe you'll enjoy our Best Afternoon Tea In London guide instead.