Legend has it that two knights fought to the death on a bridge over what is now the Serpentine – which became Knightsbridge. Jousting there now are a number of quality restaurants owned by A-list chefs and elite business groups that are parading their house banners in the battle for top dog in London's most expensive postcode.
Get your glad-rags on, arm yourself with a fully loaded credit card…
…and let battle commence.
–
Roughly translated from the Japanese, 'izakaya' means pub.
So when the people at The Mandarin Oriental describe their plush basement restaurant, The Aubrey, as an "eccentric izakaya", we're forced to assume that their definition of the word eccentric is, well, slightly eccentric.
Because The Aubrey is many things – elegant, polished, luxuriant, fun – but it is not a pub…
Details: Mandarin Oriental Hyde Park, 66 Knightsbridge, SW1X 7LA | Book here
–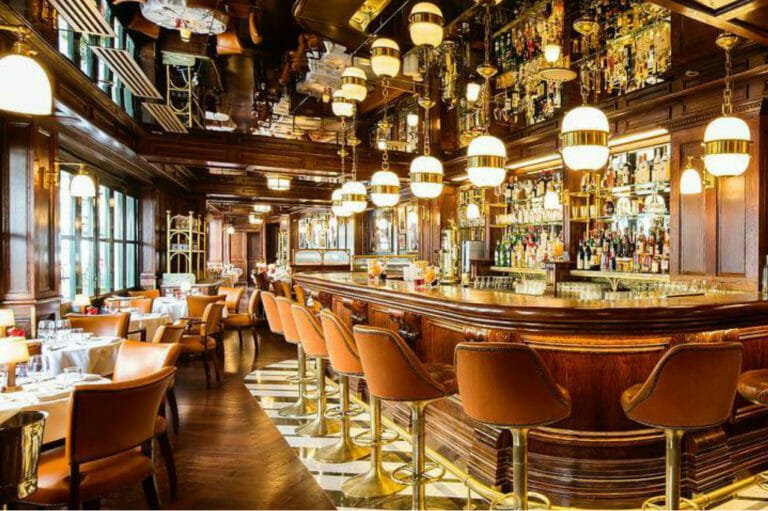 One of the Caprice holdings series (along with The Ivy and J. Sheekey), this glamorous Knightsbridge restaurant serves '50s and '60s inspired Italian food and drink from morning to night.
Walking into the dining room you'd think it was the set of an old fashioned whodunnit movie: wood panelled walls and parquet flooring are offset by golden features, soft retro lighting and a mirrored ceiling. If you look carefully, you can probably see the cast of Murder on the Orient Express sipping sgroppino cocktails (Limoncello, sorbet and prosecco) at one of the intimate booths.
While you're there, why don't you see what they're eating, too? Harry's tagliolini with truffle, parmesan and cream; bistecca di manzo (sirloin steak with rocket salad and datterini tomatoes); and spigola grigliata (simply chargrilled seabass with courgette, and herb salad) will probably all be on the table. 
Details: 27-31 Basil Street, SW3 1BB | Book here
–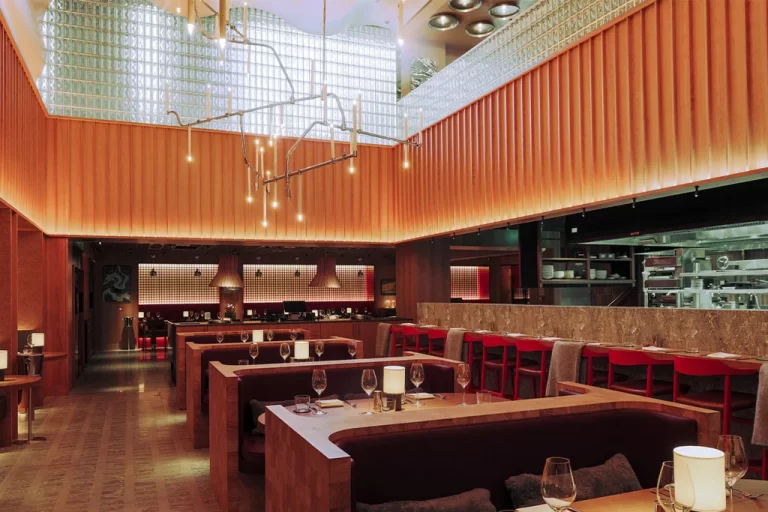 Harrods has just cut the ribbon on its latest addition: a new rooftop restaurant from one of the greatest chefs in the world. And we're really not exaggerating: Bjorn Frantzén has multiple Michelin stars to his name, his restaurants regularly appear on the World's 50 Best List, and he used to be a professional footballer. Which – fine – is nothing really to do with his cooking, but just goes to show that the guy's so talented, he's actually got spare careers up his sleeve. Here, he's serving up Japanese-inflected Nordic cuisine, and amazingly, it's not on a prohibitively expensive tasting menu…
Details: Harrods, 87-135 Brompton Road, SW1X 7XL | Book here
–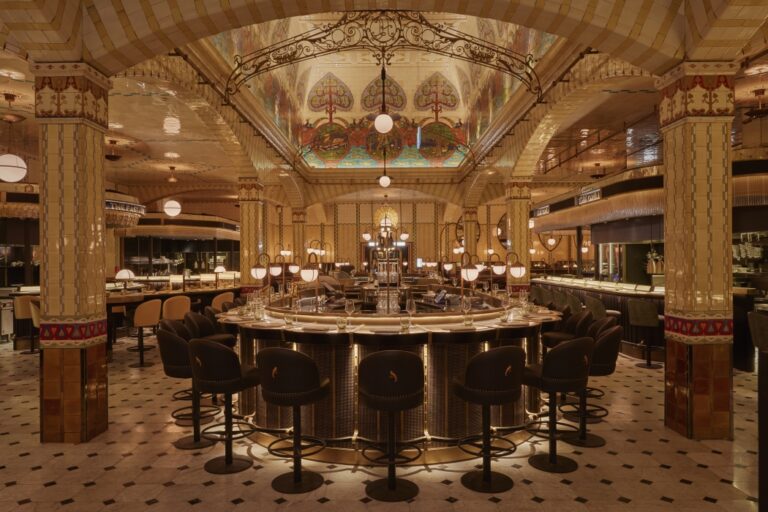 Of course, if you're just after a light lunch and aren't quite in the right frame of mind to take on a Nordic-Japanese feast from one of the world's most esteemed chefs, you can always just swing by Harrods' Dining Hall instead, an art nouveau-styled, high-end food hall where you can pick between oysters and Champagne at the Caviar Bar, A5 Kobe beef at the Grill Bar, or a couple of light snacks from a couple of other Michelin-starred chefs.
Details: Harrods, 87-135 Brompton Road, SW1X 7XL | Book here or just walk in
–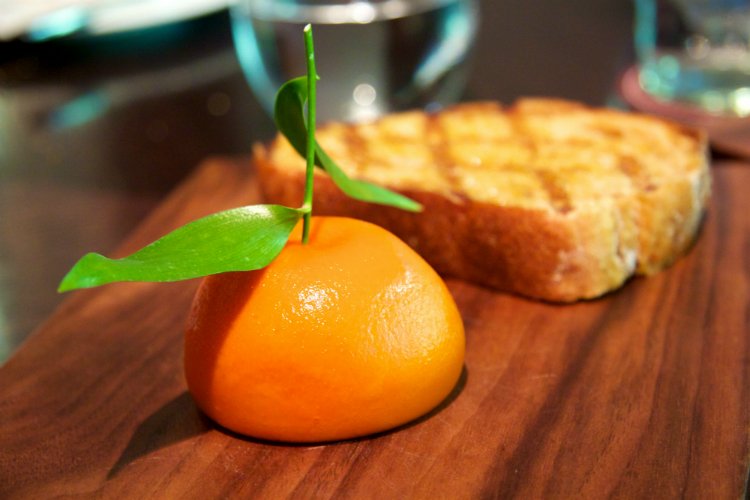 Heston Blumenthal's only London restaurant is inspired by the history of British gastronomy from the Middle Ages up to the Victorian era – and has earned itself two Michelin stars on its journey.
With a historically accurate pineapple roasting pulley as its centre piece – the restaurant (somewhat in keeping with Heston's style) looks like something out of The Science Museum: culinary sculptures and dark wooden panelling give it a post-modern feel.
If you enjoyed the pineapple exhibit – the arrival of the food is going to knock you back to the Dark Ages…literally.
Meat Fruit (c.1500) arrives dressed as a mandarin, only to be revealed as chicken liver parfait; Frumenty is a 14th century dish of grilled octopus, spelt, smoked sea broth and pickled dusle; and lamb and cucumber (c.1830) – saddle of lamb, cucumber heart, peas, sweetbread, borage and mint – will have you rubbing your belly like William IV. 
Details: Mandarin Oriental Hyde Park, SW1X 7LA | Book here
–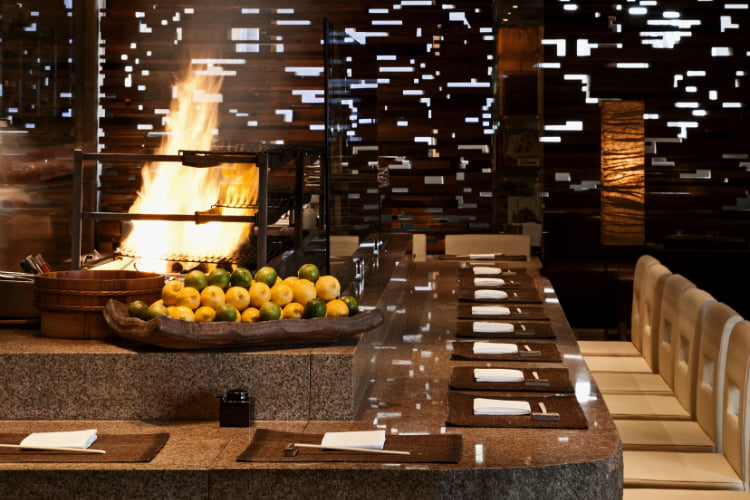 As seems to be a particularly popular choice for restaurants in Knightsbridge, Zuma aims to emulate izakaya-style dining; small plates to be shared with friends along with a couple of drinks.
On entering, the mouth-watering smell of the open-flamed robata grill scorching bits of flesh is unbearably good. Couple this with the huge granite dining bar where you can see the chefs working said grill, and almost every sense has been satisfied before you've even sat down.
The kitchen, and therefore the menu, is broken down into three parts: the main kitchen, the sushi counter and the robata grill. Expect dishes such as: spicy yellowtail tuna, sansho pepper, avocado and wasabi mayo; grilled Chilean seabass with green chilli and ginger dressing; and sirloin steak with fresh wasabi and yuzu tahoon cress.
If you're not dizzied by the food, the 40 strong shakes the bartenders have at their disposal should do it. Try the Hokkaido Blossom which ties gin together with lillet blanc, plum sake, orange blossom and champagne. 
Details: 5 Raphael Street, SW7 1DL | Book here
–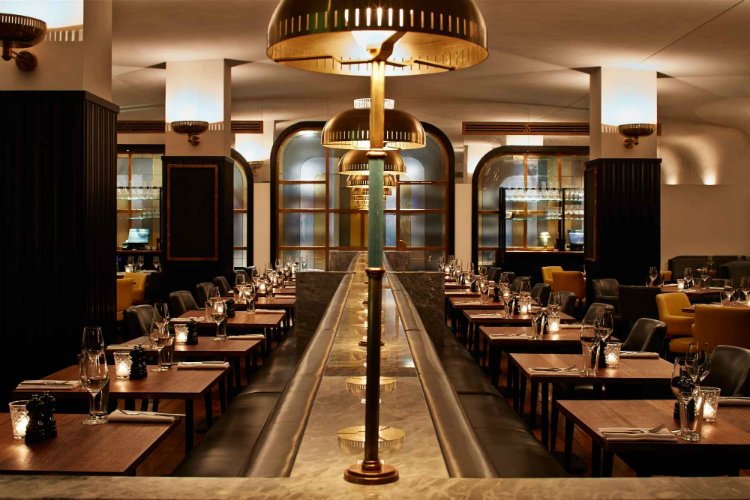 What would normally be considered as a treat-yourself night out is almost downgraded to a don't-worry-I'll-get-this-one restaurant, amongst the grandeur of the other eye-watering restaurants in Knightsbridge.
Hawksmoor's usual leather seats, art deco lighting and gold trim are all there, like a comfy pair of slippers – but a large marble banquette that dissects the restaurant lets you know that you're in Knightsbridge.
Other exclusive-London-postcode idiosyncrasies include a caviar blackboard (to enjoy with or without chilled vodka), Brixham lobsters (devilled, Singapore-style or in a roll with yuzu and & sriracha); and a fist-sized, house-made Ferrero Rocher-esque chocolate ball for dessert. 
What? You're in Knightsbridge. 
Details: 3 Yeoman's Row SW3 2AL | Book here
–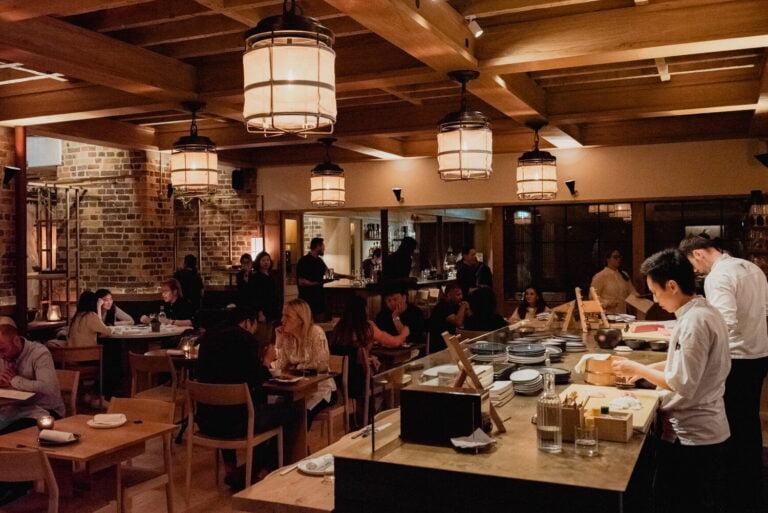 This Japanese restaurant sits at the base of Pantechnicon, a vast, five-storey palace of Japanese and Nordic food, design and culture. Set in the original brick-walled cellars of the building, it's a buzzy, low-lit den where you can dine on boat-fresh sushi; splash out on wagyu and deeply satisfying snacks like tempura and karaage… and make the acquaintance of the restaurant's sake sommelier.
Details: Pantechnicon, 19 Motcomb Street, London, SW1X 8LB | Book here
–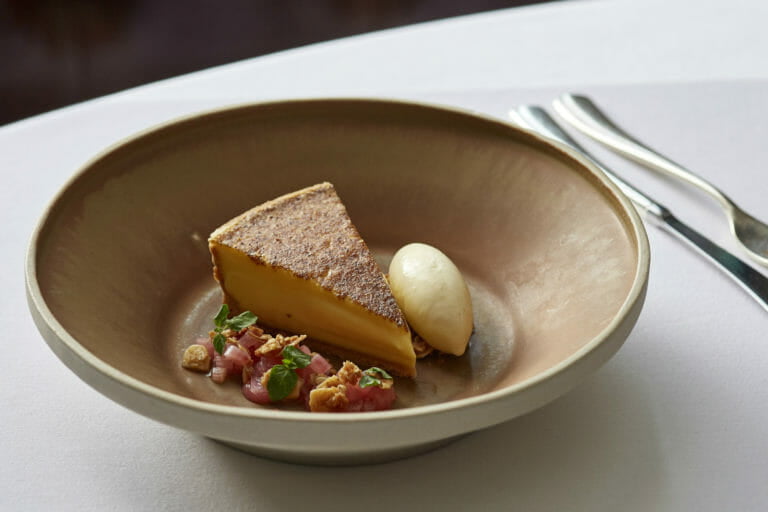 Marcus (formerly Marcus Wareing at The Berkeley) is the eldest and most distinguished sibling of the three London restaurants owned by celebrity chef Marcus Wareing, sporting one Michelin star.
The dining room is quintessential 'fancy London hotel restaurant' with its white-cloth-adorned tables, wood-panelling and large, expensively upholstered chairs. But a contemporary streak runs through it – the curving claret leather booths in place of chairs upgrade it to something more intimate than just a client lunch setting.
With lunch menus at £60 per head (considering you're in The Berkeley) the menu is good value for a restaurant in Knightsbridge. Especially once you tuck into roast veal sweetbreads, mushroom, pea and bacon broth; or roast squab (young pigeon), pigeon leg pie, heritage carrots and Swiss chard.
Details: The Berkeley, SW1X 7RL | Book here
–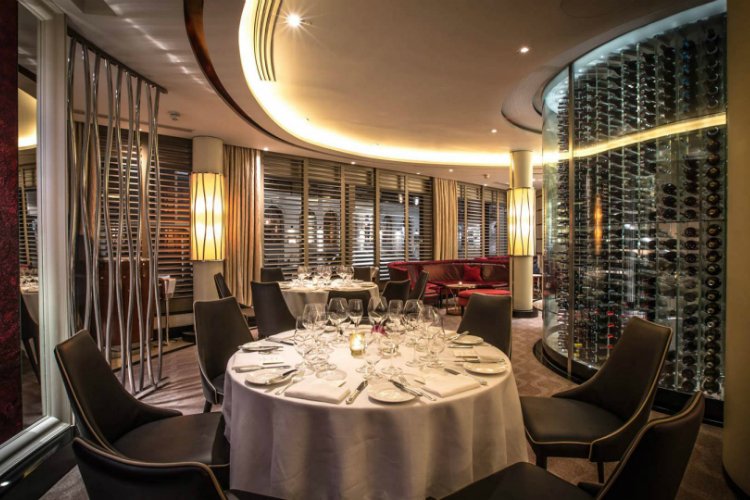 We had to place it next to Marcus in the listing.
Gordon Ramsay's restaurant (previously co-owned and headed up by Marcus Wareing, before the two had a barney and went their separate ways) is now in its second incarnation, on its first Michelin star, and still named after both his and Marcus' favourite wine.
So, no surprise then, that the whole restaurant is designed like something out of Star Trek – a restaurant voyager, orbiting around a sleek, glass wine cellar that holds several vintages of Château Pétrus, amongst a selection of other top notch vino. 
Once you've settled into your seat and set course for dinner, you'll notice that the menu here is also at a fixed price – £60 for lunch, but slightly cheaper than Marcus for the dinnertime tasting menu (fight, fight, fight).
Modern European dishes are the stars here: sautéed foie gras with pickled blackberries, amaranth, smoked duck and mead; turbot with linzer potatoes, coastal herbs, leek and seaweed beurre blanc; and Herdwick lamb, trombetta courgette, Kalamata olives, violet artichoke and marjoram.
Details: 1 Kinnerton Street, SW1X 8EA | Book here
–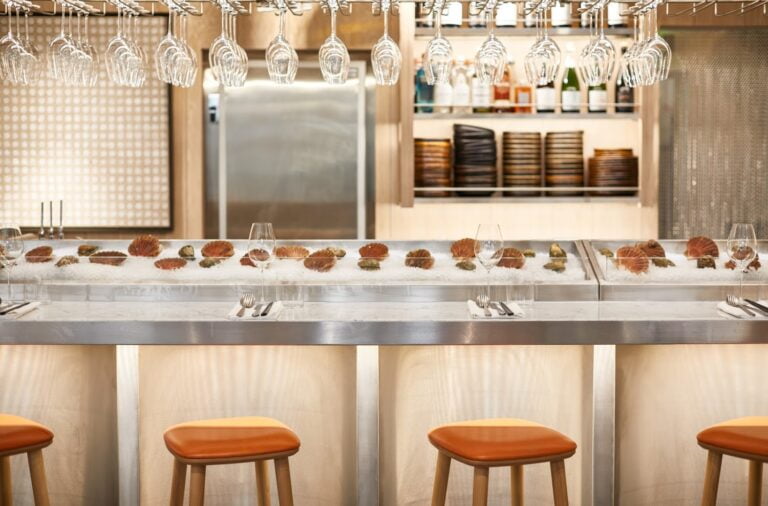 Technically washing up on the shores of Chelsea, The Sea The Sea is easily the best seafood restaurant in the area – and well worth the 15 minute walk down Sloane Street from Knightsbridge tube. This tiny fishmongers on Pavilion Road transforms into an intimate seafood bar at night, with a handful of stools set in front of the zinc-topped raw bar. Here, the chefs serve up steamed mussels with smoked seaweed butter, shellfish platters and more alongside a selection of natural wines.
Details: 174 Pavilion Road, Chelsea, SW1X 0AW | Book here
–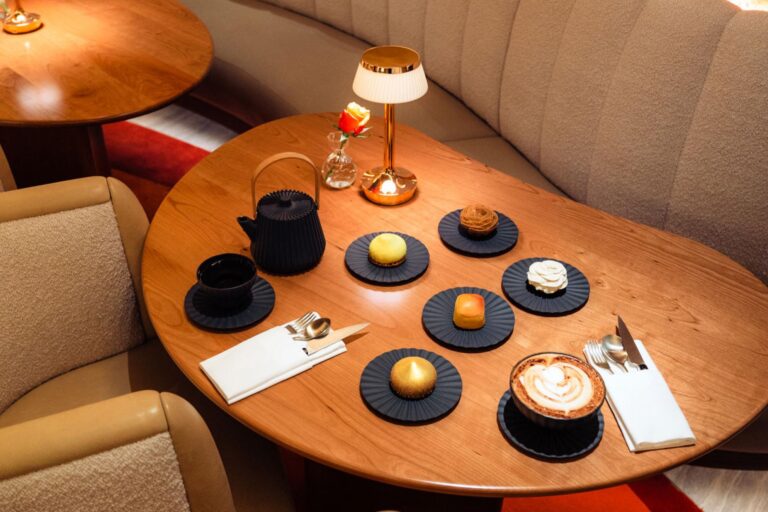 The French do it better – even something as quintessentially English as afternoon tea, as it turns out. Parisian pâttisier Cédric Grolet has come all the way across the channel to show us how it's done, showcasing his famously elaborate pastry creations alongside glasses of Champagne. There are also stools up at the kitchen's counter where you can enjoy a kind of 'chef's table' experience, or you can just order something to-go from the many trompe l'oeil pastries on the counter. Which is French for trompe l'oeil.
Details: The Berkeley, Wilton Place, Knightsbridge, SW1X 7RL | Book here
---
Like exploring the best places to eat in an area? Check out our pick of the best restaurants in every London neighbourhood