A cowboy Count invented it.
Hemingway named one of his dogs after it.
And 100 years after its inception, the negroni is still the second most-ordered cocktail in the world.
Bitter-tasting, complex and lit with a deep red glow, the negroni is one of those drinks that has eternal appeal. It's sophisticated, a little challenging – the sort of order that'll elicit an approving nod from your bartender. And most of all, it's quite literally the stuff of legend.
See, the negroni really started life as a version of another drink, the Americano… which itself was a version of the Milano-Torino. The 'Mi-To' was first produced in Milan by Gaspare Campari, who – fresh from perfecting his eponymous bitter amaro – started combining the stuff with other Italian spirits to make cocktails. The resulting combination of Milan's Campari with Turin's vermouth became especially popular with American tourists, who drank it lengthened with soda to make an 'Americano'.
So far, so delicious. But the seminal moment came in 1919, when one Count Camillo Negroni – by all accounts, quite the character – came to Florence and pulled up a stool at the Caffè Casoni. Behind the bar was Fosco Scarselli, one of that rare old breed who believed "the bartender must change depending on the customer who is standing in front of him. He has to know and guess the flavour and the mood he should offer him."
The Count had just returned from various jaunts around the world – including a trip to London, where he discovered gin, and a long stint in America, where he supposedly worked as a cowboy and went gambling in New York. So when he asked for an Americano a po più robusto – that is, a little stronger – Scarselli obliged, creating a drink just as well-travelled, charismatic and mysterious as its namesake, by swapping out the soda for gin.
The cocktail 'in the style of the count' rapidly became popular across Europe, both in countries where the aperitivo tradition was already entrenched (France, Spain), and in countries that wished they had an aperitivo tradition (the UK). In fact, it only really disappeared from the public eye in the 80s and 90s, when club culture called for drinks that were shaken, not stirred; vodka and rum took the mantle from gin; and cocktails became a lot more sugary. This was the era of the caipirinha, the cosmo, and the espresso martini (supposedly invented when a supermodel, like a 90s Count Negroni, asked for a drink that would "wake [her] up and f*** [her] up").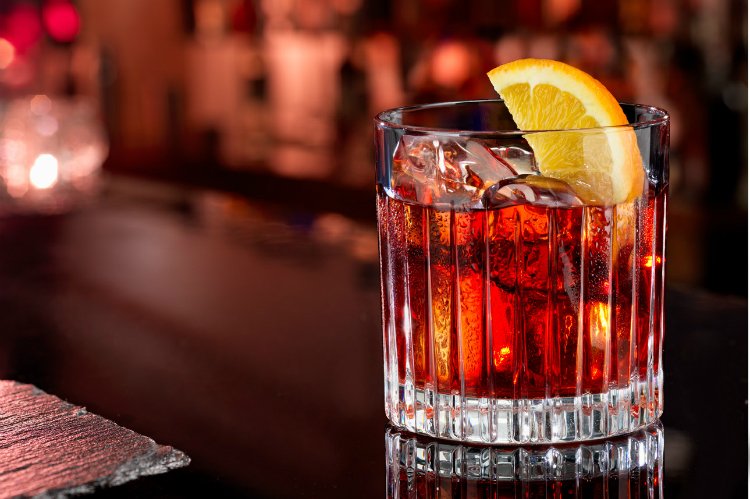 But come the noughties, we were ready for a different bar culture – one which harked back to the golden age of glamour, of illicit Prohibition-era speakeasies and low-lit nooks, of 60s aperitivo hours spent people-watching at a table on the piazza. We were ready for drinks that took time and care to make, ready for more sophisticated flavours and something less sugary. And boy, did we like gin again. The negroni made its comeback as a bartenders' drink – balanced yet bitter, something that felt new again, and shot through with the intriguing herbal notes of Campari and botanicals from the gin.
So the negroni is back, and in a big way – and luckily, as the home of the gin renaissance, London is spoilt for bars that make it very, very well. Whether you're after a traditional serve or something a little more pioneering, you'll find it in this city – so behold: our pick of the best negronis in London, and where to find them…
---
Jazz & Negroni Nights | King's Cross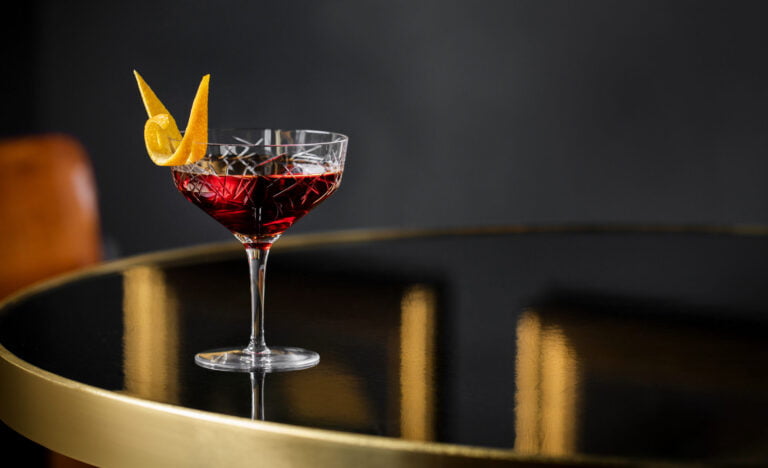 What's so great about the Great Northern Hotel? Well, for one thing, their bar and terrace plays host to regular live music nights, where you can peruse their dedicated menu of negronis while listening to the swinging beats of Frank Sinatra, Amy Winehouse and more, played by a live trio.
Details: Next event 20th September | Great Northern Hotel, King's Cross St Pancras Station, London, N1C 4TB
–
Hoppers | Kings' Cross
The negroni may be a quintessentially Italian bev, but it's getting the Sri Lankan treatment for Negroni Week at Hoppers in King's Cross. All week you'll be able to choose from specials that variously infuse the drink with watermelon, green orange, lemongrass and pandan & coconut…
Details: Available 12th – 18th September | Unit 3, 4 Pancras Square, London N1C 4AG
–
Bar Termini | Soho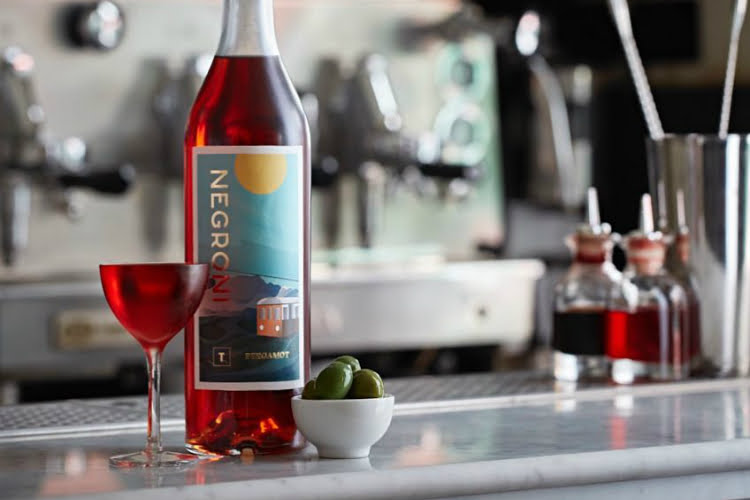 Soho's inimitable, elegant, pocket-sized homage to 60s Italian caffè and cocktail culture is a fitting home-from-home for the aperitivo in London. And they're certainly no strangers to a bottle of Campari here – you'll find it in both the Garibaldi and Death in Venice, two of a concise list of just seven classics. The negroni, however, is afforded the utmost respect: earning its own section on the menu, the cocktail comes in four different varieties. Each have been painstakingly concocted in mixologist maestro Tony Conigliaro's Drink Factory, where he's tinkered with the classic Campari-gin-vermouth combo by ageing it in sous-vide pressure cookers, infusing it with botanicals like rose petals.
Details: 7 Old Compton Street, W1D 5JE
–
Cecconi's at The Ned | Bank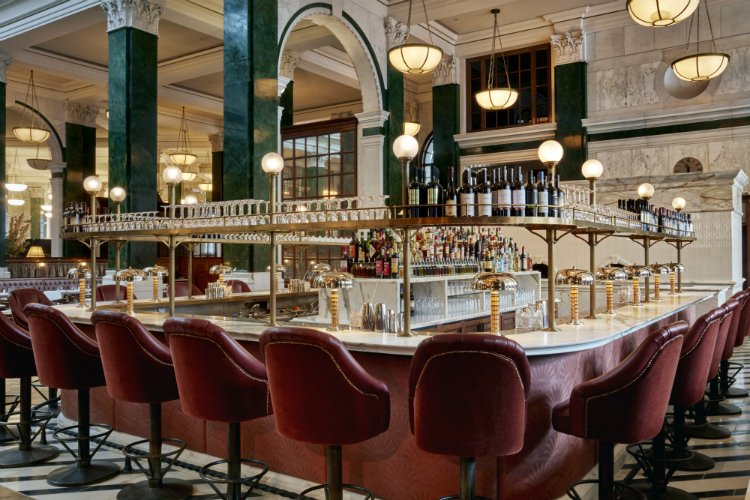 There once was a place named Cecconi's, which served exceptional negronis. The nicest by far, is the one made with Star… of Bombay gin, Campari and sweet vermouth, delivering a lovely, classically bitter taste. It's best enjoyed up at their sleekly curving bar, soaking up some live jazz from The Ned's central bandstand; but you may like to know that Cecconi's Pizza Bar in Soho also serves negronis… on tap.
Details: The Ned, 27 Poultry, EC2R 8AJ
–
SOMA | Soho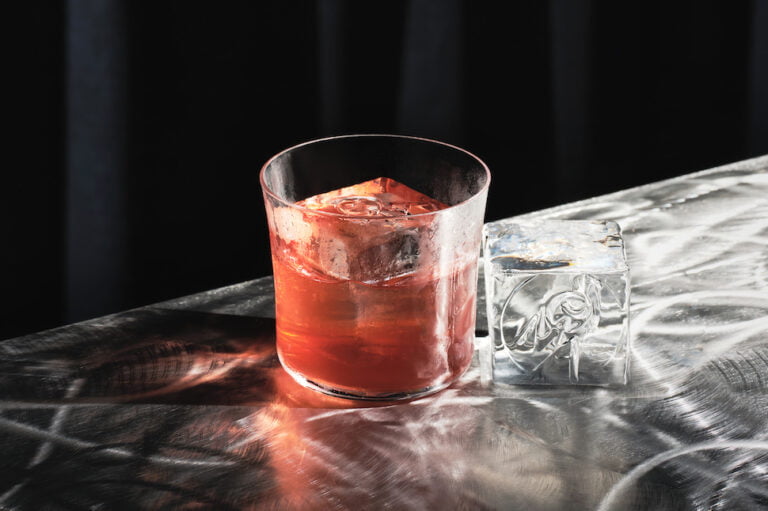 Kricket Soho's spin-off cocktail bar SOMA serves Indian-influenced cocktails in a sleek, subterranean setting. And their negroni is a dazzling take on the classic, with aged gin and amontillado sherry laced with fragrant cardamom. It's seriously good.
Details: 14 Denman Street, London W1D 7HJ
–
Little Mercies | Crouch End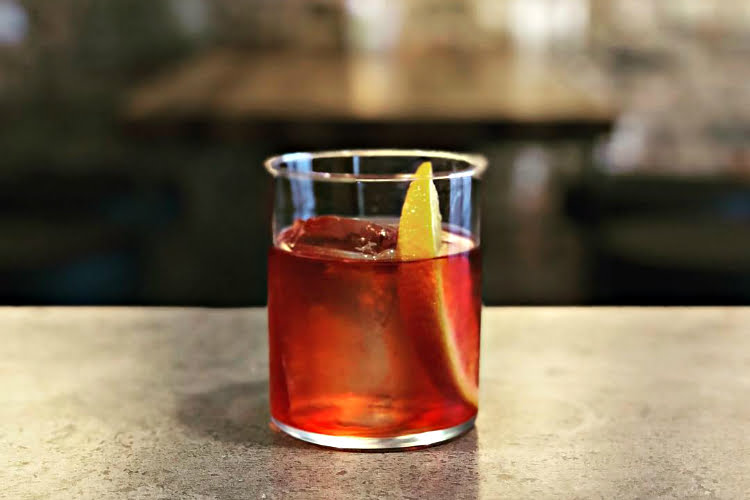 This bar, set on an unprepossessing stretch of Crouch End broadway, is a true neighbourhood gem – and their ever-evolving take on the negroni really is one of life's little mercies. Currently, they're embellishing the base of Campari and their very own gin with housemade fermented raspberry vermouth, spiked with salted raspberries to finish. Plus, the delicious small plates coming out of the kitchen mean that you can stay here all night.
Details: 20 Broadway Parade, N8 9DE
–
Frank's Café | Peckham
Frank's – or to give it its full title, Frank's Café and Campari Bar – is a London institution. And for somewhere with Campari in their name, it's pretty much imperative that they serve a good negroni. For over a decade, the rooftop bar perched above a Peckham car park has been serving up excellent incarnations of the drink, with a slice of London skyline on the side…
Details: 7th – 10th Floors, Multi-Storey Car Park, 95a Rye Lane, SE15 4TG | Please note Frank's Café & Campari Bar is closed until summer 2023
–
Tattu | Soho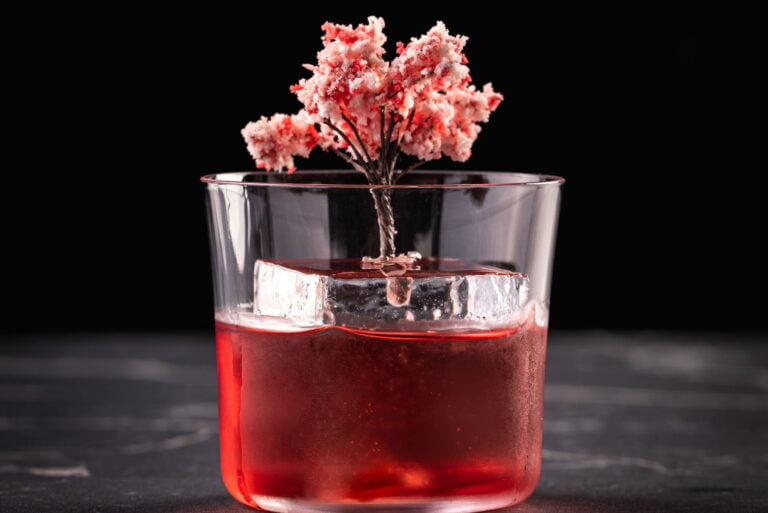 Tattu is an excessively glitzy, eye-wateringly expensive Chinese restaurant that's opened atop the new Outernet building on Denmark Street. But if there's one thing here that's worth splashing out on, it's their negroni – which is not only made with cherry blossom, it appears to have an entire tree growing out of it.
Details: The Now Building Rooftop, Outernet, Denmark St, London WC2H 0LA
–
Gloria | Shoreditch
Suitably for the restaurant that serves a ten-layer lasagne and a lemon meringue pie that's the length of your face, Italian restaurant Gloria goes all out with their extravagant Berry White Negroni, made with strawberry and mustard-infused Campari…
Details: 54-56 Great Eastern Street, EC2A 3QR
–
Vermuteria | King's Cross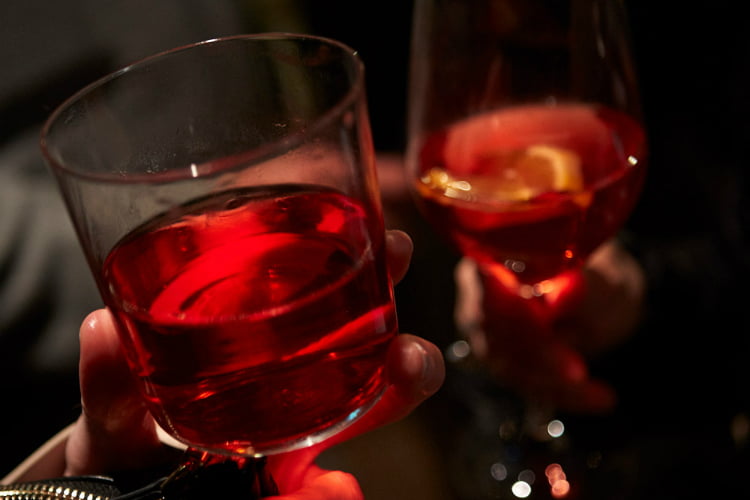 An impossibly cool, old school vermouth bar tucked beneath a railway arch in the new Coal Drops Yard, Vermuteria boasts buttery soft pastries by day, and a vast library of French, Spanish and Italian vermouths by night. Naturally, they offer a heap of aperitivi, from the original Mi-To to a coconut-enriched Americano. The highlight, however, is the elegant Negroni d'Or, which lives up to its golden title by balancing East London Liquor Co's gin with sweet white vermouth and L'Aero d'Or, a liqueur designed to recreate 19th century French 'quinquina' aperitifs.
Details: 38/39 Coal Drops Yard, N1C 4DQ
–
Duck & Waffle | Liverpool Street
On the quest, presumably, to create the most Italian cocktail of all time, Duck & Waffle have served this moody-looking take on the negroni for a decade. The classic base (here using Bombay Sapphire gin and Martini Rubino vermouth alongside the requisite Campari) is slow-dripped for 24 hours through crushed coffee beans for a complex, espresso-laced flavour. Which makes it the perfect choice whether you're dining there at 11pm… or 6am.
Details: 110 Bishopsgate, EC2N 4AY

---
Love negronis? Then you may also be interested in this list of great London gin bars…