The Best Restaurants In Central London | Where To Dine In Town
Central London: home to everything.
Including most of London's best restaurants. Like charmingly nondescript Soho sex shop-style eateries; London's best tapas; Michelin starred Indian; Jewish, Southern Spanish and North African fusion joints; and, of course, modest, affordable and loveable bistros.
All of which you can peruse right here, in this expertly compiled list of our favourite places to eat in Central London.
OPEN FIRE COOKING: FIREBIRD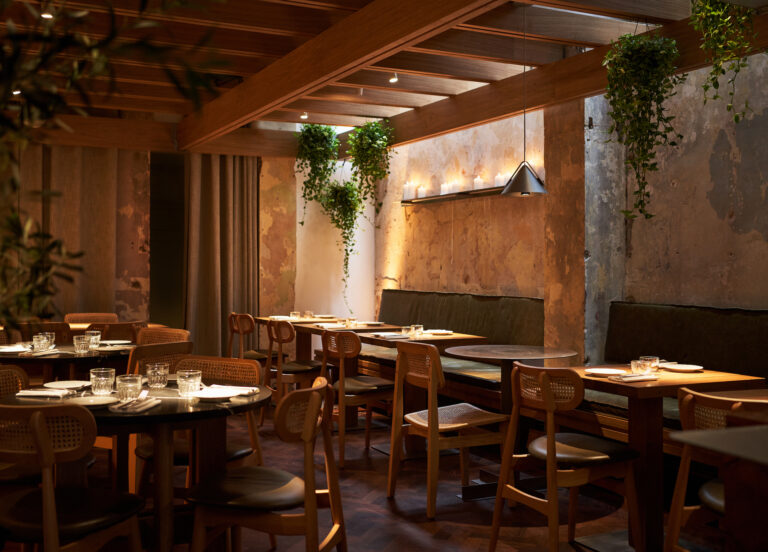 Firebird was one of the hottest restaurant openings of 2022, and it still sizzles. The debut London restaurant from Madina Kazhimova & Anna Dolgushina is a gorgeous, beautifully lit sleeve of a space dominated by a theatrical grill over an open fire. It's here that the chefs put together a stunning array of flame-kissed, loosely Mediterranean dishes like king scallops with truffled mash potato; chicken breast with bacon jam and prawns saganaki with feta cheese. And they are all, in a word, outstanding.
Details: 29 Poland St, London W1F 8QR | Book here
–
EXTREME INDULGENCE: BOB BOB RICARD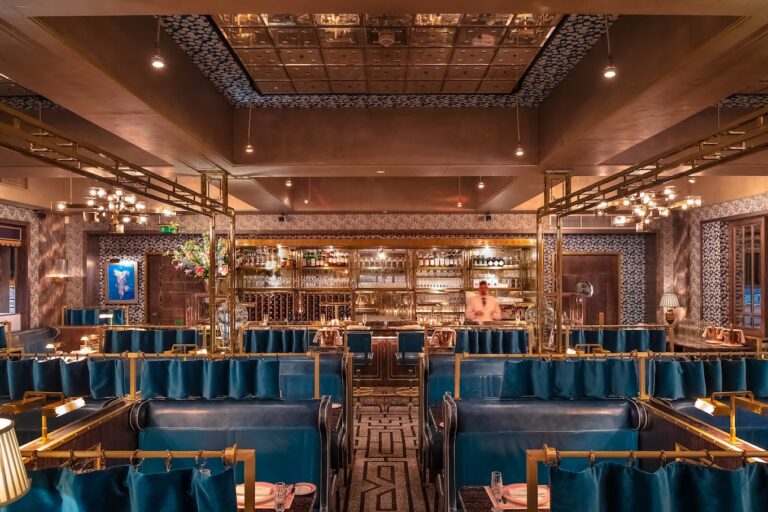 If we could put our finger on what makes Bob Bob Ricard such an iconic restaurant, it would be the champagne button… over and over again. Fancified British-Russian dishes, an excess of caviar (in a good way) and a swanky (x1000) decor that gives shades of the Orient Express, play their part imperiously well too… 
Details: 1 Upper James Street, W1F 9DF | Book here
–
FRENCH FLAIR: MAISON FRANCOIS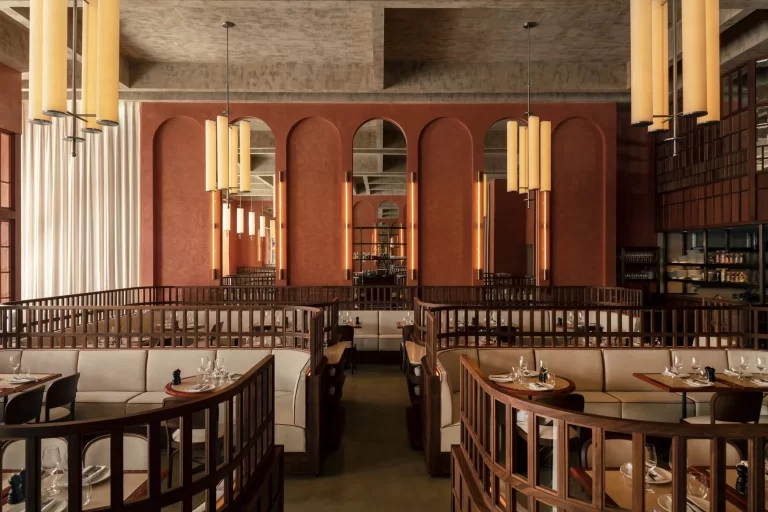 We spend a lot of time thinking about what makes the ideal French restaurant. Ideally, it would have a wine bar of its own downstairs (called Frank's); seat you in swish brasserie-style banquettes; feed you with all the Gallic classics (pâté en croûte as your starter, perhaps beef onglet with sauce bordelaise and frites as your main); and then make you cry (tears of joy) with a dessert trolley full of macarons, eclairs, truffles and madeleines. Turns out that all this time we were thinking about Maison Francois…
Details: 34 Duke Street, St James's, SW1Y 6DF | Book here
–
LUXE INDIAN: GYMKHANA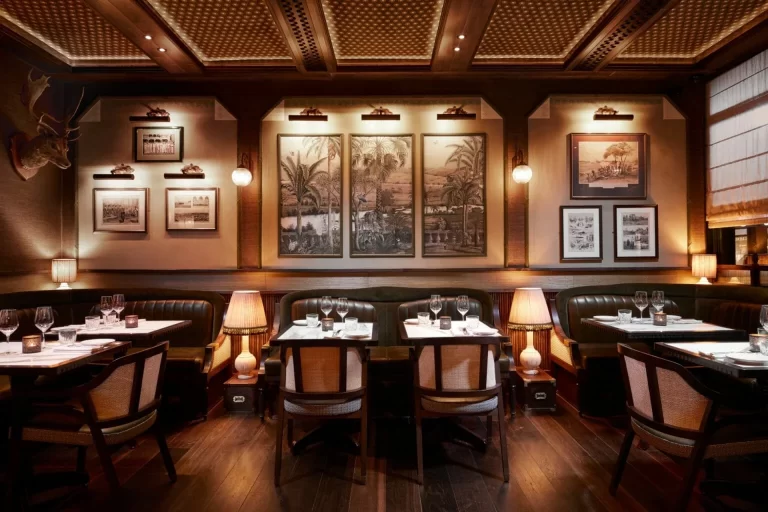 It might not be easy on the wallet, but Gymkhana is incredibly easy on the eyes, which lessens the impact of the first part, sort of… Modernised, highly-detailed renditions of famous Indian dishes from across the region, a downstairs bar with dark timber tones and a luxury dining room (a tribute to the exclusive Raj-era country clubs) have won two highly coveted honours: a Michelin star and also a place on our list of London's best Indian restaurants…
Details: 42 Albemarle Street, W1S 4JH | Book here
–
WEST AFRICAN TASTING MENUS: AKOKO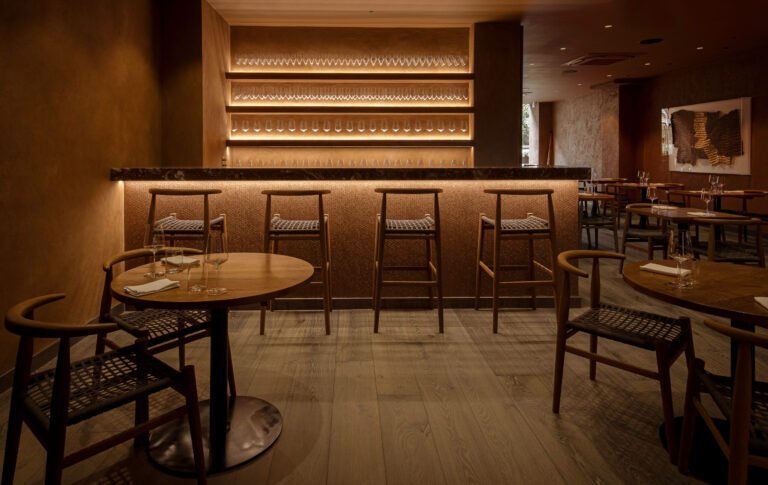 Akoko is a warm West African spot combining fine dining techniques with traditional recipes from places like Ghana, Nigeria and Senegal. Head chef Ayo Adeyemi turns out breath-taking 10 course tasting menus of barbecued blue lobster, suya meat skewers and Ghanaian bofrot (doughnuts) with exquisite wine or cocktail pairings to match.
Details: 21 Berners Street, Fitzrovia, W1T 3LP |  Book here
–
HIGH-END MODERN EUROPEAN: FRENCHIE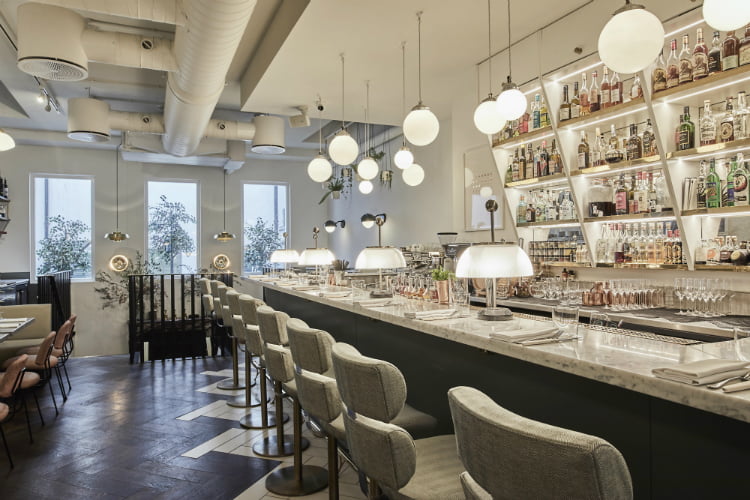 An insouciantly elegant spot for a date, a catch up with friends, or wining & dining the in-laws: Frenchie is somehow always exactly the spot you've been looking for, for any occasion. The creative Modern European dishes (read: bacon scones) are put together by lauded chef Gregory Marchand, and it has one of the best wine lists of any London restaurant.
Details: 16 Henrietta Street, Covent Garden, WC2E 8QH | Book here
–
MICHELIN-STARRED SPANISH: SABOR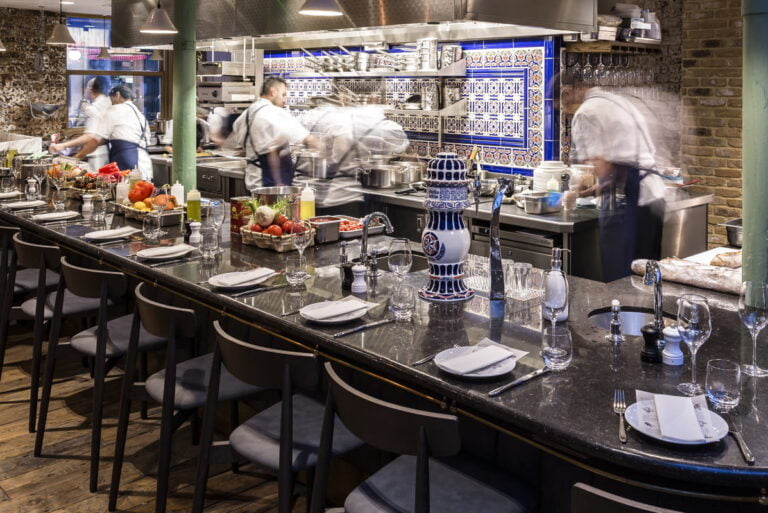 Sabor comes from the greatly revered Nieves Barragán Mohacho, a former Barrafina chef who astutely noted the woeful lack of eateries combining the best of both tapas dining and traditional Spanish asador cooking. And luckily, she was about the best-qualified person in town to fix that…
Details: 35-37 Heddon Street, Mayfair, W1B 4BR | Book here
–
COUNTERSIDE THAI: KILN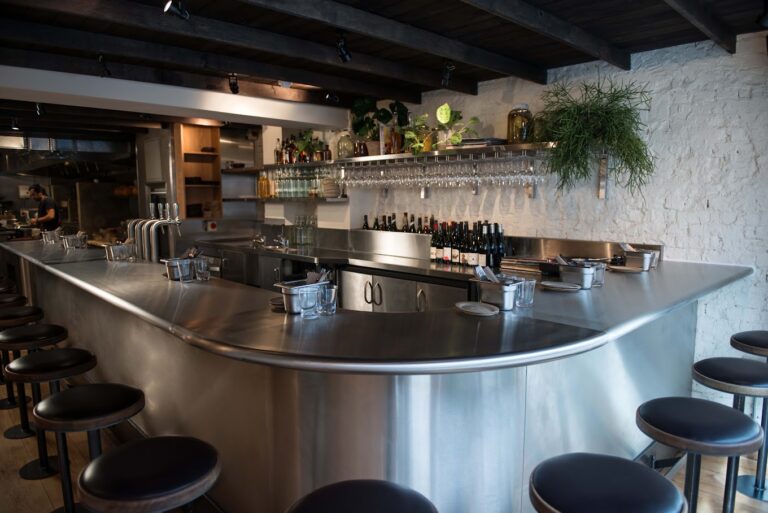 London's theatres have competition on their hands as Kiln also offers front row seats to one of the best shows in town, set around a sleek stainless-steel kitchen where chefs chargrill the likes of cured Yunnan sausages & aged cullyaw and work claypots filled with pigs head and steamed blood cake, in the same nonchalant manner one might see at some of roadside stalls found in the North of Thailand, bordering Laos and Myanmar. Caution: this part of Kiln takes walk-ins only, so it's not just the theatre dealing with competition here, but the dining room below can still be booked and isn't exactly a bad seat either…
Details: 58 Brewer Street, W1F 9TL | Book here
–
WELL-PRICED BASEMENT CHOPHOUSE: BLACKLOCK SOHO
When three former Hawksmoor employees open a restaurant, you know they've earnt their chops. And Blacklock Soho follows a killer formula of a concise menu (top-grade cuts of meat seared on a huge grill, with the help of an old Blacklock foundry iron); seriously well-priced drinks (made up table-side on their cocktail trolley); a great soundtrack; lively atmosphere; and a decent sprinkling of quirkiness (the whole place is set in a former strip club).
Details: 24 Great Windmill Street, Soho, W1D 7LG | Book here
–
CLASSIC FLUFFY BUN SPOT: BAO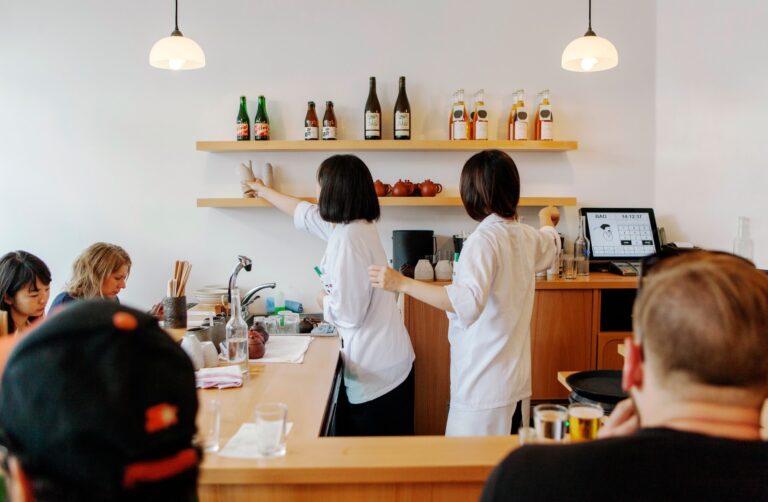 A small, slick Taiwanese restaurant serving small plates, sides and steamed milk buns. Their story goes something like this: They travelled Taiwan, found inspiration from the Xiao Chi or 'small eats' restaurants in Taipei, returned to London, popped up at Pacific Social Club, opened a six seater bar and bun stall on Netil Market, and finally now – with the expert backing of the team behind Trishna, Kitchen Table, Gymkhana and Lyle's – are the proud owners of several fully functioning restaurants.
Details: 53 Lexington Street, Soho, W1F 9AS | Book here
–
ICONIC MIDDLE EASTERN COUNTER DINING: THE PALOMAR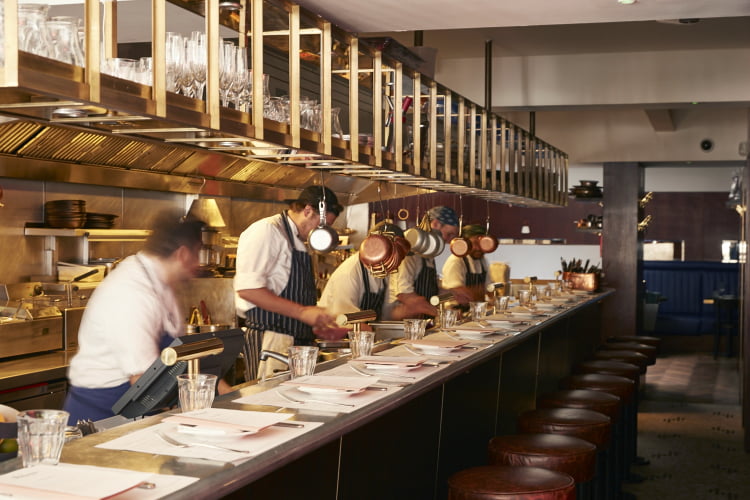 A pulse-quickening, free-flowing, seafood-bearing, shalom-giving, modern day rebirth of traditional Jewish, Southern Spanish and North African foods.
Details: 34 Rupert Street, Soho, W1D 6DN | Book here
–
A SOHO ICON: DARJEELING EXPRESS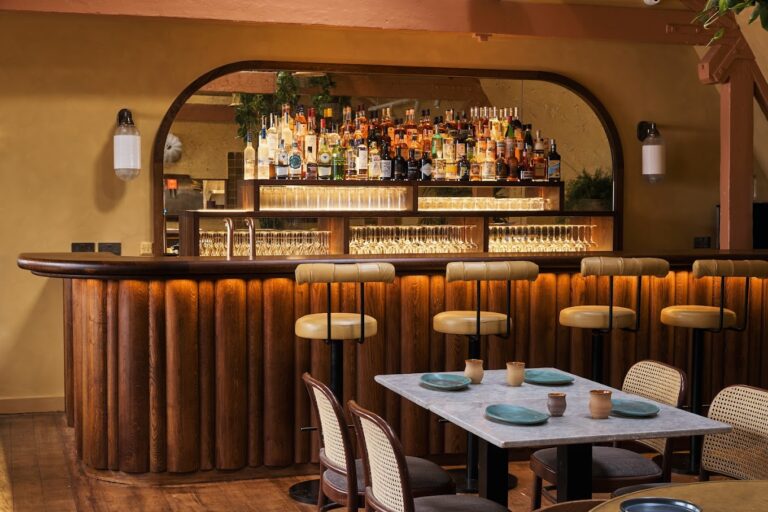 Defying the laws of physics, the word implausibility and the need for long-haul plane rides, superstar chef Asma Khan's Kingly Court favourite, Darjeeling Express, transports you to the Indian subcontinent via 14-dish Royal Thali feasts, filled with slow-cooked tamarind dal and fiery goat curry, and inspired by the big banquets that are a staple at any traditional wedding celebration. 
Details: Kingly Court, Carnaby, W1B 5PW | Book here
–
SUBTERRANEAN MEXICAN: LA BODEGA NEGRA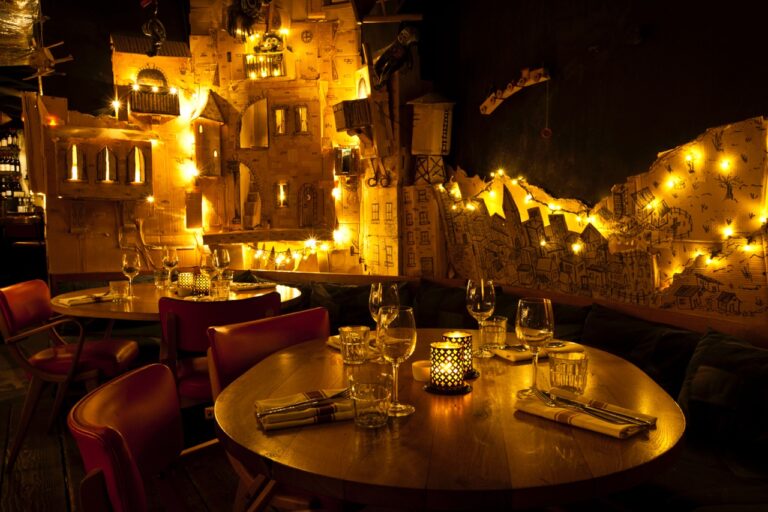 A secret subterranean Mexican restaurant and illicit tequila-infused, candlelit cocktail den located through the back of, and underneath, a charmingly nondescript Soho sex shop.
Details: 9 Old Compton Street, Soho, W1D 5JF | Book here
–
MICHELIN-STARRED TAPAS: BARRAFINA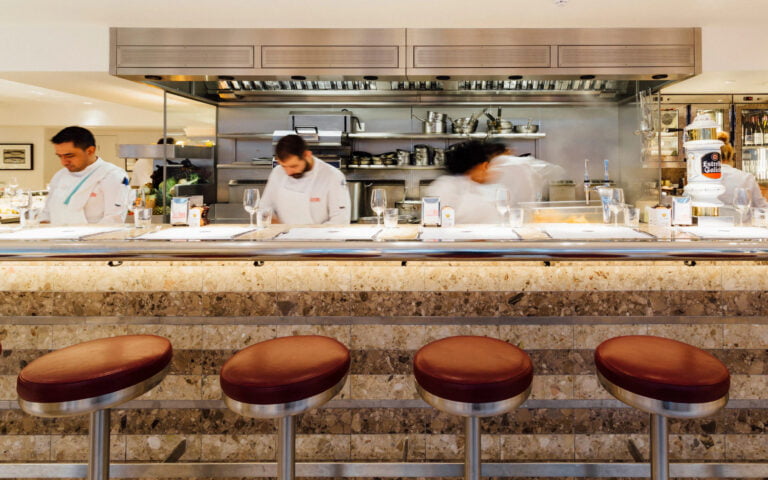 Arguably Central London's most prodigious Spanish tapas restaurant. If you want to argue. Queue up, take a seat at the brilliant white dining counter, and watch as the chefs behind it lovingly prepare the best in Catalan cuisine, from cuttlefish croquetas to the restaurant's famous milk-fed lamb's brains.
Details: Locations in Covent Garden, Soho, Borough & King's Cross | Book here
–
QUINTESSENTIAL GRAND CAFÉ DINING: The Wolseley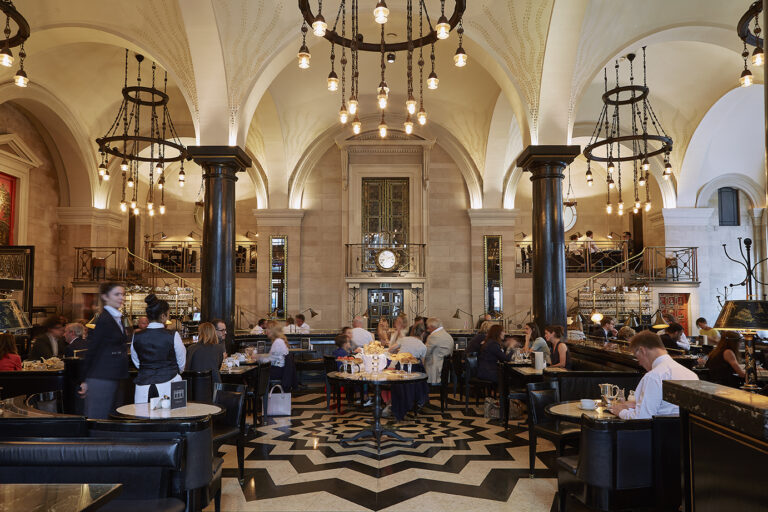 A palatial, marble-clad Central London restaurant in a former car showroom with afternoon tea, a reasonably priced brasserie à la carte, and caviar omelette. 'Nuff said.
Details: 160 Piccadilly, St James's, W1J 9EB | Book here
–
LEGENDARY WEST END SEAFOOD SPOT: J SHEEKEY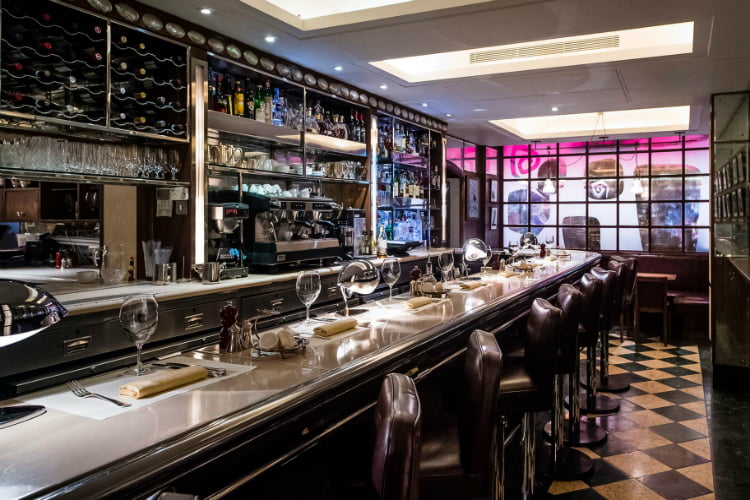 A classy, old school seafood restaurant and a buzzier, transatlantic-style oyster bar tacked together in the back streets of Theatreland, with a little al fresco dining on the terrace, and a lot of London heritage.
Details: 33-35 St Martin's Court, WC2N 4AL | Book here
–
CREATIVE MICHELIN STARRED DINING: HIDE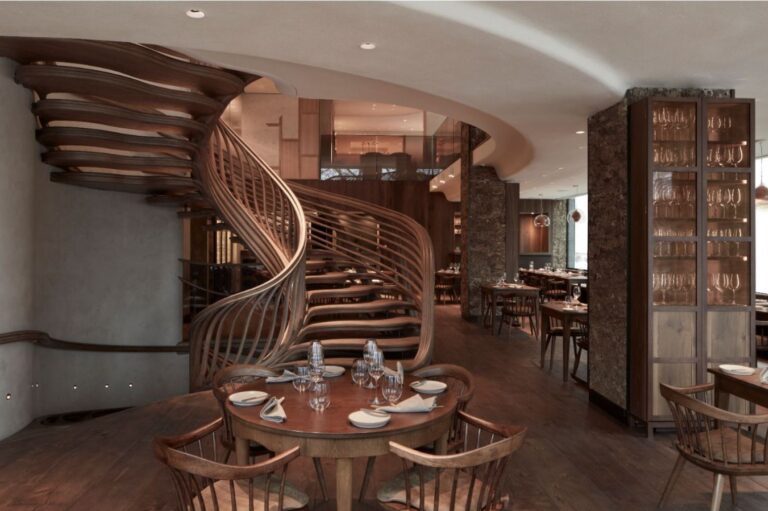 If you've never been to Ollie Dabbous' Michelin-starred, three-floor affair before, two words: run and hide. As in, it's called Hide and you should really go – maybe run there – whether that be for a seven-course tasting menu with heritage breed sirloin cooked over charcoal, or down the spiral oak staircase for brunch where'll you'll learn that birch sap from a tree definitely works best drizzled over the top of a freshly-baked croissant…
Details: 85 Piccadilly, W1J 7NB | Book here
–
DOES THE NAME JUSTICE | PARADISE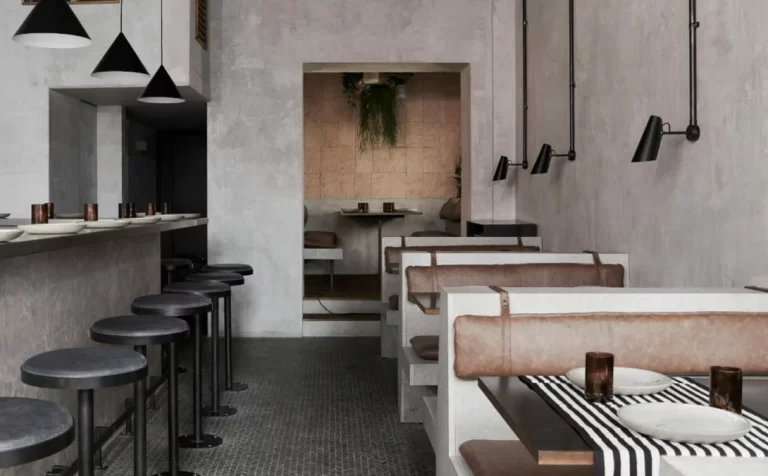 When asked 'what is paradise?' you could say 'a Sri Lankan restaurant down a back alley of Soho', and well, you wouldn't be wrong. After all, if you're into your Sri Lankan food this is paradise; traditional family recipes that use British ingredients to their advantage, like the grilled Cornish monkfish with spiced Yorkshire rhubarb and langoustine curry, and hoppers made with eggs from St Ewe – both of which contributed to a Bib Gourmand not long after opening. Drinks like the coconut & nutmeg colada may also fit some people's definition…
Details: 61 Rupert Street, Soho, London W1D 7PW | Book here
–
FUSION THAT'S ACTUALLY FANTASTIC: KRICKET SOHO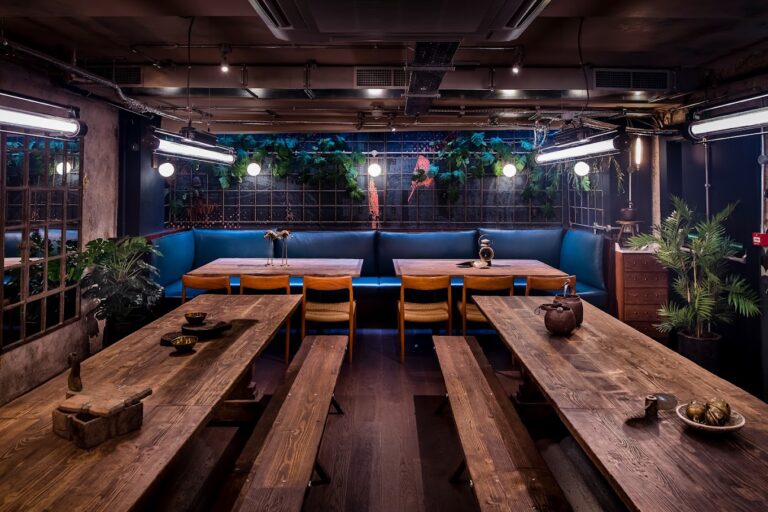 British ingredients + Indian flavours = one of the best Central London restaurants. It's basic maths and you don't need a calculator to work it out. Instead, you just need a plate of Keralan fried chicken in front of you, served with curry leaf mayonnaise, and maybe a sly order of masala kulcha and goan sausage croquettes on the side…
Details: 12 Denman Street, W1D 7HH | Book here | Next door drinks? Soma
–
ECO-FRIENDLY FINE DINING: FALLOW 
Thanks to Fallow, there's a number of people residing in London who now have vivid dreams about cod's head. It's the signature dish, and where most might think to throw the fish's head straight in the bin, these guys have other ideas: they hold onto it, brine it, cook it over charcoal, and then drench it in their homemade sriracha butter sauce. They also grow their own lion's head mushrooms in suspended dishes above the kitchen and whip those into an ice cream-like parfait, and turn leftover whey into a chelsea tart, which really does look like a work of art. It's set a benchmark for all other sustainable restaurants to fallow…
Details: 2 St. James's Market, SW1Y 4RP | Book here
–
SURF AND TURF: HAWKSMOOR AIR STREET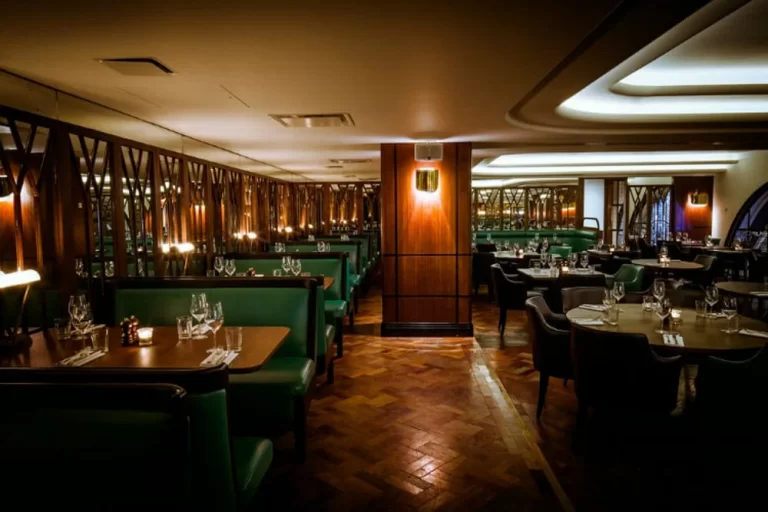 Pitchforks were being sharpened and protest signs were being made when Hawksmoor – a restaurant empire with a long held reputation as one of London's best steakhouses, grilling their cattle (and only cattle) over charcoal and serving it 'dictionary thick' with triple-cooked chips – had the audacity to announce they're were going to offer seafood at their new spot on Air Street. Well, as happens in life sometimes, everything turned okay in the end because the seafood, supplied by The Wright Brothers, is actually rather good (think roasted scallops with white port and grilled Dover sole). And yes, they still serve steak…
Details: 5a Air Street, W1J 0AD | Book here
–
REASONABLY-PRICED ELEGANCE: BRASSERIE ZÉDEL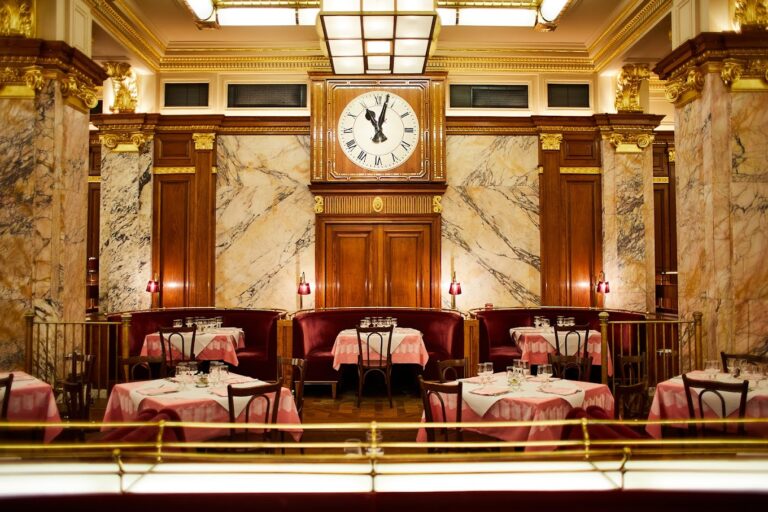 As one of the city's most romantic restaurants, this decadent French brasserie – with its gold-coated, marble column-fitted, art deco-inspired interior – might be the most luxurious yet surprisingly affordable date night you can have in central London, thanks to a £16 two-course prix fixe dinner deal. That is, as long as you don't find yourself drawn in for an digestif at the Bar Américain or a late-night cabaret show at The Crazy Coqs on your way out…
Details: 20 Sherwood Street, W1F 7ED | Book here
–
---
Like finding great new restaurants? Check out the Best Restaurant in Every London Neighbourhood