The Best Islington Restaurants | Heavenly Dining Options in Angel
Islington might be represented by the quasi-impoverished baby blue squares on the Monopoly board, but that doesn't reflect Islington restaurants, which, instead, are solid gold…probably occupied by the fancy motorcar…driven by the dog…wearing the top hat.
There's elegant French brasseries; iconic Chinese; Italian comfort food – you name it. We've tried and tested every one, in the quest to pin down the best Islington restaurants for your delectation.
These are they –
---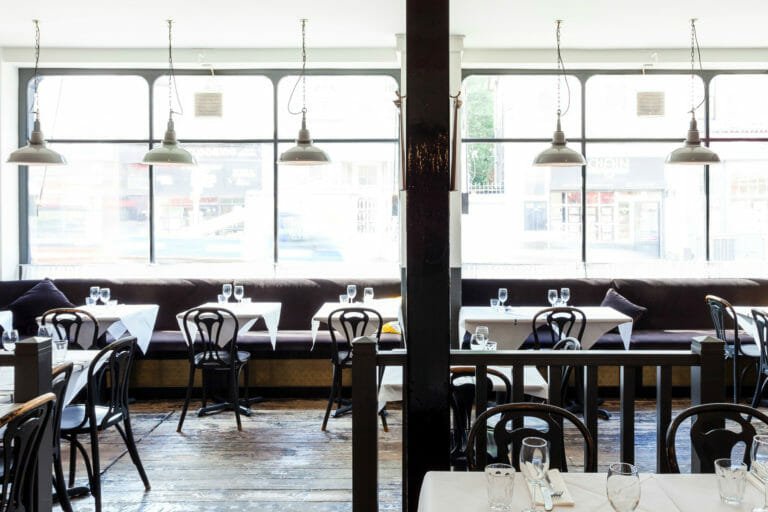 Named after odd-looking conical houses in Apulia, Italy, Trullo is the kind of contemporary little trattoria that you dream of finding on holiday, but sadly never do. 
Because it's in Highbury.
It comes to you from Padella's Jordan Frieda and Tim Siadatan. But here as well as finding some of the freshest pasta available, you'll also score meat and fish cooked simply over burning coals. And when you're done, you can slink next door to Trullo's wine bar for a nightcap.
Details: 300-302 St Paul's Road, N1 2LH | Book here
–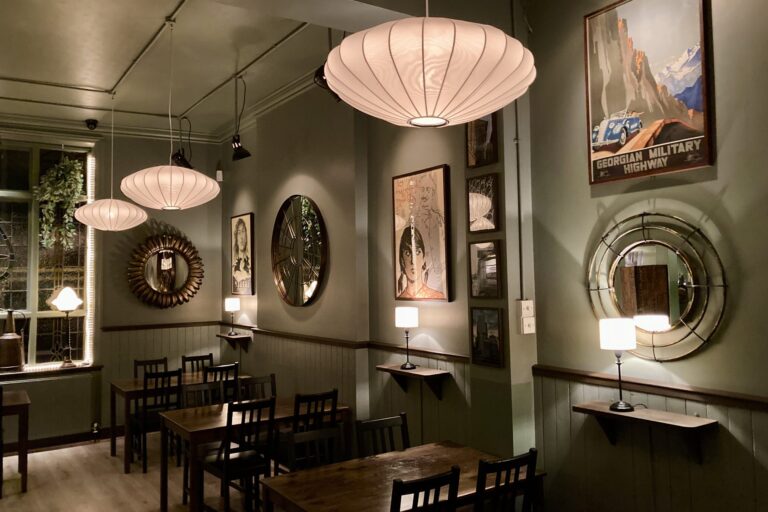 Your ultimate saviour in that otherwise very residential pocket of land between King's Cross and Angel: an eccentric, friendly and delicious restaurant dedicated to serving you the very best in Georgian food and wine, with vintage travel posters and lighting that seems almost scientifically designed to make you look your best. It's an offshoot of Little Georgia in Hackney, with the benefit that the Islington restaurant can seat almost twice the number of punters.
Details: 14 Barnsbury Road, N1 0HB | Book here
–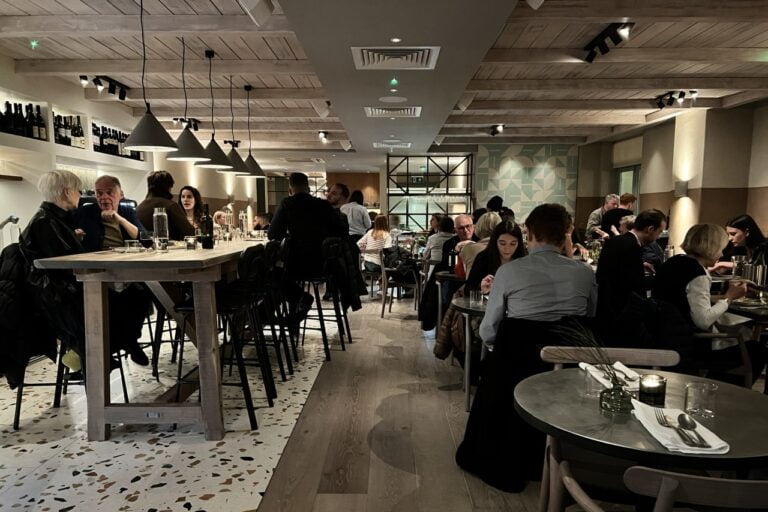 It's a fresh pasta restaurant from ex-Bancone and Tavolino chef Louis Korovilas. Step inside and a whole host of friendly staff will guide you through a menu of Sicilian small plates, fresh pasta and Italian sweets. Ideally after you've worked your way to the bottom of one of their house-made seasonal spritzes.
Details: 4 – 6 Islington Green, Angel, N1 2XA | Book here
–
Recently opened gastropub The Baring comes to you from a pair with impressive CVs: it's the first independent venture from chef Rob Tecwyn (Dabbous, Moro, Kerridge's Bar & Grill) and GM Adam Symonds (Orasay, Six Portland Road). The smart decor and airy feel means the place leans more towards restaurant than pub (though the drinks menu has plenty to pique your interest, too). On the menu: fantastically well-executed dishes like quail shish, ricotta gnudi with pea & broad bean, and a stellar Sunday roast…
Details: 55 Baring Street, London N1 3DS | Book here
–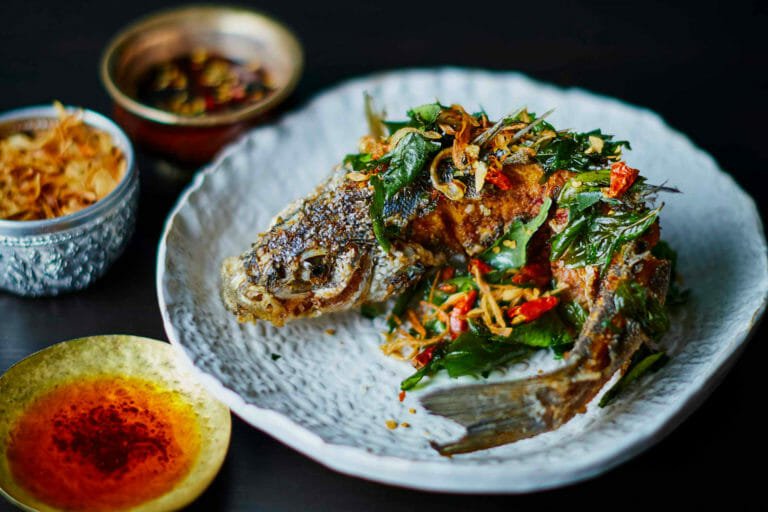 We're getting into serious 'this isn't Islington damn it!' territory here, but it's worth it to introduce you to Seb Holmes. Having started his culinary career at 13 years of age, he worked up to become head chef at Smoking Goat and The Begging Bowl, before taking his own pop-up to a permanent fixture in the Islington restaurant scene. The space is simple (it used to be an Italian trattoria, and you can tell), but the food is next-level delicious. Expect fragrant stews like Cornish mussels in a coconut-scented green curry broth; spicy meat dishes like flat iron-grilled beef steak with roasted chilli jaew (a kind of dipping sauce); and fresh veggie options like aromatic crispy wontons and dipping vegetables. And there's unlimited jasmine rice, too.
PS: if you're willing to venture up this far, Westerns Laundry and Top Cuvée are well worth a look, too.
Details: 72 Highbury Park, N5 2XE | Book here
–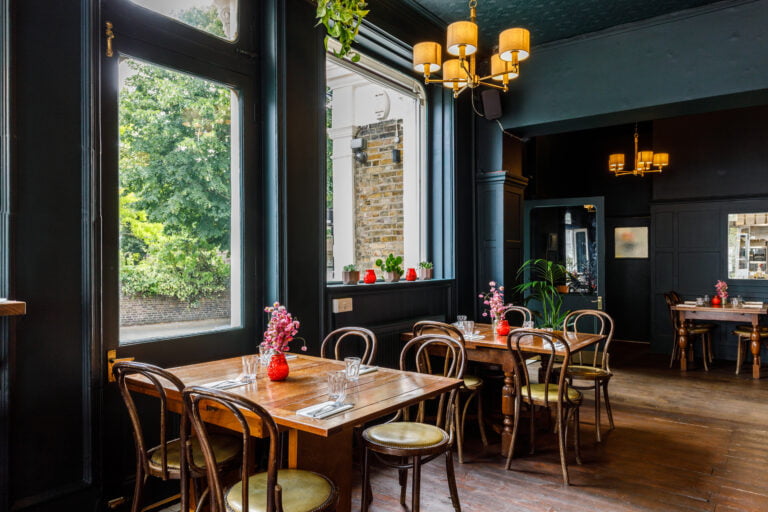 The Tamil Prince is the latest venture from Prince Durairaj (former exec chef at Roti King), and Glen Leeson of JKS (the prolific group behind Gymkhana, Hoppers and BAO). They've taken over the old Cuckoo pub in the depths of residential Islington, and are laying on a gripping survey of the cuisine of Durairaj's home state, Tamil Nadu. Feast on masala-marinaded grilled tiger prawns; rich, buttery dhal makhani; and giant bhatura (a kind of inflated fried bread) alongside cocktails and beers in a buzzy, intimate setting.
Details: 115 Hemingford Road, London N1 1BZ | Book here
–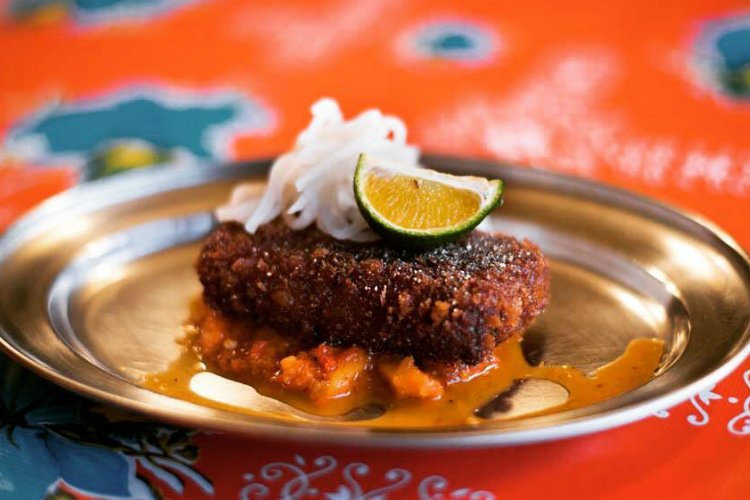 Nose to tail dining meets rock'n'roll at ex-St John chef Lee Tiernan's legendary Islington restaurant. Bag yourself a reservation (increasingly hard to come by) and you can feast on weekly changing tasting menus of haute kebabs and lamb offal flatbreads to the thrashing sound of heavy-metal.
Details: 156 Canonbury Road, N1 2UP | Book here
–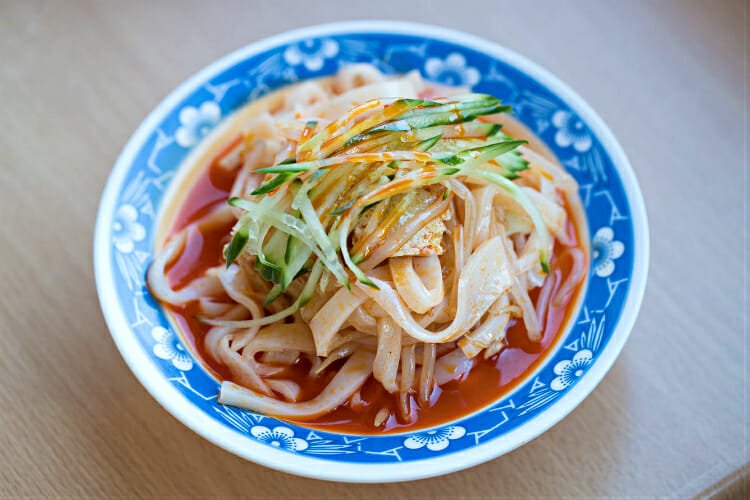 It's a relaxed, café-style space in Highbury, serving up authentic X'ian street food – pork & vegetable dumplings, and thick belts of biang biang noodles – all of which you can wash down with absolutely any tipple of choice, thanks to its convenient BYOB policy.
Details: 117 Benwell Road, London, Highbury , N7 7BW | Walk-ins only
–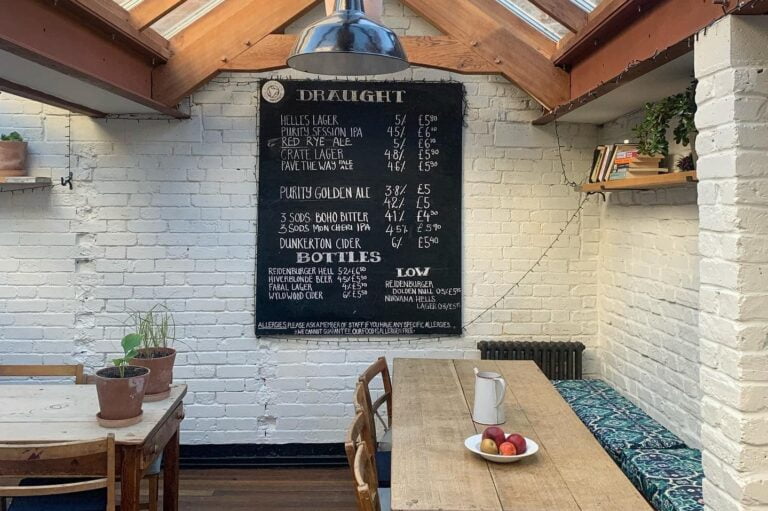 The Duke of Cambridge has the twin distinctions of both being the first organic pub in Britain, and being the third pub to be taken into the Culpeper's ever-expanding micro-empire (following on from The Buxton and The Culpeper). It certainly looks quite lovely, but the food — organic, of course — is what you're here for. The Duke's menu is constantly rotating depending on what ingredients are in season, but head chef Peter Wheeden's passion for veg makes them the star of the show…
Details: 30 St Peter's St, N1 8JT | Book here
–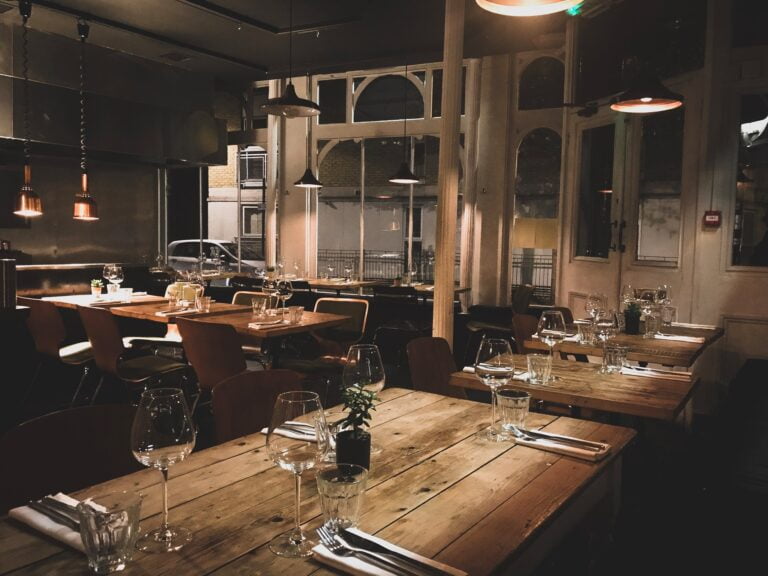 Opened by brothers Martin and Christoph Lange, Salut! resides on Essex Road in Islington with casual-yet-fine-dining food, a relaxed atmosphere, and remarkably friendly service provided by the duo themselves. They're cooking up everything from seared lamb loin with parsnip 'variations' to grilled squid tartare; garden pea risotto and olive oil cake with rhubarb and lavender. And it's all delicious.
Details: 412 Essex Road, N1 3PJ | Book here
–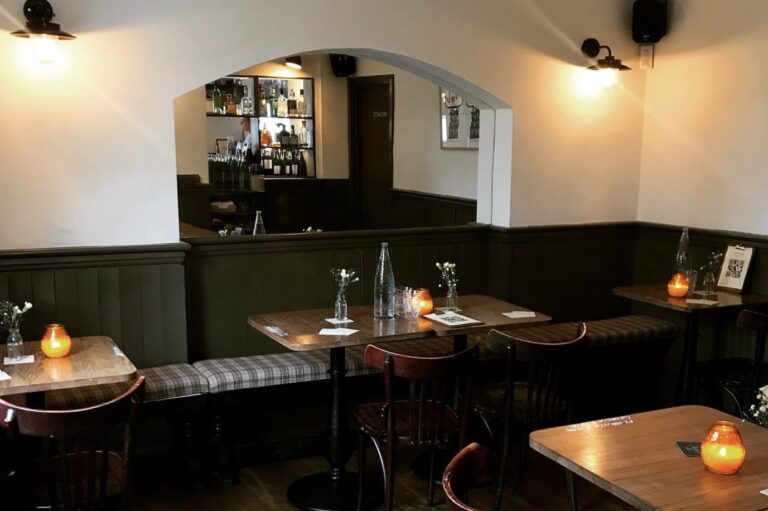 An exquisite backstreet boozer with relaxed décor, a natural-leaning wine list, and a stellar food menu available Wed – Sun, courtesy of Belly. This outfit comes to you from chef Reece Moore, best known for his creations with Satsu at The Gun, but also for his stints manning the pans at Texture, Dabbous and Bao. Here he distils that wide-ranging experience into beautiful, ingredient-led small plates dotted with global influences. For impressive dining in a laid-back setting, you won't find anything better.
Details: Compton Arms, 4 Compton Avenue, London, N1 2XD | Book here
–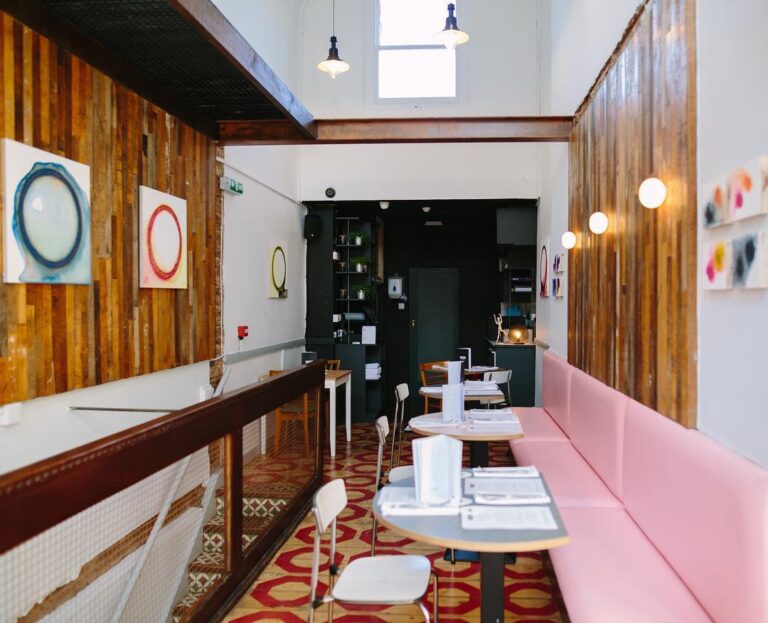 12:51. If you haven't visited yet, then it's about time. Coming to you from Great British Menu-winning chef James Cochran, it's a beautiful, airy spot with double-height ceilings, where candy-pink banquettes contrast with soft vintage lighting and reclaimed wood-panelled walls. The tasting menu is a snapshot of Cochran's inimitable knack for combining multiple influences, from jerk ham hock terrine to slow-braised beef shin with smoked bone marrow; cured mackerel with kohlrabi; and cep mousse with 'walnut soil'.
Details: 107 Upper Street, N1 1QN | Book here
–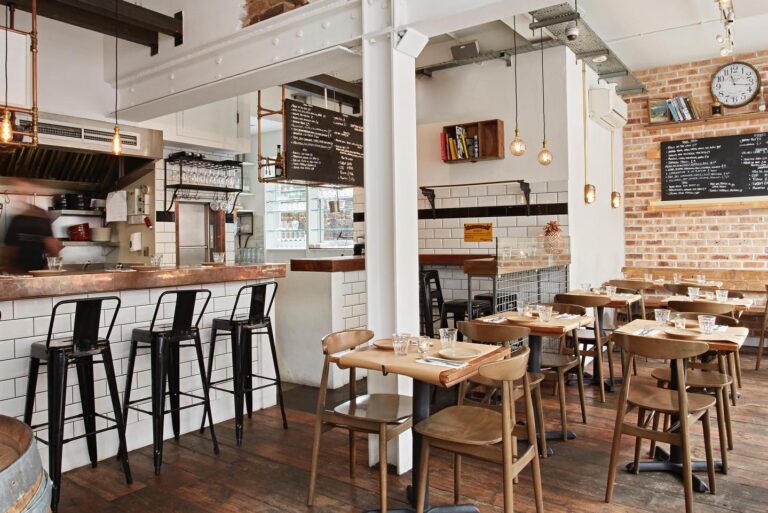 This rustic styled Islington restaurant has a catchy name, but it doesn't joke around when it comes to selling and serving its ultra-fresh seafood, delivered daily from its Padstow branch. Pick off a platter of fruits de mer at their cosy counter seating, or try tapas-style fish dishes from a daily changing menu like mackerel with n'duja & fennel. You could say it's surf on the turf.
Details: 292-294 St Paul's Road, N1 2LH | Book here
–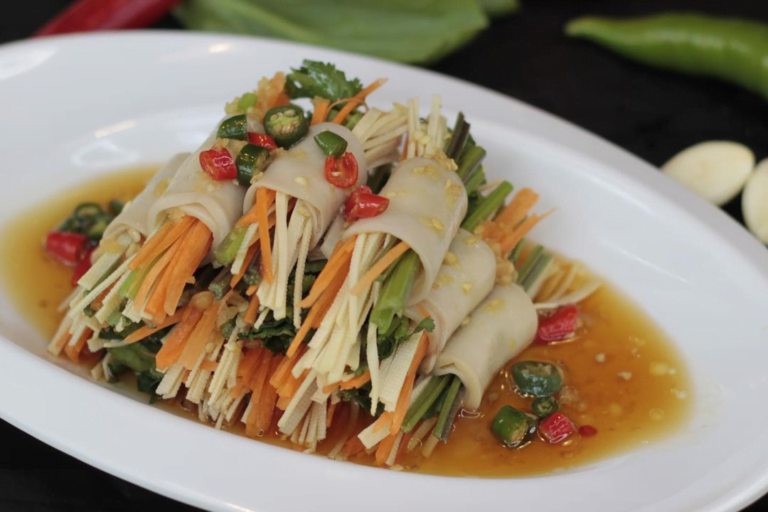 Islington's temple to lip-smackingly spicy, salty, flavour-packed Chinese cooking is an entirely vegan restaurant (you'd never guess it from the name). Plant-based dishes like the sesame-laced hand-shredded oyster mushrooms sit alongside dishes with genuinely great meat alternatives, and of course the eponymous tofu makes appearances in its most perfected, crispy form.
Details: 105 Upper Street, London N1 1QN | Book here
–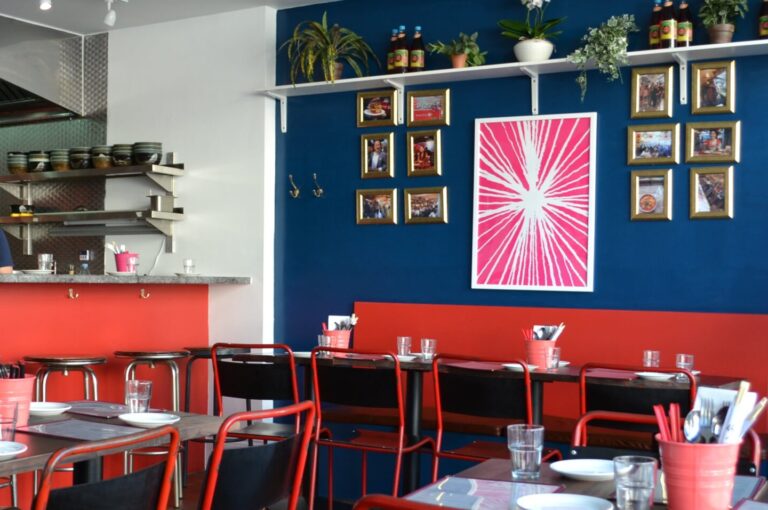 Sambal Shiok started life as a street food stall, before overwhelming demand gave Malaysian-born owner and chef Mandy Yin the confidence to open her first permanent site. Yin's food takes inspiration from her childhood in Kuala Lumpur, with the main focus being big bowls of spicy coconutty laksa (Malaysian noodle soup) topped with everything from fried tofu puffs, bean sprouts, and green beans; to poached chicken or king prawns.
Details: 171 Holloway Road, London, N7 8LX | Book here
–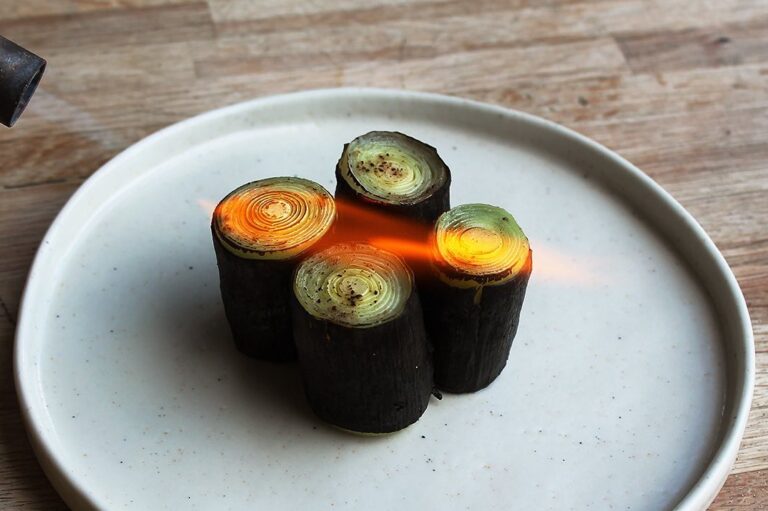 This little corner café parked up towards Arsenal does a great line in brunch dishes on weekends. But it's the Friday and Saturday evening supperclubs where Michelin-trained chef João Ferreira Pinto flexes his culinary nous. For £50 a head you can settle in for a seven-course tasting menu that makes the best of that month's seasonal produce, from pork tenderloin with pickled peaches to blowtorched leeks that use every part of the plant. It's an intimate, top-quality, totally unexpected little gem that seems to be right for every occasion.
Details: 73 Highbury Park, London, N5 1UA | Book here
---
Enjoyed reading about the best restaurants in Islington? Then – crazy idea – check out the best restaurant in every London neighbourhood…