The best romantic restaurants in London aren't really restaurants that try to be romantic.
That'd be boring.
They're the dimly-lit, intimate places that successfully combine great lighting, good music and a buzzy ambience: the sorts of places that get you excited as soon as you walk through the door.
Whether your date's there or not.
So by "best romantic restaurants in London " we really mean "restaurants in London most likely to subconsciously encourage your guest to find you even more attractive than they already do".
Impossible, we know.

Campania | Bethnal Green | ££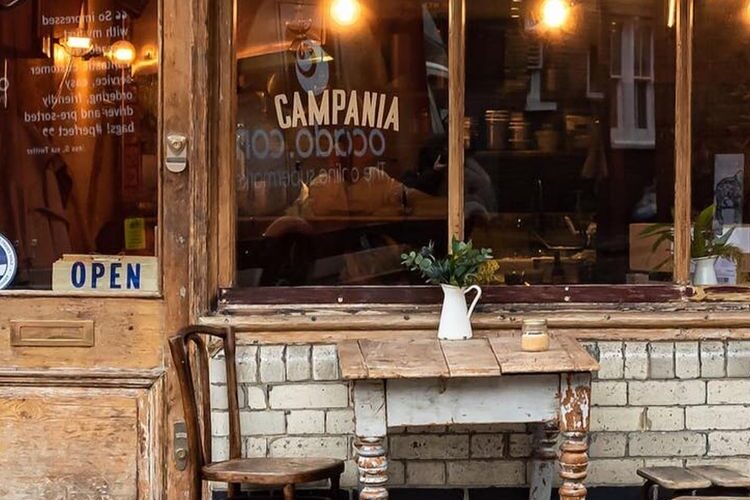 Campania is set in a former dairy down an old cobbled street – and they're milking it for all it's worth. Left practically unchanged, it's a romantically dilapidated little eatery with bare brick walls and a tiny courtyard boxed in by a forest green stable gate and rusty shop windows, with a smattering of little marble tables. And the food? You're looking at fresh pasta, whole pan-fried fish, and slabs of herb-rubbed meat. Italian soul food, basically.
Details: 23 Ezra Street, E2 7RH | Book here
–
Legare | London Bridge | £££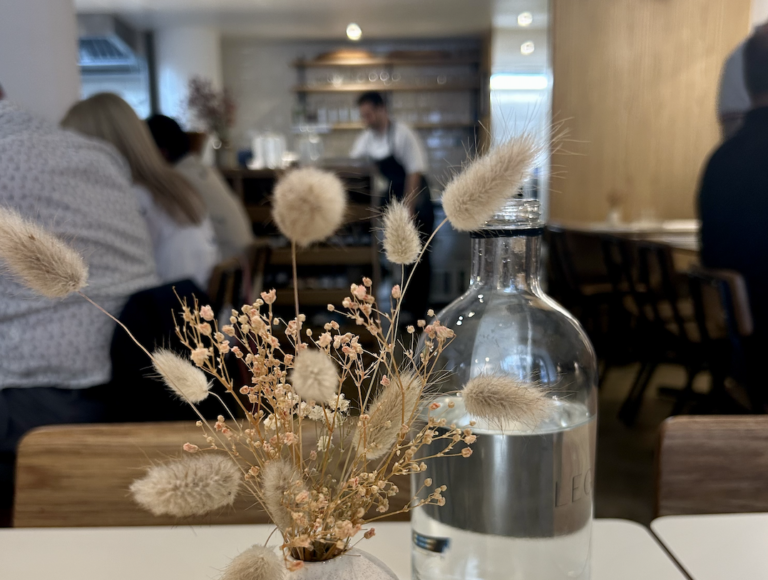 After a romantic stroll along the river, you can slip down a cobbled side street on to Shad Thames, where you'll find Legare, an unassuming Italian, handsome in its simplicity, serving up a menu of perfectly balanced, seasonally changing dishes from waiters with thick Italian accents. The burnt orange Negronis are ice cold; the pasta's made fresh on site daily, and the cannoli is as rich and as sweet as the love your date will no doubt be feeling for you post this expertly chosen visit. Viva l'Italia.
Details: Cardamom Building, 31G Shad Thames, London Bridge, SE1 2YB | Book here
–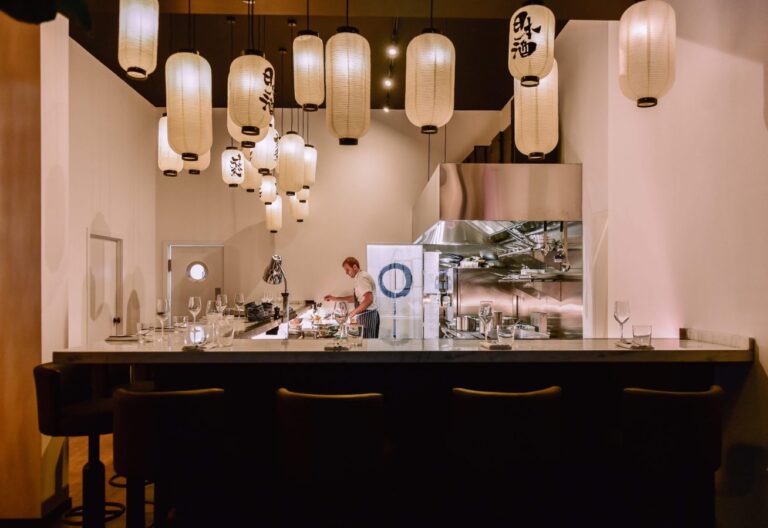 Italian food: romantic. Japanese food: romantic. Italian and Japanese fusion tasting menus in a lantern-lit restaurant by Dalston Curve Garden: totally irresistible. Sure, it's not the most intuitive combination, but just like every odd couple it somehow works. Rosemary-infused milk bread, sea bream with smoked soy butter, venison with blackberry and karashi (mustard)… every course is a delight, and going omakase means you have less time to look over the menu, and more time to look into each other's eyes.
Details: 56 Dalston Lane, London E8 3AH | Book here
–
Andrew Edmunds | Soho | £££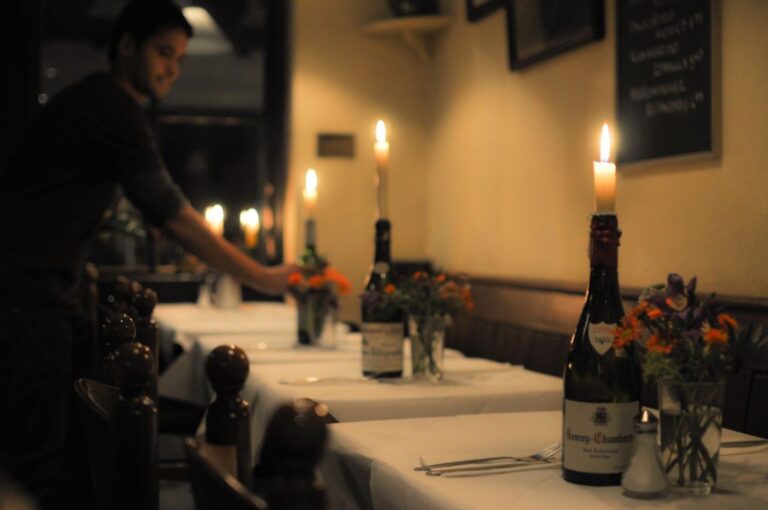 Andrew Edmunds will make you want to cut off your power supply and live forever by candlelight. You look good. No, you look great, and the fact that you found a restaurant serving wine barely marked up from cost price is making you look even better. The food here is saucy, both literally and metaphorically: share your best anecdotes over baked dover sole with brown butter and braised lamb with indecent mashed potato, and finish up with the rum baba with whipped cream and booze-soaked prunes.
Details: 46 Lexington Street, W1F 0LP | Book here
–
The Palomar | Soho | £££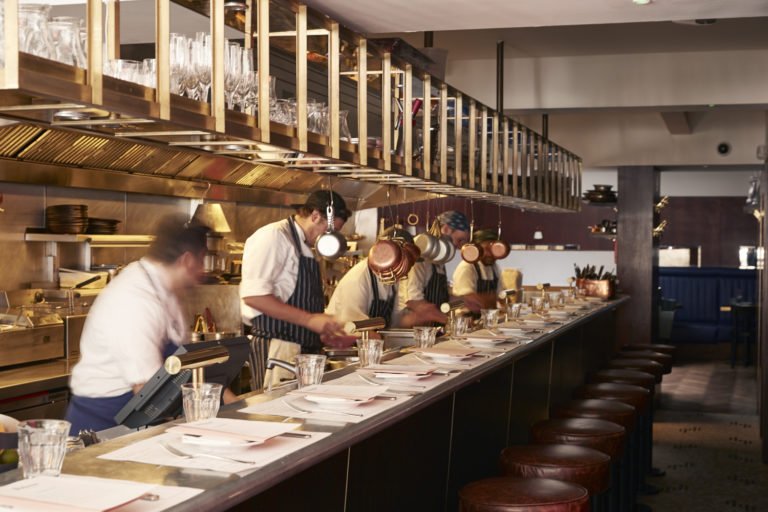 One of the best restaurants in Soho, where you can score front-row seats to see some of London's most talented chefs at work. The Palomar's total lack of pretentiousness; the quality of the service; and the sheer deliciousness of the modern, Jerusalem-inspired food keeps you determinedly coming back. And any and every date is likely to want to come back with you.
Details: 34 Rupert Street, W1D 6DN | Book here
–
As one of the more fancy restaurants in London, Sucre is so good-looking, it's bound to rub off on you. Mood lighting is provided by thousands of cut-glass decanters artfully crafted into chandeliers; there are smoothly curving booths to snuggle up in; and the food – gorgeous Argentinian dishes from chef Fernando Trocca – basically defines the word aphrodisiac. And if things are going well, you can always slip downstairs to the moody cocktail bar Alma for a nightcap.
Details: 47 Great Marlborough Street, W1F 7JP | Book here
–
Bob Bob Ricard | Soho | ££££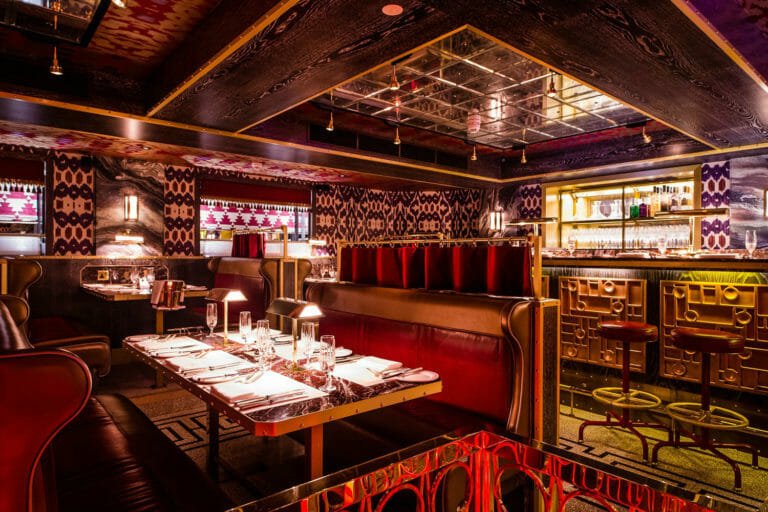 If the Great Jay Gatsby owned a restaurant and thrust into it all his elegance, panache and charm, it would pale in comparison to Bob Bob Ricard. Then go out of business. And be scorned for trying to compare. There's also a 'press for champagne button' in every booth, which, some would call a gimmick. We'd call it a press for champagne button.
Details: Upper James Street, W1F 9DF | Book here
–
Café Boheme | Soho | ££
The trouble: you would like to go to an intimate, quiveringly romantic date spot, but don't want to be surrounded by, ugh, other couples. La solution: a late night date at Café Boheme. It's a dark, rowdy den with a sheen of sophistication; a perfectly dressed cast (waiters in neat waistcoats; the live band in berets; folkloric Characters of Soho emerging from the woodwork in all their finery) bustling around you. It's loud, with Parisian hot club jazz thrumming in the background, and the perfect place to take a date with a sense of humour and a taste for Champagne cocktails.
Details: 13 Old Compton Street, Soho, London W1D 5JQ | Book here
–
Kitty Fisher's | Mayfair | ££££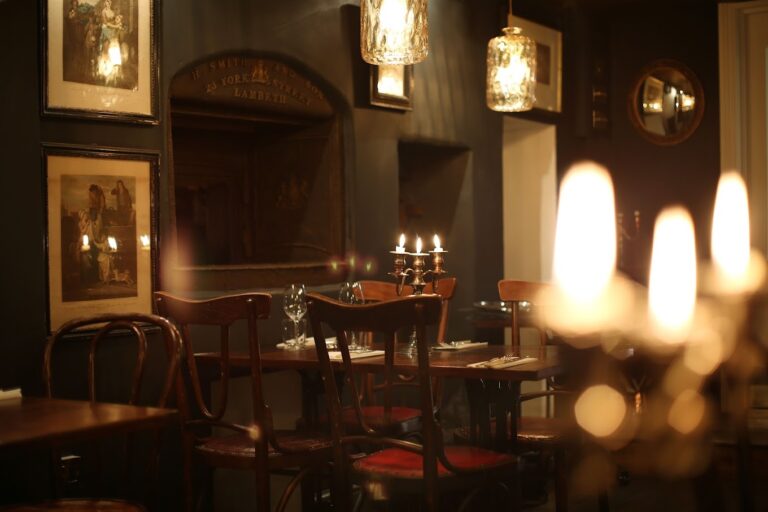 Kitty Fisher's 18th century courtesan namesake ate thousand-guinea notes for breakfast. Clearly, she had expensive taste. Now her passion for decadence and debauchery has been distilled into this eponymous, exceptionally romantic restaurant in Mayfair, where you can dine on sumptuous European dishes in a candlelit, velvet-boothed dining room.
Details: 10 Shepherd Market, W1J 7QF | Book here
–
Tranga | Stoke Newington | £££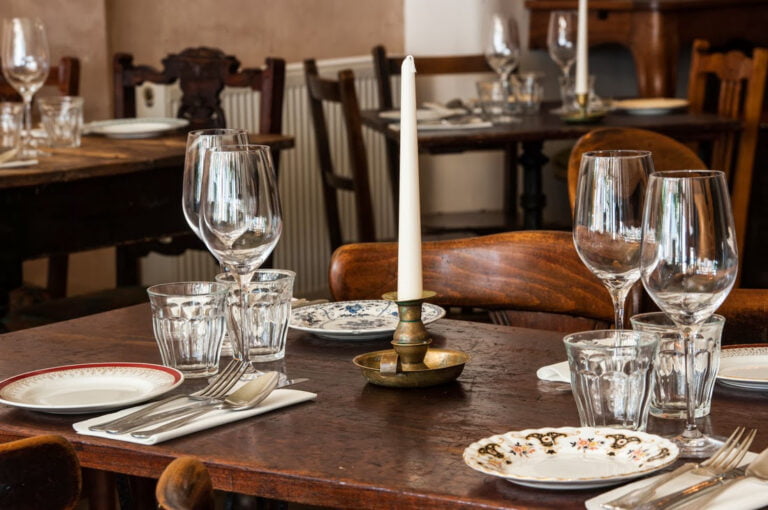 Short of booking time off work, giving your credit card a healthy beating and pilfering your date's passport, Tranga is the best way to whisk your beloved off to Northern Spain for the evening. This bohemian den of Galician tapas and natural wines is crammed with vintage bric a brac, candlelight and rickety wooden tables for two – if you don't go for a table on the street outside, that is. Plus, the menu changes daily, so you can return as a serial first dater and never get bored.
Details: 61 Newington Green, N16 9PX | Book here
–
40 Maltby Street | Bermondsey | £££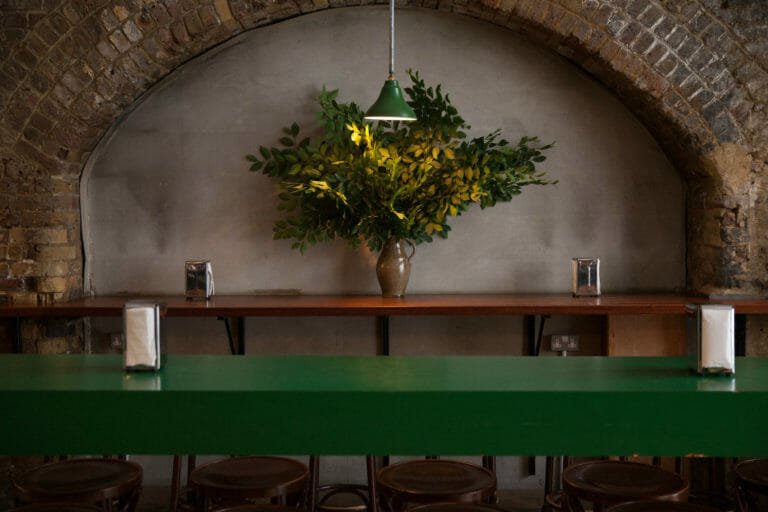 Awkward gaps in conversation. Overbearing waiters. Excessive eye contact. First dates are riddled with potential pitfalls, and the best way to avoid them is to head to 40 Maltby Street, which is both a wine warehouse and restaurant in London Bridge. Here, diners crowd round high tables and the dining counter circling the open kitchen. Seasonally-driven small plates are chalked up on a menu by the stoves, and (as you'd expect) there's a killer wine list to go with it. Watching the chefs, you'll have plenty to talk about, and the stool seating is both relaxed and a little bit thrilling when your knees knock.
Details: 40 Maltby Street, SE1 3PA | No reservations – find out more here
–
Turnips | London Bridge | ££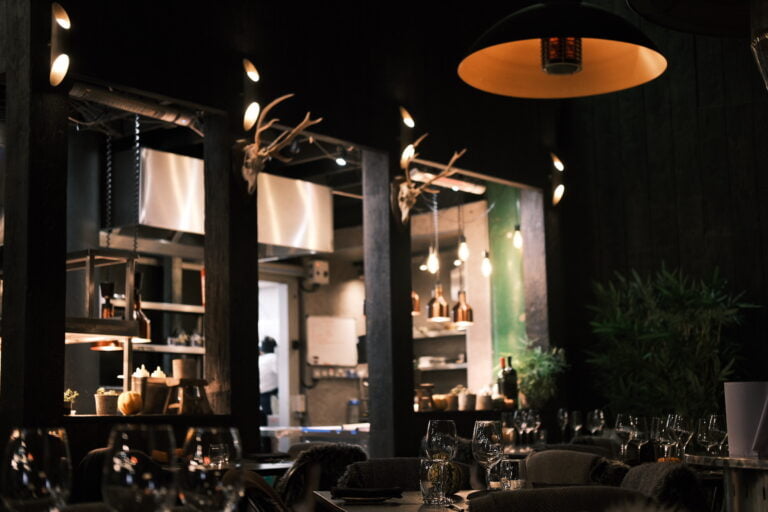 Straddling that rare intersection of intimate and low-key is Turnips, a restaurant from one of Borough Market's finest fresh fruit and veg stalls. Set up in the market itself, it allows you to dine in one of London's most iconic spaces, which they've rendered into a cosy little date spot with festoon lighting, flowers, and furs slung over the chairs. The menu here is overseen by former City Social chef Tomas Lidakevicius, who puts together dishes of incomparable beauty (all the more surprising for the laid-back setting). Settle in for a curated tasting menu, or just stop by for a couple of small plates with a little English sparkling wine, and see where the evening takes you…
Details: 43 Borough Market, SE1 9AH | Book here
–
Wun's Tea Room & Bar | Soho | £££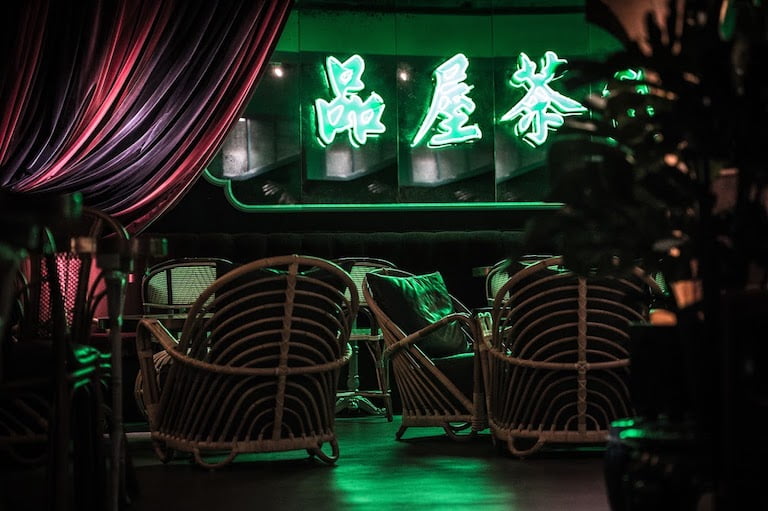 Take The One to Wun's. It's a gorgeously retro ode to the tea rooms of Hong Kong, with a seductive, neon-lit cocktail bar below. Listen to the crackle of old vinyl as you sip from smoke-filled cocktail glasses and dine on their famous char siu pork with spiced sugar crackling, and crispy fried chicken with kung pao butter.
Details: 23 Greek St, London W1D 4DZ | Book here
–
Petersham Nurseries | Richmond | £££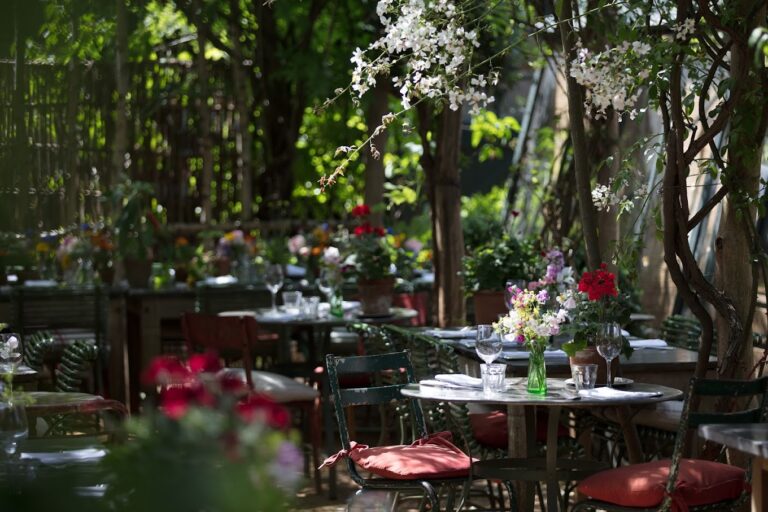 We know what you're thinking… it might feel a little bold to bring up nurseries on a first date. But Petersham Nurseries – a bohemian plant nursery in Richmond – is unexpectedly home to one of the most romantic restaurants in London. And with freshly plucked ingredients from the on-site gardens and the founders' own farm in Devon, it might just be one of the most delicious, too.
Details: Church Lane, Off Petersham Road, Richmond, TW10 7AB | Book here
–
Maison Francois | St. James's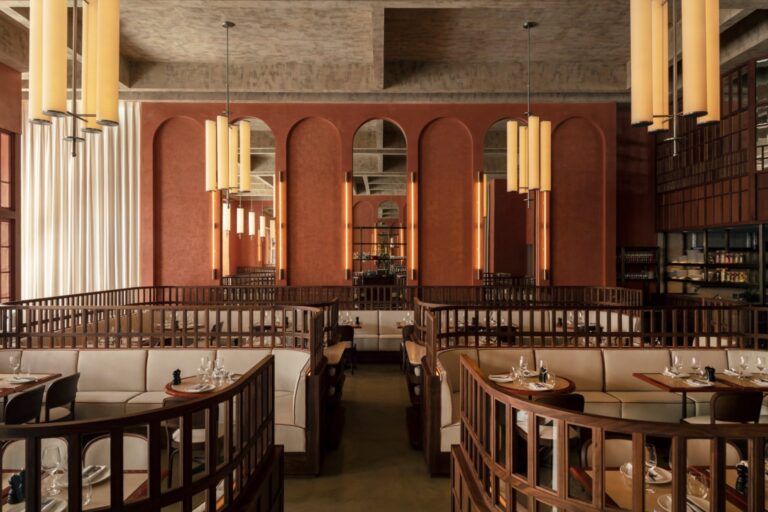 Unexpected perks of the lockdowns: Maison Francois opened during the era of social distancing, so the tables are all set out in quite fortuitously romantic little booths, despite the overall sense of being in one of the grand European cafés of old. The menu's all written in French, giving you the opportunity to unleash your devilishly attractive accent, and the dessert trolley that freewheels round the restaurant laden with macarons, éclairs and tarte tatin seems designed for dates.
Details: 34 Duke Street, St James's, SW1Y 6DF | Book here
–
Noble Rot | Bloomsbury | £££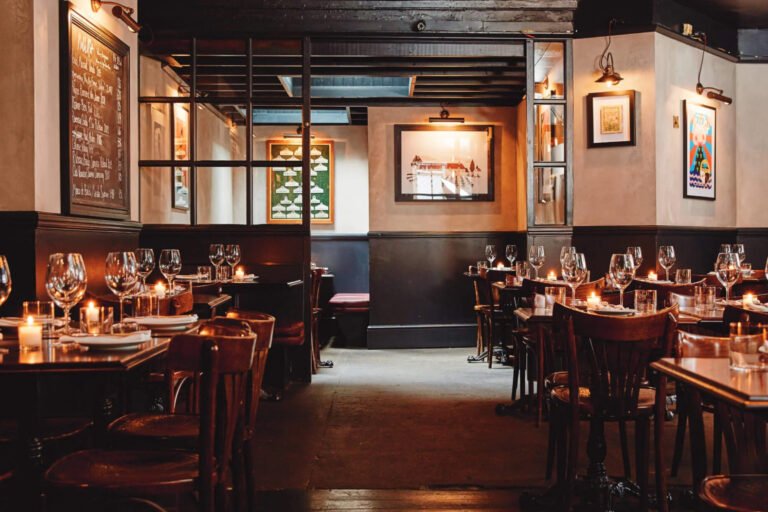 Just as the noble rot fungus is actually beneficial to the grapes it grows on (producing more flavourful wine), this Noble Rot is highly beneficial to you. Because behind this unusual name is a candlelit restaurant (doubling as one of the best wine bars in London) with daily changing dishes scrawled up on a blackboard; a roaring fireplace; and barrels of charm. And wine.
Details: 51 Lamb's Conduit Street, London, WC1N 3NB | Book here
–
Brasserie Zédel | Piccadilly Circus |££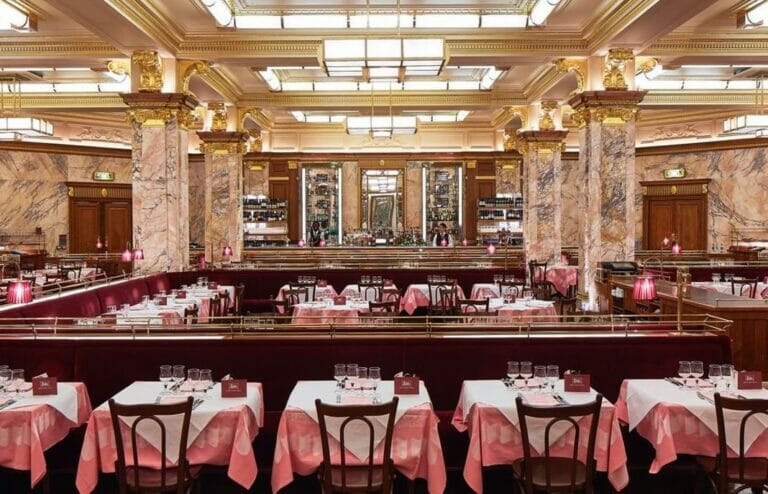 Brasserie Zédel is the restaurant other restaurants want to be when they grow up. It's an institution: from the original 1930s interiors of the cavernous subterranean dining room (which looks like something ripped straight out of a Wes Anderson movie); to the wood-panelled cocktail bar, Bar Américain; to the late-night shows in the art deco cabaret lounge, it's a whole date night in one venue. And you can still enjoy a two-course prix fixe for under £16.
Details: 20 Sherwood Street, Soho, Central London, W1F 7ED | Book here
–
London Shell Co | Paddington | £££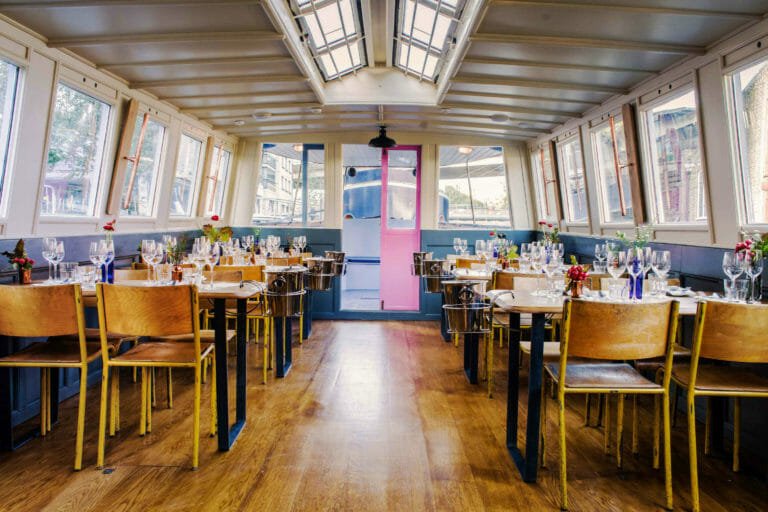 The fact that you're dining on oysters should be aphrodisiac enough… but London Shell Co adds understated flower arrangements, candlelight, cocktails, and a gentle cruise along London's canal network just for good measure.
Details: The Prince Regent Boat, Moored by Sheldon Square, W2 6EP | Book here
–
Café Deco | Bloomsbury | ££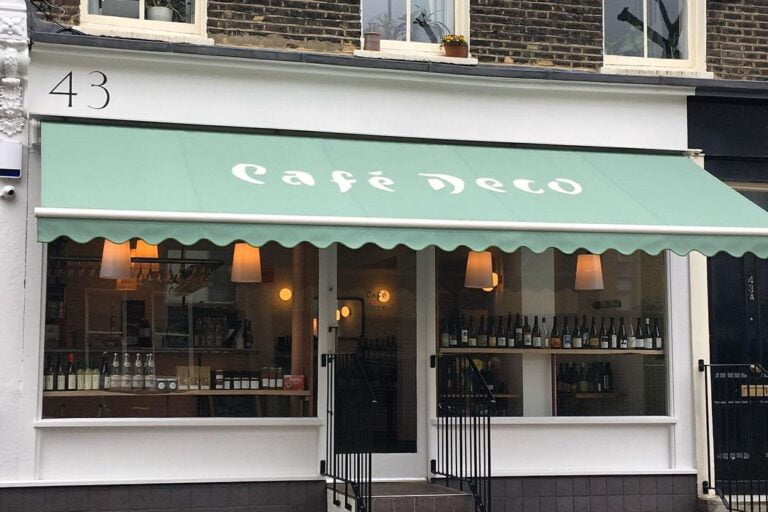 Studious assessment of your date's profile has led you to conclude that they are definitely cooler than you. You need somewhere in your arsenal that will effortlessly win them over; somewhere that's romantic without being all crisp tablecloths and tinkly piano music. Café Deco, Anna Tobias' pastel eatery housed in an old greasy spoon, is that place: natural wines, trendy small plates, and chocolate pudding pie to finish.
Details: 43 Store Street, London, WC1E 7DB | Book here
–
Sager + Wilde | Bethnal Green | ££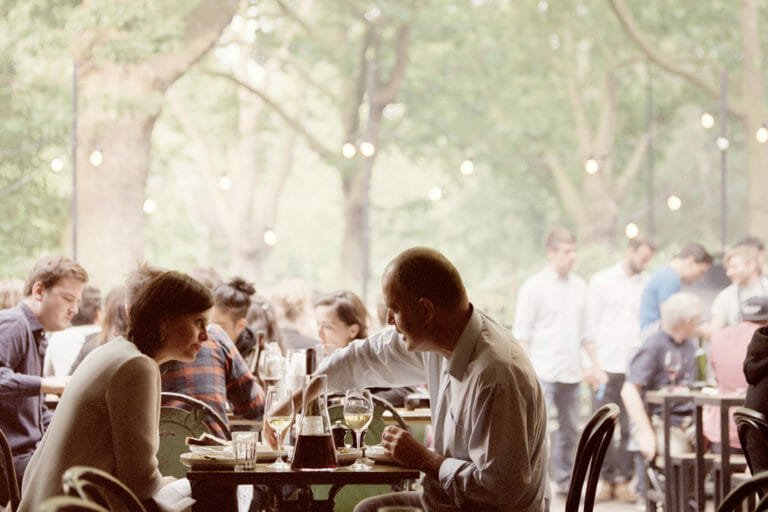 A festoon-lit dining terrace with bistro tables and bentwood chairs, a killer wine list, cocktails from a former Lyaness mixologist, and melt-in-the-mouth fresh pasta. You could tell terrible jokes all night here and still get a second date.
Details: 250 Paradise Row, E2 9LE | Book here


Bouchon Racine | Farringdon | £££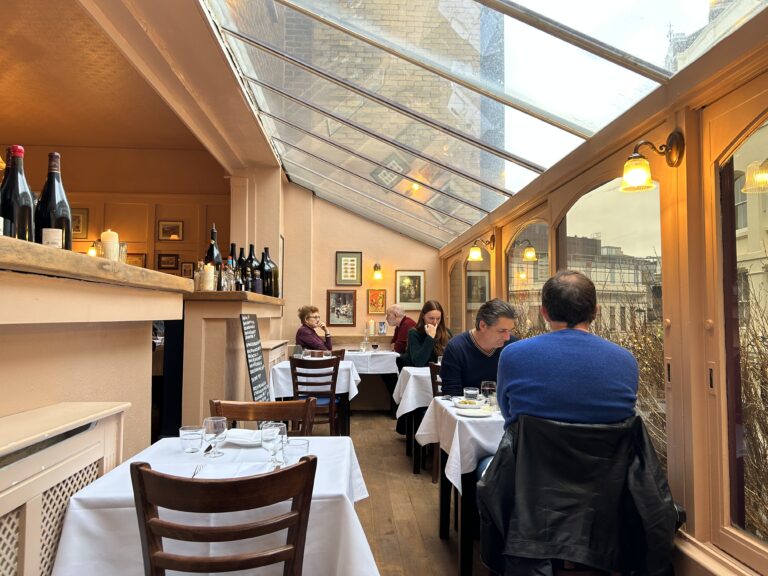 Bouchon Racine has an intimate dining area upstairs with a glass-roofed balcony that peeks out onto the street below, with candle-lit tables; a menu of warm, comforting French food that gets scribbled up onto a chalkboard each day (so rustic…); and French wine – lots of sexy, ruby red French wine. It's okay, honestly… just thank us at the wedding.
Details: 66 Cowcross St, EC1M 6BP | Book here
–
Le Café du Marché | Farringdon | £££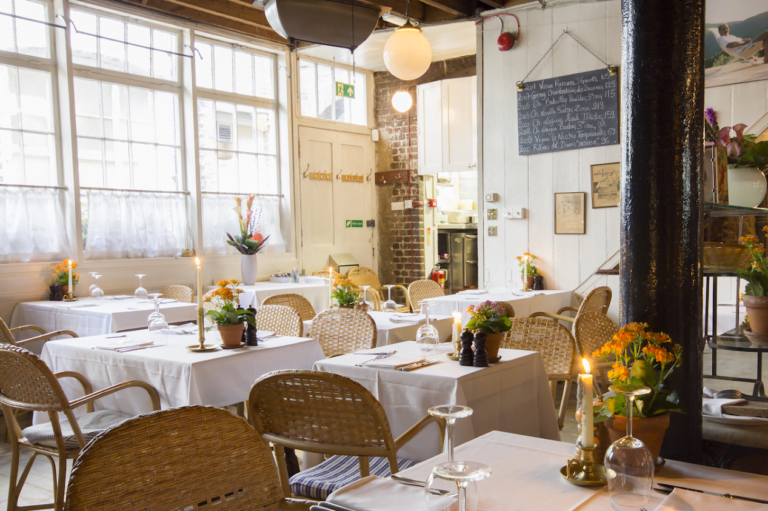 Everything sounds more romantic in French, even 'the market café.' As proven by Le Café du Marché, a cavernous yet intimate French restaurant that's been providing lovers with a rustic, candlelit bolthole in which to exchange bon mots for over three decades.
Details: 22 Charterhouse Square, Charterhouse Mews, EC1M 6DX | Book here
–
Spring | Strand | ££££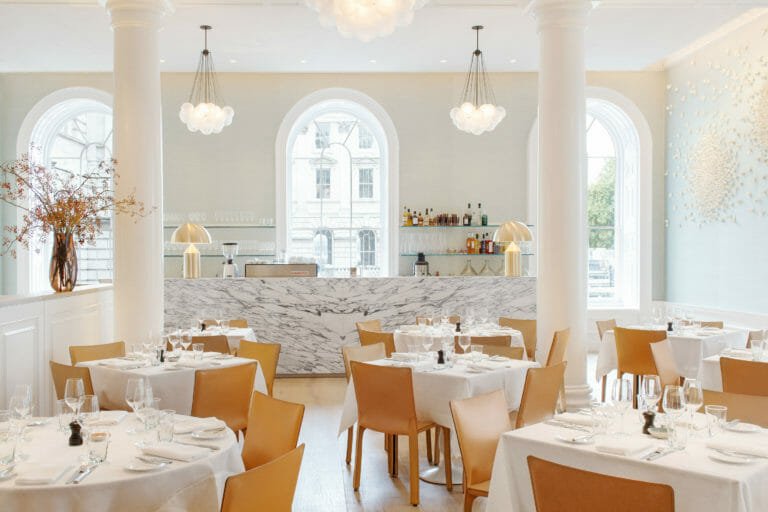 Skye Gyngell's Spring is actually romantic all year round. It's set in a wing of Somerset House, meaning you can go for a pre-dinner culture hit in Spring, Summer and Autumn… and in Winter, you can hit one of the most atmospheric ice rinks in London before heading here for the après-skate. The restaurant is a beautiful mix of powder pinks, marbles, and gold; and serves a daily-changing menu of seasonal dishes, alongside a small menu of signature cocktails, house-made liquors, and plenty of wine.
Details: Somerset House, Lancaster Place, WC2R 1LA | Book here
–
104 Restaurant | Notting Hill | ££££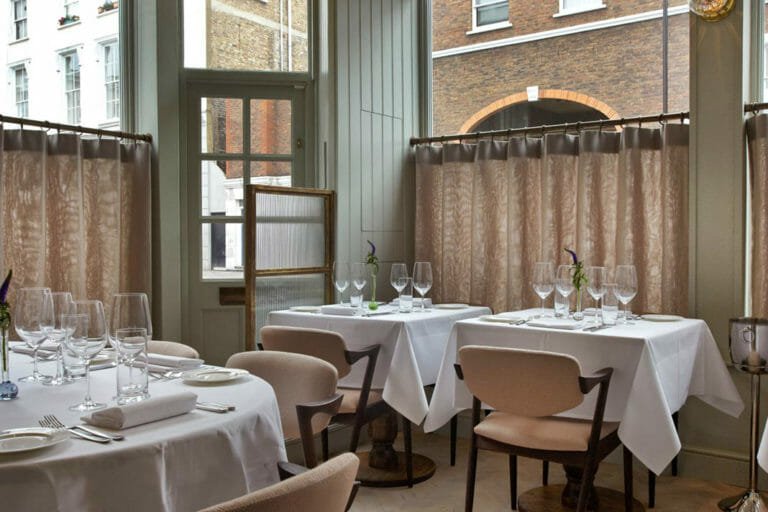 104 Restaurant is pretty much the perfect date spot. Not just because the food is a) delicious and b) cooked up by a Michelin star-winning chef, but because there's room for just six tables, making you look both impressively well-organised and in-the-know.
Details: 104a Chepstow Road, W2 5QS | Book here
–
The NoMad Restaurant | Covent Garden | ££££
Finally living up to its name, the ridiculously plush NYC hotel has opened its first international outpost. The cocktail bar here, Side Hustle, has already made it on to The World's 100 Best Bars list, and the restaurant is set in an unspeakably beautiful central courtyard, surrounded by glass lanterns, greenery, and galleries that make you feel like you're in a Roman villa. One that serves oysters on the half shell, truffle-stuffed roast chicken (to share) and chocolate mousse with cinnamon crème brûlée (to keep all to yourself).
Details: 28 Bow Street, WC2E 7AW | Book here
–
Sessions Arts Club | Clerkenwell | £££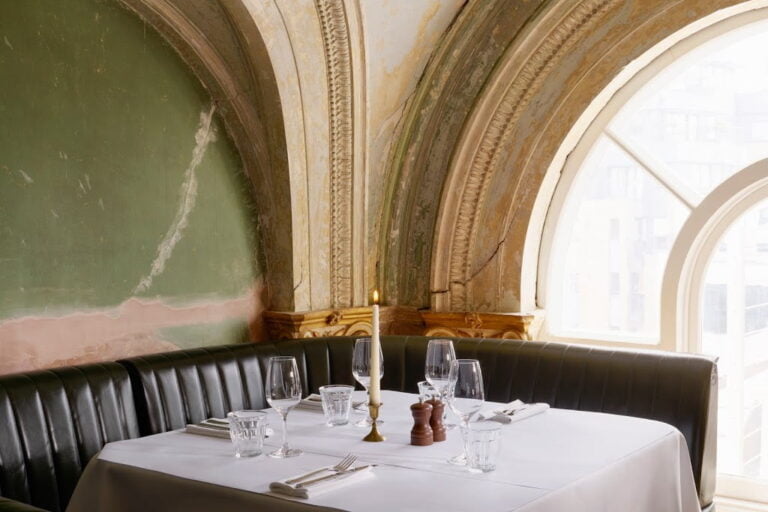 Sessions Arts Club is still the place to be seen right now. So if you don't want to be seen, you'll want to make a beeline for the buttery soft leather booths up on the mezzanine floor of this courthouse-turned-restaurant. Nestled up among the beautifully plastered rafters, you'll be able to feast on crab croquettes, clams in Riesling with crème fraîche and chocolate tart – all the work of former Polpetto head chef Florence Knight, and designed to be shared (though be warned, that may test your budding relationship).
Details: The Old Sessions House, 22 Clerkenwell Green, EC1R 0NA | Book here
–
Aqua Shard | London Bridge | £££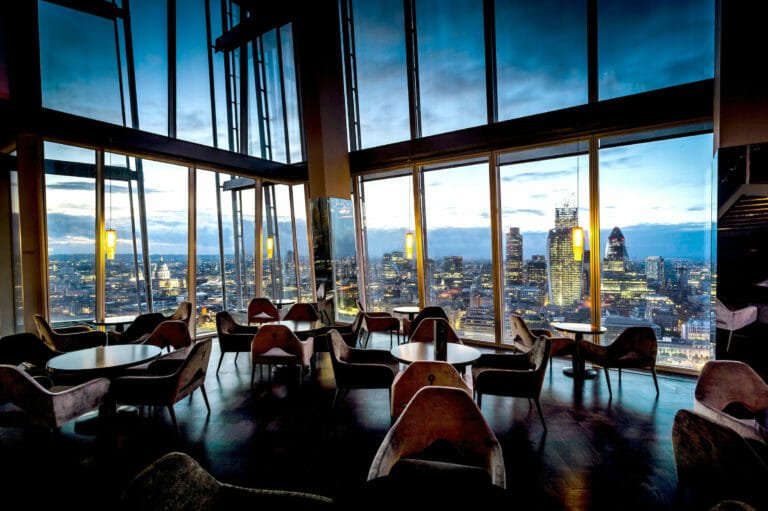 Ok, Aqua Shard isn't exactly subtle. But it's very impressive, particularly once night has fallen over London and the place is lit up by candles…
Details: Level 31, The Shard, SE1 9RY | Book here
–
Brunswick House | Vauxhall | £££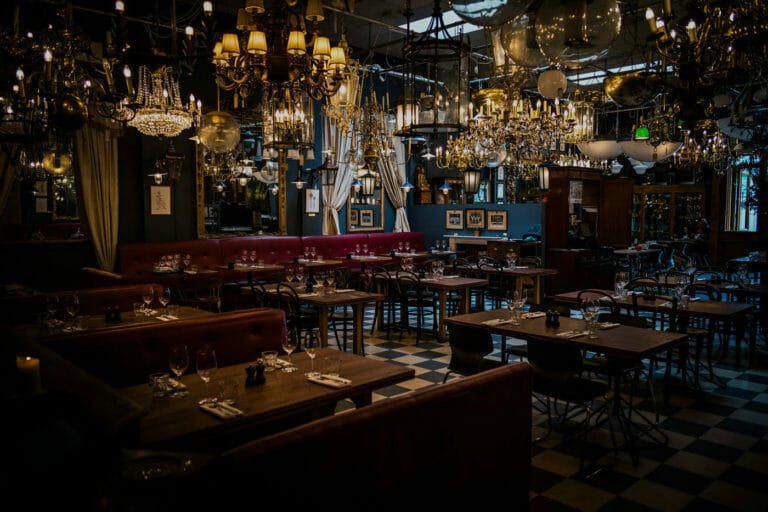 Ancient house; modern cooking. Jackson Boxer's lauded restaurant looks as good as the food on the plates: reclaimed antique chandeliers dangle from every square inch of ceiling space, while enormous, gilt-framed mirrors give you ample opportunity to subtly check for lettuce stuck between your teeth.
Details: 30 Wandsworth Road, SW8 2LG | Book here
–
Primeur | Newington Green | £££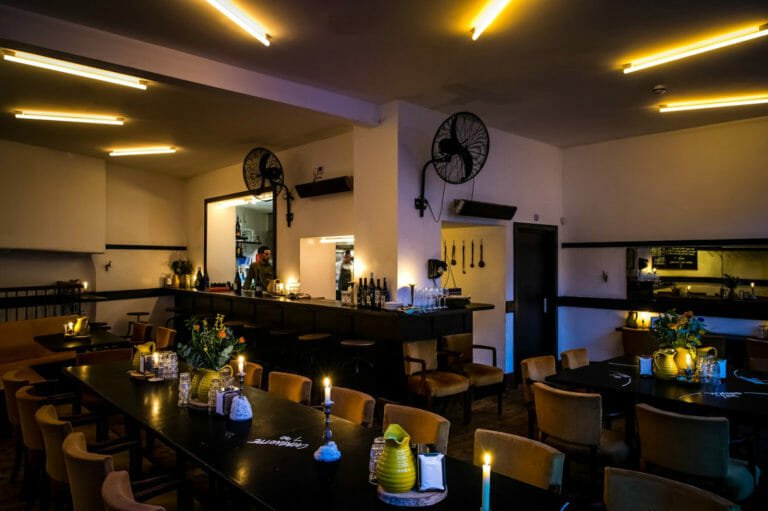 Primeur is a stupidly good-looking eatery from the good people behind Jolene and Westerns Laundry (two equally romantic spots). Wilfully ignore everyone else on the long, communal table as you dine on seasonal small plates and conduct a thorough investigation of the wine list.
Details: Barnes Motors, 116 Petherton Rd, London N5 2RT | Book here
–
Maggie Jones | Kensington | £££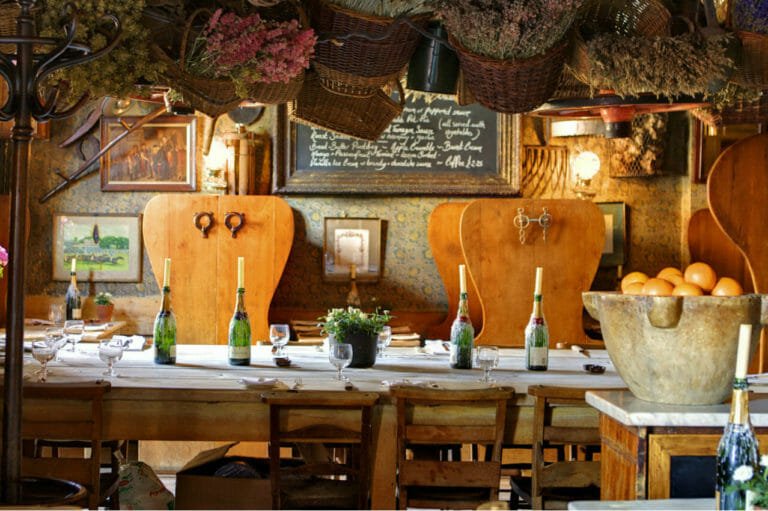 Maggie Jones's is named after the pseudonym its most famous patron – Princess Margaret – regularly used to book in here, so it basically has mischief baked into its DNA. The place is a picture of date-worthy charm, with baskets of herbs suspended from the ceiling; cosy, intimate booths hugging the walls and candles (lit at all hours of the day) wedged into old Champagne bottles. There's a very reasonable set menu of sumptuous rustic fare on offer, and this is a place where it's totally legitimate to order the house wine on a date – they'll plonk a magnum of the stuff on the table, and charge you for however much you get through: perfect for both dates that you want to wrap up quickly, or go on long into the night…
PS: Its sibling, La Poule au Pot, got the good-looking genes too.
Details: 6 Old Court Place, Kensington Church Street, W8 4PL | Book here
–
Fischer's | Marylebone | £££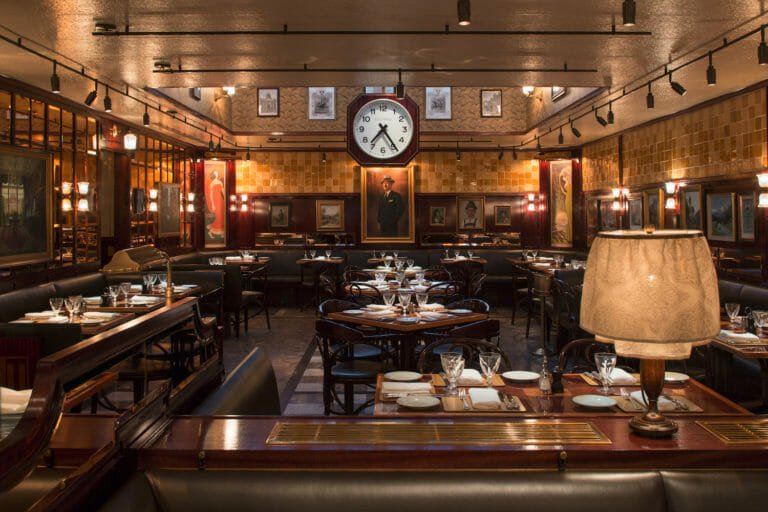 Just when you thought sauerkraut couldn't be romantic, Fischer's pulls it off in that old-school, Viennese grand café way; with intimate banquettes, wood-panelled walls, and a big clock. Share apricot dumplings and ice cream for pudding under the warm glow of the lighting (which is doing great things for your skin, by the way).
Details: 50 Marylebone High Street, W1U 5HN | Book here
–
J. Sheekey | Leicester Square | ££££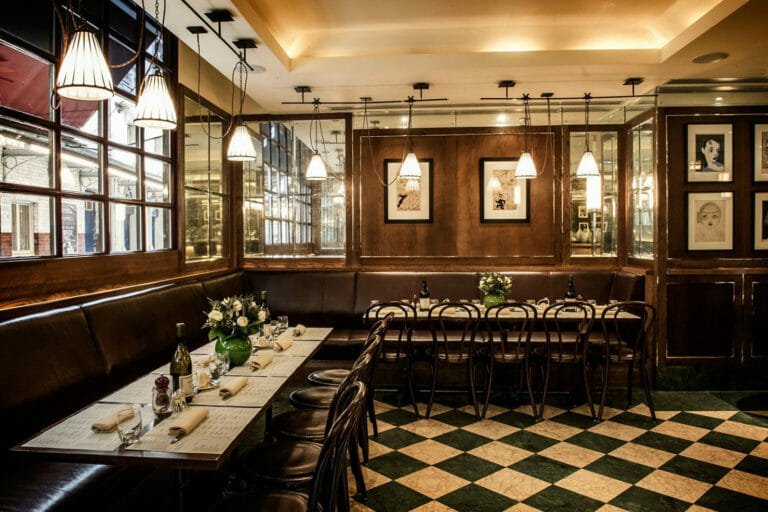 Oysters: A natural aphrodisiac. J. Sheekey: A Theatreland restaurant with a centrepiece horse shoe bar, banquette seating and an open kitchen – from which they serve London's best natural aphrodisiac.
Details: St. Martin's Court, WC2N 4AL | Book here
–
Quality Wines | Farringdon | £££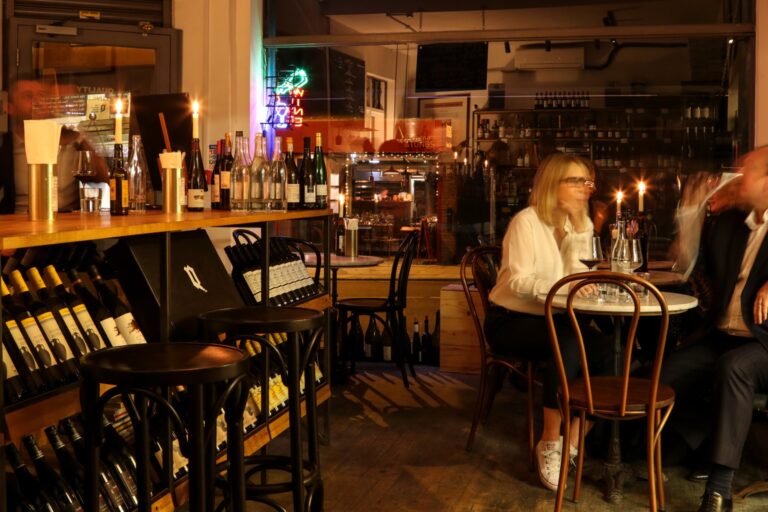 Since Quality Wines, a little wine shop and bar, opened next door to Quality Chop House (they're from the same team), Farringdon Road is fast becoming a Quality street. Bring your lover here for modern European small plates served alongside exceptional, hand-picked wines. Choose a bottle directly off the shelves for £15 corkage, or sample one of the by-the-glass options on offer. They change every week… but somehow skin-contact's always on the menu.
Details: 88 Farringdon Road, London, EC1R 3EA | Book here
–
My Neighbours The Dumplings | Clapton | ££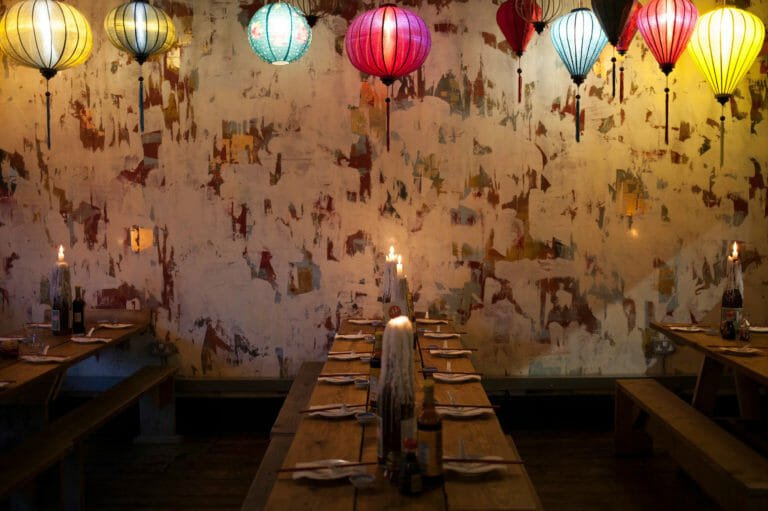 Whether you're eating in their candlelit dining room, knocking back sake in their subterranean, artfully neon-lit bar or listening to live jazz in their lantern-strewn back garden, My Neighbours The Dumplings are going all out to make you become more than good friends.
Details: 165 Lower Clapton Road, E5 8EQ | Book here
---
Now that you're familiar with the most romantic restaurants in London… you'll be needing our list of 101 London Date Ideas