The Best Hidden Restaurants in London | 10 Secretive Dining Spots
Three things cannot long stay hidden: the sun, the moon and the truth. – Buddha
What can stay hidden, however – which Buddha clearly knew all too well – are these secret restaurants in London, which you really have to be looking for to find…
–
The Tent at the End of the Universe | Marylebone
Turns out the end of the universe is actually in London. In Marylebone, specifically, behind a set of unmarked doors which lead, unexpectedly, to a deeply intimate and atmospheric hidden restaurant set within a bedouin-style tent (which is so secretive, we can't even show you a picture).
Details: 17 Little Portland Street, W1W 8BP | Book a table
–
Kebab Queen | Covent Garden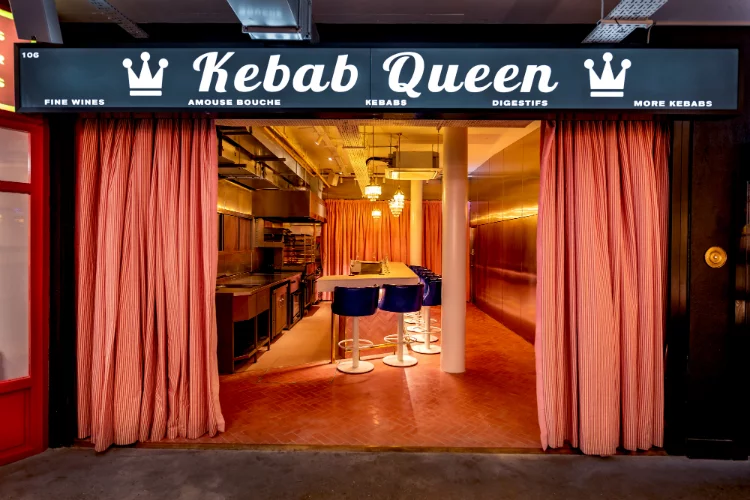 Creating the ultimate diversion by using a critically acclaimed restaurant as its front, Kebab Queen is an intimate chef's table hidden as a separate restaurant inside Maison Bab. Set behind what looks like a typical high street kebab shop front, you'll need to push back the curtain to discover the kitchen and wraparound dining counter. And it's directly onto this counter – essentially one long plate – that former Le Gavroche chef Manu Canales will serve your six course tasting menu…
Details: Inside Maison Bab, Mercer's Walk, WC2H 9QE | Book a table
–
Dans Le Noir? | Clerkenwell
While the restaurant itself may not be much of a secret, the food itself is – because once you've been greeted at the door, you'll be ushered into an entirely pitch black room and served a mystery menu in the dark…
Details: 30-31 Clerkenwell Green, EC1R 0DU | Book a table
–
La Bodega Negra | Soho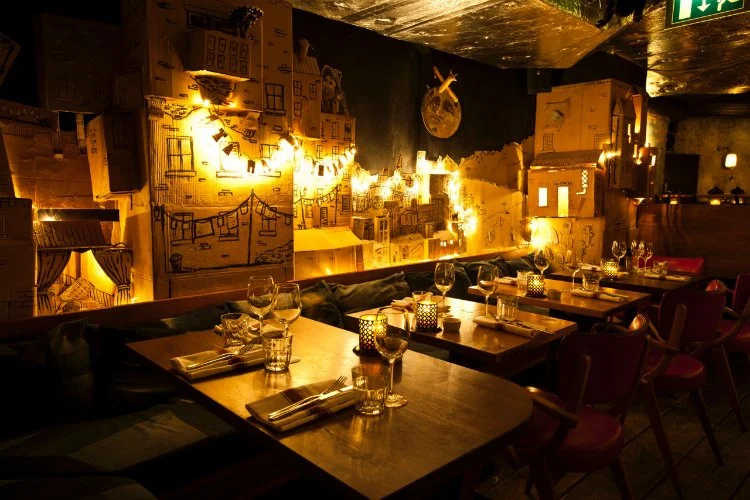 An illicit, tequila-infused, incense-smoking subterranean Mexican restaurant. Which, naturally, can be accessed through an unforgivingly authentic-looking Soho sex shop…
Details: 9 Old Compton Street, W1D 5JF | Book a table
–
Opium Cocktail and Dim Sum Parlour | Chinatown
Enter through an unassuming, numberless jade door hidden in the bustle of Chinatown to find a maze of different, stunningly decorated rooms spread out over three surreptitious floors of cocktails, dim sums and opium. Minus the opium.
Details: The Jade Door, 15-16 Gerrard Street, W1D 6JE | Book a table
–
Brat | Shoreditch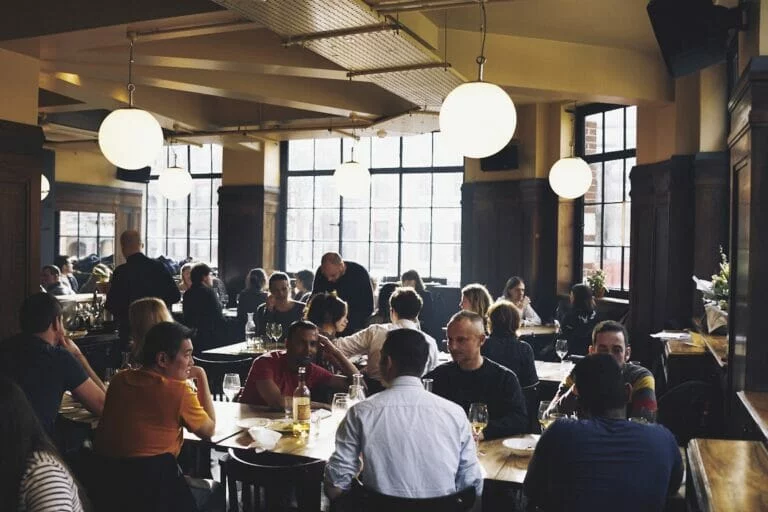 Despite best efforts to remain low-key, being, as it is, discreetly tucked away on the first floor of a relatively non-descript warehouse, Brat managed to win head chef Tomos Parry a Michelin star within six months of opening.
Details: First Floor, 4 Redchurch Street, E1 6JJ | Book a table
–
Rochelle Canteen | Shoreditch
Rochelle Canteen requires you first to locate a plain-looking door in a garden wall, secondly to ring the buzzer for entry, and finally to locate what bears the most resemblance to a critically acclaimed restaurant operating out of a former school bike shed on the other side.
Details: School House, Arnold Circus, E2 7ES | Book a table
–
Little Blue Door | Fulham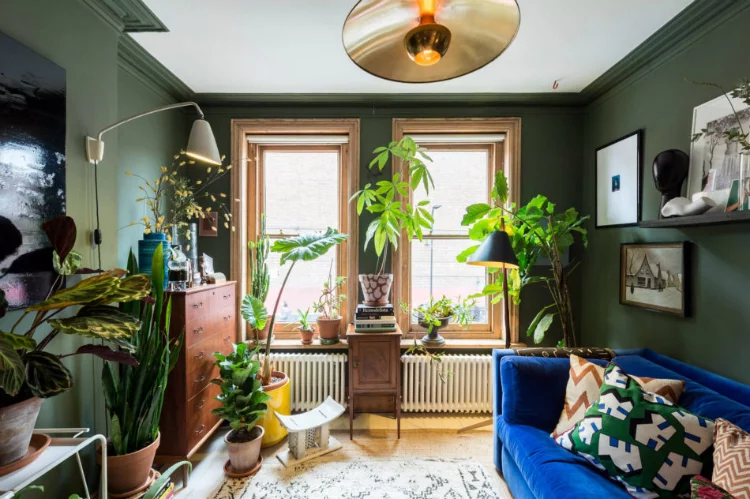 Hidden behind an entirely nondescript door on the Fulham Road – we'll leave you to sleuth out which one – is the ultimate house party, with delicious food, drinks for a fiver, and Sunday roasts accompanied by the papers, snacks and board games.
Psst… check out the other houses across town: The Little Yellow Door, The Little Orange Door and The Little Scarlet Door.
Details: 871-873 Fulham Rd, SW6 5HP | Book a table
–
Hill & Szrok | Bethnal Green
A mysterious dining spot that looks almost exactly like a butcher's… because it is one. Only in the evenings, the large marble table at its centre gets wiped down, dolled up, and the place becomes a secret restaurant serving excellent seasonal grub.
Details: 60 Broadway Market, London Fields, E8 4QJ | Book a table

---
Like finding secret spots? Check out our guide to the Best Hidden Bars in London