The Best Vegetarian Restaurants in London | 15 Meat-Free Masters
We don't have any beef with our vegetarian friends.
Because London's green scene has everything from quirky cafés and elegant tasting menus, to Michelin-recommended veg and 38th-floor views. This list could therefore, quite simply, be called 'some really, really, really, really, really great places to eat around London', but that would be too lengthy, so behold –
The Best Vegetarian Restaurants In London.
As you were.
COMPLETELY VEGETARIAN RESTAURANTS IN LONDON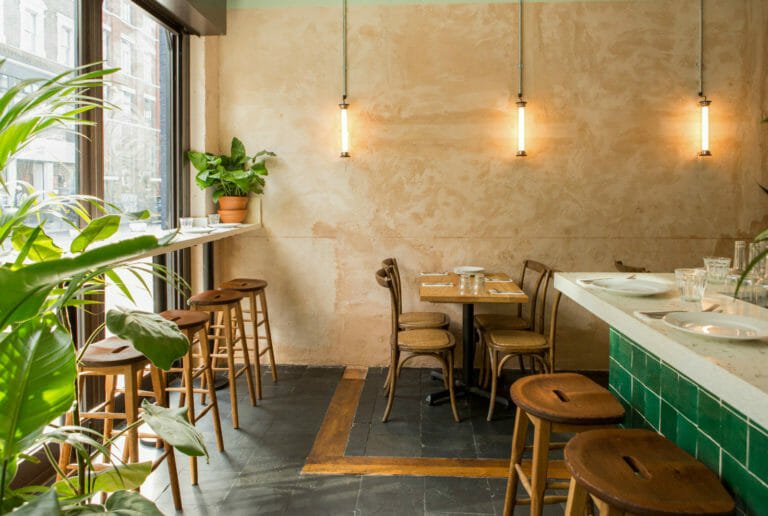 Welcoming, unpretentious, and thrumming with flavour, Bubala came in swinging to the East London food scene in 2019, and has now landed a central London twin in Bubala Soho. The kitchen is headed up by chef Helen Graham, who's manned the pans at such titans as The Palomar and The Barbary, and here she's put together a completely vegetarian (or all-vegan if you prefer) menu of Middle Eastern goods. Highlights are tough to narrow down, frankly, because there are just too many. From cloud-like laffa flatbreads, to silky burnt butter hummus, to fried halloumi bathed in black honey, to the extraordinary potato latkes, with their mille-feuilles-like folds… it's all a highlight.
Details: Spitalfields: 65 Commercial Street, E1 6BD | Soho: 15 Poland Street, W1F 8PR | Book a table
–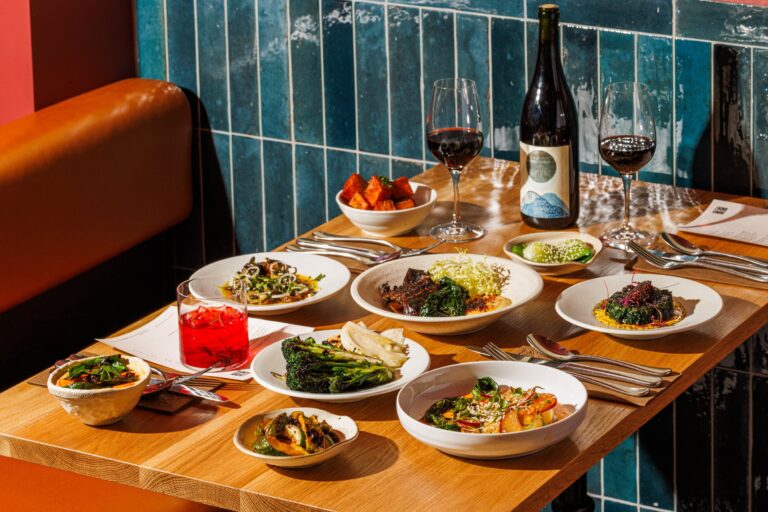 Trying to convince someone that vegetarian food doesn't all have to be raw and virtuous, or a bit creepy (bleeding plant burgers, we're looking at you)? Take them to Tendril, the "mostly vegan" dining concept from ex-Chiltern Firehouse and The Dairy chef Rishim Sachdeva. After years of critically acclaimed pop-ups, the place has put down permanent roots by Bond Street station. And the menu's stunning – a hit list of varied dishes showcasing vegetables in their own right that will knock any meat FOMO right on the head.
Details: 5 Princes Street, W1B 2LQ | Book a table
–
A bright yellow, endearingly chaotic corner shop-cum-cafe run by Sally and Jamshid, aka Mr. & Mrs. Shopkeeper. Persepolis is brimming with everything from falafel makers to olive oil soap, as well as nine and a half tables from which you can feast on an all-vegetarian selection of Middle Eastern-inspired dishes, from brunch until dinner.
Details: 28-30 Peckham High Street, SE15 5DT | Book on 020 7639 8007
–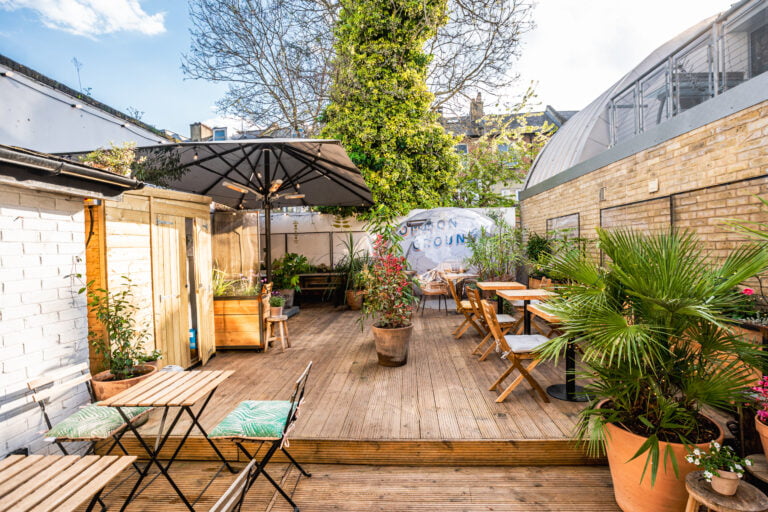 Common Ground's leafy back garden sets the stage for equally leafy food – every dish on their brunch and lunch menu is vegetarian (and exceptionally delicious). Tuck into Korean-inspired croissants stuffed with fudgy egg and kimchi; focaccia to swish round skillets of Turkish eggs; tamarind-roasted aubergine fatteh salad and crispy potato latke with poached eggs.
Details: 49 Stroud Green Road, London N4 3EF | No bookings – find out more
–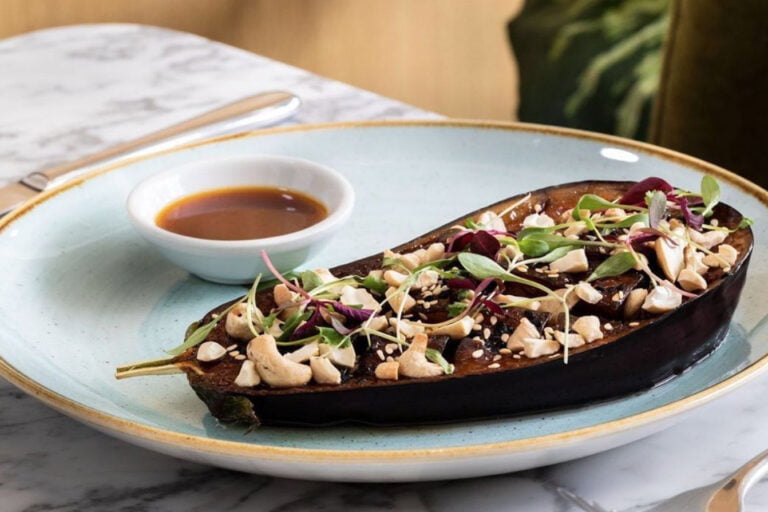 As far as aesthetically pleasing vegetarian restaurants go, The Gate has the highest cheekbones. And a selection of à la carte starters, mains, and desserts that span global cuisines. Think miso glazed aubergine topped with toasted cashew nuts, ponzu sauce, coriander, and sesame seeds; or goat's cheese and beetroot ravioli served with sage butter and braised spinach. For drinks they have an all vegan list of Champagne, wine, and beers, as well as a number of cocktails and mocktails.
Details: Hammersmith: 51 Queen Caroline Street, W6 9QL; Islington: 370 St John St, London EC1V 4NN | Book a table
–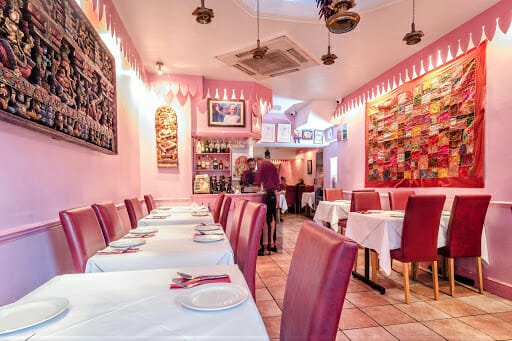 Everyone feels in the pink at Rasa. Granted, that's because the entire restaurant is decked out in rosy tones, but also because founder Das Sreedharan's menu of Keralan dishes is entirely meat-free. The place has won a slew of awards since opening in 1997, making it one of the most garlanded vegetarian restaurants in London – and with mains all under a tenner, it serves some of the most affordable food in London, too. Leave your order in the hands of the chef with the vegetarian and vegan set menus, or pick from the likes of paneer curry, vegetable-filled dosa or guava & avocado salad.
Details: 55 Stoke Newington Church Street, London N16 OAR | Book a table
–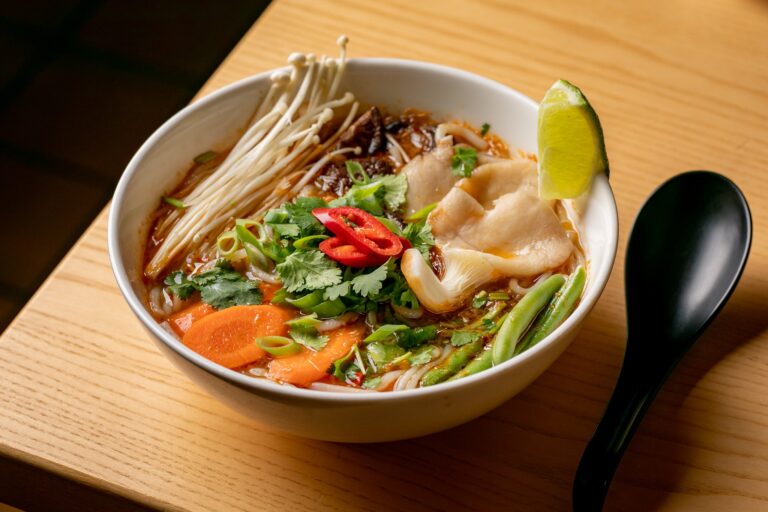 Family-run Bánh Bánh is one of the best Vietnamese restaurants in London. And every Monday, in a nod to the tradition of eating vegetarian food on certain days of the lunar calendar for good karma, their menu goes entirely meat-free. Meaning you can have free reign of mouthwatering numbers like the Chickpea Glory (slabs of chickpea tofu fried over garlic-laced morning glory), yellow coconut curry with aubergine and sweet potato; and the tofu bun noodle salad (which is essentially four delicious meals in one).
Details: Peckham: 46 Peckham Rye, SE15 4JR | Brixton: 326 Coldharbour Lane, SW9 8QH | Book a table
---
MEAT-SERVING RESTAURANTS, WITH PLENTY OF VEGGIE DISHES
Jikoni | Marylebone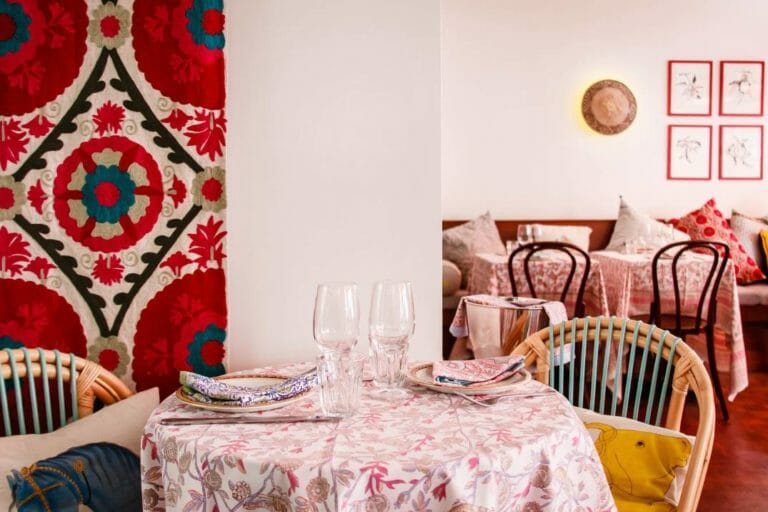 Casually glamorous Jikoni describes itself as a kitchen without borders – and that philosophy applies not only to its culinary influences, but the ingredients themselves. Vegetables are resolutely upgraded from side dish status with hearty, jealousy-inducing mains like the crispy fried aubergine (whose rich Sichuan caramel sauce sets every one of your tastebuds pinging) and the wholesome butternut squash moilee with coconut chutney and lemon rice. And the good news is that every one of their creatively inventive cocktails happens to be vegetarian too…
Details: 19-21 Blandford Street, London W1U 3DH | Book a table
–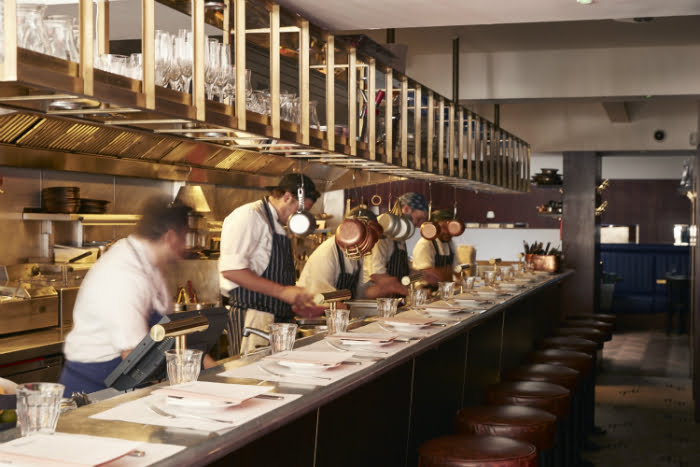 Dining at The Palomar is like speed dating a line-up of incredibly talented chefs, except they're doing all the impressing – chopping, grilling, and plating for your enjoyment while you just sit, propped up at the 16-seater zinc bar, feeling fabulous. You might kick things off with their kubaneh bread with tomato and tahini, or a plate of babaganoush, embellished with coriander and pomegranate seeds. Of course, as per most first dates, you'll probably be reaching for the drinks list – where you'll find plenty of delicious-sounding tipples like their 'Au Revoir Shoshana' of gin, pink grapefruit, rose sherbet, lemon juice, sumac tincture, and soda water.
Details: 34 Rupert Street, W1D 6DN | Book a table
–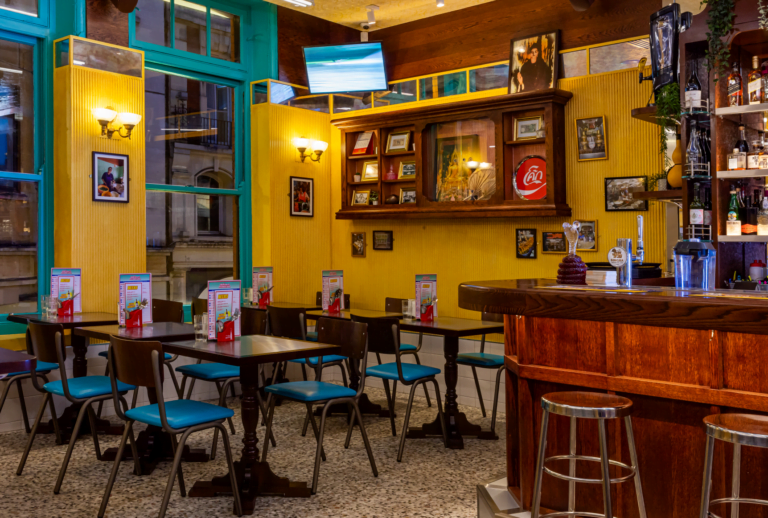 You might have already heard of Luke Farrell thanks to Plaza Khao Gaeng (one of the best Thai restaurants in London, which he opened in Arcade Food Hall in early 2022). If not, well, he's up to his old tricks again with Speedboat Bar, a colourful and wildly-fun restaurant inspired by Bangkok's Chinatown in… London's Chinatown. Farrell is known for not taking it easy on the spices (understatement alert: the food is really spicy), and that's not just for the meat dishes. The vegan and vegetarian menus are just as fiery; featuring the sweet corn fritters (a deceptively mild start) and then it's onto the searing-hot, mouth-numbing stuff with purple aubergine dressed in chilli & thai basil; drunken vegetables with noodles; and a winter melon and eggplant curry. Then there's drinks, which we can't stress enough, you will be needing – particularly the snake blood negronis, which despite the name are entirely vegetarian, too…

Details: 30 Rupert Street, W1D 6DL | Book a table
–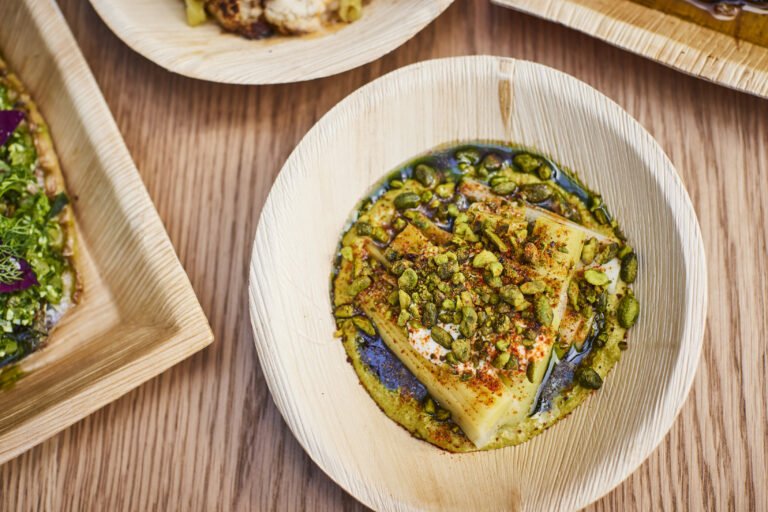 Despite being a restaurant where everything's given a slap of flame from the grill, ACME Fire Cult isn't all hulking haunches of meat. In fact, there's enough greenery here to create its own vegetarian restaurant spin-off – and chances are you won't have had vegetables done like this before. Smoked potatoes with tahini mayo; aubergine steak and sourdough mole; coal-roast celeriac with mushroom XO sauce… every dish Andrew Clarke crafts is inventive, unique, and damn delicious. And thanks to ACME's proximity to 40ft Brewery (as in… it's in their car park), there's plenty of fresh suds on tap to wash it all down with.
Details: 40ft Brewery, Abbot Street Car Park, E8 3DP | Book a table
–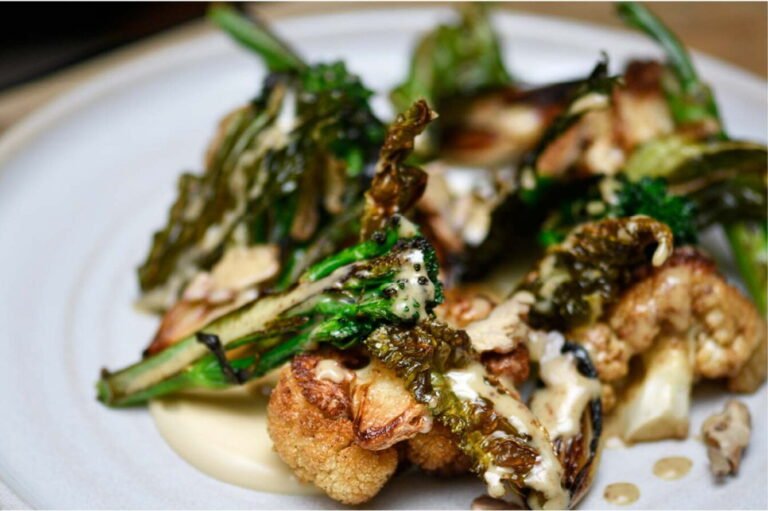 Fallow founders Jack Croft & Will Murray met working on the vegetable station at Dinner by Heston (one of London's Michelin starred restaurants) – so it's fair to say they know their onions. What started out as as pop up has now gone permanent in a sleek space in St James's, where the duo have won a Michelin Bib Gourmand for themselves. Their culinary backgrounds, coupled with a zero-waste philosophy, mean that the menu here is seriously strong when it comes to vegetarian offerings: try the caramelised cauliflower croquetas or the mushroom parfait (whose ingredients are grown in planters hanging over the kitchen). Whatever you do, don't skip on the sweetcorn 'ribs' dusted with kombu seasoning – it's a dish that's suddenly everywhere, but this version's never been bettered.
Details: 2 St. James's Market, SW1Y 4RP | Book a table
–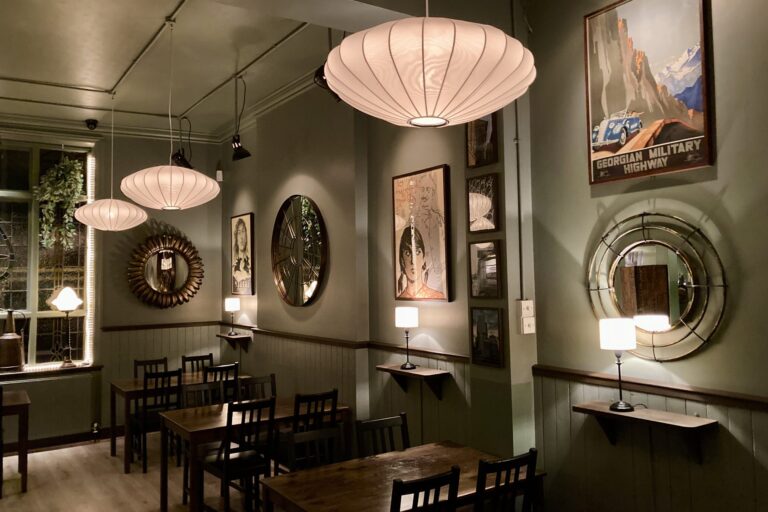 As a pitstop along the Silk Road, Georgian cuisine definitely doesn't do bland vegetarian. And at Little Georgia – two cosy, low-lit restaurants in Hackney and Highbury – you can feast on pomegranate-topped aubergine rolls; freshly baked khachapuri bread filled with melted cheese; Georgian bean stew and bright crimson borscht, while getting thoroughly acquainted with the output of Georgia's vineyards…
Details: Highbury: 14 Barnsbury Road, N1 0HB | Hackney: 87 Goldsmiths Row, E2 8QR | Book a table
–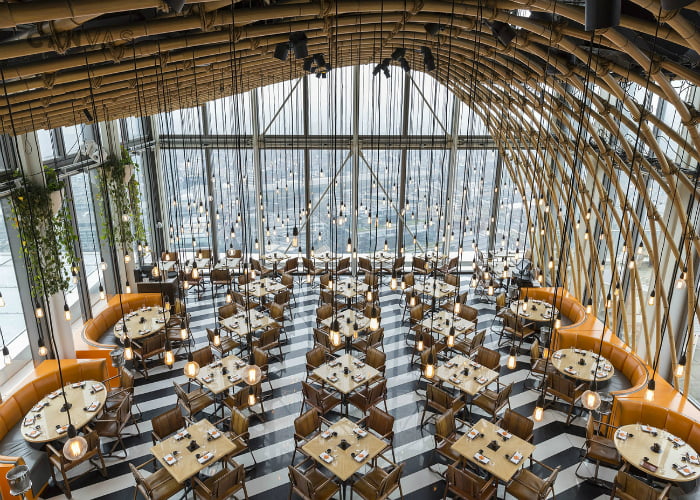 Surprisingly for a restaurant with sushi in its name, Sushisamba (and its less elevated sibling, Sushisamba Covent Garden) is also rolling with the rising numbers of veggie folk these days. Here you'll find a dedicated menu to save you sifting through, cutting straight to the chase with robata-grilled aubergine; vegan nigiri and maki rolls; and plantain moqueca, a twist on the Brazilian seafood stew served with okra and truffle-fried rice. All with a 360 degree view of the city on the side.
Details: The City: 110 Bishopsgate, EC2N 4AY | Covent Garden: 35 The Market, WC2E 8RF | Book a table
–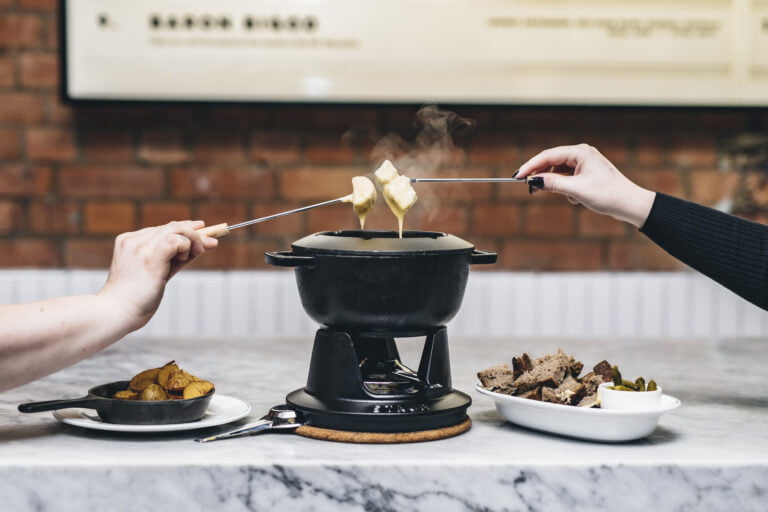 At some restaurants you'll find that the veggie options are also vegan – and that's probably no bad thing. But when you want to embrace the joy of dairy, head to The Cheese Bar (or its floating sibling in Paddington, The Cheese Barge), where every dish spotlights cheese made here in Blighty – from savoury profiteroles with Cornish gouda cheese to fondue pots for two. After all, ignoring Britain's mighty cheese production would be a disgrace.
Details: Camden: Unit 93-94 Camden Stables, London NW1 8AH | Paddington: Sheldon Square, London W2 6DL | Book a table
–
All restaurants need to take a leaf out of Dishoom's book. They're on it with dietary requirements. Gluten-free, nut-free, animal-free. And therefore, anxiety-free. In fact, forget the days of foraging for a V in small print, instead they have an entirely dedicated vegetarian menu detailing exactly what works for you. Like their vegetable samosa (pea, potato, cinnamon, and cloves); Chloe-Chawal (spiced chickpea curry with basmati rice); and Crunchy Pomelo Salad (kale, pink pomelo, pistachios, mint, coriander, and date and tamarind chutney), all of which can be found all over London at every one of their now six sites.
Details: Various locations | Book a table
–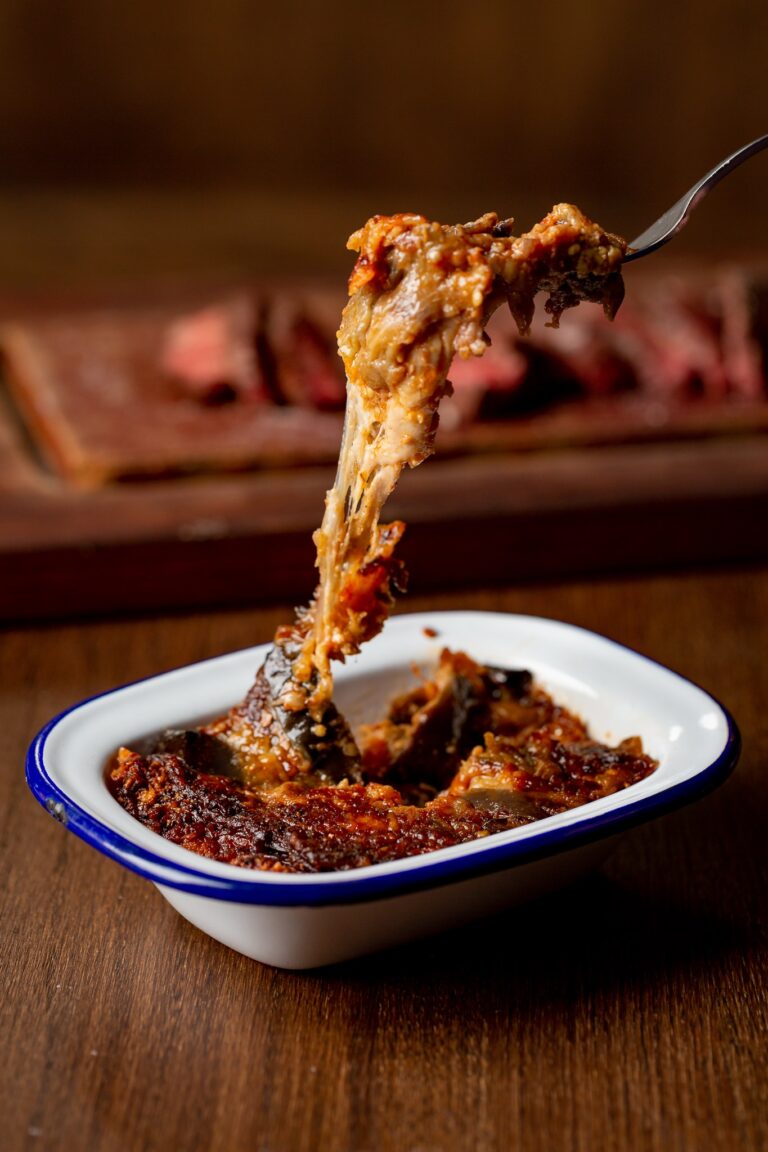 Yes, we are really putting a steak house on a list of London's best vegetarian restaurants. Because as ardent worshippers of the noble aubergine parmigiana, we are yet to find anywhere to do the Italian dish justice so well as Flat Iron. Meltingly soft roast aubergine is layered with aged parmesan and slow-cooked tomato, and you can order it as (the only veggie) main, served in ludicrously generous portions. Plus, your meat-eating friends aren't exactly going to complain when you suggest Flat Iron for dinner…
Details: Various locations | Book a table
---
Know where else is great for vegetarians? All these fresh pasta spots…