"I never wanted to come to London." says chef Endo Kazutoshi as he delicately spits out a small piece of fish.
We're in his restaurant up on the 8th floor of the Rotunda building in White City, looking out over West London. Endo is taking a break from the evening's meal prep to talk to us, but every now and then a chef will hustles out of the kitchen, reverently offering a small bullet of fish for him to try. Endo puts it in his mouth, makes a subtle nod or shake of the head, and spits it out. "I never eat fish" he explains with a smile. That may sound strange coming from a third-generation sushi chef, but then Endo tries 20 different fish dishes every day, five days a week for his restaurant. So maybe it's not so strange.
"I met Rainier Becker in Spain, and he asked me to come to London" he continues. "I said no." At the time – back in 2006 – Becker was the head chef at Zuma, and needed someone with Endo's talent for his sushi counter. And at the time, London was not the world capital of food that it is now. It hadn't yet become the magpie city, plucking the most glittering gems from forest of global cuisines. There was no Neapolitan pizza to speak of, no flourishing Basque scene, no ceviche places, or taco joints. And as for Endo? His father was a sushi chef, and his father's father was a sushi chef. And they did all in Japan. "There was no point in leaving". Endo remarks. He was gong to be a Tokyo sushi chef. "It was my destiny".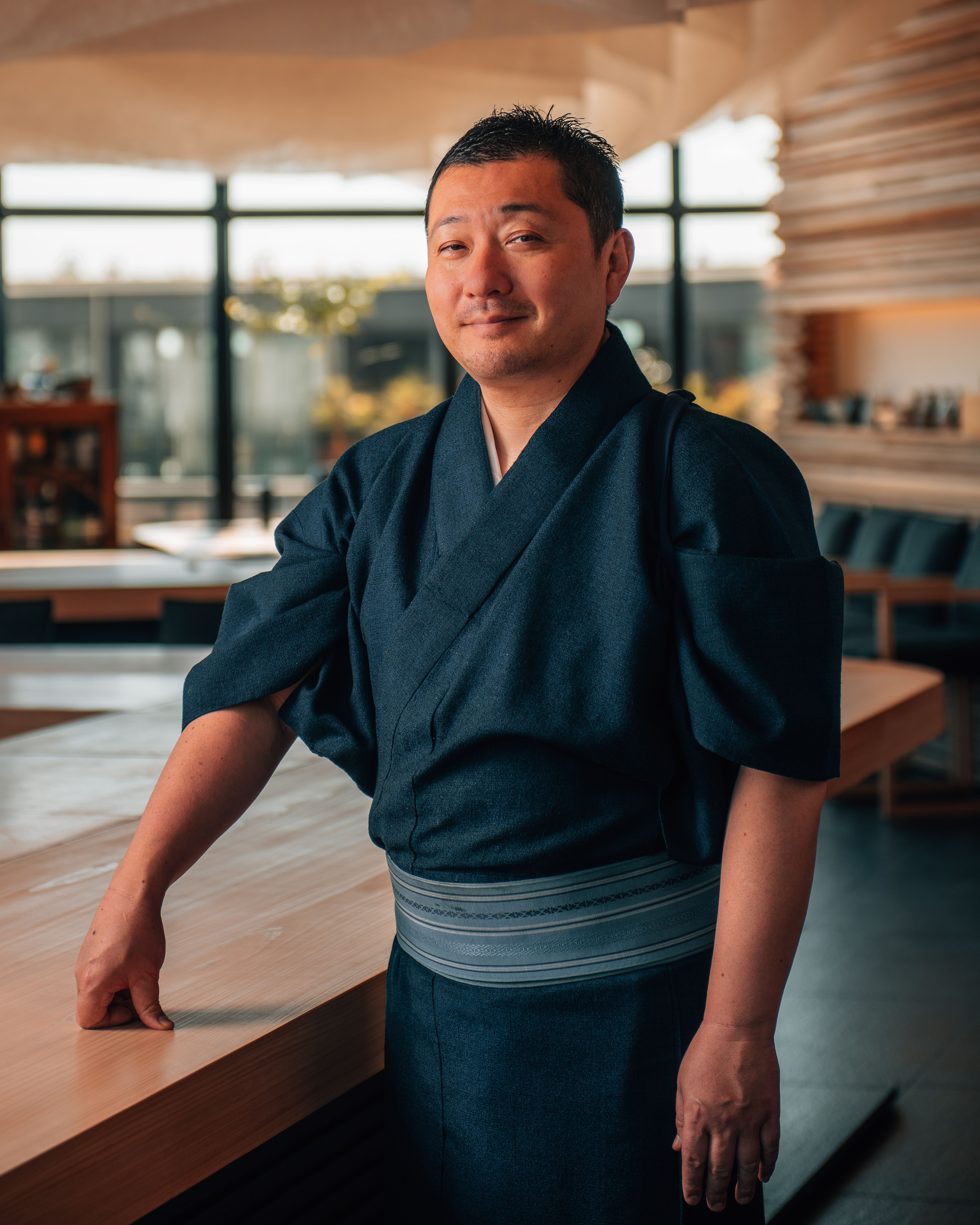 Then, Becker sent him a plane ticket, and asked him to come for just a couple of days. "If you don't like it, don't stay, they said." So, out of courtesy to a fellow chef, he went. He met up with Becker and his business parters, they ate some food, had some drinks, and then they asked him a question that changed the trajectory of his entire life: "What is your responsibility?, they said". This is something that never occurred to him, Endo explains, almost confessing. "How many sushi chefs are there in Tokyo, they asked me? And how many in London?" Here, he would have a mantle placed upon him; to be an ambassador for Japanese culture. "That is my responsibility."
He smiles. The fish he's just had handed to him is obviously utterly delicious. He spits it out.
Despite speaking "No English – negative English", as he eloquently puts it, Endo came. After manning the omakase counter at Zuma, he started to work for legendary chef Rose Gray at The River Cafe for free on weekends. She taught him all about the island's native shellfish ("I don't know Isle of Skye. I don't know Isle of Wight. I don't know shellfish. I don't know anything." he admits, "she educated me"). And she left him with one piece of advice about fulfilling that mantle of responsibility: he needed to open his own restaurant, and win a Michelin Star.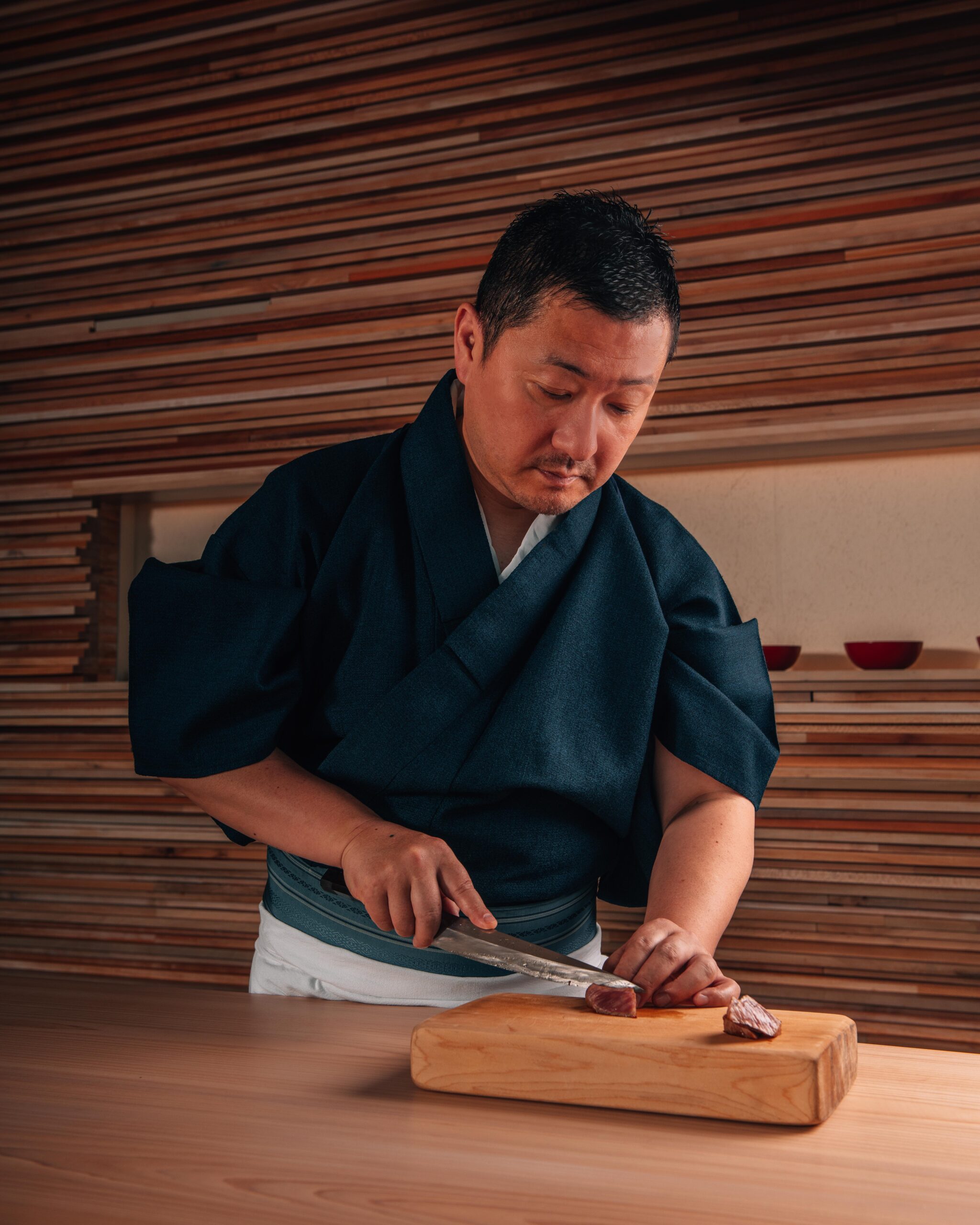 So, he did precisely that. Leaning over his shoulder, he glances at the certificate hung on the wall. He won it almost as fast as it was possible, within months of opening. The Michelin people practically threw it at him. "For a normal Japanese chef, it's like going to the moon" he mentions of the award. But for him, the real prize is playing the preacher of Japanese culinary culture on the other side of the world.
Without patting himself on the back too much, he says, the city has now become one of the finest in the world for sushi. "In the last five years, there's been a lot of change" he remarks, talking about the litany of new omakase places that have been opening recently. "Sushi places always used to choose Los Angeles. New York. Paris. And Hong Kong. Not London. But now, it's totally changed. Now, this is the best in Europe."
And as much as he's a flag-bearer for Japan, the city has had its own influence on him, too. "My father didn't speak. Just made the sushi." Endo declares. That's typical of a Tokyo sushi chef. But Endo very much does speak. On any given evening, he shouts. He proclaims, and evangelises, and enthrals. He brings a showmanship to the meal. He actively encourages discussion and debate amongst the diners, even going so far as to create a bespoke curved omakase bar, so diners will face one another. "It's like a supper club" he adds with a grin. And it marks one of the many nexus points between cultures that makes this city so special.
As for what else he gets out of London? Well, Endo is happily able to take advantage of the same global ambassadors the city seems to attract: He gets Italian food from The River Cafe, Basque food from Lurra, Jamaican coffee from Harrods, a global array of whiskey from The Connaught, and high-end British food from St. John. And hell, sometimes he just likes a good old-fashioned hamburger. Thanks to others like himself, whatever he wants, he can have.
Just no fish.
NOTE: Endo at the Rotunda is open now. Reservations are hard to come by, so you'll need to keep a keen eye on the website right HERE.
Endo at the Rotunda | White City House Television Centre, 101 Wood Lane, W12 7FR
---
Images: ©️FoodStoryMedia