Gordon Ramsay – world-renowned, multiple award-winning, profanity-spouting chef – initially wanted to become a footballer.
It's always important to have goals.
But while an injury put paid to that particular goal, he fortuitously happened to have a plan B of becoming a triple Michelin-starred chef, TV presenter and cookbook writer in his back pocket.
After college, Gordon Ramsay trained with industry greats like Joël Robuchon and Marco Pierre White before manning the kitchens at Aubergine – earning it two Michelin stars in the space of three years. After that, he went on to open his first solo venture, Restaurant Gordon Ramsay, which remains the longest-running restaurant in the country to hold three Michelin stars. With a whopping 28 other Gordon Ramsay restaurants in London – plus a smattering across the globe – he shows no signs of stopping soon.
His secret to success? Training each of his chefs up to meticulous standards, so that they're not imitating, but putting their own mark on the plate.
He swears by it.
Bread Street Kitchen on the River 
| Docklands
Set in an old Georgian pub in the Docklands, Bread Street Kitchen on the River fits into its niche of al fresco riverside dining pretty well. Previously known as The Narrow, the 2022 revamp sees it join the Bread Street Kitchen family, the Gordon Ramsay restaurants focussing on crowd-pleasing brasserie fare like fish & chips and their signature Beef Wellington. Plus, there's a slew of house cocktails to wash it all down.
Details: 44 Narrow Street, E14 8DP | Book here
–
York & Albany
| Camden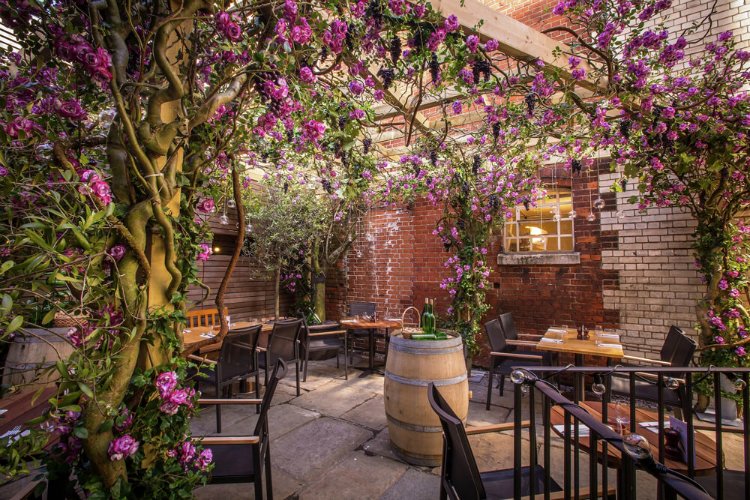 Taking up a grandiose spot overlooking Regent's Park, York & Albany is an airy, beautifully designed restaurant, bar, terrace and hotel in a townhouse originally designed by John Nash (an architect who also turned his hand to other minor projects like the Brighton Pavilion and Buckingham Palace). Decked out in a muted palette, the restaurant comes into its own for sun-flooded brunches or cocktails in the evening, bolstered by a Modern British menu. And if you're after something more casual? You'll find one of Gordon Ramsay's Street Pizza outlets here too.
Details: 27-129 Parkway, NW1 7PS | Book here
–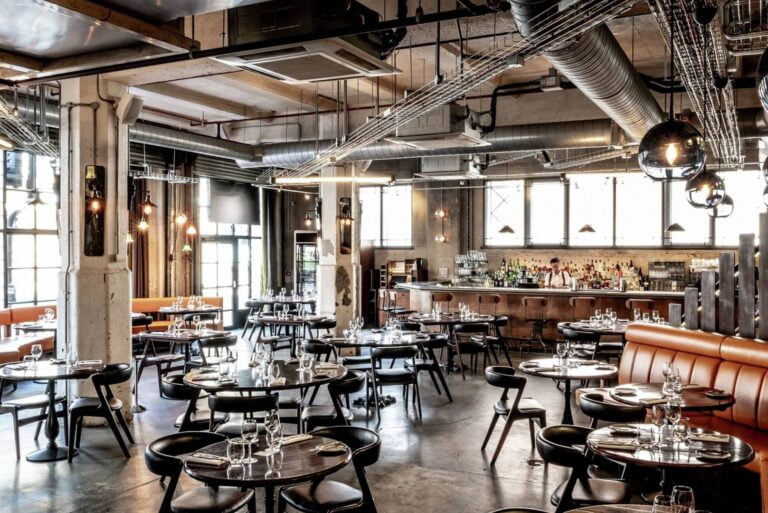 Sure, with its smooth concrete flooring, strip lighting and industrial columns Bread Street Kitchen Southwark might not scream classic brasserie dining. But since the place was switched up from Ramsay's Union Street Café to another Bread Street Kitchen, it's taken like a duck to water – come here for the Beef Wellington Experience, as well as other classic British fare, all within walking distance of the Southbank and its cultural gems.
Details: 47-51 Great Suffolk Street, SE1 0BS | Book here
–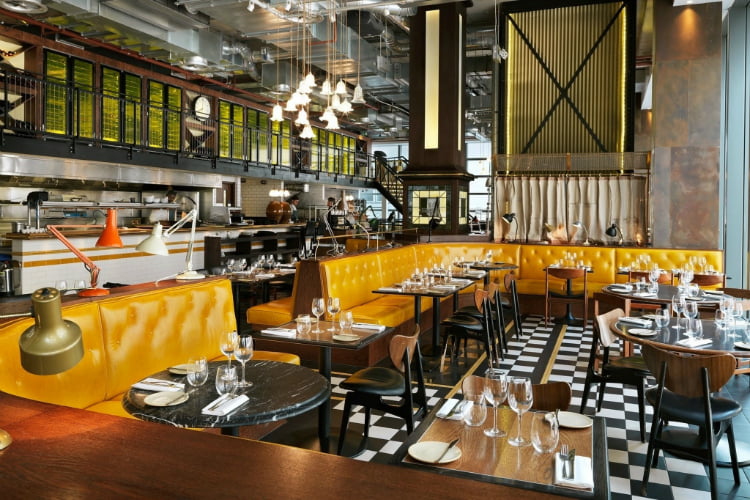 The original in the rapidly expanding BSK family, Ramsay opened this spot after spending some time in the States – and its influence is imbued in everything from the setting to the food. Bread Street Kitchen has the feel of a sleek NYC loft conversion, with floor-to-ceiling glass windows, chequered tile floors, schoolbus-yellow booths and a sprawling open kitchen, over which hangs a vast mezzanine cellar. The food here – unsurprising, given the City location – is on the pricier side, but remains a reliable pitstop for steaks and Josper-grilled cuts, or after-work cocktails.
Details: 10 Bread Street, One New Change, EC4M 9AJ | Book here
–
Lucky Cat
| Mayfair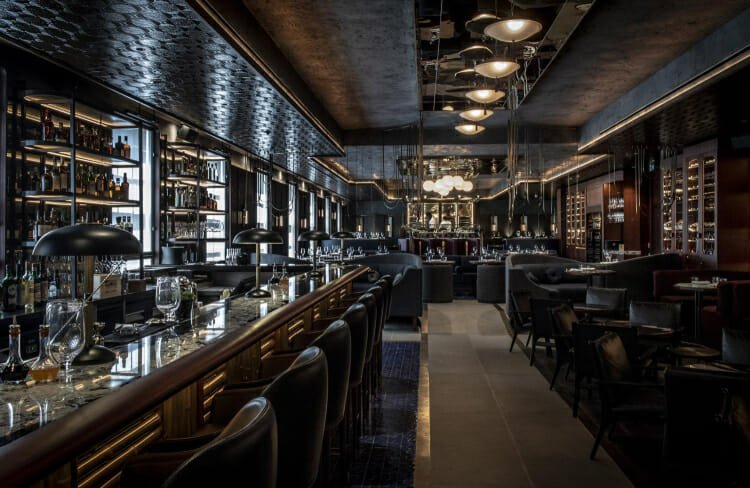 Gordon Ramsay's Lucky Cat replaced his former Michelin-starred eatery, Maze. Inspired by 1930s Tokyo, it's a dark, moody, and glossy affair, with a menu of dishes that hops liberally across Asia. There's a raw bar (serving kingfish sashimi and razor clams), a chef's table (with private platings of Burmese crab masala), and three private dining rooms – or you can just prop up the bar and sip 'Lucky Negronis' – a drink whose ingredients are decided with the roll of a dice.
Details: 10-13 Grosvenor Square, W1K 6JP | Book here
–
Gordon Ramsay Bar & Grill

| Mayfair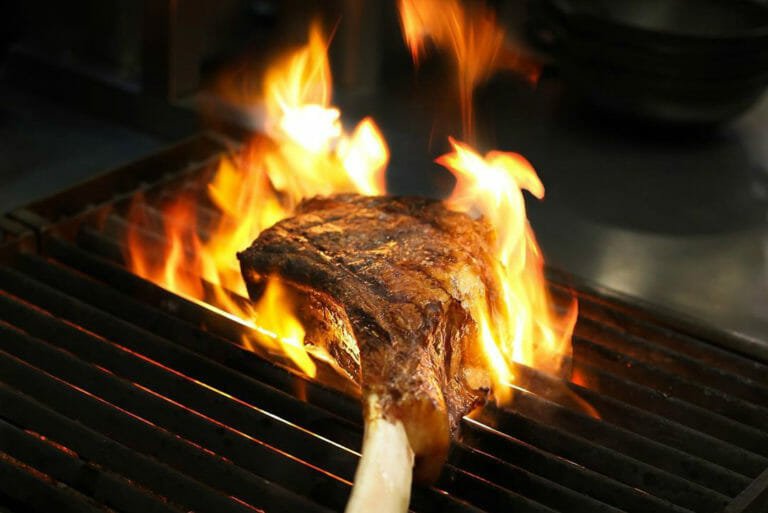 Previously Maze Grill, and next door to Lucky Cat, the focus here is on steak, steak and steak; doorstopper hunks of prime cut beef from a trio of UK rare-breeds and USDA from across the pond, alongside a selection of dry aged cuts. There's also breakfast buffets, all day American dining, a central cocktail bar, and a 'butcher's block' chef's table-style experience.
Details: 10-13 Grosvenor Square, W1K 6JP | Book here
–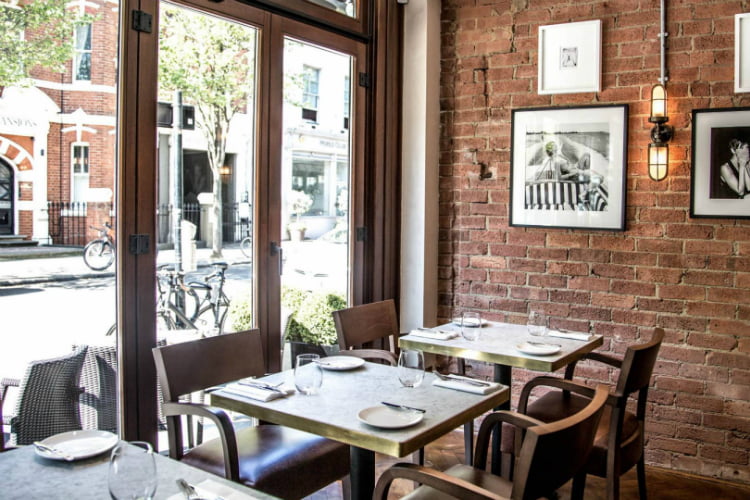 Maze Grill Park Walk is a site steeped in restaurant history. It's not only the spot where Gordon Ramsay won his first two stars in its incarnation as Aubergine; it's also where he booted out critic A A Gill for writing that he acted "like an 11 year old". Thankfully, critics have written nothing but positives about Maze Grill Park Walk, with Grace Dent calling it "the best steak [she'd] had all year".
Details: 11 Park Walk, Chelsea, SW10 0AJ | Book here
–
Pétrus by Gordon Ramsay 
| Knightsbridge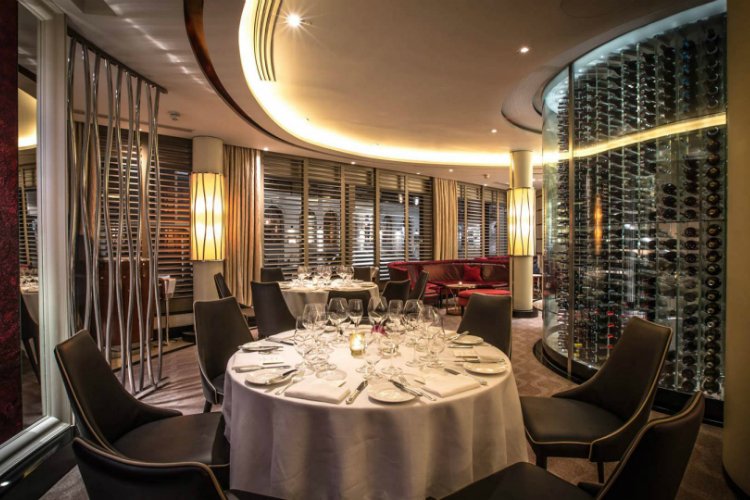 Unsurprisingly for a restaurant named after some of the world's most famous grape-hooch, Pétrus is all about the wine.
And we mean that very literally, because the circular dining room (seating an intimate 50) is set around a cylindrical wine cellar at its centre, filled with the bottles that make up its 40-page wine list (including Château Pétrus dating back to 1928). Of course, the food isn't too shabby either, having held onto a Michelin star for the past 7 years. Plus, you can impress your dining companion with the fact that Giorgio Locatelli once spat on the wallpaper here, causing an estimated £1,300 worth of damage.
Details: 1 Kinnerton Street, SW1X 8EA | Book here
–
Savoy Grill
 | Strand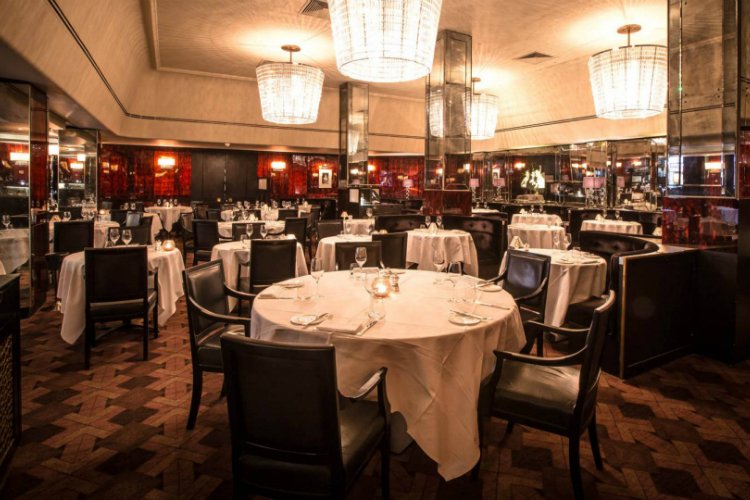 The Savoy hotel is always a safe bet for old-school glamour, and the first Gordon Ramsay restaurant here is no exception, with candlelit round tables huddled beneath glitzy chandeliers and polished walnut walls. He's back to his fine dining roots here, so expect pure decadence in the form of caviar, lobster thermidor, veal steaks, and suckling pig served from a table-side carving trolley. Don't miss a nightcap at The Savoy's American Bar, where dozens of the world's best cocktails were invented a century ago.
Details: Savoy Hotel, Strand, WC2R 0EU | Book here
–
Restaurant 1890 by Gordon Ramsay

| Strand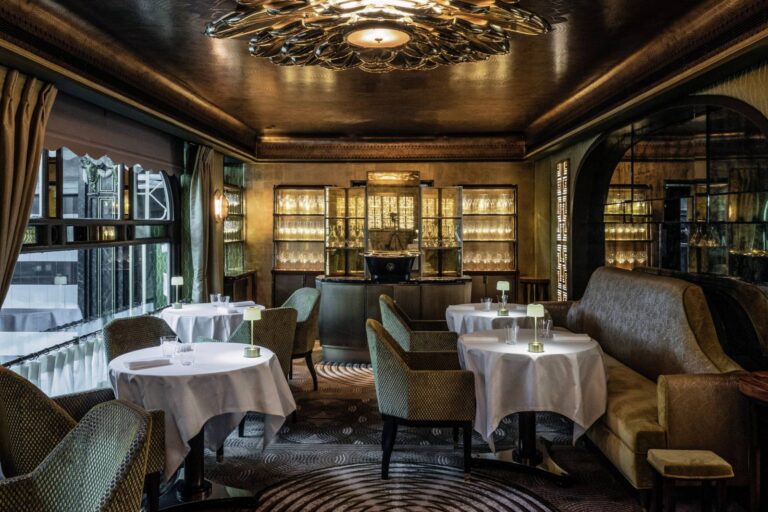 Also housed inside The Savoy – this time overlooking the hotel's iconic entrance – Restaurant 1890 appears to be another shot at Michelin stardom for Ramsay. Here you can indulge in a French tasting menu inspired by the recipes Georges Auguste Escoffier served at the hotel in the 1890s. As you'd expect, it's a pretty lavish affair, with glamorous interiors inspired by The Savoy's art deco heyday.
Details: Savoy Hotel, Strand, WC2R 0EU | Book here
–
The River Restaurant by Gordon Ramsay

| Strand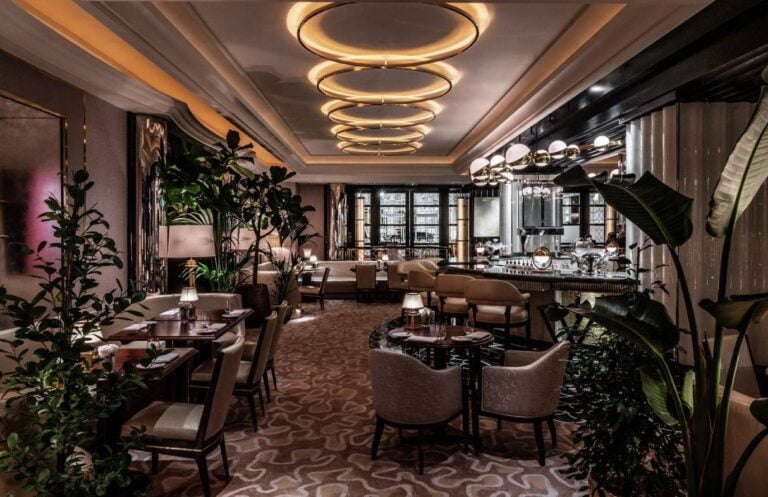 It's The Savoy's 'relaxed' restaurant by Gordon Ramsay. Which means that instead of elaborate tasting menus, it serves common-or-garden quotidian fare like oysters, caviar, and treacle-cured pork chop with roscoff onion and charcuterie sauce. There are elegant cocktails to go with it all, as well as an array of incredible Sunday roasts served with duck fat roast potatoes and all the trimmings.
Details: Savoy Hotel, Strand, WC2R 0EU | Book here
–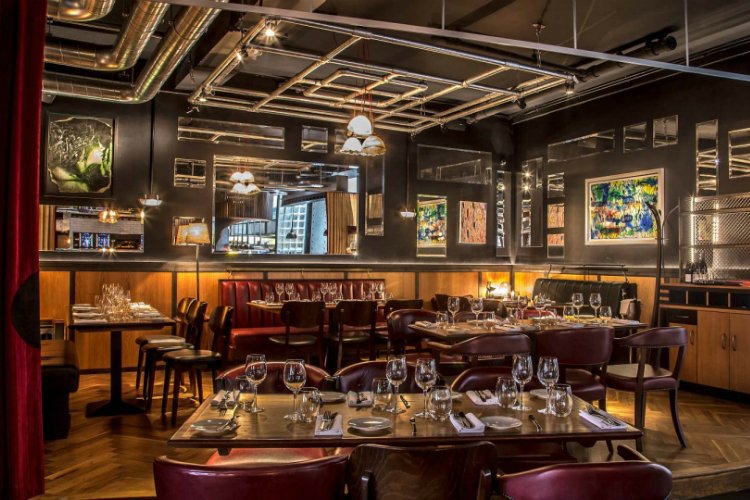 Similarly to the Bread Street Kitchens, Heddon Street Kitchen sports claret-toned seating, low-lighting, and loft-style exposed pipes criss-crossing the ceiling. Dissimilarly, however, it also has a hidden cocktail bar serving signature concoctions – which you can learn to make yourself in Hidden Heddon's cocktail masterclasses.
Details: 3-9 Heddon Street, W1B 4BE | Book here
–
Bread Street Kitchen & Bar

| The City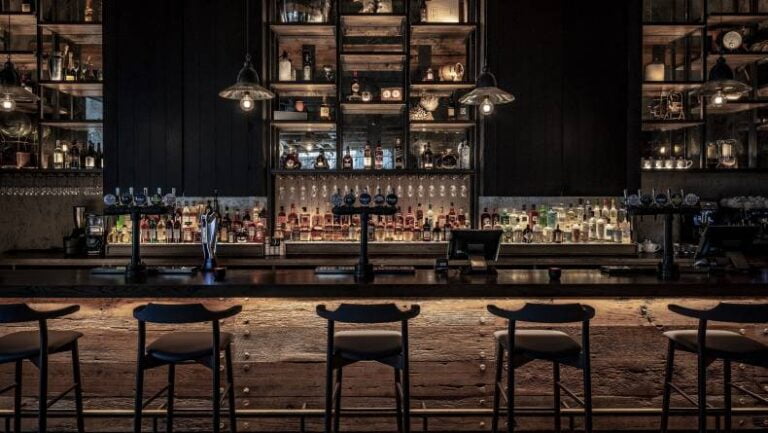 If it ain't broke, don't fix it – and there's nothing to remedy at the City branch of Bread Street Kitchen. Found on Moorgate's South Place, it serves the growing empire's usual line-up of classics like burgers, steak and salads, alongside a healthy wine list and classic cocktails. Well aware of its City setting, there's plenty of office and client-friendly options, too, from group breakfasts to the chef's table experience.
Details: 11-14 South Place, London, EC2M 7EB | Book here
–
Bread Street Café

| Ealing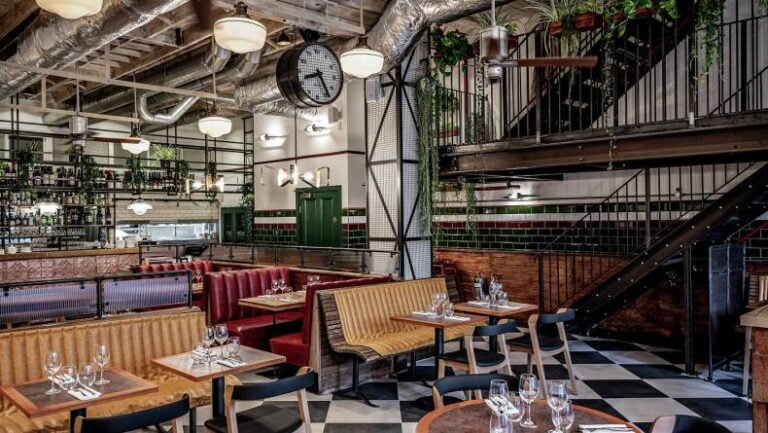 Bringing the Bread Street Kitchen restaurants' brand of relaxed brasserie dining, industrial interiors and classic cocktails to West London, Bread Street Café Ealing is the latest addition to Gordon Ramsay's restaurant portfolio. Expect the same crowd-pleasing menu alongside bottomless brunch, live music on Sundays, and 50% off dinner on Mondays for locals.
Details: 8 High Street, Ealing, London, W5 5DB | Book here
–
Bread Street Kitchen & Bar

| Battersea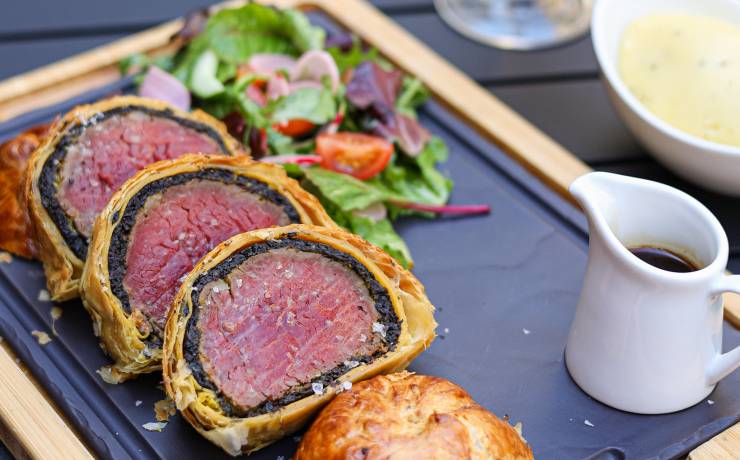 After a huge redevelopment, Battersea Power Station has opened to the public for the first time ever – and it's generated a lot of hype. Joining the dozens of new shops, bars, and the lift inside one of the power station's chimneys is another offshoot of Ramsay's Bread Street Kitchen restaurants. Spinning off the vast turbine hall, BSK Battersea serves up Josper-grilled meats, fish and veg, with live music on Sundays.
Details: 319, The Power Station, Battersea Power Station, London, SW11 8DD | Book here
–
Street Pizza

| Battersea, Camden, Islington, Southwark, St. Paul's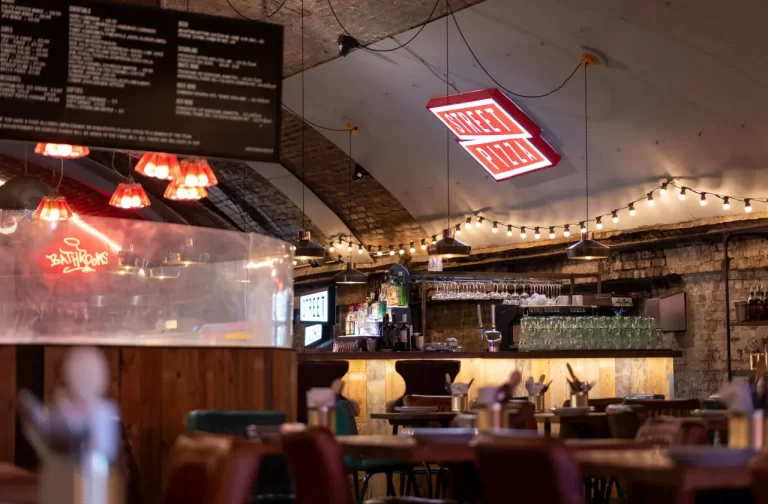 It's pizza… the way a multi Michelin-starred chef would make it. Gordon Ramsay's Street Pizza restaurants – in five locations across the capital – are hyper-casual spots serving bottomless pizza for £16pp alongside shakes, banana splits, and twists on classic cocktails or bottled beers and wine. Geared towards good times, the Street Pizza restaurants also host DJs, arcade machines, and even pool tables.
Details: Book here
–
Street Burger

| Covent Garden, Charing Cross Road, Farringdon, the O2, Kensington, Knightsbridge, St. Paul's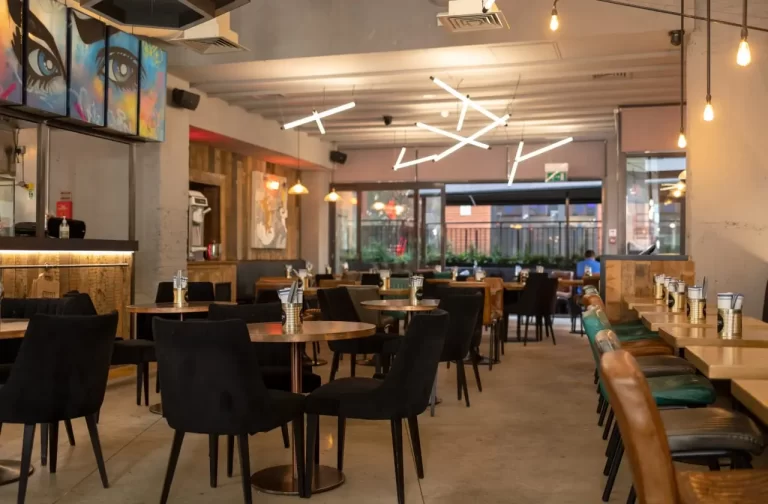 It's burgers… the way a multi Michelin-starred chef would make them. Another set of casual restaurants, the Street Burger eateries are laid-back diners decorated with overhead strip lighting; neon graffiti splashed across the walls; and upcycled furnishings. On the menu: a roster of customisable buns (with veggie & vegan options), plus classic sides and cocktail pitchers. Fancy the gourmet take? Head to the luxury edition, Gordon Ramsay Burger, in Harrods.
Details: Book here
–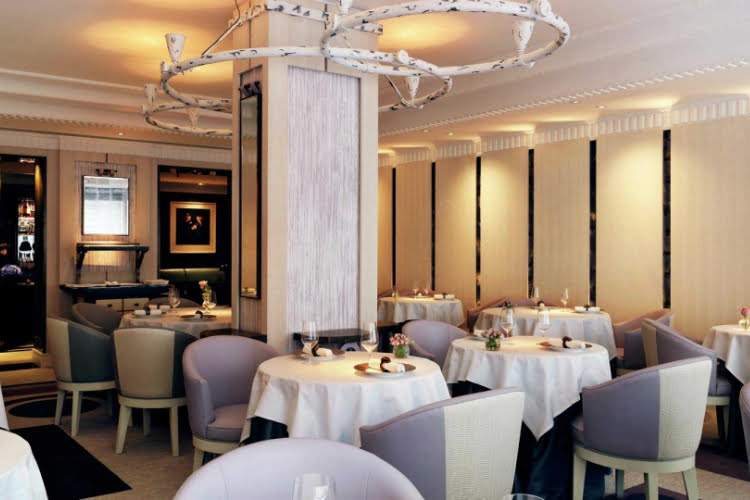 Last but certainly not least is the flagship Gordon Ramsay restaurant… Restaurant Gordon Ramsay. Holding onto three Michelin stars for over two decades, this is the spot for elegant, classic French cuisine, served in immaculate surrounds. The Prestige tasting menu takes you through the restaurant's finest dishes – or for £1000, you and three friends can take a seat at the private 'Inspiration Table', where the chefs themselves will serve you their most innovative new dishes.
Details: 68 Royal Hospital Road, SW3 4HP | Book here
NOTE: You can book a table, and find out more about all the Gordon Ramsay restaurants in London right HERE.
---
Like great restaurants? Check out our favourite restaurant in every London neighbourhood