"London has an energy that is so special." Hélène Darroze effuses "I love its way of living, its eccentricity."
We're in Hélène Darroze at The Connaught, which has just won its third Michelin Star. That puts her on a list that's got fewer than a dozen other names on it: female chefs who have run Three Star restaurants, ever.
But this is Hélène Darroze, a fourth-generation chef, and one of France's most gifted culinary geniuses full stop. She started winning Stars over 20 years ago, and it was 10 years ago now that she was awarded The Legion of Honour, France's highest order of merit, by then-president Nicholas Sarkozy. The sheer weight of talent, determination, and heritage made it seem inevitable that she would win Michelin's highest award eventually, too.
What wasn't inevitable was that it would happen in London.
But as Hélène points out, there is something special about this city. Flitting between here and her Paris restaurants (particularly her Two Star flagship), she's playing a constant balancing act. But ultimately, the laws of physics get in the way; "I cannot be in four kitchens simultaneously" she concedes. So, she delegates.
Here, she puts her faith in the hands of two Italians: her executive chef Marco Zampese, and her restaurant manager Mirko Benzo. "I used to say that one is my right hand and the other is my left." Hélène beams. "I never make a decision regarding Hélène Darroze at The Connaught without speaking to them, and we also consult together about the restaurants in France. I talk with them at least once a day when I'm not in London." She continues "I must admit that I trust them 100%".
Both of them were taken in by the lure of London early in their careers. "I wanted to stay in London for one year, and then move to Australia" chef Marco reminisces. And as for Mirko, "I just wanted to see what was happening outside of Italy!" he recalls, "just for a little bit". Neither planned to stay here for long, but a mix of ambition and sheer love of the city got them to stay.
Now, the team have been working here together for eight years. So what changed? What was it that they did to finally win them that coveted third Star? Chef Marco just laughs. "Ask Michelin!" He shrugs "It's been the same process here since zero Stars".
Of course by 'process' he refers to the frankly bewildering amount of work that goes into menus at this level. They'll frequently spend a week on a new dish, "16 hours per day, and still it's not enough" chef Marco says with no hint of exaggeration. "Sometimes we try it one time, sometimes we try it ten times." he says "Once we're happy, we show it to Hélène" he continues. "She likes to challenge us" he says before adding "In a good way".
And the process never stops. "There are some restaurants that have three Michelin Stars for fifty years" chef Marco says ("they're museums" Mirko interjects) "They were a master of the cuisine at the time, but you need to keep evolving". Hélène agrees, "The day I'm not creating anymore is when I will stop my job".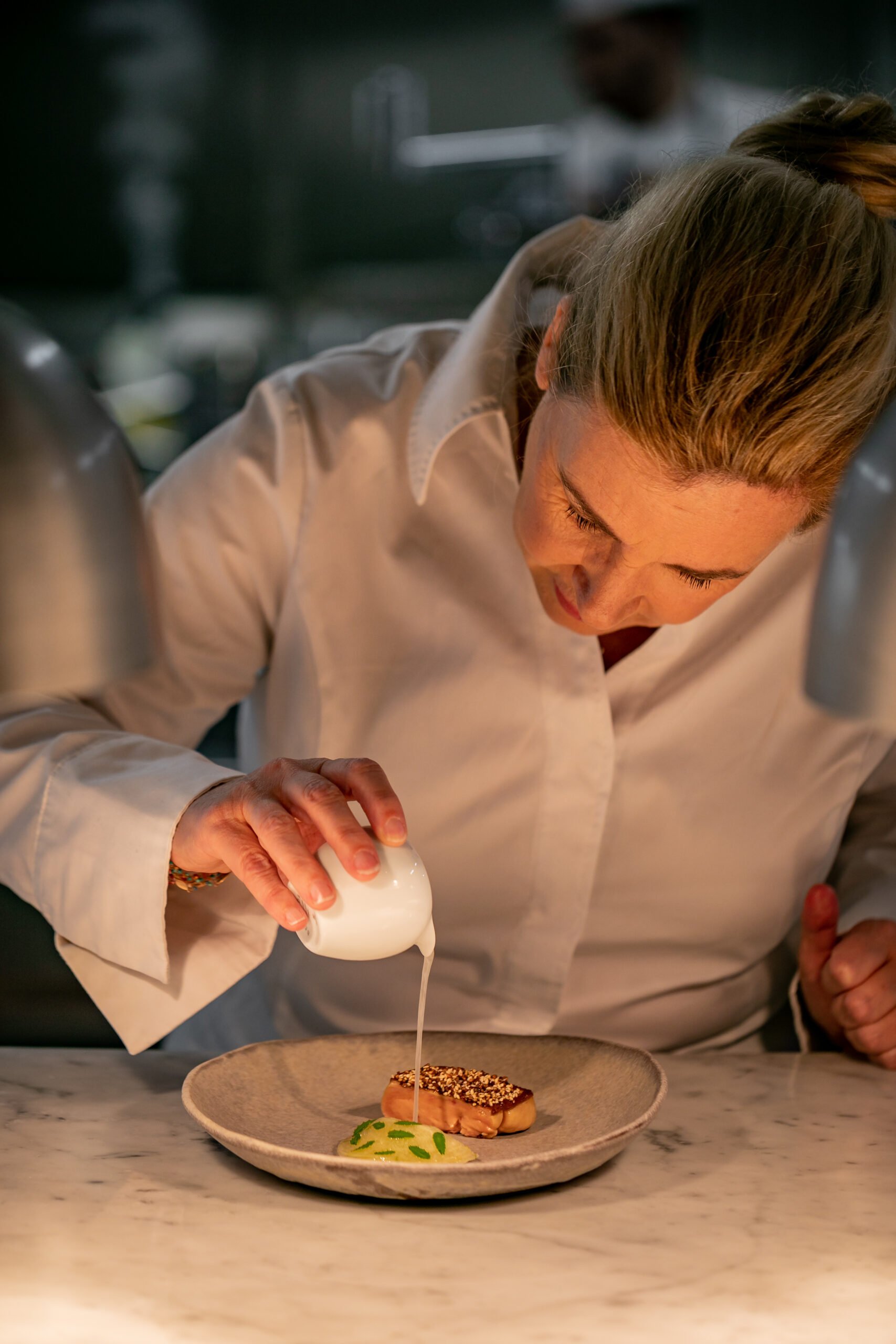 Once the dish has made it out of the kitchen, Mirko takes over. "The plate cannot talk" is one of his mantras. It's his job to do the speaking for it, and to break down the work that went into it. "Of course, you eat with the eyes first, but after that, it's the intangible things". So that's what he delivers. Intangible things.
Of course, one very tangible thing is the city surrounding the place. Mirko points out what has become a truism about London "You can eat any type of food, almost anywhere, at any time", adding "You can start with lunch at a Three Michelin Star place, and end up drunk in Soho eating Peking Duck". Chef Marco takes it further, "London is the first city in Europe now… there's influence from everywhere in the world. From fine dining, to casual places, you can find all the cultures".
It's mused that you might even be able to take all of the British chefs out of London, and still have a thriving food scene, but Marco disagrees. "Yes and no. It's different when you're born in a country. How your grandma used to make it – that kind of techniques and flavour, no-one can teach you." Hélène also points out "British cuisine has changed significantly over the past 20 years" talking about the kitchen commanders who've led the charge. "These chefs have gained experience abroad, are very creative, and have trained and inspired a new generation who are very passionate and concerned about sustainability and understand the importance of working closely with local producers".
So where do they like to go out in town?
For chef Marco it's places like The Ledbury and Da Terra. Mirko remarks how lucky he is to live in Clapham, and have access to places like Adam Byatt's Trinity. But for Hélène, the list is considerably longer. "For several years, the Clove Club has been one of my favourite fine dining places" she gushes "And I am also a big fan of Clare Smyth's approach at Core." She too is a fan of The Ledbury, but also "Café Murano, Brat, Frenchie Covent Garden for casual restaurants. I also love Japanese food, and places like Roka, Chisou, or Cubé".
One gets the impression that her and the city suit each other very well.
NOTE: Hélène Darroze at The Connaught is open Monday to Saturday. You can find out more, and make a booking at the website right HERE.
Hélène Darroze at The Connaught | The Connaught Hotel, Carlos Place, W1K 2AL
---
Looking for a drink nearby? Here are the best bars in Mayfair.