Late Night Restaurants in London | 24hr Spots & Late-Night Eateries 
24 hour restaurants really make your day.
But unlike its buzzy transatlantic cousin NYC, London is the city that definitely does sleep – for more hours than seems reasonable for a capital city.
However there are a decent handful of late-night restaurants in London if you know where to find them – including some that even stay open the full 24 hours. Whether you're working through the night, stumbling home or just can't sleep: if you're hungry, you're certainly not without options. Our pick of the best late night eateries includes everything from sushi on the 39th floor and New York style pizza served by the slice, to a secret cocktail bar and dim sum lounge, all of which we've listed for you below…
–
LONDON'S 24-HOUR RESTAURANTS
Polo Bar
| Liverpool Street
Polo is an ode to the traditional British caff, located moments away from Liverpool Street Station. Not only is that incredibly convenient, the place is so committed to its 24-7 philosophy that there is literally no front door.
If you're looking for fancy this isn't it, and 'cool' might be pushing it (although it does offer up some classic East London exposed brick and Chesterfield-esque booths). But if you're looking for generous portions of comfort food…well, then roll right in. We're talking everything from all-day breakfast; fish and chips; sausage and mash; shepherds pie; and a whole load more. If you have a sweet tooth they've also got a generous deserts menu you can have at any time. Or, if you're just after a last pint before a taxi home, there are plenty of beers, wine, and a few cocktails on offer for less than a mint.
Address: 176 Bishopsgate, EC2M 4NQ | Book here
–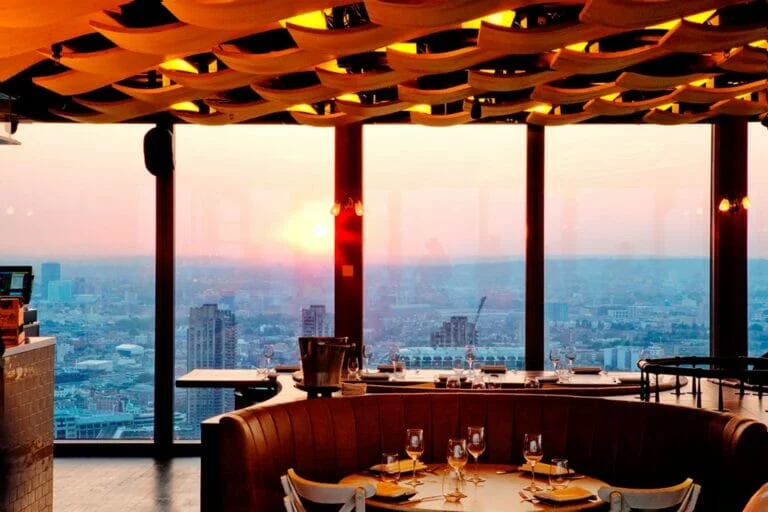 We'll be frank: most 24-hour restaurants get by on that shtick alone. But Duck And Waffle – a sky-high eatery set on the 40th floor of the Salesforce Tower – is just a genuinely great restaurant that, for unknown reasons, also happens to be open all night long.
While their late-night menu is shorter than usual, you can still score their signature dish – confit duck leg atop a Belgium waffle, topped again with a fried duck egg, and drizzled in mustard maple syrup – alongside panoramic views of the London skyline. Of course you might prefer to visit early in the morning instead of late at night, in which case 'The Full Elvis' (a peanut butter jelly sandwich with caramelised banana topped with chantilly cream) might be closer to what you're after, washed down by one their Champagne cocktails. Might as well book a big group of your friends into their private dining room at 3am, just because you can.
Address: Salesforce Tower, 110 Bishopsgate, EC2N 4AY | Book here
–
VQ | Chelsea, Aldgate & Bloomsbury
VQ stands for Vingt Quatre, French for 24 – and 24-hour breakfast is their speciality. Here you can end your night with a breakfast bap stuffed full of scrambled eggs, minute steak, hash brown, and roasted tomato, or steak and eggs…pancakes…or Belgium waffles. And really, breakfast's just the start of it. They also offer pretty much all of the 'day-time' menu – burgers, sandwiches, teriyaki salmon, apple crumble, and sticky toffee pudding – at night too. All of which can be accompanied by freshly squeezed juice, smoothies, milkshakes, and/or booze.
Address: Chelsea: 325 Fulham Road, SW10 9QL; Bloomsbury: 11A Great Russell Street, WC1B 3NQ; Aldgate: 9-13 Aldgate High Street, EC3N 1AH | Book here
–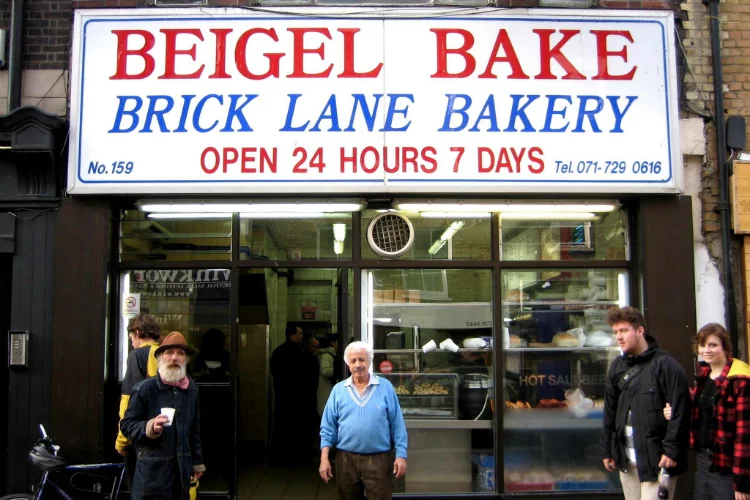 Admittedly Beigel Bake isn't technically a restaurant, so really it depends whether you're after sustenance or shelter (whilst your partner decides whether or not to let you back in the flat after a night on the tiles). If it's the former however, you're in luck, because what Beigel Bake lacks in tables it makes up for in experience: this Brick Lane stalwart has been serving bagels stuffed full of cream cheese or salt beef, mustard and pickles, 24 hours a day, seven days a week, for over 30 years.
Address: 159 Brick Lane, London E1 6SB
LATE-NIGHT RESTAURANTS IN LONDON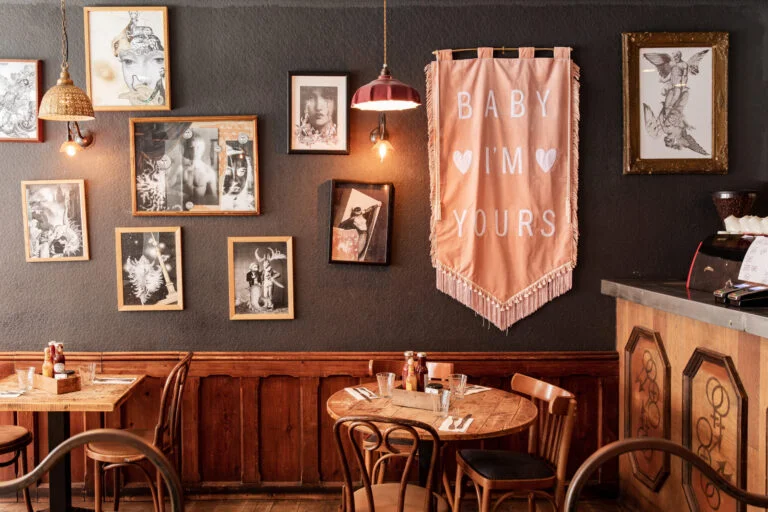 Something of a Soho institution, Balans is well-versed in the slurry, over gesticulated needs of Londoners at night. In fact, according to their self-written philosophy – 'All hail the rogue, the rascal and the reprobate' – the messier the better. Which means you can stumble in there post-3am, and order pancakes with bacon and warm maple butter without judgement.
The breakfast menu is served at all hours and includes a full English, eggs in many forms, French Toast and Pancakes. Or if you'd rather fit in a quick second dinner, the late-night menu also includes a small selection of 'Balans Classics', like their Infamous Balans Burger of Red Leicester, smoked bacon, and chuck steak (with fries); truffle mac & cheese; and BBQ pork donuts, because you might be drunk, but… protein.
A heads-up before visiting: you're not just seeing double, there are two Balans restaurants on Old Compton Street. The bigger one at no. 60 has late opening hours all week, but the smaller one at no. 34 is open non-stop from Thursday morning till Sunday night at 11pm.
Address: 60 – 62 Old Compton Street, W1D 4UG | Closing times: Mon-Tues 10am-11pm, Wed-Thurs 10am-5am, Fri-Sat 10am-6am, Sun 10am-1am | Book here (no bookings at no. 34)
–
If you really get into the spirit of old Soho, your night, starting with dinner at Dean Street Townhouse, could easily end with breakfast at Dean Street Townhouse. It's an appealing prospect, involving fish and chips with mushy peas or steak at night – something, erm, in between – and then in the morning, a twice-smoked bacon sandwich with brown sauce. Of course, if you're not pulling an all-nighter, then the food and drinks complemented by the velvety, armchair-heavy and private members club-style surrounds, still make for an excellent dinner at a later hour.
Address: 69-71 Dean Street, W1D 4QJ | Opening hours: 7am-1am (Mon-Thurs), 8-1am (Sat), 8am-11pm (Sun)
–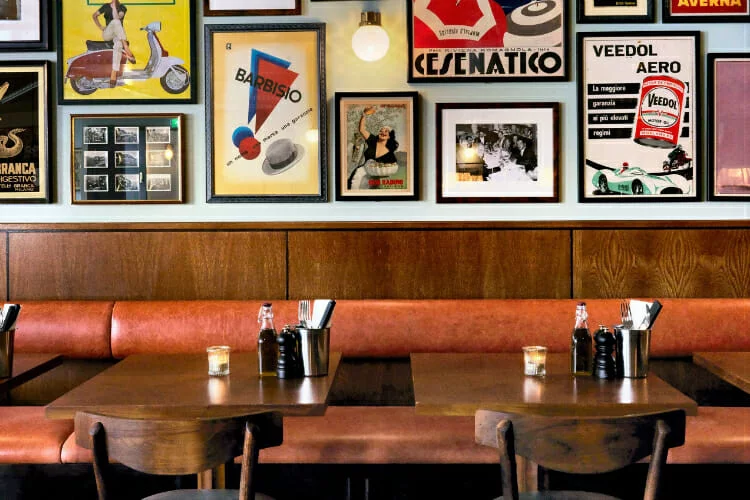 Brought to you by the same folks behind Soho House, Cecconi's is a Central London pizza bar serving delicious wood-fired pizzas, handmade pasta, and a selection of cicchetti (Italian tapas) late into the night. For drinks they've got jugs of beer, as well as both Aperol Spritz and Negronis on tap. Which – along with live DJs until 3am on weekends – works out pretty great, whichever way you slice it.
Address: 19-21 Old Compton Street, Soho, W1D 5JJ | Closing times: Mon-Thurs 12am, Fri-Sat 3am, Sun 11pm | Book here
–
Café Boheme | Soho
Whatever happens, you'll always have Paris… in the form of this candle-lit bar & restaurant perched on a corner of Soho, open until 3am on weekends. Come here earlier in the day for a little live jazz, then return after the night's events for a full debrief over moûles marinière & frites, pots of crème caramel, and a bottle of wine.
Details: 13 Old Compton Street, London, W1D 5JQ | Closing time: Mon-Thurs 1am, Fri-Sat 3am, Sun 12am | Book here
–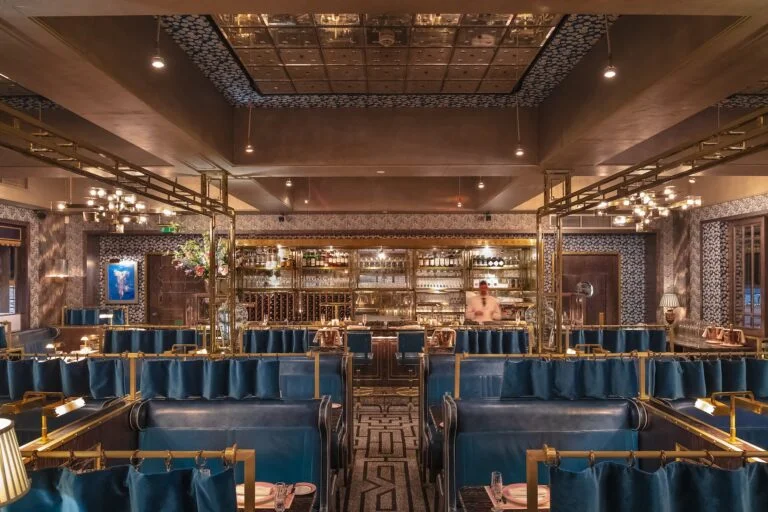 When you think about late-night restaurants, you probably imagine something a lot less… gold-plated than Bob Bob Ricard. However, somehow this manages to be one of London's fanciest restaurants and have a pretty decent late-night offering too. And by 'pretty decent' we mean oysters, caviar, lobster macaroni & cheese, crab, scallop and shrimp Pelmeni and a whole load of other Russian-British inspired dishes, which, as you likely know, takes one press of a button to wash down with Champagne. 
Details: 1 Upper James Street, Soho, Central London, W1F 9DF | Closing times: Monday-Sunday 12am (City branch closed Sun) | Book here
–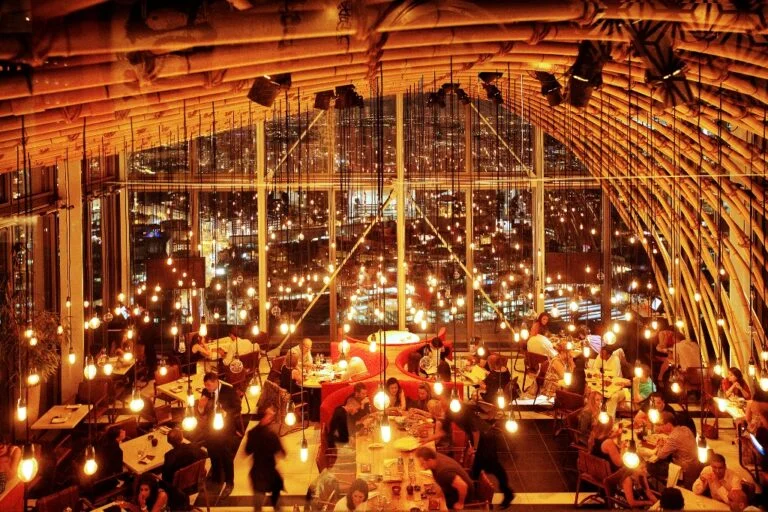 Here's another place that doesn't seem like your typical late-night restaurant: more the kind of place you'd spend a few months saving up for. But, Sushisamba is, in fact, open until the early hours of the morning so you can swap greasy burgers for charred lamb skewers, sashimi or little crispy lobster tacos. You'll also be treated to one heck of a view across London….
Details: Salesforce Tower, Bishopsgate, London EC2N 4AY | Closing time: 1.30am daily, latest booking 11.30pm | Book here
–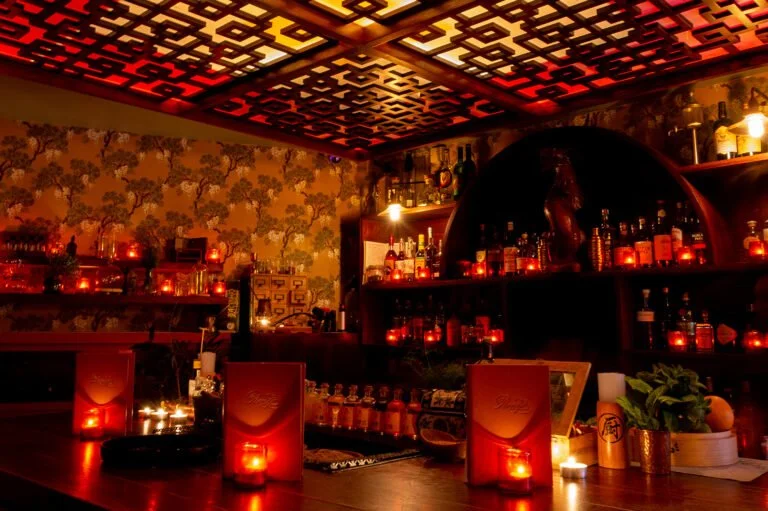 Part cocktail bar, part dim sum lounge, hidden amongst the hustle and bustle of Chinatown. You have to know about it to find it, behind a nondescript door on Gerrard Street, which will then lead you up some stairs and into part one of what will eventually transpire to be three rooms. This first room is The Apothecary where, propped up at a small 15-seater bar, you can drink from a menu of medicinally-inspired cocktails; as well as spirits, beer, and wine. They also do baskets of dim sum stuffed full of everything from king prawn to mushroom and truffle if you're in the mood. Next is the more intimate Peony – tucked behind a red curtain it offers a number of private tables, as well as a whole new cocktail list, this time based on various regions around China. Finally is Academy, the attic bar boasting the Bartender's Table, a small square table which you're invited to sit around and both chat to, and order cocktails from the head bartender himself.
Address: 15-16 Gerrard Street, W1D 6JE | Kitchen closing times: Mon-Wed 10pm, Thurs 1am, Fri-Sat 2am, Sun 9pm | Book here
–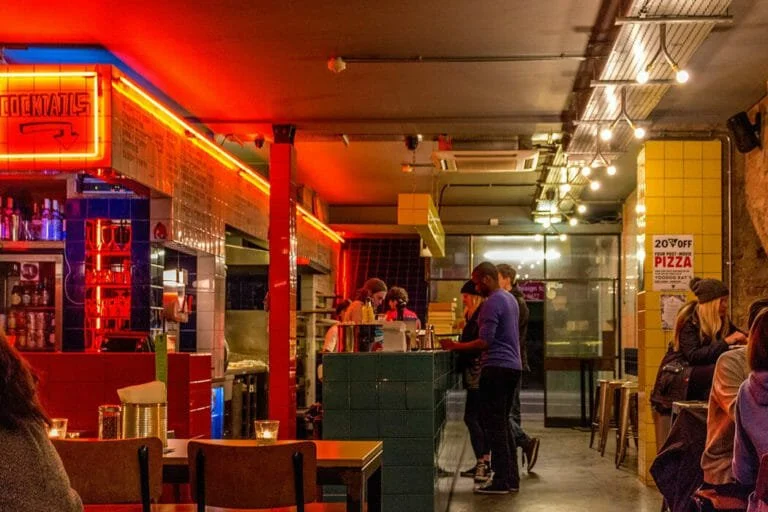 A glowing beacon of hope on the otherwise rather dark Kingsland Road at night. It's a trendy, retro-styled pizza joint serving 22" New York-style pizzas by the slice. Topping-wise, there's everything from your classic pepperoni to the Queen Vegan (artichoke hearts, green olives, red onion, sun-blush tomatoes, tomato sauce and green sauce), as well as mac & cheese and slaw for sides. Depending on where you are in your night, they also offer various spirits, beer, wine, and cocktails, including frozen margaritas and seasonal spiked slushies…
Address: 95 Kingsland High Street, E8 2PB | Closing times: Sun-Weds 10pm, Thurs 11pm, Fri-Sat 2am | Book here
–
Speedboat Bar | Soho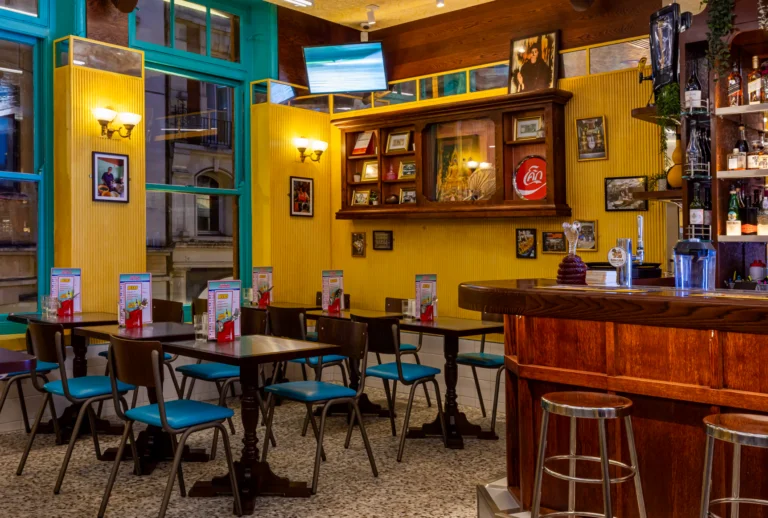 Frankly, if a restaurant with a pool table, pour-your-own beer towers and 'snakeblood negronis' didn't want people to stay after midnight, they'd be going the wrong way about it. Chinatown's Speedboat Bar – a joint venture between Plaza Khao Gaeng chef Luke Farrell and Gymkhana owners JKS –  is a colourful homage to the late-night eateries of Bangkok's Chinatown. And now it's a late-night eatery in London's Chinatown, serving outrageously delicious Thai grub late into the night…
Address: 30 Rupert Street, Soho, W1D 6DL | Closing time: Mon-Thurs 12am, Sat 1am, Sun 11pm | Book here
–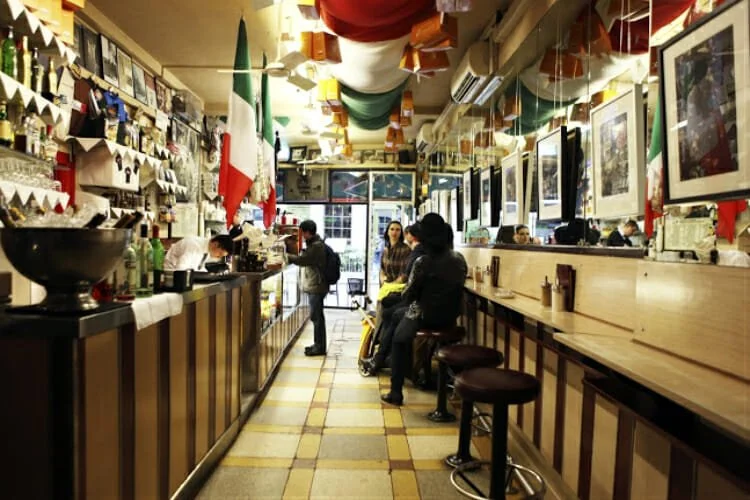 No matter the time, Bar Italia won't give you the boot. Well, at least not the kicking-out-the-door kind. Sitting next to laser-lit, cheesy music, late-night dancing institution Little Italy, they'll happily serve you Italian pizza and paninis late into the night.
Address: 22 Frith St, Soho, London W1D 4RF | Closing times: 4am daily
–
It's 4am. You've somehow ended up with the rest of the office at the Hippodrome Casino at the tail end of your Christmas party. You are in very real danger of a) spending all your pay check at the blackjack table, or b) taking your boss to see Magic Mike. You need carbs, and quickly: and luckily Max's Sandwich Shop is here to oblige. Yes, it's one of the most unexpected collabs in London foodie history, but it's also a godsend: feast on some of the city's best sandwiches until 5am, just in time for the tube to start back up again.
Address: Leicester Square, Cranbourn Street, London WC2H 7JH | Closing times: 5am daily
---
Looking for somewhere to burn off some energy first? Take a look at our guide to the best clubs in London, or these other great things to do in London at night.