Choosing a new bed can be difficult enough.
Ideally, you should sleep on it.
So choosing an entire hotel room can be even more daunting – which is why we've put together this discerning list of London's best boutique hotels, from Georgian townhouses to minimalist havens, floating hotels to retro hideaways.
So you can literally rest assured that you're in the best of the bunch…
BOUTIQUE HOTELS IN CENTRAL LONDON
Henrietta | Covent Garden | £££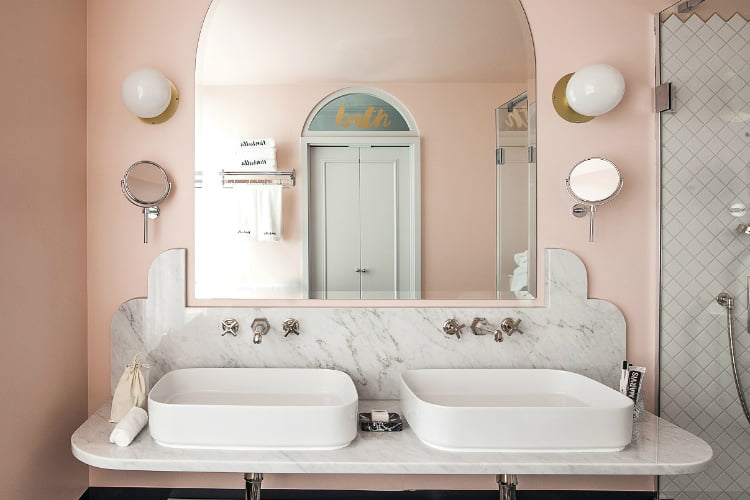 Coming to you from the impossibly chic friendship group behind Chinatown's Experimental Cocktail Club and La Compagnie des Vins Surnaturels, the Henrietta is sheltered in two adjoining townhouses in Covent Garden boasting 18 sleekly designed bedrooms, the synonymous Henrietta Bistro downstairs, and of course, ECC bottled cocktails in your minibar. READ MORE

Amenities: Complimentary wifi, a great in-house brunch and ECC recipe books in your room for a DIY nightcap.
Location: Walking distance from some of London's best sights, but surprisingly peaceful for a good night's rest.
Best spots nearby: You're spoilt for choice, with Frenchie and Flat Iron next door and Cora Pearl opposite.
–
Artist Residence | Victoria | ££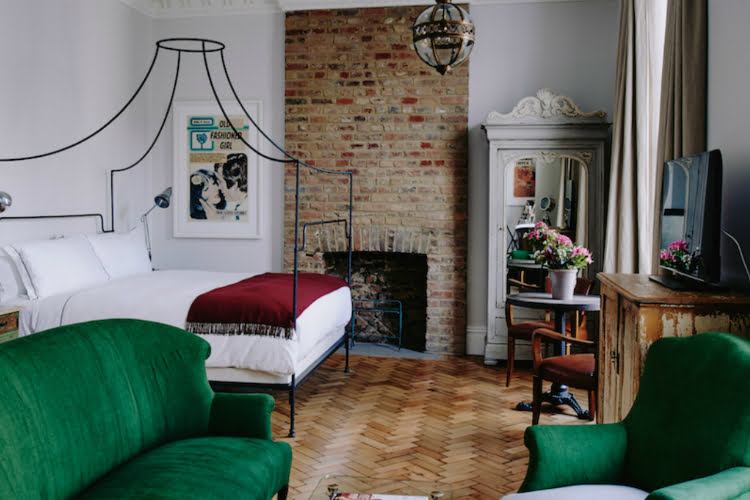 A secluded Bohemian bolthole, the Artist Residence is gloriously furnished, with lofty ceilings, free standing baths and four poster beds. They even host the occasional live jazz night or flower arranging workshop, and it's all helpfully pitched above the Cambridge Street Kitchen, and their stellar basement cocktail bar, the Clarendon Cocktail Cellar – thankfully within easy stumbling distance of your bed. READ MORE
Amenities: The decadent bathrooms are a force to be reckoned with, and the in-house events make for a unique addition.
Location: Tucked away in Victoria, this neighbourhood is fairly residential – but it's ultimately well-connected and could make a welcome retreat.
Best spots nearby: Take a tour of London's great museums, before chowing down at Lorne.
–
Hazlitt's | Soho | £££
Hazlitt's sprawls over 4 Soho townhouses where the author William Hazlitt once lived out his days in poverty. Which might also be the case for you if you stay longer than a few nights here. But there are worse places to go broke than in this sumptuous Georgian time warp, decked out with moody hues, quirky sloping floors, and quintessential 19th century bathrooms (which in one suite includes a bath with a majestic golden eagle for a spout). It's also worth taking a look at their sibling guesthouse, Batty Langley's in Spitalfields. READ MORE
Amenities: Take your breakfast in bed, like a true Georgian aristocrat, and hole up in the honesty bar come evening.
Location: Right in the heart of it – you're within walking distance of London's best shopping, dining and most raucous nightlife.
Best spots nearby: It's London's highest density restaurant neighbourhood – check out the best restaurant on every street in Soho, plus Soho's best bars.
BOUTIQUE HOTELS IN WEST LONDON
The Portobello Hotel | Notting Hill | £££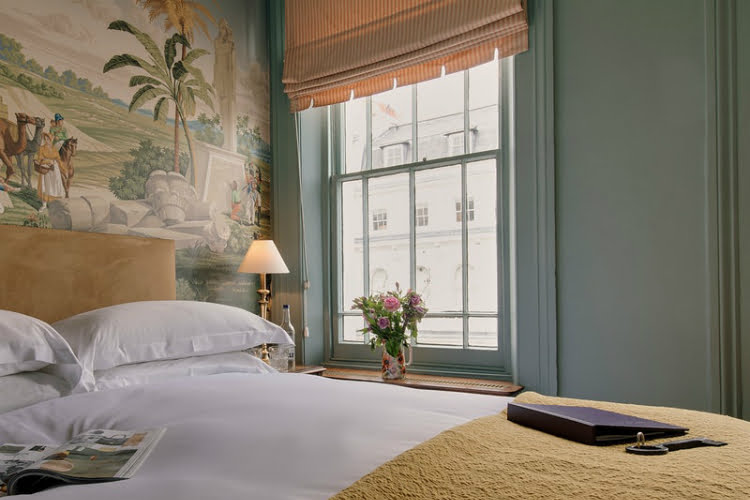 Founded in 1971 and home to many famous mugs over the years, The Portobello is easily one of the more decadent boutique hotels in London. Their rooms range from dinky singles to the 'Exceptional' – airy suites with private access to the gardens – but the more snugly-fitting 'Good' rooms are much cosier, with their individual exotic murals and eclectic colour schemes. READ MORE
Amenities: Expect complimentary boards of cheese and charcuterie at breakfast, plus an honesty bar overlooking scenic private gardens.
Location: Perfect for lazy market browsing and Sunday brunches – but be prepared to travel a bit to sample London's rowdier side.
Best spots nearby: Make your own gin at The Distillery, catch a film at The Electric and treat yourself at The Ledbury.
–
Blakes Hotel | Kensington | ££££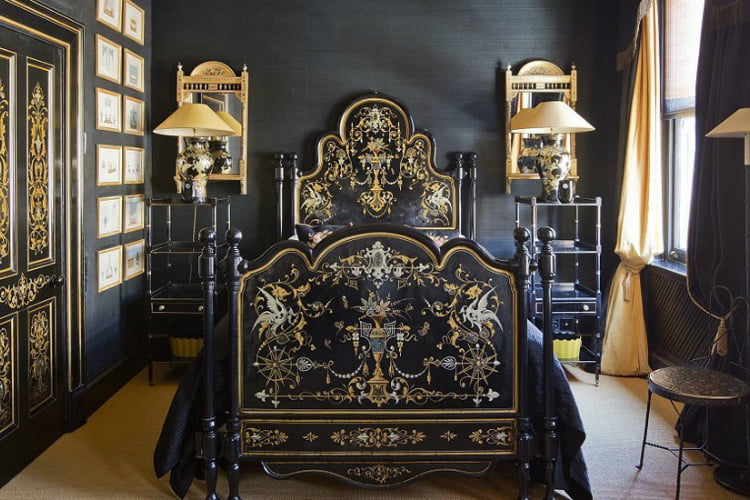 Frankly, any hotel sporting a giant bird cage conservatory overlooked by a zebra jutting out from a neighbouring wall could totally slack off on everything else, and no-one would care. But Blakes isn't one to do things by halves – designed by Anouska Hempel, each room is individually and completely extravagantly furnished with a nod to far-flung locations. And the communal spaces aren't too shabby either, from the Mediterranean courtyard to the Studio 54-meets-opium den cocktail bar. READ MORE
Amenities: It's all about the service here, so naturally you'll access exclusive art tours and private members' spa, the South Kensington Club, while the 24 hour reception and concierge service can help you out with those pesky tasks like booking a table for dinner.
Location: Deep in residential West London – great for people and house-watching, but less well-connected for hopping round the city. This is a hotel to hole up in for the weekend.
Best spots nearby: You're a fifteen minute walk from London's museum hub, as well as a bevy of great South Kensington restaurants.
BOUTIQUE HOTELS IN EAST LONDON
The Hoxton | Shoreditch | £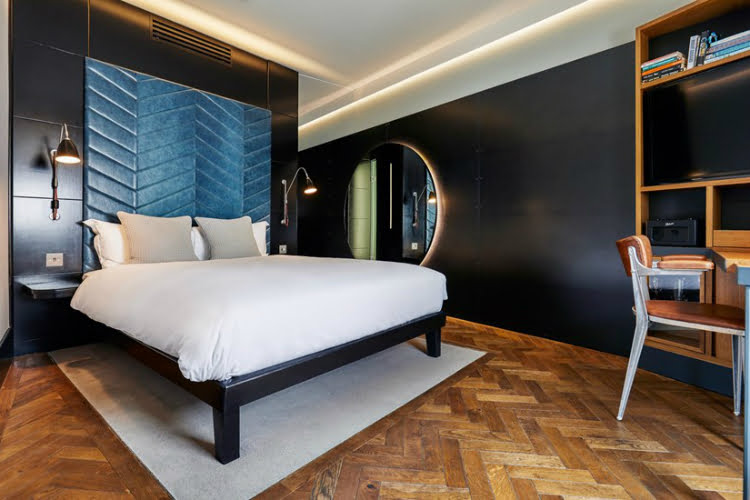 The Hoxton is full of surprises: parquet floors and industrial features in every bedroom; a rotating collection of artwork on their walls; a secret, fairy-lit garden which often plays host to workshops and cocktail-laced film screenings; and the fact that – given its insane location – it doesn't cost you an arm and a leg to stay there. READ MORE
Amenities: Room service, a very useful reception 'corner shop', and a fireplace-warmed lobby that's great for working in.
Location: Bang in the middle of Shoreditch, with markets and boutiques to explore, excellent restaurants and plenty of places for a tipple.
Best spots nearby: Where to start? Probably with this ultimate Shoreditch Guide.
–
Town Hall Hotel | Bethnal Green | ££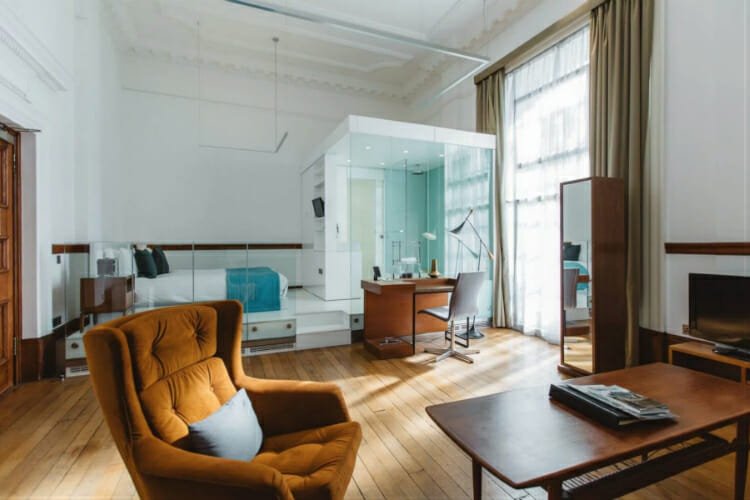 This art deco town hall's been successfully converted to a hall of residence – boasting vast suites with triple height ceilings, and for the rest of us, a range of more modest – but nonetheless beautiful – bedrooms. Running from minimalist modern cocoons to spacious rooms with original features (including fireplaces and gilt ceilings), they're all unique, and most come with a fully functioning kitchen… READ MORE
Amenities: You can look forward to (ab)using their marble-clad swimming pool, fitness facilities and 24-hour room service. Plus, there's a morning shuttle service to the City if you fancy hitching a free ride, and the new in-house restaurant Da Terra provides stylish fine dining.
Location: Perfect if you like to be in the thick of it all, but want somewhere quiet to come back to.
Best spots nearby: Explore one of London's weirdest museums beneath the Last Tuesday Society, try a cocktail at Satan's Whiskers, or explore Mare Street Market.
–
The Culpeper | Spitalfields | ££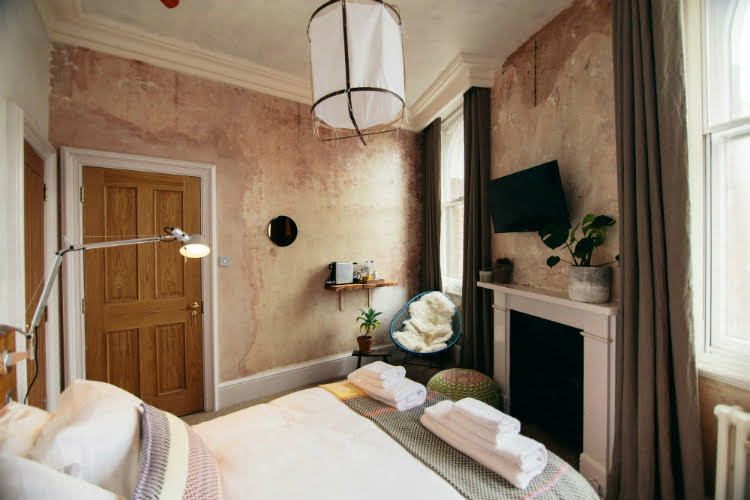 Sporting the same beautiful aesthetic of faded elegance as the rest of the building, this Spitalfields pub has five charming bedrooms on the second floor. They sit nestled between the wonderfully cosy bar and dining rooms downstairs, and the rooftop upstairs, which is home to regular arts and cocktail classes by day, and stargazing by night… READ MORE
Amenities: Breakfast is included, alongside flat-screen TVs and wifi in every room.
Location: Perfect for exploring East London, with plenty of independent shops and the Old Spitalfields Market a stone's throw away. It's also well connected by bus for cheap trips into central London.
Best spots nearby: Check out our guide to the best Spitalfields restaurants, or great bars in Shoreditch and Spitalfields.
–
Boundary | Shoreditch | £££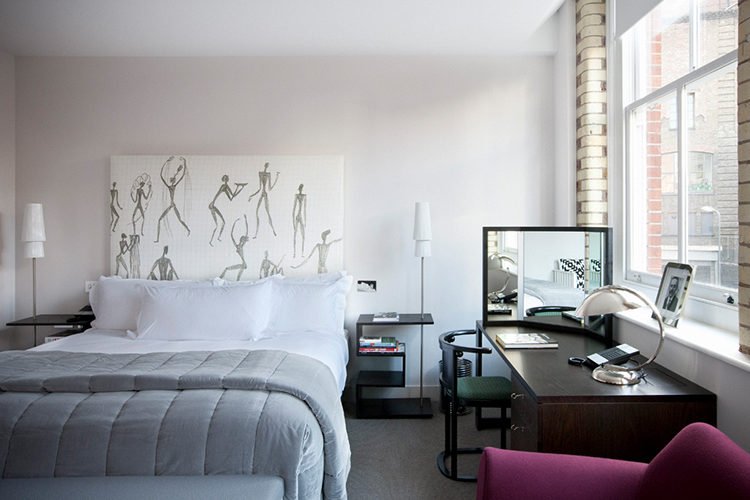 Ironically, this former Victorian printing complex seems to know no bounds. Because their 17 modernist bedrooms are sandwiched between a breakfast café and bakery; a bar; a miniature grocers; and a heated rooftop bar, where you can sip hot cocktails, take in the sweeping Shoreditch vista… and catch your breath. READ MORE
Amenities: Besides the unbeatable bar and restaurant combo here, there aren't a lot of in-house facilities – but you're well placed for anything else you could need.
Location: Sited on Redchurch Street, there's plenty of independent shops to explore, and it's a mere stroll to some of London's best dining options.
Best spots nearby: Take a look at the best Shoreditch restaurants, and slip in a game of shuffleboard round the corner…
–
The Good Hotel | Docklands | ££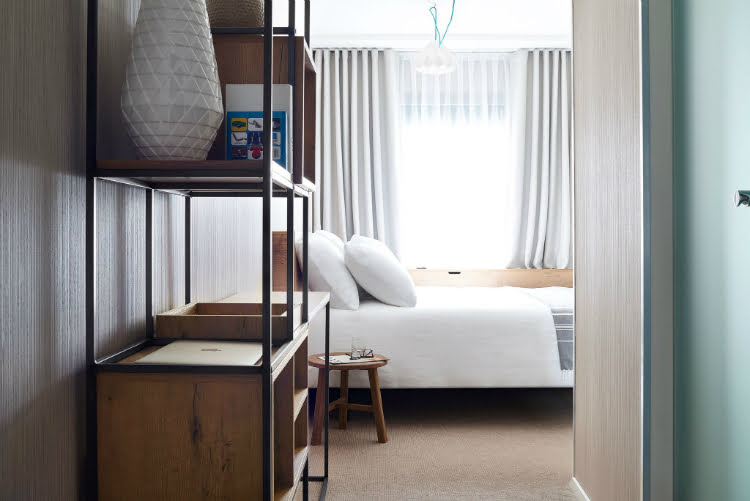 Just your typical floating hotel on a pontoon offering Scandi-chic bedchambers, riverside views, and a little social responsibility; supporting local designers and charities, and providing training and job opportunities for the long-term unemployed. READ MORE
Amenities: You'll find an all day tapas restaurant, a spacious communal workspace with free wifi, and a rooftop bar overlooking the water.
Location: A little far out, but the unique setting makes up for it.
Best spots nearby: Head to Craft London for Stevie Parle's acclaimed cuisine.
Main image: Town Hall Hotel
---
Looking for more boutique hotels in London? Check out the Best Hotels in Shoreditch