It takes a lot of bottle to open your own booze shop.
Over 1000, in some cases.
And we've gathered below some of the best independent booze stores in the capital, almost all of which are run by locals. Pop in, and not only will you be able to browse craft beers brewed in the city, up-and-coming small batch spirits and wines at the vanguard of the low-intervention movement, you'll also be able to pick the brains of the hugely knowledgeable folk that run them. And more often than not, you can even pull up a stool and sample something right there and then.
Long live the on-and-off licence…
–
Dina | Leytonstone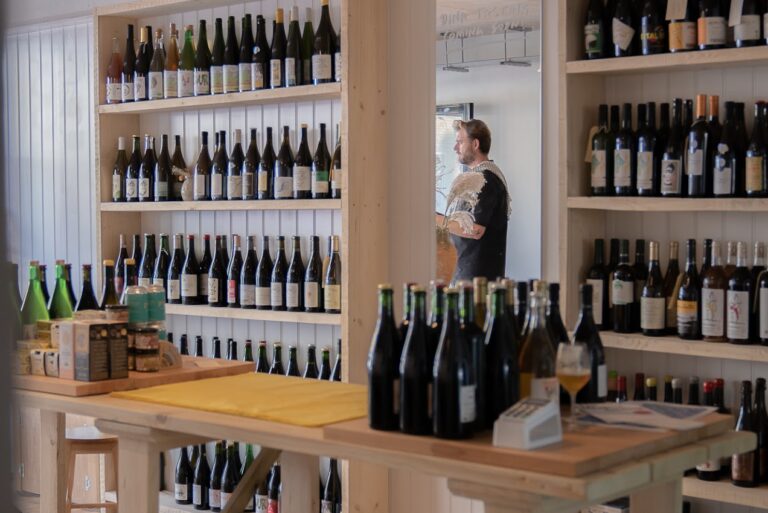 Dina is your one-stop-shop for wine – ironically, because it's so much more than a shop. Besides stocking a huge range of low-intervention wines from small-scale producers (which you can sample in the evening as the place transforms into a wine bar), they also host regular tastings and supper clubs with up-and-coming chefs. And if a wine subscription sounds like too much commitment to you, you should check out their regularly changing curated boxes – you choose the number of bottles, and they'll pull together some wines for you that are 'drinking impeccably well' at the time.
Details: 289 High Road, Leytonstone, E11 4HH | Open Wed-Sat
–
Hop Burns and Black | Peckham & Deptford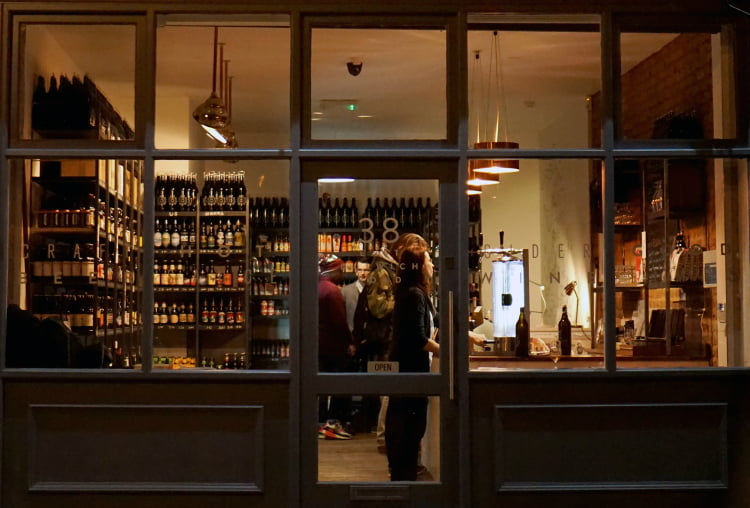 HBB has three passions in life: beer, hot sauce and vinyl. But secretly, they're also quite into wine. Their two South London stores are stocked to the rafters with interesting craft beers – from both lesser-known labels and big names like Gipsy Hill and Boxcar – as well as bottles of natural wine, all of which you can also buy in ready-curated crates to get an expert introduction. On top of that, there's a couple of tables outside for a little on-site tasting, with cans ready to go and a couple of brews on draught, too.
Details: 38 East Dulwich Road, London, SE22 9AX | Arch 1 Deptford Station, Deptford High Street, London SE8 4NS
| Open Tues-Sun
–
TT Liquor | Shoreditch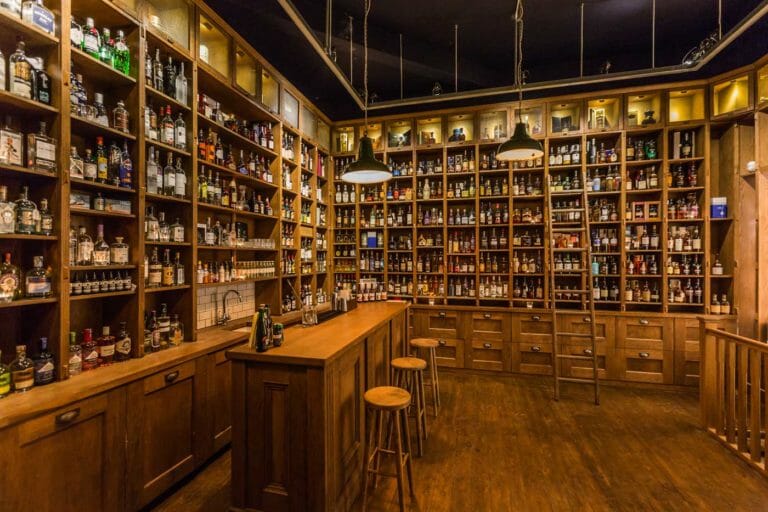 TT Liquor is an old converted police station that's now home to a cellar bar. And a rooftop bar. And a cocktail workshop. And a cinema. But before you get to all that, you'll have to go through the bottleshop first, and somehow resist leaving with bags full of small-batch and artisan spirits – including unusual numbers like 'illegal' tequila, fruit liqueurs from an 150 year old French distillery, and New York's first ever bourbon, Hudson's Baby Bourbon. Which should on no condition be given to a baby.
Details: 17b Kingsland Road, E2 8AA | Open Mon-Sat
–
Milroy's | Soho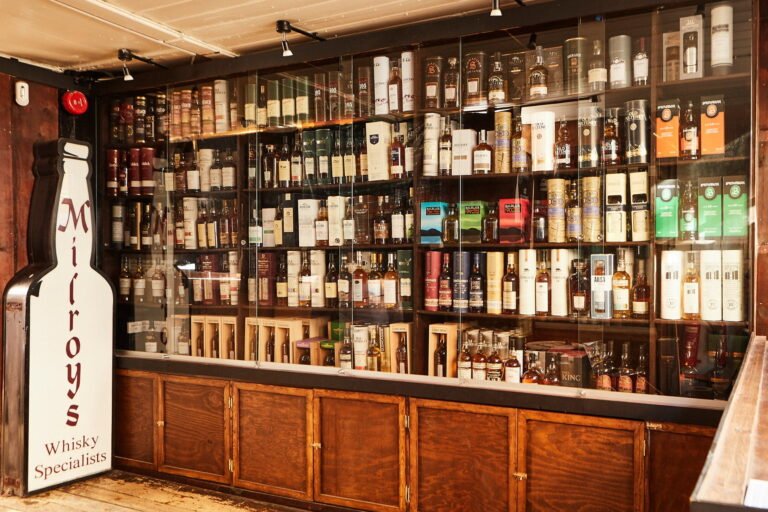 We usually mention Milroy's for its legendary speakeasy – a cocktail bar down in the cellars, accessible from behind some of the shelving. But today it's what's on that shelving that concerns us: a staggering array of whiskies from around the world, as well as a sizeable collection of calvados, rum, gin and cognac. Since 1964 they've been advising Londoners on what's good, and they run regular guided tastings in the shop. Or you know, you could always try to find that hidden bar.
Details: 3 Greek Street, London, W1D 4NX | Open Mon-Sat
–
Furanxo | Dalston & Exmouth Market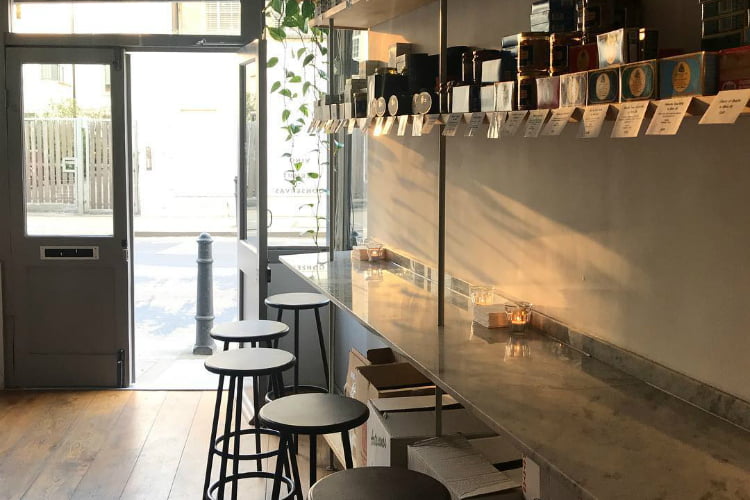 While not exclusively a booze shop, Furanxo merits a mention thanks to its focus on Spanish food and drink. Alongside dozens of different wines (with a different trio selected each week to buy as a bundle, with tasting notes), you'll also find a neat selection of sherries and vermouths if you're after something that bit more specialist. Plus, there's colourful tinned fish, meats, cheeses, spices and more to stock your cupboards with while you're at it.
Details: 85 Dalston Lane, London, E8 2NG | 63 Exmouth Market, London EC1R 4SA | Open Mon-Sat (+Sun in Dalston)
–
Quality Wines | Farringdon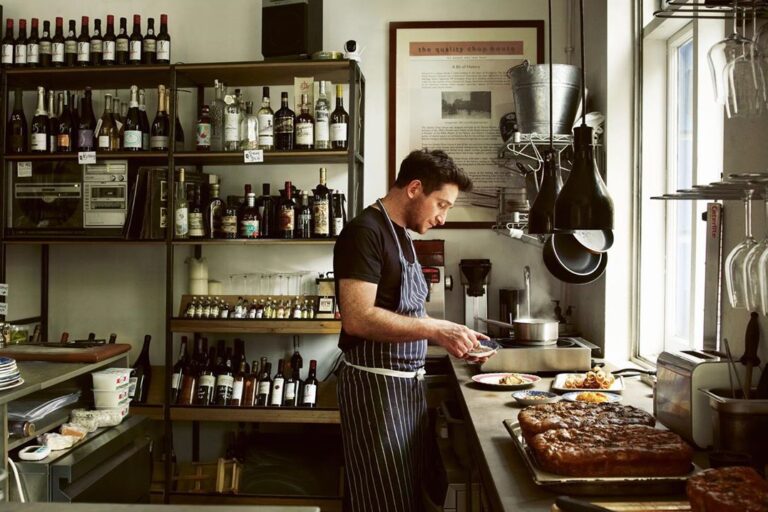 Quality Wines does what it says on the bottle. Neighbour and spin-off to the iconic Quality Chop House, it's open seven days a week with a serious selection of wines adorning its shelves. Mostly Old World in origin, with England & Georgia thrown in the mix, there's a good range of conventional and natural wines of every colour. From Wed-Sat the space also operates as a wine bar – pick a glass of the daily changing list, or pluck anything off the shelves for a £15 corkage fee – and chef Nick Bramham rustles up elegant Mediterranean small plates to provide a little ballast.
Details: 88 Farringdon Road, London, EC1R 3EA | Open daily, wine bar/resto runs Wed-Sat from 5pm
–
Gnarly Vines | Walthamstow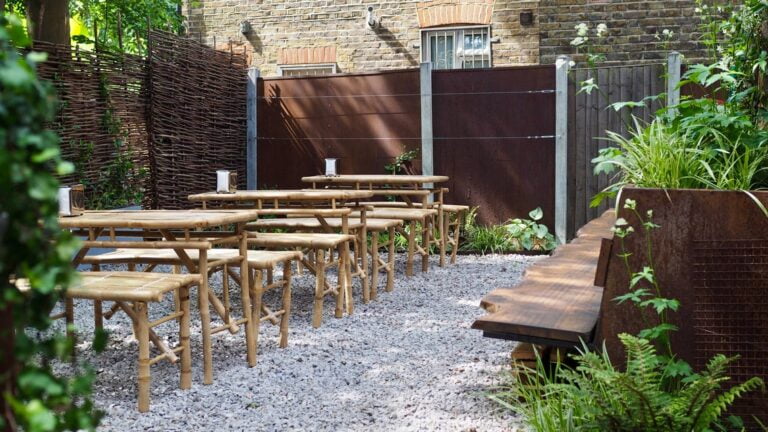 Walthamstow's Gnarly Vines is all about nature, stocking biodynamic and organic wines & beers to drink in and take away. It's a more grape-focussed enterprise from the founders of Clapton Craft (another set of great independent booze shops), William Jack and Tom McKim. The staff here are unbelievably knowledgeable, ready to point you in the right direction according to your tastes, and there's a huge range of regions and styles in stock. As a bonus, they've sake, sherry, and enough spirits to stock a decent cocktail cabinet, plus an al fresco oasis out the back where you can stuff your face with pét nat and pizza.
Details: 464 Hoe St, London E17 9AH | Open daily
–
Bottle. | Highgate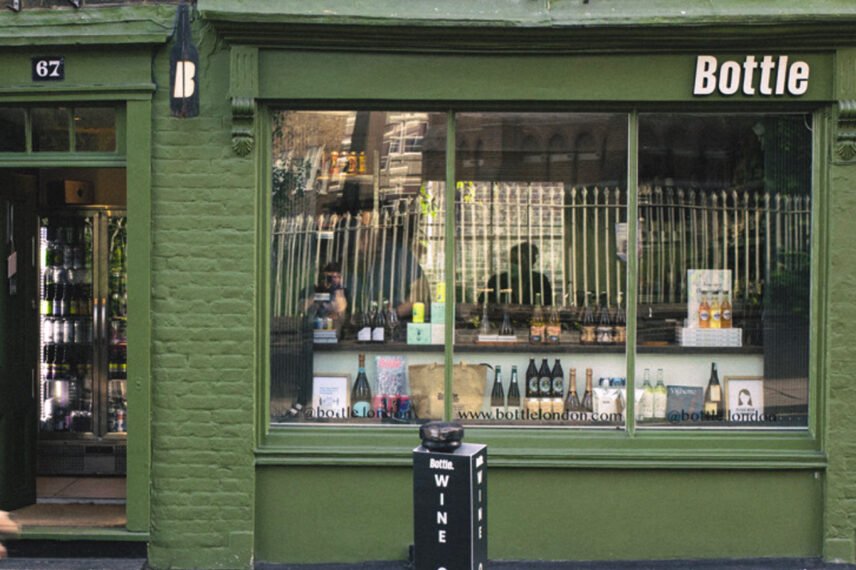 Born out of lockdown, Bottle is a store opened by three friends, run with the help of sommeliers Amber Gardner (who used to work at the Michelin-starred Davies & Brook) and Jarlath Curran. They specialise in wine and beer (even non-alcoholic versions), holding tastings and going so far as to run their own wine school. Over the course of six Monday evenings, they'll walk you through what's happening in winemaking now, tackle some misconceptions and help you to buy and drink better wine. Starting with the 30 you'll taste in class in the name of research…
Details: 67 Highgate High Street, London N65JX | Open daily
–
Forest Wines | Walthamstow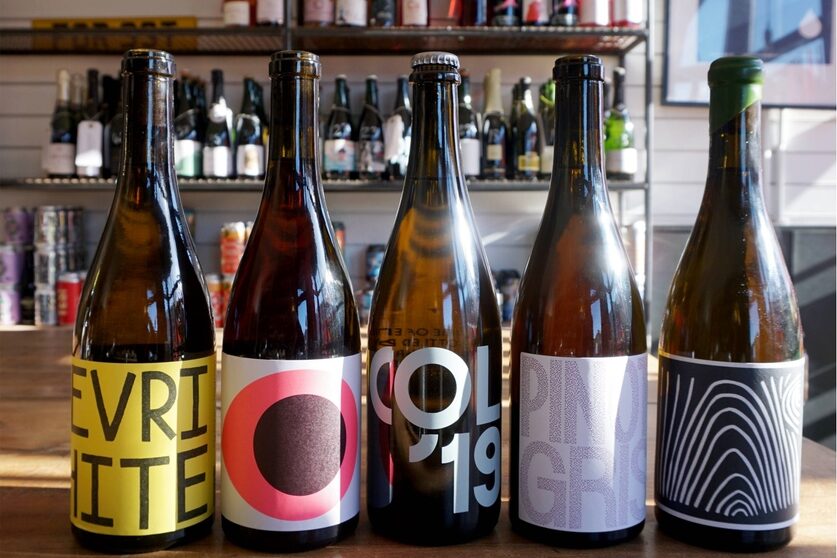 Local couple Jana and Ali opened Forest Wines back in 2014 to provide something a little different from the supermarket wine racks. Almost a decade on, they've upgraded to a sunny corner shop which now has space for a large, communal table. Punters can gather round here to sample their selection by the glass, or pay a tenner corkage to try a bottle off the shelves alongside bar snacks. The wines are all natural and hail mainly from Old World producers, but the shelves are rapidly expanding to accommodate London-brewed craft beers and ciders, too.
Details: 149 Forest Road, London E17 6HE | Open for drinking & shopping, Mon-Wed 3-8pm, Thurs-Sat 12-9pm, Sun 12-6pm
–
Salthouse Bottles | Brockley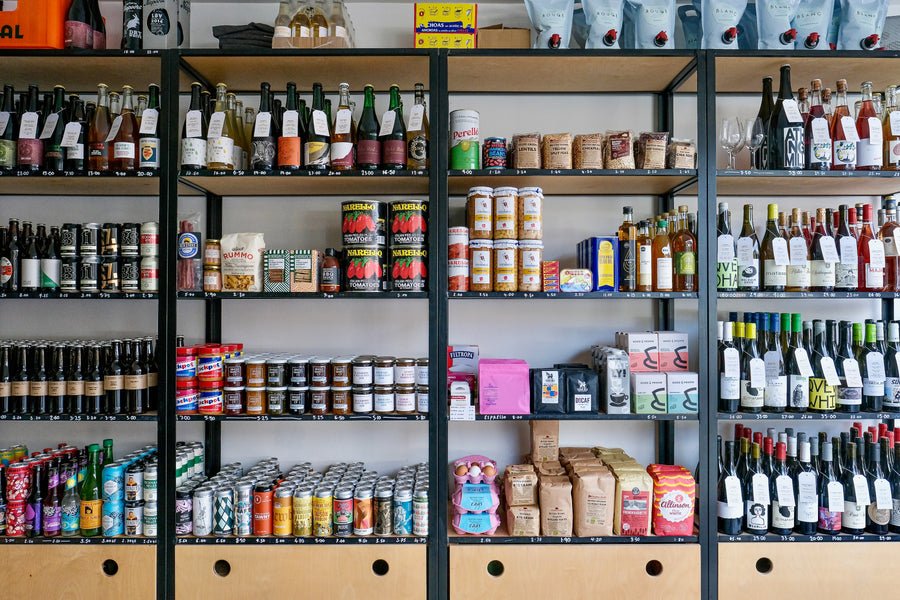 Salthouse Bottles has been a Brockley stalwart since 2016, going on to open a spin-off wine bar Joyce a few years ago. Here, they stock a thoughtfully curated collection of cider, mead, beer and wine (including lo/no-alc options) as well as nice things to go with them: cheese, charcuterie, and stylish glassware. There's also a growler refill station – buy one of their 2 litre swing-top bottles, and you can come back in to refill from their constantly rotating selection of half a dozen craft beers and ciders.
Details: 12 Coulgate St, Brockley, London, SE4 2RW | Open Tues-Sun
–
Shrine To The Vine | Bloomsbury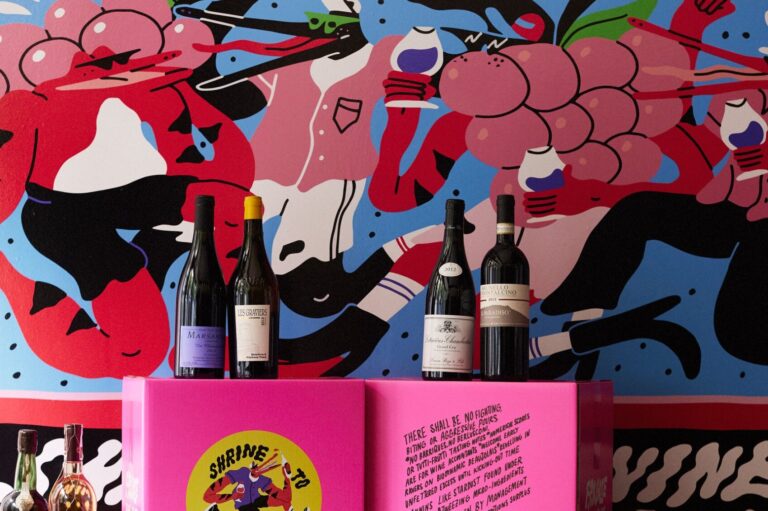 Dan Keeling and Mark Andrew know a lot about wine. They founded the iconic Noble Rot wine mag, opened two eponymous wine bar-restaurants in London, and founded their own import business. So it'll come as no surprise to you that they also have a shop. Shrine To The Vine is a dark, trendy cellar just across the way from their restaurant on Lamb's Conduit Street, filled with both up-and-coming natural picks and 'mature classics'. Trippy 90s artwork by Jose Miguel Mendez adorns the shop as well as their lauded house wine, Chin Chin, made in collaboration with Antonio Monteiro on his farm in Northern Portugal.
Details: 48 Lamb's Conduit Street, London WC1N 3LH | Open Mon-Sat, 10am-8pm
–
Highbury Library | Highbury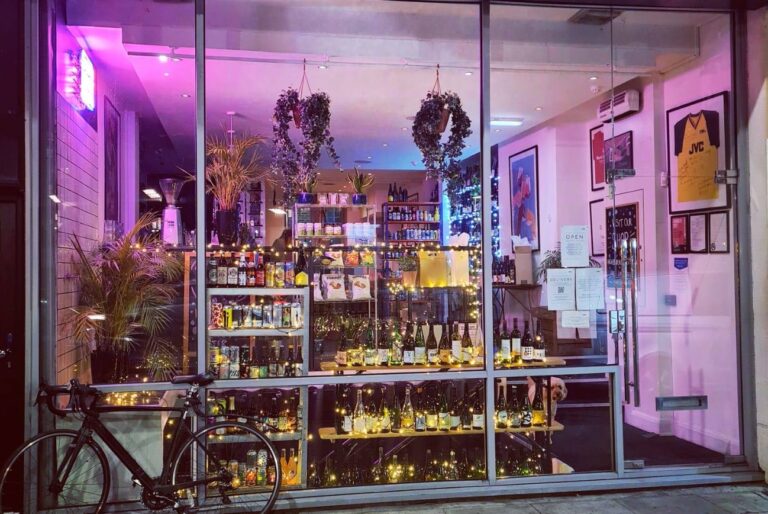 Highbury Library is a) a great place to pick up a bottle, and b) almost impossible to say after you've drunk it. With a desire to introduce natural wine to the masses, they label every bottle on the premises according to their 'wild scale' – 1 being the kind of thing you're used to; 5 being some true funk. That's not all you'll find here, though: interesting craft brews and cocktails in pouches round out the selection (as well as some wavy wine-themed garms). And to cap it off, they operate as a bar, too – book a table inside or in the back garden, or just turn up.
Details: 66a Drayton Park, London, N5 1ND | Open Mon-Thurs 4-11pm, Fri-Sat 1-11pm, Sun 1-8pm
–
Half Cut Market | Caledonian Road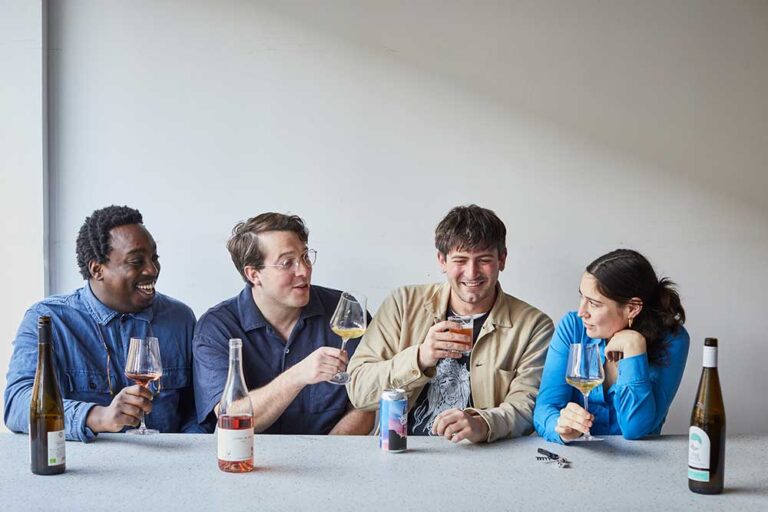 These happy chappies are locals and friends Holly, Edwin, Paul and Danny. Which is a lovely enough origin story in itself, but on top of that Holly brings experience from Noble Rot, while Danny runs a not-for-profit cocktail delivery service to help fund local food banks. Together they've opened a 'gourmet off-license', where you can browse through 80 natural wines, 120+ craft beers, and a load of fancy deli items from eateries like My Neighbours The Dumplings. Somehow, they've also found space to squeeze in a couple of tables and chairs, so they also operate as a bar with occasional tastings, events and supperclubs.
Details: 396 York Way, London N7 9LW | Open Tues-Sun (until 10pm Thur-Sat)
–
Idle Moments | Hackney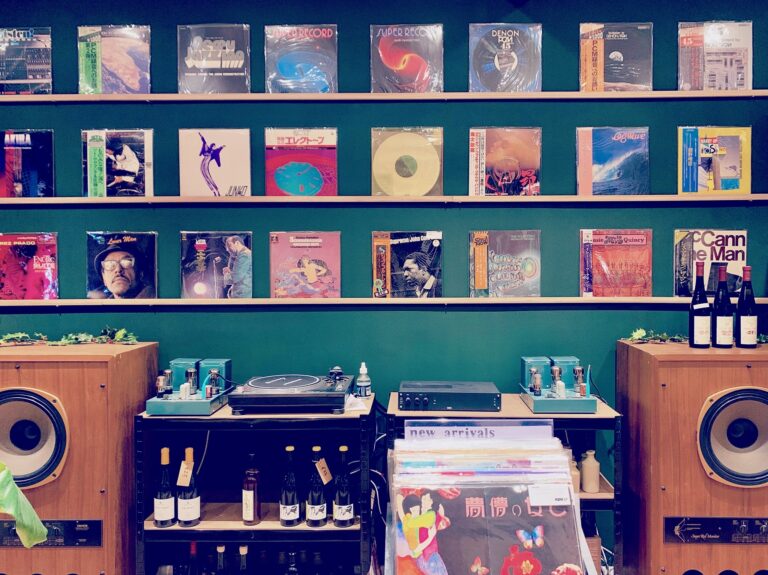 Idle Moments is an audiophile's paradise, feat. booze. It comes to you from the Brilliant Corners people, whose Dalston bar is a glorious hub for live music, vinyl-spinning DJs and natural wines. Makes sense, then, that their Columbia Road store specialises in all the same things – peruse bottles of low-intervention vino, mezcal and sake while trying out their hand-picked selection of Japanese vinyl on vintage tannoy speakers.
Details: 86 Columbia Rd, London E2 7QB | Open Wed-Sun
–
Mother Superior | Nunhead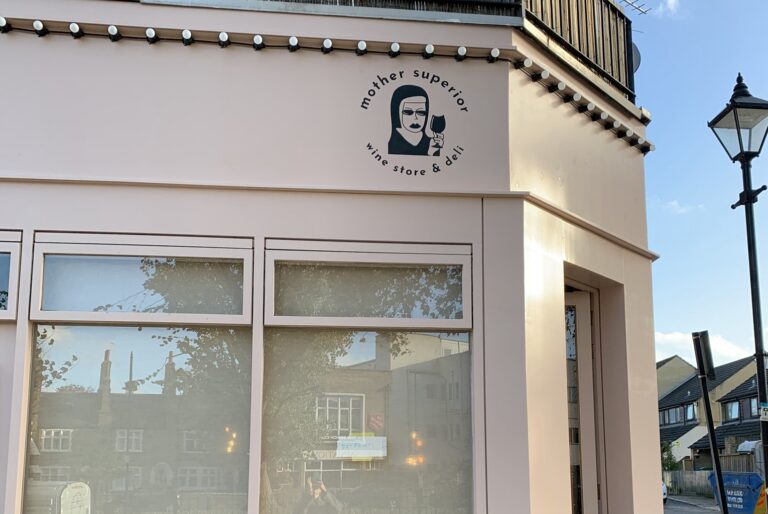 A nun might be the last person you'd ask for a booze recommendation, but when it comes to natural wines, Mother knows best. This Nunhead wine shop & grocery store is the last word in boutique minimarts – you'll find dozens of low-intervention bottles (they'll happily point you towards something specific, like female winemakers or the sustainability pioneers) alongside craft beers, independent spirits and pre-mixed cocktails (as well as, ugh, non-alcoholic things like pasta and dog treats).
Details: 26 Nunhead Green, London, SE15 3QF | Open Tues-Sun
–
Wild + Lees | Herne Hill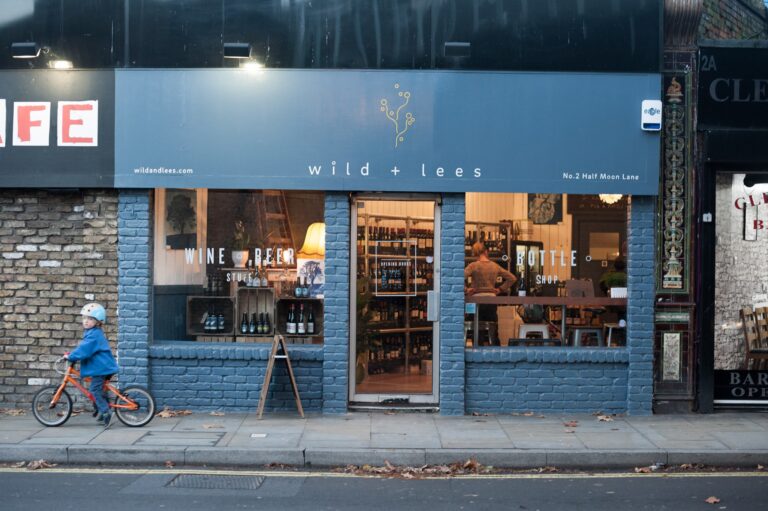 Herne Hill sees North & East London's domination of the indie booze market, and raises you Wild + Lees, a joyously independent licensed bottle shop hawking wines, craft beers and small-batch spirits. Inside, the decor's decidedly home-spun, but no matter: you're here for what's on the shelves, and that's an impressively wide-ranging array of both natural and old-school wines, spanning New & Old Worlds, with some vermouths, sherries, and even Welsh wines thrown in for good measure. Basically, there's a lot – and if you need guidance, ask the supremely friendly and knowledgeable staff, stop by for one of their tastings, or take home a curated box of six bottles to get a thorough introduction.
Details: 2 Half Moon Lane, London, SE24 9HU | Open daily
–
Provisions | Highbury & Hackney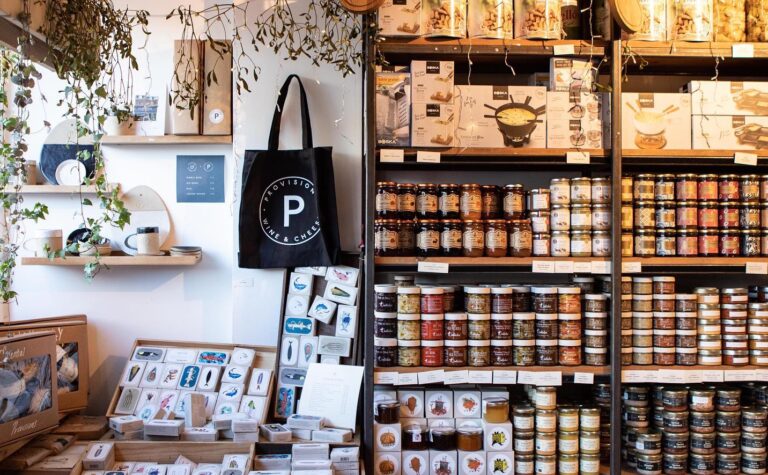 Having friends round? You need Provisions. This place is like a dinner party in a box: you can stock up on fancy jars, DIY raclette and fondue packs, charcuterie and more – including a cellar-load of natural wines from France & Italy. The best deal here is to buy a reusable bottle: bring it back and you can get a refill (from a choice of five wines) for under a tenner. If you want to pick something special out, though, each bottle on the shelf is labelled with its own mini-essay regarding its provenance, terroir and tasting profile – something you can impressively regurgitate to your mates later.
Details: 167 Holloway Road, London, N7 8LX | 308 Hackney Rd, London E2 7SJ | Open Tues-Sun
–
Nobody Asked Me | Clapton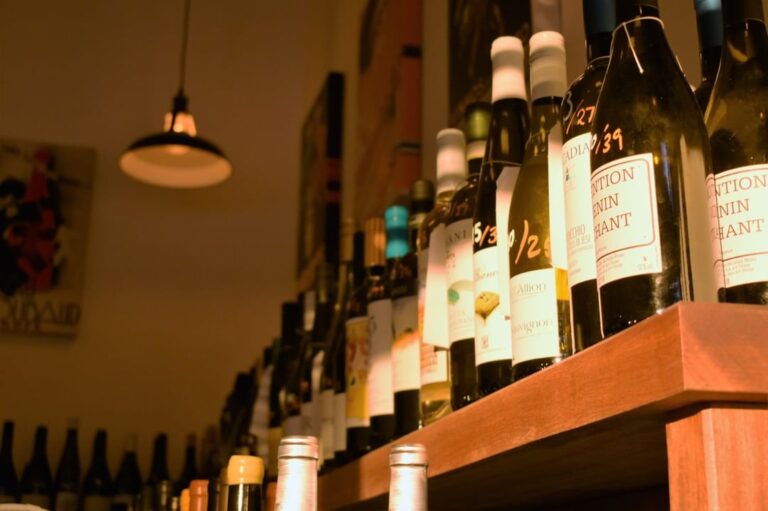 Well, they should have. NAM is a little gem on Clapton's Chatsworth Road, with over 100 low-intervention wines in stock ranging from the approachable to the experimental. And if you want to try before you buy, you can slip down to their low-lit cellar wine bar for semi-guided tastings on Wednesdays, or on Thurs- Sat to try whatever they've uncorked that day alongside snacky bits.
Details: 88 Chatsworth Road, Hackney, London, E5 0LS | Shop open Tues-Sun
–
Gladwell's | Camberwell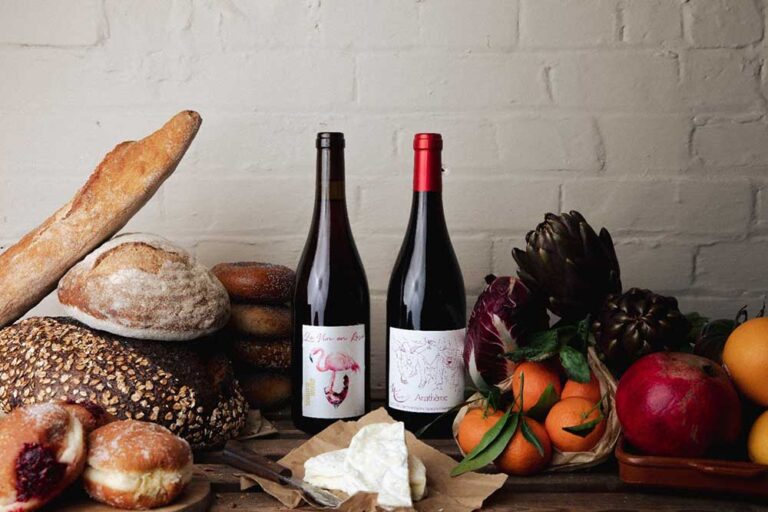 So this is nice. It's a new venture from locals James Dye (also of The Camberwell Arms and Frank's) and Stanley Allen (Peckham Springs), who have taken over a stunning old Grade II listed bank and filled it with all kinds of lovely comestibles from cult suppliers – Neals Yard cheeses, doughnuts from St. John, etc. – as well as food boxes (with a portion going to charity) and a couple of nibbles to eat in. Best of all, the bank's basement vault has been converted to a cellar bottle shop and cosy tasting room, with an emphasis on low-intervention numbers and craft beers.
Details: 2 Camberwell Church St, London SE5 8QU | Open daily
–
Umbrella Workshop | Shoreditch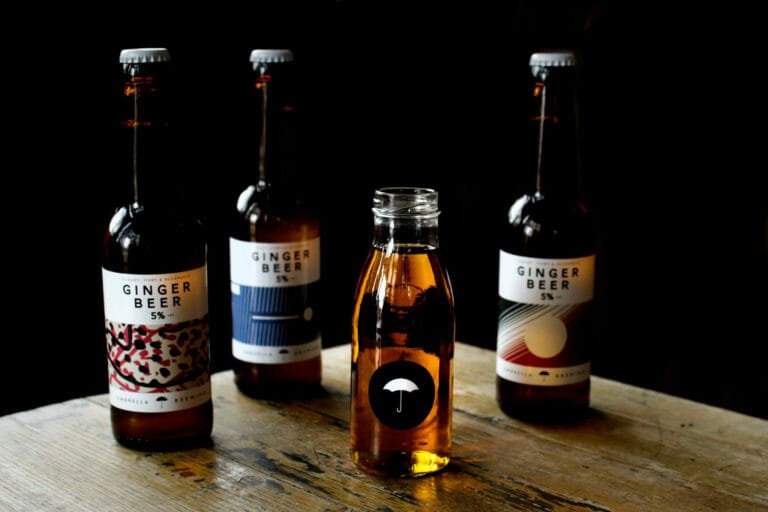 Umbrella comes to you from the team behind the stellar East London watering holes Discount Suit Company and The Sun Tavern. A few years ago, they branched out into brewing their own boozy ginger beer and kept the city going with bottled cocktail delivery over the pandemic. So the next natural step is to open a shop, tasting room and cocktail development space, which they've now unveiled in an old Shoreditch workshop. You can sample everything onsite – from pre-batch cocktails to unusual spirits – before you buy, as well as prop up the dinky bar and try out some of their latest concoctions.
Details: Unit 10, Cleeve Workshops, Boundary Street, E2 7JD | Open daily

---
Looking for more inspo? Most of London's natural wine bars double up as bottle shops…