If you haven't tried natural wine yet, then consider this a (minimal) intervention.
It's the umbrella term for the growing trend in winemaking to just, well, let the grapes get on with it. There are the organic wines (no pesticides or creepy chemicals), the biodynamic wines (where grapes are grown in blissful harmony with natural cycles and the rest of the farmland), and the low-intervention wines (not adding a load of extra stuff to the fermentation process). In short, they're all practices that make far less of an environmental impact, and just so happen to make wines that are extremely delicious, too.
These days London is furnished with a bounty of natural wine-focussed bars, stocked with cool and interesting bottles from small producers and up-and-coming growers. Here are the ones to cross off your bucket list…
–
Bar Crispin | Soho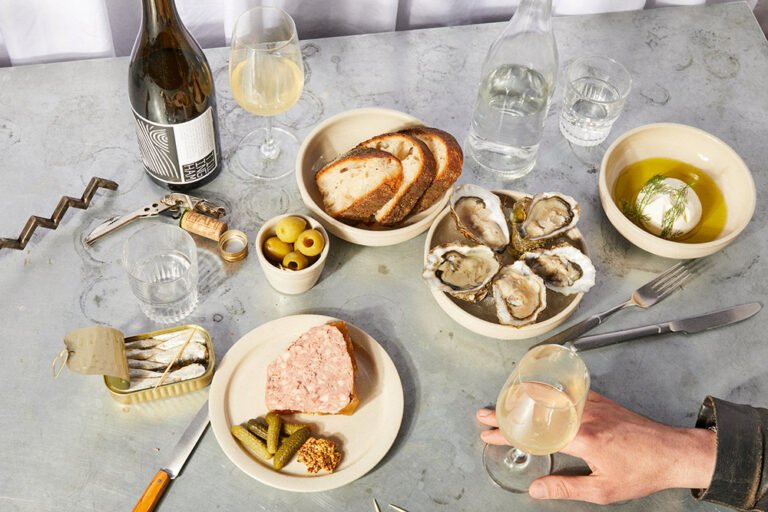 Bar Crispin is wedged into that excessively busy stretch of Kingly Street, where punters spill out onto the street and the city gets a distinctly European vibe. A wine-focussed spin-off of the casual Spitalfields restaurant, BC eschews the classic wine bar aesthetic of bare brick walls and candlelit alcoves. Instead, the interiors are a cross between grown-up kebab joint and a giant backgammon board, with mauve zig-zags running round the walls and high, zinc-topped tables. Sommelier Alex Price is behind the all-natural wine list here, with an emphasis on French regions as well as wines hailing from the volcanic soils of Greece and Tenerife. And it all comes with a neat menu of European tapas from Casa Fofò's Fabien Spagnolo, from native oysters to pig's head croquettes.
Details: 19 Kingly St, London W1B 5PY | Book here
–
107 Wine Shop & Bar | Clapton
If 107 looks awfully familiar – almost like, say, P.Franco – that's because it is P.Franco, reborn under a different alias. The beloved Clapton wine bar closed in March 2023, but after a brief and successful crowdfund is now open again, in the space under the old red and yellow Chinese supermarket sign, albeit with a changed name. Inside you'll still find that five-star assemblage of natural wines (with an Old World focus, where many are chosen and assessed after the staff have flown to the vineyards to personally meet the growers themselves) and the kitchen residencies are trickling back in for dinner service; currently Mitchell Damota, whose fresh pasta making expertise has been nurtured at Burro e Salvia in Shoreditch. 
Details: 107 Lower Clapton Rd, E5 0NP | Walk ins only, more info on their Instagram
–
Cave Cuvée | Bethnal Green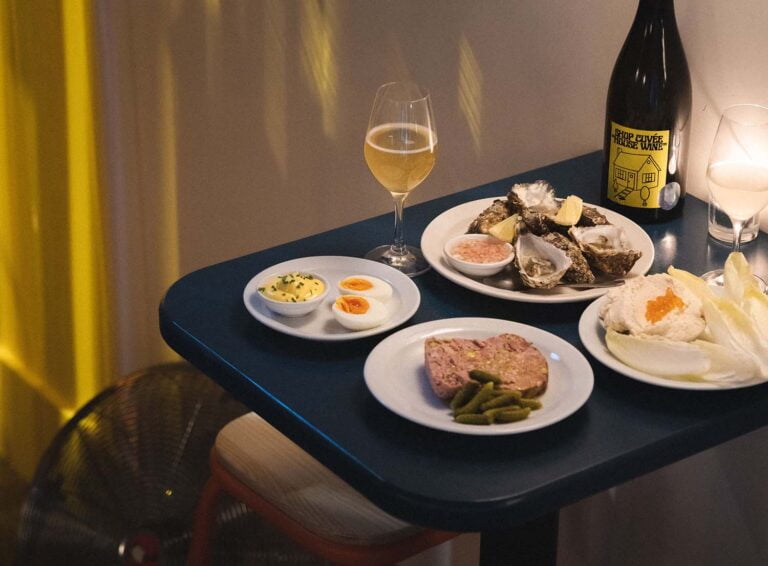 Once upon a time, there was Top Cuvée, a Highbury restaurant from the Three Sheets team with (as you might guess from the name) an emphasis on wine. Less than a year after opening, old Johnny Pandemic came along, and they had to rapidly switch from dining in to supplying locals with wine. Apparently, this was quite popular during lockdown. Now it's gone from temporary pivot to fully-fledged business venture, and they've opened a second dedicated bottle shop, Shop Cuvée, in Bethnal Green. Slink downstairs to discover Cave Cuvée, a pared-back, Parisian-inspired den where you can sample some of the bottles stocked upstairs alongside cocktails, music, and small plates.
Details: 250a Bethnal Green Road, London, E2 0AA | Book here
–
Lady of the Grapes | Covent Garden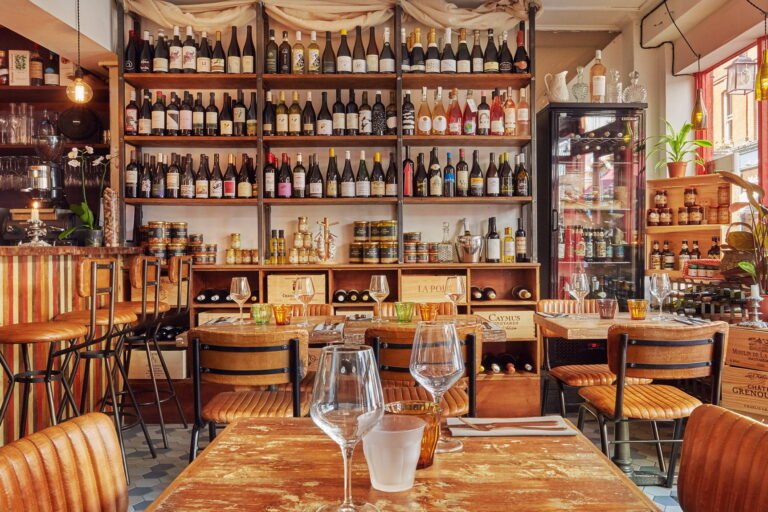 A central London wine bar that combines old-school charm with forward-thinking brio. The interiors are all cosy Parisian wine bar – battered vintage furnishings, pendant lighting fashioned from old wine bottles, crates propped up in every corner. But the wine list is right at the cutting edge, celebrating organic and natural wines, around 80% of which come from female winemakers. You can read a little bio of each grower in the 100-strong menu – which spans from red to white, sparkling to fortified – and there's a menu of French dishes to go with it all, including fondue.
Details: 16 Maiden Lane, WC2E 7NJ | Book here
–
Hop Burns & Black | Peckham & Deptford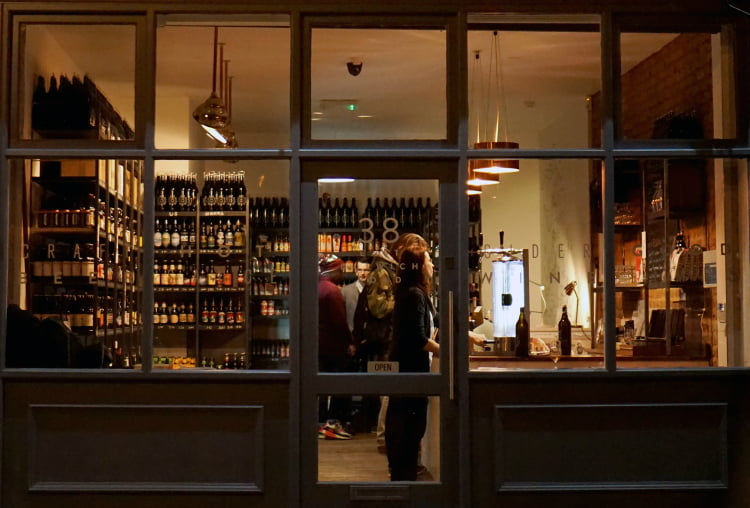 The hop: craft beer. The burns: mercilessly hot sauces. The black: artisan coffee. The unmentioned: a meticulously sourced collection of natural, organic and biodynamic wines, available to buy by the bottle and either take home or sample on a picnic table outside as the sun goes down. They also run an excellent monthly subscription service, 'Natural Wine Killers', and stock over 100 of their favourites online, too.
Details: 38 East Dulwich Road, London, SE22 9AX | No bookings
–
dan's | Dalston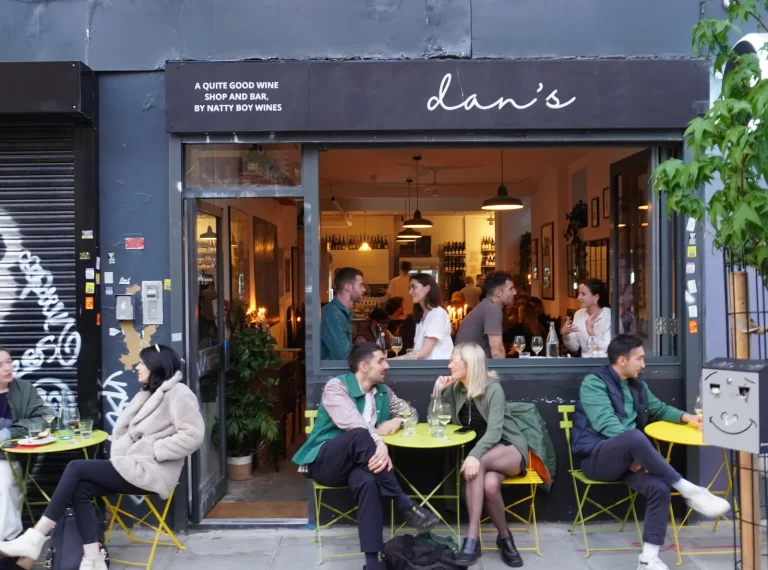 dan's comes to you from Dan Long, who's spent years in Oz learning the, er, vines of the wine industry. When the pandemic hit, he launched the online wine shop Natty Boy Wines, and now he's opened a bricks and mortar spot in Dalston where he's stocking all 600+ bottles IRL. You can pick one up to take home or drink in for £15 corkage, or peruse the 'by the glass' list that he personally picks out each week…
Details: 2-4 Tottenham Road, Dalston, N1 4BZ | No bookings, just turn up
–
Joyau | Forest Gate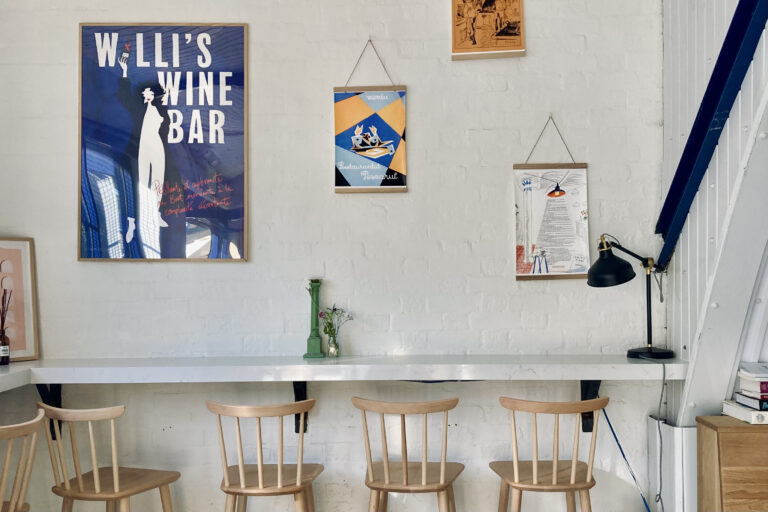 If you have dreams of travelling through France and dropping into vineyards that – despite creating a comprehensive Instagram wishlist – haven't quite come to fruition yet, head to Joyau in the meantime. The owners have just returned from their own tour of the country, and have brought back all their favourite bottles with them – and now they're uncorking them in an intimate railway arch wine bar with a suntrap terrace in Forest Gate.
Details: 353 Winchelsea Road, London, E7 0AQ | No bookings
–
40 Maltby Street | Bermondsey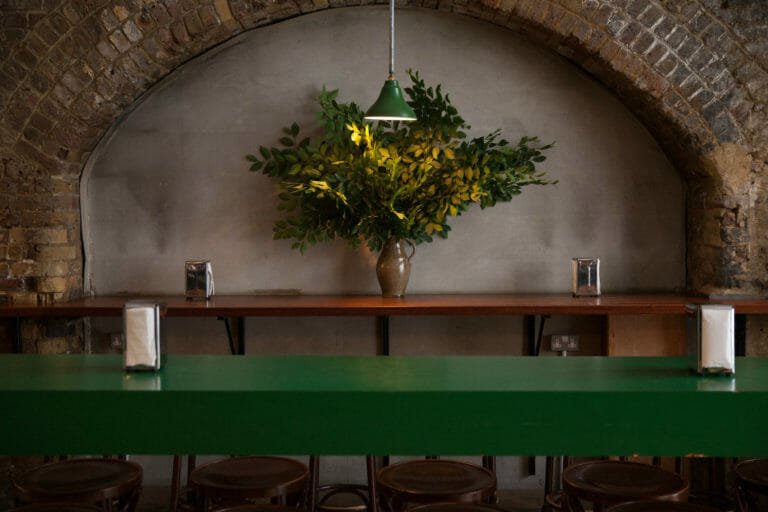 A true London classic, tucked into an old railway arch off Maltby Street market. This is partly the warehouse of organic wine importers Gergovie Wines; partly an industrial but cosy wine bar and restaurant, where hand-picked bottles beautifully complement the regularly-changing, seasonal, European-styled menu, scrawled daily onto a blackboard behind the dining counter. Buzzy, warm, and serious about wine.
Details: 40 Maltby Street, SE1 3PA | No bookings
–
The Sourcing Table | Peckham & Crystal Palace
Relatively new kids on the block, The Sourcing Table has settled into London's natural wine bar scene with the air of an old-timer pro. They've gone for the jugular with their collection, housing over 400 approachable (clean, only sometimes funky) wines, which you can either drink by the glass or by the bottle with a flat corkage fee. Once you've made your decision, take your new discovery to Peckham's front patio – the perfect pairing for seeing out sunny days.
Details: 184 Bellenden Road, SE15 4BW | 67 Westow Hill, Crystal Palace, SE19 1TS | No bookings
–
Peckham Cellars | Peckham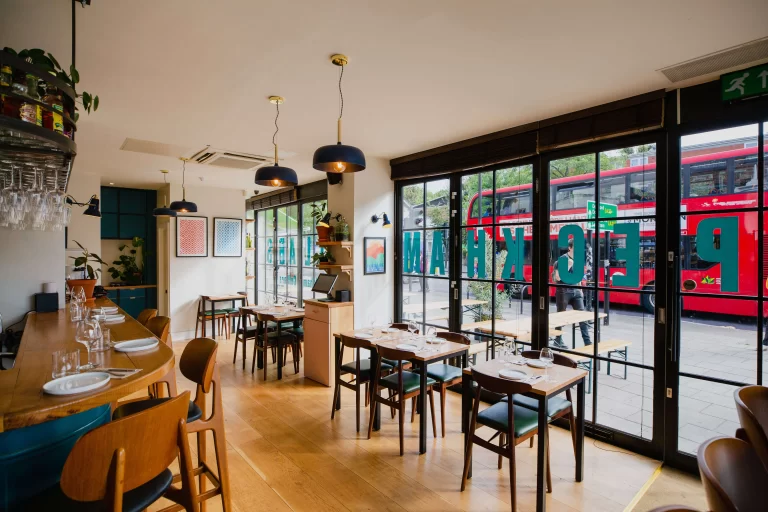 Peckham Cellars was set up by a group of self-confessed 'wine fanatics', fronted by former 28-50 sommelier Ben McVeigh. He's spent the past decade drinking studying wine, and is now well-versed in the subtleties of terroir and the fermentation process. That said, the whole gang are up on their wine game, too, and the result is a ~150-strong hand-picked collection of bottles, not all of which are natural, but which are all sourced from small-scale producers and made with love. Stop by for a glass or two, and you can always load up with some of their Michelin Bib Gourmand-toting food, too. They also run a great wine subscription service, as well as regular tastings and other events.
Details: 125 Queen's Road, SE15 2ND | Book here
–
Hector's | Dalston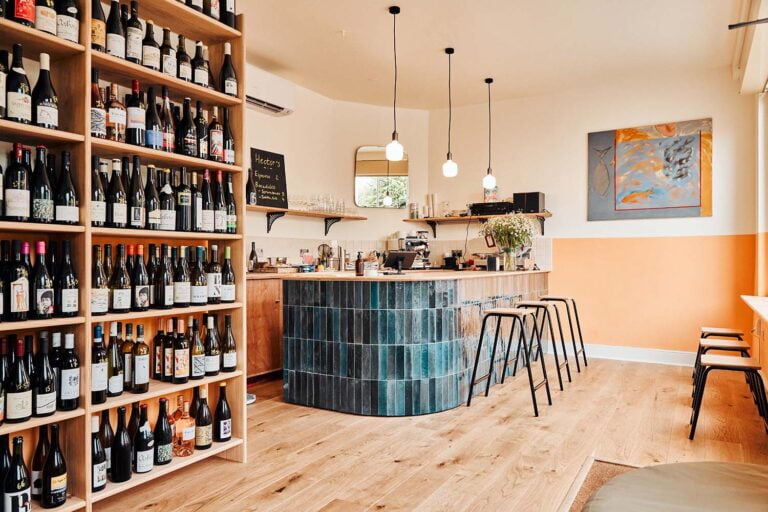 Everything's just peachy at Hector's. Except for the top half of the walls. But their natural wine bottle shop encompasses an impressive 300+ bottles, ranging from the 'crowd-pleasers' to 'some absolute oddities'. Naturally, they'll be more than happy to talk you through them all, and if you want to try before you buy then drop by in the evenings. The countertop morphs into a bar, and they serve up some gems by the glass alongside classic wine food – olives, nuts, charcuterie & cheese.
Details: 49a Ardleigh Road, N1 4HS | No bookings
–

Joyce | Brockley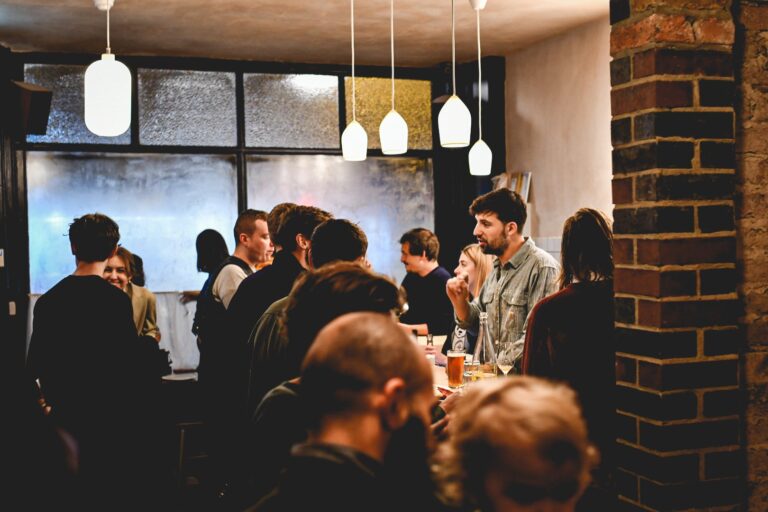 Joyce is the spin-off bar from Brockley's Salthouse Bottles, perfectly balancing knowledgeably-curated wine lists with a laid-back sense of fun (read: there are hula hoops on the snack menu). The bottles mostly hail from lesser-known wine-producing regions in Europe (including old Blighty), backed up with a selection of London-made vermouths and cocktails put together with small-batch indie spirits.
Details: 294 Brockley Road, SE4 2RA | Book here
–
Rondo La Cave | Holborn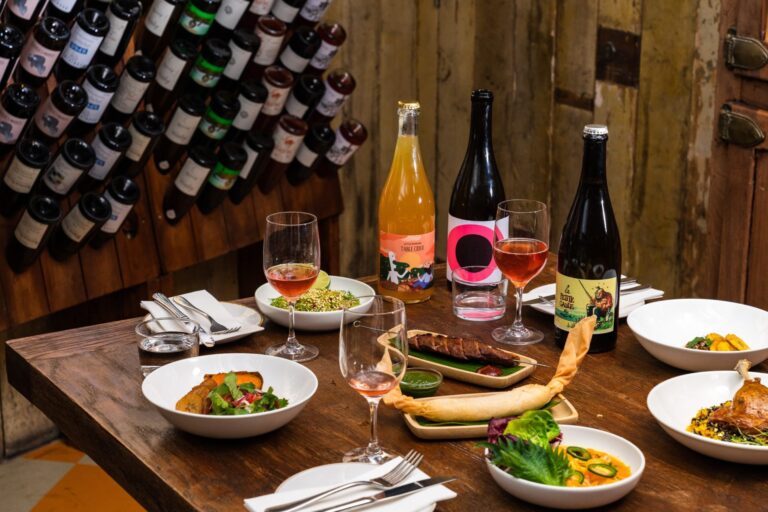 The Hoxton Hotel has truly brought a little slice of East London to Holborn. Down in the basement is a pretty unique spot for this neck of the woods: a relaxed, natural wine bar that plays host to a rotating series of guest residencies in the kitchen. The place hasn't changed much since its previous life as a Chicken Shop – you'll find the same diamond-patterned lino floor and walls lined with strips of reclaimed timber; only now those walls are also lined with a selection of low-intervention wines (which happens to comprise the city's largest collection of bubbles, apparently).
Details: Underneath The Hoxton, 199-206 High Holborn, WC1V 7BD | Book here
–
Forza Wine | Peckham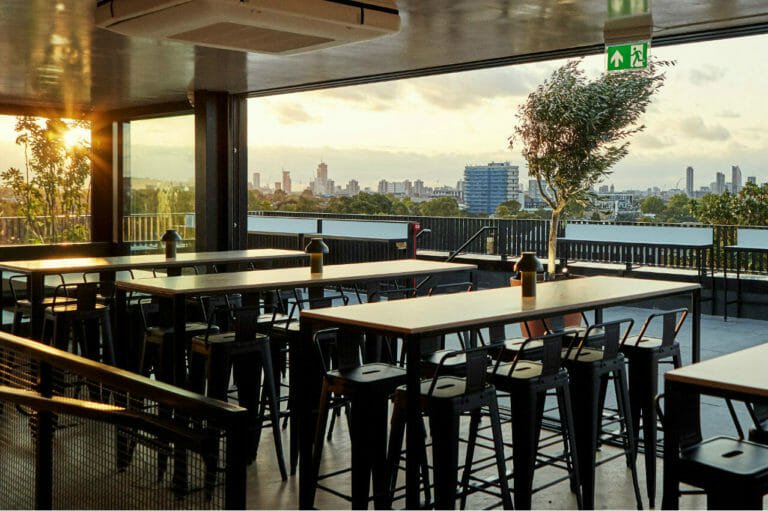 Why do you go here? Forza wine, of course. It's all natural, mainly French and Italian, and with quite a few available on tap or by the litre. Handy for when you want to bed in and watch the whole sunset from this Peckham perch, with a little burrata, mussels with 'Nduja or deep-fried polenta on the side. Plus a coffee soft serve to get you back down the stairs at the end of the night.
Details: 5th Floor, The Market, 133 Rye Lane, SE15 4ST | No bookings
–
Binch | Hackney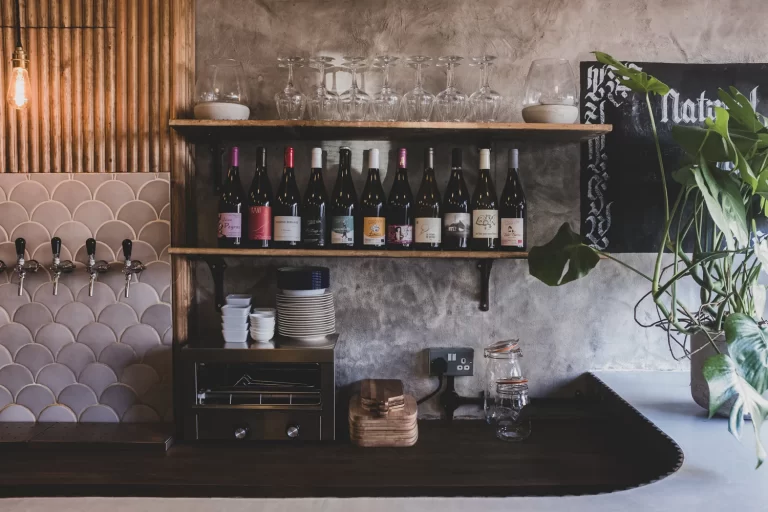 Just as the Inuit have over 50 words for snow, the French have over 50 words for wine, and binch is one of them. It's a cosy little neighbourhood bar by London Fields run by one enthusiastic Frenchman, who's combined his passion for both small-producer wines and offbeat craft beers into one packed-out little spot. It doubles as a bottle shop, so if the weather's decent you can always take something to go and enjoy en plein air…
Details: 51 Greenwood Road, London, E8 1NT | No bookings
–
Yield N1 & N16 | Highbury & Stoke Newington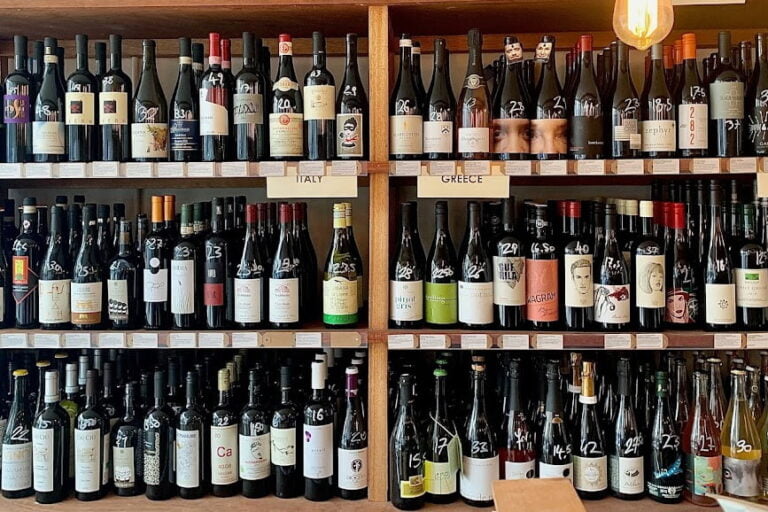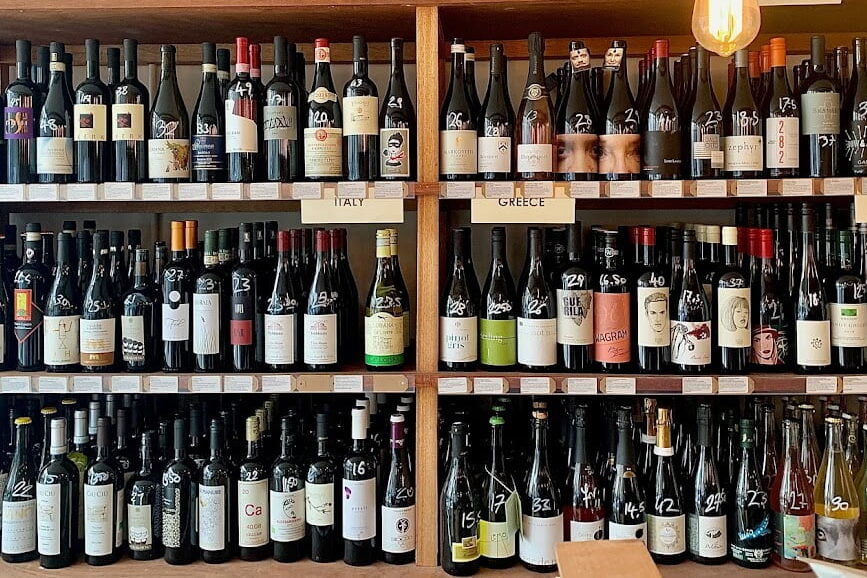 A laid-back bottle shop and wine bar, Yield in Highbury (N1) and Stoke Newington (N16) bolsters its mainly European booze selection with a load of other fancy pantry goods to take home with you, including Neal's Yard Dairy cheeses and Pump Street chocolate. But if you want to stay in, there's romantic seating tucked up at the back, and picnic tables out the front, where you can pop open any bottle you like for a corkage fee of £15, or just order something off their menu of top picks that week.
Details: 97 St Pauls Road, Islington, London, N1 2NA | 44-45 Newington Green, London N16 9PX | Walk-ins only
–

Aspen & Meursault | Battersea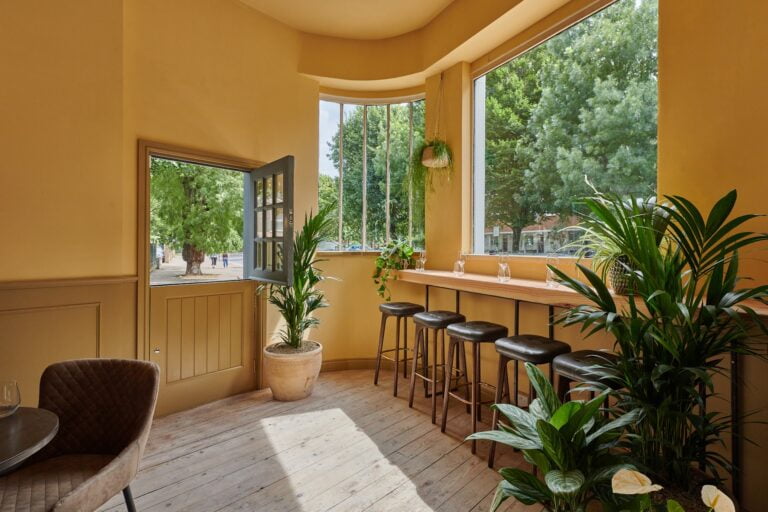 As anyone who's hashed out the meaning of life with a friend over a bottle of red will tell you, wine and philosophy make good partners. Sunny Hodge's 'no BS' wine bars make that official. He's designed them as 'thinking bars', hoping to demystify the world of wine and get people to question why we choose things we don't understand. The sophomore branch in Battersea is dedicated entirely to natural wines, spanning from Welsh to Czech ice wines, and even includes Hodges' own Puglian red & white (bring the bottle back, and you can get it refilled for a tenner).
Details: 96 Westbridge Road, SW11 3PH | Book here
–
Elliot's | Borough & Hackney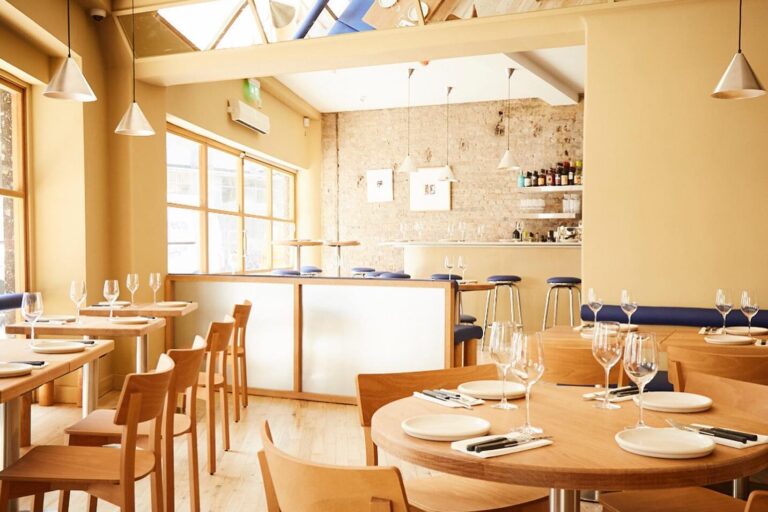 Elliot's is all about low-intervention. In fact, their original café is right opposite Borough Market, so that the produce they use in their dishes is as fresh as possible. They take a similar approach to their wine list, which is curated by Isabelle Legeron – a 'crusader for the natural wine movement' who founded the global RAW WINE festival series. If anyone knows their natural wines, it's her, and you can find her top picks on the menus at both the original Elliot's in Borough and its Hackney sibling.
Details: 12 Stoney Street, London SE1 9AD | 121-123 Mare St, London E8 4RH | Book here
–
Furanxo | Dalston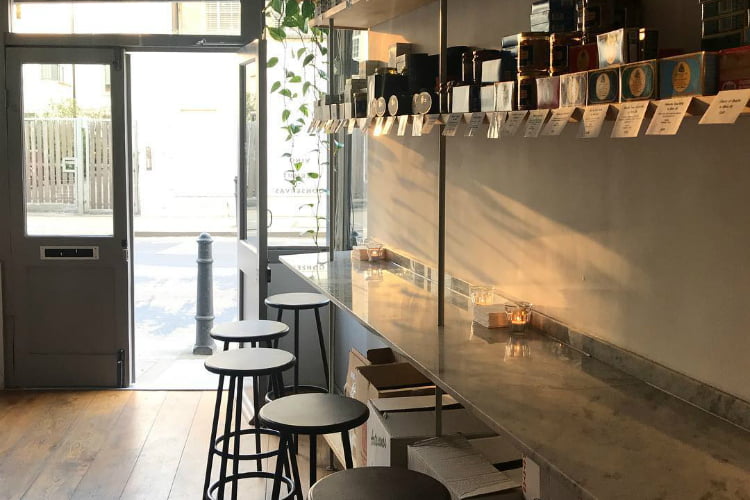 By day, it's an authentic Spanish bodega and deli, with legs of jamón dangling from the ceiling, jewel-coloured tins of canned sardines, and cheese imported directly from top-quality, small-scale producers in Spain. But when trading hours are over, the place becomes a candlelit natural wine & tapas bar. Pull up a stool to the marble counters and try out their favourites by the glass, over dishes made with the best ingredients in store that day.
Details: 85 Dalston Lane, London E8 2NG | No bookings
–
Next Door Records | Shepherd's Bush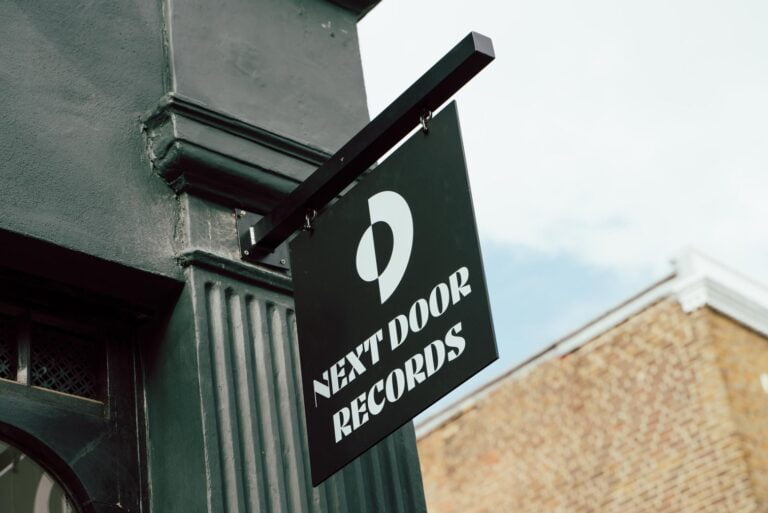 A hip West London hangout that does a roaring trade in the holy trinity of Good Stuff: coffee, vinyl, and natural wines. Swing by in the day to pick up a record or a bottle of something nice, stay in the evening to lap up the guest DJs, live gigs and candlelit wine-swilling. Keep an eye out for their supperclub takeovers, and events like quiz night where a bottle of pet nat is only the second place prize…
Details: 304 Uxbridge Rd, London W12 7LJ | Book here
–
Newcomer Wines | Hackney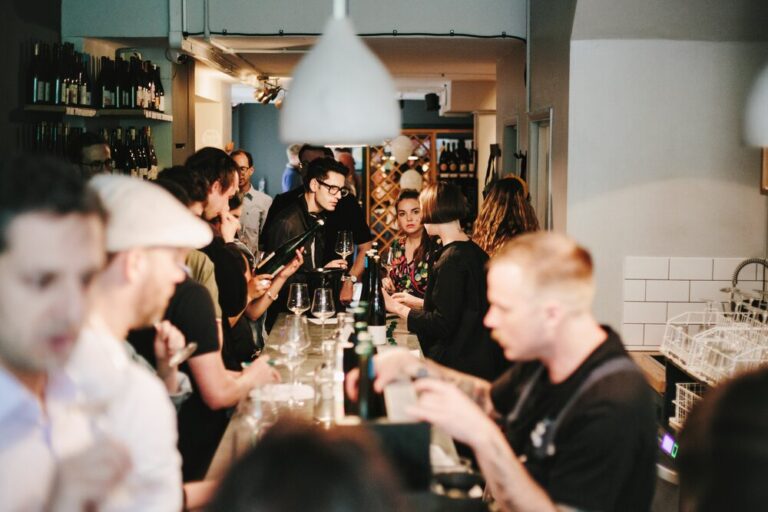 Wien is a great place for wine. And if you can't get there, then Newcomer Wines is the next best thing, with a selection focussed on Austrian grape-hooch. What is that, exactly? Well, mostly some nice dry whites, but the offering's rounded out with their picks from further afield, plus a curated French collection by Kiffe My Wines. There's an ever-changing selection available by the glass each day – prop up the chrome-topped bar if you want to pick their brains, or take a pew in their back garden for the perfect post-work wind-down spot.
Details: 5 Dalston Lane, E8 3DF | No bookings
–
Highbury Library | Highbury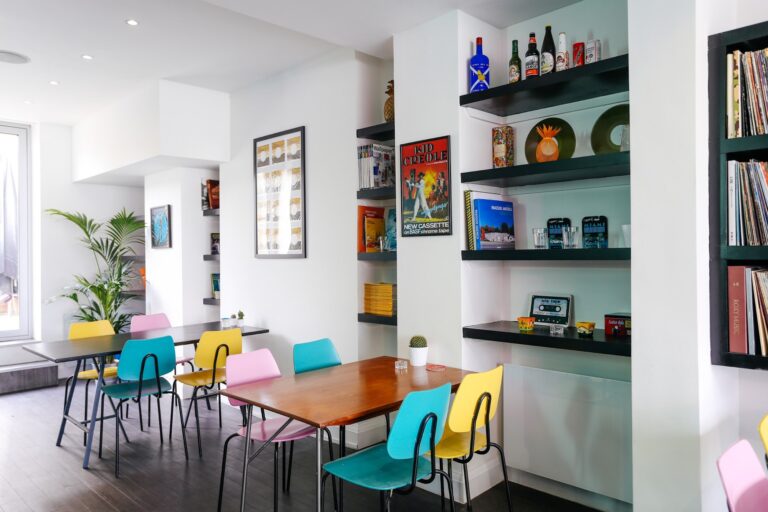 Offering all the wackiness of natural wine and none of the pretentiousness, Highbury Library is a laid-back, pared-back natural wine and craft beer bar right by the Emirates Stadium. This not only makes it a handy spot for a pre-match bev, but also a useful nightcap spot when you've hit one of Islington's excellent restaurants and feel in urgent need of a skin-contact Sauvignon Blanc accompanied by a vinyl soundtrack. Which is often.
Details: 66a Drayton Park, London, N5 1ND | Book via [email protected]
–
Carousel | Fitzrovia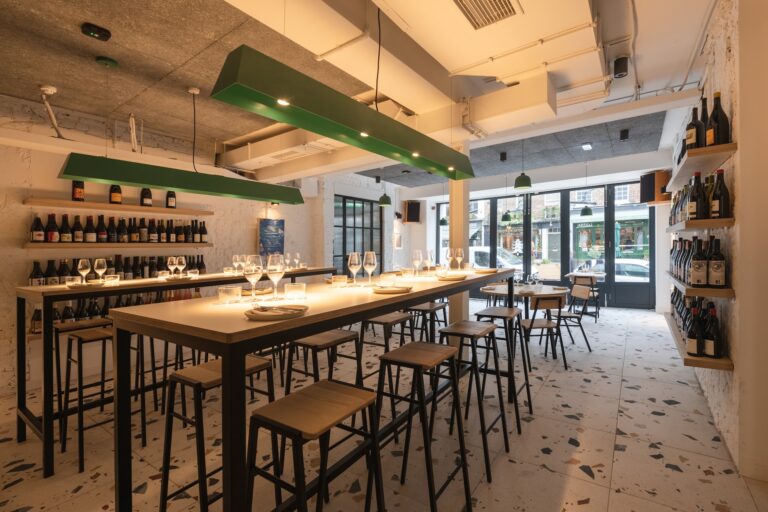 Carousel's known for bringing in a different wünderchef from around the world each week. But as part of their move to bigger digs in Fitzrovia, they've also unveiled a more permanent side to the operation. The wine bar here is a relaxed, open space with whitewashed brick walls, terrazzo flooring and some real flattering lighting. The walls are lined with over 100 bottles of low-intervention wine, with Carousel's restaurant manager (and natural wine buff) Gigi Isola on hand to help you make good choices. Chef and co-owner Ollie Templeton is behind the menu of excellent sharing dishes, like steamed mussels with artichoke and samphire, or delica pumpkin with black trumpet mushroom and sage – all inspired by some of the greatest guest dishes that have passed through Carousel's doors over the years.
Details: 19-23 Charlotte Street, Fitzrovia, W1T 1RL | Book here
---
At this point, it seems prudent to take a look at the best places for cheese in London too…