We Googled "how to warm up a rooftop in winter."
Thousands of matches.
Luckily, the people behind these vertigo-inducing cold weather hangouts have all taken a slightly more forthright approach, cozying up their spots with the likes of open fire pits, heaters, blankets, greenhouses, and – most essentially – hot cocktails. So allow us to introduce…
…London's Best Winter Rooftops.
---
Boundary | Shoreditch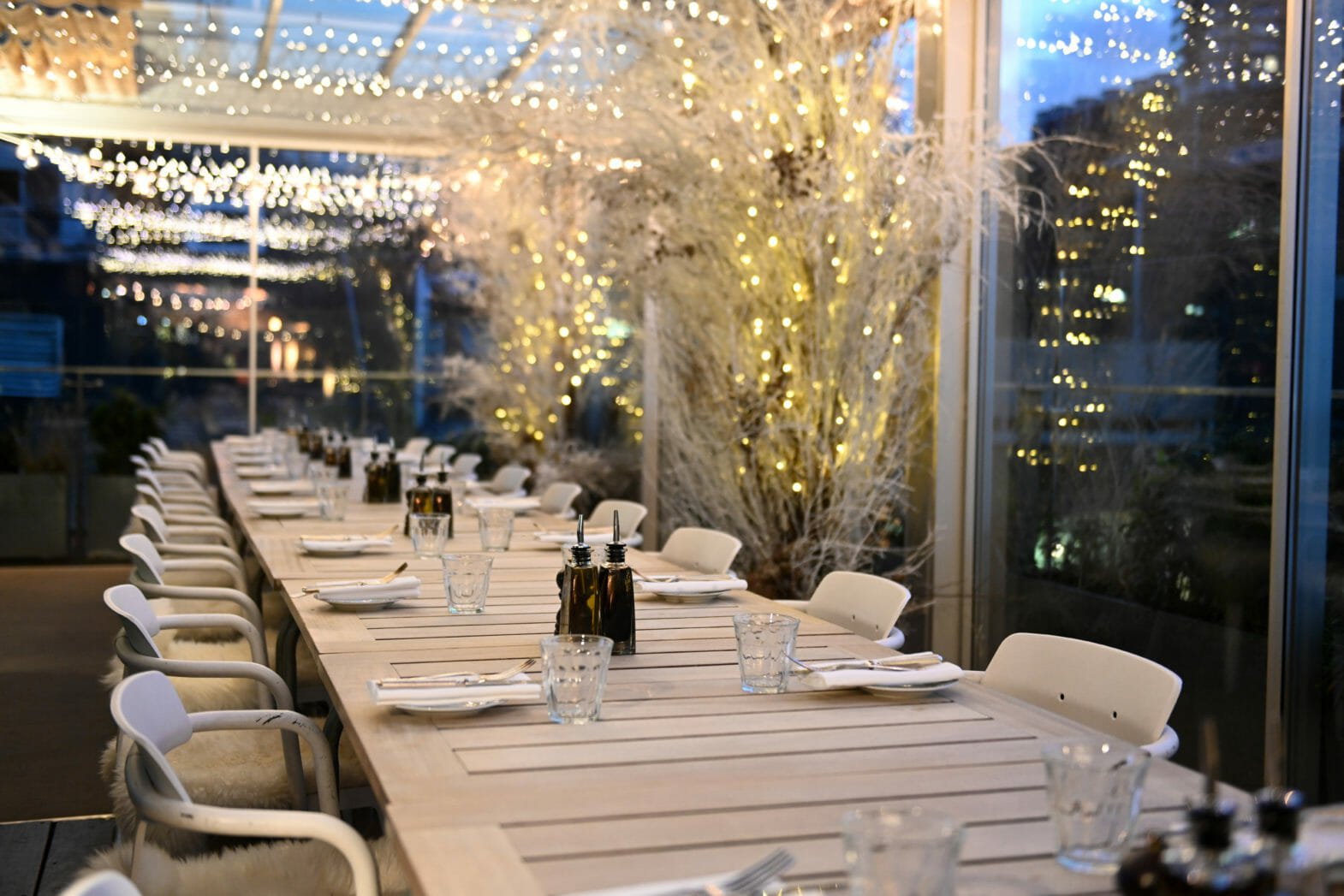 By day, Boundary's rooftop boasts a heated orangery filled with sparkly wintery trees, warming open-pit fireplaces and fur-lined seats, a menu of delicious grilled goods, and some wintry spiced cocktails to wash them all down. By night, it's the same, just darker.
Details: Open daily, 12pm-11pm |  2-4 Boundary St, E2 7DD
–
The Culpeper| Aldgate
The Culpeper's dinky terrace is easily one of London's best winter rooftops, with signature cocktails, a garden supplying herbal tinctures for said cocktails, a bespoke grill from the London Log Company, a view of the City's towering skyline, AND an intimate, 12 – 14 seater glass Greenhouse, for private dinners and lunches.
Details: Open all winter for private hire only | 40 Commercial Street, E1 6LP
–
Roof East | Stratford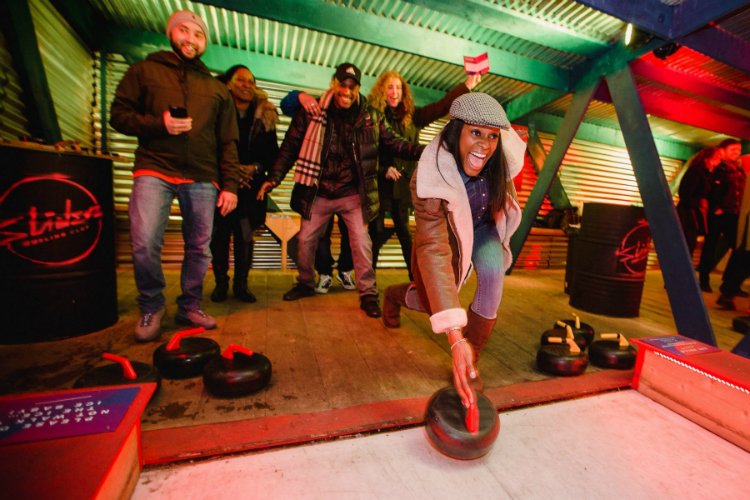 Stratford's car park-turned-rooftop bar has quite a bit going on, including six neon-lit curling lanes from the Sliders team; Birdies crazy golf; and virtual reality foosball… but they're also adding a wee little '90s arcade with Pac Man, Street Fighter II and Space Invaders. READ MORE
Details: Open Weds-Sat  | Floors 7 & 8, Stratford Multi-Storey Car Park, Great Eastern Way, E15 1XE | £50 for a team of four for 40 mins, book ahead HERE
–
The Trafalgar St. James | St James's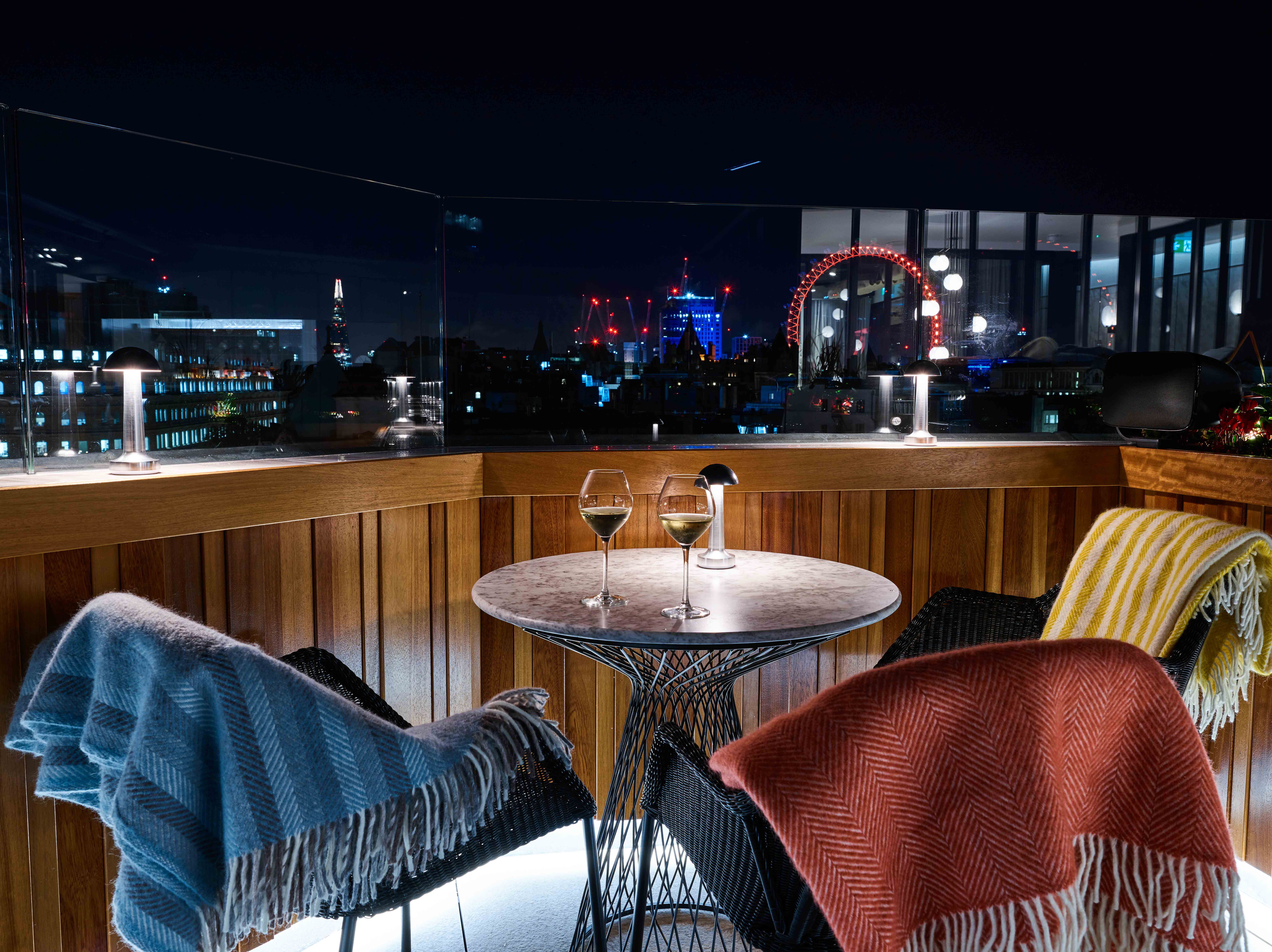 After a multi, multi-million pound facelift last year, The Trafalgar has added blankets and outdoor heaters to its rooftop space, so you can enjoy their cocktails, nibbles, and eye-level views of Admiral Nelson in comfort.
Details: Open Wed-Sun throughout winter | 2 Spring Gardens, Trafalgar Square, SW1A 2TS
–
Skylight | Wapping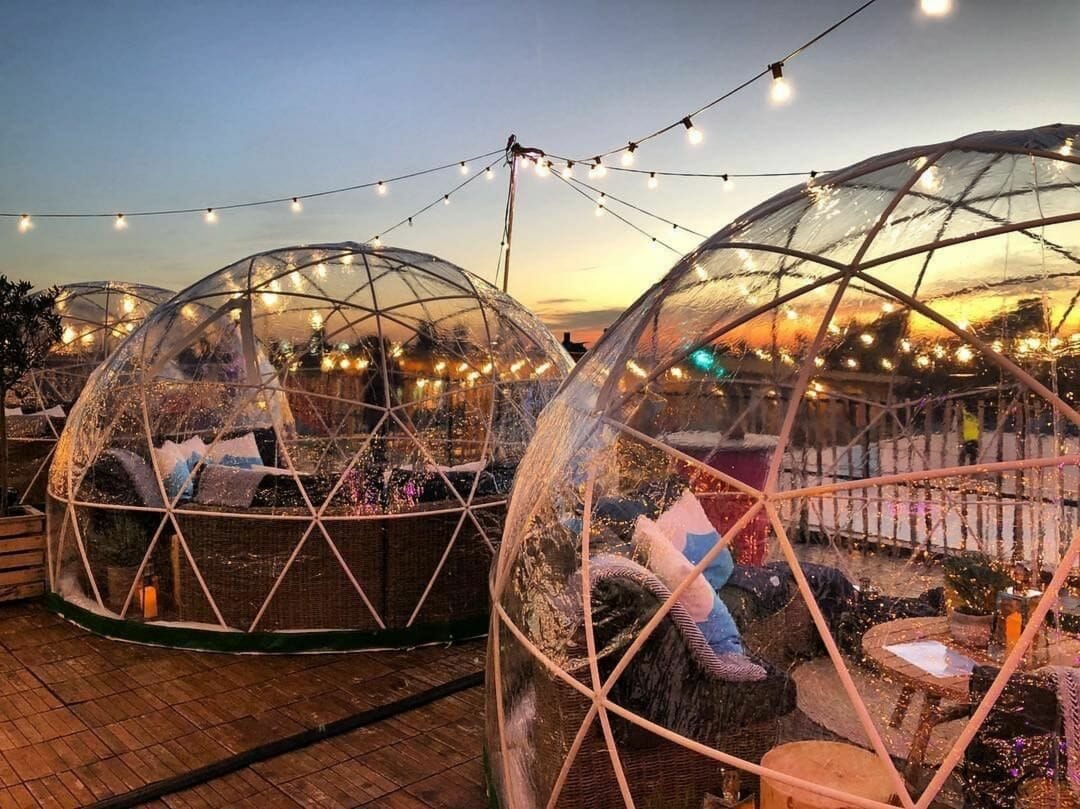 Skylight are taking things up a level once again.
Not literally, of course, seeing as they're already occupying a pretty covetable spot on a Wapping carpark rooftop with unobstructed views of London's finest stretches of skyline, but metaphorically – because they're once again adding "Europe's only rooftop ice rink" to their charms for their winter pop up, alongside raclette, hireable igloos, heated cabins, games of slap shot hockey, mulled wine and DJs… READ MORE
Details: Opens November 1st | Penning St. Car Park, Wapping Lane, E1W 2SF 
–
The Enchanted Woods at Madison | St. Paul's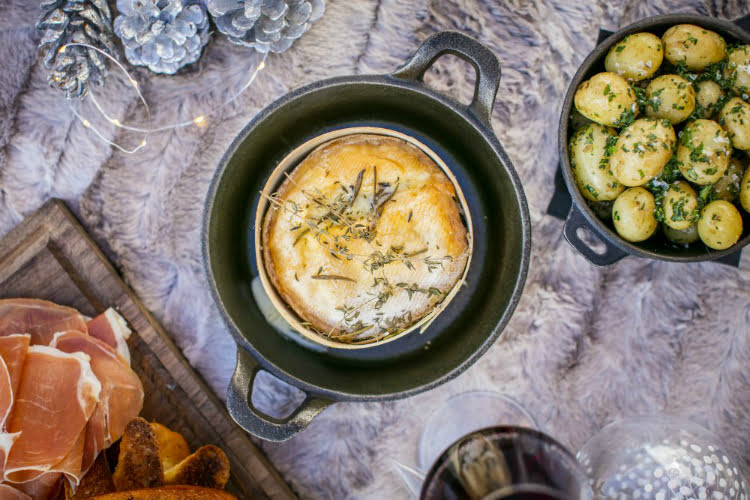 Madison have accessorised their rooftop views of St. Paul's Cathedral with individual mini-chalets, decked out with fur throws, blankets, cushions and hot water bottles. And that's not to mention the hot cocktails, Italian mulled wine, and food…
Details: Daily from 6th November – 31st December | Madison Restaurant, Rooftop Terrace, One New Change, EC4M 9AF
–
The Berkeley | Knightsbridge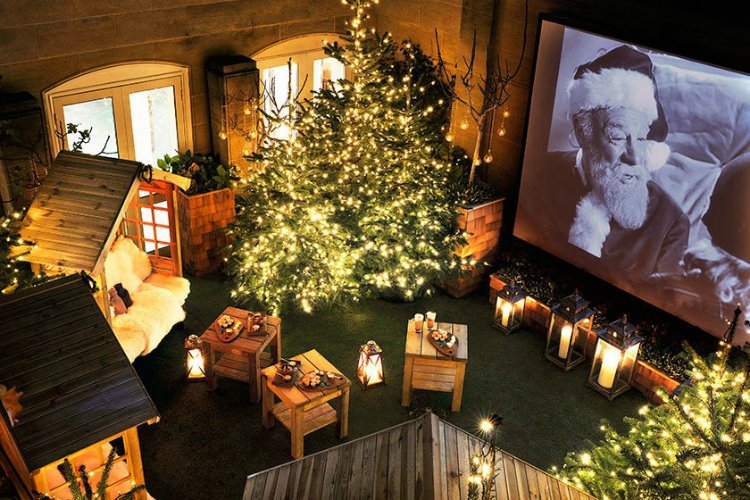 One to file under 'H' for 'Holy crap that's an expensive cinema ticket', The Berkeley will be housing a teeny tiny, six-person popup cinema on their roof for the cold season, showing Home Alone and The Holiday each night. Warming you up, they'll have the likes of truffle mac 'n' cheese, confit duck croquettes, fondue and mulled wine. All for a mere £95 a pop.
Details: Until early 2020 | The Berkeley, Wilton Place, London SW1X 7RL | £95
–
Pergola Paddington | Paddington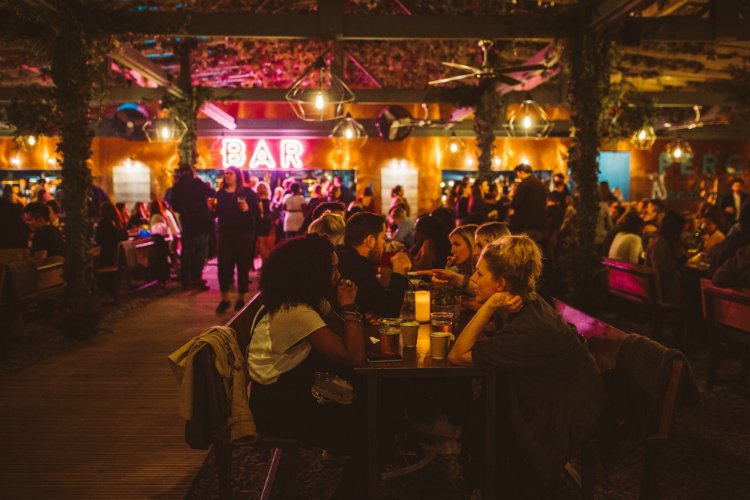 Prepping for the colder season, Pergola Paddington have totally winter-proofed their place, plugging in the heaters, slinging blankets over the chairs, and popping a transparent roof onto the whole thing. And that's just for starters. They've also added a "tunnel of stars" which you'll arrive in, some new tall trees, and a bunch of seasonal foliage. READ MORE
Details: Wed-Sun until 31st December | Free to reserve (for up to 199 people, technically…)
–
FEST | Camden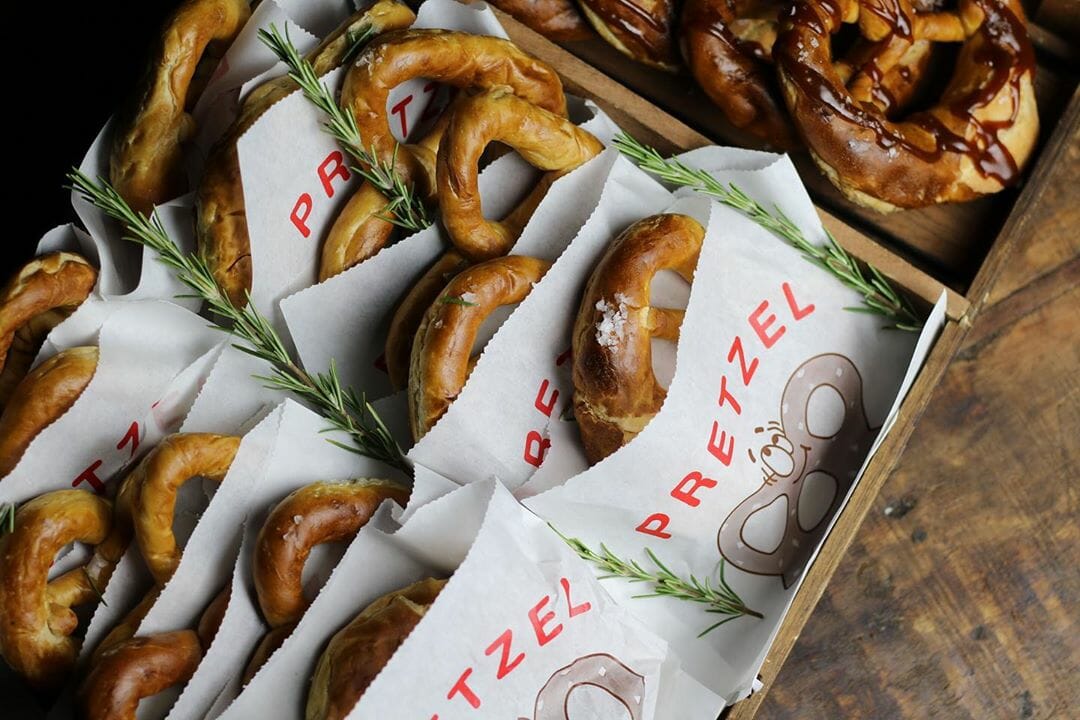 FEST have decided to turn their roof terrace into a Bavarian themed WinterFest, complete with all the traditional Teutonic trimmings, including pretzels, BBQ schnitzels, Munch-style beers, and a pop up cinema.
Details: Open daily noon-late | Stables Market, Chalk Farm Road, NW1 8AH
–
Midnight Apothecary | Rotherhithe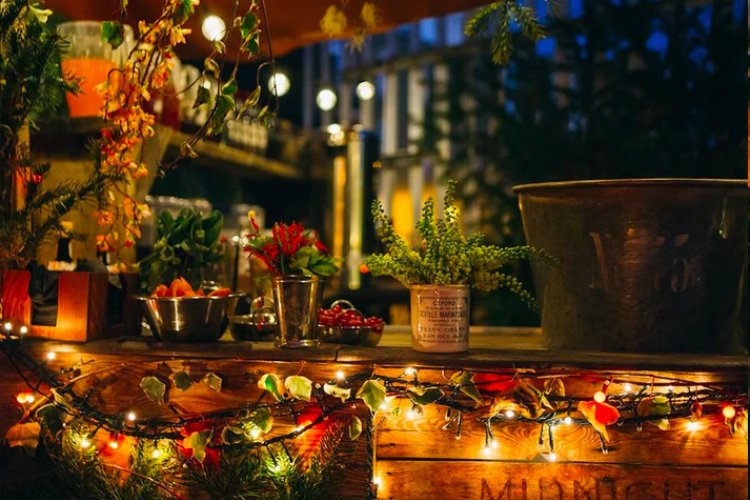 Why go to the Midnight Apothecary this festive season?
1) It's in the rooftop garden of the Brunel Museum
2) You get award-winning, warm botanical cocktails, with ingredients grown in the garden itself by 'The Cocktail Gardener'
3) You'll get a tour of The Grand Entrance Hall to Brunel's Thames Tunnel, which is an underground chamber half the size of Shakespeare's Globe
4) There's apple bobbing, fire pits, and a limitless supply of free marshmallows to toast on them
5) They've got several special winter events which are centrepieced around "the four Cs:  Cocktails, Cabaret, Campfires and Candlelight"
Details: Throughout winter | The Brunel Museum Rooftop Garden, Railway Avenue, SE16 4LF | £5
–

The Emerald City | Hoxton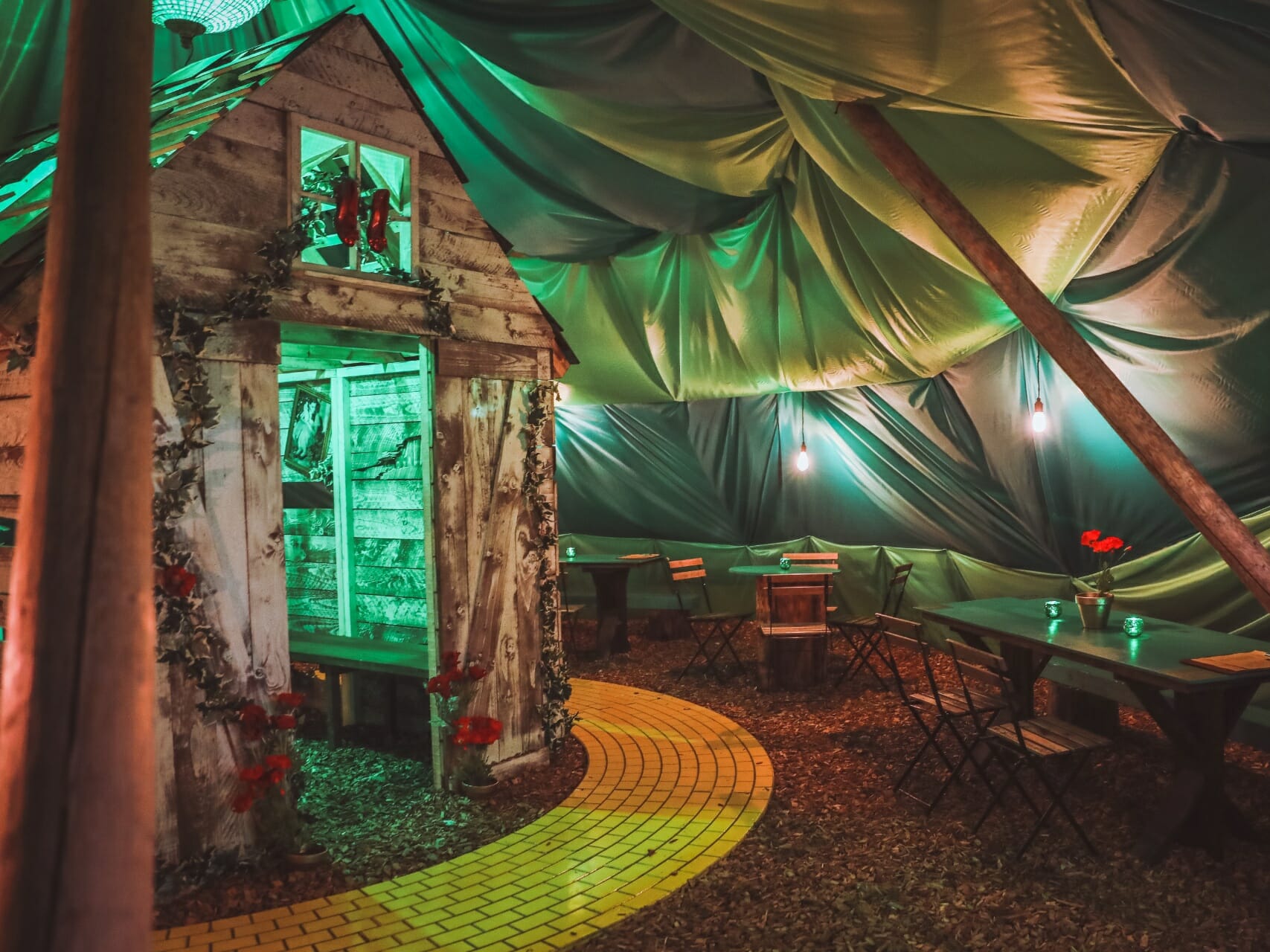 Another season, another mind-bending theme for the rooftop above the Queen of Hoxton. This time, it's going to transform into the Emerald City, named in honour of the Land of Oz's capital city, and home to the wizard.
You'll find it by heading up the Yellow Brick Road, before coming to the huge green den that is the WigWam. Inside, you'll find Kansas-style food, an emerald garden, a hidden bar serving green cocktails (and even green beer), and fire pits to toast marshmallows around…READ MORE
Details: Open daily from October 24th | Queen of Hoxton, 1 Curtain Road, EC2A 3JX
–
Lodge d'Argent | Bank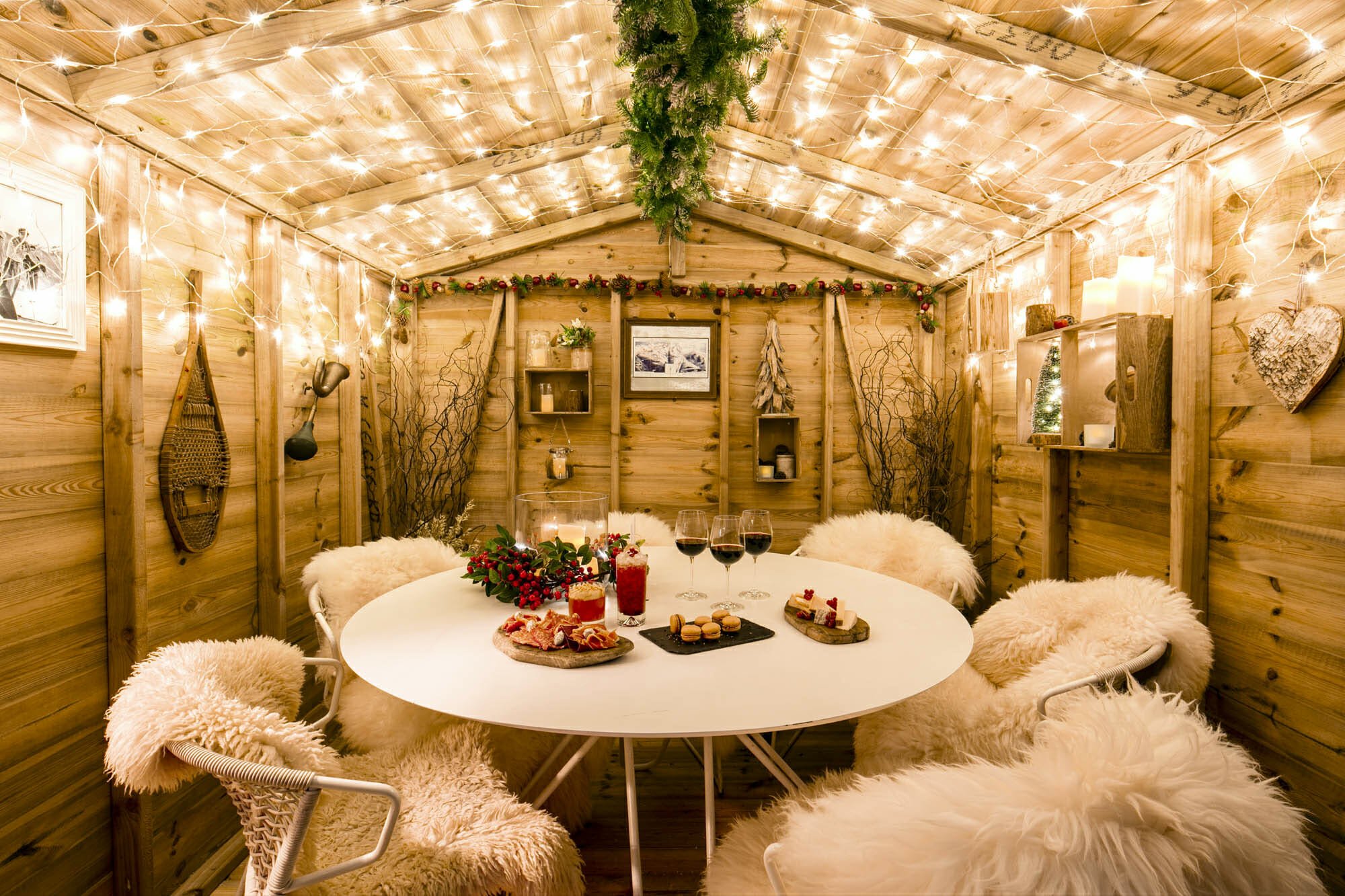 If you're looking for a rooftop spot in the city, this is one you can bank on. Coq d'Argent has kitted out its two rooftop chalets with faux furs, candles, cognac cocktails and a menu of après-ski fare, with baked cheese and Alpine charcuterie.
Details: Until 29th February | No. 1 Poultry, EC2R 8EJ | £250 min. spend
–
The B&H Garden Room | Covent Garden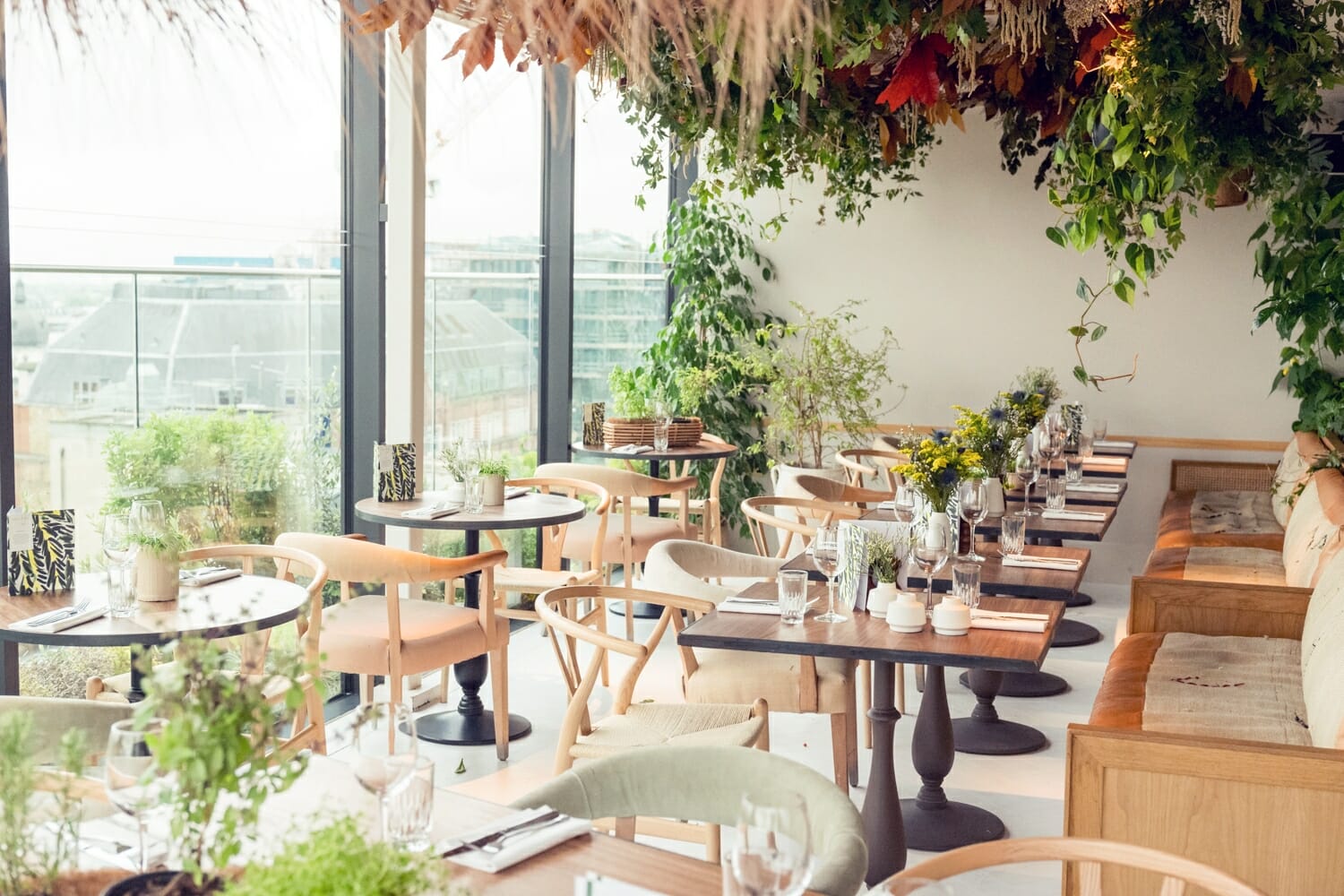 As autumn takes grip, the leaves turn brown, fall to the ground, and then find themselves transported up to the roof of the Assembly Hotel in Covent Garden to the B&H Garden Room, where they help to create a cozy, warming atmosphere. They're joined by herbs like sage, lavender and rosemary, all grown inside the Garden Room, and all of which are used to create toasty winter cocktails.
Details: Open daily | Queen of Hoxton, 1 Curtain Road, EC2A 3JX
–
Aviary | The City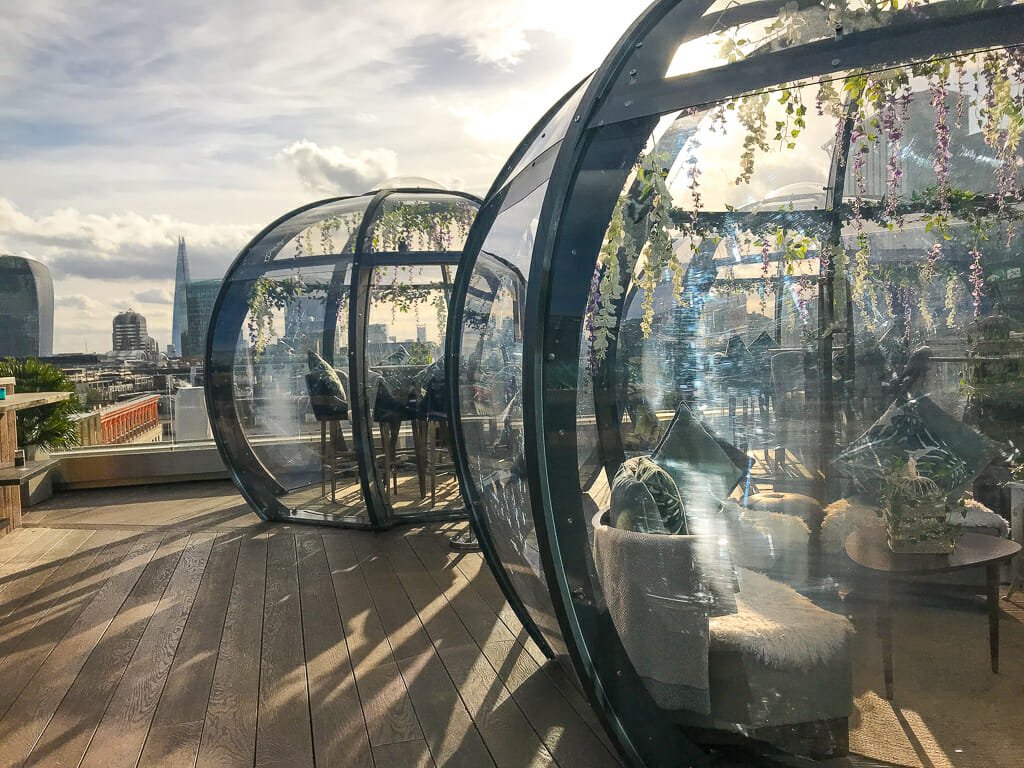 There are rooftops. And there are igloos. But very, very rarely do the two cross over. First, there was Skylight, and now there is Aviary too…
Details: Open Daily, igloos are bookable for 1.5hrs | 22-25 Finsbury Square, EC2A 1DX
–
Pergola Olympia | Olympia
Ingeniously avoiding the frosty winds that generally come as part and parcel of high-altitude winter rooftops, the latest in the Pergola family is completely sealed, with floor to ceiling glass windows and an all-glass roof allowing you to soak up the views in total warmth and comfort. Of course, the cocktails and street food don't hurt, either.
Details: Open Wed-Sun | Level Five Rooftop, Olympia Car Park, Olympia Way, W14 8UX
–
Netil 360 | Hackney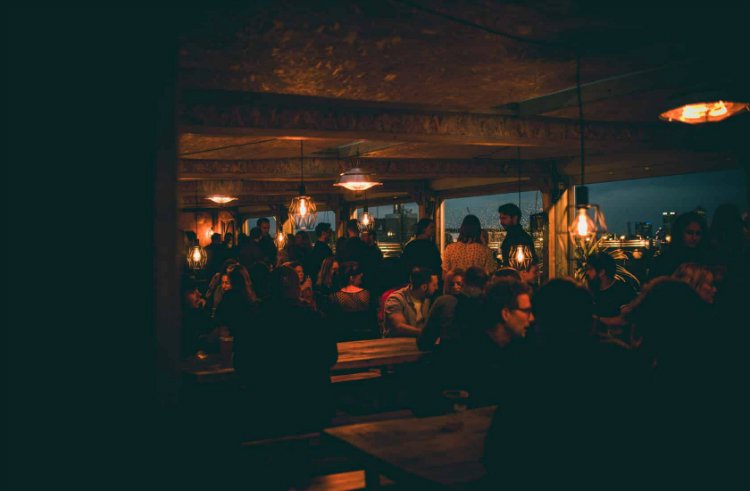 It's part workspace, part gallery, part cafe… but despite all their adorable attempts to get your attention, all you really care about here is the bar, and the fact that it's on the roof. It has a 360 degree view (who could have guessed?) across London Fields, and they're open until New Year's eve.
Details: Open on Fridays (5pm–2am) & Saturday (2pm–2am) | 1 Westgate Street, London Fields, E8 3RL
–
The Golden Bee | Shoreditch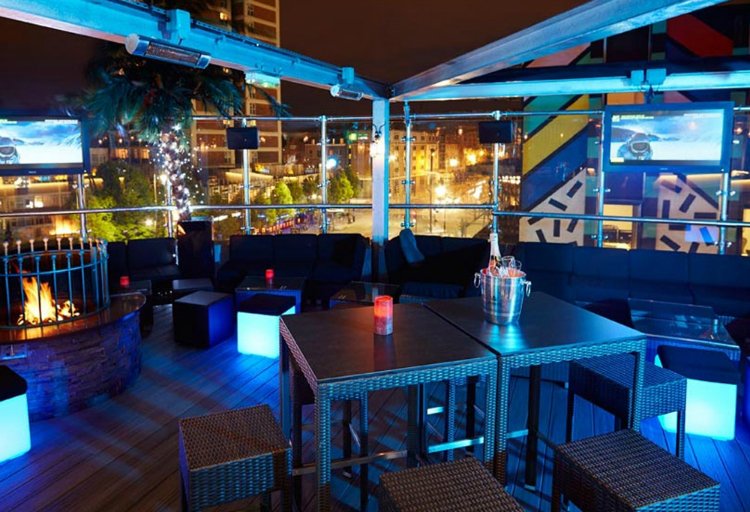 The Golden Bee gazes down over Shoreditch quite cozily, thanks to heaters, blankets, and a retractable roof in case of inclement weather. And just to add a cherry on top, they have speakers dotted all around the roof deck, so you can hear the DJ playing below.
Details:  Open Tues-Sat from 5pm (although they are occasionally booked for private hire) | Singer Street, EC1V 9DD
–
The Prince of Wales | Brixton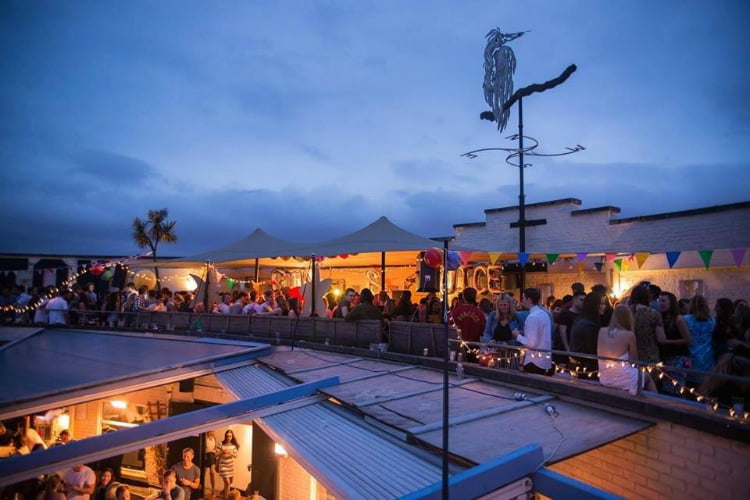 This Brixton stalwart has not one, but two roof terraces, and they hold regular events throughout the winter on both. This year, you can watch the Lambeth Fireworks Display from either one of them (they'll be heated, FYI), along with some fire dancers…
Details: Events throughout winter | 467-469 Brixton Road, SW9 8HH
Last Updated: 4th December 2019 | Main image: Boundary
---
Suffer from vertigo? Then head to these (mostly) land-based winter pop ups.