Provisions Wine & Cheese opened its doors on Holloway Road back in 2015, leading the vanguard of what was about to become a serious revival of fancy delis & pantry shops across the city. After the rollercoaster that the pandemic dragged the London hospitality scene along for two years, Provisions has expanded to Hackney — and things are finally getting back to normal at the Holloway Rd store, where the team are now keeping the doors open after hours as the shop transforms into a wine bar.
We caught up with founder and wine buff Hugo Meyer Esquerré about Islington, how the area has changed, and the immense pleasure of drinking a barrel aged Macabeu…
–
What were you hoping to create when you first opened Provisions? What was the dream?
The dream was to start a business where I could do exactly what I loved in life: visiting winemakers, cheesemakers and other artisans, bringing their products to the UK and introducing them to the public. I wanted to create a bridge between the producers and consumers. Also to make cheese and wine affordable for everyone.
How do you choose what goes on your shelves?
Taste and the way something's made is what matters the most. Something that doesn't taste good will never make its way onto our shelves. Similarly, we only select products that are made either organically or in small scale with little or no chemicals. We also want to get on with the person/people making the product(s).  If we don't feel connected with a winemaker for instance, there's no chance we'll start importing their wines. After that comes the packaging – the less plastic used the better, and if it looks good that's definitely a plus. Finally, there's the price. In the same way that people look to us to provide excellent value for money, we feel the same.
What are two of the best products you're stocking currently?
This summer we're stocking a fantastic Petillant Naturel (a natural sparkling wine that does its second fermentation in the bottle) from a great winemaker, and now friend,  Yves Duport in Bugey, an hour east of Lyon. It is a rosé sparkling wine made of 100% Mondeuse  – a grape variety that you often find in neighbouring Savoie. It's fresh, lively, bursting with red fruits and watermelon on the nose and it's an excellent outdoor /picnic companion.
Speaking of which, we also curate a picnic hamper that's available both in our shop and online. It's full of everything from hummus to saucisson. Perfect for a small group.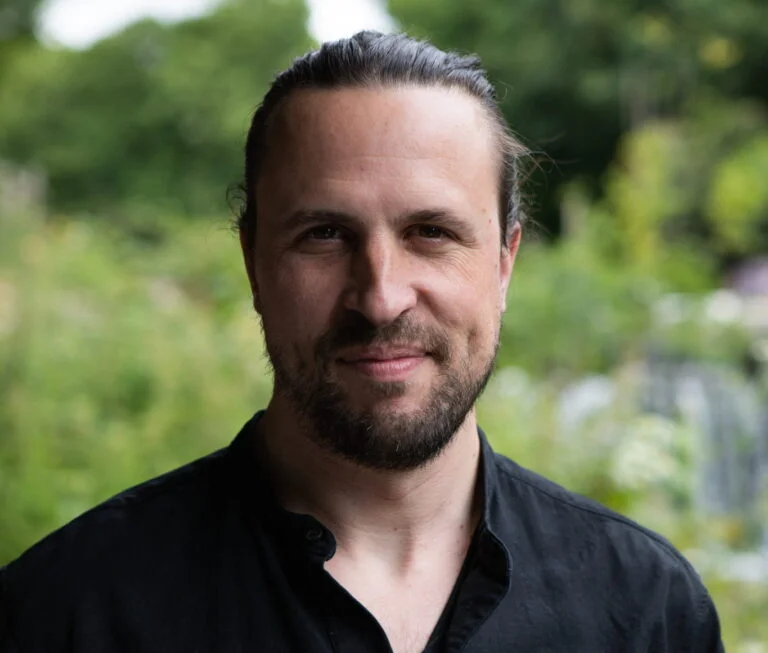 Hugo Meyer Esquerré
What do you want people to feel when they walk into the shop? 
Providing an excellent service is really important to us. Since day one, we've wanted to make people feel welcome and at ease with the products. We have a large central table right in the middle so that people can stand around and get as close to the products as possible – most of our food for instance is available to taste. It's important to us to make people feel like they can learn about a product, as well as the person/people that make it and the place it comes from.
What made you choose Holloway Road as a location, and how has the neighbourhood changed since you first opened in 2015?
When we visited the site back in 2015 with my ex business partner (we split in 2020), Holloway Road was different to what it is today. Despite it being quite a gamble, this parade where Provisions now sits feels like the perfect location. Holloway still has some edge, but a lot of cool restaurants have opened since – places that focus on quality and which celebrate good products. We're very lucky to be surrounded by such quality-driven businesses.
What's your favourite thing about working where you do?
People are really pleasant to talk to – they're engaging, knowledgeable and always happy to have a chat. A lot of people here have lived in the neighbourhood for some time and were really welcoming when we first opened. Since then we've seen a lot of new people moving in, people that are also very curious and always supporting to us for doing what we do.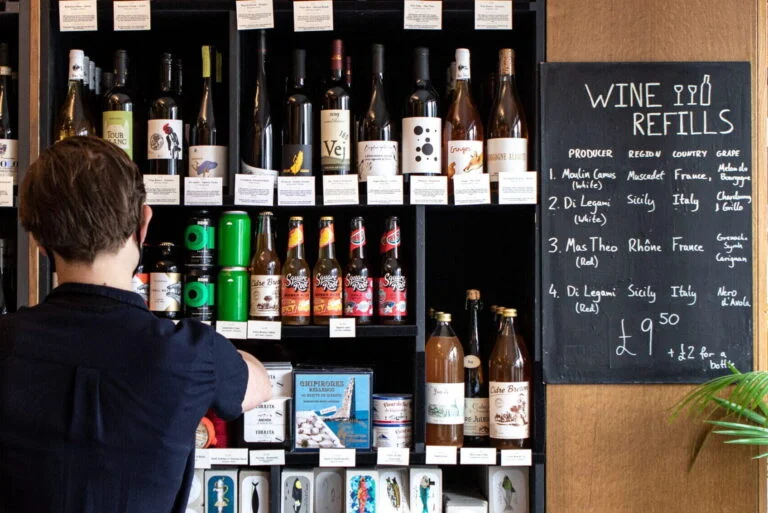 If you were going to grab a drink locally where would you go?
I'd go to The Lamb for a cold pint.
Favourite local restaurant?
I'll go for my top five: Peche Mignon for breakfast; Trullo for lunch (especially for their pasta); Sambal Shiok or Westerns Laundry for dinner; and for a Sunday roast, I'd go to The Drapers Arms. It's a really lovely pub where the sourcing of the ingredients and wine is very on point.
Obviously the past couple of years have been incredibly difficult – for everyone really – how did the pandemic effect Provisions?
As we are both a retail and a wholesale business (we sell both our food and wine to the public but also to restaurants and bars), the time when everything closed down in full was very difficult for us as we lost a considerable part of our revenue. On the other hand, we got very busy in our shop and online. We created our website within a few days of the pandemic starting and, even though this was a real challenge, it really kept the team together. There was a real sense of family within our team. It also felt good to be bringing a sense of joy to the community, and the support we received in return was incredible. It taught us a lot of valuable lessons and the positive stuff still exists today.

How does it feel to be back?
It feels great, we have a lot of exciting projects coming up this year. We've missed having people in the shop – being able to come close to us and to taste and talk to us without a mask. Now that that all seems to be over, we can focus on reconnecting with the community normally.
Can you tell us a little more about the wine tastings? Why would someone choose you guys over somewhere else?
Our wine tastings take place at the shops, run by our most competent of staff. They're focused on the wines we import ourselves, so exclusively organic, biodynamic and natural wines. And ones that we love. The wine tastings are really part of the ethos of the company which is based on sharing our knowledge, and giving confidence to people when it comes to understanding what they like and how to express it within their own words.
If you could only drink one wine for the rest of your life, what would it be?
I'm not too sure as the beauty of wine is really how diverse every one of them is and how different they can taste depending on if it's sunny or rainy, or whether you pair it with a creamy pasta dish or a spicy salad. I often get the immense pleasure of drinking some barrel aged Macabeu from Roussilon in the South of France however, which, especially when planted on schist soil, has such a freshness and energy to it that it can be really moving.
---
Like natural wine? We've put together a list of our favourite natural wine bars here.