The Insiders' Guide To Nova Food, Victoria
At long last, we finally know what Victoria's secret is….
But these days it is – despite being an exceptionally well kept destination – not the best kept secret.
And for good reason, because when you're single-handedly responsible for transforming the former no man's land between Victoria station and Buckingham Palace into what is now a straight-up-must-visit foodie destination, the cat doesn't stay in the bag for long. Also let's be honest: it's pretty tough to keep a huge new drinking, dining and residential destination hidden inside an architectural showstopper of steel & glass in London.
So allow us to take you on a brief culinary tour of Nova Food – THE ONLY place to peruse the next time you're in Victoria and in need of breakfast pizza, a wine tasting bar, and cocktails on tap…

Aussie brunch spots.
They're far from going under.
And while the thirst for all things Aussie continues, Timmy's at the top. The naughty little brother of Daisy and Beany Green, this antipodean spot serves vodka-spiked smoothies and a sumptuous brunch till 3pm, 7 days a week. Which gives you plenty of opportunities to sample their avocado and labneh on charcoal bread, french toast with coconut and bee pollen, or broccoli and corn fritters with back bacon – before the Josper grill takes over for the evening, smoking up chicken, burgers, and market fish… READ MORE
Details: Open 7.30am-11pm weekdays, Sat 8am-11pm, Sun 9am-10pm | Timmy Green, Nova Food, 11 Sir Simon Milton Square, SW1E 5DJ | Good for: 6 hour brunches | £££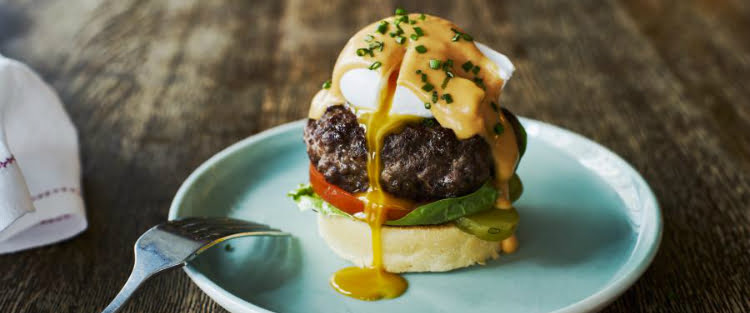 All hail the eggs burgerdict. If you think the name's a mouthful, wait till you try the dish – a new brunch invention at the Rail House Café, Nova Victoria's sibling to Soho's Riding House Café and Bermondsey's Village East. And you'll want to, considering it's accompanied by plush, bohemian-style furnishings, salvaged architectural finds, and an al fresco bar – at which they serve cocktails knocked together with anything from matcha tea and smoked sea salt, to quince liqueur and wood bitters…
They're truly branching out.  READ MORE
Details: Open from 8am/9am weekends – 9.30pm (10.30pm Mon, Tues and Sat, no dinner service Sundays) | Rail House Café, Nova Food, 11 Sir Simon Milton Square, SW1E 5DJ | Good for: Pre-Hamilton al fresco cocktails | £££
–
---
Mmmm, Doughnuts…
---
–

Translating as Have you eaten? in Italian, Hai Cenato is the latest London resto from the prodigious Jason Atherton (also behind Pollen St. Social and Social Eating House). It's a little slice of Italy-via-New York – a detour worth making when it results in wood-fired pizzas, creamy risottos, and a secret, train-carriage style bar serving cocktails on tap – as, happily, it does here… READ MORE
Details: Open noon-10.30pm (from 11am weekends) | Hai Cenato, Nova Food, 2 Sir Simon Milton Square, SW1E 5DJ | Good for: Spritzers and breakfast pizza | £££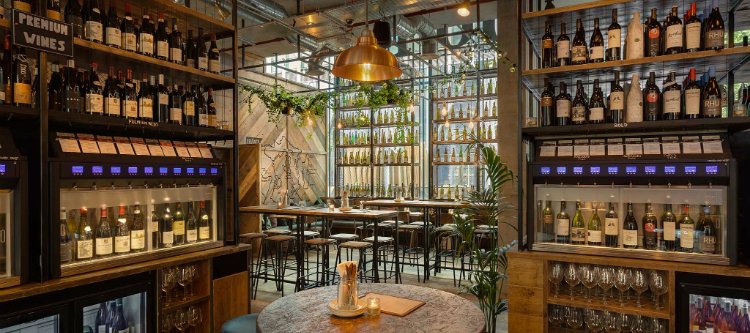 Vagabond have a noble, admirable mission – to find your wine soulmate. Their Nova Victoria spot is the largest of their six stores, with elbow room for 140, and 240 different wines on tap – which makes for a pretty good ratio. Upon arrival, you'll be able to charge a kind of magical wine oystercard with your tab, which you can then swipe at the futuristic tasting stations around the bar to access either samples or full glasses of whichever wines take your fancy. Unlike their other bars where the hooch is grouped by provenance, it's all done by taste profile here – plus there's 9 beers available, and sharing platters from the kitchen if you want to put a cork in it.
Details: Open daily 11am-late | Vagabond, Nova Food, 77 Buckingham Palace Road, SW1W 0AJ | Good for: First dates…and second, and third… | £ – £££££££

Sourced Market: luckily, they sell a lot more than just sauces. Specifically, their shelves are laden with artisan-produced charcuterie; cheese sold by weight; independent coffees and teas (which, of course, you can test on-site); a clutch of envy-inducing pantry goods; freshly baked bread and pastries; and a load of natural wines and craft beers. And you can try out a heft of them on the spot thanks to their kitchen – which, of course, serves a free-flowing prosecco brunch on weekends…
Details: Open 7am-10pm weekdays, 8am-9pm and 9am-6pm weekends | Sourced Market, Nova Food, 85 Buckingham Palace Road, SW1W 0AJ | Good for: Mooning over fancy produce | ££

With eight branches now under their belt, Bone Daddies have pretty much got their ramen formula down pat. Which, presumably, is why they've decided to make their lives more difficult by adding maki rolls and piping hot katsu curries to their Victoria menu – which, by some weird, scientifically inexplicable coincidence, is about to make your life much better…
Details: Open from noon daily (weekday breaks in service 3-5.30pm) | Bone Daddies, Nova Food, 9 Sir Milton Square, SW1 5DJ | Good for: Gorging on Japanese comfort food | £££ 

Technically, everything in Ole & Steen is a Danish pastry. One of Denmark's preeminent exports, the airy, marble-clad café and bakery is one of their largest in London, and serves up pastries, granola, cakes, open rye sandwiches, foccacia, cakes, salads, cakes and cakes.
Details: Open 7.30am-9.30pm weekdays, from 9-10pm Sat, 9-9pm Sun | Ole & Steen, Nova Food, 1 Sir Simon Milton Square, SW1E 5DJ | Good for: A 3pm pick-me-up | ££
If a picture says 1000 words, it could take you a while to get through the 143-strong pictorial menu here. But if you do, you'll be rewarded with dishes like grilled avocado with ponzu and wasabi; scallops ceviche and miso blackened cod gunkan; teriyaki duckhearts; and really quite a lot more. Buckle in, because this joint means business.
Details: Open 11am-11pm (10pm Sun & Mon) | Sticks 'n' Sushi, Nova Food, 3 Sir Milton Square, SW1E 5EB | Good for: Serious sushi | £££

Since opening in Soho back in 2015, this doughnut deli has since spread, er, right Crosstown. And nestled in the central square of Nova Food, you'll find a dinky, shiny pink pop up kiosk serving up possibly the world's most delicious doughnuts, in flavours including matcha tea, crème brûlée, peanut slab, chocolate truffle, mandarin and coconut, and far too many more.
Details: Open from 8am weekdays/10am weekends until sold out | Crosstown Doughnuts, Nova Food, 14 Sir Simon Milton Square, SW1E 5DJ | Good for: Complete and utter indulgence | £

Having spread like wildfire to 11 different countries around the world, it's basically impossible for Shake Shack to not be your favourite new burger place. But just in case, they still have frozen custard pots to convince you.
Details: Open daily from 11am-11pm (midnight Fri/Sat) | Shake Shack, Nova Food, 172 Victoria Street, SW1E 5LB | Good for: Grab and go comfort food | £

Serving lunches that are as easy on the eye as they go on the calories, Ahi Poke's the undisputed London monarch of the Hawaiian dish. Their bowls come both readymade and customisable, so you can order as much confit ginger, kimchee, burnt corn and coconut sweet potato as is necessary. Which, for research purposes, we found to be a lot.
Details: Open daily 11.30am-9pm | Ahi Poke, Nova Food, 11 Sir Simon Milton Square, SW1E 5DJ | Good for: Guilt-free speedy lunches | £

Featuring sleekly curving wooden banquettes, a huge feature wall of coloured glass and a striking geometrically tiled floor, there are worse places to indulge in a swarthy Sunday roast than Victoria's Stoke House. And those places definitely don't serve cheeseboards alongside espresso martinis to finish.
Details: Open from noon-11pm (9pm Sundays) | Stoke House, Nova Food, 81 Buckingham Palace Road, SW1W 0AJ | Good for: Cocktails after work | ££

Notes Coffee and Wine Bar are just being modest. Because besides having a fine selection of hand-picked wines and super smooth cups of joe thanks to their very own roastery, they can also provide you with daily stews, salads and sandwiches, pastries courtesy of Bread Ahead, home made jams and tarts, and cocktails with artisanally sourced cheese and meat boards in the evening. But, as we said, they're humble. Plus, that would be a really long sign.
Details: Open daily from 8am (10am weekends) | Notes, Nova Food, 10 Sir Simon Milton Square, SW1E 5DJ | Good for: Mellow evenings with wine | ££

Who says sports bars can't have neon lights suspended from the ceiling, zebras jutting out from behind the bar and a sharp line-up of champagne cocktails? Not Greenwood, that's for sure. Genre-defying, this two-tiered pub packs in industrial design touches, bottomless brunches and a lengthy drinks menu within its sweeping glass walls.
Details: Open daily 8am-midnight (from 9am weekends, till 11pm Sundays) | Greenwood, Nova Food, 170 Victoria Street, SW1E 5LB | Good for: Just about everything | ££

Franco Manca do pizza.
And boy, do they deliver.
Put together in a jiffy with toppings like Gloucester Old Spot sausage, roast potatoes and stilton, these pizzas are the definition of fail-safe comfort food. Which is good, because their tiramisu cannot be described in words.
Details: Open daily 11.30am – 10.30pm, 12-10pm Sundays | Franco Manca, Nova Food, 7 Sir Simon Milton Square, SW1E 5DJ | Good for: Classic, good value pizza | ££

Serving up everything from scrambled egg pots and peanut butter porridge to freshly dressed salads and grain pots, Pure is exactly the sort of place you want to find… this close to a branch of Crosstown Donuts.
Details: Open weekdays 7am-3pm | Pure, Nova Food, 4 Sir Simon Milton Square, SW1E 5DJ | Good for: A hot breakfast on the go | £
NOTE: You can learn more about the restaurants in the Nova Food, Victoria complex HERE…
---
Nova Food | 2 Sir Simon Milton Square, SW1E 5DJ