Populated by an eclectic mix of cuisines, Balham's hub – the triangular patch just north of the station – has some long-standing local gems. And after assiduously trying each and every one…
…we had a very long nap.
But then we collected ourselves, and wrote this: the Best Restaurants in Balham…
–
Generous starters, soul-lifting pasta and legendary waiters, who – in between chatting to the regulars – zip around tables serving crispy wood-fired pizzas topped with pancetta and gorgonzola, goat's cheese croquettes drizzled in honey, and choice picks from the regularly rotating, Italian-leaning wine list.
Details: 96 Bedford Hill, SW12 9HR | Open weekdays 5.30-11pm, weekends 12-11pm
–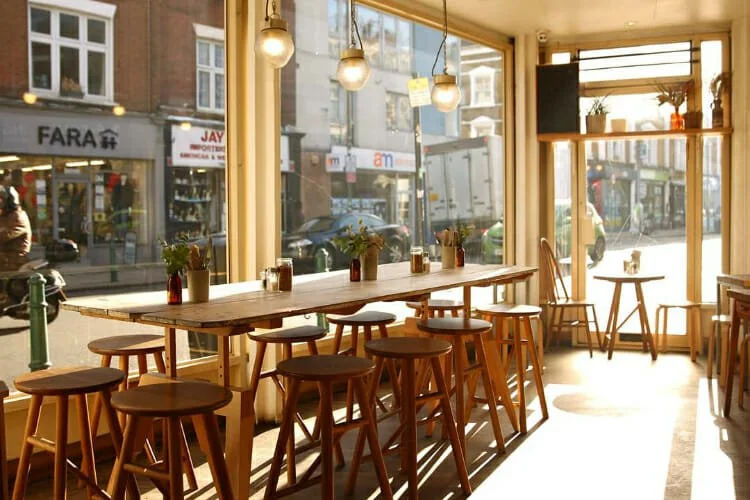 Milk does brunch. An event which – any local will know – requires fortitude, determination and resilience, given the hour-long queues that form outside every weekend. Weather the wait and you'll be rewarded with some of the best breakfast action in South London, running the gamut from Kurdish baked eggs with feta, squash and crispy sage to buckwheat pancakes with clementine leaf cream and burnt butter mille feuille. Don't write them off as just a morning spot, though – brunch is served till 5pm, and their candlelit dinners are just as glorious. READ MORE
Details: 18-20 Bedford Hill (entrance on Hildreth Street Market), SW12 9RG | Brunch: Mon-Sat 8am-5pm, Sun 9am-5pm | Dinner: Thurs-Sat 6.30-11pm
–
An excellent Nepalese spot that can count Michel "three Michelin Stars" Roux Jr. amongst its fans. The place is old-school smart, with pressed tablecloths and huge floor-to-ceiling windows – a suitably refined spot in which to sample the crowning glories of Himalayan cuisine, from lamb momo (steamed dumplings) to patina patre (bread with mint), pork cooked Eastern Nepalese-style, and spicy Khorshani chicken.
Details: 1 The Boulevard, Balham High Road, SW17 7BW | Open Tues-Sat 6-11.30pm, Sun 12-10.30pm
–
Last Updated: 9th December 2021 | Main image: Milk
---
Like dining locally? Try out The Best Restaurant In Every London Neighbourhood