When it comes to finding a good place to eat in SW1… you might feel all at 'sea. Which is where we hope to nimbly step in, because we've picked out the best Chelsea restaurants using a highly sophisticated and complex algorithmic method.
We're calling it 'eating'.
So here they are: the best restaurants in Chelsea…
–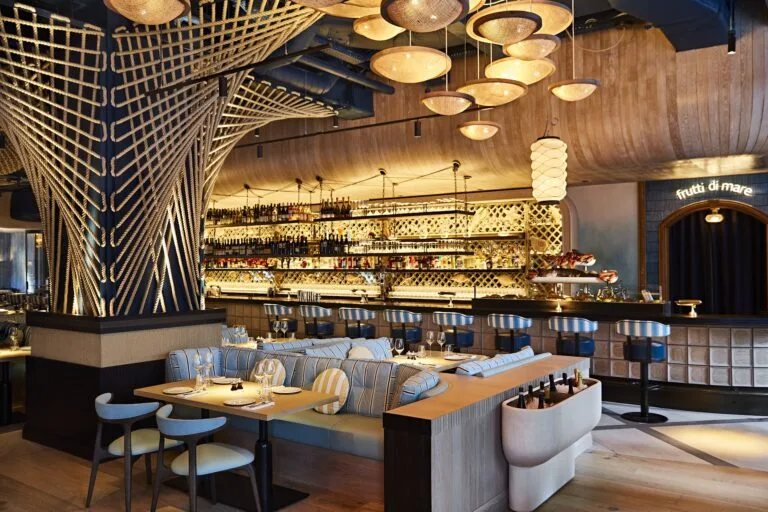 Azzurra feels like the Aqua Restaurant Group's answer to Big Mamma. The team behind glitzy London institutions like Aqua Shard and Aqua Kyoto have taken a leaf out of the Gloria design handbook for their new restaurant in Chelsea, a glamorous seafood spot inspired by the coastal cuisine of southern Italy and Sicily. There's eye-catching rope nets draped across the ceiling and a dramatic 16m long bar, but the food doesn't play second fiddle here: head chef Andrea Mura, a native Sicilian, has created a menu that's elegant but deeply satisfying.
Details: 127 – 128 Sloane Street, SW1X 9AS | Book here
–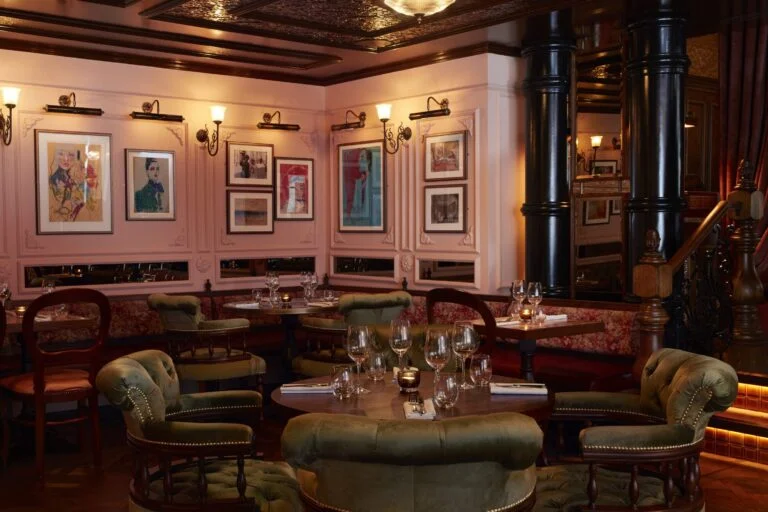 The Cadogan Arms is a transcendent pub, going toe-to-toe with other Chelsea restaurants in the food stakes where pub grub classics – like the pub itself – have been quite gloriously smartened-up. The menu features hand-raised pork pies with house pickles and oxford sauce; a cheeseburger marshalled by a Longhorn quarter-pounder patty; deluxe scotch eggs (flecked with black pudding); and a boozy blackberry trifle layered with vanilla cream, custard and a crispy almond crumble.
Details: 298 Kings Road, London SW3 5UG | Book here
–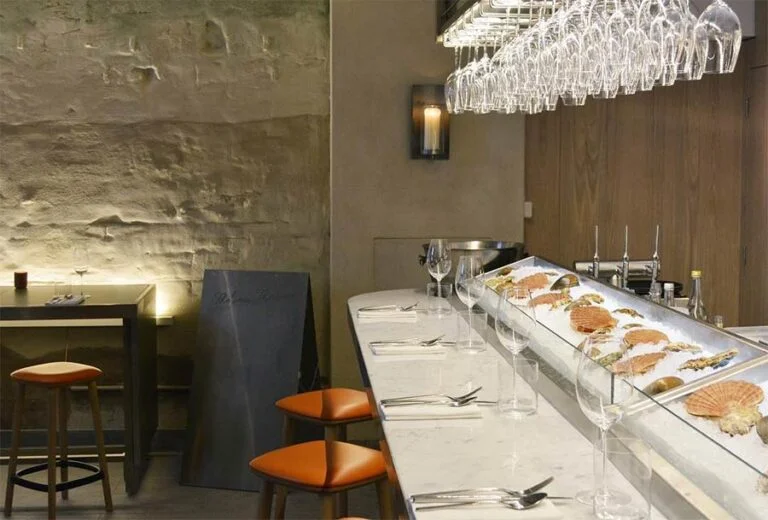 Tucked away on the village-like Pavilion Road mews behind Sloane Square, The Sea, The Sea is a fishmonger by day, but transforms into one of Chelsea's best restaurants by night. The intimate space is genuinely quite impressive, with a brick wall that's been made into something that actually evokes the sea itself. Oh, and the food is absolutely delicious too.
Details: 174 Pavilion Road, Chelsea, SW1X 0AW | Book here
–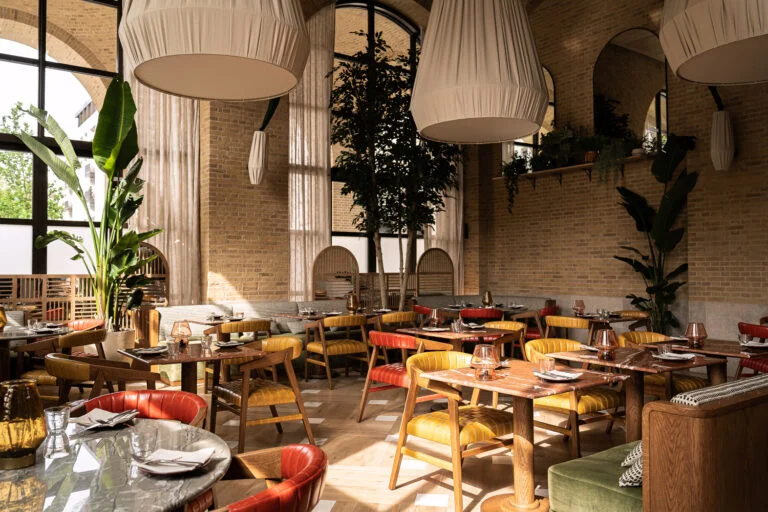 Terraza Martinez and Frankie Gallo Cha Cha are two of the absolute top restaurants in Barcelona. You should visit next time you go there. Or… save yourself the flight, and head to the group's first international opening in Chelsea Barracks. This hyped Catalan joint sits in a palatial, high-ceilinged space with a doozy of a terrace that looks out onto the Grade II-listed Garrison Chapel next door. And it goes without saying: the view looks even better with a glass of sherry and one of their paellas in front of you…
Details: Chelsea Barracks, 1 Garrison Square, SW1W 8BG | Book here
–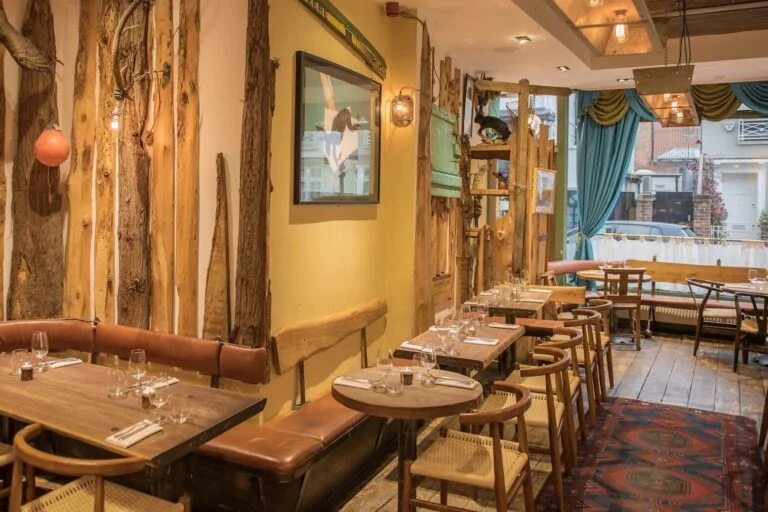 Set in what feels like an old, rustic barn, Rabbit is the follow-up to The Shed in Notting Hill (and pre-cursor to Soho's Sussex, Richmond's Fat Badger, and Wimbledon's Black Lamb). Like its siblings, it's run by the Gladwin brothers – who pull produce directly from their family farm to put together a daily changing menu of sharing plates, like veal twig with pineapple weed. You know, the usual.
Details: 172 Kings Road, SW3 4UP | Book here
–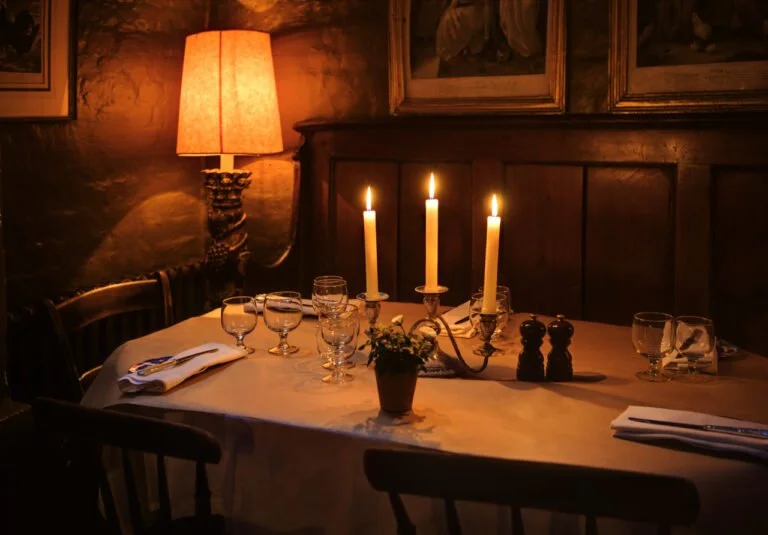 Without a doubt one of the most romantic restaurants in London, thanks to the French accent imbued in every square inch of the decor from the antique candelabras to the farmhouse tables and baskets of dried flowers cascading from the ceilings. As sister restaurant to Maggie Jones's, it features the same menu of rich French cooking and the same approach to wine – they'll top you up from a giant magnum, marking off how far down the bottle you get, and charge you by the volume you drank at the end.
Details: 231 Ebury St, SW1W 8UT | Book here
–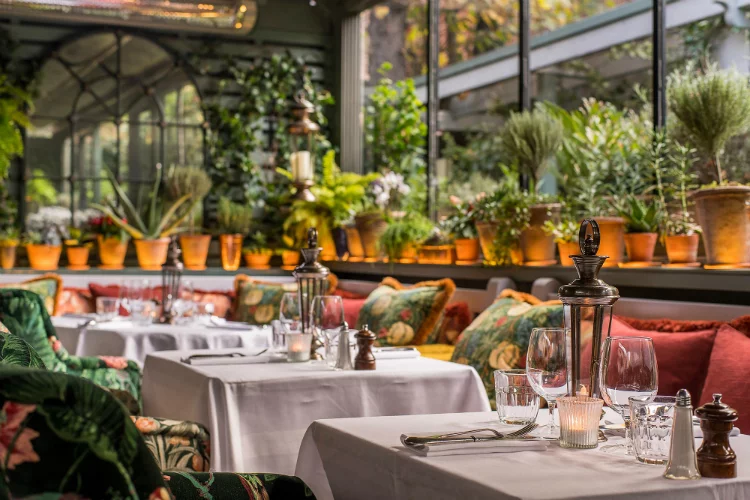 The Ivy Chelsea Garden does exactly what it says on the tin – it's in Chelsea; most of the tables are ensconced in a romantic secret garden filled with cascading greenery and tinkling fountains… and it's from The Ivy team, meaning that you can enjoy some stellar modern British comfort food and cocktails while you're there.
Details: 195 -197 King's Road, SW3 5EQ | Book here
–
An intimate courtyard tucked just off Sydney Street houses a secluded all-day dining spot (complete with a cosy, candlelit orangery for the colder months). The menu at Stanley's is a hit-list of crowd-pleasers, from Atlantic cod with Jerusalem artichoke and wild garlic emulsion to rich, smoky aubergine and a 500g cut of dry-aged Hereford rump. It's a setting that adapts seamlessly from lunch with the in-laws to a candle-lit date night, and the cocktails are fantastic to boot.
Details: 151 Sydney Street, London, SW3 6NT | Book here
–
You'll find this Chelsea restaurant & pub down a picturesque, pastel-coloured mews. It's a handsome 17th-Century boozer, owned by none other than James Blunt (he lived down the road from the pub when it was in danger of closing after nearly 170 years in business, and decided to take it over himself). He and his wife Sofia gave the place a little refresh with a lick of olive-coloured paint and a leafy conservatory filled with green leather booths and strings of festoon lighting. It's beautiful, it's true. Food-wise you can expect a mix of mostly British dishes, crafted with seasonal, locally-sourced ingredients, and for drinks it's, well, the usual… to put it bluntly.
Details:  1 Billing Road, Chelsea, London, SW10 9UJ | Book here
–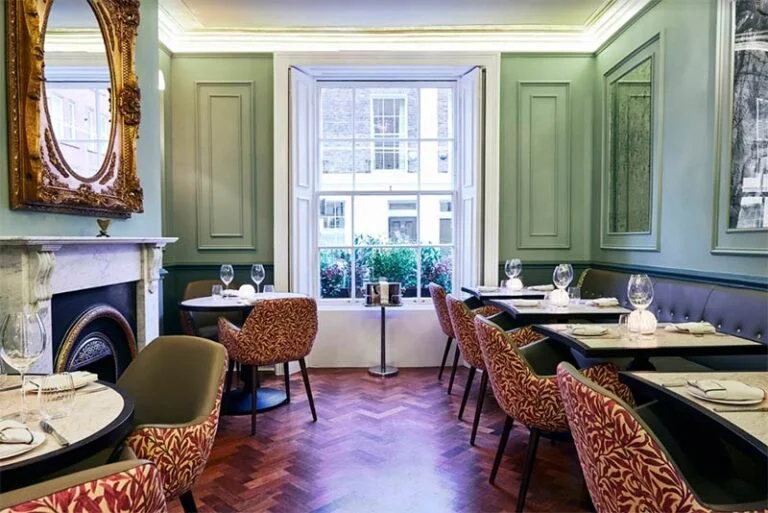 Set in a beautiful townhouse with parquet flooring, sage green walls and cosy booths separated by rippling glass, stepping into Kutir is like visiting the exquisite home of your good friend, lauded chef Rohit Ghai. It's a slight upgrade on the literal translation of Kutir: 'cottage'. Everything's a winner here, but star dishes include the 24-hour slow cooked lamb rogan josh with an offal 'cigar', and dumpling-like lobster bonda…
Details: 10 Lincoln Street, Chelsea, SW3 2TS | Book here
–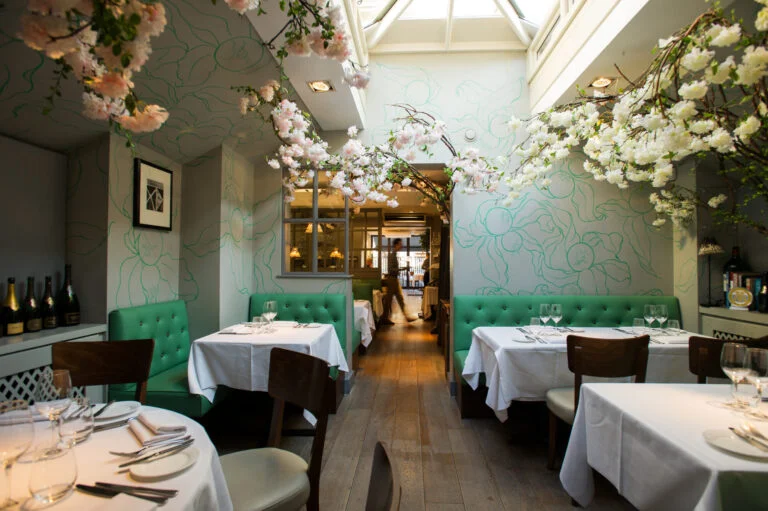 Shakespeare described the fruits of the medlar as "open-arsed".
Luckily, the fruits of the chef's labours at this Chelsea restaurant are much more appetising, where Franco-Anglo-European techniques are applied to fresh, seasonal ingredients. Expect dishes like suckling pork belly with 'wet' garlic; and sautéed gnocchi with salsify, Jerusalem artichoke and nasturtium, all served in an elegant dining room with pop art and boughs of cherry blossom overhead.
Details: 438 Kings Road, SW10 0LJ | Book here
–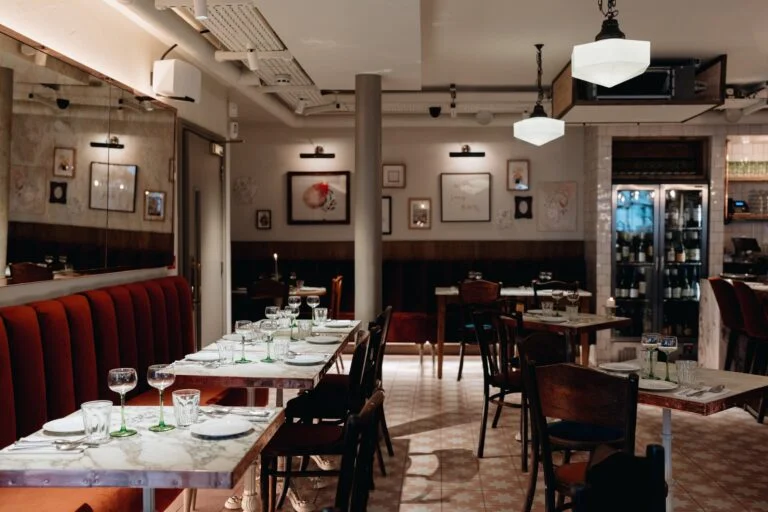 Chicama is Chelsea's own corner of Peru, serving up delicate and colourful Nikkei (Japanese-Peruvian) cuisine in equally colourful and elegant surroundings. Take a perch up at the marble dining counter overlooking the open kitchen, or settle in for a long lunch on their al fresco terrace, tucking into popped corn monkfish cheeks and sea bass ceviche.
Details: 383 King's Rd, London SW10 0LP | Book here
–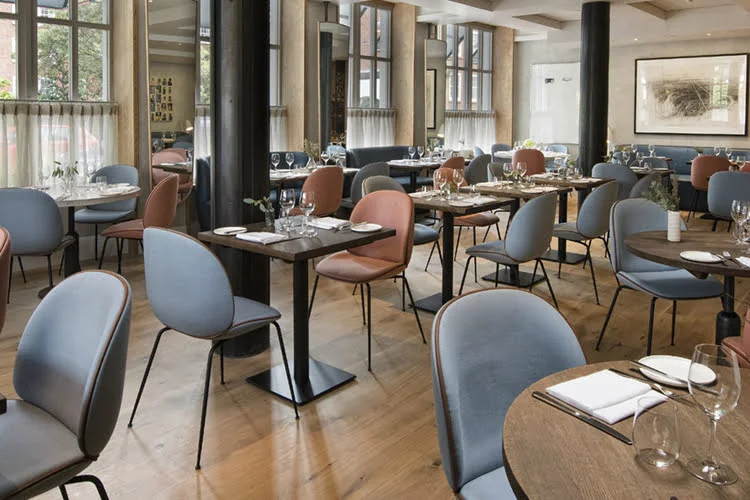 Supposedly Phil 'The Square' Howard's 'last hurrah' before retirement (though that didn't quite work out), Elystan Street is a relaxed Michelin star restaurant set in a soothing, dusky-toned dining room. The dishes are all meticulously arranged and presented, while ingredients appear in unusual guises – from pistachio couscous to melted trotter. And it's all delicious.
Details: 43 Elystan Street, SW3 3NT | Book here
–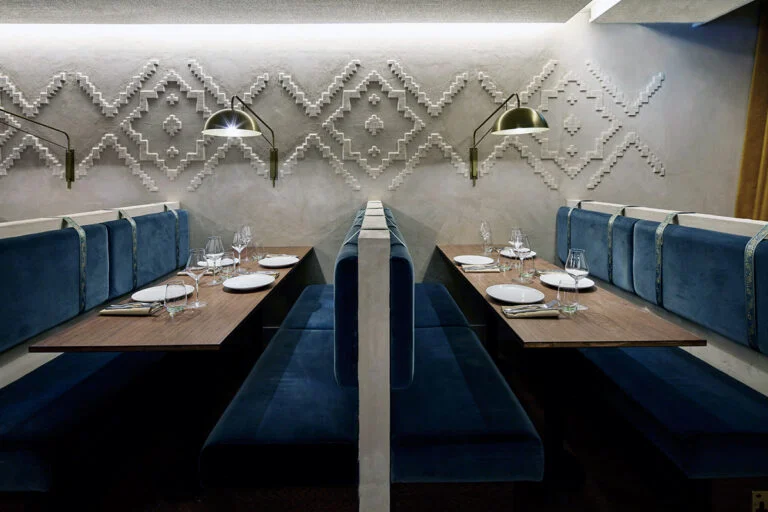 Kahani is the Hindi word for 'story'. And the story here is that chef Peter Joseph came to England from Chennai many years ago, went from sous to head chef at the Michelin-starred Tamarind; launched their casual spin-off, Tamarind Kitchen; and has now finally launched his own joint, where you can dine on Anglo-Indian fusion like Gressingham duck with tandoori broccoli, and smoked Malabar prawns with Keralan spice.
Details: 1 Wilbraham Place, SW1X 9AE | Book here

---
Like discovering great restaurants? Check out the best restaurant in every London neighbourhood