It must have come as a shock to many in 1851 when Britain decided that all time began in Greenwich. But lo, it was so – and SE10 became, in some ways at least, the centre of everything. Now a UNESCO World Heritage Site and a little window into London's past, it's a great place to visit for some good old English history. Time travel's exhausting work, though, so you'll want somewhere to stock up on slop. We've got you covered with this: a run-down of the best restaurants in Greenwich.
–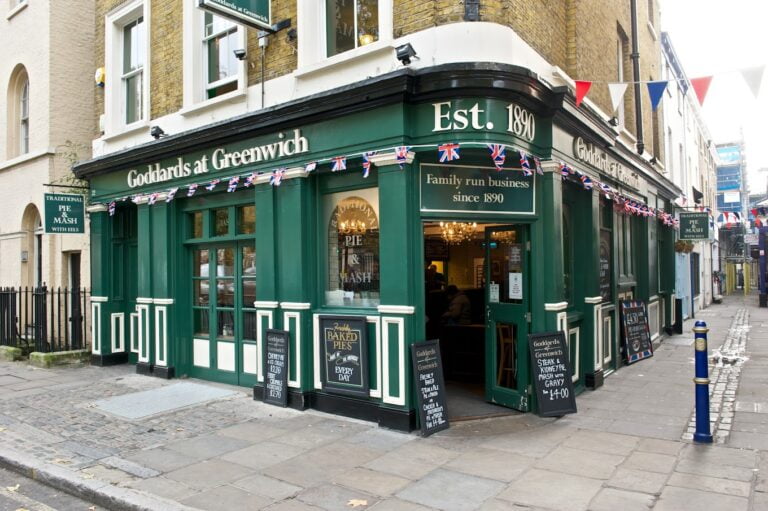 At home amongst the tall ships and cobbled streets of Greenwich is another ye olde English treat – Pie & Mash. Sadly, most of London's authentic pie shops have been consigned to the compost bin of modern history, but a few stalwarts stand strong against the tide of sharing plates and brunch. Goddards is one of those. Serving up traditional fare since 1890, not a lot has changed about this legendary Greenwich restaurant. In the truly olden days, the pies on sale would have been stuffed with eels from the Thames. Mince meat is now the standard filling of choice (probably for the best), but Goddards does offer chicken, lamb, and veggie options as well. All the handmade pies come with the obligatory dollop of mash and a healthy lug of liquor (a savoury parsley sauce for the uninitiated), though gravy may be subbed in. The dining hall holds over 100, and enthusiastically puts the green in Greenwich.
Details: 22 King William Walk, Greenwich Peninsula, SE10 9HU
–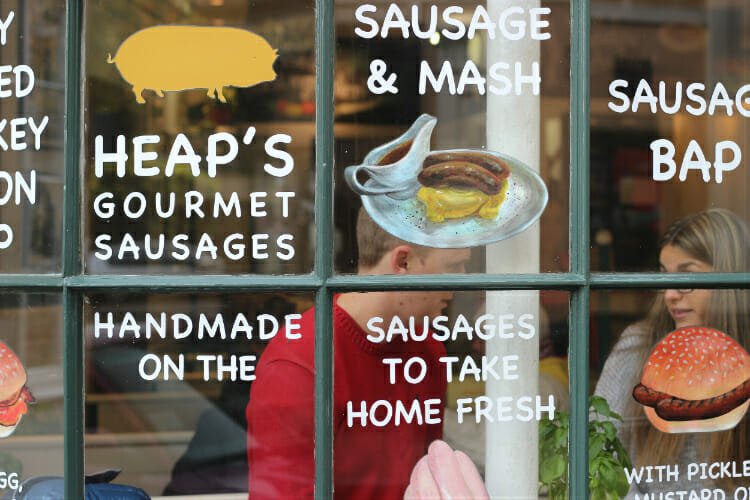 With just a couple of seats available, this sausage shop opposite The Greenwich Theatre deserves a mention as you'll be guaranteed some serious bang for your, well, bangers. All of Heap's sausages are made fresh onsite – you can even catch a glimpse of the small butchery and kitchen at the back of the shop. There's a fantastic variety of meats and spices shoved into stomach lining and each one cuts the mustard (which is also local, and available as a side with mash, beetroot and cabbage, swede and parsnip, and, for the millennials out there, plenty of avocado). A great spot for breakfast, or a hearty lunch to take to the park, Heap's has the feel of Old Greenwich about it, and you won't be disappointed with the grub. 
Details: 8 Nevada Street, Greenwich Peninsula, London, SE10 9JL
–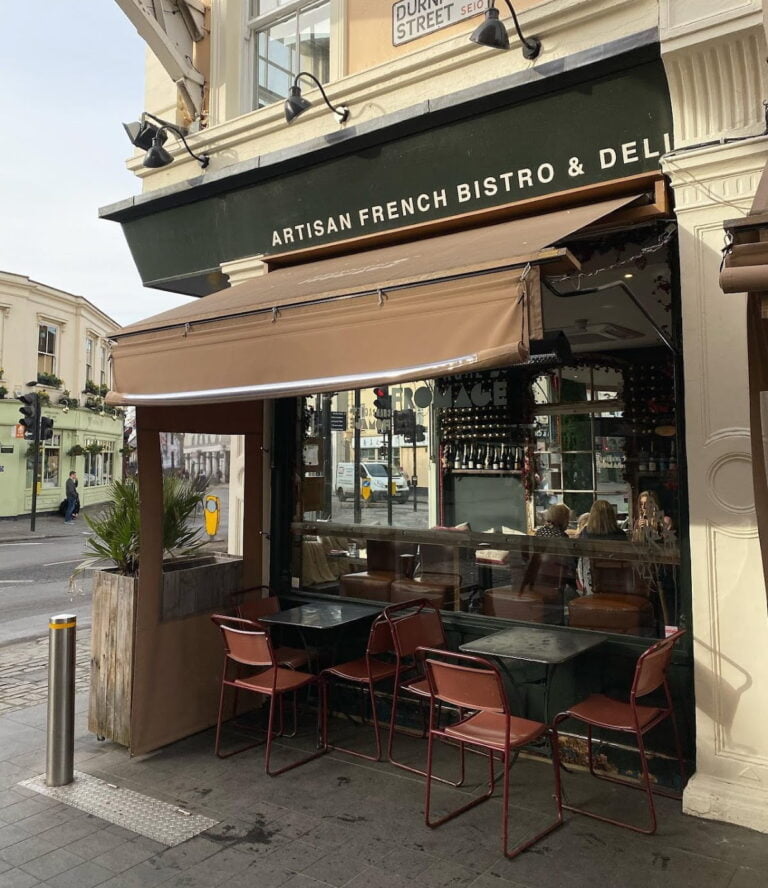 A classic combo and, if we're honest, two things in which the French have really excelled themselves. During Greenwich's heyday we tended to be at war with our chums across the Channel, but now we can relax, safe in the knowledge that they're unlikely to withhold their delicious produce from us ever again (give or take a couple of Brexit-induced delays). The decor at the Greenwich restaurant is a little less continental than the other branches, but the food is just as French, allowing you to indulge in duck confit, baked camembert, raclette, and their cheese and charcuterie sharing boards. It would be remiss not to wash everything down with a glass or two of fizz, and their selection is both vast and reasonably priced. For a more slightly more anglophilic afternoon you could take their Afternoon Tea which comes, predictably, with champagne and tea, but with a mix of French cheeses and sweet treats to keep it on brand.
Details: 34 Greenwich Church Street, Greenwich Peninsula, SE10 9BL
–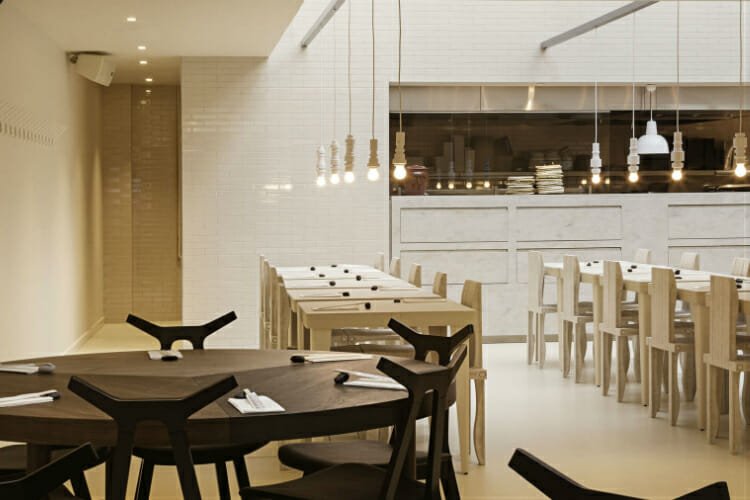 Sticks 'N' Sushi Greenwich is a lot like eating high grade cuisine in an Ikea showroom, and we mean that in the best possible way. With their love of fish, design and minimalist philosophies, Scandinavian and Japanese cultures have a lot in common – and for brothers Jens and Kim Rahbek it's even more accurate, for they share half Japanese/half Danish ancestry. Putting that to work, they created Sticks 'N' Sushi, which offers up top notch sushi and yakitori in a thoroughly Scandinavian setting.
The exposed bulbs, light wood, and open skylight in their Greenwich restaurant create a deconstructed log cabin feel, which is a perfectly understated backdrop for the food that will arrive on your plate. The sushi menu has everything you'd want, but the sticks section is where things really take off, including goat's cheese with dried ham, chicken & squid sausage, duck heart, and scallops with bacon. There's plenty of sake too. Kanpai – or should we say, skål. 
Details: 1 Nelson Road, Greenwich Peninsula, London SE10 9JB
–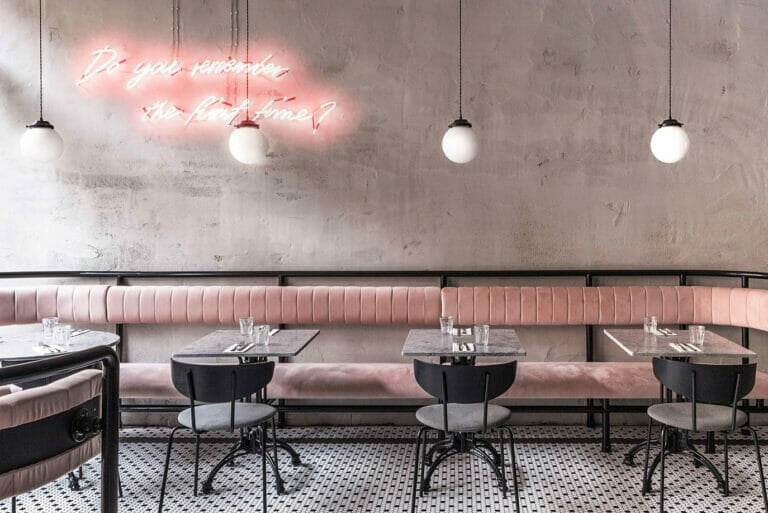 Industrial styling alongside pink velvet upholstery and concrete walls gives this Greenwich restaurant a modern, but welcoming, feel. As the name suggests, coffee is the mainstay here, but Grind has expanded its plot to include breakfast, cocktails, and all-day food. The menu's fairly commonplace for this sort of establishment; there's smashed avo, bruschetta to share, salt and pepper squid; whilst the mains include flat iron steak, sea bream with samphire, and pappardelle bolognese. The breakfast menu is right on the money though (with eggs many different ways), and the cocktails cover all the classics but also include a unique range of coffee based tipples, including an Espresso Old Fashioned and their Hot Flat White Russian. 
Details: 17-19 Nelson Road, Greenwich Peninsula, London, SE10 9JB
–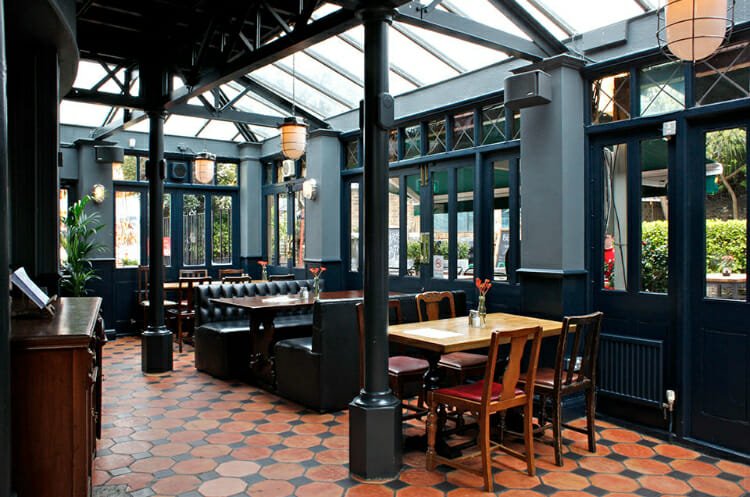 A navy's lost without its port… ale, and rum – and as expected, the pubs in Greenwich are very strong. If you're going to couple your visit with a sit down meal as well, then The Gipsy Moth is where you should head. A grade I listed building, it offers up an impressive menu, with staples like fish & chips, full Sunday roasts with all the trimmings, and slow-cooked pork belly; but also crispy duck salads, pan-fried sea bass, and lamb koftas. Plus, there's a decent-sized beer garden slap bang in view of the Cutty Sark.
Details: 60 Greenwich Church Street, Greenwich Peninsula, London SE10 9BL
–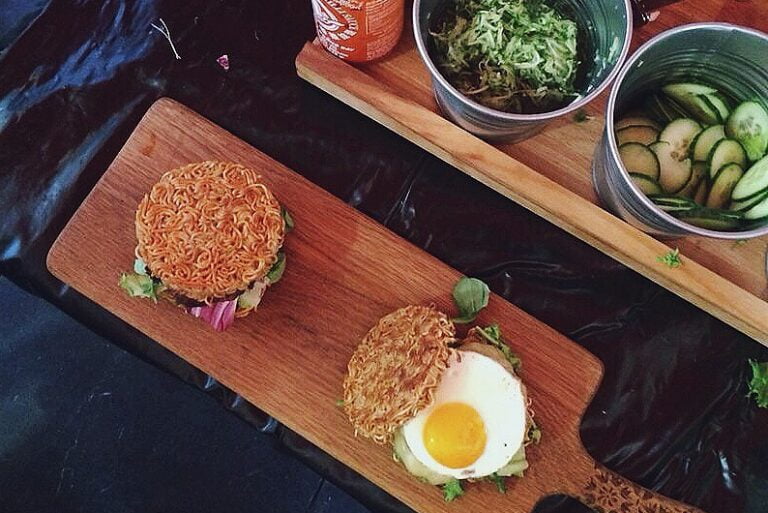 Very much not a restaurant, but with a real treasure trove of options, Greenwich Market has plenty to offer when it comes to food. The buildings surrounding the market are Grade II listed and worth a visit on their own, as are the antiques, vintage and handmade craft stalls. But within, it's an Aladdin's Cave of world cuisine, essentially giving you a dozen Greenwich restaurants in one. Son of Pampa have been cooking up Churros for years and are likely to greet you on your entry, and exit, to the marketplace. Naturally the stalls and offerings vary and change day to day but you're likely to stumble upon bubbling pans of chorizo, blocks of cheese dripping onto off-cuts of brisket, and plenty of pies, curries, and wraps. Nearby is Red Door, a delightful craft shop/gallery/cafe combo serving up award winning cakes by the slice. 
Details: Greenwich Market, SE10 9HZ
---
Making a day of it? Tick off these ravishing things to do in Greenwich