Liverpool Street.
Truly, it is where your liver belongs.
Teetering on the border between The City and Shoreditch, Liverpool Street is the booze-laced threshold between work and play; a spot where you can head for a post-work drink or an aperitif to a night out. There's illicit hidden speakeasies and activity bars; subterranean drinking dens and rooftop bars for sky-high cocktails.
So without further ado, we present the best bars in Liverpool Street:
–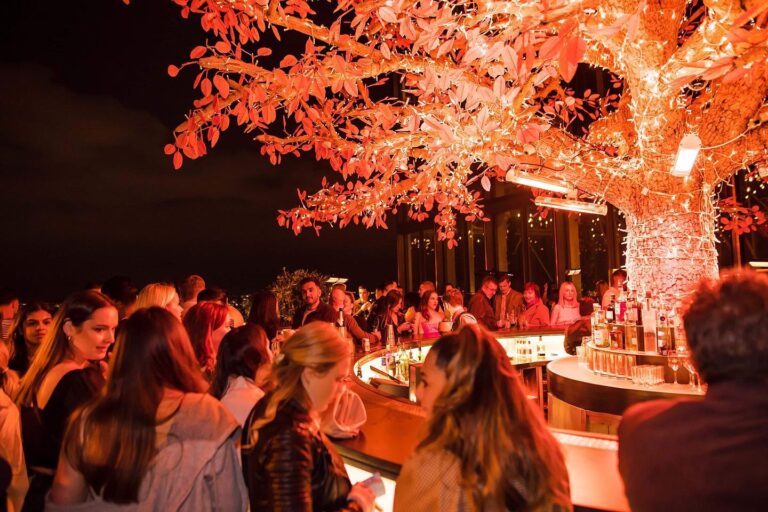 A classic for a reason. That reason primarily being the al fresco lounge seating, 39th floor rooftop views, cocktails infused with Japanese ingredients like the Shiso Fine, aaand the life-size, illuminated orange tree growing out the centre of the bar.
Details: Salesforce Tower – 39th Floor, 110 Bishopsgate, EC2N 4AY | Opening hours: Daily 12-11.30pm
–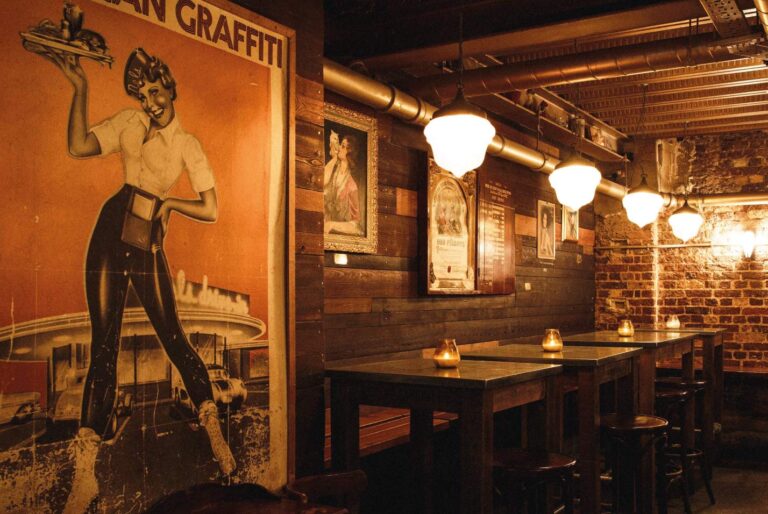 Fridges are cool places… and this has never been more true at Mayor of Scaredy Cat Town, a secret bar accessed by walking through a fridge at The Breakfast Club in Spitalfields. It's a subterranean den clad in exposed brick with quirky portraits of royals, off-beat decor and whimsical cocktails mixed with earl grey-infused gin and served in tea cups. To get in, just ask the staff to see the Mayor. Just don't expect a one-on-one with Sadiq Khan…
Details: 12 Artillery Lane, E1 7LS | Opening hours: Mon-Thur from 5pm-12am; Fri 3pm-12am; Sat 12pm-12am; and Sun 12-10.30pm
–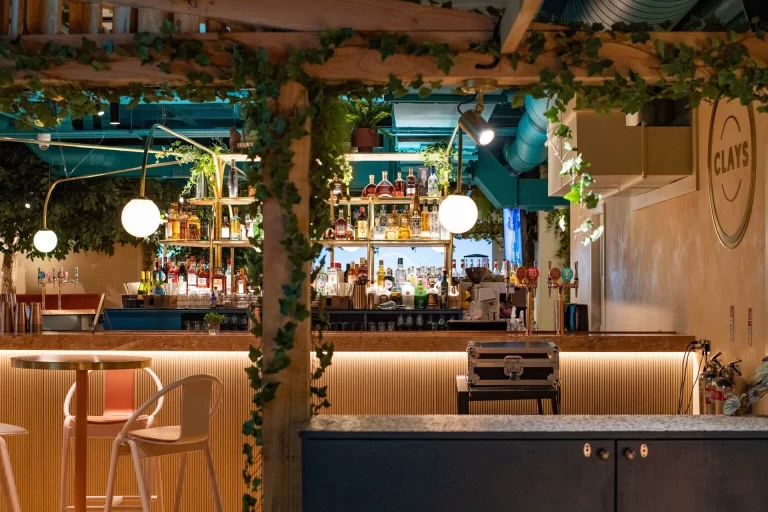 If you haven't tried clay shooting mixed with potent cocktails before, then you should definitely give it a shot. We're talking virtual shooting here, don't worry. Clays is the first activity bar in London to offer simulated clay shooting via state-of-the art tech and massive 4k screens (and actual shotguns), while upping the ante with alcoholic drinks and bar snacks from a former Ritz chef. Those of which you'll also want a few rounds of…
Details: 55 Moorgate, London EC2R 6LL Opening hours: Mon 4-10pm; Tues-Sat 12pm-12am; Sun 12-10pm
–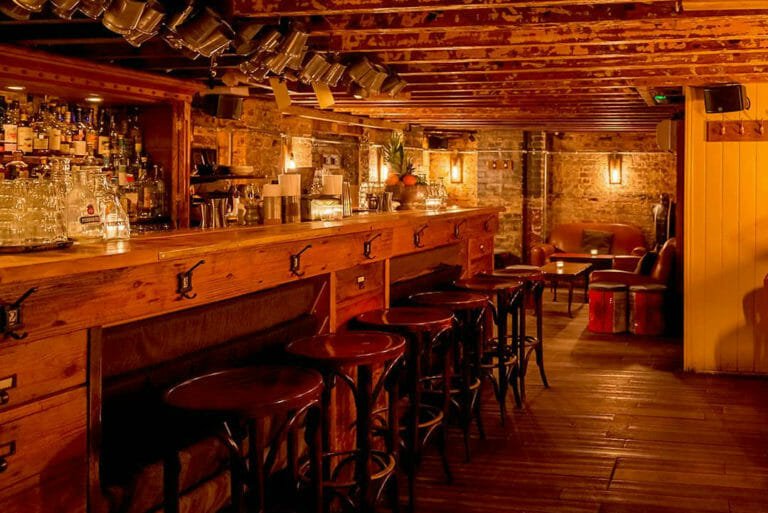 A brick-lined cocktail vault hidden below an old tailor's, replete with leather sofas, a Motown soundtrack on vinyl and an ever-changing cocktail menu leaning heavily on old-school bitters and aperitivi.
Details: 29a Wentworth Street, E1 7TB | Opening hours: Sun-Weds 5pm-12am; Thurs 5pm-1am; Fri 5pm-2am; Sat 2pm-2am
–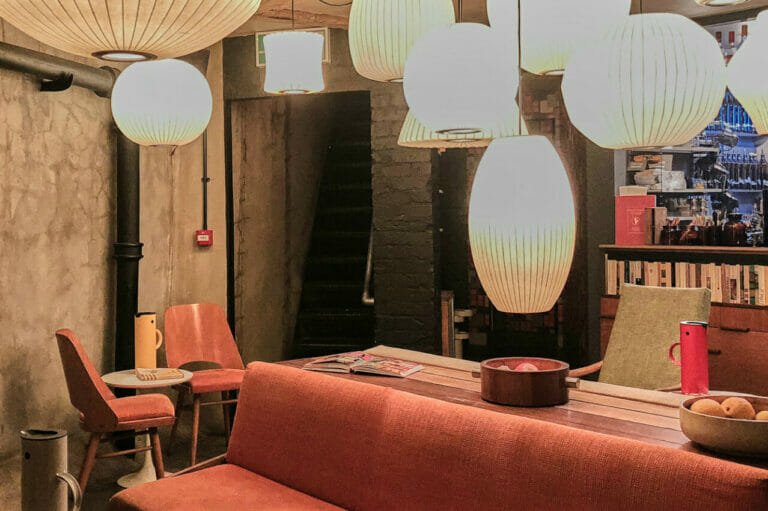 Hidden beneath an unassuming Shoreditch kebab shop is this 60s Prague-styled Liverpool Street bar serving once in a lifetime molecular cocktails that turn up either in smoking or bubbling form, in the likes of test tubes or upside-down lightbulbs. You have to make a booking to gain entry: via the number 07720707000, and the dress code is anything (within reason) but a suit..
Details: 1e Great Eastern Street, Shoreditch, EC2A 3EJ | Opening hours: Mon-Sat 6pm-12am; Sun 6-11pm
–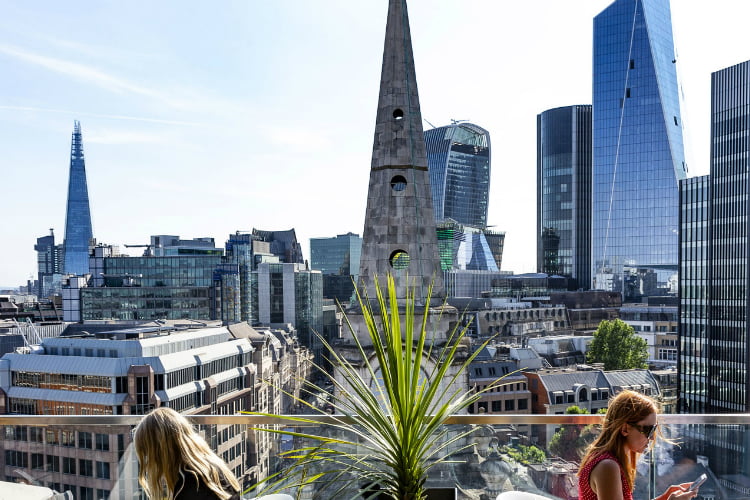 One of the lesser known rooftop bars in London, which makes it increasingly likely that you'll get a table out on the terrace (especially if you book ahead). From this glossy spot you can clock the Shard, the Gherkin and the Walkie Talkie in one sweeping vista, and find some Peas of Mind in the form of soju, chartreuse, yuzu and salted pea cordial…
Details: Dorsett City Hotel, 9 Aldgate High Street, EC3N 1AH | Opening hours: Mon 5pm-12am; Tues-Thu 12pm-1am; Fri 2pm-2am; Sat 12pm-2am; Sun 12-11pm
–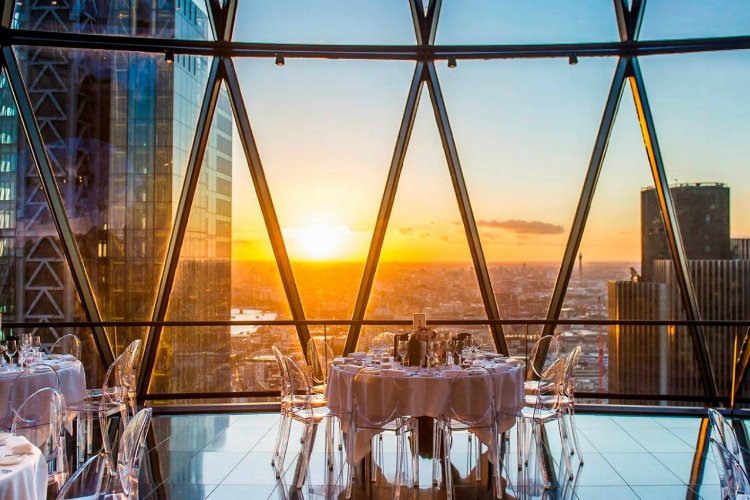 The very top of the Gherkin was designed as a show-stopping, surprisingly intimate, entirely glass-encased cocktail bar with one of the best exclusive viewpoints in London: a staggering 360 degree view of the city that only an elite circle of private members were able to access. Until now.
Details: The Gherkin, 30 St Mary Axe, EC3A 8EP | Opening hours: Tues-Wed 12.30-9pm; Thu-Sat 12.30-9.30pm | Bookings only, do that here
–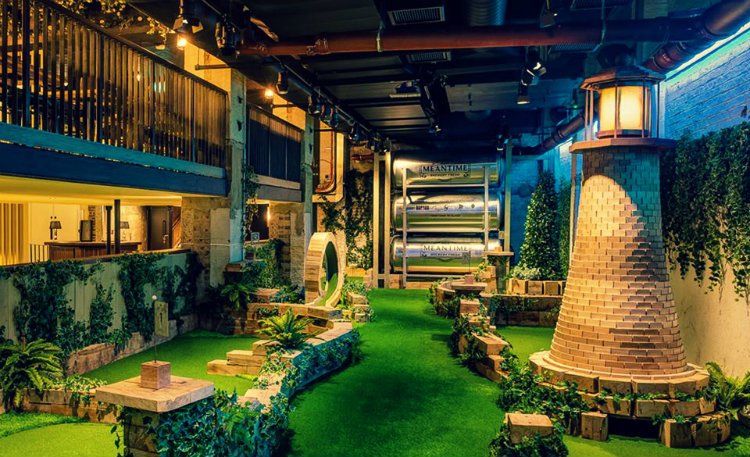 Not one but five bars, surrounded by the bucolic rolling hills of two crazy golf courses, filled with quintessential golf club touches like sand traps, loop-the-loops, lighthouses, cocktail-bearing golf caddies and giant tanks of Greenwich's Meantime beer.
Details: 8 Brown's Buildings, (Between Bury Street and St Mary Axe), EC3A 8AL | Opening hours: Tues-Wed 3pm-12am; Fri 12pm-1am; Sat 10.30-1am
–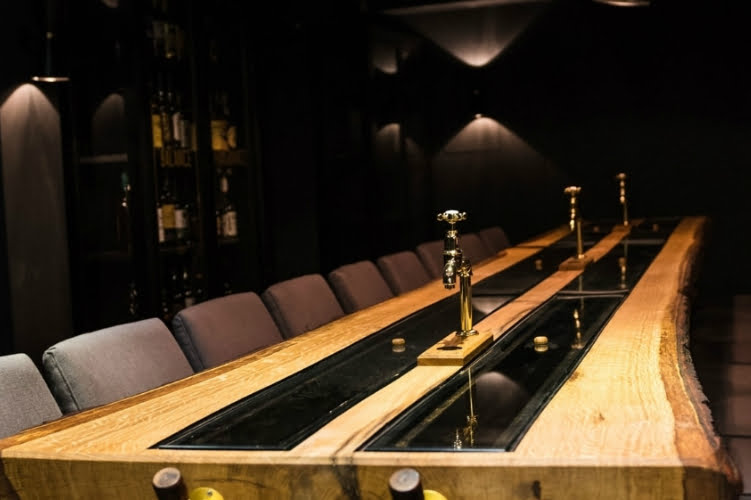 Black Rock is a veritable palace of whisky, coming to you from the team behind the dearly departed Worship Street Whistling Shop. Settle in to this basement bar where you can pour a dram out of the very table you're sitting at. Which happens to be half a tree…
Details: 9 Christopher Street, EC2A 2BS | Opening hours: Mon-Weds 5pm-12am; Thu-Sat 5pm-2am
–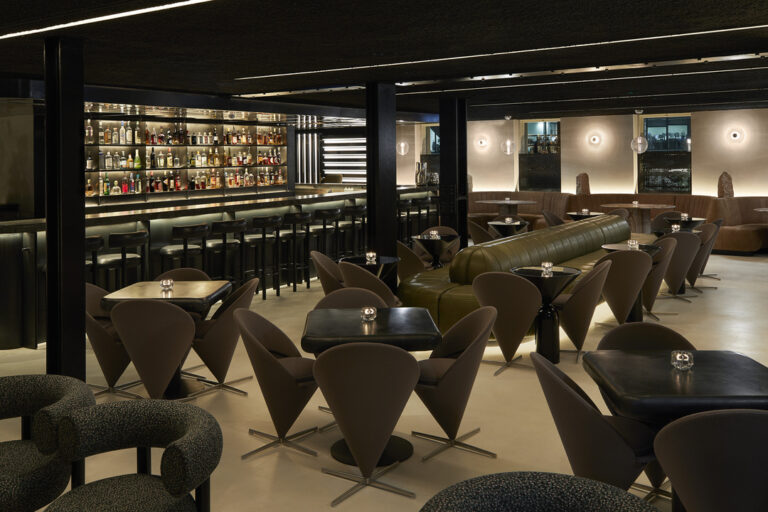 An ultra-suave cocktail bar in the Pan Pacific Hotel, headed up by Milroy's founder Martyn "Simo" Simpson, his old colleague Chris Tanner, and Callooh Callay's Liam Broom. They have an incredible cocktail list (with no ingredients, just flavour profiles and strange symbols), a golden whisky vault recessed into one of the walls, and a private drinking room where you can even stash your own spirits…
Details: 80 Houndsditch, EC3A 7AB | Opening hours: daily 5pm-2am

---
Like discovering great places to have drink? Check out the best bars in Shoreditch