The Best London Bars With Live Music | Tipples and Trumpet Solos
Bars without live music.
They're a little deadbeat.
So let's have a drum roll… a bit of saxophone… and a little bass… for we are about to announce the best bars in London with regular live music nights. Not necessarily dedicated gig venues (for that, we've made a special guide to the best live music venues in London), but somewhere atmospheric where you can enjoy a smooth cocktail with a mood music garnish.
These are they…
---
JUMP TO: East London | Central London | South London | West London | North London
---
EAST LONDON BARS WITH LIVE MUSIC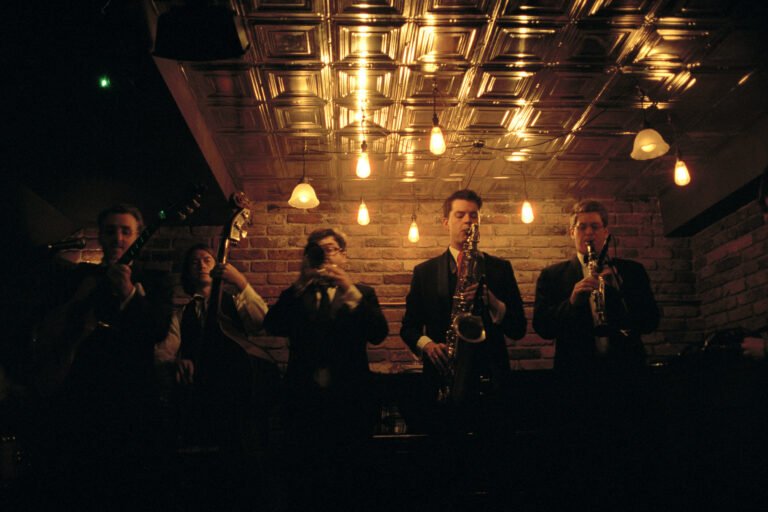 Nightjar is hidden away behind a curtain at the bottom of a staircase behind a very dark, unmarked door facing Old Street roundabout. It's the kind of spot you'd never notice unless you were specifically looking for a brick-walled jazz den serving some of the city's most unusual cocktails. Which, as of now, you are.
When to catch it: Every night from 9pm, plus midnight sets on Fri/Sat | Cover charge? £6/£10 | Book a table & see who's playing here
–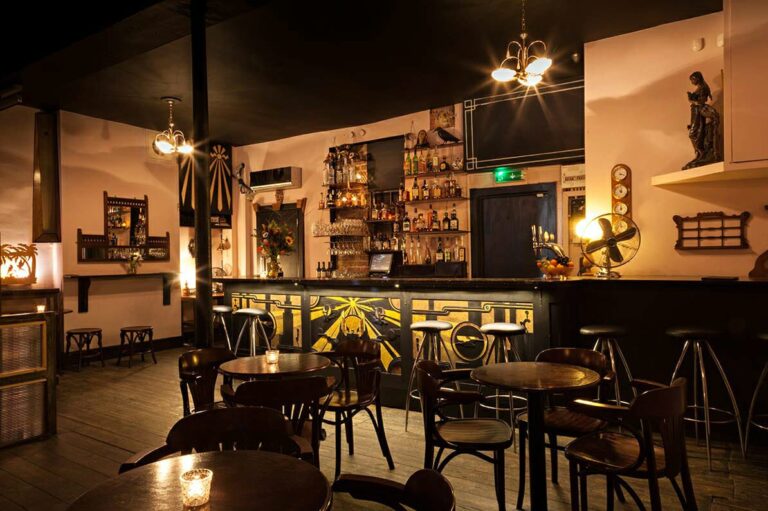 Servant Jazz Quarters is a bit like a classier version of the raucous servants quarters below deck in Titanic. An intimate, bi-level space with candlelit cabaret tables and an art deco-styled bar, it's the perfect London bar with live music to head to whenever you fancy port cocktails accompanied by a hand-pumped harmonium. Which is always.
When to catch it: Most nights, check programme & book here | Cover charge? Individually ticketed
–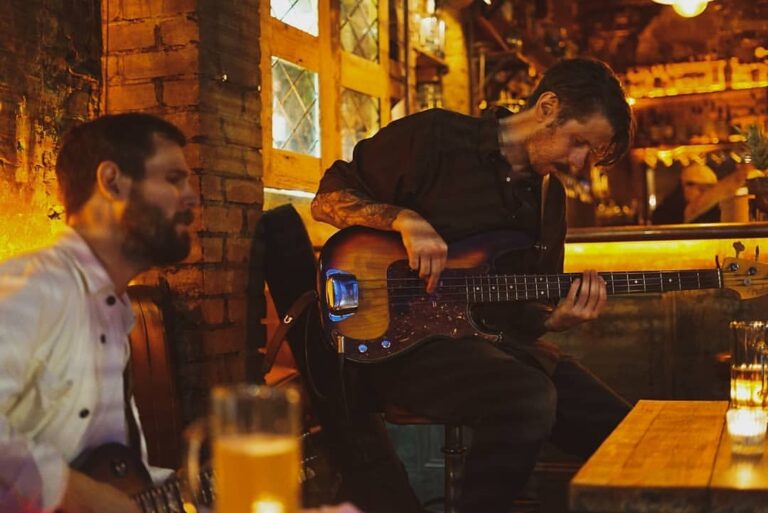 The Sun Tavern looks like a pub. Hell, it's literally called a tavern. But make no mistake, this place is a cocktail bar, and one of the best bars in East London too. Located inside a handsome old saloon on Bethnal Green Road, it features an expertly crafted list of high quality cocktails, more than forty Leprechaun Green Irish whiskies, and a vast selection of locally brewed craft beers and poitín, a once-illegal Irish spirit.
When to catch it: Sunday & Monday evenings | Cover charge? No | Book here
–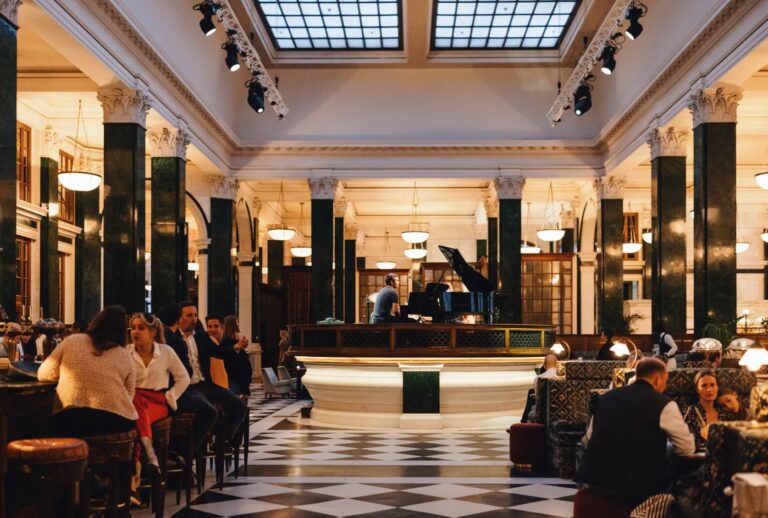 This 1930's-styled American bar in The Ned has a stage that literally takes centre stage in the middle of the (astonishingly grand) venue, once the Midland Bank. And you can always expect the daily line-up of live music – from Friday's classic jazz trios to fresh new acts on Monday – to be on the money…
When to catch it: Every night | Cover charge? None | No bookings
–
Downstairs at Morito
| Hackney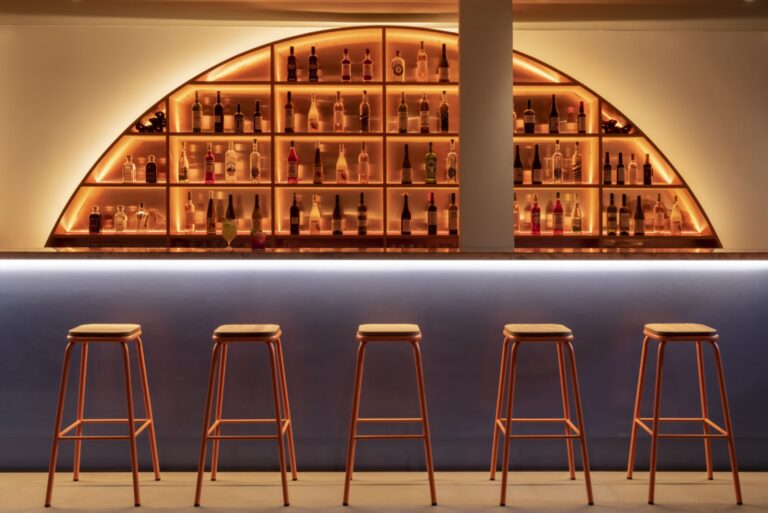 Five years after opening on Hackney Road (and comfortably becoming one of the best Spanish restaurants in London), the brilliant tapas spot Morito opened the door to its cellar space. Aptly named Downstairs at Morito, it's a more casual den with a late-night bar vibe, serving cocktails and a hand-picked banquet of those great dishes you can get upstairs. And on Tuesdays, they bus in some local talent to serenade you with live music…
Where to catch it: Every other Tuesday | Cover charge? £40pp for music and food | Book here
–
NT's Loft – from the Night Tales folks – has a Funktion-One sound system. If that doesn't immediately get your heart racing then know that on weekend nights they also invite an eclectic programme of selectors to come and play with it, where you'll hear everything from disco to R&B, with the likes of Horse Meat Disco and Laurence Guy having DJ'd here in the past. But if you're after live music with your drinks, head up on a Wednesday for their intimate live jazz sessions.
When to catch it: Wednesdays for the jazz, Friday and Saturday night for the DJs | Cover charge? Free entry before 7.30pm, then £5 | Book here
–
Grow 
| Hackney Wick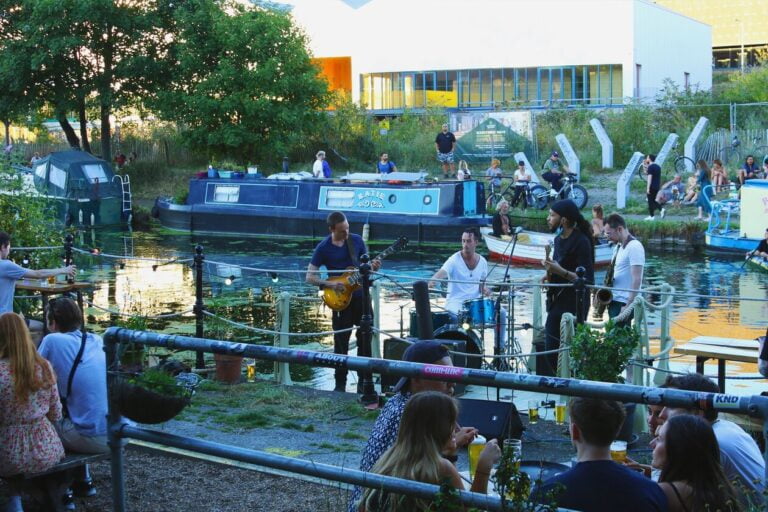 Grow started out as a hub of artists' studios nestled inside an old sausage factory. And true to its name, it's now grown into a canal-side bar and pop up kitchen, too. Every Thursday night, the house jazz band pitches up by the waterside and plays a couple of sets – and any musicians in the audience are heartily encouraged to get up and join in (especially tempting after a cocktail or two).
When to catch it: Wednesdays, Thursdays & Sundays | Cover charge? £5/6 | Book here
–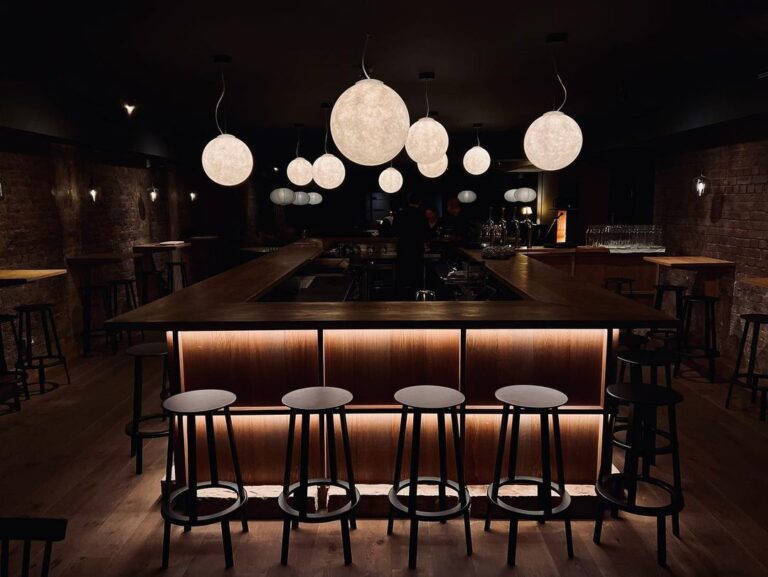 Mu is from the folk at Brilliant Corners, who know their music thanks to the vast back-catalogue of vinyl that soundtracks their cocktail bar & Japanese eatery. So they're not the worst people in the world to transfer all that knowledge to a second branch a few doors down, specialising in cocktails, Japanese food… and live music.
When to catch it: Wed-Sun at 7.30pm & 9pm | Cover charge? Optional £8 charge | Book here
–
Just in case being an East London bar with a live band wasn't enough of 'a thing', Dalston Jazz Bar has also plumped for a food menu that occasionally features the likes of white shark fillet, kangaroo and crocodile. Also, the chef's a DJ. And you only have to pay what you want for the whole meal.
When to catch it: Fri-Sat evenings | Cover charge? PWYW
–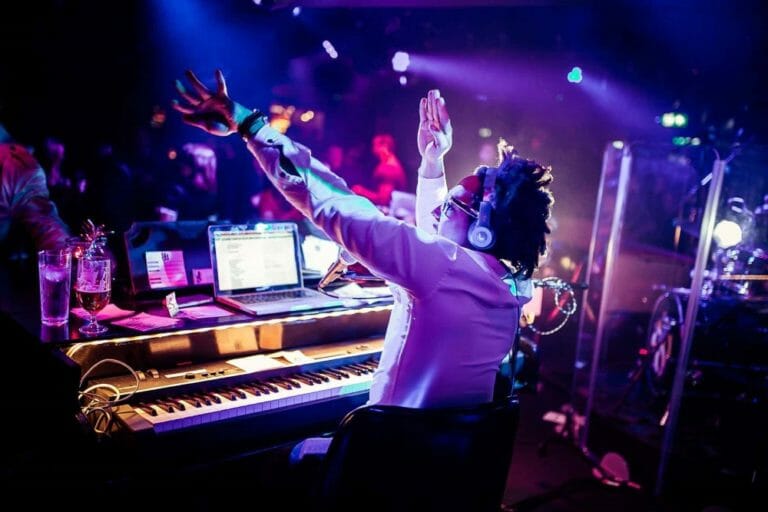 …as you'll immediately notice upon entering, because at The Piano Works, they're using it to crank out arrangements of classic pop 'choons' for the bopping crowd's pleasure. Get in the thick of it and shout out requests, or sit back with a cocktail and bar bites and let the mellifluous strains of Teenage Dirtbag wash over you.
When to catch it: Tues-Thurs till 1am, Fri-Sat till 2am (2.30am West End) | Cover charge? £5 during dinner | Book here
—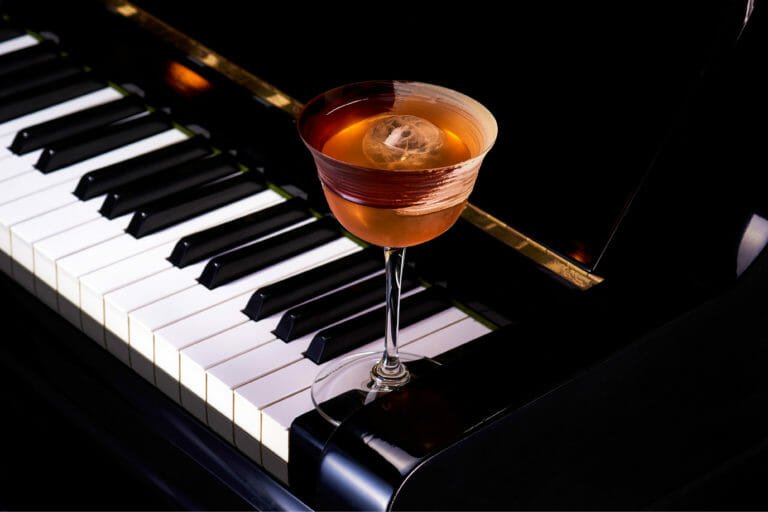 Coupette is an impossibly romantic Parisian-style bar, with exposed brick walls, vintage lighting and a live pianist. Plus, the drinks are among the best in the city, making Coupette one of our favourite London cocktail bars as well as a recipient of other, less prestigious awards like 'The Worlds 50 Best Bars' list.
When to catch it: Mondays evenings | Cover charge? No | Book a table here

CENTRAL LONDON BARS WITH LIVE MUSIC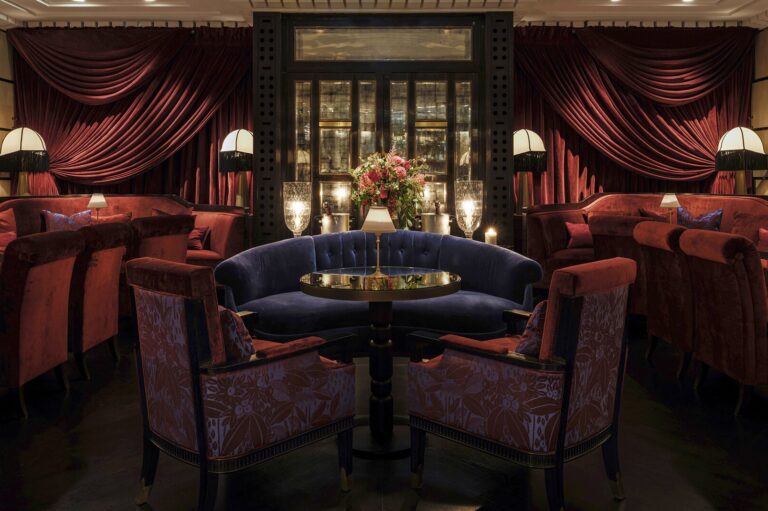 Velvet is the Corinthia Hotel's drop-dead gorgeous cocktail bar. It might be the closest thing you'll get to living the 1920's high life, with nightly live jazz and drinks created by none other than Salvatore Calabrese (one of the world's great bartenders, widely referred to as 'The Maestro').
When to catch it: Tuesday – Saturday, 9pm-12am | Cover charge? None | Book here
–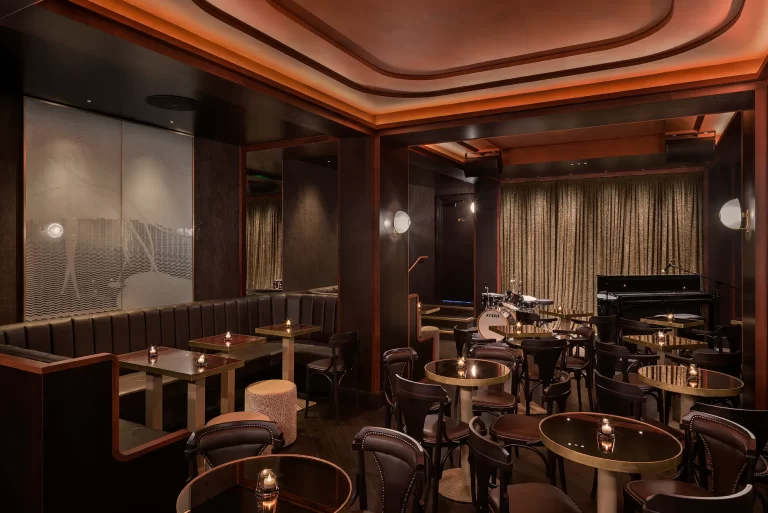 Tucked quietly by the entrance to Kingly Court on Carnaby Street, Nightjar Carnaby is the younger sibling to the Shoreditch original. Which means alongside the same award-winning cocktails, theatrical presentation and low-lit setting, it also has the same passion for live music, with jazz, blues, swing and funk musicians taking to the stage almost nightly.
When to catch it: Monday – Saturday from 9pm, Sunday from 7.30pm | Cover charge? No cover charge Mon & Tues, then £4-10 later in the week | See what's on, and book, here
–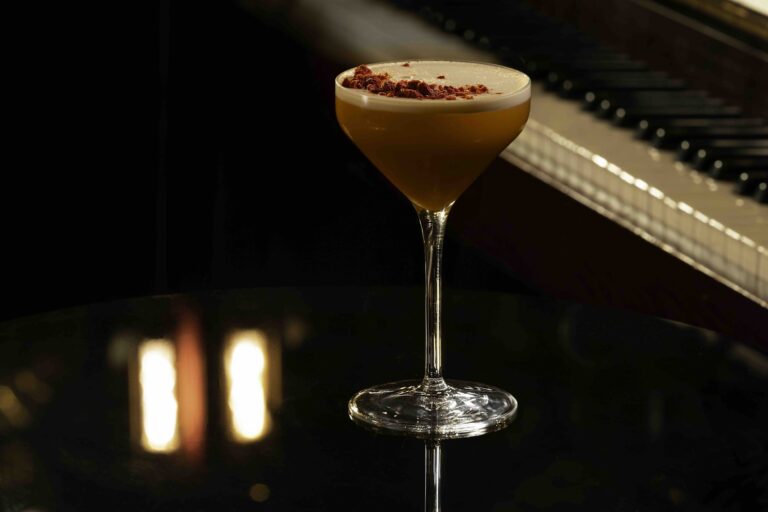 Your visit to this Soho bar will be anything but swift. Because downstairs in their moodily-lit, whisky-laced cocktail grotto, you'll be able to sip on innovative, amazing-value drinks while musicians tinkle away on the keys and double bass.
When to catch it: Sundays, 7-9pm | Cover charge? No | See what's on, and book, here
–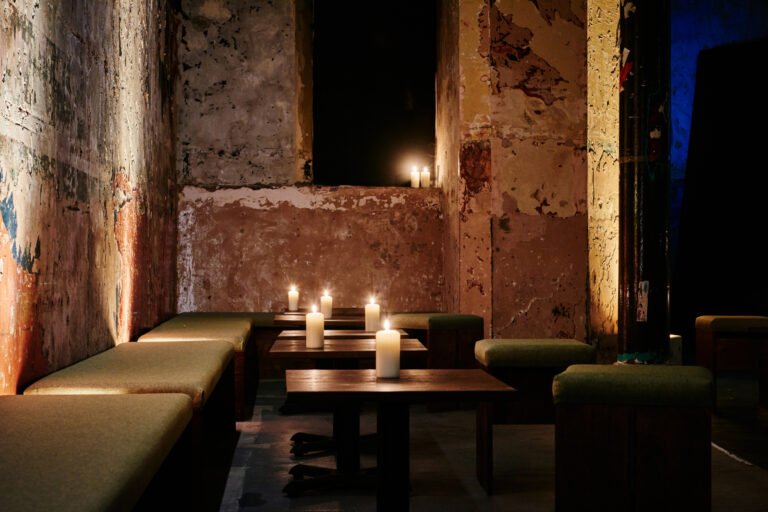 A crepuscular, cavernous cellar beneath Stone Nest, a Grade II-listed chapel turned performance venue on the fringes of Chinatown. It comes to us from Frank and Jackson Boxer, the brothers behind Peckham rooftop/carpark bar Frank's Cafe and the fantastic Orasay respectively. Here, while sipping classic cocktails or a glass of natural wine, you can listen to live music curated by none other than Tic Zogson. He represents bands like The XX and FKA Twigs, and programmes all sorts of live performances and DJs here.
When to catch it: Usually Wednesdays, check Insta for updates | Cover charge? Usually free entry
–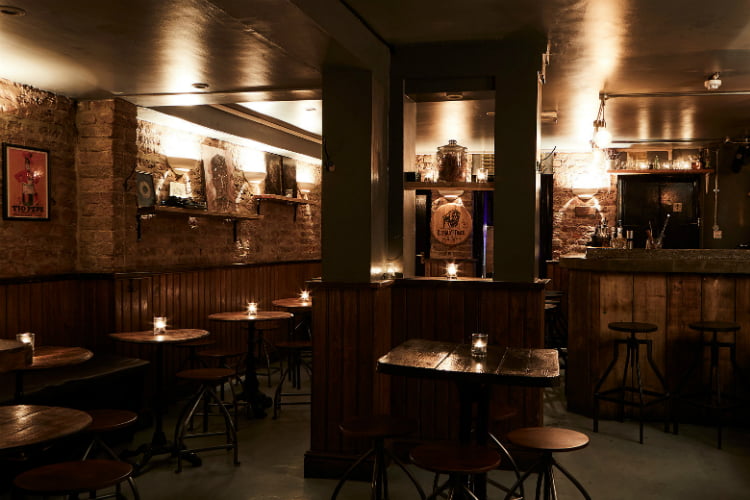 Next time you find yourself browsing the shelves of Soho whisky emporium Milroy's, and catch the mellifluous strains of jazz coming from somewhere beyond, try opening the bookcase. Downstairs you'll uncover a subterranean, uber-romantic bar with excellent cocktails, and live music every Monday.
When to catch it: Mondays from 8pm | Cover charge? No | Book here
–
Probably the best secret 1940s-era underground-themed cocktail bar in London, Cahoots busses in the finest close harmony crooners, old-fashioned singalong pianists and electro-swing DJs for Friday night dancing and boozy afternoon tea parties.
When to catch it: Friday from 8.30pm, Saturday from 9pm | Cover charge? No | Book here
–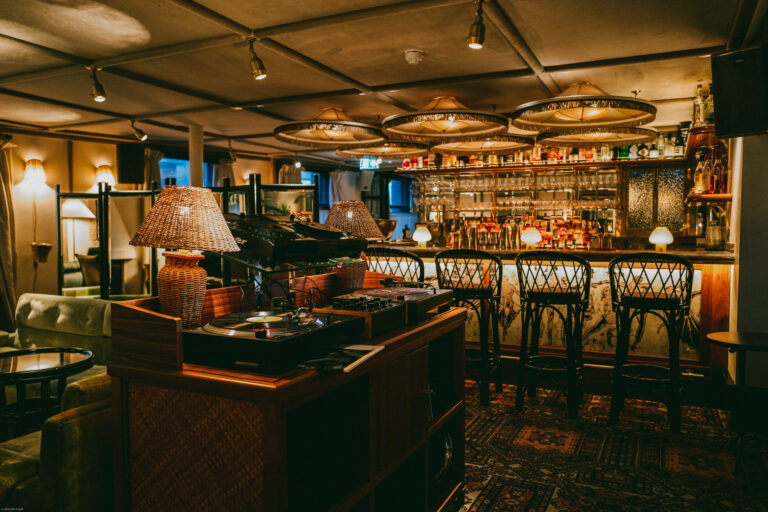 If you find yourself in Covent Garden midweek, in need of some live jazz, some stellar cocktails, and an atmosphere of wonderfully refined decadence, then head to Louie – specifically, the third floor, where you'll find yourself in the Alligator Bar. There's live music there every Tuesday & Wednesday night, with bands playing jazz and soul respectively.
When to catch it: Tuesday & Wednesday nights | Cover charge? No, but there's a minimum table spend of £60+ | See what's on, and find out more right here
–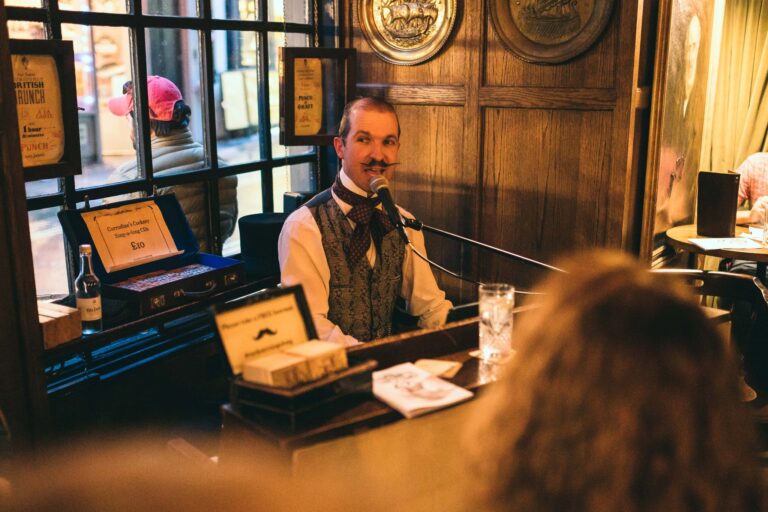 And now for something completely different: Mr Fogg's Tavern is a two-storey pub resembling a 1900s inn downstairs, and a chintzy gin palace upstairs – and it has live music befitting its old-timey interiors courtesy of Tom Carradine. He's the moustachioed gentleman who runs Carradine's Cockney Singalongs at Wilton's Music Hall, and once or twice a week you can also crowd around the old Joanna here for a surprisingly rousing mass sing-song (lyrics provided).
When to catch it: Thursdays, 8.31-10.31pm | Cover charge? No | Find out more & book here
–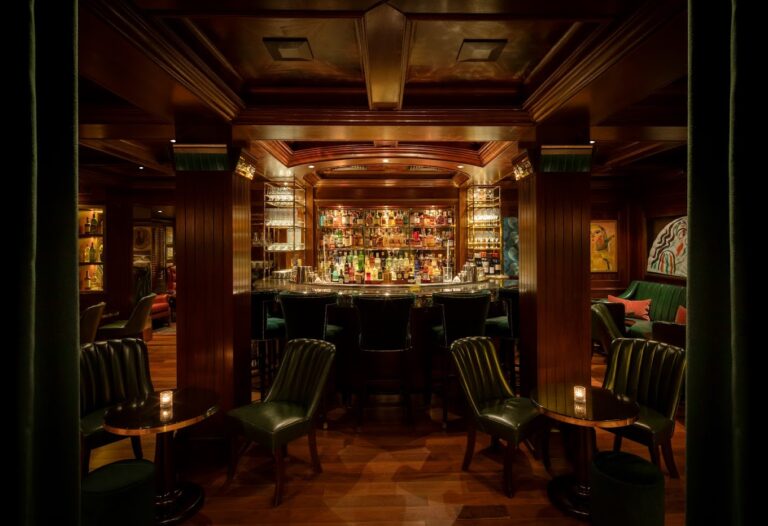 A seductive subterranean drinking den whose wood panelling on every surface seems to provide the perfect acoustics for a little live music, all enjoyable alongside cocktails inspired by tarot cards.
When to catch it: Most evenings | Cover charge? No | See who's playing, and book a table, here
–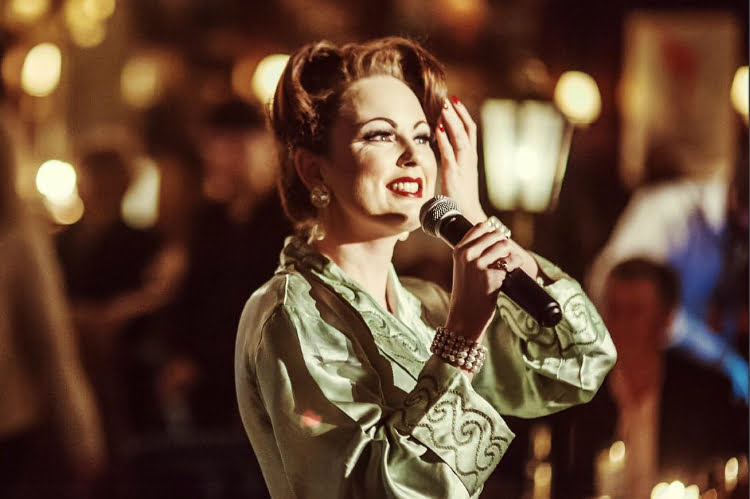 Scarfes Bar is named after Gerald Scarfe, best known for his witty and satirical cartoons, and least known for the extinct genus of monofenestratan pterosaur, Cuspicephalus scarfi, also named in his honour. Sadly it's only the former that decorate the walls of the suave, gentleman's club-like bar dedicated to him in Holborn's Rosewood Hotel – a disappointment you'll soon get over thanks to the live, 50s-era jazz.
When to catch it: Most evenings | Cover charge? No | See who's playing, and book a table, here
–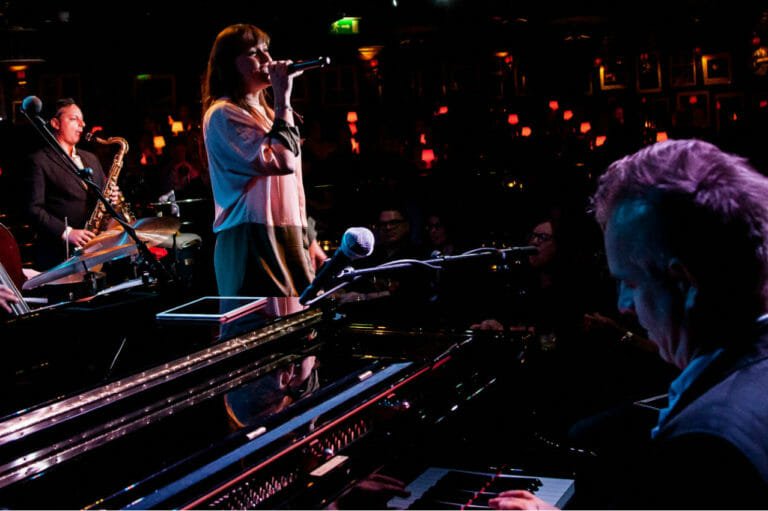 Ronnie Scott's is the godfather of jazz bars in London. It's a classic for a reason… and that reason is the no talking rule, saving first dates from awkward small talk since 1959.
When to catch it: Nightly, but often sells out – book ahead here | Cover charge? Varies, check programme for details
—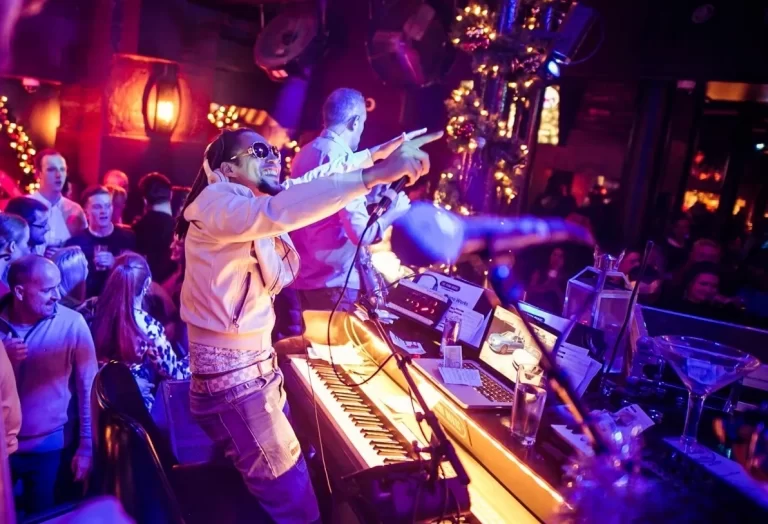 Remember the last time you stumbled across an almost-hidden bar in a Covent Garden theatre with classic cocktails, three course dinners with bottomless prosecco and a six-piece band exclusively playing pop song requests from the crowd? The Piano Works West End is exactly like that, except with musically-synchronised lighting.
When to catch it: Tues-Sat from 8.30pm | Cover charge? £7.50+ | Book a table here

SOUTH LONDON BARS WITH LIVE MUSIC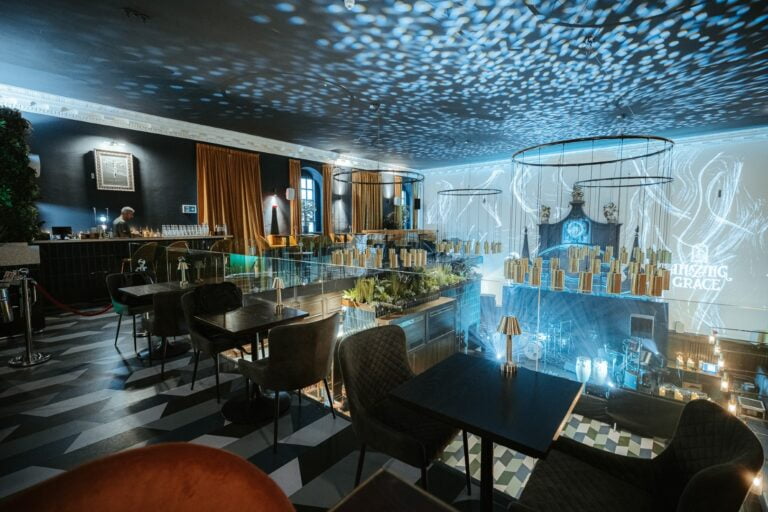 Stone walls, lofty ceilings and a good rapport with angels. That's Amazing Grace. And there are quite a few reasons 17th Century churches make excellent live music venues, especially when that live music comes alongside a whole load of booze and regularly-rotating food from some of London's hottest street food brands. Expect everything from 70s folk magic to gospel, as well as DJs every Friday night. 
When to catch it: See what's on and book here
–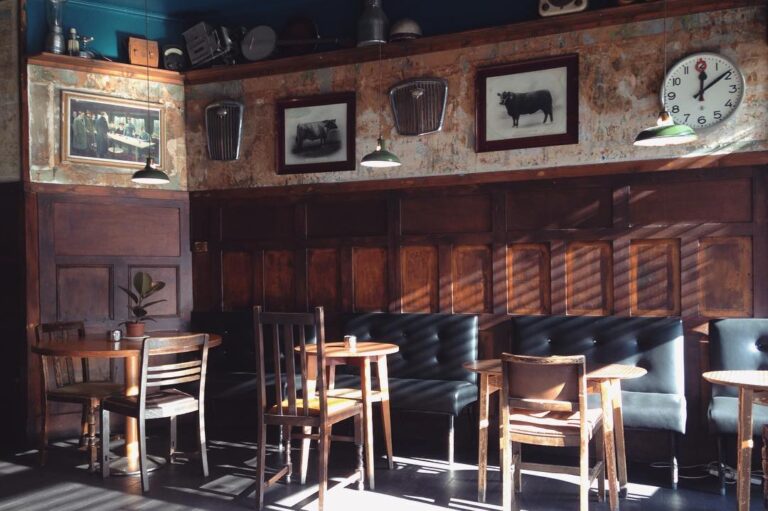 By day, Cable Café Bar roasts its own coffee, bakes its own cakes, and generally spoils everyone with its ineffable neighbourhood charm. By night, it cranks out the cocktails, accompanied by free live jazz of a Wednesday or Saturday evening.
When to catch it: Wednesday & Saturday nights from 8-10pm | Cover charge? No
–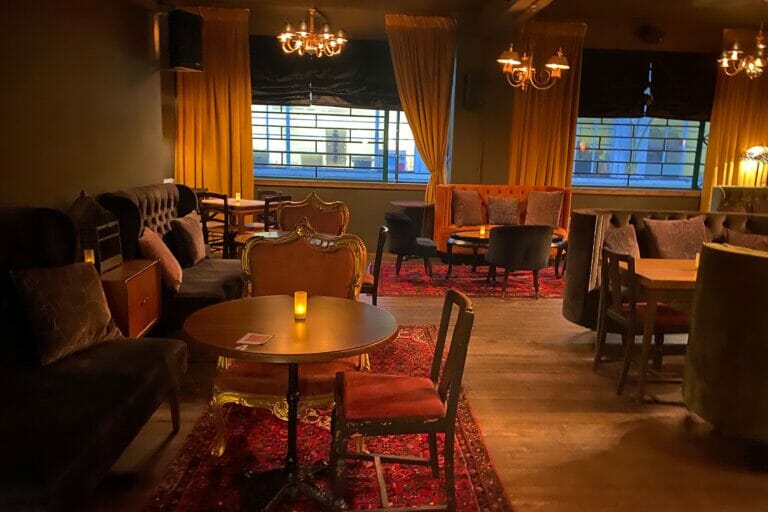 It's easier to list the nights CLF Art Lounge and Rooftop Garden doesn't have live music than when it does. There's Nu Jazz Generations every Wednesday, Live in The Lounge every Friday, Latin Jazz Brunch every Saturday and Rooftop Soul Sessions every Sunday, all of which take place either in the plush, speak-easy style bar or upstairs on the plant-lined rooftop (boasting both heaters and a canopy in case of rain).
When to catch it: Wednesday-Sunday mostly | See what's on and book here
–
If you can resist the leafy terrace out front, the quirky antique-filled dining room, and the wafts of Modern British cooking emanating from the kitchen, you'll be rewarded down in the cellars of Brunswick House, where, over the next few months, different wine, beer and cider producers will be hosting pop ups with live jazz from Mark Kavuma and The Banger Factory every Tuesday.
When to catch it: Tuesdays until end of November – sets at 7.30pm & 8.30pm | Cover charge? No

WEST LONDON BARS WITH LIVE MUSIC

Piano Bar 
| Kensington, Smithfield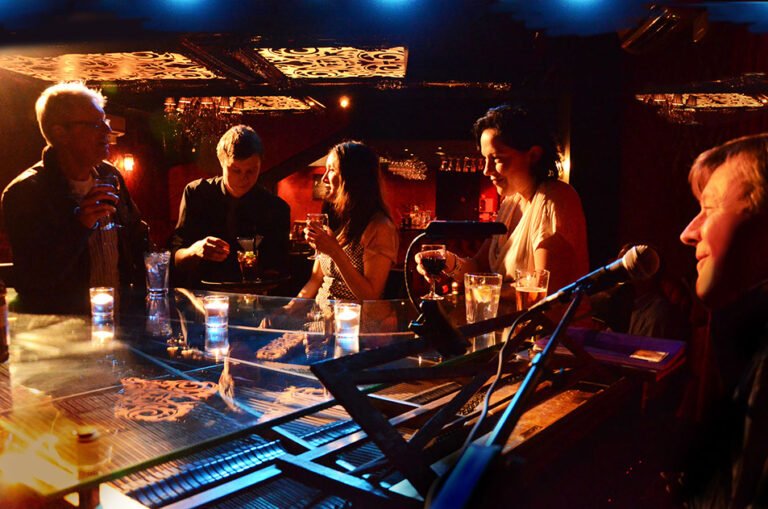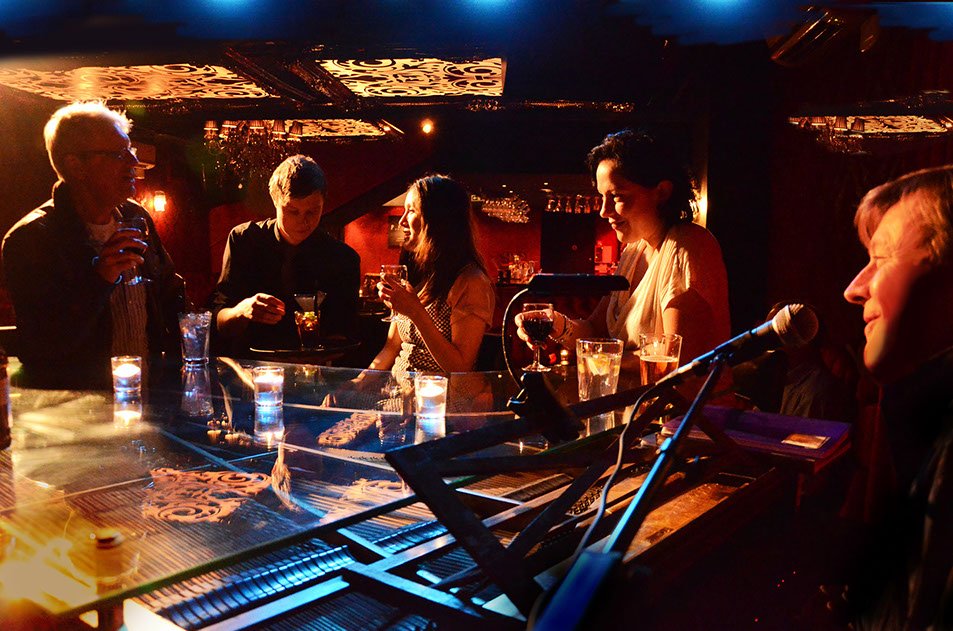 The Piano: a 160 year-old Collard & Collard Grand, left in the capable hands of a rotating line-up of musicians playing everything from Nina Simone to Rihanna.
The Bar: a candlelit den with killer cocktails, bar snacks and plush leather banquettes – not that you'll be needing them when you're swaying round the piano singing along to 'Feeling Good'.
When to catch it: Most evenings | Cover charge? No, but most events are ticketed – see what's on, and book, here
–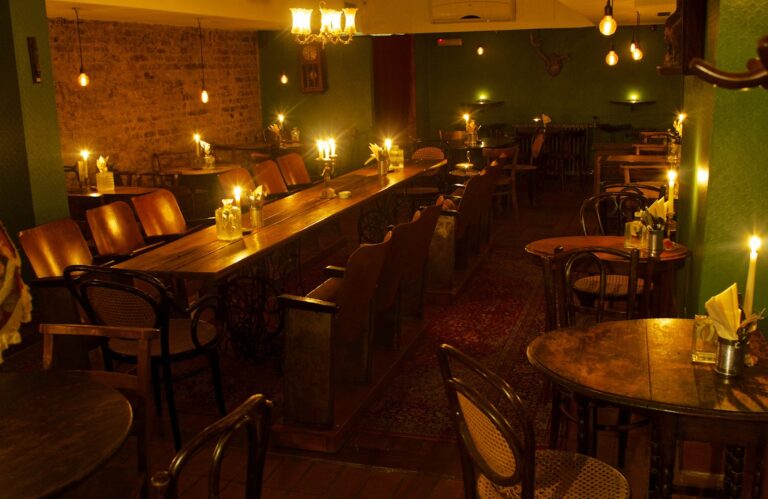 On the face of it, Evans and Peel appears to be your typical, everyday high-street 1940s detective agency. But sweet-talk the P.I. and you'll be ushered into the back room: a candlelit, bootlegging den with moonshine cocktails and a live music line-up that's criminally good.
When to catch it: Thursdays from 8.30pm, Fridays & Saturdays from 9pm | Cover charge? £5 | See what's on, and book, here
–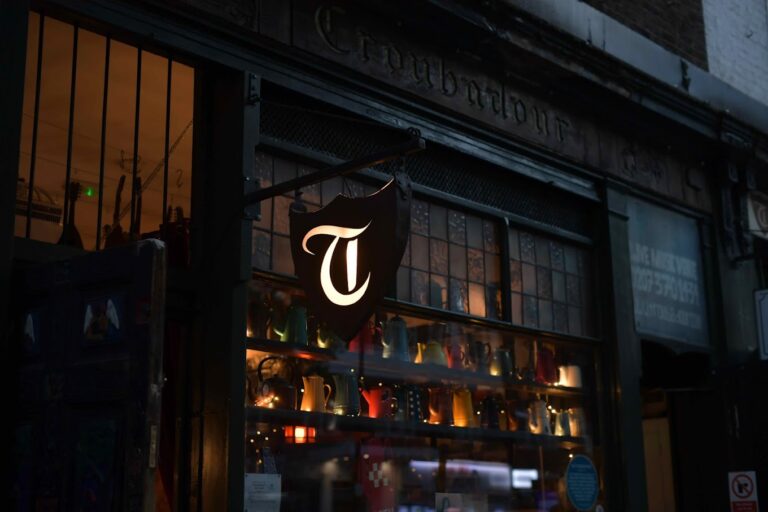 The Troubadour has been a stalwart of London's live music scene since the fifties – but it's also a singularly lovely place to enjoy a quiet pint with some live jazz and acoustic bubbling away in the background.
When to catch it: Most nights | Cover charge? Individually ticketed | Check programme and book tickets HERE

NORTH LONDON BARS WITH LIVE MUSIC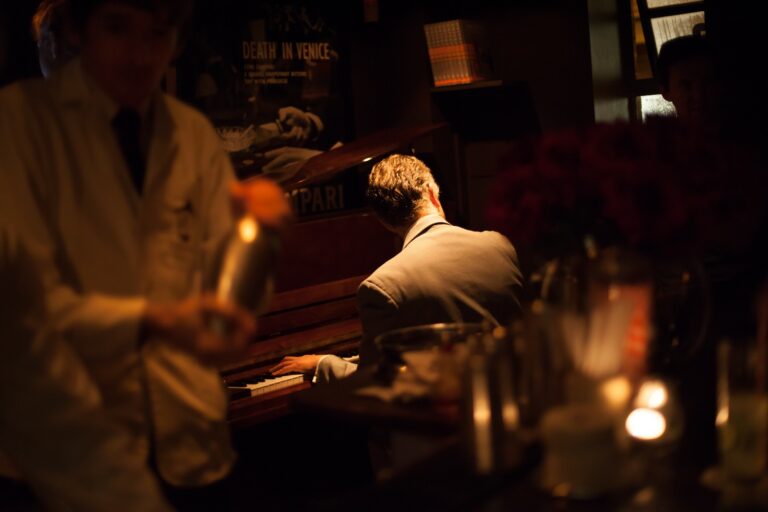 Officially, 69 Colebrooke Row is just this bar's address, not its name – which is The Bar With No Name. But the cocktail genius behind it does have a name: Tony Conigliaro, and the bar's pioneering drinks menu still impresses to this day…
When to catch it: House pianist – Weds & Sun, 7pm-10pm | Live bands: Thursdays from 8.30pm | Cover charge? No | Book a table & see who's playing here
–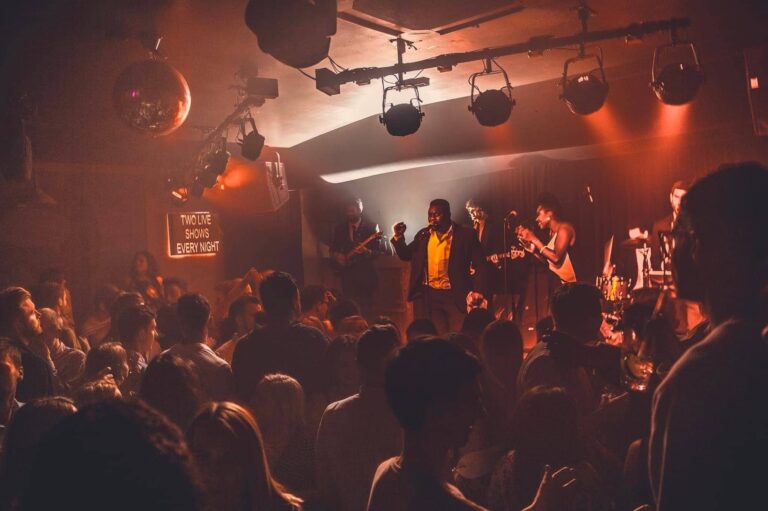 By day, it's a whisky-slicked brunch, lunch and dinner spot, serving smokey Texan-style BBQ, burgers and spiced Southern dishes. By night, it becomes a packed-out bar with excellent cocktails, one of London's biggest bourbon collections and live bands taking to the stage to play blues, funk & soul before the retro DJ set takes over until the wee hours.
When to catch it: Nightly | Cover charge? No, but you'll need to pay entry later in the week | Book & see who's playing here
---
Want more than bar bites with those beats? Check out our guide to the best London restaurants with live music