The Best London Restaurants with Live Music | They've Got A Lot Of Soul
Back in the day, a little jazz with your meal was only to be expected.
Sadly, it seems a lot of restaurants have dropped their standards.
But if you're set on a little musical accompaniment to your meal, fear not – you won't be forced to sing for your supper. Because London is still home to a number of excellent dining establishments where you can score a samba with your sambal. So behold; the best London restaurants with live music – from jazz, to classical, to 1940s gypsy folk…
–
Brasserie Zédel | Piccadilly Circus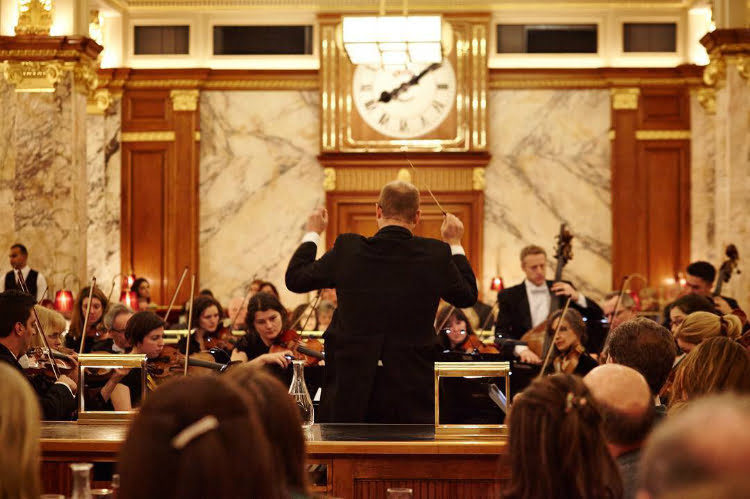 Not content with hosting one of the West End's ritziest cabaret and music venues, The Crazy Coqs, Brasserie Zédel's musical offerings spill into their grand, marble-clad dining room where live musicians play every night of the week. The bands come in for week-long residencies and blast out everything from Parisian folk music to vintage tango.
When to catch it: Every night: 8-10.30pm Mon-Wed, 9-11pm Thurs-Sat and 1.30-3.30pm & 7.30-9pm Sun | Cover charge? No
–
Dishoom | Kensington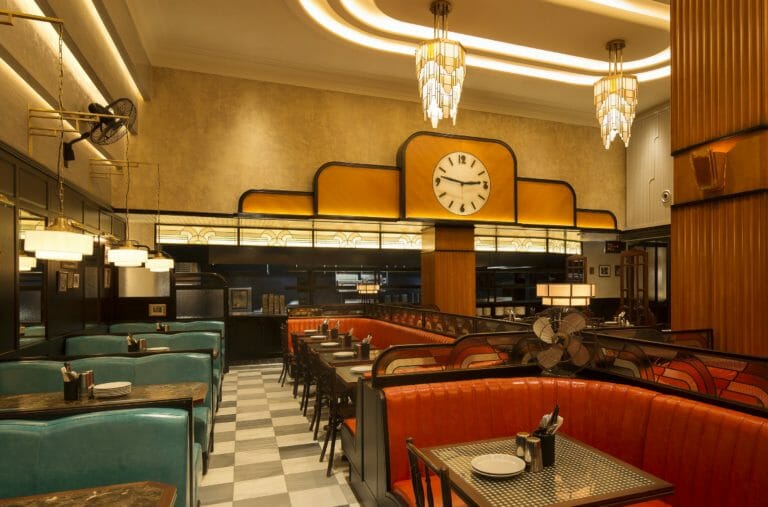 Inspired by the art deco style of 1940s Bombay, Dishoom's elegant Kensington branch goes all out with the music to match. Playing up on the mezzanine from Wednesday – Friday evenings, lively jazz trio The Marine Liners keep the place swinging while you feast on Dishoom classics like gunpowder potatoes and the inimitable house black daal (plus a couple of Chai Punches, just like the good old days).
When to catch it: Wed-Fri evenings from 7.15pm | Cover charge? None
–
J. Sheekey | Leicester Square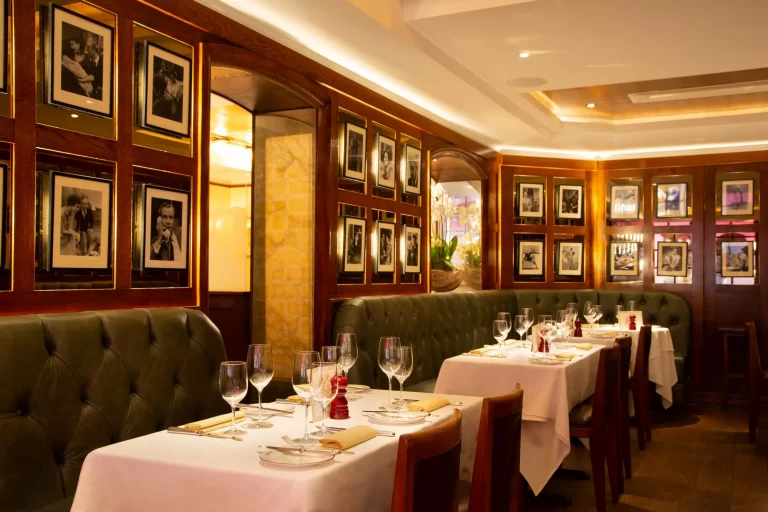 Sheekey's is a glamorously old-school seafood restaurant hiding down the alleyways of London's theatreland. In a land of crisp tablecloths, smartly jacketed waiters and conviviality emanating from every corner, a little live jazz fits in like a fish takes to water. Find the musicians in residence on the terrace every Sunday, 12-4pm – during which time you can also take advantage of Sheekey's highly reasonable set lunch menu.
When to catch it: Sundays 12-4pm | Cover charge? None
–
The Blues Kitchen | Brixton, Camden & Shoreditch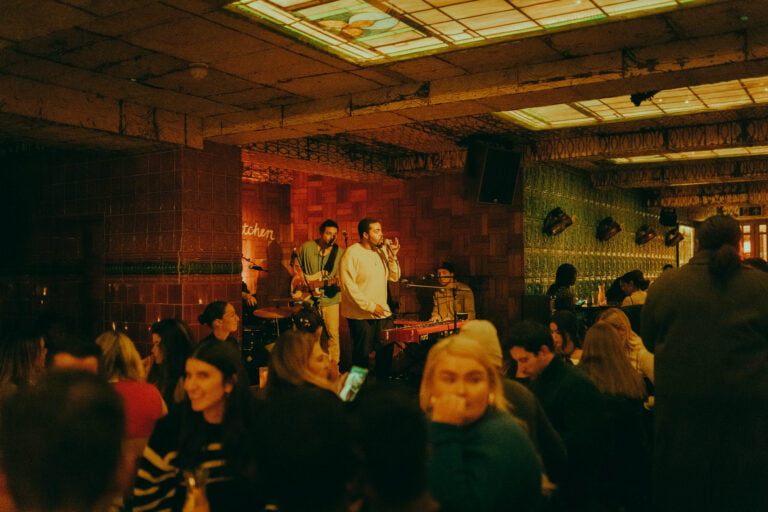 The Blues Kitchen does exactly what it says on the tin, delivering live R'n'B, blues and soul alongside excellent Southern BBQ fixings. Which means you no longer have to visit three different places for the world's strongest beer (a sociable 67.5%), pan-fried catfish, and live music seven nights a week.
When to catch it: Every night, check HERE for listings | Cover charge? Free entry but often ticketed Fri/Sat
–
Ochre | Westminster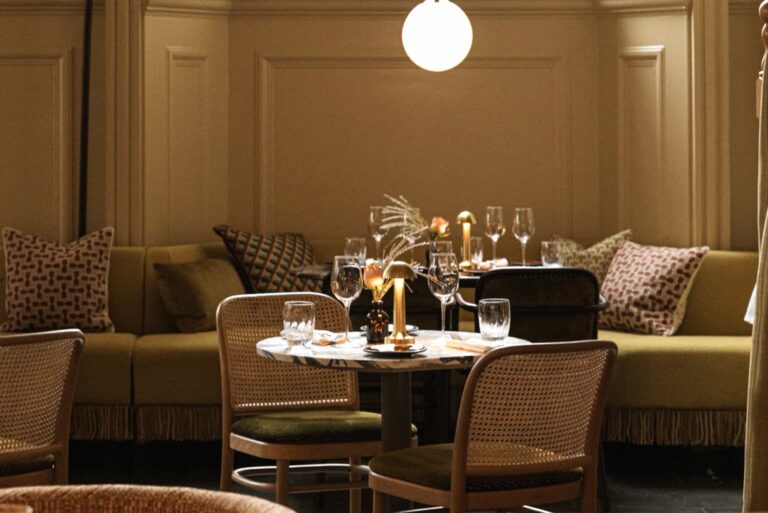 There's nothing beige about Ochre, the elegant, high-ceilinged restaurant on the ground floor of the National Gallery. Well, fine, the decor might be – a beautiful, painterly palette of mossy greens and neutral tones – but this majestic restaurant has live music from guitar trios and acoustic ensembles on the first Thursday of every month. And that's all paired with a menu that makes the most of the wonderful produce grown and sourced right on our doorstep: think Cornish mackerel, Saddleback pork & Westcombe cheddar croquettes and Exmoor venison with beetroot and black pudding…
When to catch it: First Thursday of every month | Cover Charge? No
–

The Tent (at the End of the Universe) | Fitzrovia
If you've ever wondered what sort of food they serve at the end of the universe, London has the answer: weekly-changing Middle-Eastern fare from ex-Noma chef John Javier. If you're also curious about the kind restaurant they serve the food in, well, it's a sci-fi style bedouin tent set to the tune of live DJ sets. Imagine you've just stumbled into the VIP section at Coachella…
When to catch it: Tues-Sat | Cover charge? No
–
Quaglino's | St James's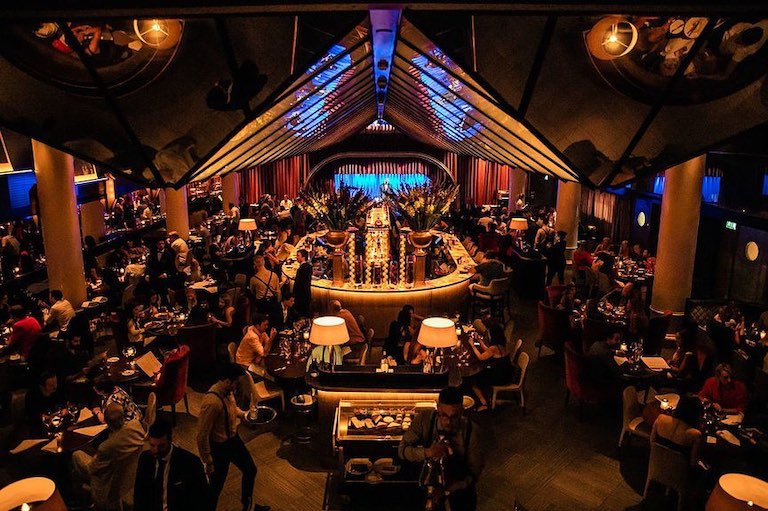 Quaglino's has sat a few yards away from St James's since 1929. So it has an Art Deco look because it was built in the Art Deco era. And it feels like restaurant royalty because it literally entertained royalty. But they've moved with the times, keeping the good bits from their storied history (the glamour) and updating the stuff that ought to be updated (the menu). And part of that old school vibe is the live music, which fills their centrepiece stage every night. You'll find upbeat brass bands, toe-tapping jazz, catchy swing music and more from an array of top-shelf acts. And being a D&D restaurant, they've made sure the food & the cocktails are its equal in every way too…
When to catch it: Seven days a week, typically from 7pm | Cover charge? No
–
Live jazz and pizza? Sounds lovely, doesn't it? It's great news then that this extremely appealing combination exists at Voodoo Ray's Peckham branch where, on a Sunday evening, you can come for a slice or two of some of the best pizza in London, and stay for live music from The Rachael Cohen Quartet. And then maybe for more pizza…
When to catch it: Every Sunday from 7pm | Cover charge? No
–
28-50 By Night | Marylebone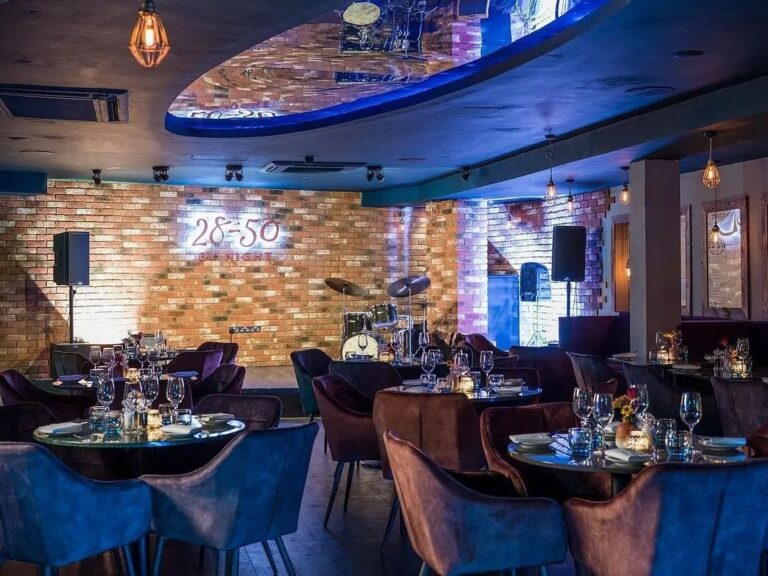 28-50 By Night made a name for themselves in the restaurant game thanks to their top-shelf wine list – the place is even named after the latitudes that grow the best wine grapes – but now they've added another string to their bow: London restaurant with live music. Their moody dining space plays host to high-calibre live jazz acts every night… and the wine is absolutely stellar.
When to catch it: Tue-Sat, 8pm-2am – check HERE for listings | Cover charge? No
–
Sunday In Brooklyn | Notting Hill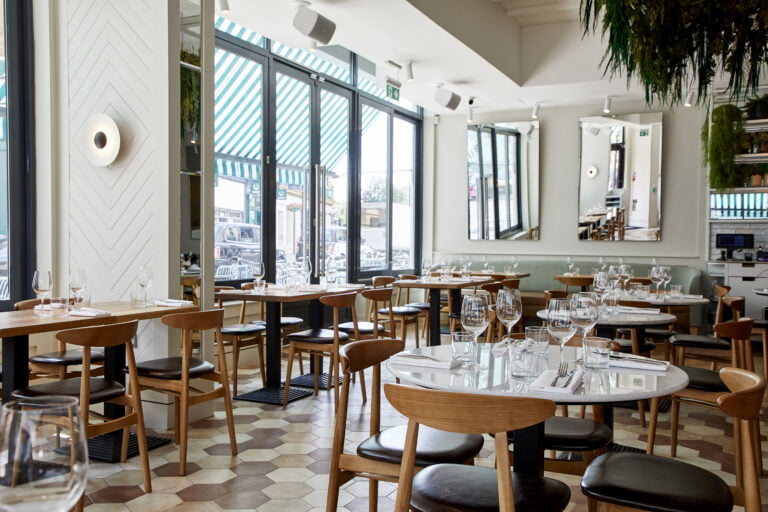 Probably the only place in London where you can get a plate of pancakes, in the evening, while a live band plays in front of you. Sunday in Brooklyn may be known for its brunch (hence the pancakes, which are now available on the dessert menu for dinner) but on a Friday night, there are few other places in town that can beat it….
When to catch it: Friday nights | Cover charge? No
–
Cafe KOKO | Camden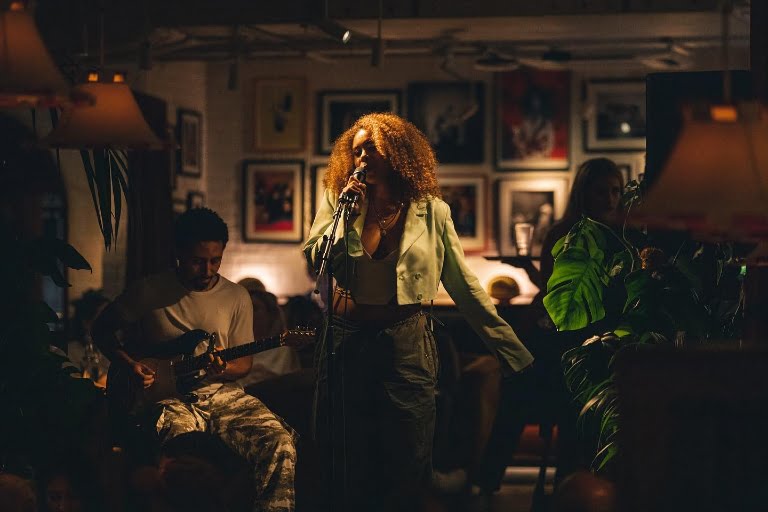 Cafe KOKO was made for music. As in, the building it's in was literally a piano factory, and as in it's attached to the KOKO, you know, the same KOKO that's over a 120 years old, and which has been host to the greatest names in entertainment throughout its entire tenure, from Charlie Chaplin, to Ed Sheeran, to everyone else in between. So, in short, they take their live acts relatively seriously. You'll find them playing almost every day of the week, and you can score an excellent pizza & some cocktails while you listen.
When to catch it: Tuesday, Thursday, Friday, Sat & Sun most weeks | Cover charge? No, but occasionally you need to book free tickets
–
–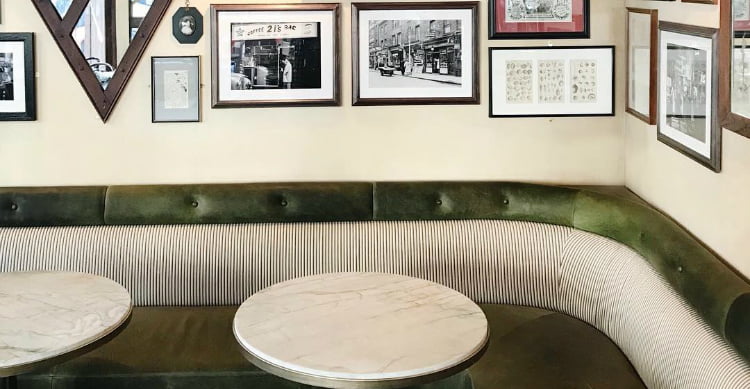 A Soho institution, Café Bohème has all the great hallmarks of French authenticity (despite actually being owned by Soho House) – cosy, Belle Epoque décor; a menu of hearty French fare; and, being one of the best London restaurants with live music, nightly live jazz that seems to make the seafood taste that bit better…
Maybe it's a mussel relaxant.
When to catch it: Daily 3-5.30pm | Cover charge? No
–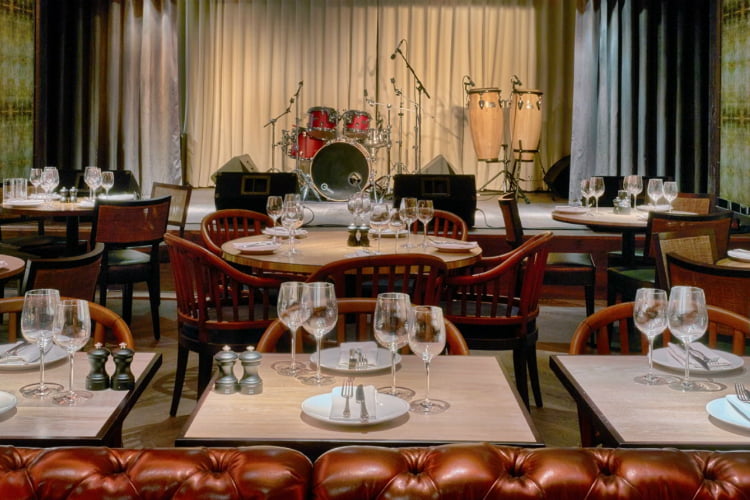 Built on the very site where the Rolling Stones played their first gig, 100 Wardour St hopes that you can always get what you want, with a nightly changing line-up of live music. Plus, there's a full dinner menu available until 11pm.
When to catch it: Wed-Sat evenings | Cover charge? No
–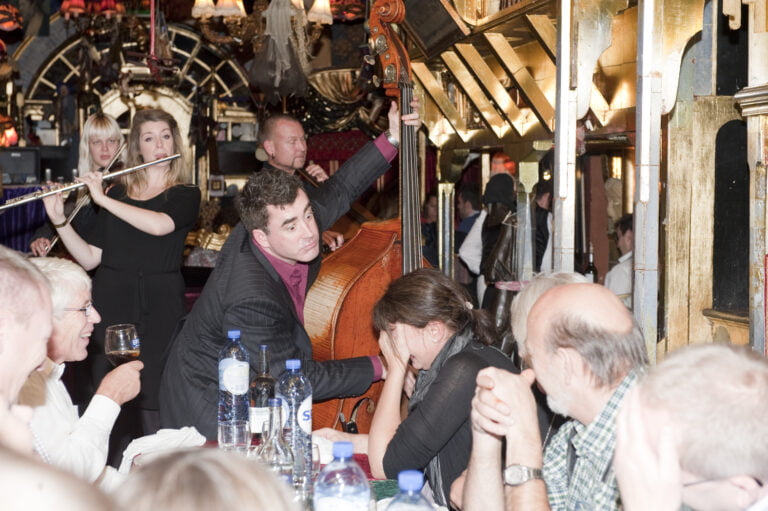 The fact that almost every surface is swathed in gold isn't the most unusual thing about this restaurant – and neither is the fact that some of the seating is arranged in theatre-style boxes. If anything, it all starts to make sense in the evening when performers – from Thursday to Sunday – start belting out anything from Motown to opera. It's a hoot.
When to catch it: Thursday – Sunday evenings, check HERE | Cover charge? No
–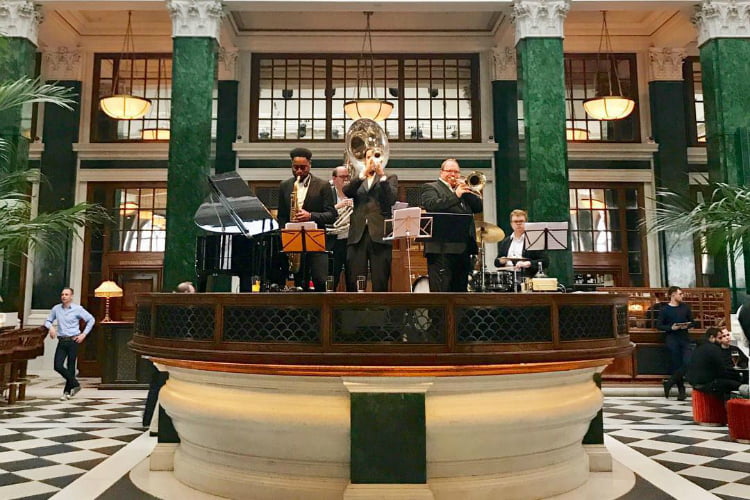 Soho House's grandest opening yet, The Ned makes its home in a former bank building in, well, Bank. And inside the majestic, marble clad ground-floor atrium, you'll find no less than seven restaurants, a cocktail bar, and a central bandstand, from which you'll be treated to live music daily – from roaring jazz to acoustic sets from up-and-coming artists.
When to catch it: Daily | Cover charge? No
–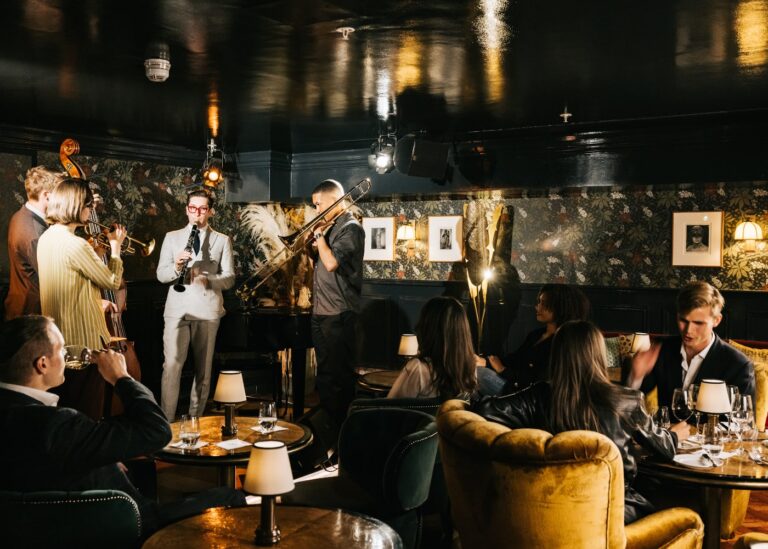 They say intimate live jazz and five-piece bands are best enjoyed with caviar, lobster thermidor and racks of well-sourced lamb ('they' being 'us'), and such a pairing can be actualised nightly at The Ned's subterranean velvety lair of luxury, The Parlour. Expect live jazz on Wednesdays and Thursdays, motown on Fridays, and on Saturdays, the stage is reserved for Black Cat Cabaret's sensational High Society show where singers, comics and dancers provide your dinner entertainment. 
When to catch it: Wednesday – Saturday nights | Cover charge? £20pp
–
If live music's your cup of tea, you can combine it with an actual cup of tea in the flamboyantly eclectic Gallery at Sketch. You won't find a more beautiful afternoon tea in London, one where string quartets will bow their way through classical pieces and the occasional pop arrangement as you plunder the Victorian sponge trolley…
When to catch it: During afternoon tea, daily | Cover charge? No
–
Le Café du Marché | Smithfield
If a child drew a (very accomplished) picture of a French restaurant, this is how it would look – hidden down a cobbled alleyway, with vintage posters on the walls, candlelight and tablecloths, little curtains at the windows, and a nonchalant pair of musicians providing a little background jazz on double bass and piano.
When to catch it: Tuesday – Saturday evenings | Cover charge? No
–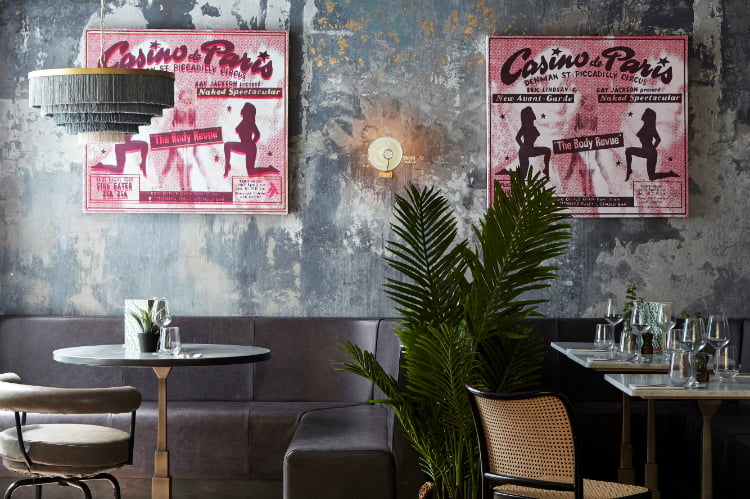 Scarlett Green would make a horrible colour. But thankfully it's pretty easy on the ears, thanks to the live music sets kick-starting the weekend in their stylish first-floor dining room – the perfect accompaniment to a bottomless dinner with Pornstar Martini fountains.
When to catch it: Friday & Saturday nights | Cover charge? No
–
Toulouse Lautrec | Kennington
This attic jazz bar is like something out of a film – crooners and quartets take to the stage at the back, while lovers share steak tartares and crème brûlées at marble-topped, cabaret-style tables with Bentwood chairs. The atmosphere's romantic, the music's great and the food is classically, romantically French.
When to catch it: Every night, around 7-9pm | Cover charge? Jazz Club events are ticketed
---
Looking for restaurants with live entertainment? Check out Circus and Proud Embankment