After two years of lockdowns & isolation, 2022 came as a welcome flurry of social interaction. At last we were free to get together and eat, drink, dance, and generally just interact. And the capital happily provided ample new places to do all of it. The dam of London nightlife burst, unleashing a giddily exciting wave of new bars, restaurants, night-clubs, and – in classic London fashion – roller discos, floating date spots, and dessert-only tasting menus too.
This is a celebration of those grand, inventive, fun, interesting, and frequently mind-blowing places that have been added to the ranks of our fair city over the past 12 months…
Very Best New Restaurant – Plaza Khao Gaeng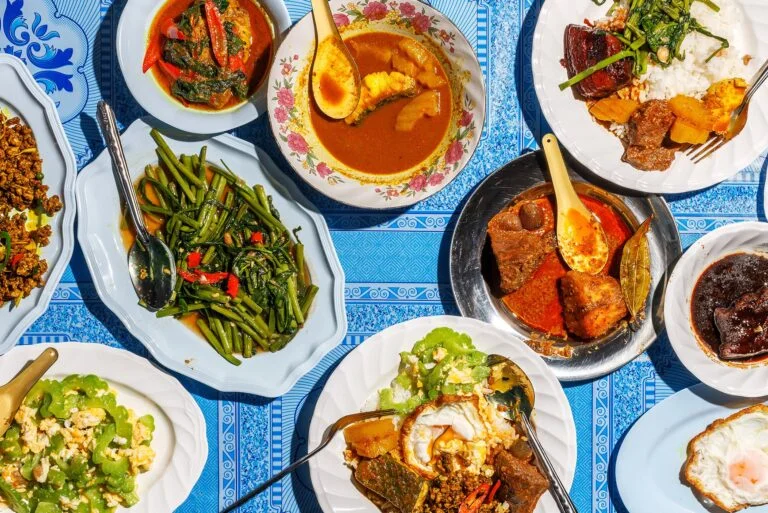 To be clear right from the outset, Plaza Khao Gaeng is not a date spot. Unless your date is the kind of person who wants to be transported into the backstreets of a town somewhere in Thailand, and lavished with the kind of intense, vibrant, zingy flavours that seem like you couldn't find anywhere else. In that case, it is a date spot. But only then, because the space itself (sitting proudly on top of the Arcade Food Hall) has a throughly hole-in-the-wall vibe bought out by fluorescent lighting, plastic tablecloths clipped to the tables, and simple wooden furnishings.
But you're not here for the decor. You're here for Luke Farrell's food. You see, he's a chef who is obsessive about his ingredients. He sources everything he can from Thailand. And anything he can't get, perhaps because it's too perishable to travel, or too expensive to be practical, he grows himself. Here. He has a huge greenhouse in Dorset (he calls it a "living library") complete with wildlife, tropical rain showers, native Thai butterflies for pollination, and dozens of herbs, spices, fruits, and vegetables. It's like a mini rainforest down on the south coast.
The result? You'll be rewarded with a parade of Southern Thailand's thick, blazing curries, fresh seafood, and fragrant salads. You'll get gin & snakefruit cocktails, ice cold beers, and house-fermented pineapple sodas. And you'll be planning your second visit before you even leave.
Details: Above Arcade Food Hall, 101-103 New Oxford Street, WC1A 1DD
–
Very Best New Bar – Seed Library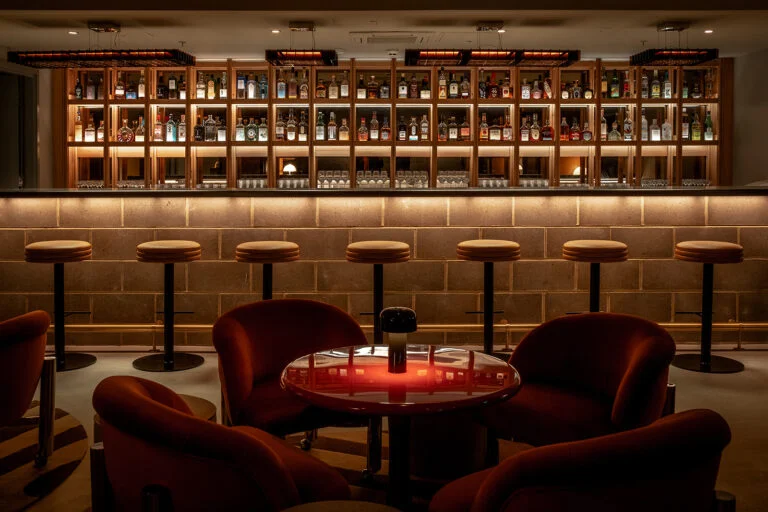 Ryan Chetiyawardana is many things – mixologist, restaurateur, uncrackable password – but his breadth of talent has been poured mainly into his line of Mr Lyan cocktail bars, which included the world's number one for some time (Dandelyan). And this year, he cut the ribbon on another, Seed Library. Set down in the basement of the 100 Shoreditch hotel, it's the definition of moody, with dim lighting; red velvet armchairs set around lacquered, lamplit tables; and a bar made of breezeblocks. It's retro, kind of brutalist, and more than a little louche. And the drinks? Well, it's a classic, deeply experimental exploration of booze, refined into something approaching perfection.
Details: 100 Shoreditch High Street, E1 6JQ
–
Best New Floating Date Spots: Caravel & Bruno's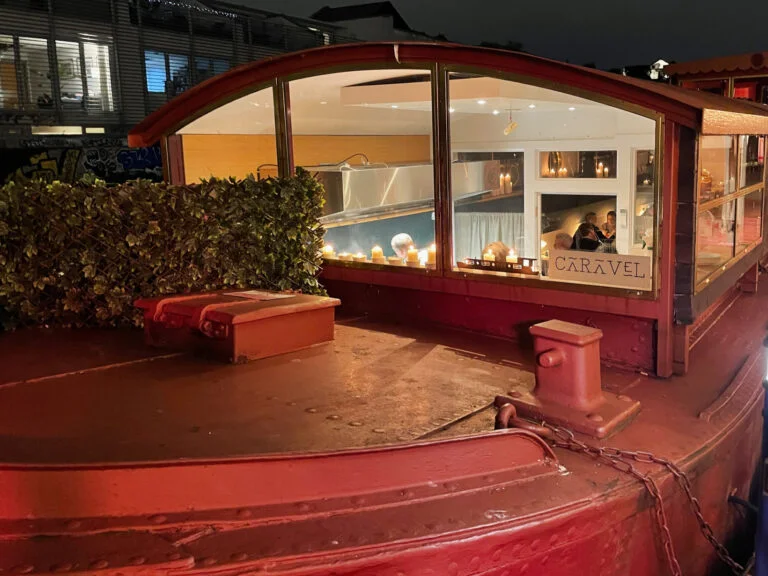 Both Caravel and Bruno's are located on little barges permanently bobbing up and down at a seemingly inaccessible canalside mooring in Islington. They're both run the Spiteri Brothers (whose parents are Rochelle Canteen's Melanie Arnold and St. John's Jon Spiteri). And apart from growing up on a diet of pure, unfettered culinary skill, the two have also learned the ropes for themselves at some of London's finest institutions, from Quo Vadis to 69 Colebrooke Row. Brother Lorcan does the food at Caravel (the sesame prawn toast might be the best in London) while brother Fin does the cocktail at Bruno's, both plying their delicious trades in tiny spaces that constantly move with the ebb and flow of the canal itself. As date spots go, it's tough to beat.
Details: In a pair of barges at 172 Shepherdess Walk, N1 7JL
–
Most Stunning New Dining Room – Berenjak Borough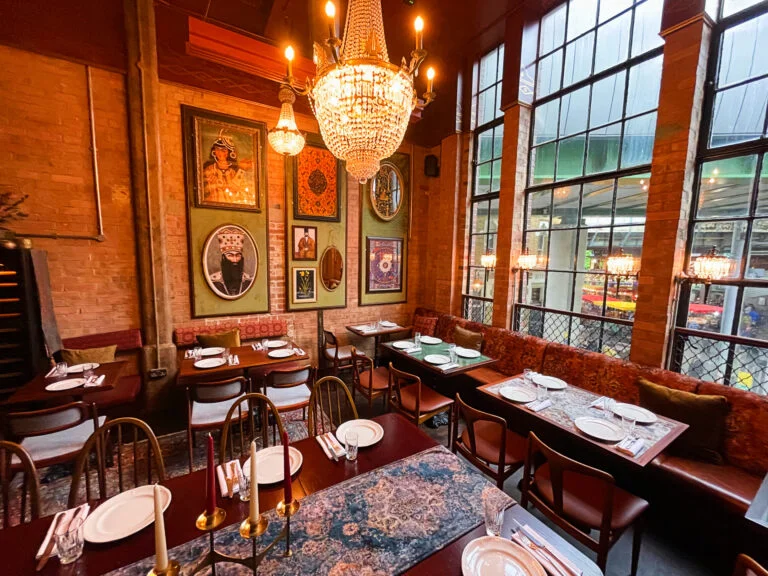 To say that Berenjak Borough is a kebab place is both to tell the truth, and to withhold a few choice adjectives. Because it's an amazing kebab place, it's a stately kebab place, it's a beautiful kebab place, and more. You'll find it in the old Flor spot in Borough Market, and if you head up the cast iron spiral staircase you'll get to a high-ceilinged, brick-walled dining area lit by gigantic floor-to-ceiling warehouse-style windows from which you can see the traders sprawled out below. Chandeliers hang from the ceiling, candles cast up from the tables, and intricate artworks burnish the walls in between. You'll be hard pressed to find a more impressive dining room. And the kebabs aren't bad, either.
Details: 1 Bedale St, SE1 9AL
–
Best New Lift In A Chimney – Lift 109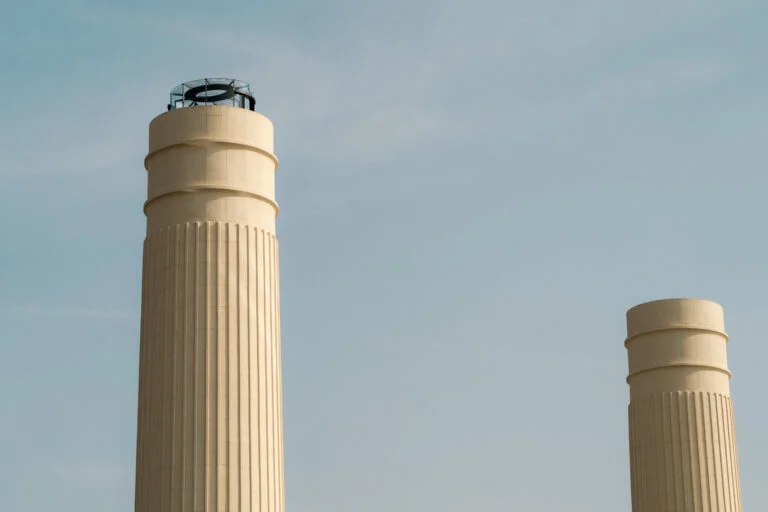 In a highly competitive category this year, Lift 109 inched it ahead of the dozens of other lifts housed within chimneys to take the prize. Probably because it's in Battersea Power Station. You'll find it in the northwest chimney of the iconic Art Deco building, and it'll whisk you up the full 109m height, peeking out over the top, and giving you a view that you can almost see France from. It's entirely made of glass, and it includes an impressive 45min, extremely well-lit journey.
Details: The The Northwest Tower, Battersea Power Station, SW8 5BN | £15
–
Best Actually Immersive Immersive Experience – Sandbox VR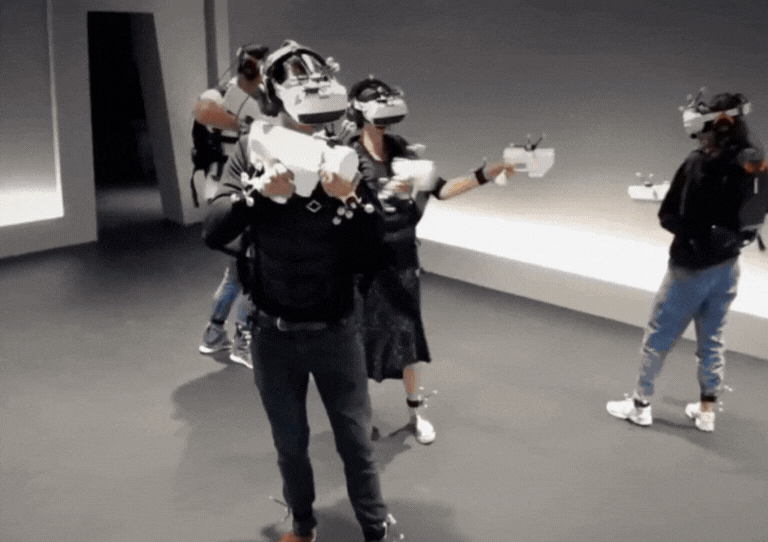 Sandbox VR is bloody amazing. Like… there are a lot of immersive experiences, theatre and activities in London that promise genuine immersiveness (which is of course something that can be easily and scientifically measured by counting the number of times that each participant thinks during the activity about either 1) What they're having for dinner 2) How little fun they're having, or 3) How much money it cost them to have such little fun). But this new London experience genuinely IS fully immersive; it genuinely IS fun; and you genuinely WON'T think about anything – beyond your own survival – throughout the entire ordeal. Perhaps because this is the kind of virtual reality that actually feels like reality, in its own dedicated space…
Details: The Post Building, Museum Street, WC1V 6PJ | £35-£50
–
The Best New Music-Based Members Club – KOKO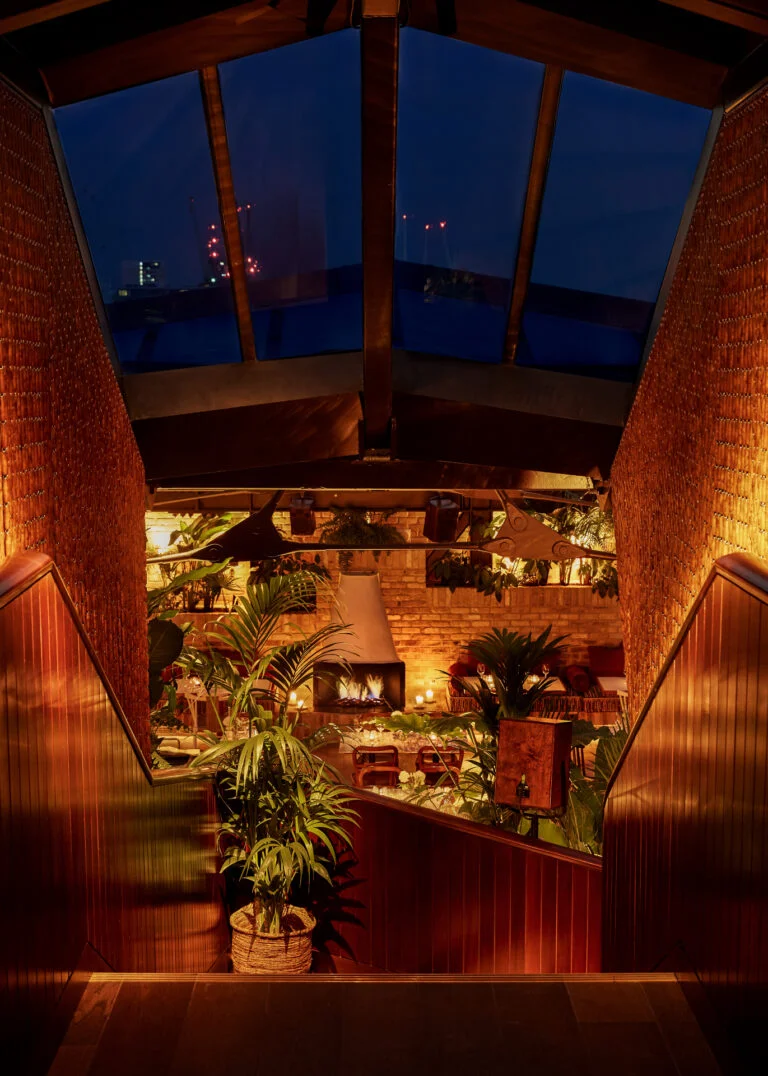 KOKO has been a mainstay in London's entertainment scene for well over a century… until is almost fell down. Now, after a top-to-bottom restoration, it's been turned into a members club. And what a club it is. It now boasts a whopping 50,000-square-feet of beautifully dolled-up space, all centred around the all-new main theatre. You'll find a cocktail lounge, a recording studio, a bar with its own private vinyl listening booths, a piano room, a library, a jazz club hidden behind a door in said library, a restaurant, and – the jewel in the crown – a roof terrace inside that iconic dome that sits on top of the whole building.
Details: 1A Camden High Street, NW1 7JE | Monthly membership fee, £44-£125
–
Best Reincarnation Of A Food Hall – Arcade
Initially, taking over the Arcade Food Hall seemed like a bit of a strange play. The food hall itself had some fairly decent restaurants (and some fairly high prices) and it failed fairly spectacularly. Maybe opening at the tail end of 2019 wasn't the best timing, but how were they to know. Nevertheless, the JKS restaurant group who took it over seemed to be inheriting a losing ticket – but they've turned it into one of the best food halls in the city, by far. The restaurants are uniformly fantastic, from Mexa's excellent tacos, to the crispy Javanese fried duck at Bebek! Bebek!, to the shining star atop it all: Plaza Khao Gaeng.
Details: In the Centre Point building, 101-103 New Oxford Street, WC1A 1DD
Best Dessert-Only Tasting Menu – Cedric Grolet at The Berkeley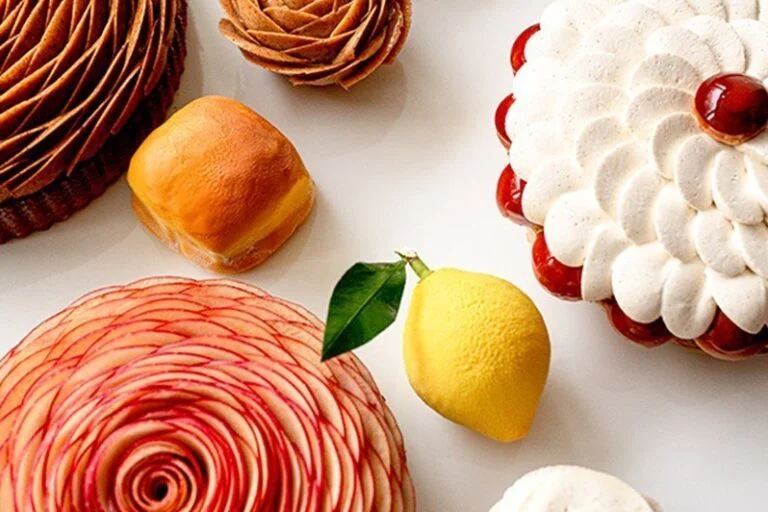 In the world of Cedric Grolet, nature's harvest of fruits were but a paltry first draft that he has re-written in pastry form. His tasting menu of desserts will include lacquered cherries, perfectly textured lemons, shiny green apples, and more, all of which look exactly like the real thing… only they have a sweet (sometimes surprising) filling encased in a perfect, cake-like shell. Of course, if you don't want to drop £120+ on a parade of sweets, you can always just get the fanciest looking one from the pastry counter.
Details: The Berkeley, Wilton Place, Knightsbridge, SW1X 7RL | £120
–
Best Roller Boogie Palace – Flippers Roller Boogie Palace
"It's Studio 54 on wheels."
That's how the original Flipper's Roller Boogie Palace was described by one actress, and frankly, she nailed it. The place was only open in LA for less than three years (from '79 to '81) – there are pop ups that have lasted longer – but its candle burned so incandescently bright that even now, four decades later, its legend is still enough to see its revival mark a seismic event in the celebrity calendar. Well, now the newly resurrected Flippers is open in West London, inside a vast 34,000 square-feet beauty of a brick-built, Grade-II listed former power station first built back in 1899. It's big, it's bold, it's glitzy, and it's fun as hell…
Details: Exhibition London, Ariel Way, W12 7SL | Entry plus adult skate hire is £20.50
–
---
Want more superlative goodness from the last 12 months? Then check out the best bars and restaurants of the year…