Mayday, Mayday.
You're on Oxford Street. You've finished work, been shopping or lost your mind. It's loud, it's busy and you're hungry. You're at a crossroads (literally). If you don't eat soon, that hunger will turn to hanger and you'll become an aggressive troll unable to communicate without being sated.
But relax, we've got you.
Oxford Circus is the nexus of some of London's best restaurant neighbourhoods – there are great places to eat in Marylebone, Soho and Kingly Court (just off Carnaby Street). But for those times where you haven't made a booking, or want to enjoy some good food that won't do more damage to your wallet than you've already inflicted in the shops, here are some of the best places to eat around Oxford Circus:
–
Tendril | Princes Street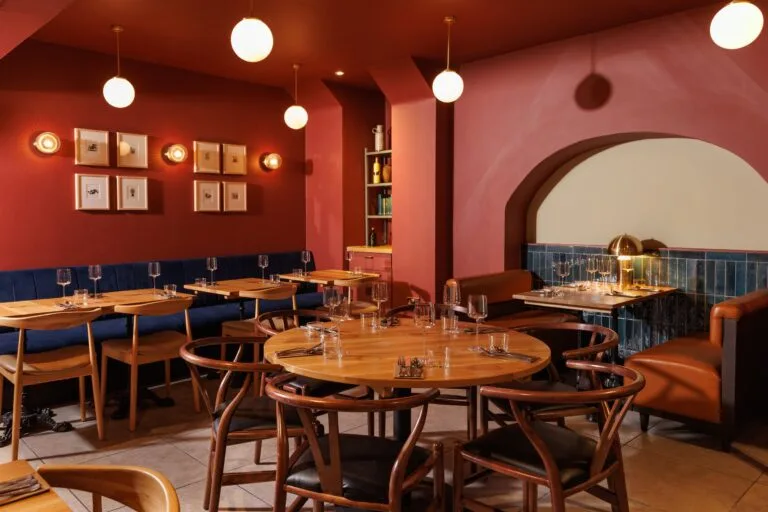 Tendril is a 'mostly vegan' dining concept from ex-Chiltern Firehouse and The Dairy chef Rishim Sachdeva, and it's finally put down firm roots – in the same place it's been running as a long-term pop up, just behind Regent's Street. The plant-forward menu has garnered rapturous praise for dishes like sticky soy beetroot fritter bao with daikon & sesame scallion, and it's all accompanied by a vegan-leaning wine list and excellent cocktails.
Details: 5 Princes Street, W1B 2LQ | Book here
–
Casa do Frango Piccadilly | Heddon Street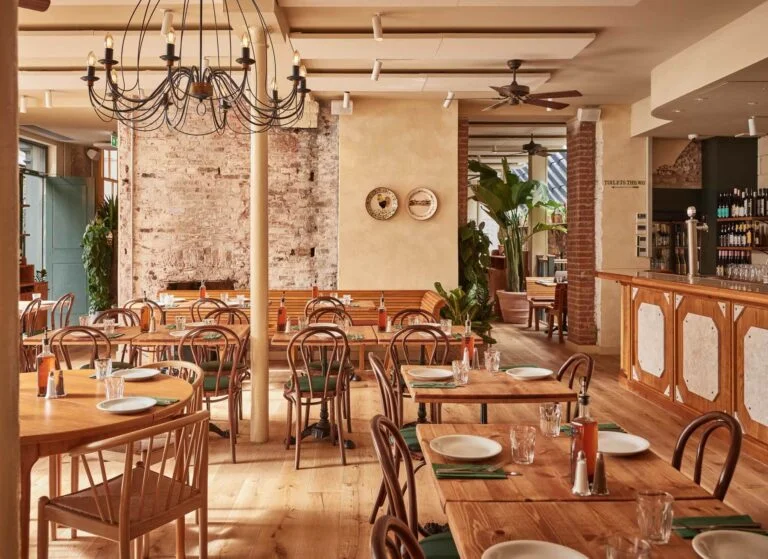 London's premier Portuguese chicken purveyors have opened a third location on Heddon Street and it's the largest of the lot; with space for 200 across a light-filled dining room, two private dining rooms, speakeasy-style bar The Green Room, and a terrace that spills out on the street. Basically you can consume your chargrilled chicken in a variety of different seating arrangements, plus the Algarve-inspired appetisers (the piri-piri prawns, the Iberico pork and potato croquettes), the plentiful selection of port wine, and the pastel de nata. The poster child of the whole operation, the bird, is rubbed with their signature piri-piri blend (or lemon & herb or oregano, if you fancy going against the grain) and butterflied over a traditional Algarvian wood-fire grill. It's poultry in motion…
Details: 31-33 Heddon St, Mayfair, W1B 4BN | Book here
–
The George | Fitzrovia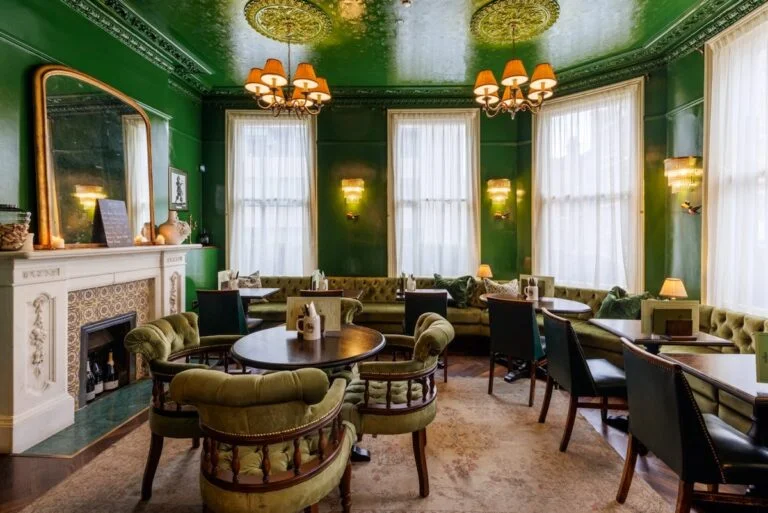 Admittedly, recommending a pub as a good place to eat in Oxford Circus is a curveball. But then, The George is no ordinary pub. It's a two-storey 18th century masterpiece that was recently taken over by Dominic Jacobs (of The Cadogan Arms) and the JKS Group (of Gymkhana, BAO, Lyle's, etc). Long story short: it's extremely good. And the food side of the equation is overseen by Michelin star winning chef James Knappett, who puts a luxurious spin on classic pub fare like beef & Guinness pie with clotted cream mash; Goan-spiced half roast chicken; and crispy lamb sweetbreads with blue cheese.
Details: 55 Great Portland Street, London W1W 7LQ | Book here
–
Sabor | Heddon Street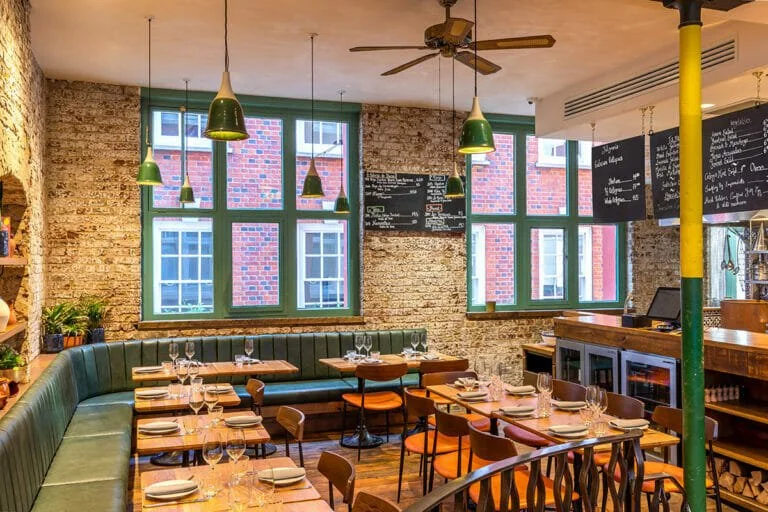 Michelin starred Spanish spot Sabor is split into two seating areas. The counter on the ground floor serves a tapas menu fresh from the kitchen, which includes grilled quail, ajo blanco (chilled almond soup) and pomegranate; and braised oxtail with queen scallops. You don't need a reservation – handy for those impromptu visits after shopping – and if you're in a hurry, you can simply prop up the bar for a little jamon Iberico, which they'll slice as you wait.
Follow the spiral staircase upstairs to the mezzanine to experience a different menu that features some tapas (crisp pigs ear with quince aioli and hot paprika), but also bigger mains to share from the asador (wood-fired oven), like Segovian suckling pig (also available half or whole for bigger parties) and txuleton gallego (48 day cured Galician rib of beef).
Details: 35-37 Heddon Street, W1B 4BR | Book here
–
Imad's Syrian Kitchen | Kingly Court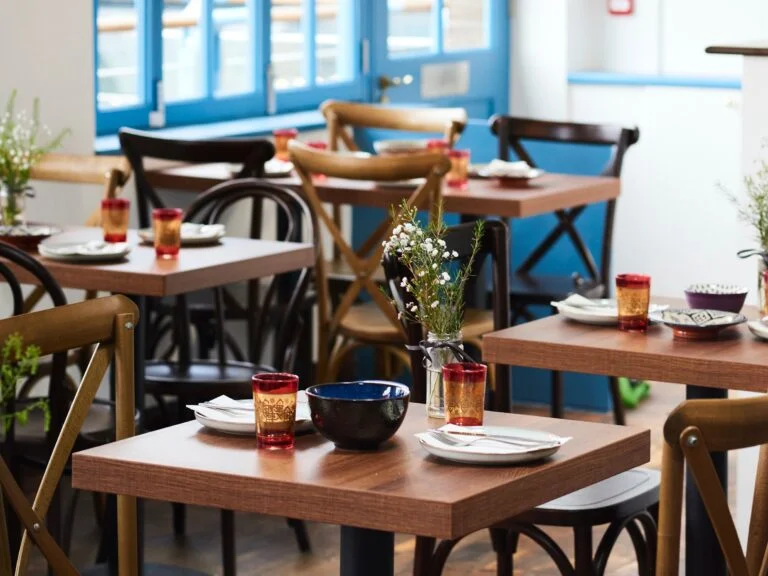 Imad's Syrian Kitchen is run by a Syrian refugee named Imad Alarnab – and his story's pretty extraordinary. He was one of the most famous chefs in Damascus, then civil war forced him to flee to Europe, eventually making it to the UK where he started a pop up restaurant and donated the proceeds to charity. Now he has a permanent restaurant. And what a place it is too: friendly staff; great food; and Imad's often there welcoming guests himself.
Details: Top Floor, Kingly Court, Soho, W1B 5PW | Book here
–
Polpo | Beak Street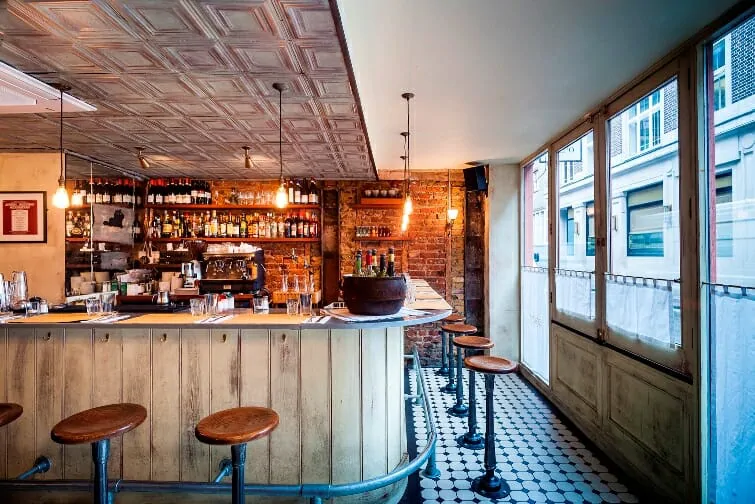 This authentically styled bacaro (Venetian tapas bar) has become something of an institution. First opened in 2009 by the late, great Russell Norman, it regularly saw queues around the block. Polpo also almost single-handedly kickstarted London's Campari craze – when it first opened, it sold more Campari and Aperol than the rest of the UK combined.
Split into clear sections, the menu offers cicchetti (snacks) such as N'duja arancini and tuna & leek crostini; fish dishes like fritto misto (mixed, fried fish), and mackerel tartare; meat dishes including their speciality meatballs (pork and fennel or classic beef and pork); and pizzette (mini pizzas) topped with the likes of spinach, parmesan and soft egg.
And obviously wash it all down with one of their Campari-based cocktails, either at your table or in their ruby-lit negroni bar downstairs.
Details: 41 Beak St, W1F 9SB | Book here
–
Le Bab | Kingly Court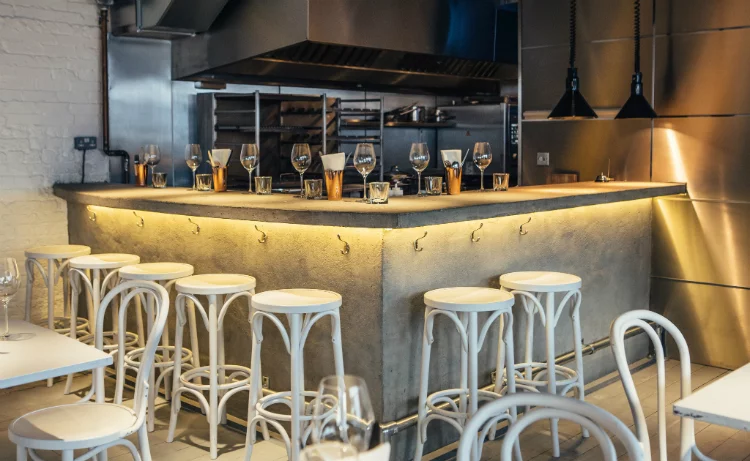 Have you ever thought you just want to pack in your job as a chef at two Michelin starred Le Gavroche and start flogging gourmet kebabs?  Probably not, but you can be glad these three chefs did. Expect robata-grilled meat on homemade flatbreads like corn-fed chicken shish, chicken 'crackling', and heritage carrot tops alongside the slightly less Friday-night roe deer adana, Jerusalem artichoke crisps and blackberry & chilli jam. They're as good sober as they are drunk (order a couple of Smokey Sours – mescal, Laphroaig, lemon, agave – to test the theory), and they're undoubtedly the prettiest kebabs you've ever seen.
Details: Top Floor, Kingly Court, W1B 5PW | Book here
–
Bossa | Vere Street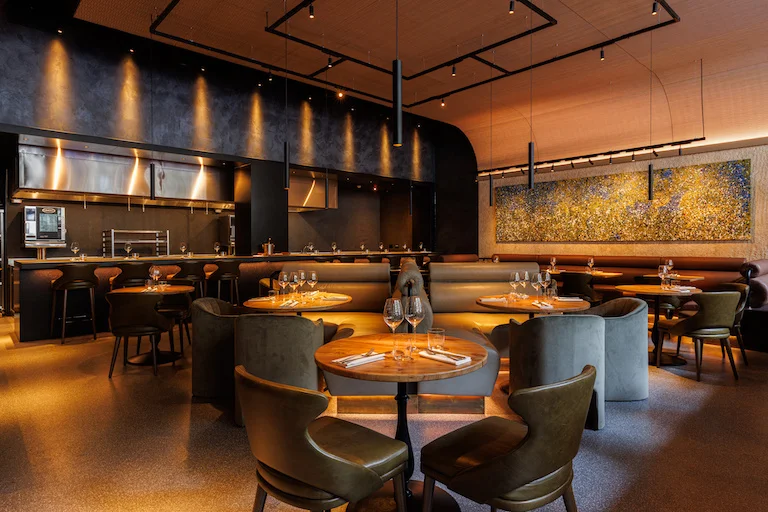 Expectations were high for Alberto Landgraf's first London restaurant. He's only a two Michelin star chef and the owner of Opaque in Rio De Janeiro, ranked 47 on the best restaurants in the world list. No pressure. But as you'd expect from a chef of his calibre, Bossa lives up to the hype; set in a ultra-slick and spacious 60-cover dining room (complete with front row counter seats to open kitchen) where you can enjoy his lush contemporary interpretations of his native cuisine, like scallops roasted over an open fire and dressed in a tucupi sauce and açai sorbet served with sugarcane crumble and a smear of spiced chocolate. He's also brought in Laís Aoki from Brazil to curate the wine list, only voted 'Brazil's best sommelier' recently…
Details: 4 Vere Street, W1G 0DG | Book here
–
Quo Vadis | Dean Street
This Soho stalwart is dripping in history. Formerly a notorious brothel and then home to Karl Marx, it finally became a restaurant in 1929. What you can expect there now is a tad more calming than in its previous lifetimes. Stained glass windows and parquet flooring adorn the space, while the dishes they're serving are British inspired and include smoked eel sandwiches; marinated venison haunch with apples, celery, celeriac, escarole and cobnuts; and lemon-cured hake with fennel velouté.
And what old school haunt wouldn't be complete without a long, well-curated wine list? It's broken down by country for you to peruse (or whisper behind when you see someone super-famous go upstairs to the members' lounge).
Details: 26-29 Dean St, W1D 3LL | Book here
–

Bob Bob Ricard | Upper James Street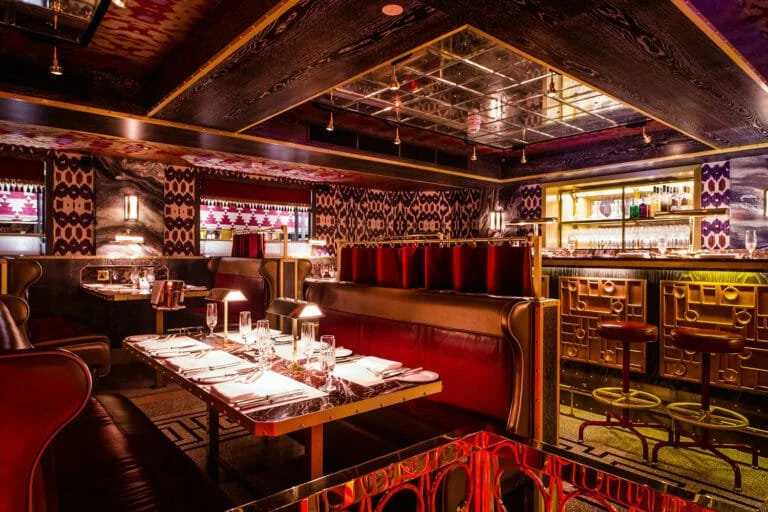 Ok – Bob Bob Ricard isn't an everyday kind of place. Unless you find buttons labelled Press for Champagne deeply quotidian. But for a special occasion, this impressively glitzy restaurant dressed in marble, cobalt blue booths and gold fittings – like a carriage of the Orient Express – will more than fit the bill. An amuse-bouche of vodka shots (served at precisely -18ºC) and oysters arrive before Anglo-Russian dishes like truffled potato and mushroom vareniki (dumplings); chicken kievs; and a giant beef wellington for two to share.
And of course, copious amounts of champagne.
Details: 1 Upper James Street, W1F 9DF | Book here
–
Flat Iron | Beak Street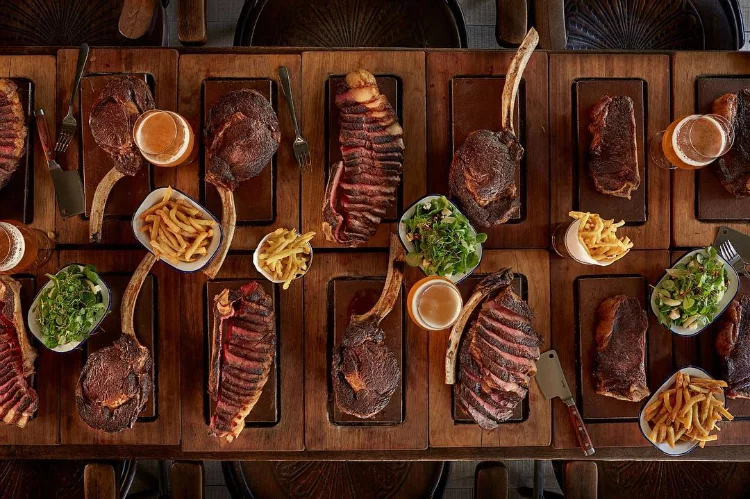 The Soho original of this forward-thinking, affordable-steak-for-the-masses restaurant (or perhaps now, culture).
The idea is simple: 200g of Flat Iron steak (from the shoulder of the cow) for £13, plus sides. They have a special that changes every now and then (a burger with béarnaise, a ribeye, rump, etc) but it's the flat iron you're here for – and it's a recipe that's proven so popular that they now have venues all over London, each with their own nuances. This branch's? A salted caramel mousse that's whipped in a cream canister and tastes like Mars bar clouds. Do. Not. Miss.
Details: 17 Beak St, W1F 9RW | Book here
---
Still looking for inspiration? Head a smidge further south and investigate the best restaurants in Soho