In this digital age of anxiety-inducing holiday snaps, swipes, likes, matches and ghosting, more and more people are turning to pottery classes to reconnect to something more tangible by learning the 10,000-year-old craft.
So to help you, we've been busy rolling around in more mud than a wet Glastonbury in order to narrow down the best pottery classes London has to offer. We've broken them down into the different areas you might want to try, and we've included the price of a taster class…
…so that you don't get mugged off.
THE BEST POTTERY CLASSES FOR… THROWING
Jess Jos | Stepney Green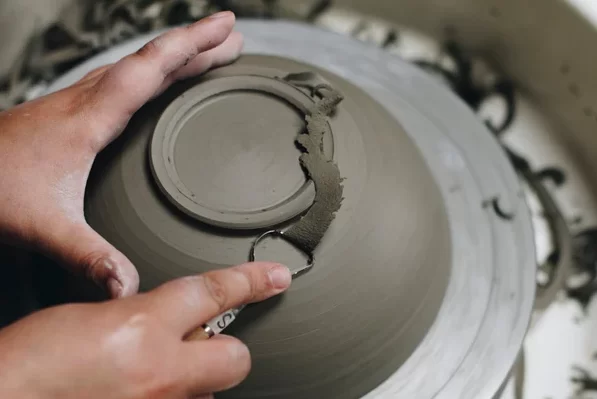 Based out of a studio on Stepney City Farm, Jess Jos specialises in throwing tableware. She runs throwing classes for novices, right up to fellow professionals. Her bespoke tableware courses are aimed at making a specific end-product and include cups and bowls; plates; mugs; tea & coffee pots; and moon jars.
If once a week isn't enough and you prefer to get stuck in – she also runs intensive courses over 4 days that cover the basics of throwing, making different shapes on the wheel; and using different clays.
Beginners weekend: Currently the closest thing to a taster class on offer – commit to two days of intensive pottery action and you'll leave with eight glazed pots for £255 (or more, if you want to drop another tenner, and somehow manage to make more than eight serviceable pieces of pottery).
–
Crown Works | Bethnal Green
Crown Works was opened by Giulietta Hextall, who trained under master potter Steve Sheridan. The studio has nine permanent potters who work there full-time and also teach throwing classes for beginners and intermediate potters. The longer courses are all run over six weeks and go through the basics of throwing, from centering the clay, through practising certain shapes, to glazing in the final week.
It's one of the best studios specifically set up for pottery classes, with throwing wheels lined up in a row so you can chat to a friend, date or fellow potter while you work. They also run intensive one and two day courses over the weekend as well as a five-evenings-in-one-week course, if you're too impatient for your next class to come around.
Taster session (£60): Going through the basics of throwing over two hours, with your best pot fired and glazed for you to take home.
–
Columbia Road Clay | Shoreditch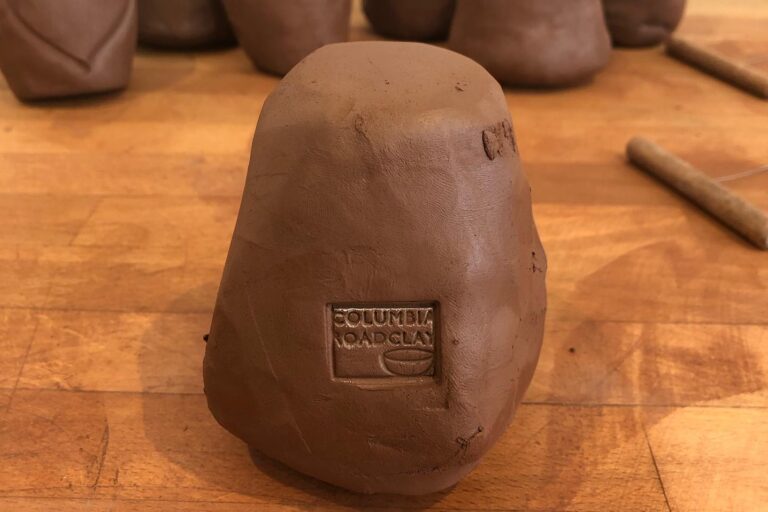 A stone's throw from popular Columbia Road, this studio offers 4 and 8-week throwing courses as well as taster workshops and private sessions for anyone wanting an expert eye on their work. They're also committed to giving back to the local community, with free pottery classes on offer to foster inclusivity and accessibility.
Taster session (£60/75 inc. pot to take home): With multiple 2-hour sessions held every weekend, these taster classes offer a solid intro to throwing – and with a max class size of four you can depend on plenty of attention.
–
Clover Lee | South Wimbledon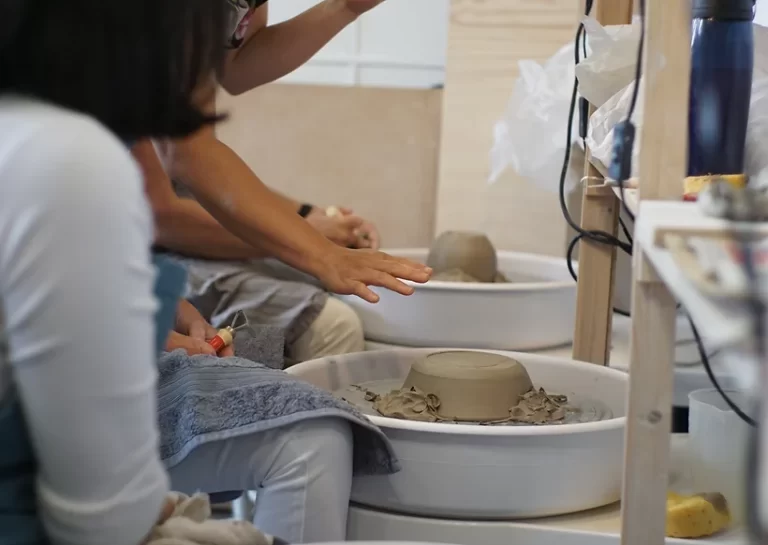 Clover Lee was a finalist on series two of The Great British Throw Down (pottery's answer to Bake Off), having started out taking a taster class in 2010. She now runs pottery classes out of her studio in South Wimbledon and likes to use alternative firing methods like raku (taking the ceramic out of the kiln while it's still red hot) and pit-firing (over an open fire). Her courses include one day throwing workshops, four and ten-week throwing courses and a Japanese pottery course that involves the intricacies of Japanese pot painting.
Taster session (£75): A two-hour session that goes through clay preparation and throwing on the wheel. Your three best pieces can be taken home.
THE BEST POTTERY CLASSES FOR HAND BUILDING
Kiln Rooms | Peckham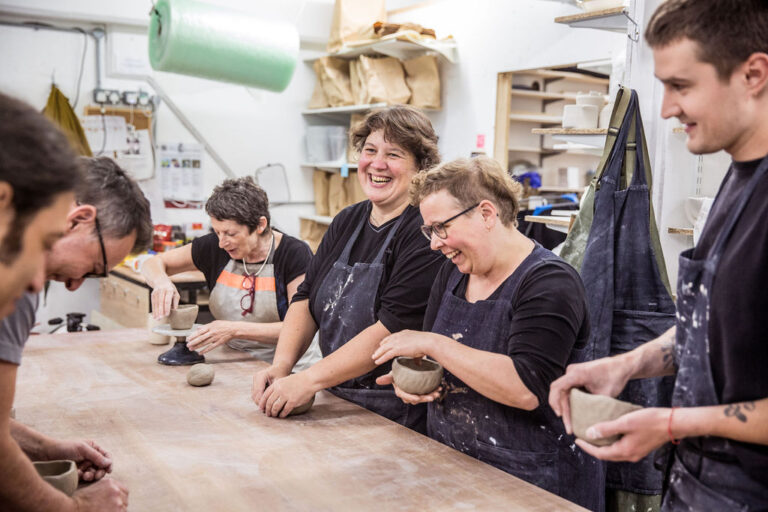 Led by director Stuart Carey, Kiln Rooms has three spaces in Peckham – one for its classes, a studio space for members with communal equipment and technical support; and a professional studio available to rent (once you've become a pro). All of the staff have trained under artist/potter and former chair of the Craft Potters Association, Richard Phethean. The studio also runs 5 and 12 week courses, as well as one of the most thorough pottery taster classes in London.
Taster session (£95): Pricier than most others, but for a reason – you'll get a 4.5 hour workshop covering throwing and hand-building, as well as a detailed look at glazing and other decorative techniques. Plus, you'll get three or four pieces fired for no extra cost.
–
Clapham Pottery | Clapham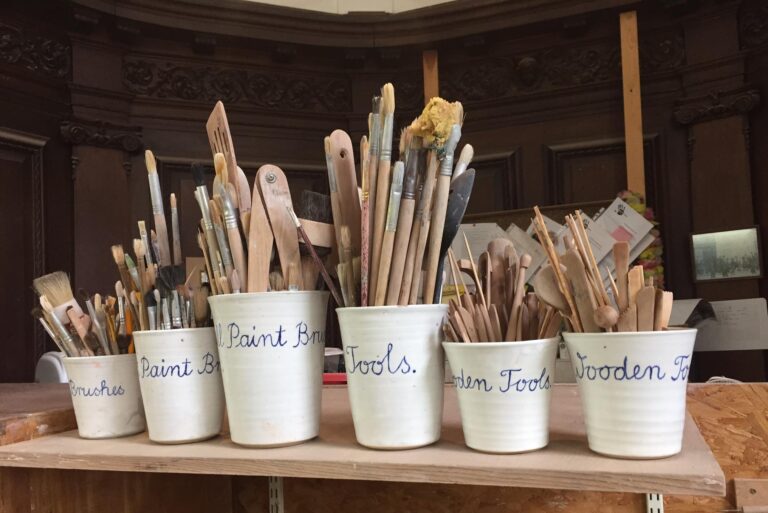 The North Street Potters have supplied bespoke crockery to Le Gavroche, Perilla and The Ned over the years, so you know you're in good hands at their Clapham Pottery classes. Held in a converted chapel, lessons run the gamut of 10-week courses for beginners through to advanced potters, as well as relaxed taster sessions on Sundays.
Taster session (£75): Three hour sessions introducing you to throwing and hand-building techniques like coiling and slab building.
–
SkandiHus | Dalston, Hackney, Walthamstow
SkandiHus was created by Danish lawyer-turned-ceramicist Stine Dulong, whose Scandinavian designs have been used by Nigella Lawson and Yotam Ottolenghi. Her growing pottery empire now has three studios across London, each of which run 6, 8 and 12-week courses covering both throwing and hand building techniques, as well as three hour drop-in sessions for potters who want to practise without the need for a tutor. And the so-nice-to-look-at-famous-chefs-use-them-for-photographs mixed glazes are also available for us mere mortals to dress our products in, upon completion.
Taster session (£45): An introductory session dedicated to the hand building technique of pinching. At the end of the workshop you can choose one piece to get fired and glazed. They also have wheel throwing taster sessions for £90.
THE BEST OPEN ACCESS POTTERY STUDIOS
Turning Earth | Highgate, Tottenham, Hoxton, Leyton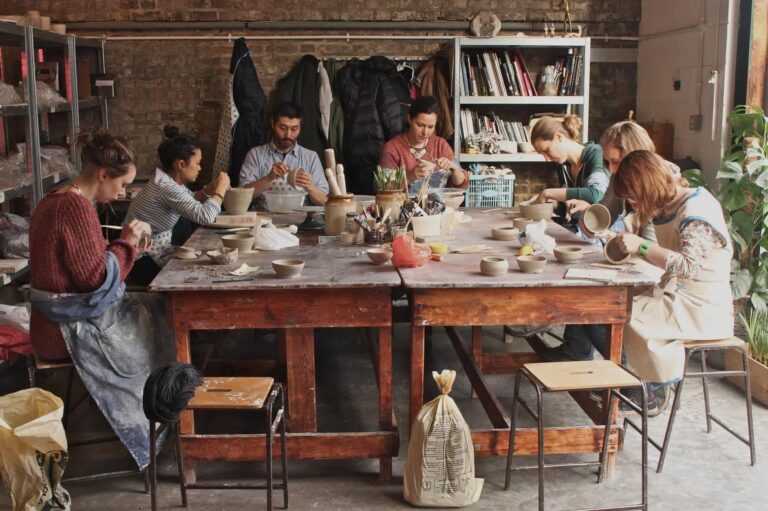 Turning Earth was the first ceramics studio in London to follow the U.S. model of open access spaces – a membership scheme that offers flexible access to their facilities and equipment which has proved so popular in E2 that they've since opened three more studios across north and east London.
Open access studios are for you if you already have a little bit of experience and want to try your hand at your own creations. Turning Earth does still run pottery courses, though: 4, 8 and 12-week options are available which walk you through the entirety of making your first piece – from preparing the clay to glazing it, covering the various pottery techniques along the way.
Taster session: Not available, but you can commit to intensive immersion weeks or weekends.
–
Ceramics Studio Co-op | Deptford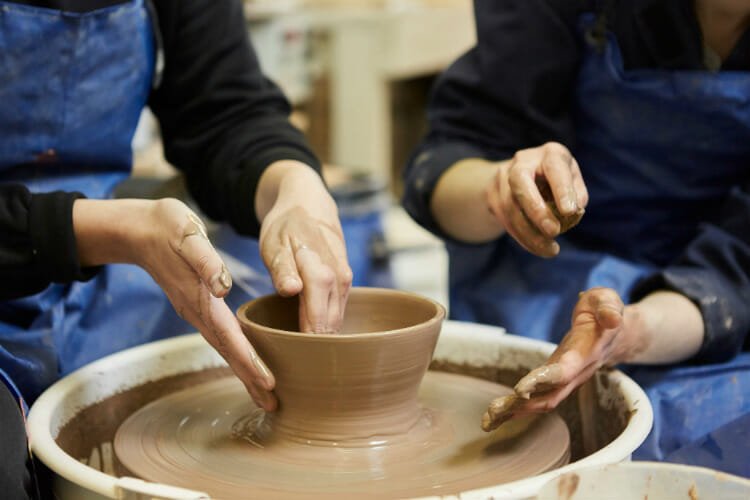 This a purpose-built community workshop owned and run by the residents. They have studio spaces to rent and open access spaces for professionals and amateurs. They also run pottery classes by the term, which vary in price depending on the length and experience level. But for beginners, they cover all the basics of ceramic making, including pinching, coiling, slab building and throwing.
Taster session (£68.50): A two-and-a-half-hour session focussed on throwing. Any pots made will be fired and ready to collect in 3-4 weeks.
–
Parade Mews Pottery | Tulse Hill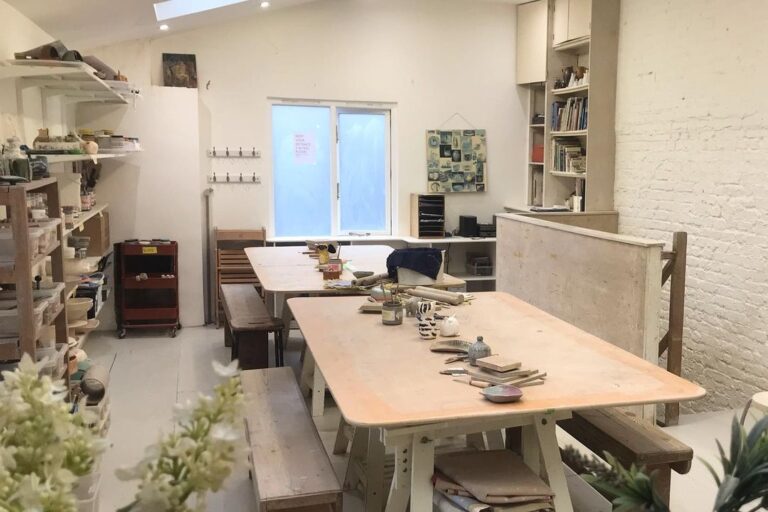 Unsuspectingly (or perhaps this is exactly where you'd expect to find an independent pottery studio…) tucked down a quietly-located cobbled mews in South London, you'll find this cheerful white-walled workshop, which, while also offering open access studios and the full range of classes for kids and adults alike, also puts on special sessions for hen-dos. These utilise the wonders of champagne to help unlock creativity, with pottery done either on the wheel or by hand, and they may or may not get messy. Five or so weeks later, you're then able to return for your finished work. 
Taster session (£58): A two hour session focussed on either throwing or hand building, with tea and biscuits. The firing process takes 4-5 weeks and from then, you can come back for the finished article.
---
On a quest to become an artistic genius? Check out these other creative workshops in London…